25 Fun Things to Do in Aurora, IL
Destguides may receive commissions from purchases made through affiliate links in this article.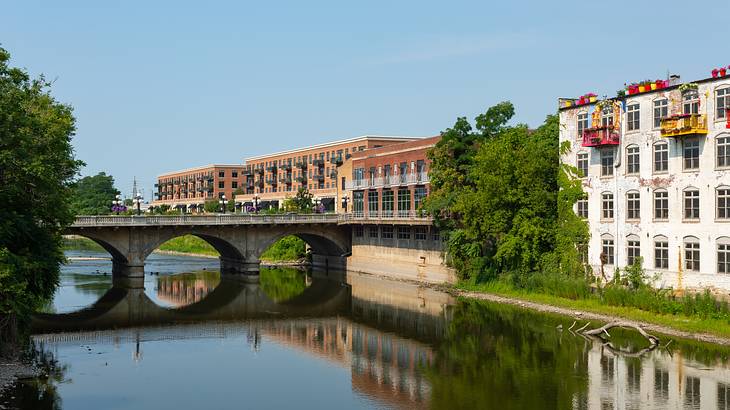 Aurora is a vibrant city within the Chicago metropolitan area in the state of Illinois. The city has something for everyone, from families to those looking for unique attractions or amazing outdoor areas to explore.
Just a handful of the fun things to do in Aurora, IL, include kayaking on the Fox River, getting delicious treats at Banana Split Inc, and following trails at the Oakhurst Forest Preserve. If you want to discover all the things to do in and around Aurora, read on for 25 exciting suggestions!
25 Fun Things to Do in Aurora, Illinois
Aurora, Illinois, Things to Do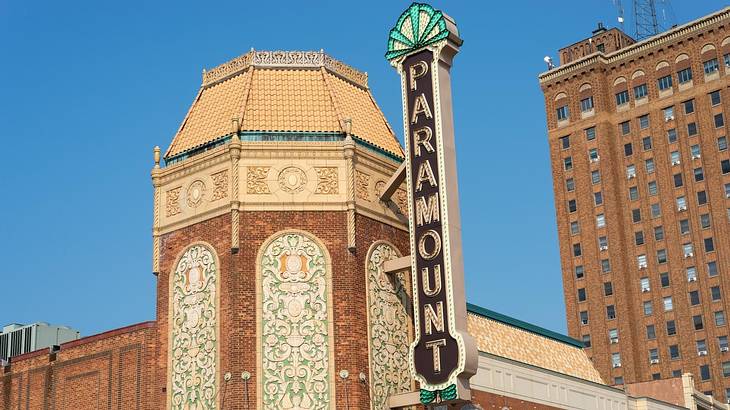 See a performance at the Paramount Theatre
Opened in 1931, the Paramount Theatre is a popular performing arts venue in the city. The art deco building was additionally added to the National Register of Historic Places in 1980.
Visitors today can see a range of Broadway shows at the theater, and there are also movie nights showing classic films. Some independent plays and other events are hosted too.
Swim at Splash Country Water Park
If you're in Aurora with family during the spring or summer, visiting Splash Country Water Park is a must! This kid-friendly aquatic attraction is open from June to September and has swimming pools, a lazy river, and slides.
Out of the water, you'll also find shady areas to relax and two sand volleyball courts. Kids that live in the area can have swim lessons at Splash Country Water Park as well.
Shop, dine, and more at Fox Valley Mall
Shopping at Fox Valley Mall is one of the best things to do in Aurora, IL, especially if the weather isn't good. This vast shopping mall, formerly called Westfield Fox Valley, houses many well-known shops, from Macy's to Bath & Body Works and Build-a-Bear Workshop. Along with chain shops, you'll find some more unique clothing, beauty, and gift boutiques.
After shopping, you can get food at one of multiple eateries, including a Cajun-style grill, Mexican restaurants, and mall classic Cinnabon. Shopping and dining aren't the only activities to enjoy at the mall, though! There are many entertainment options too, such as a paint-your-own pottery business, an indoor bungee jumping venue, and a Round 1 Bowling & Amusement location.
Get fit at the Vaughan Aquatic Center
The Vaughan Aquatic Center is located within the Vaughan Athletic Center and features a lap pool, therapy pool, and a leisure pool with slides. Whether you're looking to get some exercise in or want a place for your kids to have some fun, the swimming pools at Vaughan Athletic Center are a must-visit attraction! While at the athletic center, you can also use the gym and tennis center.
Follow wildlife trails at Oakhurst Forest Preserve
Situated approximately 15 minutes from downtown, Oakhurst Forest Preserve is the perfect place to hike, spot wildlife, and enjoy the fresh air. The preserve also has a lake, which is popular with boaters, canoers, and kayakers during the warmer months. In the winter, many locals head here to go sledding as well.
Hang out at Waubonsie Lake Park
Waubonsie Lake Park is another of the outdoor attractions in Aurora, IL, that's well worth checking out. The scenic park surrounds Waubonsie Lake and is a great place to walk, bike, or jog. As you explore, you can admire the lake and the surrounding natural scenery. There's also a playground here for young children, and you can head out on the lake to boat or kayak.
Explore Phillips Park and Mastodon Lake
Phillips Park packs lots of attractions into its 325 acres! Often called "The crown jewel of Aurora's parks," the space features trails and sports facilities like sand volleyball courts, a BMX and skate park, and The Phillips Park Family Aquatic Center.
That's not all, though; there's also the Phillips Park Golf Course and Phillips Park Zoo, a popular family-friendly attraction. Another much-loved attraction within the park is Mastodon Lake. It's the ideal place to boat or kayak, and there are scenic trails around its perimeter.
Before leaving the park, stop by the David and Karen Stover Visitors Center, which features a mastodon skull that weighs 188 lb and beautiful Sunken Gardens. If you have a dog, they can enjoy a three-acre off-leash dog park as well.
Spot animals at the Phillips Park Zoo
Are you wondering what to do in Aurora, IL, with kids? If so, planning a trip to the Phillips Park Zoo is highly recommended! This zoo focuses on animals that are native to the area. Creatures to see include American river otters, gray wolves, and bald eagles. There's also an area with barnyard animals such as goats, ducks, and geese.
Tour the William Tanner House
The William Tanner House is an Italianate-style home that was constructed in 1857 for hardware merchant William Tanner. Today, the home belongs to the Aurora Historical Society, and it was added to the National Register of Historic Places in 1976.
You can take a fascinating guided tour of the property, complete with 19th-century furnishings and antiques. You'll also learn more about the house's history. To confirm tour times, check the Aurora Historical Society website.
Look around the Aurora Regional Fire Museum
The Aurora Regional Fire Museum is a fascinating attraction focusing on the history of the fire department in Aurora and the surrounding area. The museum is housed within the original Aurora Central Fire Station that opened in 1894.
Exhibits will teach you about the fire service over the last one hundred-plus years, and you'll be able to see firefighting artifacts and apparatus. Some significant events are also covered, like the Woolworth Fire of 1934.
Take your family to Blackberry Farm
There are numerous fun places in Aurora, Illinois, to visit with family, like Blackberry Farm. At the charming farm, your kids can enjoy various amusements. Things to do include riding a replica steam train, taking paddle boats out on the lake, and exploring an adventure playground.
In addition, there's a living history museum showcasing buildings from the 1800s, like a cabin, schoolhouse, and pottery shop. Some farm animals, like ponies, can also be seen as you explore the farm.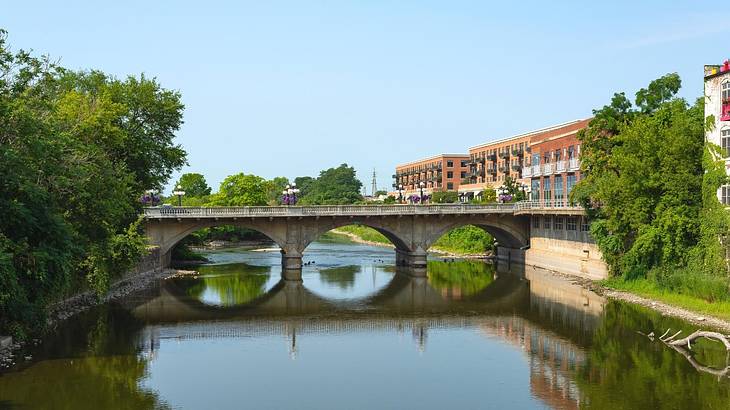 Kayak on the Fox River
The Fox River stretches throughout the Aurora Area communities. This river is incredibly scenic, and you can follow walking and biking trails next to it. If you'd rather get out on the water, you can do that too!
Kayaking is highly popular here and kayak rentals can be acquired, allowing you to participate even if you don't have your own equipment. Kayakers can join at various points on the river and follow different routes which connect the city of Aurora to other nearby cities.
Attend events at Abbey Farms
Abbey Farms is an agritourism farm that hosts a variety of fun events. These events run all year and range from live music nights to bottomless mimosa brunches and fresh produce markets.
There are also seasonal events, like the fall "Pumpkin Daze," which includes a corn maze, hay rides, pumpkin picking, and more! At Christmas, you can buy your tree here too. In addition, you can visit to dine on fresh and delicious dishes, like flatbread pizzas, with wine, beer, and cocktails also on the menu.
Experience a concert at RiverEdge Park
RiverEdge Park is one of the coolest attractions in Aurora, Illinois, especially if you like live music. The outdoor venue hosts a range of music acts, from indie groups to country music and blues bands.
Along with seeing memorable concerts, you'll find lots of grassy lawns to hang out on at the park, plus walking and biking trails. Other events are held at RiverEdge Park as well, like a festive Christmas market.
Tackle challenges at MISH MASH Adventures
MISH MASH Adventures is a unique attraction that's fun for most ages. Visitors have a range of challenges to tackle in groups, with success needed to move on to the next stage and ultimately complete the adventure.
Groups that clear the most challenging rooms in the quickest time are crowned the winners. This activity is recommended for people ten and older; however, younger kids are still welcome.
Get ice cream at Banana Split Inc.
Sweet treat lovers will definitely want to stop by Banana Split Inc! This much-loved spot serves a vast assortment of ice cream treats, from various sundaes to soft-serve ice cream. As the name suggests, you can get decadent banana splits here too.
Take-home pints of ice cream and indulgent cookie dough are also on the menu. Do note that Banana Split Inc. is seasonal; it generally opens at the end of February and operates until October.
Line dance at Saddle Up at Q Saloon and Eatery
Whether you like to dance or not, going to a line dancing night at Saddle Up at Q Saloon and Eatery is undoubtedly one of the best things to do in Aurora, Illinois! Also known as Saddle Up Saloon & Dancehall, the unique spot hosts line dance sessions on Friday evenings. All levels are welcome, and you're sure to have a great time learning some new moves.
The bar also hosts trivia nights and live music acts, with a focus on country music. While at the bar, you can enjoy some food and drink, too, with dishes like nachos, burgers, and loaded potato skins on the menu.
Have fun at Sport Zone
Sport Zone has activities for everyone and is another of many family-friendly attractions in the area. Things to do here include go-karting, playing a fun 18-hole mini-golf course, and practicing your skills in the batting cages.
Kids can also plan parties at Sport Zone! This attraction is generally open from May through September, but check the website for exact dates.
Dine at Basil's Greek Dining
If you're looking for places to go in Aurora, IL, for dinner, add Basil's Greek Dining to your list of must-try eateries. At the chic restaurant, you can order Mediterranean dishes, including seafood spaghetti, moussaka, and chicken kabobs with potatoes and rice.
Various sides and appetizers are also on offer, like Greek salad, tzatziki or hummus with pita, and baked lima beans. You can finish your meal with a decadent dessert, and wine, craft cocktails, and beers are available to accompany your main courses. Diners can enjoy their meal inside or on a charming patio.
Grab a beer at Aurora Tap House
If you're looking for a fun place to hang out, head to Aurora Tap House. The bar has 16 beers on tap and, interestingly, boasts having the "longest bar in Aurora!"
As you enjoy your drinks, you can watch local Illinois sports teams on one of ten TVs, listen to live music acts and order delicious pizzas. Events are also held frequently, like bingo and karaoke nights. Visitors can even get pizzas at half-price when the Chicago Bears are playing.
Enjoy breakfast at Syrup
Syrup is one of the best breakfast spots in the city, serving upscale dishes in a luxe-farmhouse-style setting. Options include a mini waffle flight, smoked salmon bagels, and indulgent pancakes, like those with marshmallows, chocolate sauce, and Oreos.
You can accompany your meal with coffee beverages, juice, or smoothies, or treat yourself to a breakfast cocktail like a mimosa. Lunch is also served at Syrup, and there's a kids' menu for both breakfast and lunch.
Splurge at Chicago Premium Outlets
Despite the name, Chicago Premium Outlets is located in Aurora, about ten minutes from downtown. The outdoor mall features numerous brands, from Nike to J.Crew and Kate Spade.
Clothing and accessory stores aren't the only type of places to shop, though. Other stores include beauty shops and even a pet bakery. Once you've explored all the stores, you can get food at on-site restaurants and cafes.
Things to Do Near Aurora, IL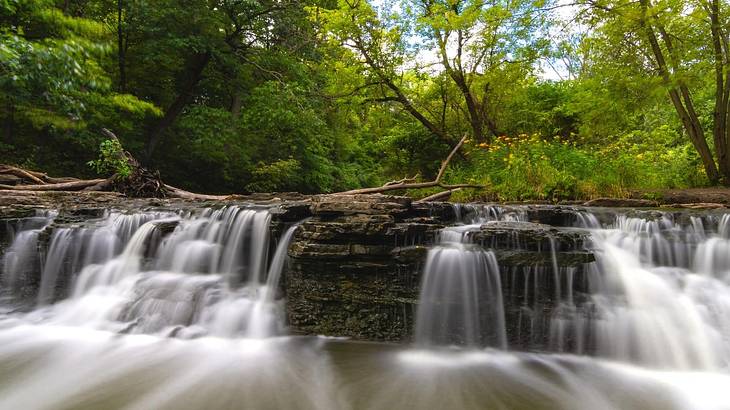 Hike around Waterfall Glen Forest Preserve
Waterfall Glen Forest Preserve is a beautiful outdoor attraction located approximately 40 minutes from central Aurora. Hiking or biking around the 2,503-acre preserve allows you to enjoy the stunning landscape and spot lots of wildlife.
You can also see the park's namesake waterfalls. Best of all, this park is a year-round attraction. Visiting in the fall or winter is just as lovely as exploring in the warmer months.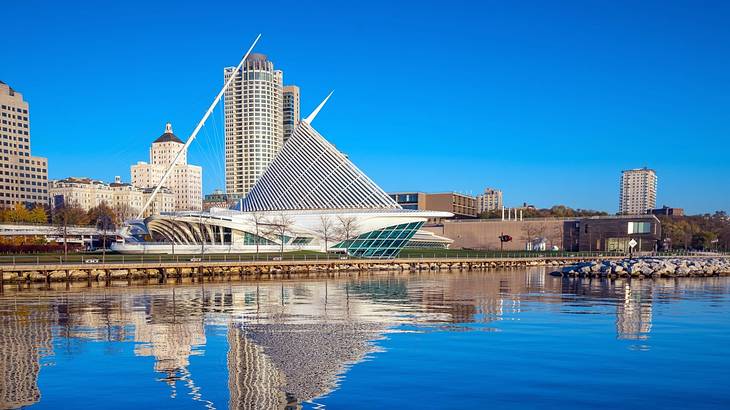 Plan a trip to Milwaukee
Milwaukee is another interesting city to visit that's located about two hours away from Aurora, across the border in Wisconsin. It's a great place to go for the day or stay overnight if you want time to see more attractions.
Things to do in Milwaukee range from shopping at Milwaukee Public Market to exploring Schlitz Audubon Nature Center or experiencing a ghost tour. If you want to plan a trip with your partner, you'll also discover many romantic things to do in Milwaukee!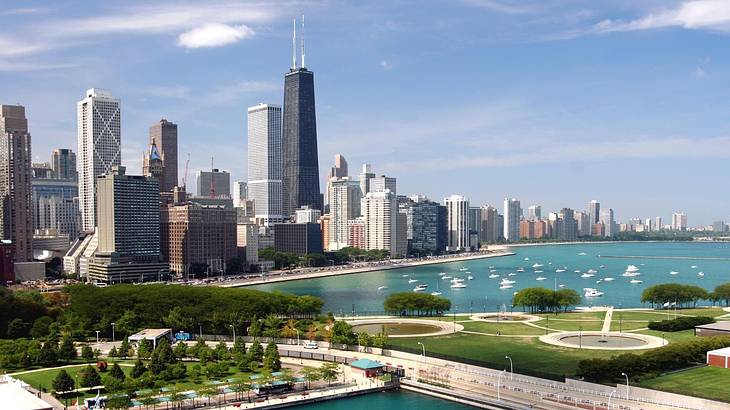 Spend the day in Chicago
Chicago is one of the most well-known cities in the United States, and as it's under an hour from Aurora, depending on traffic, it's well worth visiting! You could go for the day or plan an overnight trip or Chicago weekend getaway if you want more time to see everything the city has to offer.
Activities to enjoy range from seeing Chicago landmarks like Cloud Gate to checking out the attractions at Navy Pier and exploring Lincoln Park. There are also many Chicago tours and excursions to book, such as a Chicago River cruise.
In Conclusion
If you've been wondering What to do in Aurora, Illinois, this article should have given you lots of ideas. This fun city has attractions for everyone, from family-friendly spots like Splash Country Water Park to unique museums and fantastic eateries.
Want to keep exploring?
Subscribe for discounts on tickets and hotels and our latest guides.
Thank you for subscribing
We will be in touch soon with discounts on tickets and hotels and our latest guides.
Want to keep exploring?
Subscribe for discounts on tickets and hotels and our latest guides.
Thank you for subscribing
We will be in touch soon with discounts on tickets and hotels and our latest guides.