21 Fun Things to Do in Chicago at Night
Destguides may receive commissions from purchases made through affiliate links in this article.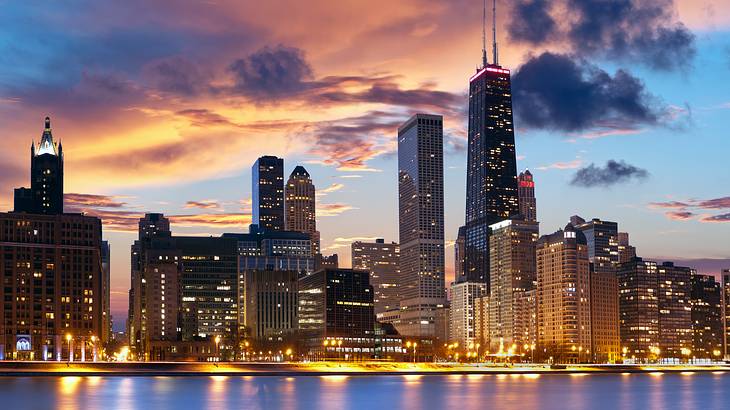 Located in the state of Illinois, Chicago is one of the most-visited cities in the US. The Windy City is a highly popular destination for those looking for fun city breaks and exciting stops on road trips.
Chicago also has an array of attractions that please tourists and locals alike. On top of the range of activities to do during the day, there are numerous fun things to do in Chicago at night. If you're looking for a unique way to explore Chicago after dark, be sure to try some of these 21 nighttime activities.
21 Fun Things to Do at Night in Chicago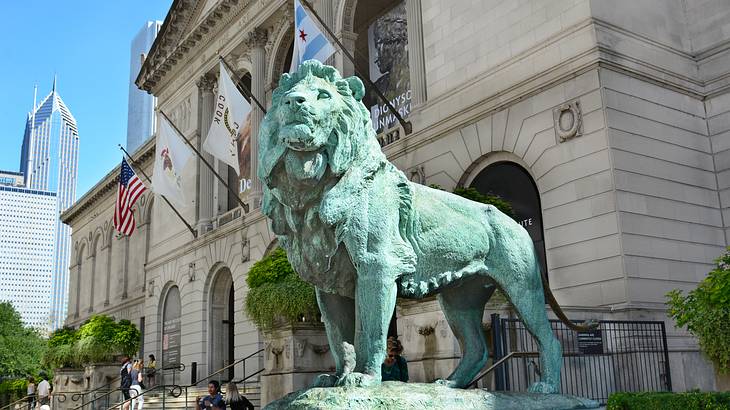 View magnificent artworks at the Art Institute of Chicago
As one of the largest and oldest art museums in the United States, a trip to the Art Institute of Chicago is a must. The museum houses over 300,00 artworks by numerous renowned artists, including Vincent van Gogh, Georges Seurat, and Henri Matisse.
The gallery closes at 6 pm, making a trip to the museum an ideal early evening activity. The Art Institute of Chicago will often host after-hours events too, so be sure to check their calendar. To make entry easy, purchase an Art Institute of Chicago skip the line ticket.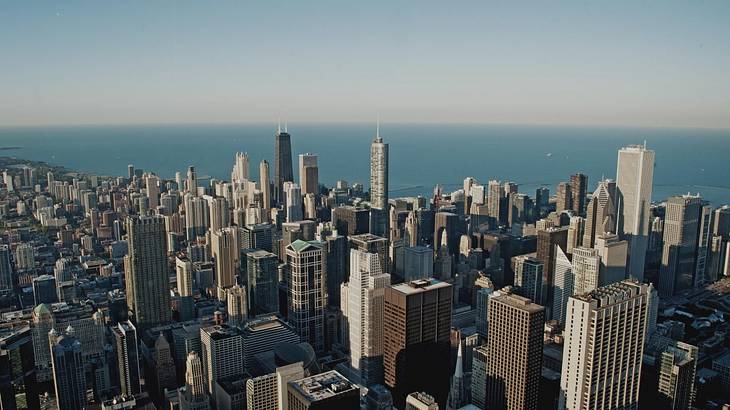 Take in panoramic views at the Willis Tower Skydeck
To get the best views of the Chicago skyline going to the Skydeck at Willis Tower is recommended. While you can go up to the observation deck during the day, doing so just before sunset allows you to see Chicago at sunset and after dark.
The observation deck sits on the 103rd floor of Willis Tower (formerly Sears Tower), 1,353 feet above ground level. Once on the deck, you can take in the panoramic views of downtown Chicago and the Greater Chicago area. To ensure you make it up to the Skydeck before the sun sets, buy a skip the line ticket in advance.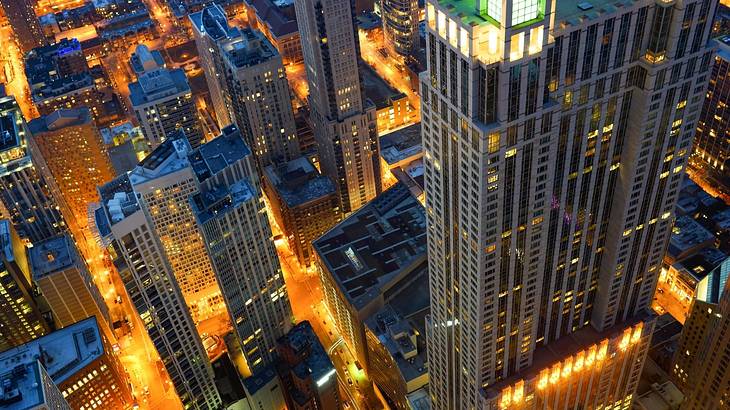 See the city from above at 360 Chicago
Another of the cool things to do in Chicago at night is going to the 360 Chicago observation deck. Like the Willis Tower Skydeck, 360 Chicago offers amazing views of the city, and you can go up to the deck until 11 PM on Friday and Saturday.
The 360 Chicago observation deck is located in the John Hancock Center on the 94th floor. This observation deck also features tilting glass windows that offer thrilling views of the downtown Chicago below.
Enjoy a dinner cruise on Lake Michigan
A sophisticated and luxurious way to appreciate the Chicago skyline at night is on a dinner cruise. The gourmet dinner cruise will take you out on Lake Michigan to enjoy delicious food and exciting live music.
Once aboard, you'll be served a three-course dinner and have access to an extensive selection of alcoholic and non-alcoholic drinks. After eating, you can dance to live music and view an array of Chicago landmarks as you sail past.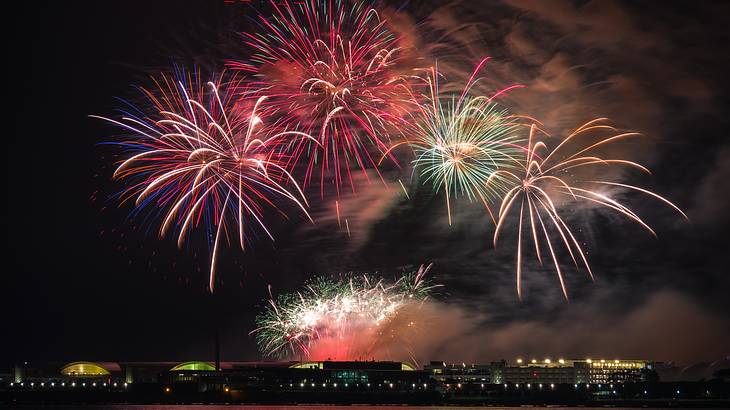 Watch the fireworks at Navy Pier
Navy Pier is a popular spot in Chicago that features an array of activities. At Navy Pier you can go on the Centennial Wheel, eat at one of a multitude of restaurants, and check out interesting shops. Another of the exciting events at night at Navy Pier is watching the fireworks display.
This display takes place on Wednesdays and Saturdays during the warmer months. While the show lasts just ten minutes, seeing the illuminated display is an ideal way to start your night.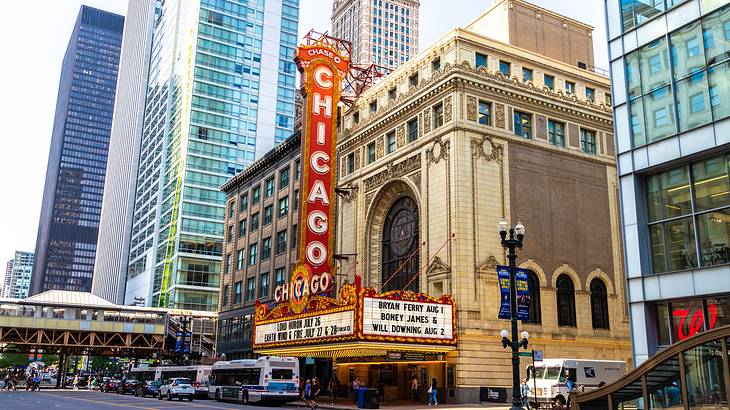 Catch a show at the Chicago Theatre
One of the fun places to visit in Chicago at night is the Chicago Theatre. Opened in 1921, the theater remains an iconic Chicago attraction. If looking for some unique nighttime activities, watching a performance at the theater is highly recommended.
Shows to see include musical performances, comedy shows, arts and drama productions, and family-friendly events. No matter what your tastes, there's sure to be a show you want to watch at the Chicago Theatre!
Experience indoor skydiving at Lincoln Park
If you're looking for weekend nighttime activities, skydiving at Lincoln Park has to be on your to-do list! On the weekends, you can skydive until later thanks to the indoor skydiving experience.
This fun activity is ideal for all ages and will offer you a thrilling and safe experience. After a quick training session, you'll be allowed to "free fall" and do tricks in an artificial wind tunnel.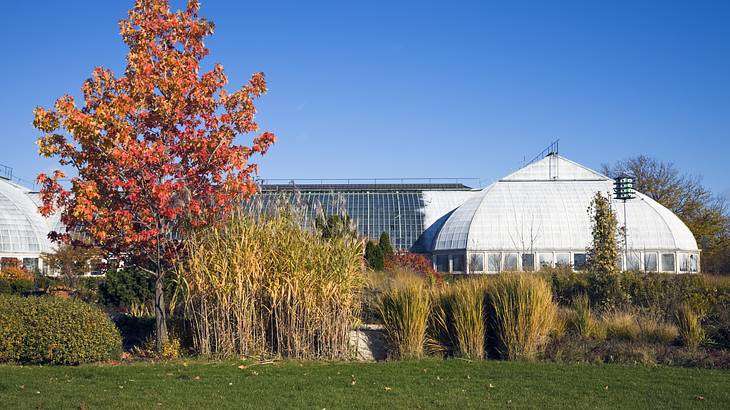 Wander around the gardens at Garfield Park Conservatory
Garfield Park Conservatory is one of numerous much-loved Chicago landmarks. The vast greenhouse-style conservatory features an array of beautiful botanical gardens. There are also pretty outdoor gardens to explore.
While visiting during the day is a great idea, you can enter the gardens until 8 PM on Wednesdays as well. Exploring these magical gardens makes for the perfect relaxed night out.
Play games and drink beer at Headquarters Beercade
Heading to HQ Beercade is one of the top things to do in Chicago at night. Located in the North River neighborhood, this quirky bar includes an array of fun arcade games to play, like Asteroids and Pac-Man.
Having chosen which games to play, you can also order from an extensive drinks menu that includes craft beer, wine, and specialty cocktails. Grabbing a drink and playing some classic arcade games is the perfect way to spend a night out!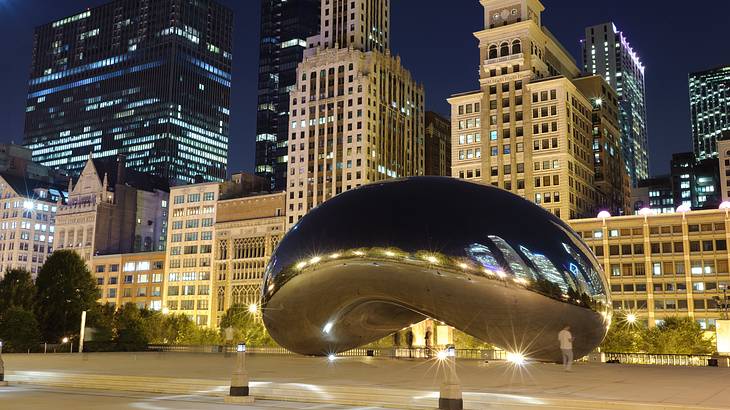 Watch a movie at Millennium Park
During the summer, you can catch outdoor movies at Millennium Park. Simply show up with a comfy blanket, snacks, and drinks, and relax while watching the film of the evening. Films shown range from classics to newer releases.
If you're looking for activities to do in the park when the movies aren't on, no problem! Wandering around Millennium Park after dark and viewing attractions, like the North American landmark Cloud Gate, is super fun too.
Have a retro meal at the Hard Rock Cafe
The Hard Rock Cafe is a classic themed American restaurant. With locations across the globe, including in Las Vegas and Los Angeles, grabbing a meal here will never disappoint.
Dishes to order include burgers, nachos, salads, and more. You can also enjoy fun cocktails alongside your meal and finish with a decadent dessert, like a chocolate fudge brownie sundae.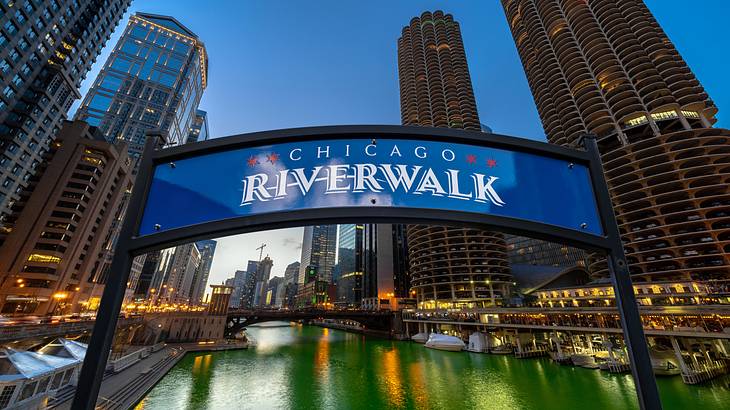 Stroll along the Chicago Riverwalk
The Chicago Riverwalk is a 1.25-mile-long path that takes you along the banks of the Chicago River. As you walk the route, you'll also be able to see Chicago landmarks and take in stunning views of the river.
Many choose to do the riverwalk during the day, but strolling along the path after dark is one of the Chicago night activities not to be missed. In the evening, you can take in the illuminated skyscrapers and sparkly night sky. You'll also discover restaurants and bars with live music to stop at on the way.
Eat your way through a Chicago food tour
You can discover some great dishes to try in Chicago, and a fun way to find the best eats in the city is on a Chicago food tour. An evening tour option is available that will see you try an array of dishes, from classic deep dish pizza to Chicago-style hot dogs.
On the food tour, you'll also get to pass various attractions, like Millenium Park and the Chicago Theatre. You also have the option to add a craft beer tasting to your package, which is highly recommended!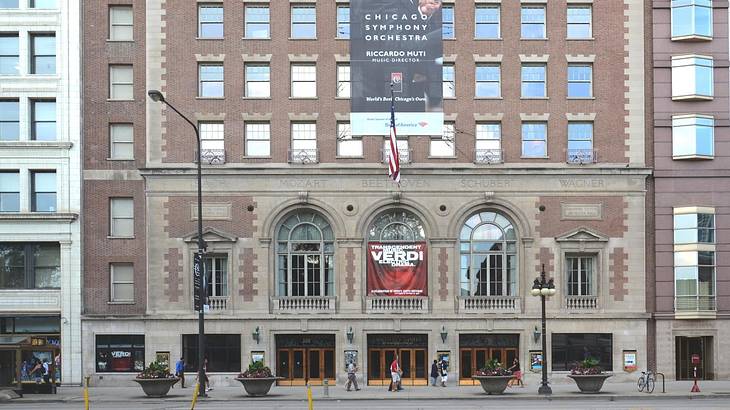 Spend the evening at the Chicago Symphony Orchestra
The Chicago Symphony Orchestra was founded in 1891 and is one of Chicago's most renowned classical music venues. If you like this genre of music, then it's a great idea to catch an evening performance.
A multitude of concerts are held all year round, some of which feature the biggest names in classical music. As you appreciate the performance, you can also take in the building's stunning architecture.
Unwind at AIRE Ancient Baths
For a more relaxed evening, a visit to AIRE Ancient Baths is a must. AIRE is a world-renowned spa with a handful of exclusive locations across the world. The Chicago spa is open until 11 PM every day, so you can unwind and luxuriate until late.
At the spa, you can relax in the baths or choose from various treatments, including massages and salt rubs. Treating your partner to an evening at AIRE Ancient Baths is also an ideal Chicago date idea.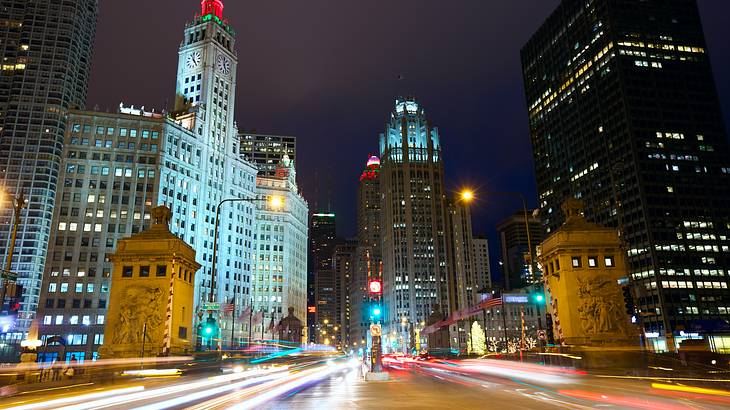 Marvel at the Magnificent Mile Lights Festival
Chicago's Magnificent Mile is one of the city's main commercial areas. You'll discover an array of shopping outlets here, plus trendy bars, cafes, and restaurants. Magnificent Mile is also one of the best places to go in Chicago at night if you want to dine and shop.
If in the area during the holidays, attending the Magnificent Mile Lights Festival is highly recommended too. The event, held in November, features a parade, fireworks, and the lighting of the city Christmas Tree. The festival is sure to get you in the holiday spirit!
Get cat cuddles at Catcade cat cafe!
What better way to spend your night than playing and cuddling with cats? Chicago's Catcade cat cafe offers you the chance to do just that. Thursday to Saturday, the cafe is open until 8 PM, and you can hang out with the kitties and play arcade games, like Nintendo64 Mario Kart. If you fall in love with one of the cats, you can adopt them too!
Windy City cat Cafe and the Tree House Humane Society cat cafe are additional great spots in Chicago for cat cuddles. However, both close in the early evening, so visiting during the daytime is necessary.
Relax with a drink at a rooftop bar
One of the best things to do in Chicago at night is head up to one of multiple rooftop bars. Not only can you drink delicious beverages in a laid-back atmosphere, but you can also take in the stunning view of the city.
Chicago has numerous rooftop bars to visit. Offshore near Navy Pier is a great choice. This bar has a rooftop deck and an indoor bar, both offering amazing views of the pier and the Chicago skyline. You can also order delicious cocktails, bar snacks, and main course meals.
Other great rooftop bars include the poolside Devereux, Rooftop at the Nobu Hotel, and the trendy Little Wild.
Discover Chicago's dark side on a crime bus tour
Lovers of true crime will be excited to learn that you can take a nighttime crime bus tour in Chicago! This fascinating two-and-a-half-hour tour will take you to a range of spots known for historical criminal activity.
Places you'll stop by include the site of the St. Valentine's Day Massacre, a crime museum, and bars that were frequented by Chicago mobsters, like Al Capone. This nighttime tour is perfect for those that are interested in the darker side of history.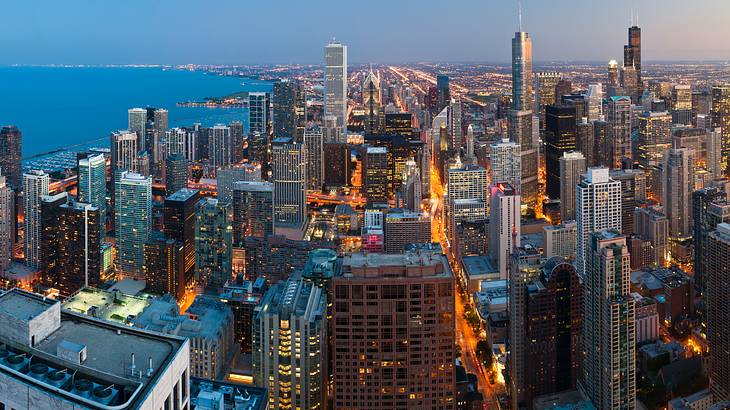 Treat yourself to a Chicago helicopter tour
The perfect way to see Chicago by night is on a helicopter tour. You can choose from multiple time slots, including before, during, and after sunset.
Once in the sky, you'll get to take in the breathtaking aerial views of the illuminated Chicago skyline. Illinois landmarks you'll see include Wrigley Field, Millenium Park, and Willis Tower. Of course, you'll get to take advantage of stunning photo ops too.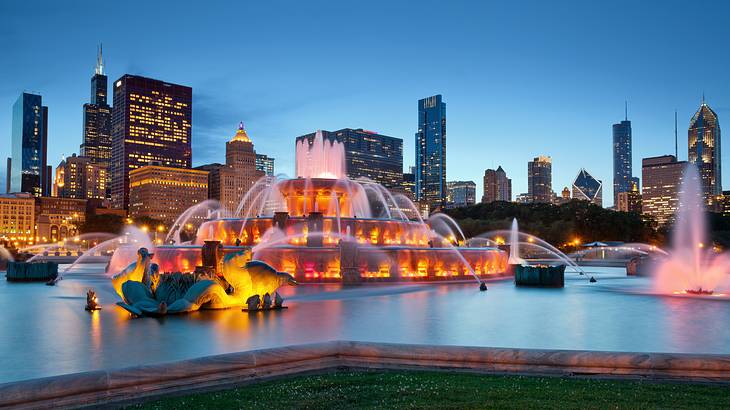 See the light display at Buckingham Fountain
Buckingham Fountain is a beautiful water fountain in downtown Chicago that happens to be one of the largest fountains in the world. One of the fun things to see in Chicago at night is the Buckingham Fountain light display.
After dark, you can see a light and water show where the fountain changes color and puts on a range of "dancing water" type displays. When out and about at night in Chicago, be sure to stop by the fountain at least once to witness this pretty display.
In Summary
Chicago is the perfect city getaway location. This destination offers visitors an array of attractions to visit and lots of fun activities to try. If you love exploring in the evening, you'll be glad to hear of the array of things to do at night in Chicago. There really is something for everyone in the Windy City!
Give us feedback about this article
More visual stories related to this article:
---
---
Want to keep exploring?
Subscribe for discounts on tickets and hotels and our latest guides.
Thank you for subscribing
We will be in touch soon with discounts on tickets and hotels and our latest guides.
Want to keep exploring?
Subscribe for discounts on tickets and hotels and our latest guides.
Thank you for subscribing
We will be in touch soon with discounts on tickets and hotels and our latest guides.
Related Articles