35 Best Chicago Date Ideas for an Unbelievably Fun Date
Destguides may receive commissions from purchases made through affiliate links in this article.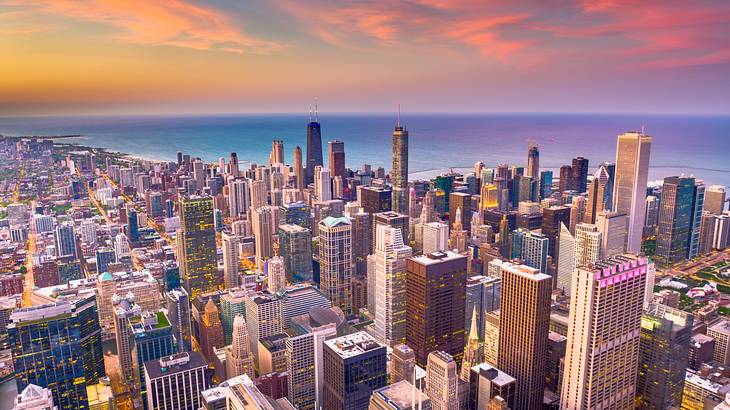 Chicago, Illinois, is a vibrant urban city filled with unique attractions. From high-end restaurants and eclectic bars to famous landmarks and outdoor activities, there's so much to do in this popular city.
You'll also discover an incredible range of romantic things to do in Chicago, IL. Whether you live in the Windy City or are visiting with your partner, these 35 best Chicago date ideas are sure to please everyone!
35 Best Date Ideas in Chicago
Things to Do on a Date in Chicago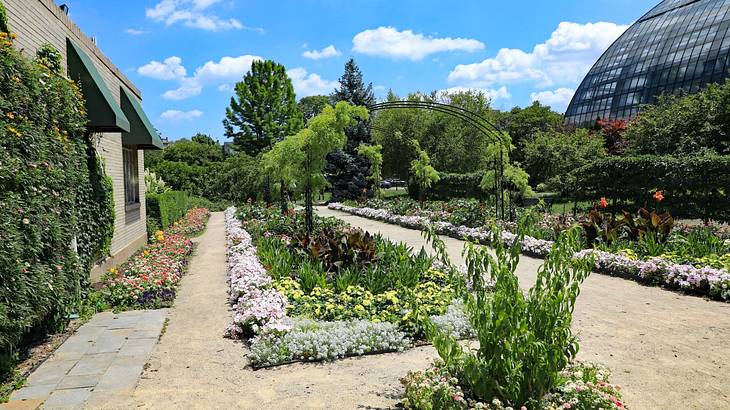 Visit Garfield Park Conservatory
A visit to Garfield Park Conservatory is an excellent free date idea in Chicago. This stunning indoor botanical garden features an array of plant species, from palms and cacti to ferns and lily pads.
Once you've explored the indoor gardens at this famous Chicago landmark, head outside to wander around the beautiful outdoor gardens. Not only is this date free, but walking around the gardens together is a great shared experience. You can also take lots of cute photos with stunning tropical plant backdrops!
Be amazed at the Chicago Magic Lounge
If you're looking for unique date ideas in Chicago, a trip to the Chicago Magic Lounge is a must! The bar has three rooms to check out, with a range of magic shows in each.
The magic bar hosts performances in a close-up setting and allows you to interact with the magician. Alternatively, you can watch a more relaxed show in the Music and Magic Bar. Of course, tasty food and drinks are available to enjoy as you watch the spectacle.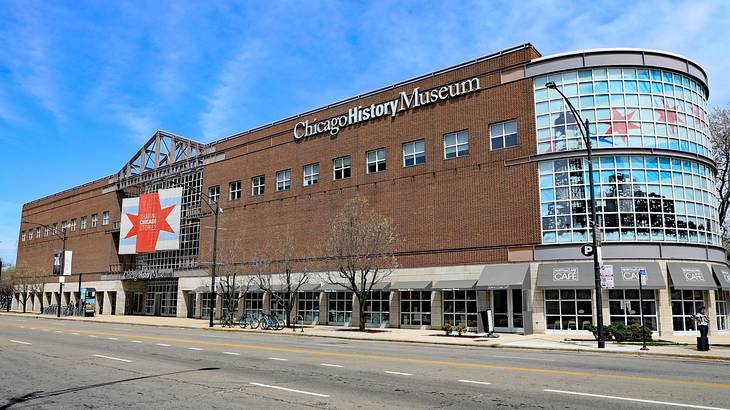 Explore the Chicago History Museum
If you and your date want to learn more about Chicago, then a trip to the Chicago History Museum is a must. There will definitely be a lot to discuss with your date as you discover various exhibits covering Chicago and Illinois history.
Chicago History Museum additionally hosts events such as walking tours. They occasionally have happy hour socials, too; you can grab a drink and explore the museum at this adult-only event.
Relax at AIRE Ancient Baths
What better date idea than relaxing with your partner in an urban spa like AIRE? Found on River West, this Chicago location is just one of six AIRE spas worldwide.
You can simply pay admission to enjoy the baths or choose from various experiences. These include massages and salt rubs. They even have experiences for two - an incredible way to spoil and connect with your date.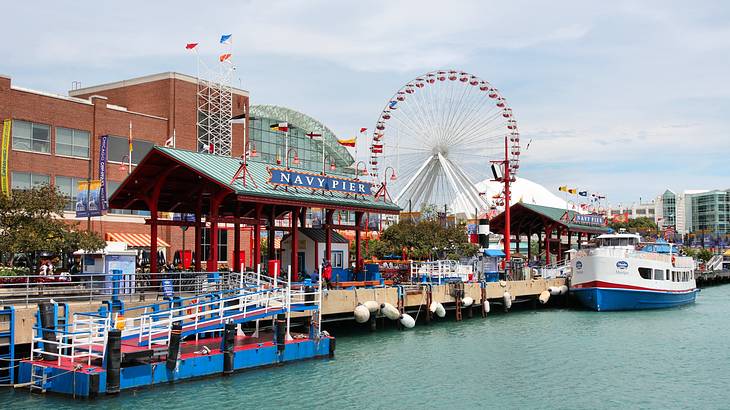 Watch the fireworks at Navy Pier
You'll discover many things to do at Navy Pier, from checking out restaurants to riding the Centennial Wheel. Additionally, one of the best Chicago date night ideas is to watch the fireworks at Navy Pier.
The fireworks show happens twice weekly on Wednesdays and Saturdays. The show lasts ten minutes, during which time you and your date can enjoy the colorful illuminated display. Checking out the Navy Pier fireworks will surely make your date pop!
Do note that Navy Pier is relatively quiet during January and February. If you're from out of town and want to experience everything Navy Pier has to offer, the best time to visit Chicago for you will be during the spring or summer. November and December are also good times to visit, as there are holiday events at the pier.
Bond over a cooking class
Going on a dinner date is a failsafe idea, but learning to cook incredible dishes together is much more fun! There are many cooking classes in Chicago, most of which are also BYOB.
Cook au Vin is a classy choice for a date. You'll learn how to cook French classics such as Tarte Tatin, souffle, and Coq au Vin. They also have pastry and bread-making classes. If your date loves desserts, also check out Give Me Some Sugar's classes.
Spend the day at the Lincoln Park Zoo
Having a day date with your partner and some cute animals is always a good idea! A trip to the Lincoln Park Zoo will allow you to get up close with a range of creatures. From camels and zebras to snow leopards and even polar bears, you won't get bored as you move between enclosures.
The zoo also hosts some fun events, including a cocktail mixing class and an adults-only night. Check the calendar to see what's on when you and your date visit.
Check out the best happy hours in the city
Instead of settling on one bar, try a happy hour bar crawl. This fun date night in Chicago idea allows you to visit multiple spots without breaking the bank. The Press Room, Bernie's Bar, and the The Franklin Room, which has a daily whiskey happy hour, are just a few of the many places to visit.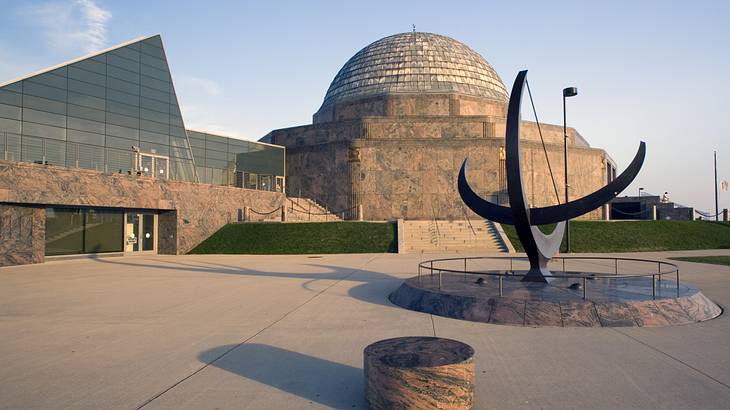 Enjoy drinks at Adler Planetarium After Dark
A trip to the Planetarium isn't just for kids! Visiting this astronomical location is a fun date idea any time of the week. However, taking your date to Adler Planetarium during its After Dark event is a great way to keep the date sophisticated.
The event is held on the third Thursday of most months (subject to change) and allows adults only to explore the Planetarium between 6.30 PM and 10 PM.
Meet furry friends at a cat cafe
Is your date an animal lover? Then visiting one of Chicago's cat cafes is a must. Catcade is a downtown Chicago cat cafe that allows you to hang out and play with cute kitties.
The cafe also has retro arcade games that you can play, and there's free wifi if you and your date want to get some work or studying done together. All of the cats that live at Catcade are adoptable, so you may end up going home with an additional friend!
Tackle a rock climb
If you're looking for fun date ideas in Chicago and enjoy adventure activities, going to Brooklyn Boulders has to be on your date ideas list. This indoor rock-climbing venue has two Chicago locations, one near Lincoln Park and one in the West Loop.
Brooklyn Boulders offers a range of walls to climb for all levels. You and your date can also take a class or have a private climbing lesson.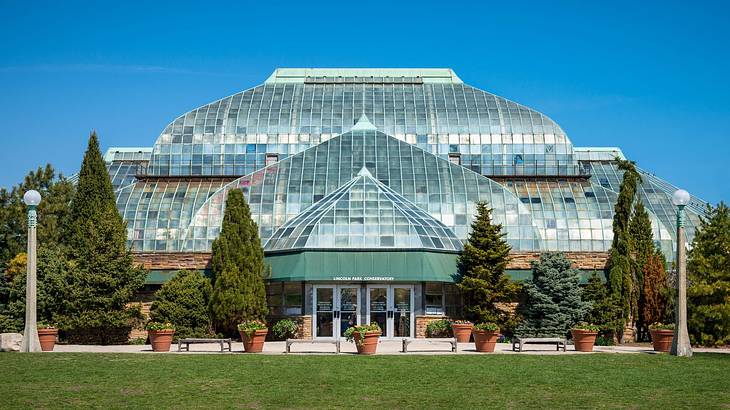 Explore the Lincoln Park Conservatory
The Lincoln Park Conservatory is another beautiful indoor botanical garden in Chicago. You'll discover a range of tropical plants, such as palm trees and orchids.
There's also a Show Room that hosts an annual flower show and houses beautiful vibrant flowers for the rest of the year. A unique feature here is that you may see a dinosaur! There are dinosaurs hidden all around the conservatory, and you and your date can compete to find the most.
Challenge your date to a bowling game
Get competitive by challenging your date to a bowling game. Chicago has a range of fun bowling lanes that also offer food and alcoholic drinks.
10pin, for example, offers nightclub-style music and lighting along with a drink menu, a martini list, and small plates. Other cool bowling spots to check out include Pinstripes bowling alley and Waveland Bowl. Many of the bowling alleys have billiards, air hockey, and the like too.
Go on a brewery tour
Going on a brewery tour is one of many fun things for couples to do in Chicago. You and your date can plan a tour yourselves, hitting all your favorite spots or new places you want to try.
Alternatively, you can go on an organized brewery tour. Chicago Beer Experience is a great choice that offers a selection of different brewery tours. One interesting option is the Sins and Suds tour that looks at "beer's influence on Chicago's criminal past."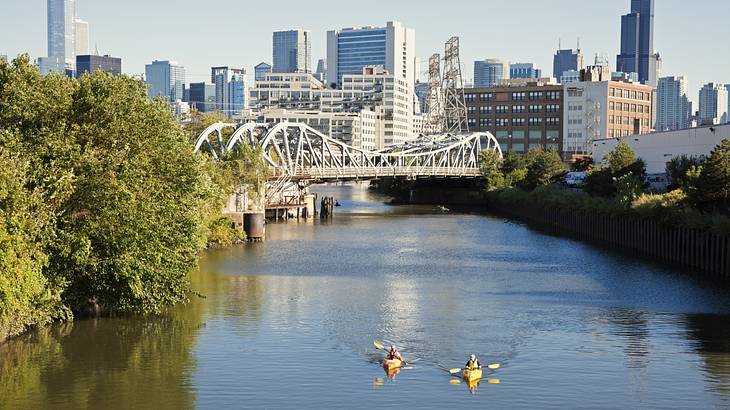 Go Kayaking on the Chicago River
If you and your date love outdoor activities, then kayaking on the Chicago River is the perfect date idea. As you kayak down the river, you'll pass some of Chicago's main attractions.
Places to see include Wrigley Field and the Lyric Opera Building. If you don't feel like kayaking but want to get out on the water and see the sights, consider a Chicago River cruise.
Play arcade games at Headquarters Beercade
Located in Chicago's River North neighborhood, HQ Beercade is a cool date spot. The bar has a fun selection of over 50 arcade games, including Pac-Man and Asteroids. You can also play pinball or try the bar's trivia night.
While you explore the arcade, you can enjoy snacks, craft beer, and specialty cocktails. Beercade also has sharing cocktails, perfect for enjoying with your date.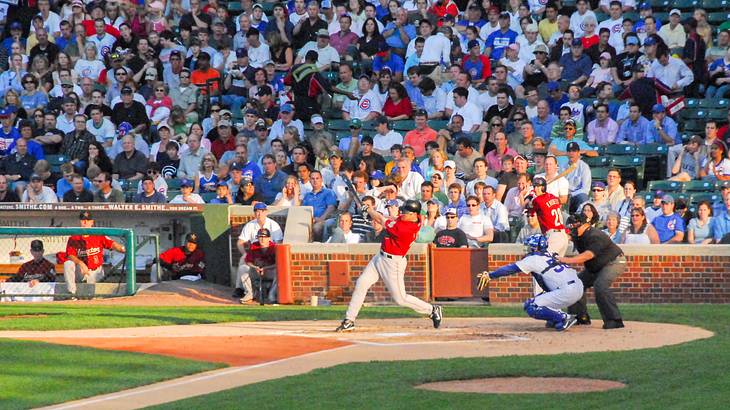 Watch Chicago's sports teams in action
Chicago is one of the few cities to have a team in all four major US sports leagues: the Bears in the NFL, Blackhawks in the NHL, Bulls in the NBA, and Cubs in MLB.
Heading to one of these teams' games is a fun date idea for sports lovers. Even if your partner isn't a major sports fan, grabbing some drinks and cheering for the home team never disappoints.
Dare to go on the Gangsters and Ghosts tour
Chicago has a rich but criminal history. Due to this, historical tours and ghost tours are popular in the city. If you're after some fun couple activities in Chicago, then going on the Gangsters and Ghosts walking tour is a must.
You'll visit a range of haunted buildings and gangster hangouts. Tales involve the city's notorious gangsters, like Al Capone, and the culture of speakeasies during prohibition.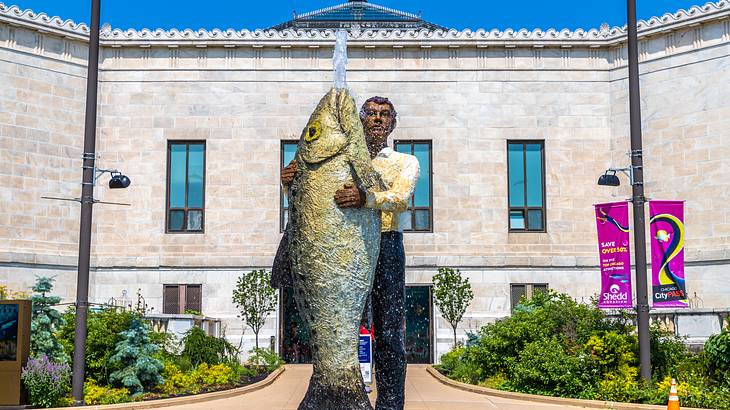 Discover marine life at Shedd Aquarium
Taking your date to Shedd Aquarium is a fun and laid-back idea. Exciting creatures to see include giant octopi, beluga whales, and sharks. You'll also spot otters, penguins, and a colorful array of fish and corals, among many other marine animals. Once you've seen all the exhibits, check out the pretty gardens or head to the terrace for drinks and views of the pier.
Work together to tackle an escape game
A great way to bond is by working together to solve an escape game. The Escape Game Chicago has a selection of themed escape rooms to choose from.
Themes include "Special Ops," "Prison Break," and "The Heist." You and your date will have an hour to solve puzzles in order to break free from the escape room. Even if you don't manage to solve the puzzles in time, you're sure to have fun trying!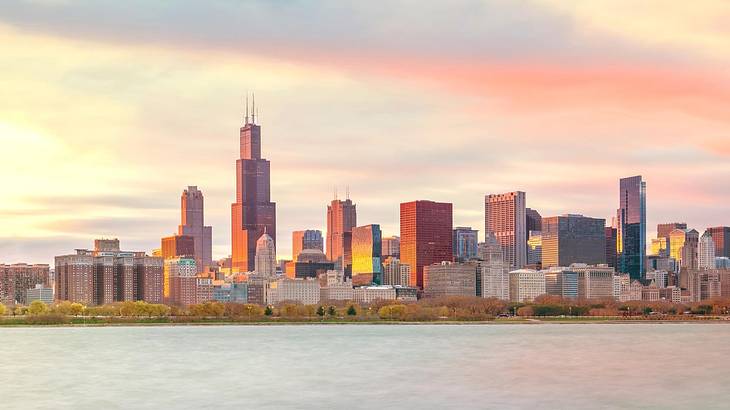 Luxuriate on a Lake Michigan dinner cruise
If you and your partner want to treat yourselves, going on a luxury dinner cruise on Lake Michigan is a must. You'll get to enjoy a three-course meal and drinks, including beer, wine, and cocktails. As you wine and dine, you can admire the views of Lake Michigan and the Chicago skyline.
There's also a DJ aboard so you can dance to live music, and a rooftop deck to hang out on. A Lake Michigan dinner cruise has to be on your Chicago itinerary when visiting with your loved one.
Taste the best dishes in Chicago on a food tour
One of the fun things to do in Chicago for couples that like trying new dishes is going on a Chicago food tour. Your guide will take you to a selection of the best eateries in the Windy City. Snacks to try include brownies, hot dogs, deep-dish pizza, and much more. You'll also get to try some local craft beer.
Along the route, you will pass a few famous Illinois landmarks as well. Places to see include Millennium Park and Cloud Gate, the Wrigley Building, and the Magnificent Mile.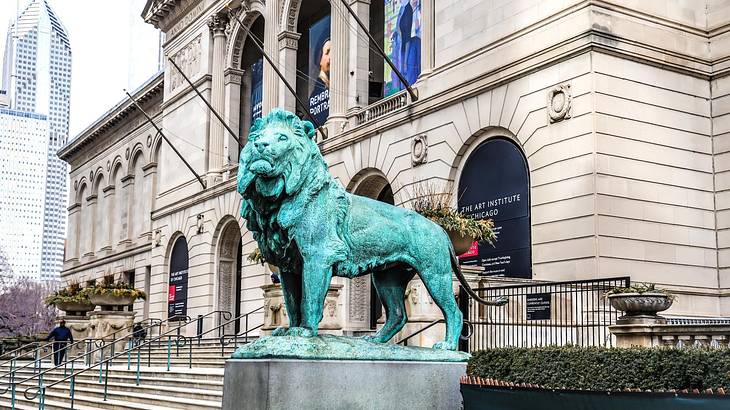 See artworks at the Art Institute of Chicago
One of Chicago's best cultural attractions is the Art Institute of Chicago. The museum is one of the oldest and largest art galleries in the world and houses an array of famous artworks.
Exhibitions at the gallery cover a range of art mediums and feature pieces from Europe, Asia, the Americas, and more. Some of the renowned artists with works on display include Georges Seurat, Claude Monet, and Henri Matisse.
To make admission and exploring the museum a breeze, purchase Art Institute of Chicago skip-the-line and guided tour tickets in advance.
Listen to classical music at the Chicago Symphony Orchestra
Another of the great cultural activities to enjoy with your date is going to see the Chicago Symphony Orchestra. The orchestra was founded in 1891 and generally plays in Orchestra Hall. You can see a range of classical concerts at the venue and may occasionally be able to see other genres of music.
The Chicago Symphony Orchestra is the main act to see here, although other artists and groups do perform too. Spending an evening at the Chicago Symphony Orchestra is definitely one of the best things to do at night in Chicago.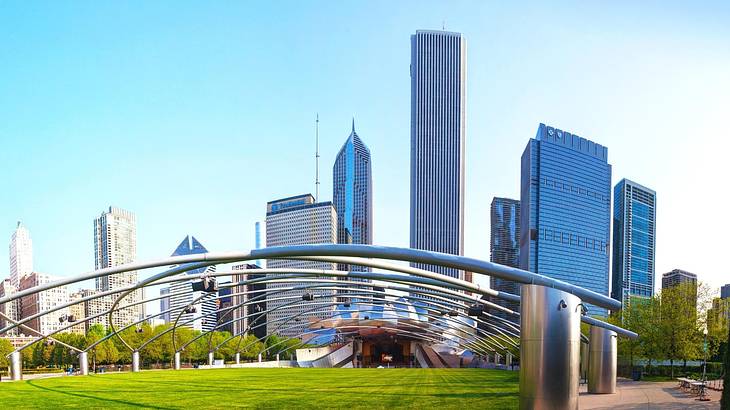 Hang out and watch a movie at Millennium Park
The Chicago nickname, City in a Garden, exists due to the area's many beautiful outdoor spaces and exploring some of these places with your date is a must!
Millennium Park is one of Chicago's best parks and is an ideal place to hang out with your date and take a romantic walk. In the summer, you can also head to the park to watch an outdoor movie. The movies generally run from July through August.
You can see a different fan-favorite movie at each showing and enjoy the film in the fresh air. Be sure to take a comfy blanket, snacks, and drinks as well so you can relax in style in front of the big screen.
Get crafty at a graffiti art workshop
One of the most fun Chicago date ideas is going to a graffiti art workshop. During the art class, you'll learn how to create street art murals. Your instructor will teach you different styles and techniques so that you can create your own urban art masterpiece.
This workshop is also BYOB, so you can sip on some drinks while you get creative. The classes are for artists of all abilities, meaning they're perfect for anyone that enjoys artistic activities. Best of all, you and your date will have a one-of-a-kind art piece to take home.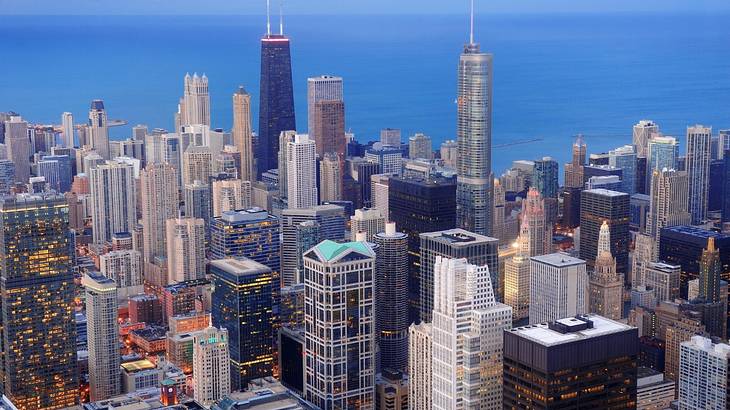 Sip drinks and enjoy the views at a rooftop bar
One of the most fun ways for you and your date to take in the views of Chicago is from a rooftop bar. A popular rooftop bar in the city is found at The Robey Hotel. This stylish drinking spot has both an indoor "rooftop" lounge with views across the city and an outdoor poolside bar.
Drinks on offer include unique cocktails, champagne and sparkling wine, and beer. You can also enjoy bar snacks, like jalapeno wontons or Nashville fried chicken sandwiches. Raised Bar Chicago is another spot to check out that offers food and delicious drinks.
Try delicious sweet treats on a donut tour
For couples who love desserts, a Chicago donut tour can't be missed! This tasty tour will take you and your other half to four of the city's best donut shops, all of which are located around The Loop. Bakeries to stop by include Doughnut Vault, Firecakes Donuts, Stan's Donuts & Coffee, and Do-Rite Donuts & Chicken.
At each stop, you'll get to taste some signature donuts. As you walk to each shop, you'll see some landmarks and learn Chicago history and fun facts from your guide. The stores often also have vegan, gluten-free, and nut-free options.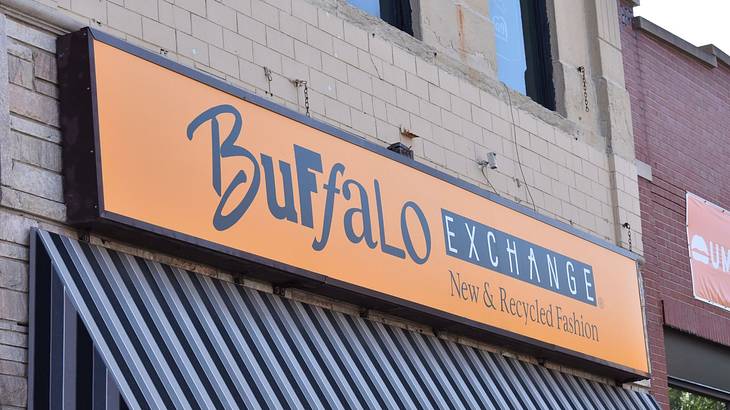 Find some unique pieces at Chicago's thrift shops
An excellent daytime date idea is going thrift shopping. Chicago has a host of thrift stores to choose from in and around downtown. Crossroads Trading is a local favorite. This store has lightly worn name-brand clothes at affordable prices.
Another spot to check out is Green Element Resale. While exploring this thrift shop, you'll discover a host of items, from housewares and books to clothing and accessories. There's also a large Buffalo Exchange close to downtown Chicago, which sells an array of second-hand clothing, including chain store brands and designer and vintage pieces.
Share a romantic dinner at Alinea
If you and your partner are looking to splurge on a night out, dining at Alinea is highly recommended. The food at Alinea is so renowned that the restaurant is often named one of the best restaurants in North America.
When dining at this three-Michelin-star restaurant, you can enjoy a multi-course tasting menu complete with novel and decadent dishes. The exact dishes you'll be served vary, with seasonal produce often being used.
Along with tasting incredible, each plate looks stunning! No matter what is on the menu when you visit, you're guaranteed to try combinations you've never had before.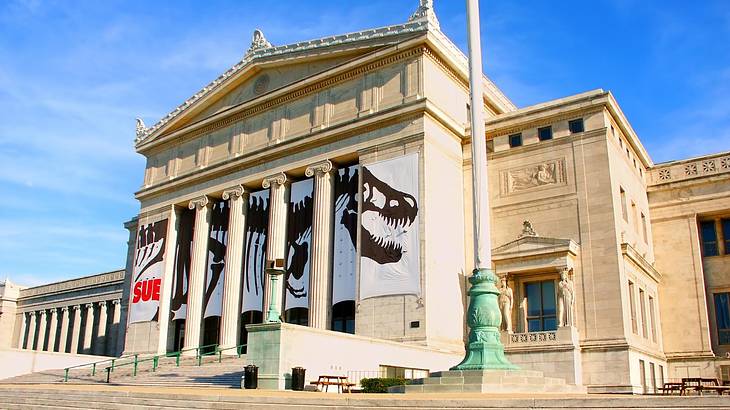 Learn something new at the Field Museum of Natural History
Chicago's Field Museum of Natural History is one of the largest natural history museums in the world. The museum, established in 1894, is also one of the most renowned cultural attractions in the city.
During a visit, you and your date can learn about a range of fascinating topics. Exhibitions to see include those on dinosaurs and fossils, cultures of the world, and wildlife and conservation.
You'll also be able to see Sue, the museum's dinosaur skeleton! This skeleton is the biggest and most complete Tyrannosaurus Rex skeleton in the world. The Field Museum of Natural History is generally open from 9 AM to 5 PM, making it another great spot for a daytime date.
Have brunch together
Another of the most romantic things to do in Chicago for couples is going to brunch together. Chicago residents love going to weekend brunch, so you can find many options across the city.
If you can't decide where to go, consider visiting Another Bite. They serve a great selection of pancakes, waffles, and French toast. Unique dishes include Fruity Pebble French toast and Oreo pancakes.
Alternatively, a great plant-based choice for brunch is Bloom Plant-Based Kitchen. You can order brunch on Sundays from 11 AM to 3 PM. Delicious dishes include churro waffles, chickpea frittata, and pancakes with maple syrup and vegan whipped cream.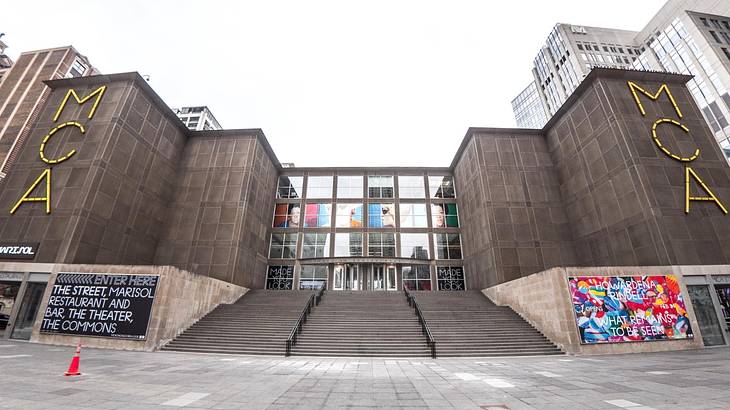 Visit the Chicago Museum of Contemporary Art
Another of the best date spots in Chicago for art lovers is the Chicago Museum of Contemporary Art. Located downtown, the museum was opened in 1967. It's one of the largest contemporary art galleries in the world, and features works by many famous artists.
Renowned artists with pieces on display include Andy Warhol and Edward Krasinski. You can also see a range of mediums at the gallery, including paintings, drawings, and photographs. Along with the permanent collection, the Chicago Museum of Contemporary Art has temporary exhibits and hosts events.
Try the best deep dish pizza in the city
The Windy City is known for its deep-dish pizza. If you're looking for the best pizzerias in the city to try this local treat, one of the cute date ideas in Chicago to try is going on a pizza tour!
This experience allows you and your date to visit six top deep-dish pizza restaurants. At each stop, you can sample freshly made pies and may even find a new favorite pizza date spot. The route also takes you past famous attractions, including Grant Park, Lincoln Park, and the United Center.
Things to Do Near Chicago on a Date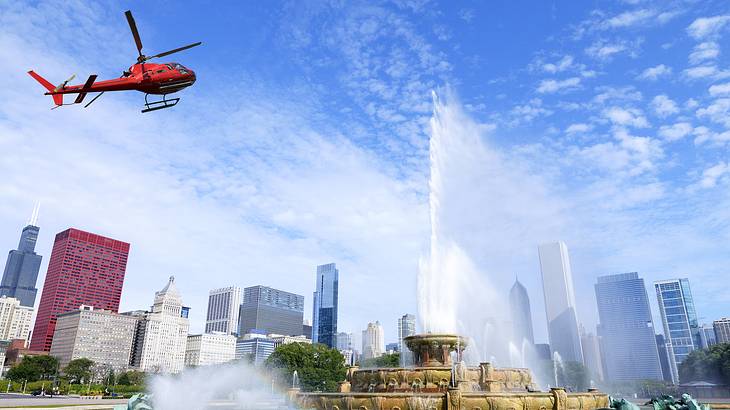 See Chicago from above on a helicopter tour
Why stay on the ground for your Chicago date?! Taking a helicopter tour over the city is a fun and memorable idea that's sure to wow your partner! Chicago Skyline Helicopter Tour offers private helicopter tours of the city that provide incredible bird's-eye views.
The 45-minute tour takes you over a range of well-known spots, including Navy Pier and Millennium Park. This exciting date idea will create long-lasting memories for you and your partner. Do note that the airport for take-off is located about an hour's drive outside Chicago.
In Conclusion
Chicago is a fantastic city featuring a range of incredible date spots. No matter what you and your partner enjoy doing, you're sure to have a blast when trying any of these Chicago date activities!
Give us feedback about this article
Learn more about Chicago:
More articles about Illinois:
Read more articles about the United States:
More articles about date ideas:
More visual stories related to this article:
---
---
Want to keep exploring?
Subscribe for discounts on tickets and hotels and our latest guides.
Thank you for subscribing
We will be in touch soon with discounts on tickets and hotels and our latest guides.
Want to keep exploring?
Subscribe for discounts on tickets and hotels and our latest guides.
Thank you for subscribing
We will be in touch soon with discounts on tickets and hotels and our latest guides.
Related Articles