25 Best Things to Do in Cape Cod with Kids
Destguides may receive commissions from purchases made through affiliate links in this article.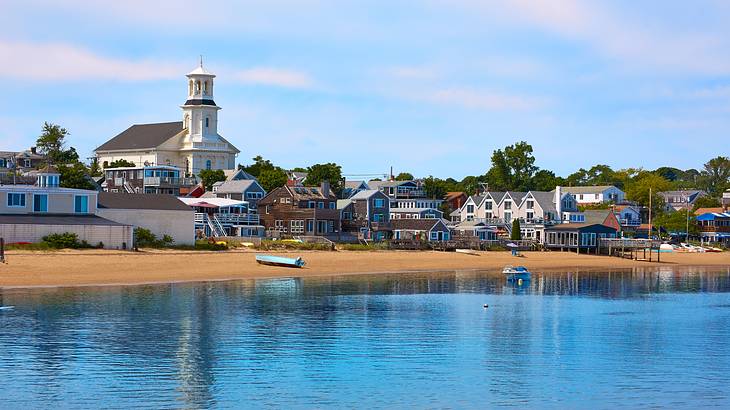 Located in the New England region of the United States, Cape Cod is the ideal seaside getaway destination. This coastal area of the East Coast is easily accessible and is an especially great spot for a day trip or weekend getaway from Boston. If planning a family vacation, this part of Massachusetts is also highly recommended.
Some of the best things to do in Cape Cod with kids include hanging out at the beach, going to waterparks, and visiting a pirate museum. Whale and seal watching on Cape Cod is a must-do too! To discover more fun family friendly Cape Cod activities, read on!
25 Best Things to Do in Cape Cod for Kids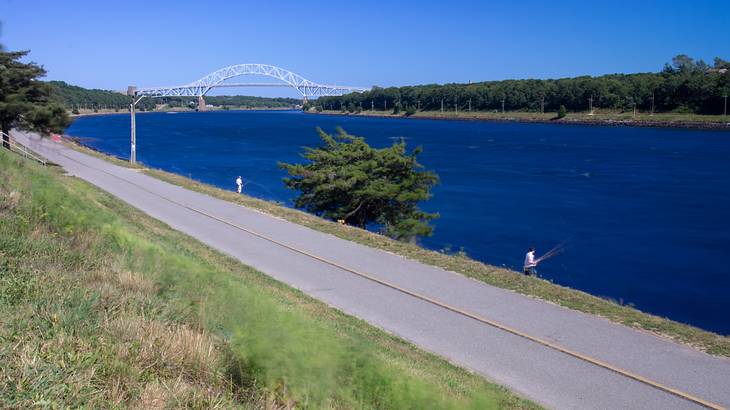 Take a ride on the Cape Cod Central Railroad
Taking a ride on the Cape Cod Central Railroad will be a memorable experience for all kids. You'll board the train in Hyannis, Massachusetts, and will get to see a range of stunning scenic views as you travel along the railroad. A narrator will also offer information on the beautiful sights that you pass.
Along with a standard train ride, there are many family friendly themed rides to try, such as a Polar Express-themed journey. On this holiday season ride, children will be treated to a golden ticket, and carol singers will be on board. Best of all, the journey ends with a meet and greet with Santa!
Play and learn at the Cape Cod Children's Museum
If you're looking for some of the best kid friendly activities in Cape Cod, you have to add a trip to the Cape Cod Children's Museum to your to-do list. This exciting museum is created with kids in mind. Your little ones will discover over 20 fun interactive exhibits to enjoy. There's also an outdoor playground.
While at the museum, your little ones can unleash their creativity and expand their imagination. Cape Cod Children's Museum is aimed at children aged six months to eight years of age.
Watch a Cape Cod Baseball League game
A fun thing to do on your family vacation to Cape Cod, if visiting in the summer, is to watch a Cape Cod Baseball League (CCBL) Game. The CCBL features ten teams, and the season runs from mid-June through August.
Conveniently, there is a game almost every day during the regular season, making it easy to watch the CCBL no matter when you visit. Fields for all teams are also easily accessible. Spending the evening watching local baseball teams compete will please kids and adults!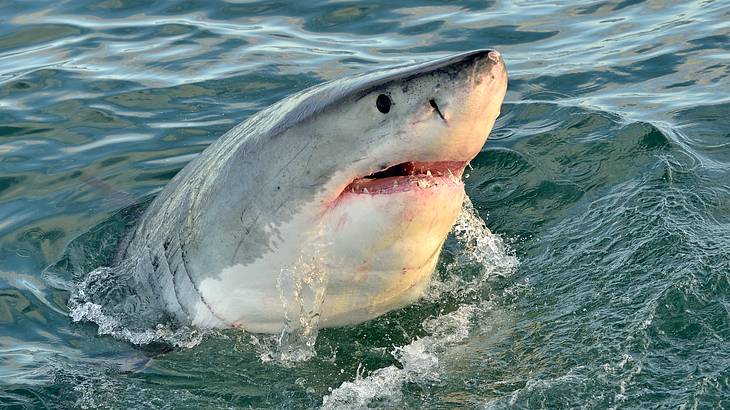 Learn about sharks at the Atlantic White Shark Conservancy
If your children are interested in marine animals, visiting the Atlantic White Shark Conservancy Center in Chatham is a must. The non-profit organization is one of the leading white shark centers in the US.
At the Chatham Shark Center, you'll get an in-depth look at the lives of great white sharks. Numerous informative exhibits are on show featuring videos and interactive experiences. An additional center in Provincetown is under construction as well.
Immerse yourself in environmental science at the Cape Cod Museum of Natural History
The Cape Cod Museum of Natural History is another outstanding educational attraction in the area. This museum on Main Street has numerous exhibits on environmental sciences. Topics covered include space, wildlife habitats, and animal conservation.
Your kids are guaranteed to have an amazing time exploring the fascinating exhibits. They'll even get to spot some creatures, with a small aquarium and birding station located on-site.
Bounce around at the fun Cape Cod Inflatable Park
One of the most exciting Cape Cod attractions for kids is the Cape Cod Inflatable Park in West Yarmouth. This entertaining park features bouncy inflatable obstacle courses, slides, and traditional bounce houses.
After jumping around on the fun inflatable courses, children can also play at an on-site water park. The H20 Water Park includes slides, an obstacle course, a pool, and a lazy river. A pirate ship-inspired jungle gym and an arcade are also available to enjoy.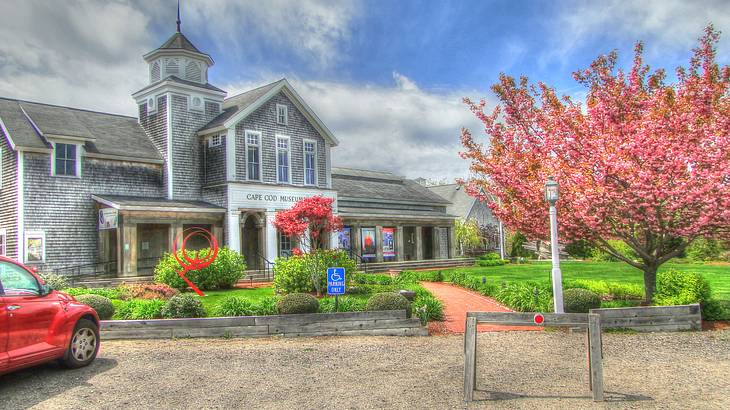 Appreciate amazing artworks at the Cape Cod Museum of Art
Going to the fascinating Cape Cod Museum of Art is an activity that all members of your family will enjoy. The local art gallery features a range of interesting artworks by local and other American artists.
Having viewed all the artworks inside, you can explore the surrounding gardens. Kids will love wandering around the green space and discovering various statues within the greenery.
Find out how chips are made on a Cape Cod Potato Chips Factory tour
What kid doesn't love potato chips? If your kids like snacking on chips, they'll probably enjoy finding out how they get made. Conveniently, Cape Cod is home to the Cape Cod Potato Chip Factory and your family can go on a tour of the facility when visiting.
On the tour, you'll get to see the production process from start to finish. Free samples are also offered, and you can shop in a fun gift shop once you've completed the informative tour.
Splash around at the Cape Codder Water Park
Another of the fun activities for kids in Cape Cod is hanging out at the Cape Codder Water Park. This fun aquatic park has multiple slides, some reaching 160-feet in height, a wave pool, a splash pool, and more! If visiting with very small children, there's also a kiddie pool.
If your children get hungry, there's a convenient food outlet. Snacks to purchase include pizza, sandwiches, and sodas. A day at Cape Codder Water Park is a failsafe way to keep everyone happy and amused.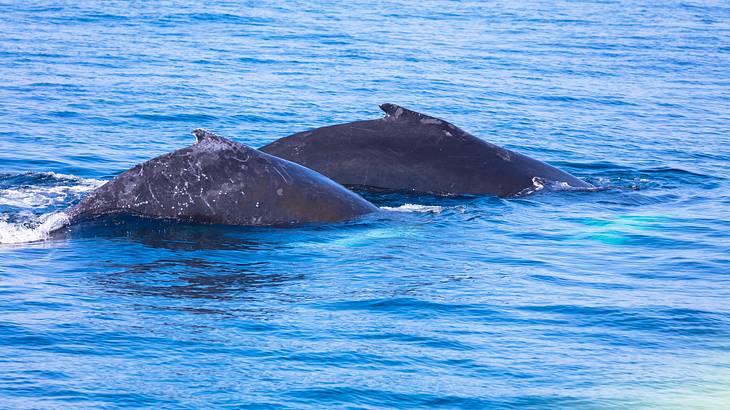 Spot humpback whales on a Hyannis Whale Watcher Cruise
Hyannis Whale Watcher Cruises are Cape Cod's best whale watching operator. Getting out on the water to spot some beautiful humpback whales is an extremely exciting and memorable experience for kids.
Once aboard the whale watching cruise, you'll sail out to areas known to inhabit whales. Hopefully, you can then watch as whales swim and breach out of the ocean. Your children will never forget seeing these majestic marine animals in their natural habitat!
Get some delicious ice cream at Somerset Creamery
Cape Cod has many incredible ice cream shops for your family to get some tasty sweet treats. Somerset Creamery is a location popular with tourists and locals.
Ice cream treats on the menu include cones, sundaes, root beer floats, and banana splits. Flavors to enjoy range from kid favorites like cookie dough and double chocolate to adult flavors, such as coffee and butter pecan.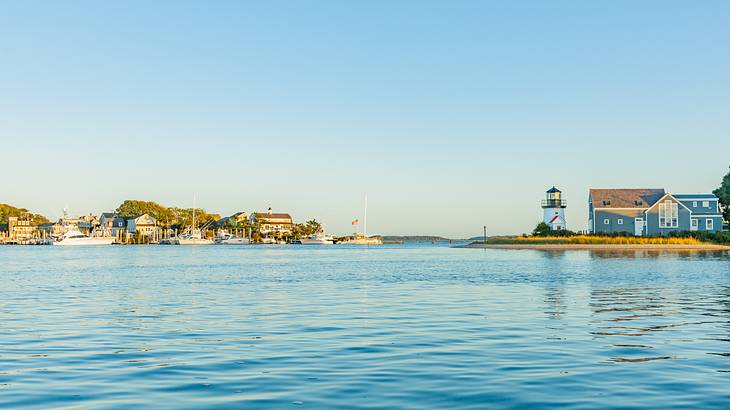 Sightsee on a Hyannis Harbor Cruise
One of the fun family things to do in Cape Cod is sightseeing on a Hyannis Harbor Cruise. On the cruise, you'll sail past many Cape Cod landmarks and can take in beautiful coastal views. Attractions to see include Squaw Island and the Kennedy Compound.
You can even add a themed cruise to your Cape Cod family travel itinerary. Your kids will love the Ice Cream Float tour that allows you to enjoy the vistas while your they snack on a yummy sundae!
Grab a drink at a local child-friendly brewery
You can discover an array of outstanding Cape Cod breweries to visit when in the area. Just because you travel with your kids doesn't mean you can't try a handful of them. Conveniently, the vast majority of breweries are child friendly.
Barnstaple Brewing is a highly recommended kid-friendly brewery to go to. This brewery offers a range of craft beers and a cute outdoor space for children to run around in while you enjoy a drink. Other popular child-friendly breweries include Cape Cod Beer and Naukabout Beer Company.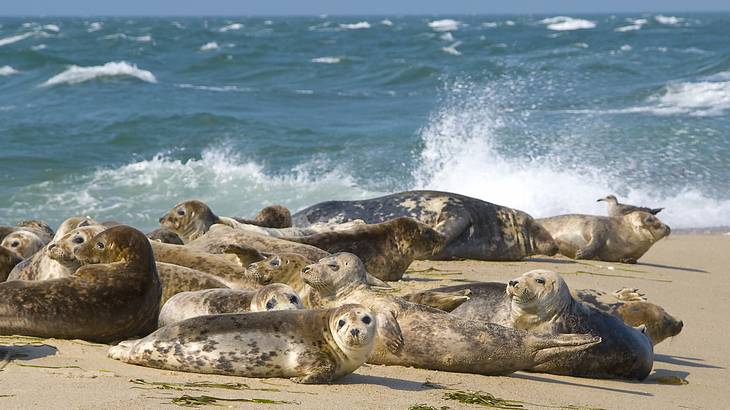 See cute seals on a Monomoy Island Ferry tour
The Monomoy Island Ferry tour company has been operating in Chatham for 25 years, making it the longest-running seal cruise company in the area. If your kids like animals, taking a seal tour is highly recommended.
The ferry will take you to areas where adorable harbor and grey seals have been spotted. Your family can see the seals playing in the sea and relaxing on the shoreline.
Spend the day outdoors at Nickerson State Park
Nickerson State Park is another spectacular outdoor area in Cape Cod. Located in Brewster, this park features beaches, ponds, and forest hiking trails. Boating is also a fun activity to enjoy in the park, with multiple lakes to go out on.
Other activities to partake in include kayaking and canyoning, swimming, and mountain biking. If you enjoy spending time in nature, a trip to Nickerson State Park is one of the best things to do with family in Cape Cod.
Enjoy a game of mini golf at Pirate's Cove Adventure Golf
A super fun activity for your kids is playing mini golf. A popular spot for mini golf in Cape Cod is Pirate's Cove Adventure Golf.
This exciting pirate-themed crazy course has an 18-hole course with lots of fun sculptures and water features. No matter how old your children are, they're sure to love challenging you and their siblings to a friendly game of pirate mini-golf!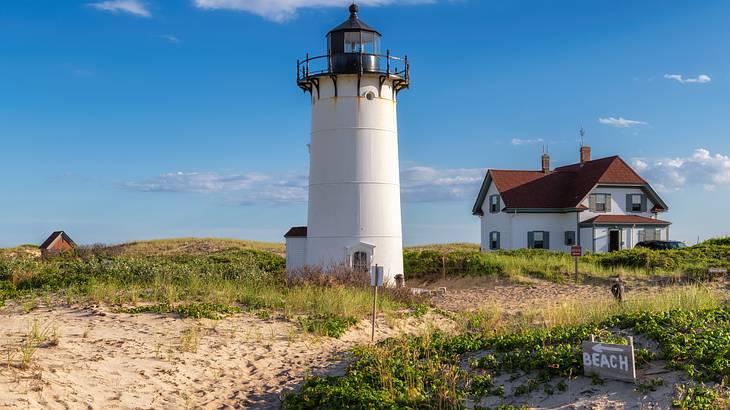 Relax on Race Point Beach
Race Point Beach is a scenic public beach with calm waters and a sandy shore. If visiting Cape Cod during warmer months, taking your family for a beach day here is a great idea.
The kids will love building sandcastles and playing beach games while the adults chill out on the relaxing coastline. As part of the Cape Cod National Seashore, you can combine your day at the beach with some hiking and wildlife viewing.
Go bowling at Ryan Family Amusements
Kids will be spoiled for choice at Ryan Family Amusements! This entertainment complex has an array of exciting activities to try including bowling and playing numerous arcade games.
Ten-pin and candlepin bowling are available, and arcade games on offer include skeeball, basketball games, and video games. You children can also grab pizza, wings, and soda as they play. If looking for things to do with kids on Cape Cod, a trip to Ryan Family Amusements is a must.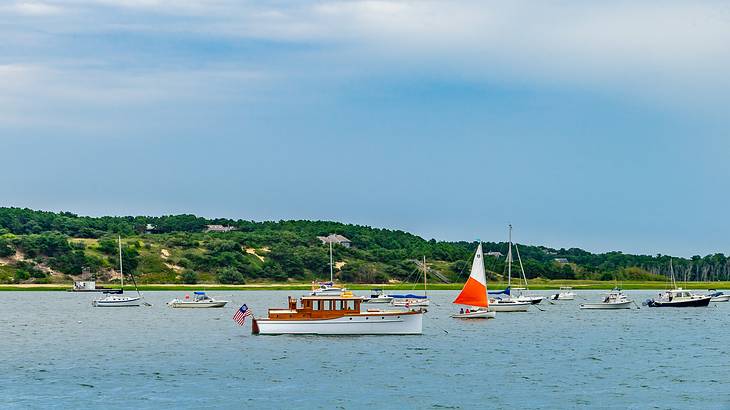 Connect with nature at Wellfleet Bay Wildlife Sanctuary
The beautiful Wellfleet Bay Wildlife Sanctuary is the perfect place to spend a day with your kids in Cape Cod. The sanctuary sits next to Wellfleet Harbor and is characterized by rolling hills and pretty flora.
While at Wellfleet Bay Wildlife Sanctuary, your children may spot an array of different animals. Creatures to see include various bird species, rabbits, and sea turtles on the beach. You can also follow numerous trails, and there is an informative nature center to visit.
See a movie at Wellfleet Cinemas
Called "Cape Cod's Premiere Family Destination" the Wellfleet drive-in cinema is the ideal place to visit with your kids This outdoor theater is also the only drive-in cinema in Cape Cod.
Featuring an array of outdoor screens, simply drive up and watch the movie of your choice. A range of classics and newer releases are shown, and all showings are double features. There's also a dairy snack bar with ice cream treats, plus a mini golf course and indoor cinema for when it rains.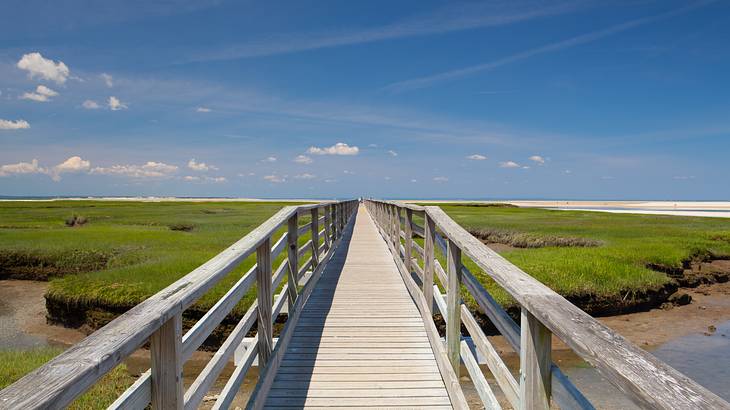 Bike or hike the Cape Cod Rail Trail
The Cape Cod Rail Trail is a 25.5-mile trail that passes through various towns in the area. You can explore as much of the scenic trail as you like. No matter how much your family covers, you'll get to enjoy the most stunning countryside, coastal, and quaint town views.
There are many ways to tackle the trail too. Biking or hiking the route are the most popular options. However, you can also roller blade or horseback ride. You can even participate in cross-country skiing on the Rail Trail during the winter.
Dive into the life of pirates at the Whydah Pirate Museum
If your children like pirates then one of the Cape Cod activities for kids that you must try is visiting the Whydah Pirate Museum. At the museum, you can discover various exhibits on real-life pirates.
Displays feature artifacts recovered from shipwrecks and informative displays on famous pirates. Interestingly, the museum boasts that it's home to some of the world's only authenticated pirate treasure! If you visit this fascinating museum, your family is guaranteed to have an incredible time!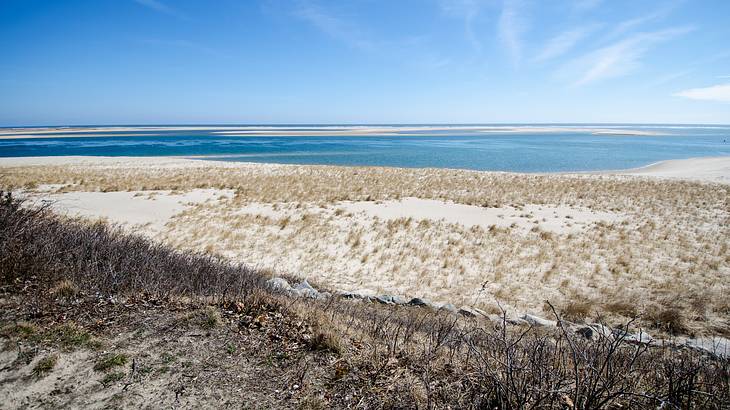 Explore the Cape Cod National Seashore
Families that love outdoor adventures must visit the Cape Cod National Seashore! The 43,600-acre national park includes beaches, scenic hiking trails, and lots of wildlife. It's definitely one of the most unique and beautiful national parks on the East Coast.
While in the park, you can follow kid-friendly hiking trails through beautiful forests, walk on the beach, or kayak on the ocean. The park is also the ideal place to ride bikes, and you can see attractions like quaint New England lighthouses.
Wander around beautiful grounds at the Heritage Museum and Gardens
One of the best Cape Cod family activities is exploring the Heritage Museum and Gardens. The gardens here are stunning and are filled with beautiful greenery and colorful flowers. Wandering around these gardens is magical, and your kids will feel like they're in a fairy tale.
Along with many plants, you can discover water features, statues, and other elements, like windmills. After seeing the gardens, you can visit the museum, which houses exhibits on New England history, culture, and wildlife.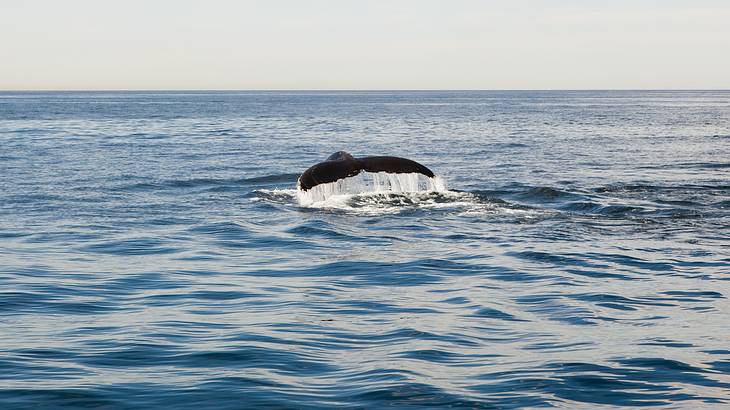 Interact with Atlantic sea creatures at the Woods Hole Science Aquarium
The Woods Hole Science Aquarium is a small-scale educational aquarium that focuses on creatures found in mid-Atlantic and Northeast waters. At the aquarium, your kids can learn more about the fascinating marine life that lives in nearby oceans.
There are also some exciting exhibits with real marine animals to view. One of the most popular things to see here is the seal exhibit. The sweet seals were rescued from nearby beaches. They are being well cared for here as they, unfortunately, won't survive if released back into the wild.
In Summary
Cape Cod is a beautiful and quaint seaside destination. If planning a family vacation, this area of New England is an ideal place to visit. You can discover an array of exciting activities in Cape Cod for kids and adults alike.
Give us feedback about this article
Learn more about Cape Cod:
More articles about Massachusetts:
Read more articles about the United States:
More articles about things to do:
More visual stories related to this article:
---
---
Want to keep exploring?
Subscribe for discounts on tickets and hotels and our latest guides.
Thank you for subscribing
We will be in touch soon with discounts on tickets and hotels and our latest guides.
Want to keep exploring?
Subscribe for discounts on tickets and hotels and our latest guides.
Thank you for subscribing
We will be in touch soon with discounts on tickets and hotels and our latest guides.
Related Articles