25 Famous Landmarks in New Hampshire You Can't Miss
Destguides may receive commissions from purchases made through affiliate links in this article.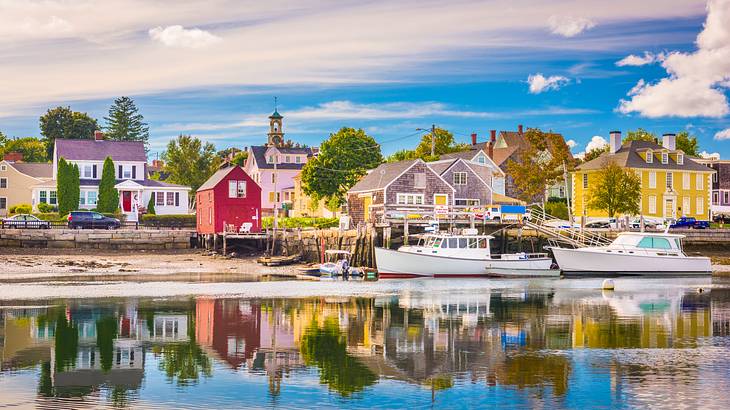 If you have landed on this article, you might be wondering:
What is New Hampshire famous for?
New Hampshire is famous for many things. It is one of the oldest states in America, with its European settlements dating back to 1623 as part of the Massachusetts Bay Colony. It also has some of the highest mountains on the East Coast, with Mount Washington in the White Mountain range being over 6,000 feet tall.
While New Hampshire's state motto, "Live free or die," may come across strong, you'll feel welcomed as you explore its cities, towns, and hamlets. Many local and statewide efforts have been made to remember and preserve its past by keeping it present.
With centuries of history and vast natural beauty, there's a lot packed into this small New England state. This list of 25 famous landmarks in New Hampshire will help visitors to the Granite State sift through all it has to offer. Continue reading to learn more!
25 New Hampshire Landmarks
American Independence Museum
The American Independence Museum is found in New Hampshire's revolutionary capital Exeter. The museum strives to educate and entertain visitors of all ages about the country's revolutionary era.
If you have children, come on the weekend to take part in Family Saturday events and Revolutionary Story Time. If you're visiting without little ones, consider joining their "Drink a Beer for History" sessions at Folsom Tavern and meeting with local brewers.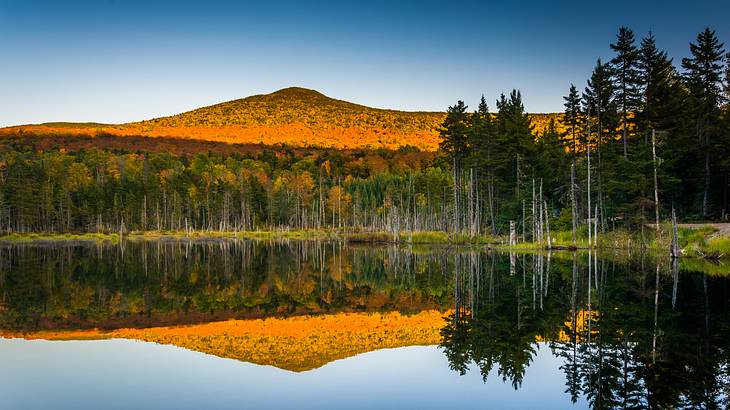 White Mountain National Forest
White Mountain National Forest is one of the top natural landmarks in New Hampshire, with views (and elevation) that will take your breath away. At elevations of over 6,000 feet, this is one of the highest areas in the Appalachian mountain range.
This vantage point offers visitors views of alpine lakes, lively streams, and opportunities for wildlife. Camping and hiking are also popular activities here, helping you turn this national forest into your backyard.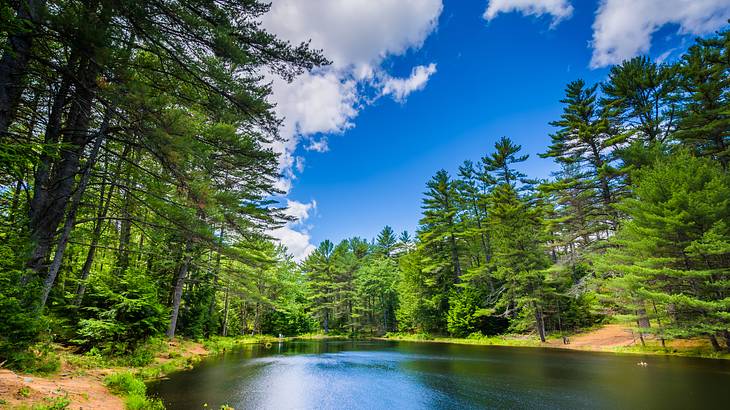 Bear Brook State Park
Bear Brook State Park is the largest developed park in New Hampshire, covering over 10,000 acres of public land. Visitors looking to stay here can either camp in established sites at Beaver Pond or stay in cabins at Bear Hill Pond.
The state park is great for archers with its 15-target range and four-target practice range. Visitors can enjoy exploring in all seasons, with summer hiking trails transitioning to cross-country skiing and snowmobile paths each winter.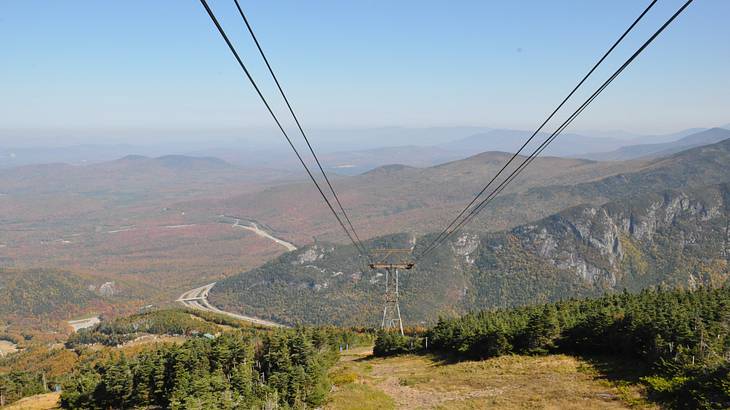 Cannon Mountain Aerial Tramway
The Aerial Tramway, the first of its kind built in North America, whisks visitors to the 4,080-foot peak of Cannon Mountain. While there are plenty of hiking trails to reach this spot, this cable car reaches its destination in less than ten minutes.
Once atop Cannon Mountain, you'll have plenty of choices. You can explore its walking paths, head to the 360-degree observation deck, or grab some food and drink at the summit cafe.
Endicott Rock State Historic Site
In 1652, surveyors for the Massachusetts Bay Colony inscribed the words "JOHN ENDICUT GOV" onto a rock near Lake Winnipesaukee. This simple engraving refers to then-Governor John Endicott and is one of the first historic places in New Hampshire to mark the arrival of Europeans.
Today, the rock is visible from behind protective fencing, and the small park that holds it is an excellent place to picnic.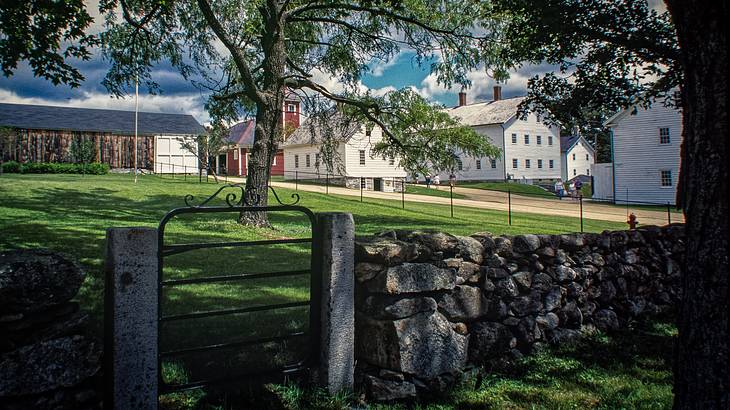 Canterbury Shaker Village
The religious group known as the Shakers began in England during the mid-18th century. In 1792, they established their 7th communal village in Canterbury, New Hampshire.
Due to their followers' vows of celibacy and a lack of new converts, the last of the Canterbury Shakers passed away in 1992. The village has since been maintained as a museum to preserve the land and host events that share Shaker values.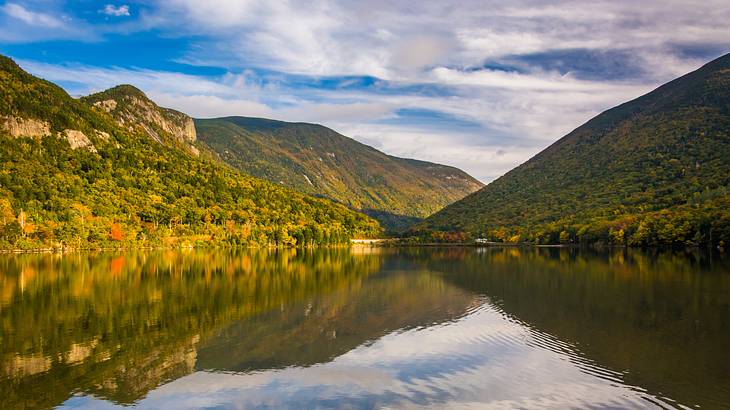 Franconia Notch State Park
Nestled in the White Mountains, Franconia Notch State Park has just about everything an outdoor enthusiast could want. During the warmer months, you can enjoy hiking, swimming, and boating. In the winter, you can go snowmobiling, downhill skiing, or dogsledding.
This was also the location of the "Old Man of the Mountain," a rock formation that looked like the jagged profile of a human face. In 2003, the formation collapsed after millennia of freezing and thawing.
Daniel Webster Birthplace State Historic Site
Despite being a simple two-room log cabin outside Franklin, Daniel Webster's birthplace is a very famous landmark in New Hampshire. It serves as a time capsule of agricultural life in the early United States.
Daniel Webster grew to serve in the US Congress and as Secretary of State under three different presidents. Originally known for his oratory skills, his reputation has since suffered due to compromises on slavery before the Civil War.
Enfield Shaker Museum
Originally called the "Shaking Quakers" for their singing, dancing, and recent split from the Quaker movement, the Shakers have deep roots in New Hampshire.
In 1793, Enfield Shaker Village became the 18th such village established in the United States. Today, the village hosts artisan workshops, educational events, and concerts on its 1,100 acres of town, pasture, and forested land.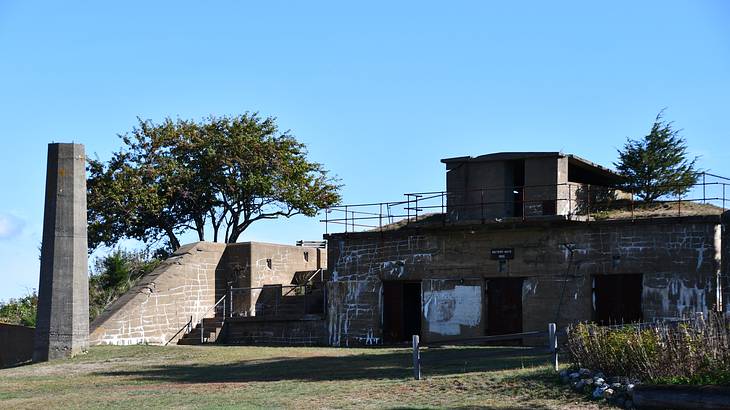 Fort Stark State Historic Site
Fort Stark State Historic Site is a former military fortification on New Castle Island in the Atlantic Ocean. It was in use from the early 1900s through World War II, when it was used for naval training.
The fort gets its name from John Stark, a New Hampshire-born Revolutionary War hero who fought in the Battle of Bennington. Since 1979, it has been preserved as a state park with a museum that tracks its history.
Franklin Pierce Homestead State Historic Site
Franklin Pierce, the fourteenth president of the United States, hailed from New Hampshire, and his home in Hillsborough is preserved as a state historic site.
He lived here from 1804 until 1834, when he left to serve in Congress, fight in the Mexican-American War, and ultimately become President of the United States. The homestead has been preserved to reflect the lifestyle of affluent members of New Hampshire society in the early 19th century.
Hampton Beach State Park
Hampton Beach State Park is a great oceanfront destination and one of the most popular places in New Hampshire. Opportunities for fishing, camping, swimming, and picnicking speckle its miles of sandy beaches.
Lifeguards and comfort stations are provided, making this an excellent spot for families to enjoy. Concerts, movie nights, and fireworks regularly take place here, so check their calendar of events before your visit!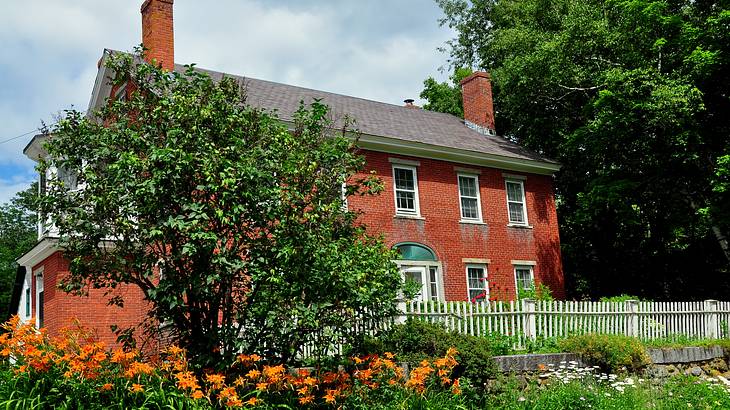 Harrisville Historic District
Harrisville was once the industrial heart of New Hampshire, with water-powered wool mills employing nearly half of its population by the late 1800s. The last of these mills finally closed their doors in 1970 after a century of spinning and weaving the wool for much of the country.
Efforts to preserve the buildings and revitalize the community began immediately, and today visitors can enjoy this historic village as an arts and boutique district.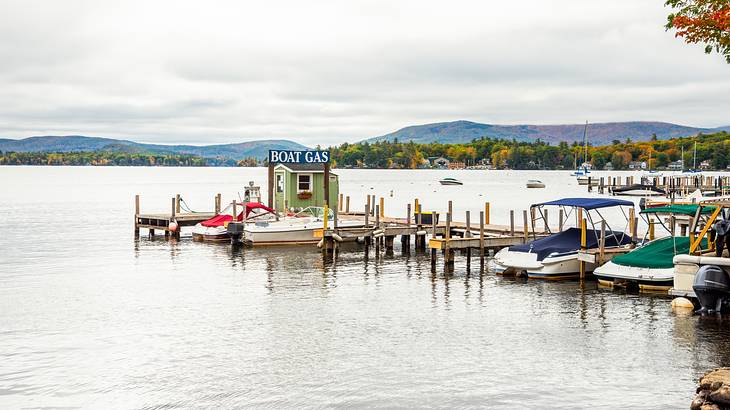 Lake Winnipesaukee
Found in the foothills of the White Mountains, Lake Winnipesaukee is New Hampshire's largest lake. Villages dot the shoreline, inviting visitors to discover each of their quirks, hospitalities, and beaches.
If that's not enough, its crystal-clear waters are surrounded by three separate mountain ranges. You'll have views of the distant Whites to the north, the Ossipee range to the northeast, and the Ossipee range to the southwest.
Monadnock State Park
Mount Monadnock rises to a summit of 3,165 feet, and both the mountain peak and its surrounding area constitute this New Hampshire state park. It has also been designated as a Natural National Landmark under the purview of the National Park Service since 1987.
Visitors are invited to enjoy recreational opportunities like camping, hiking, cross-country skiing, and snowshoeing year-round. You can also explore thousands of acres of protected highlands surrounding the park.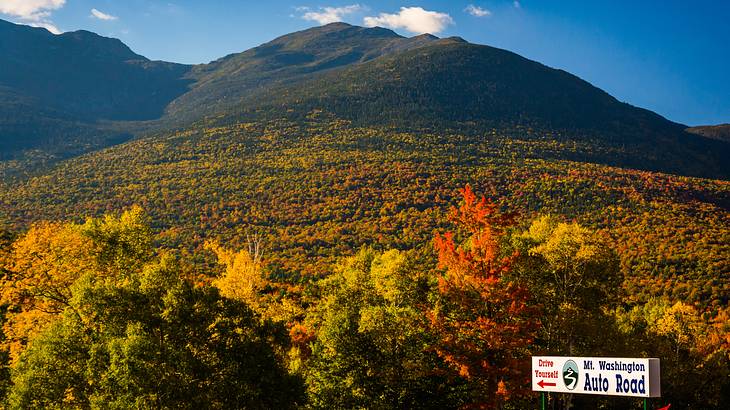 Mount Washington
Mount Washington is one of the most famous places to visit in New Hampshire. A fun fact about New Hampshire relating to the mountain is that it's the highest point in the state. Due to its height, on a clear day, you can see to New York, Quebec, and the Atlantic Ocean from the 6,288-foot summit.
Its not-so-clear days are what really makes it famous, though. Its unpredictable weather conditions have included wind speeds over 200 mph, storms dumping snow at a rate of a foot per hour, and temperatures down to -47 degrees Fahrenheit.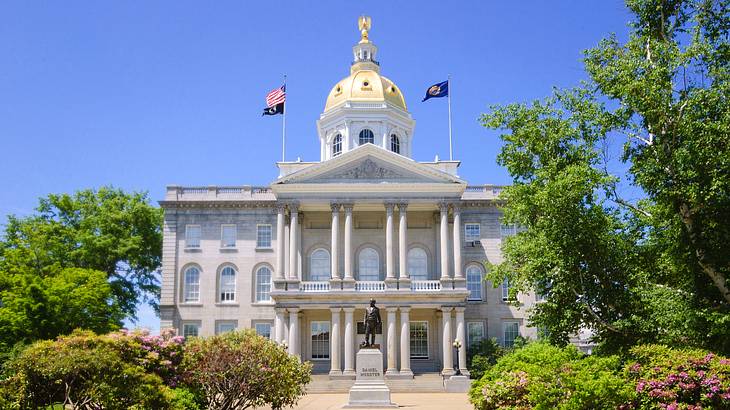 New Hampshire State House
The New Hampshire State House was built from 1816-1819 as the state capitol to house the Senate, House of Representatives, and Governor's office.
Designed by architect Stuart Park, the building has two stories of greek columns at its entryway and is topped by a golden dome. Inside, the approximately 400-member House of Representatives is the largest state legislature in the country.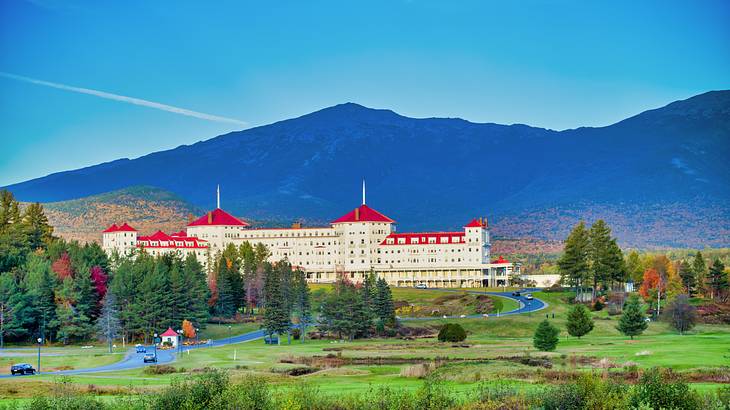 Omni Mount Washington Resort
The Omni Mount Washington Resort in Bretton Woods is one of the most famous landmarks in New Hampshire. In 1944, delegates from forty-four Allied nations of World War II met here to discuss the post-war world, establishing the World Bank and IMF in the process.
Today, the resort's grandeur is still apparent. The sprawling hotel mansion and its grounds are home to indoor pools, ski slopes, a golf course, and the ever-present White Mountains.
Portsmouth Historical Society's John Paul Jones House
Sometimes referred to as the "Father of the American Navy," John Paul Jones rose to fame as a Revolutionary War naval commander. As such, his body is laid to rest at the Naval Academy Chapel in Annapolis, Maryland.
Though this house in Portsmouth was built in 1758 for a man named Gregory Purcell, it became known as the John Paul Jones House after he intermittently rented a room here between 1777 and 1782.
Robert Frost Farm State Historic Site
From 1900-1911, the poet Robert Frost and his family lived in this farmhouse in Derry, New Hampshire. Later in life, he credited the fields, forests, and orchards on these thirty acres as inspiration for many poems responsible for his four Pulitzer Prizes.
Visitors to the Robert Frost Homestead can listen to performances of his works and explore the grounds, walking in the footsteps of the beloved American poet.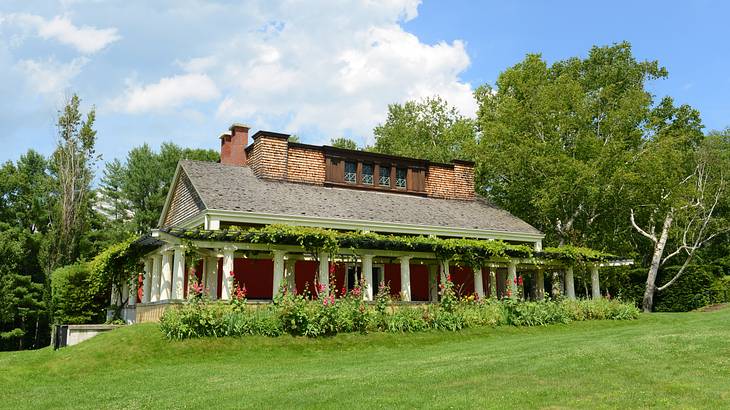 Saint-Gaudens National Historical Park
Augustus Saint-Gaudens was America's best-known sculptor in the late 1800s. His famous bronze works include a statue of Abraham Lincoln in Lincoln Park, Chicago, and one of William Tecumseh Sherman in Manhattan's Grand Army Plaza.
From 1885 until his death in 1907, he lived in Cornish, New Hampshire, at what is now listed by the national register of historic places as a national historic landmark. Many of his sculptures remain here on display year-round for visitors to enjoy.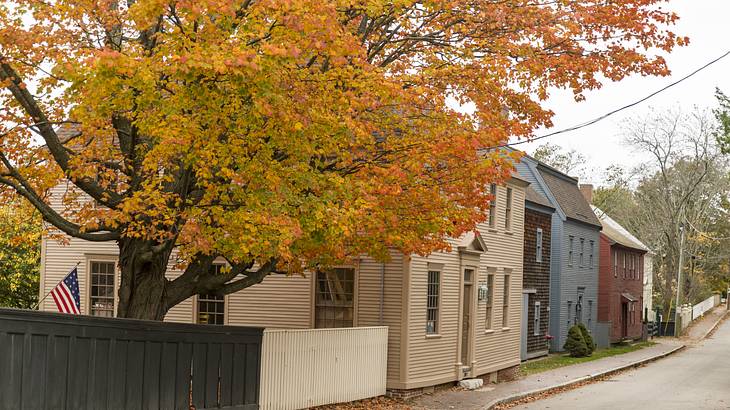 Strawbery Banke Museum
Portsmouth's Strawbery Banke Museum is one of the New Hampshire points of interest to include on your trip to New England. The city block-sized museum preserves hundreds of years of history in its thirty-seven restored buildings going back to the 1600s.
Rather than marking it for urban renewal, the museum has preserved the neighborhood since 1965. Today, costumed role-players and traditional crafts demonstrations teach visitors about changing ways of life in New Hampshire's oldest European settlement.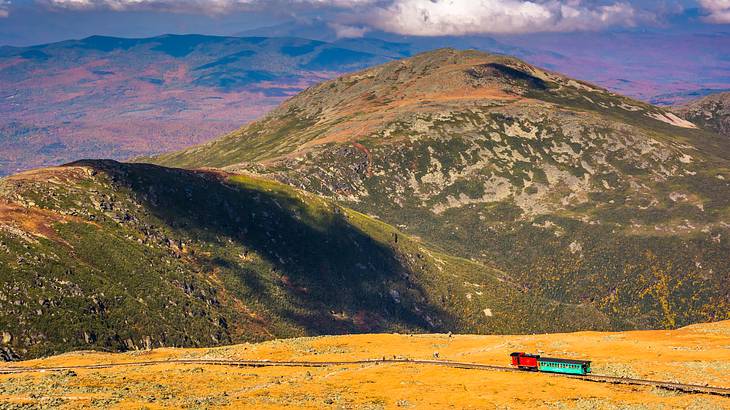 The Mount Washington Cog Railway
The Mount Washington Cog Railway has taken passengers to the summit of Mount Washington for over 150 years. Rather than a steam engine, modern visitors ascend to 6,288 feet behind a biodiesel locomotive.
The dizzying climb is just as incredible today as it was one the railway first opened. One of the first passengers, P.T. Barnum, called it the "second greatest show on earth!", impressed but unwilling to admit it might have topped his own production.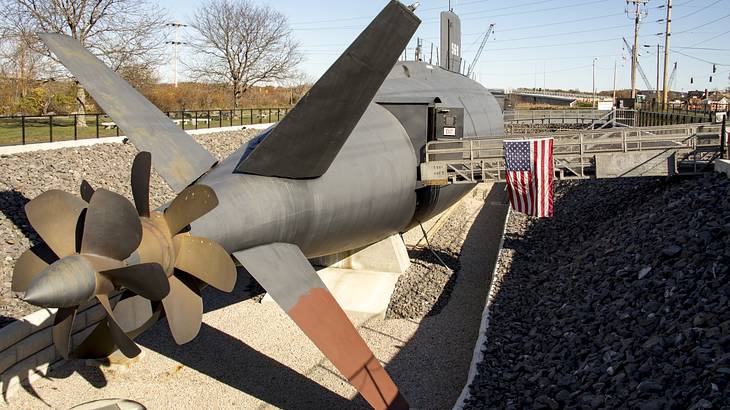 USS Albacore Museum
The USS Albacore lies in a rocky ditch in Portsmouth, New Hampshire, looking suspiciously like a beached whale. After being decommissioned in 1972, it was later rescued from salvage and put here on permanent display.
Visitors are invited to walk through the vessel, which was once the American prototype for submarines designed to remain exclusively below the surface. At one point in its history, it was the world's fasted submarine!
White Island State Historic Site
White Island State Historic Site is one of the most distinctive historical landmarks in New Hampshire. Despite being only a few hundred feet of inhospitable rock and sand in the Atlantic Ocean, its lighthouse station has been crucial in safely directing ships to New Castle and Portsmouth.
The first lighthouse was built here in 1820, and the current one stands eight-five feet above the water. It remains the state's only offshore lighthouse.
Conclusion
These 25 famous landmarks of New Hampshire will leave you enamored with the nation's seventh-smallest state. Although you can drive across its width in about an hour, you can stay for months and still barely scratch the surface of all it has to offer.
While none of these places are in danger of vanishing like the Old Man of the Mountain, there's also no reason to wait. Start exploring and find out which of New Hampshire's natural, cultural, and historic landmarks are your favorites!
Give us feedback about this article
More articles about New Hampshire:
Read more articles about the United States:
More articles about landmarks:
More visual stories related to this article:
---
---
Want to keep exploring?
Subscribe for discounts on tickets and hotels and our latest guides.
Thank you for subscribing
We will be in touch soon with discounts on tickets and hotels and our latest guides.
Want to keep exploring?
Subscribe for discounts on tickets and hotels and our latest guides.
Thank you for subscribing
We will be in touch soon with discounts on tickets and hotels and our latest guides.
Related Articles