20 Famous Cleveland Landmarks That You Have to See
Destguides may receive commissions from purchases made through affiliate links in this article.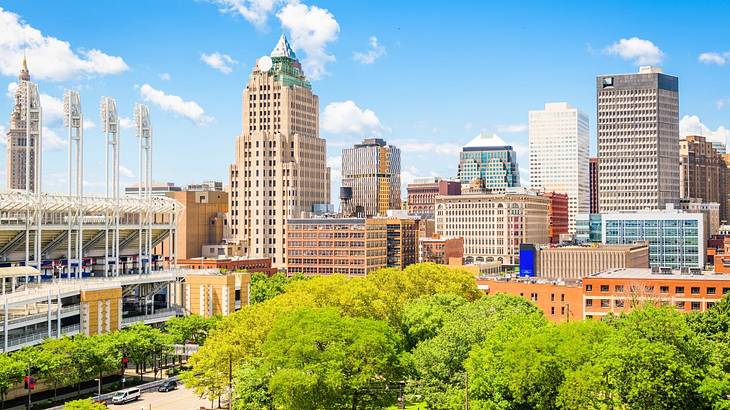 Found on the shores of Lake Erie, Cleveland is a must-see city in the United States. Cleveland features numerous attractions, with something to do here for all types of travelers.
There are also an array of amazing neighborhoods to explore in Cleveland, from bustling and trendy Ohio City to charming Little Italy. Best of all, you can find a multitude of famous Cleveland landmarks to see. These include museums, parks, libraries, and multiple National Historic Landmarks.
If you're planning an exciting visit to this Ohio city, read on to discover 20 Cleveland landmarks you have to see!
20 Famous Landmarks in Cleveland, Ohio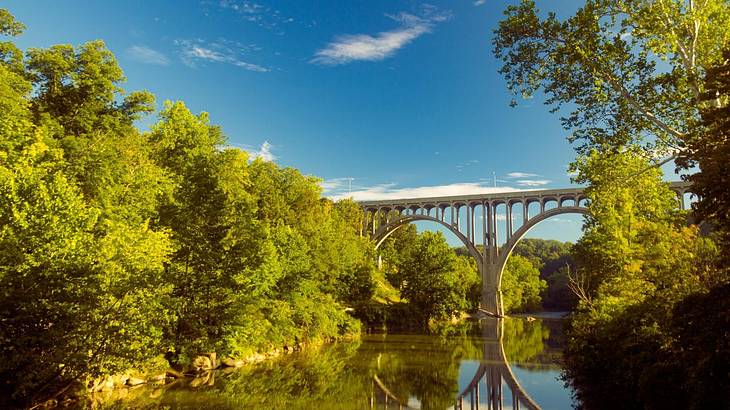 Cuyahoga Valley National Park
Ohio is home to one of the best parks on the East Coast, Cuyahoga Valley National Park. The park is conveniently located two hours from Columbus and is a great place to visit for those who love hiking and being in nature.
One of the must-see natural features in Cuyahoga Valley National Park is Brandywine Falls. The spectacular 65-foot falls can be reached by following a range of trails that take you through scenic forests.
Cleveland Botanical Garden
If you're looking for a relaxing way to unwind, wandering around the pretty Cleveland Botanical Garden is recommended. The scenic attraction is also one of the best places to plan a romantic date in Cleveland.
This spectacular 10-acre collection of gardens features both indoor and outdoor displays. Plants and flowers come from across the globe, with flora from locations including Costa Rica, Japan, and Madagascar on display.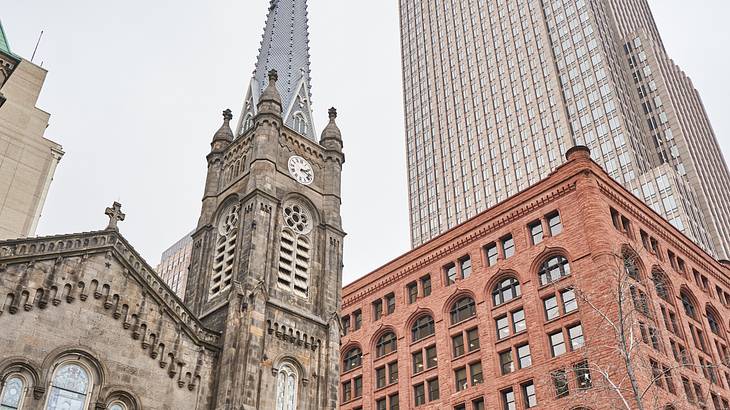 Old Stone Church
Another of the historic Cleveland buildings that you can't miss is the Old Stone Church. Constructed in 1855, the church is built in a Romanesque style and is the oldest building in Cleveland's Public Square.
If you are interested in visiting, you can explore alone or take a guided tour. During this time, you'll learn more about the construction of the structure and the church's history. If you wish to participate in the mass, check the church website for service hours.
Cleveland Grays Armory Museum
Cleveland Grays Armory was constructed in 1894 by Cleveland Grays military company. Today, the Romanesque-style armory is the oldest building in downtown Cleveland and was added to the National Register of Historic Places in 1973.
If interested in visiting, the armory now houses a museum. Exhibits to discover here cover the background of the building, its uses, and Cleveland military history.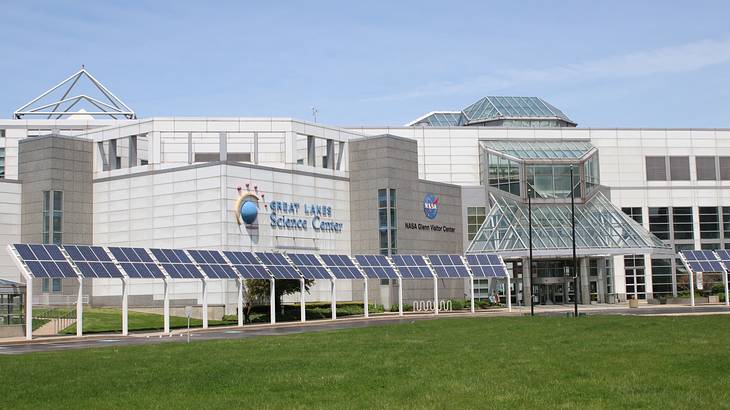 Great Lakes Science Center
One of the great Cleveland points of interest for families is the Great Lakes Science Center. This educational attraction features various science, math, and engineering exhibits
Some fun topics covered include space travel, recycling, and biomedical technology. There's also a unique dome theater where you can watch informative movies on a six-story high screen.
Cleveland Cultural Gardens
Another point of interest in Cleveland, Ohio, which also features stunning floral displays, is Cleveland Cultural Gardens. This attraction, which is part of the National Register of Historic Places, is located in Rockefeller Park and has been in the city since 1916.
Cleveland Cultural Gardens features 33 different themed gardens representing the ethnic groups that have contributed to Cleveland's development.
Some of the gardens include Russian, Chinese, and Colombian gardens. Exploring each of the unique and beautifully cultivated gardens is a fun and laid-back activity to enjoy in Cleveland.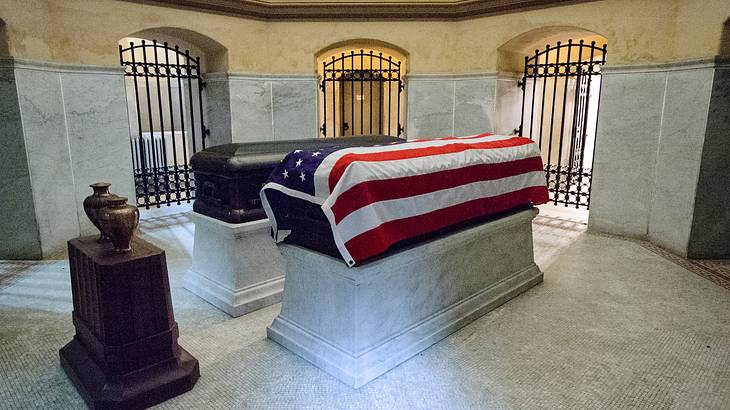 Lake View Cemetery
Lake View Cemetery is a cemetery that serves Cuyahoga County and runs along Euclid Avenue. The cemetery opened in 1869 and covers 285 acres. It's technically located in three areas: Cleveland, Cleveland Heights, and East Cleveland.
An extremely notable feature here is the tomb and memorial of President James A. Garfield. You can view the president's final resting place here, along with memorial statues and monuments dedicated to Garfield.
Cleveland Public Library
Founded in 1869, the Cleveland Public Library system includes 27 branches throughout the city. The most notable is the Main Library, located in downtown Cleveland.
Admire the library's architecture and explore the endless shelves of books, featuring classics, non-fiction, and more. Also, you will discover special collections that feature rare publications.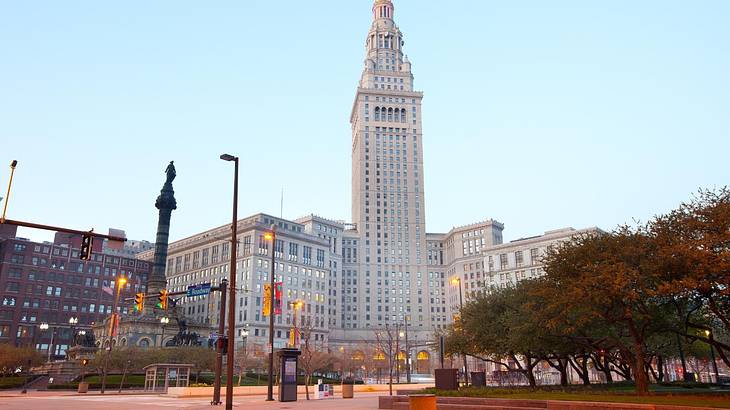 Cleveland Public Square
Cleveland Public Square is one of the best outdoor historical sites in Cleveland, Ohio. The square was developed between 1857 and 1861, but the original plans were drawn out as early as 1796.
Today, Cleveland Public Square is a much-loved venue featuring green space and other attractions. Some of the many things to do here include walking around scenic gardens, jogging, sharing a picnic, or taking your kids to the splash pad. In the winter, there's also a fun ice-skating rink to enjoy.
Christmas Story House and Museum
The Christmas Story House and Museum is one of the renowned places to visit in Ohio. This 19th-century Victorian home was featured in A Christmas Story as Ralphie Parker's home.
When in the city, you can visit the house which has been restored to as it was in the 1983 movie. Across the street from the house is a fascinating museum. This attraction features exhibits with props and memorabilia from the film and other interesting displays.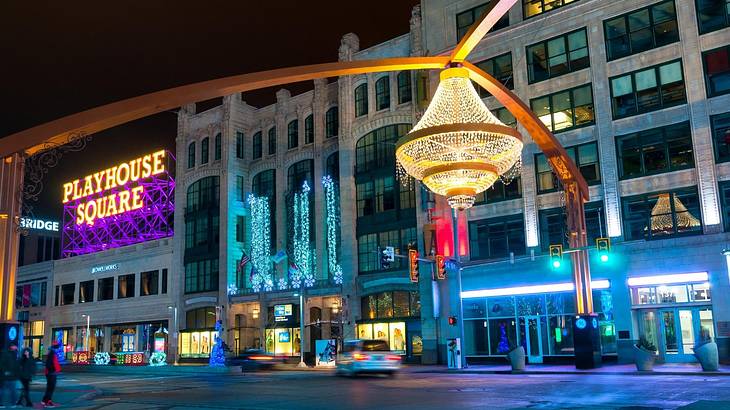 Playhouse Square
Playhouse Square is a Broadway theater in Cleveland built in 1921. It is the biggest performing arts center in the US found outside of New York City.
Shows to watch here include musicals, comedy performances, and dance acts. Playhouse Square is a must-see Cleveland landmark when in the city!
Cleveland Metroparks Zoo
Kids and adults alike will enjoy a visit to Cleveland Metroparks Zoo. The conservation-based zoo is notable as it has the largest primate population in the United States.
Along with seeing various primates, you can spot koalas, lions, seals, and many other species. Cleveland Metroparks Zoo also hosts education seminars and fun events, such as informative tours and "keeper for the day" experiences.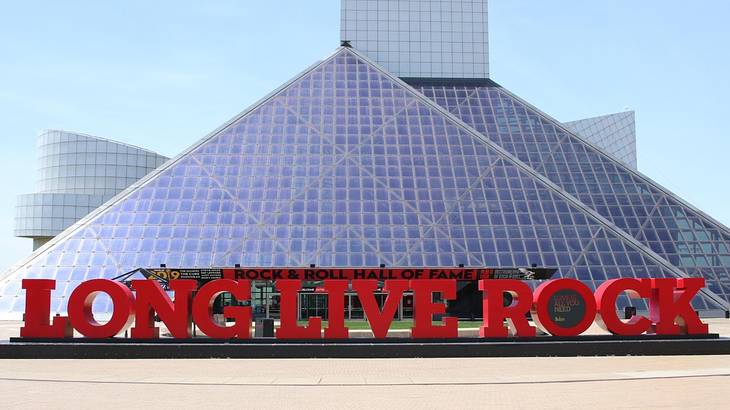 Rock & Roll Hall of Fame
Located on the shores of Lake Erie, the Rock & Roll Hall of Fame is one of the most famous landmarks in Ohio. The 150,000-square-foot museum covers everything rock and roll and is an absolute must-visit for music enthusiasts.
Exhibits to discover cover the history of Rock & Roll, iconic musicians in the genre, and much more. There's also a theater that shows music-themed films, and you can find an array of events happening throughout the year.
Cleveland Orchestra Building
Severance Hall, also known as the Cleveland Orchestra Building or Severance Music Center, is a stunning venue that notably serves as the home of the Cleveland Orchestra. This building was opened in 1931 and is another Cleveland structure on the National Register of Historic Places.
While in Cleveland, you can tour the building and spend an evening watching the orchestra perform. Along with taking in the incredible show, you'll get to admire the building's breathtaking architecture.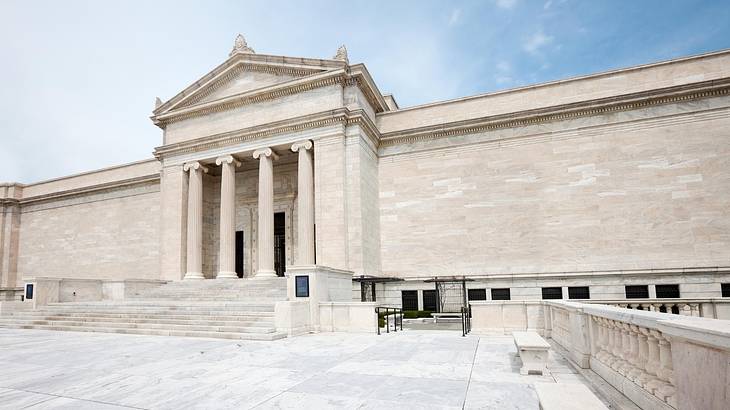 Cleveland Museum of Art
One of the famous places in Cleveland that arts and culture lovers will be excited to visit is the Cleveland Museum of Art. Founded in 1913, the gallery houses over 60,000 pieces of art, including those created up to 6,000 years ago!
Displays include works by American and international artists, with some pieces dating back to ancient Egypt and other ancient periods.
If this attraction appeals to you, check the Cleveland Museum of Art events calendar because the museum hosts many engaging and educational talks, presentations, and experiences.
Fenn Tower at Cleveland State University
Fenn Tower is found just off of Prospect Avenue on the Cleveland State University campus. The historic structure was built in 1930 and today acts as a university residence.
When in the city, stopping by the campus to see the building is highly recommended. However, do note that it's unlikely you'll be able to see inside.
Greater Cleveland Aquarium
Opened in 2012, the Greater Cleveland Aquarium is one of the more modern attractions in the city. However, it's housed in the FirstEnergy Powerhouse that was constructed in the 1880s.
A trip to the aquarium is ideal for those traveling with kids or those interested in marine life. Some sea life animals you can see here include sharks, octopi, and other tropical fishes.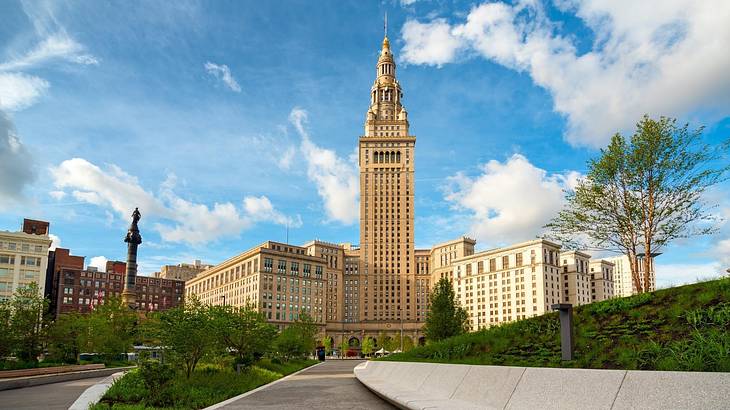 Terminal Tower
Terminal Tower is arguably one of the most well-known Cleveland monuments. The 235-meter-high tower features 52 floors and has sat on the city skyline since 1930.
Today, the building houses luxury apartments and an observation deck on the 42nd floor. From the deck, you can enjoy 360-degree views of downtown Cleveland, with the ability to see 30 miles away on a clear day.
Western Reserve Historical Society
Located on East Boulevard, the Western Reserve Historical Society is an informative museum with exhibits on Cleveland culture and history. Topics to learn about include sports, industrial, and social history of the area.
As you explore each exhibit, you'll also discover an array of local artifacts, some of which are over 100 years old. Having looked around the museum, be sure to visit the pretty on-site gardens.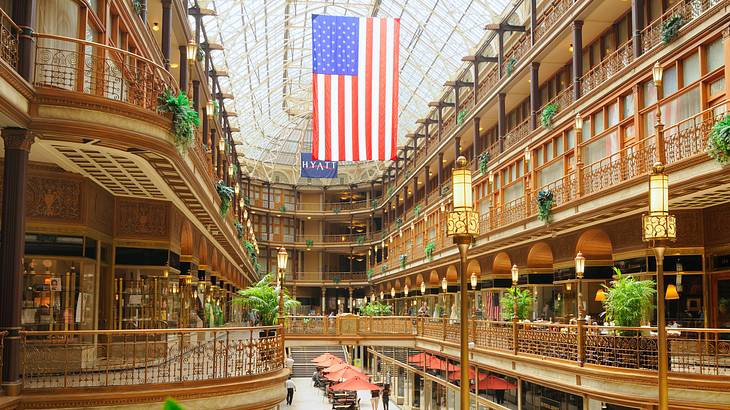 The Old Arcade
Downtown Cleveland's Arcade, also known as the Old Arcade, is a late 1800s Victorian-style building. Even in the 19th century, the building acted as a shopping mall. In fact, the Old Arcade is thought to be one of the first indoor malls in the US.
If you visit the arcade to shop, you'll discover various stores to explore. These include independent shops and quaint cafes. Of course, you can also appreciate the stunning architecture while inside.
In Summary
One of the must-visit city destinations in the United States is Cleveland. This charming city has something for everyone, like outdoor spaces, fun attractions, and historical landmarks.
After reading this list, you should have a good idea of the best Cleveland, Ohio, points of interest. By seeing even a handful of these sights, you're sure to have a memorable vacation!
---
---
Want to keep exploring?
Subscribe for discounts on tickets and hotels and our latest guides.
Thank you for subscribing
We will be in touch soon with discounts on tickets and hotels and our latest guides.
Want to keep exploring?
Subscribe for discounts on tickets and hotels and our latest guides.
Thank you for subscribing
We will be in touch soon with discounts on tickets and hotels and our latest guides.
Related Articles