Where to Stay in Oklahoma City? 7 Best Places to Stay in Oklahoma City
Destguides may receive commissions from purchases made through affiliate links in this article.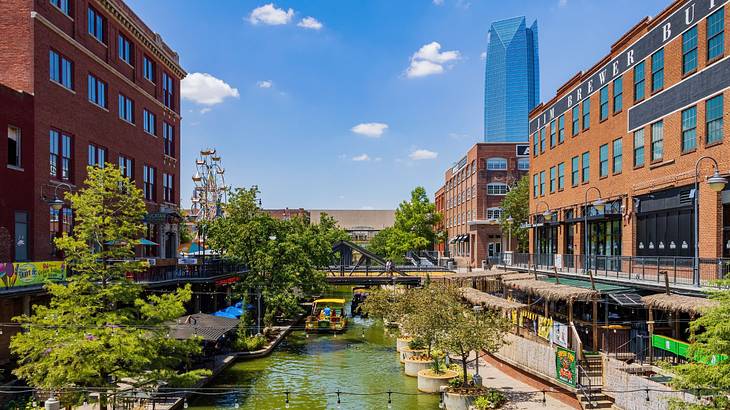 Oklahoma City, in the Southwestern United States, is the capital of the state of Oklahoma. It's a sprawling city with countless landmarks and tourist attractions spread throughout its neighborhoods. Commonly referred to as "OKC," you will find everything from world-class museums to amusement parks, with an assortment of places to stay around the tourist-focused areas of the city.
From Downtown Oklahoma City, with parks, museums, and plenty of nearby shopping, dining, and nightlife, to the upscale golf community around Nichols Hills, there are a variety of uniquely diverse neighborhoods in OKC. So many that choosing where to stay in Oklahoma City can be challenging, especially if it's your first visit.
If you need help getting to know the best areas for tourists in Oklahoma City, keep reading. By the end of this guide, you'll learn all about the top seven neighborhoods in OKC and how each one will affect your vacation experience.
7 Best Places to Stay in Oklahoma City
Oklahoma City Places to Stay Video
Check out our highlights video of Oklahoma City places to stay.
Oklahoma City Places to Stay Map
A map of Oklahoma City. Use the map to explore all the places to stay.
Best Areas to Stay in Oklahoma City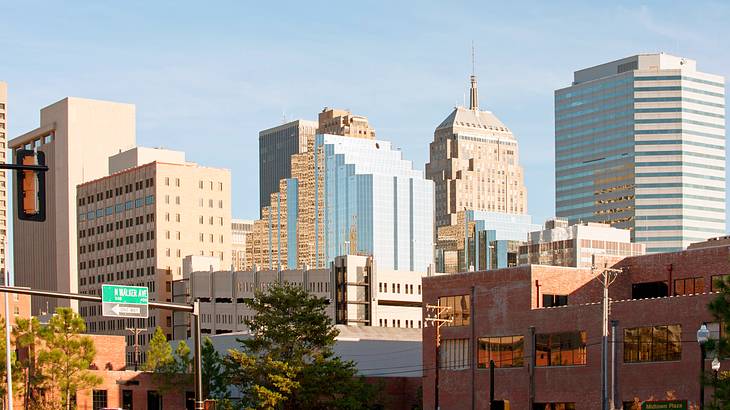 Downtown Oklahoma City
Downtown Oklahoma City is a vibrant modern neighborhood north of the Oklahoma River. It encompasses the city's central business district and spans from Bricktown in the southeast to Midtown in the northwest. It's the city's urban core, alive with locals and tourists alike.
Safe and walkable, Downtown Oklahoma City is where you will find the Paycom Center, home to the NBA's Oklahoma Thunder. Other landmarks include the Myriad Botanical Gardens and the Oklahoma City Museum of Art. Additionally, you'll find the Oklahoma City National Memorial & Museum in the downtown area, a somber reminder of the lives affected by the 1995 Oklahoma City Bombing.
Regarding where to stay, there are a variety of accommodations in Downtown Oklahoma City, from mid-priced chains to luxury hotels in updated historic buildings. However, there's little in the way of budget options, and prices here are higher than elsewhere in the city. But for first-timers or anyone else wanting a walkable central location, this is where to be.
If you're driving, don't expect to find much free parking in Downtown Oklahoma City. A little-known Oklahoma fact is that the first parking meter was installed here in 1935, and pay-for parking is prevalent across Downtown. Luckily, you can get by without a vehicle thanks to the Oklahoma City Streetcar, which connects Downtown with Midtown and the Bricktown entertainment district.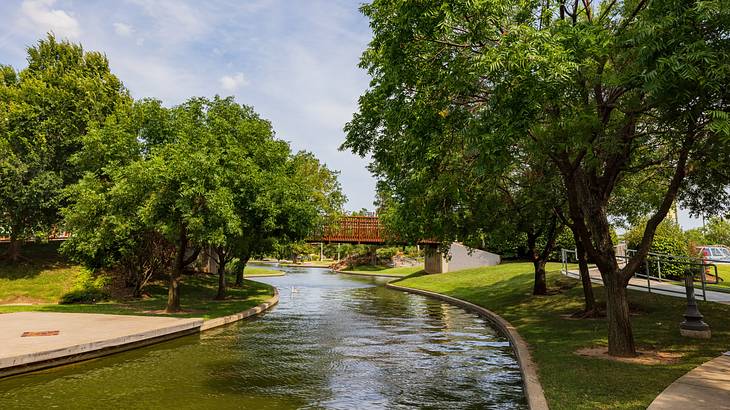 Bricktown
Situated southeast of Downtown Oklahoma City, Bricktown is a lively entertainment district in a former warehouse and industrial zone along the Bricktown Canal. Bricktown has undergone massive revitalization since the 1990s and is now the home of some of the city's most popular restaurants and nightlife. It's the best area to stay in Oklahoma City if you plan to go out and enjoy OKC after dark.
You'll notice a seemingly endless number of restaurants, breweries, and bars throughout Bricktown. But there are other things to do here, like visiting the Oklahoma Sports Hall of Fame at the Chickasaw Bricktown Ballpark, home to the minor league Oklahoma City Dodgers.
You can also visit the American Banjo Museum to learn all about the instrument's nearly 400-year history in North America. Alternatively, just wander along the scenic Bricktown Canal or take a canal cruise.
Most accommodations in Bricktown are moderately-priced chain hotels, similar in cost to comparable Downtown properties. Though expect to find fewer upscale options here. Connectivity to the rest of the city is excellent, with the Oklahoma City Streetcar running regularly to Downtown and Midtown.
North Oklahoma City
North Oklahoma City is an area along Memorial Road and the John Kilpatrick Turnpike on the city's northern edge. It's a very suburban neighborhood, and the main street is lined with hotels, shopping centers, and chain restaurants.
Most travelers staying in North Oklahoma City are there for business, golfing at local courses like Quail Creek Golf & Country Club and Gaillardia Golf Club, or visiting the nearby Six Flags-operated Frontier City amusement park. Other things to do in North OKC include shopping at the massive Quail Springs Mall, hitting a few balls at Topgolf, or defying gravity at iFLY Indoor Skydiving.
As is common in suburban areas, most hotels in North Oklahoma City will be well-known chains and extended-stay suites. Prices here are great, much cheaper than you'd pay for similar quality elsewhere in OKC, but that's because of the more remote location.
Because it's a bit far from Downtown, having a car is necessary when staying in North Oklahoma City. A single bus line connects the area to the city center; however, this route takes around an hour.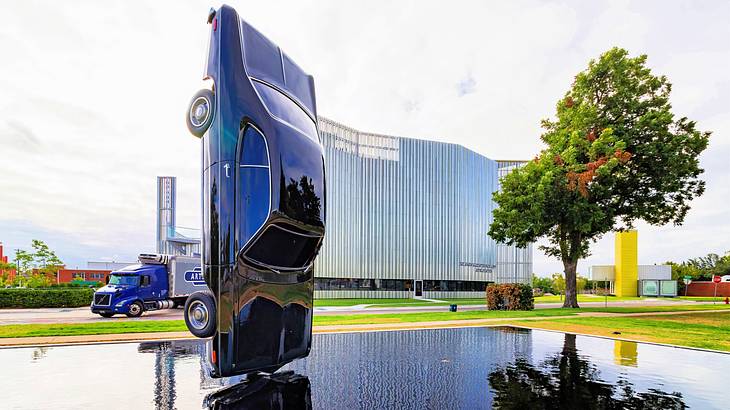 Midtown
Located northwest of Downtown OKC, Midtown is quieter than its business district neighbor. You'll definitely run into tourists here, but the area has a more local feel than other nearby Oklahoma City neighborhoods.
There are a variety of accommodations in Midtown, from 1950s motor lodges to quaint bed and breakfasts. There are even some high-end luxury options in this conveniently located neighborhood. Overall, prices are lower than in Downtown.
Thanks to the Oklahoma City Streetcar, you can easily reach Downtown and the Bricktown entertainment district from Midtown. However, Midtown has a good dining and nightlife scene of its own. Midtown is the best place to stay in Oklahoma City if you want a local experience without being in the suburbs.
While Midtown is an excellent base for exploring other areas of Oklahoma City, you'll also find some top attractions in and around the neighborhood. These include the Oklahoma Hall of Fame, Oklahoma Contemporary Arts Center, and Factory Obscura, an interactive art center.
Uptown Oklahoma City
Uptown Oklahoma City is a historic business and entertainment district located a few miles north of Downtown. It was once a busy tourist area along Route 66 until the completion of nearby interstate bypasses in the 1970s. Today, Uptown retains much of its roadside city charm on its most historic thoroughfare, NW 23rd Street.
Plenty of old-time sights still remain along this former stretch of Route 66, including the Tower Theatre, the Gold Dome Bank Building, and Oklahoma City University. The unique Milk Bottle Grocery, known for its milk bottle sculpture, is also in this area. Additionally, you can explore the Asian District or take a short drive east to the Oklahoma State Capitol, one of the most visited landmarks in Oklahoma.
Nowadays, you won't find many hotels around NW 23rd Street. Most accommodations in Uptown Oklahoma City are along Interstate 44. Expect motel-type options with attractive prices, although rates and quality are higher around the Penn Square Mall. The cost, plus its central location, makes Uptown great for travelers on a budget.
Uptown Oklahoma City is isolated from other areas of interest to tourists. However, the small but vibrant Paseo Arts District is close to NW 23rd Street. There is limited bus service, so expect to be driving if you're staying in Uptown. The area became famous for its roadways, after all.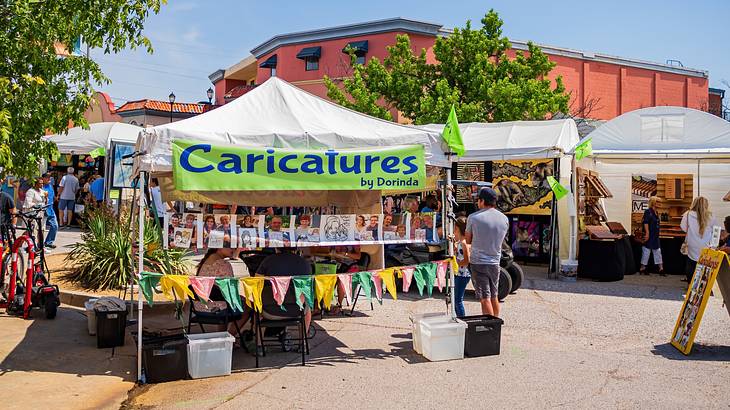 Paseo Arts District
The Paseo Arts District is a compact, creativity-focused neighborhood within the much larger Uptown Oklahoma City. Paseo is located in the southeast of Uptown OKC, a few blocks north of historic NW 23rd Street.
It's a chic, colorful area, especially along Paseo's namesake street, where you will find small restaurants, independent artisans, and many unique art galleries. There's also the Paseo Arts and Creativity Center and the Oklahoma Shakespeare Theater.
The Paseo Arts District is undoubtedly one of the most unique places to stay in OKC, although accommodations nearby are limited. There isn't much in the way of traditional hotels, and private rentals in the area are pricey by Oklahoma City standards.
Paseo is a great spot to visit for the afternoon. However, most tourists looking for a similar vibe should consider Midtown for more places to stay, a convenient central location, and far better public transportation.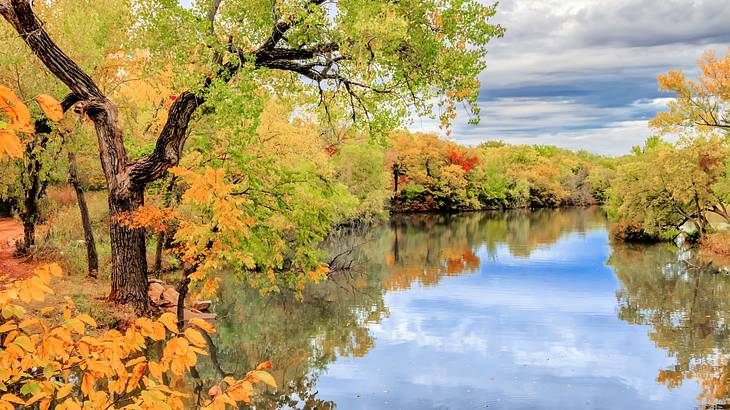 Nichols Hills
Sitting north of Uptown, near Lake Hefner, Nichols Hills is a suburban area with a high-end ambiance. It's a peaceful, primarily residential neighborhood, far from the bustle of Downtown. Most travelers staying in Nichols Hills are here to golf at the renowned Oklahoma City Golf & Country Club. However, many are simply looking for a relaxed, upscale setting in Central Oklahoma City.
You'll find a few top-quality hotels along the Nichols Hills border. Rates here are cheaper than in Downtown Oklahoma City, although far pricier than other options outside the city center. There isn't great connectivity via public transportation, so plan to be driving if you stay in Nichols Hills.
Thanks to its suburban location, Nichols Hills has plenty of outdoor spaces. Apart from the golf greens, there's Grand Boulevard Park along NW Grand Boulevard and parks around Lake Hefner. But despite its peaceful locale, Nichols Hills is just a brief and easy drive from all of the attractions of Downtown Oklahoma City.
Where to Stay in Oklahoma City, OK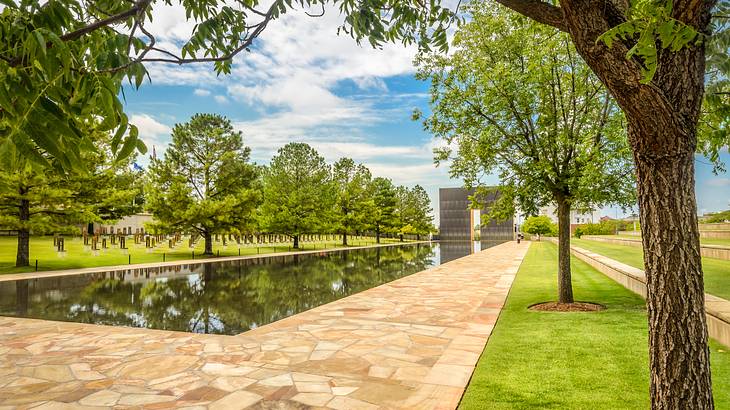 Where to stay in Oklahoma City with family?
From the Wheeler Ferris Wheel to the National Cowboy & Western Heritage Museum, OKC has family-friendly destinations suited for all ages of visitors. But with attractions for kids spread across the city, where is the best place to stay in Oklahoma City for families?
Does your family prefer to be in the middle of everything, within walking distance of spots of interest for kids and adults? In that case, you should consider Downtown Oklahoma City. You will find the largest selection of hotels here, although prices will be higher than in other, less central areas.
Staying Downtown means being located near plenty of things to do for kids, like visiting the Children's Garden at Myriad Botanical Gardens. There's also Brickopolis Entertainment, with mini golf, an arcade, and more, in adjacent Bricktown.
For a more suburban experience, away from the crowds of the business district (as well as the prices), look at Uptown. Several accommodations around the Penn Square Mall offer comfort, nearby restaurants, and a practical location for visiting attractions outside the city center.
Where to stay in Oklahoma City for a romantic getaway?
If you're planning a romantic getaway in OKC, consider staying in Bricktown. It's the city's central entertainment district set in a revitalized former industrial zone. You'll find the best dining and nightlife in Oklahoma City and can even enjoy a scenic water taxi ride or dinner cruise down the Bricktown Canal.
If you want to do some sightseeing, Downtown Oklahoma City and its landmarks are just a brief walk or streetcar ride away. Here, you can visit one of the top Oklahoma City landmarks, the Myriad Botanical Gardens with its Crystal Bridge Conservatory. It's the perfect place for a romantic stroll.
If you're after a little more luxury on your romantic getaway to Oklahoma City, check out some of the upscale options located Downtown. Here you can find several high-end hotels located in ornate historic buildings providing the highest level of quality, albeit at some of the most expensive rates in the city.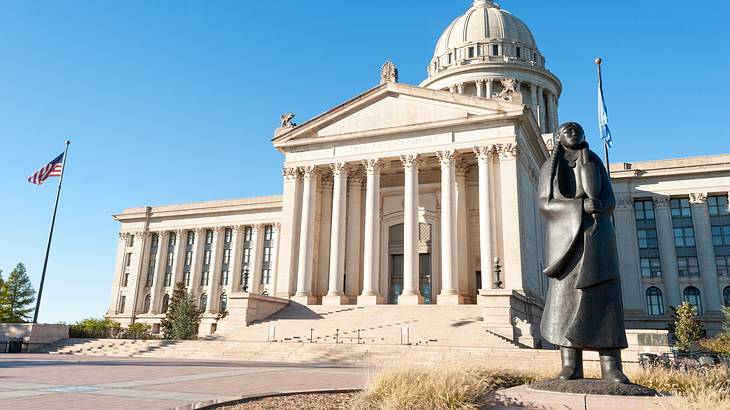 Where to stay in Oklahoma City for first-timers?
Most first-time visitors to Oklahoma City choose to stay in the Downtown neighborhood because of its proximity to top landmarks and a plethora of dining and shopping options. Prices are higher, but you can avoid wasting time in the car commuting to and from less central spots.
Staying Downtown puts you close to OKC's most visited sites, like the Oklahoma City National Memorial & Museum, Myriad Botanical Gardens, and the scenic Bricktown River Walk Park. And if you're a first-timer visiting for an event or game at the Paycom Center, staying within walking distance of the arena is an easy decision.
If you want a more local experience on your first visit to Oklahoma City, look at Midtown. Just to the northwest of Downtown, Midtown sees fewer tourists and offers many unique accommodations at prices lower than you'll find in the central business district. Plus, the Oklahoma City Streetcar provides easy access to Downtown and Bricktown.
Where to stay in Oklahoma City on a budget?
When choosing where to stay in OKC on a budget, you'll likely want to avoid Downtown Oklahoma City. Although the district offers a great central location, the prices here are among the highest in the city, and budget-friendly options are sparse. Still, you can find good deals with a bit of luck.
A better budget-friendly option for tourists planning to explore the city on foot or by public transportation would be Midtown. Located adjacent to Downtown Oklahoma City, Midtown offers a local experience with more modest accommodation options. Prices are better, and all Downtown attractions are just a short walk, bus trip, or streetcar ride away.
For travelers on a budget who plan to drive, the Uptown area offers its own Oklahoma City history and a variety of budget-to-moderately-priced hotels. Generally located around Interstate 44, the accommodations in this area provide quick highway access to attractions all across OKC, including Downtown, which is just a few minute's drive away.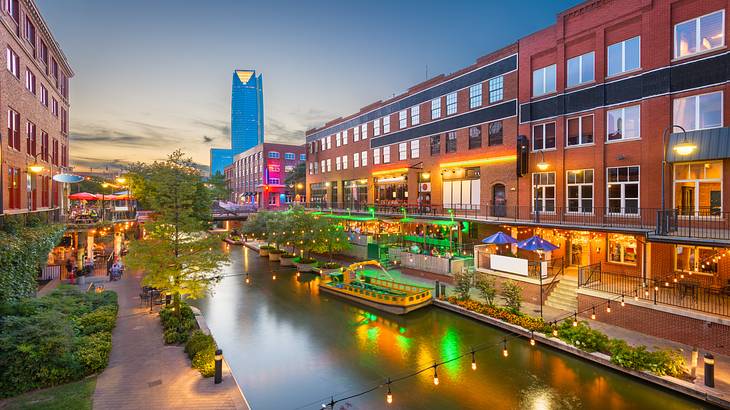 Where to stay in Oklahoma City for nightlife?
If you're looking for a wide variety of things to do after dark, the best neighborhood for nightlife in Oklahoma City is Bricktown. Located just southeast of Downtown's central business district, Bricktown is a former industrial area revitalized into OKC's number one dining, entertainment, and nightlife destination.
While Bricktown is bustling with shoppers, diners, and people strolling along the idyllic Bricktown River Walk Park all day, the area really comes to life once the sun goes down. This is especially true along Sheridan Avenue, north of Chickasaw Bricktown Ballpark, where most late-night haunts are located.
You'll find plenty of places to stay in Bricktown, right in the middle of the largest selection of restaurants, bars, and almost all of the nightclubs in Oklahoma City. There are also some terrific live-music venues like the Criterion, Oklahoma Opry, and Oklahoma Ranch.
Midtown has a lively local nightlife scene if you want a less-touristy, more laidback after-dark experience. You'll also find a handful of hip bars along the historic stretch of NW 23rd Street in Uptown, with even more options just a few blocks north in the Paseo Arts District.
In Summary
Covering a large expanse of Central Oklahoma, Oklahoma City is a sprawling, spread-out area with various neighborhoods of interest to tourists scattered all over. For most visitors, however, the centrally-located Downtown Oklahoma City neighborhood provides the most convenient place to stay, nearby tons of landmarks and attractions.
Bricktown, right by Downtown, is another excellent option for anyone who wants to be in the heart of OKC's entertainment district, full of shopping, dining, and tons of nightlife. Midtown, on the other end of Downtown, offers a more laidback, local taste of the city.
Plenty of other great neighborhoods are outside the city center, from historic Uptown, once a stop along famous Route 66, to the colorful Paseo Arts District. For a more suburban feel, both Nichols Hills and North Oklahoma City offer good options for travelers in OKC. There's really a place to stay for everyone in the Oklahoma state capital!
Give us feedback about this article
Learn more about Oklahoma City:
More articles about Oklahoma:
Read more articles about the United States:
More articles about places to stay:
---
---
Want to keep exploring?
Subscribe for discounts on tickets and hotels and our latest guides.
Thank you for subscribing
We will be in touch soon with discounts on tickets and hotels and our latest guides.
Want to keep exploring?
Subscribe for discounts on tickets and hotels and our latest guides.
Thank you for subscribing
We will be in touch soon with discounts on tickets and hotels and our latest guides.
Related Articles