12 Oklahoma City Landmarks to Visit
Destguides may receive commissions from purchases made through affiliate links in this article.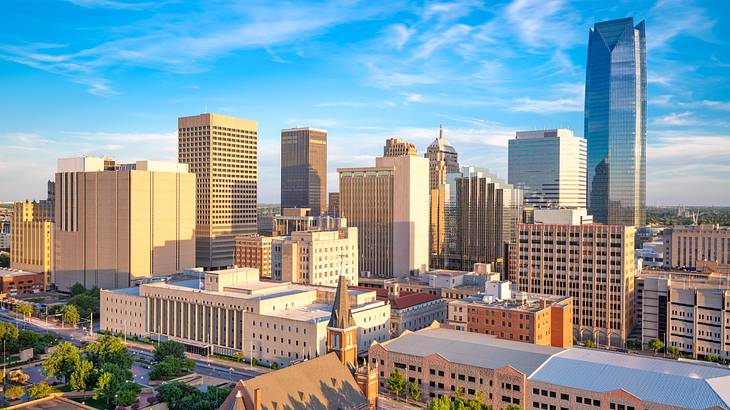 Known for its "Cowboy Culture" and rich historical background, Oklahoma City (OKC) is one of Oklahoma's most popular tourist destinations.
Whether you are looking to take a deep dive into American history or want to explore an enriching new setting filled with food, shopping, and events, this is the place to be. Keep reading to discover the best 12 Oklahoma City landmarks!
12 Landmarks in Oklahoma City
Oklahoma City Landmarks Video
Check out our highlights video of Oklahoma City landmarks.
Oklahoma City Landmarks Map
A map of Oklahoma City landmarks. Use the map to explore all of the points of interest.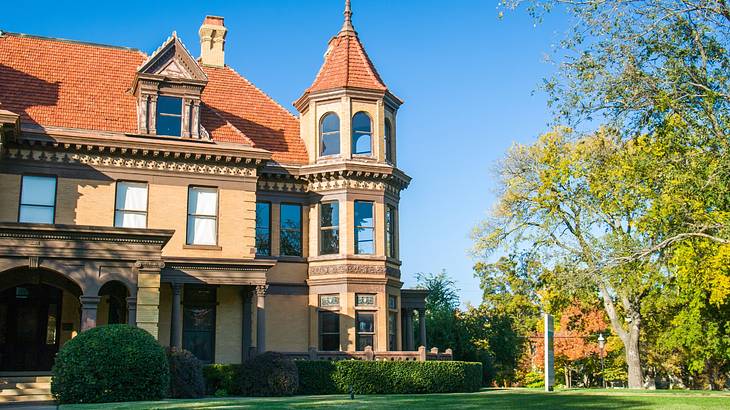 Henry & Anna Overholser Mansion
Visitors will be interested to learn that they can tour the first mansion built in Oklahoma City! This beautiful home was constructed by Henry Overholser, who is widely referred to as the "Father of Oklahoma City."
Whether you are an architect or someone who appreciates beautiful mansions, this site will leave you in awe. Tours of the location are self-guided and allow you to explore the beauty of the craftsmanship at your own pace.
Alfred P. Murrah Federal Building
On the morning of April 19, 1995, this location was the target of what would infamously become known as the "Oklahoma City Bombing." This mass bombing led to the tragic loss of 168 lives and hundreds of injuries and also damaged multiple buildings in the surrounding area. Visiting the Alfred P. Murrah Federal Building is done in remembrance of lives that were taken too soon.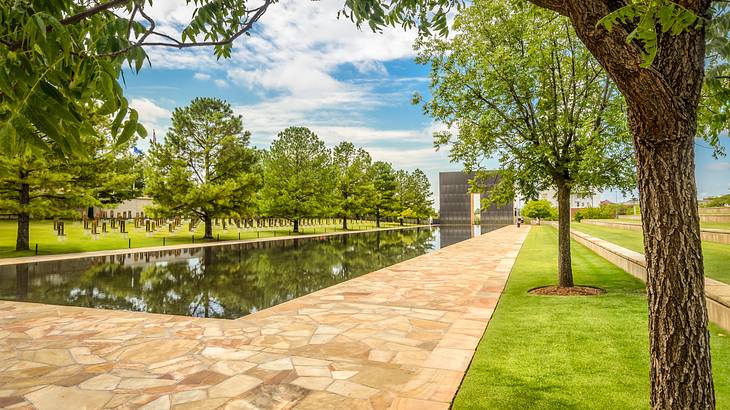 Oklahoma City National Memorial and Museum
This famous Oklahoma landmark is a must-see on your journey through the city. The Oklahoma City Bombing shocked the nation and sent waves through the surrounding communities. This museum honors those who lost their lives on that tragic day, educates the public, and cements the community's unity.
Chisholm Creek
Chisholm Creek is one of Oklahoma City's premiere landmark destinations! Whether you are looking to indoor skydive at iFly, dine at fabulous restaurants, or shop till you drop, Chisholm Creek offers a variety of activities. As Oklahoma City's main entertainment district, it won't disappoint.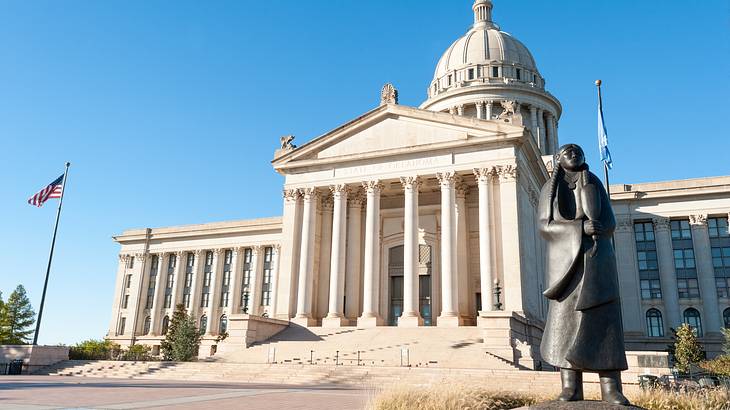 Oklahoma State Capitol
For the full OKC landmarks experience, you must make a stop at the State Capitol. The building brings art exhibits, fascinating history, and government operations together under one roof.
Visitors can explore over six floors of galleries on a self-guided or join one of the informative guided tours. You can also learn more about the history of the building, which was added to the National Register of Historic Places in 1976.
Oklahoma History Center
Part of the Oklahoma Historical Society, the Oklahoma History Center has three goals for visitors: explore, experience, and educate. You can learn about the Cherokee Nation and general Native American history, along with more current events, through exhibits that offer an interactive immersion into Oklahoma's rich history.
With Smithsonian-quality exhibits and more than 2,000 artifacts, the history center will bring the essence of the state to life. You may even learn about some unique facts, such as the history behind Oklahoma City nicknames!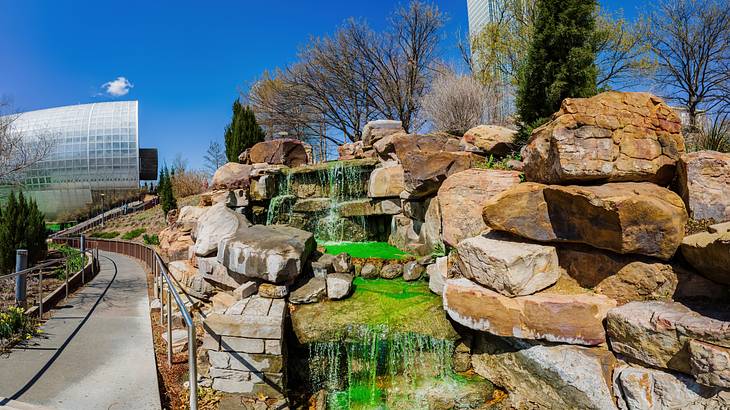 Myriad Botanical Gardens
At the very heart of the city is a beautiful 15-acre natural escape that offers visitors a tranquil experience of nature. With multiple gardens and conservatories filled with flowers and greenery, you will be immersed in natural wonders. The beauty of this site cannot be put into words; it is truly something you will need to see with your own eyes.
Oklahoma City Zoo
The zoo is a crowd-favorite Oklahoma City attraction. At the 130-acre Oklahoma City Zoo, you can interact with over 1,000 animals from approximately 500 species.
In addition, you can enjoy educational programs, special events, and behind-the-scenes tours and experiences. The zoo's mission is to teach the public about animal conservation while also creating an enriching and interactive experience for all ages.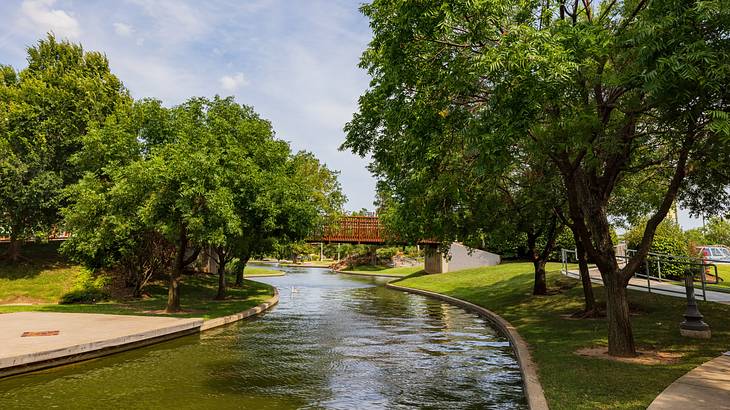 Bricktown
Just a short walk from downtown, the Bricktown district is full of event venues, restaurants, and attractions. Take a cruise along the Bricktown Canal and see the city from a new perspective, then head over to one of the many restaurants to experience excellent cuisine and nightlife. Bricktown is also one of the top places to stay in Oklahoma City if you're wondering where to book your accommodation.
Skydance Bridge
Want to get some steps in while also taking in architectural beauty? Then you need to stop at this pedestrian bridge inspired by the state's bird, the scissor-tailed flycatcher.
The bridge spans 380 feet over Interstate 40 and includes a 197-foot-tall sculpture. The sculpture's design is breathtaking, and the views from the bridge offer the perfect scenery for an afternoon walk.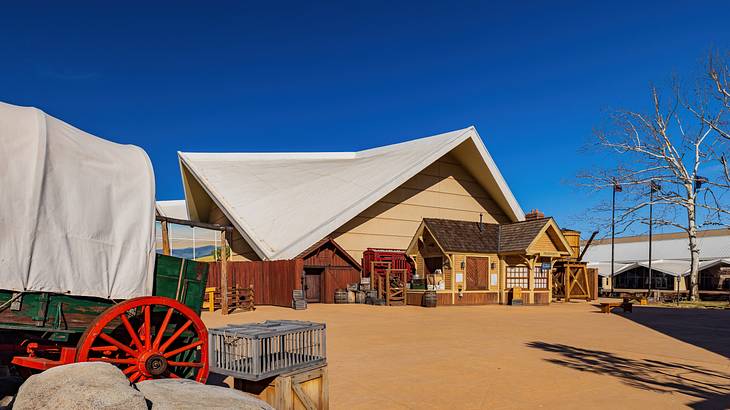 National Cowboy & Western Heritage Museum
A cool Oklahoma fact is that the state is home to a famous Wild West museum, which is located in Oklahoma City. The National Cowboy & Western Heritage Museum preserves the various cultures of the American West and brings these values to life. This landmark features an array of fascinating historical exhibits and hosts educational demonstrations.
Oklahoma National Stockyards
The Stockyards are one of the most visited historical sites in Oklahoma City for cowboys and cowgirls from near and far. Visiting here will give you that rugged Western experience that you cannot find anywhere else.
Bring your cowboy boots and explore the "wild" history of this location! During a visit, you can shop, dine at BBQ joints, and even go country dancing at the Rodeo Opry.
In Summary
These are just a few of the wonderful and enriching landmarks that Oklahoma City has to offer. Visiting these 12 top attractions is an excellent way to become acquainted with the city, meet friendly locals, and develop a deeper appreciation of America's history.
Want to keep exploring?
Subscribe for discounts on tickets and hotels and our latest guides.
Thank you for subscribing
We will be in touch soon with discounts on tickets and hotels and our latest guides.
Want to keep exploring?
Subscribe for discounts on tickets and hotels and our latest guides.
Thank you for subscribing
We will be in touch soon with discounts on tickets and hotels and our latest guides.