6 Oklahoma City Nicknames That Will Surprise You
Destguides may receive commissions from purchases made through affiliate links in this article.
Nicknames express some of the most essential features of a person, place, or thing. When cities are called by a nickname, this is because that specific city expresses notable traits that a large number of people take note of. Like many cities in the United States, the largest city in Oklahoma, Oklahoma City, has a diverse array of monikers that reflect its cultural values.
This article will dive into a few of the most popular Oklahoma City nicknames, uncovering the stories and characteristics behind them. From symbols of pride to affectionate nods to the city's history, these six nicknames provide a glimpse into the heart of OKC.
6 Nicknames for Oklahoma City
Oklahoma City Nicknames Video
Check out our highlights video of Oklahoma City nicknames.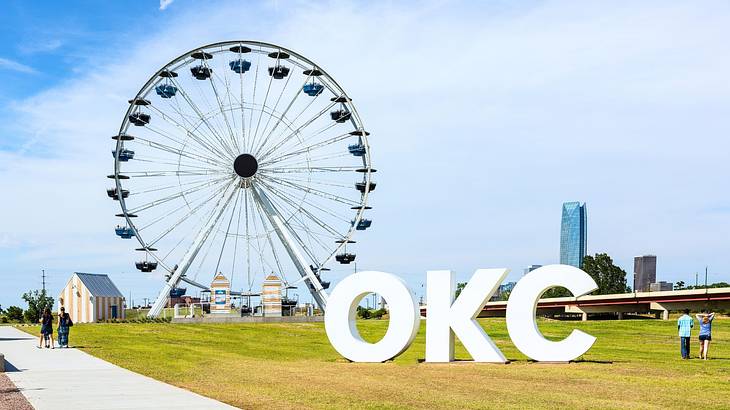 OKC
OKC is an abbreviated form of the full name of the city. Oklahoma City is shortened to OKC simply because it is easier to use in a conversational context. Many locals, as well as people who are not from OKC, refer to it as such.
The nickname is so engrained in the city's identity that the NBA team, the Oklahoma City Thunder, is often referred to as the OKC Thunder. The city's tourism bureau is also called Visit OKC.
Oak City
The term Oak City simply comes from a shortening of the Oklahoma part of Oklahoma City, spelling the first part of Oklahoma as it sounds. As you walk the streets of Downtown, it is unlikely you will hear this Oklahoma City nickname as locals don't really use it.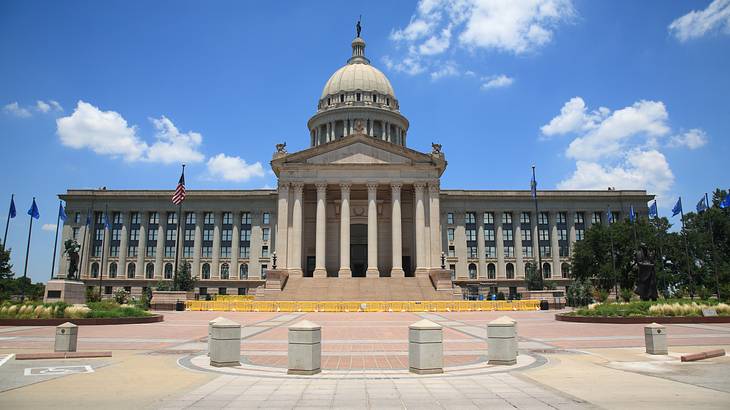 Cinderella City
Oklahoma City received the nickname Cinderella City from an article in American Airlines' American Way magazine. The publication discussed how the city revitalized itself in the early 2000s to attract its NBA team, the Oklahoma City Thunder, who moved to the city from Seattle in 2008. The article used the phrase "Cinderella City" to describe the vast transformation.
The 405
Oklahoma City is full of proud individuals who feel lucky to call it home. These locals often call the city the 405. This number sequence was the city's first area code, established in 1947.
Interestingly, until 1953, it covered the whole state of Oklahoma. However, since the mid-1950s, it's been used exclusively for central Oklahoma, including Oklahoma City. This Oklahoma City name is so well-known by locals that many different businesses use "the 405" in their business name, marketing strategies, and outreach to connect the city.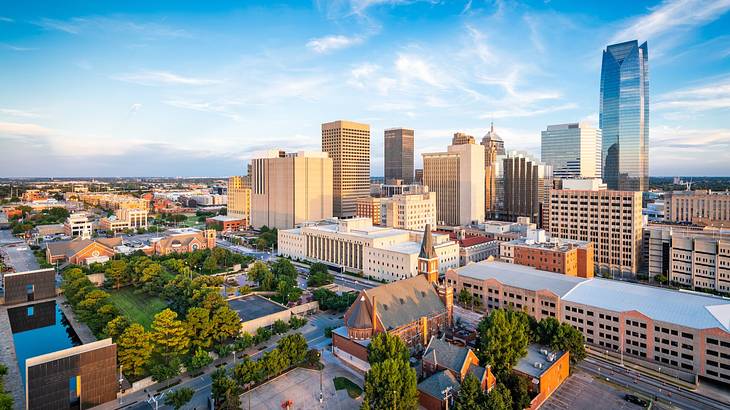 The Big Friendly
The Big Friendly is a somewhat lesser-used nickname for Oklahoma City that serves as a nod to the city's warm, hospitable atmosphere.
The name was generated by Ray Ackerman, a local civic leader who wanted to re-brand the whole city as the Big Friendly. Unfortunately, the moniker didn't catch on that well, but those living in the city often still recognize it.
Thunder Town
Oklahoma as a state is known as being part of "Tornado Alley," a region in the United States that has frequent tornados. You can hear the sound of thunder rolling in from miles and miles away as an indicator of one of these major weather events. Thus, the name Thunder Town came to be.
This nickname also relates to the city's NBA team, which decided to call itself the "Oklahoma City Thunder," which serves as an ode to the tumultuous weather patterns in the region.
In Summary
The nicknames covered in this article are not merely labels; they tell a story of Oklahoma City's history and culture. From the well-known OKC and welcoming the Big Friendly to somewhat lesser-known monikers, like Cinderella City, all of Oklahoma's nicknames have a unique origin. Having read this list, you can now impress locals with your in-depth knowledge of alternate names for Oklahoma's state capital!
Give us feedback about this article
Learn more about Oklahoma City:
More articles about Oklahoma:
Read more articles about the United States:
More articles about nicknames:
---
---
Want to keep exploring?
Subscribe for discounts on tickets and hotels and our latest guides.
Thank you for subscribing
We will be in touch soon with discounts on tickets and hotels and our latest guides.
Want to keep exploring?
Subscribe for discounts on tickets and hotels and our latest guides.
Thank you for subscribing
We will be in touch soon with discounts on tickets and hotels and our latest guides.
Related Articles