20 Landmarks in Portland, Oregon, You Should Visit
Destguides may receive commissions from purchases made through affiliate links in this article.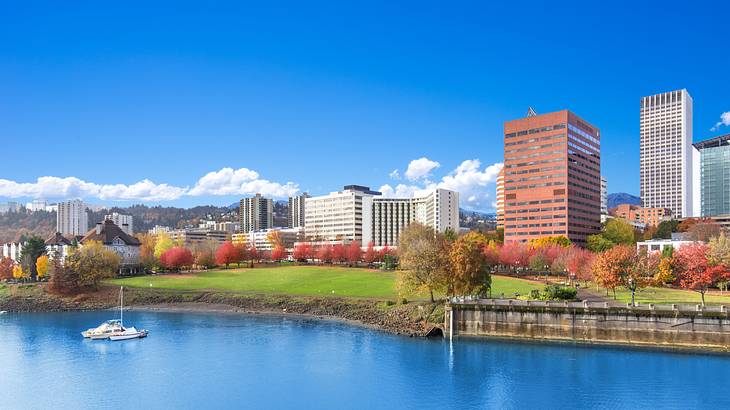 As Oregon's largest city, it's unsurprising that there are many things to see and experience in Portland. From getting a sweet treat at Voodoo Doughnut to learning about local history at the Pittock Mansion, "The City of Roses" has something for everyone.
If you're planning to visit to this Pacific Northwest city soon or want to brush up on your knowledge on the area, keep reading to discover more about the 20 top landmarks in Portland, Oregon.
20 Portland, Oregon, Landmarks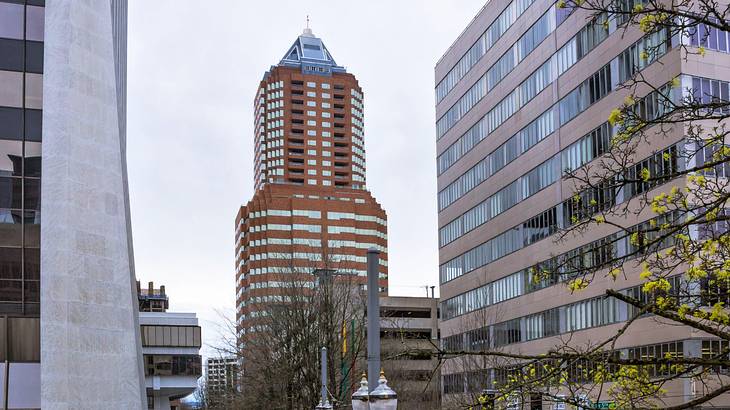 Koin Tower
Of all the points of interest in Portland, Oregon, Koin Tower might have one of the most interesting pasts. Initially, its construction was met with much controversy and pushback since its 509-foot height blocked the previously uninterrupted view of Mount Hood.
However, it's become a symbol in the city's downtown area over the years. When it opened in 1984, it bore the name Fountain Plaza. The name was later changed to Koin Center and then Koin Tower to memorialize the building's most well-known tenant, KOIN television, a Portland CBS affiliate.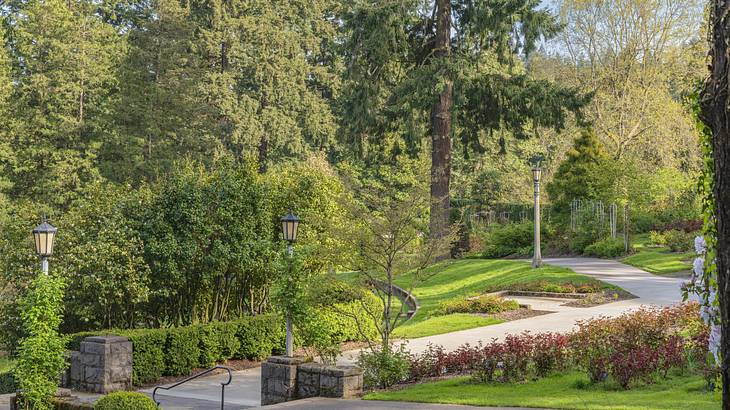 Washington Park
Washington Park is an over 450-acre park where locals and tourists can enjoy the fresh air and spend some time in nature. The Portland Japanese Garden, the Oregon Zoo, and a forestry museum are attractions within the park. There's also an archery range and an arboretum.
Perhaps the most famous attraction, though, is the International Rose Test Garden, a living lab where new roses are created from existing varieties. However, since roses aren't always in bloom, May through October is the best time to visit Portland to see the garden.
Vietnam Veterans of Oregon Memorial
Located in Washington Park's Hoyt Arboretum, the Vietnam Veterans of Oregon Memorial, which opened in 1987, deserves special attention. Covering eight acres, the memorial comprises a small garden and an outdoor amphitheater.
Erected in honor of all the Oregonians who served and passed or went missing in the Vietnam War, the memorial features a wall bearing their names.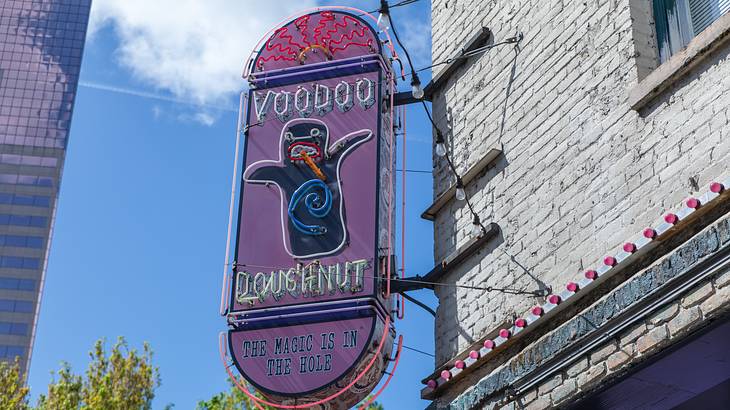 Voodoo Doughnut - Old Town
No trip to downtown Portland would be complete without stopping at Voodoo Doughnut. This doughnut shop has become such a popular establishment that its shops can now be seen in Texas, Colorado, Washington, and Florida.
However, nothing quite beats the original shop in Old Town. Known for its delicious and inventive flavors, like Grape Ape and Voodoo Bubble, this is one landmark to head to if you have a sweet tooth.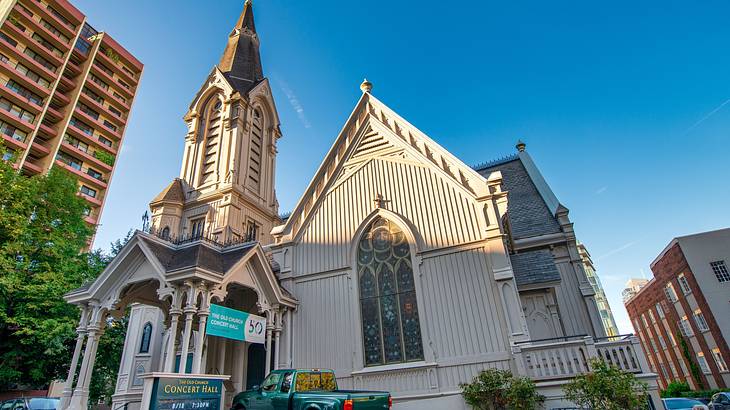 The Old Church Concert Hall
What could be better than seeing a concert at one of the most historical places in Portland, Oregon? That's the kind of experience you can have at Old Church Concert Hall.
The Gothic-style venue is the oldest church building in the downtown area but has been decommissioned since the 1960s. Not to let this iconic landmark go to waste, it was turned into a performance and event venue.
South Park Blocks
South Park Blocks is a 12-block green space in the city's downtown and is often considered Portland's cultural heart. That's largely due to the numerous sculptures in the park's grounds and its proximity to Portland State University.
Its central location has made it the setting of many of the area's most important political movements. However, most of the time, it's a peaceful place to get a closer look at the city's art.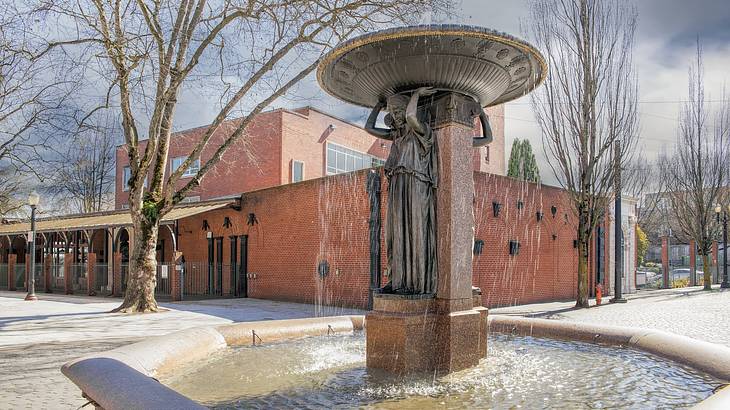 Skidmore Fountain
Skidmore Fountain is an important landmark in Portland; it's even the namesake of an entire neighborhood, the Skidmore/Old Town Historic District. The fountain was first unveiled in 1888 to honor a prominent local pharmacist, Stephen Skidmore, who died a few years earlier.
It was built in the same style as the fountains found at the Versailles Palace in France. The fountain is purely decorative today; however, it once ensured people and horses had access to drinking water.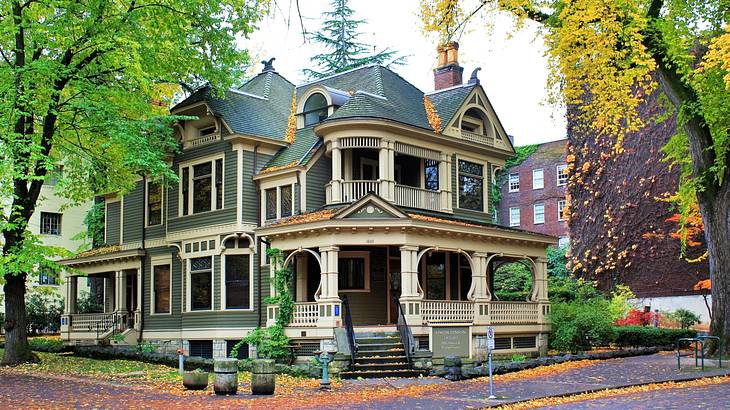 Simon Benson House
After moving from Norway to Portland, Simon Benson became a community leader and noted businessman. He began constructing the Simon Benson House in 1900 as a residence for himself and his family to put down roots and reflect his dedication to the city.
Thirteen years later, that love for Portland gave him the idea to build the Benson Hotel so visitors would have a comfortable and luxurious lodging option. When he moved, he converted the Benson House into a boarding house.
Portland Art Museum
With over 112,000 feet of gallery space, this museum is one of the most prominent Portland monuments showcasing the city's love of culture and art. The Portland Art Museum, affectionately dubbed PAM, has a collection of over 42,000 pieces ranging in style from historic Native American to modern works.
Not only are the PAM's permanent exhibits impressive, but it also regularly features limited viewing collections, so each visit is guaranteed to be different.
Pittock Mansion
Initially built as a private residence, the Pittock Mansion in Oregon's West Hills has become an iconic site honoring the city's history. Henry Pittock, the original owner of the home, came to Portland on the Oregon Trail in the 1850s.
The artifacts from Pittock's time as a pioneer juxtapose the Victorian and Renaissance styles of the home, constructed in the early 20th century. Together, the interior and exterior of the mansion create a sort of timeline of the area's growth.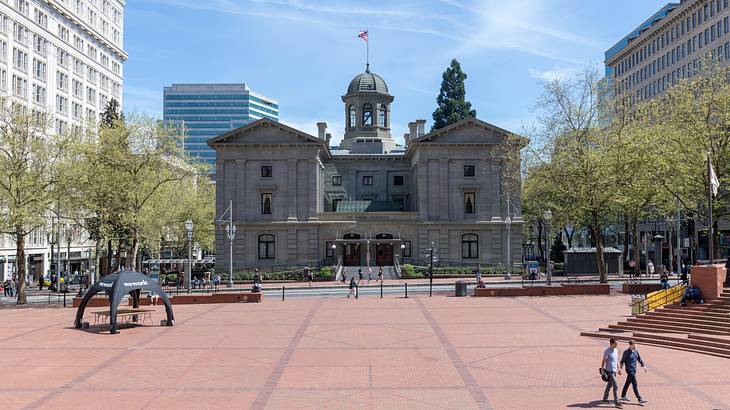 Pioneer Courthouse Square
The 40,000-square-foot public space, Pioneer Courthouse Square, gets its name from the nearby Pioneer Courthouse, one of Oregon's most important landmarks.
Along with admiring the Italianate courthouse building, you can see sculptures and other artworks when visiting "Portland's living room." There are also local food trucks, and you can ensure your name will be forever part of the square's history by "buying a brick" to add a message of your choice to a brick in the square.
Oregon Holocaust Memorial
The Oregon Holocaust Memorial is one of the most important Portland, OR, landmarks for remembering victims of the historical atrocity. The bronze sculpture encompasses a stone bench and everyday items like a bronze suitcase and a pair of glasses.
The random placement of these objects is meant to illustrate how thousands of lives were interrupted and lost during the Holocaust.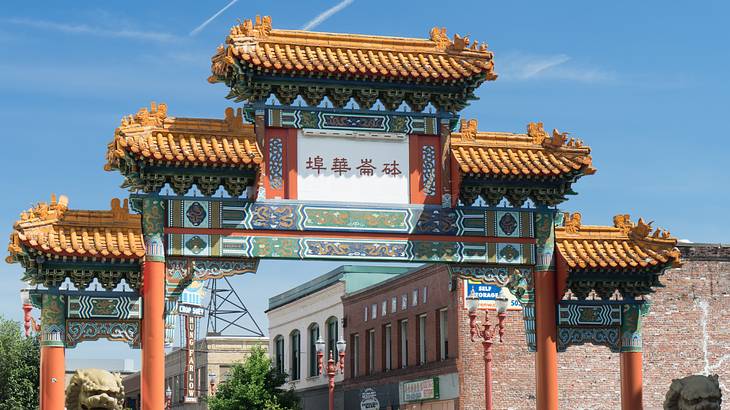 Old Town Chinatown
As the city's historic Chinese community, Old Town Chinatown is a vibrant neighborhood combining Chinese and Western cultural elements. The area also features multiple Portland landmarks like the Skidmore District and the first Voodoo Doughnut shop.
In addition, a renowned open-air crafts market is hosted every Saturday. This weekly tradition has been going on for so long that it's been officially recognized as the country's longest-running market of its kind.
Multnomah County Courthouse
For over a century, the Multnomah County Central Courthouse, which was built between 1909 and 1914, served as the city's main judicial center and has become one of the most prominent historical sites in Portland, Oregon.
The US was in the midst of its prohibition era, and one of the most infamous features on the property is a courtyard drain used to dispose of confiscated alcohol. Due to structural issues, the courthouse moved to a new building in 2020 (the Multnomah County Central Courthouse), but you can still see the old building in the downtown area.
Wells Fargo Center
Towering 546 feet above the city is the Wells Fargo Center making it the tallest building in Portland and the entire state. When it first opened in 1972, it was named First National Bank Tower after the tenant that took up 21 of the tower's 40 floors. However, the name changed several times before Wells Fargo took residence in 1996.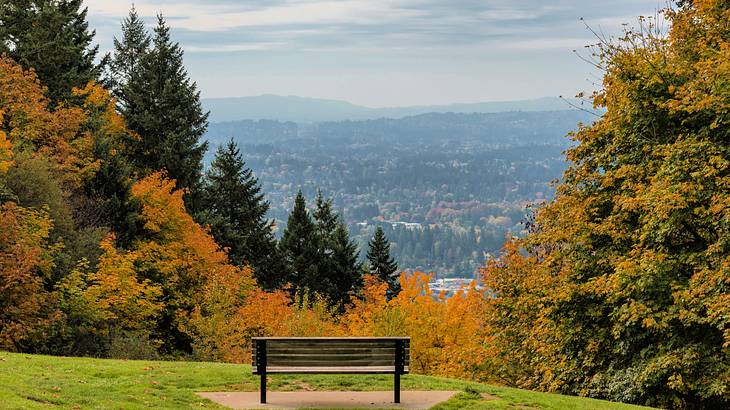 Southwest Hills
Southwest Hills is primarily a residential neighborhood and home to some of Portland's most visited sites. It's a short distance from Washington Park and has five green spaces.
If you're on the hunt for a relaxing place to get a one-of-a-kind view of the city, head to Council Crest Park, home to the highest point in Portland. On the other hand, you can go hiking for hours at Marquam Nature Park.
Powell's City of Books
If you're looking for a fun Portland activity for kids or enjoy finding unique publications, head to Powell's City of Books. The flagship shop in the Pearl District is a local favorite and is popular with visitors to the city.
The shop has thousands of books categorized in its ten color-coded rooms ranging from gardening to high-fantasy. So if there's a hard-to-find edition on your to-read list, there's a chance you'll get your hands on it here.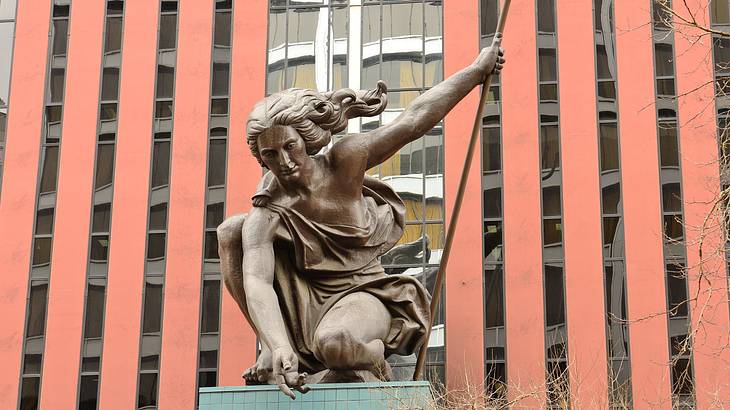 Portlandia
Since 1985, the Portlandia sculpture in front of the Portland Building has been a much-loved local landmark. Standing at over 34 feet, it's the country's second-tallest copper figure made of this material, beaten only by New York's Statue of Liberty.
The sculpture, bearing a poem honoring the city, was inspired by the city's official seal and depicts a kneeling Lady Commerce holding a trident. This landmark is so famous that it inspired the Portland nickname of Portlandia!
Spanish–American War Soldier's Monument
As the US was recovering from the aftermath of the Civil War, the Spanish-American War began in 1898. Oregon played a prominent role in the conflict as it was a more established part of the country.
In 1906, the Spanish–American War Soldier's Monument was built and unveiled. This bronze statue honors the Oregon soldiers who fought and lost their lives for their country.
Forest Park
You'll find Forest Park, a 5,200-acre park, in the Greater Portland area less than ten miles outside the city's metropolitan limits.
The park is essential to maintaining the local wildlife, and with over 80 miles of trails, it's also an ideal place to get in touch with nature. You can even bring your dog, provided you keep your furry friend on a leash.
In Summary
The City of Roses has no shortage of attractions. From the beautiful Washington Park to the Portland Art Museum, the city offers opportunities to learn about and experience culture, nature, and history in a fun and engaging way.
This list of landmarks has undoubtedly inspired you to embark on your Portland getaway. All you have to do now is plan your itinerary!
Want to keep exploring?
Subscribe for discounts on tickets and hotels and our latest guides.
Thank you for subscribing
We will be in touch soon with discounts on tickets and hotels and our latest guides.
Want to keep exploring?
Subscribe for discounts on tickets and hotels and our latest guides.
Thank you for subscribing
We will be in touch soon with discounts on tickets and hotels and our latest guides.