30 Fun Things to Do in Lancaster, PA
Destguides may receive commissions from purchases made through affiliate links in this article.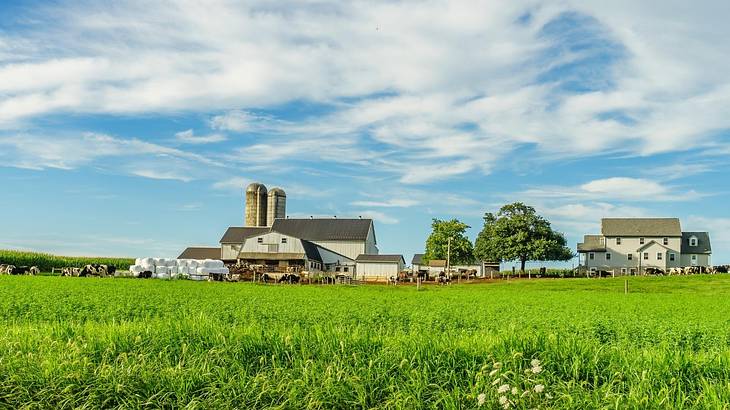 As one of the oldest inland cities in the United States, it's no wonder Lancaster, Pennsylvania, is full of history and unique attractions. Visitors can find numerous things to do here, from touring an Amish farm to seeing local baseball teams play and watching a show at an over 170-year-old theater.
The more well-known city of Philadelphia is also under two hours away, making it a fun day or overnight trip location from Lancaster. To discover all the fun things to do in Lancaster, PA, keep reading!
30 Fun Things to Do in Lancaster, Pennsylvania
Lancaster, PA, Things to Do
Purchase local produce at Lancaster Central Market
Situated in Penn Square in Downtown Lancaster, Lancaster Central Market is a historic Pennsylvania landmark, having been in the state since 1730. While the market began in 1730, the building the market is housed in today was built in 1889.
Visitors to the market can purchase various food items, from freshly baked goods and fruit and veg to candy and ready-prepared meals. You can also find some other products, like homewares and craft items.
Drink beer and learn about the area on a craft beer walking tour
You can learn about local history and try the best beer in the area by joining a Lancaster history and craft beer tour! Your guide will take you around the city and past many famous sites, offering fun facts along the way. As you explore, you'll also stop at a local brewery to sample several delicious beers.
Visit the North Museum of Nature and Science
Located in Franklin & Marshall College, the North Museum of Nature and Science has many fascinating natural science exhibits, a planetarium, and a dinosaur gallery. There's also a fun LEGO building lab to teach kids engineering basics and a coding exhibition with lots of hands-on activities.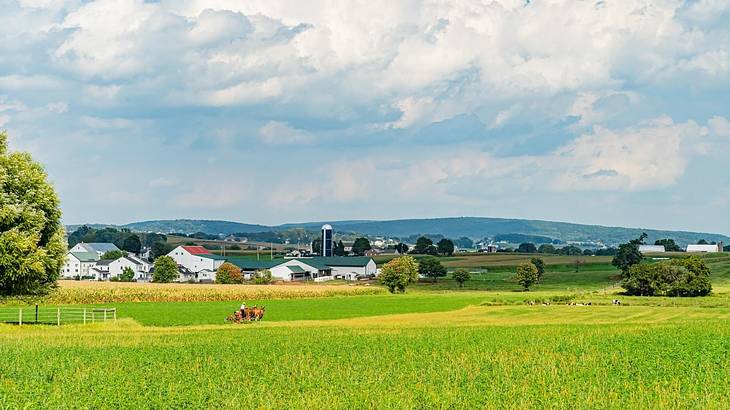 Tour the Amish Farm and House
One of the attractions in Lancaster, PA, that you can't miss is the Amish Farm and House, also known as the Amish Farm Museum. The site features an Amish farmhouse, a schoolhouse, and farmland, all of which can be seen during an Amish Country tour. You'll also learn more about the Amish way of life and can meet some farm animals.
Taste delicious dishes on a Lancaster food tour
Lancaster has many excellent eateries, and a great way to see the best of the best is by taking a Lancaster food tour. You'll hop between different spots with a local guide, tasting delicious dishes at each location.
Things to try will vary but can include ice cream desserts, empanadas, and fresh Italian coffee. Your guide will also take you around Lancaster Central Market and to a few historical landmarks, like the Fulton Theatre.
Learn new things at Lancaster Science Factory
Lancaster Science Factory is a child-friendly science museum with various interactive exhibits. Topics covered include mechanics, engineering, math, and environmental sustainability. The museum is recommended for grades K through 8 and is an excellent place to get your kids interested in STEM subjects.
Watch a show with a meal at the Dutch Apple Dinner Theater
One of the most fun places to spend the evening in Lancaster is the Dutch Apple Dinner Theater. You can see many plays and musicals here, including productions of notable performances.
Unlike a classic venue with theater seating, the audience here sits at restaurant-style tables, allowing you to enjoy a meal with the show. Dishes like roasted butternut squash ravioli or steak are on the menu, and you can also indulge in decadent desserts, such as rich triple chocolate cake.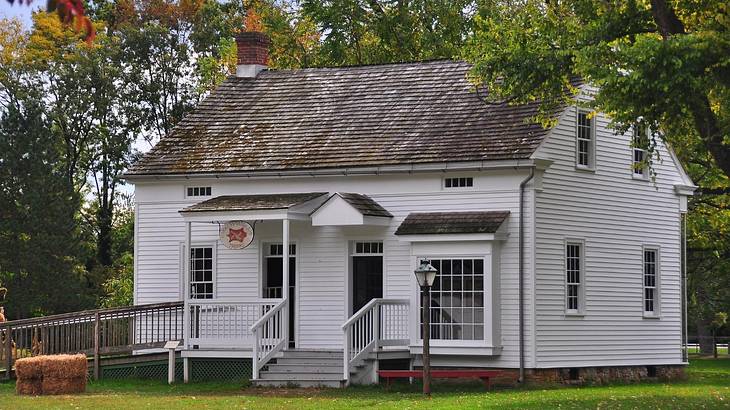 Go to the Landis Valley Village & Farm Museum
If you want to learn more about rural life in Pennsylvania, plan a trip to the Landis Valley Village & Farm Museum. This fascinating attraction covers the history of the rural German community in Pennsylvania and houses many artifacts in temporary exhibits.
Previous exhibits have included a wedding dress collection with pieces from the 1800s and a redware pottery display. You can also see many old buildings, including houses and a schoolhouse, and horse and cart rides are offered.
Take your kids to Go 'N Bananas Family Fun Center
Having a fun time at Go 'N Bananas Family Fun Center is definitely one of the best things to do in Lancaster, PA, with kids. The entertainment venue has attractions for all ages, from little ones to teens and even adults.
Things to do include playing laser tag, tackling a ropes course, bowling, and enjoying games in the arcade. After checking out all of the attractions, you can grab snacks at the cafe.
See a concert at the American Music Theatre
The American Music Theatre is another excellent entertainment venue in Lancaster. Concerts from almost every musical genre are hosted at the venue, from country music acts to rock concerts. Broadway performances and comedy shows can be seen here as well.
Grab a coffee at Square One Coffee Roasters
Whether you want to get coffee to go or are looking to relax in a coffee shop, Square One Coffee Roasters is the place to be! You can order drinks made with small-batch coffee, with options like cappuccinos, cold brews, and espresso frappuccinos on the menu. Other beverages, like chai lattes, plus lots of yummy baked goods, can also be ordered.
Enjoy the amusements at Dutch Wonderland
Another of the best things to do in Lancaster, Pennsylvania, with family is going to Dutch Wonderland. Opened in 1963, the theme park has numerous kid-friendly attractions, from roller coasters to a kiddy train and merry-go-round. You can also attend shows and get theme park snacks from on-site food vendors.
Catch a baseball game at Clipper Magazine Stadium
Sports fans will be pleased to hear that there's a baseball stadium in Lancaster, Clipper Magazine Stadium. The venue is home to the Lancaster Barnstormers, who play in the Atlantic League of Professional Baseball, an MLB partner. The team plays between April and September, and cheering the team on with local fans is sure to be a memorable experience.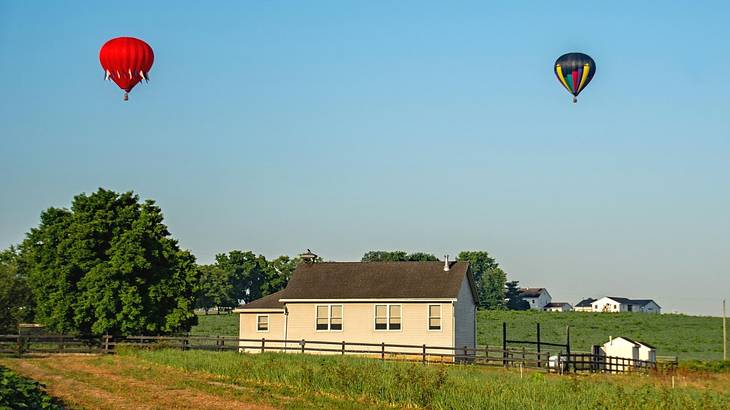 Experience a hot air balloon ride
A memorable way to see Lancaster is by flying above the city on a hot air balloon ride with Lancaster Balloon Rides. The flight will take you over the city and more of Lancaster County, allowing you to admire stunning countryside views. You can opt for private rides or those shared with others for a more affordable price.
If you're planning the hot air balloon ride for a special event, like a birthday or even a proposal, let Lancaster Balloon Rides know before your trip so they can make it extra special!
Take a walk or go to a concert at Long's Park
Long's Park is a scenic 80-acre park that features a popular amphitheater. Along with wandering around the park, seeing a performance at the open-air theater is a must. Shows to watch include classical music concerts, folk and rock band acts, and much more! There's also an art festival in Long's Park at the start of September.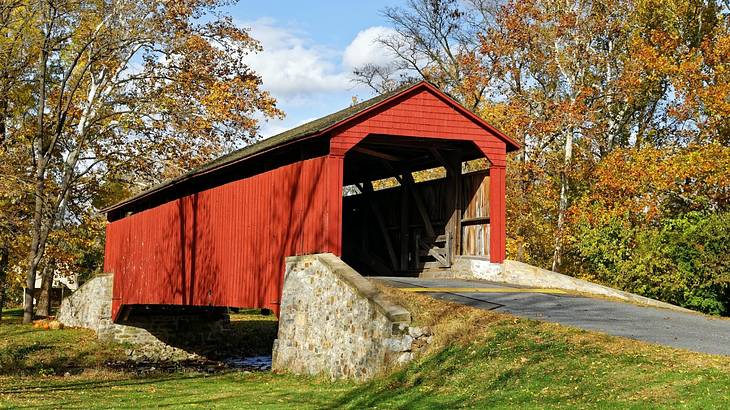 Drive around Lancaster on a covered bridges tour
Lancaster has many beautiful covered bridges, and an excellent way to see them is by going on a covered bridges driving tour. Discover Lancaster offers an itinerary with driving routes past the prettiest covered bridges.
At each stop, you can take pictures and explore the area around the bridges, which often feature trails and scenic views. Just a few of the bridges to see include Hunsecker's Mill Covered Bridge, Lime Valley Covered Bridge, and Poole Forge Covered Bridge.
Shop at Park City Center
Park City Center is a large shopping center in Lancaster that's a great place to go to treat yourself to some new things. It's also a fun attraction to check out when the weather is bad.
Shops housed here include clothing outlets, tech stores, and homewares shops, and you can find a good mixture of chains and independent shops. There are many dining options and entertainment attractions, like Round 1 Bowling & Amusement.
Look around the Mennonite Information Center
The Mennonite Information Center is a highly interesting attraction with exhibits on Amish and Mennonite heritage. Within the Mennonite Life Museum, you can learn about 19th-century Mennonite and Amish communities and see artifacts like books, artworks, and handicrafts.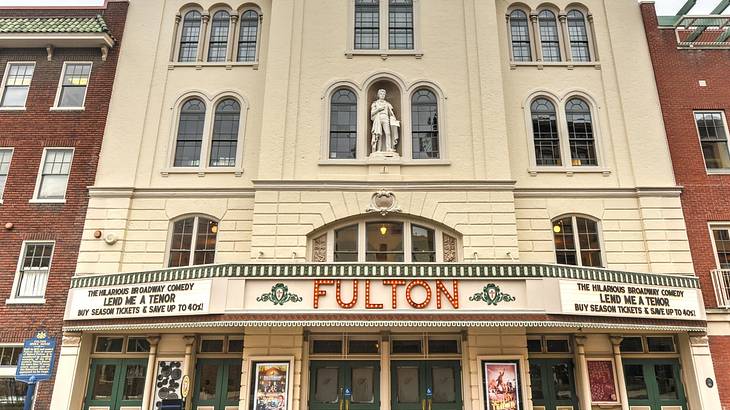 Attend a performance at the Fulton Opera House
Opened in 1852 and also known as the Fulton Theatre, the Fulton Opera House is another of the best places to visit in Lancaster, Pennsylvania, in the evening. Interestingly, it's the oldest working theater in the United States and was added to the National Register of Historic Places in 1969.
At the historic performance venue, you can see an array of well-known musicals and plays. The Fulton Opera House also hosts family-friendly productions, like a performance of The Wizard of Oz.
Have dinner at Iron Hill Brewery and Restaurant
Iron Hill Brewery and Restaurant is a great spot to check out for dinner. The eatery has an extensive menu, with options like freshly made pizzas, Moroccan-style salmon, and mushroom soup with truffle oil. As the name suggests, you can also order a range of beers, and many menu items even come with a suggested beer pairing.
Fun Things to Do Near Lancaster, PA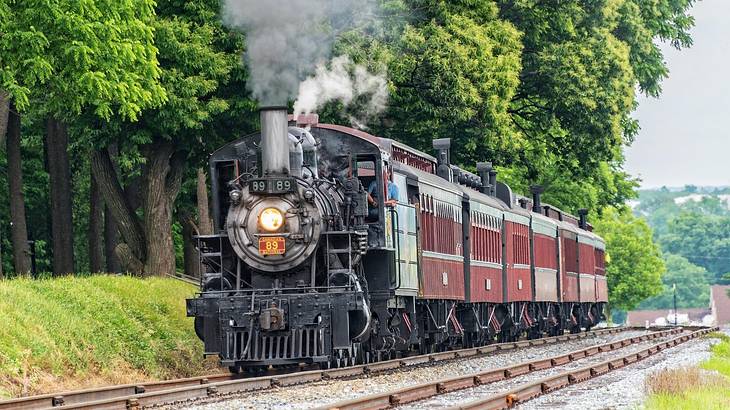 Ride along the Strasburg Rail Road
One of the most memorable and fun things to do near Lancaster is riding the Strasburg Rail Road. This heritage railroad is the oldest in the Western Hemisphere, making it somewhat of a world landmark!
Visitors can choose from various types of train rides to take. Options include dining experiences, a murder mystery train ride, and seasonal rides like a Christmas train where kids can meet Santa. Whichever train journey you choose, you'll get to enjoy the beautiful scenery in and around Amish Country in Lancaster County.
Travel back in time at the 1792 Johannes Mueller House
Situated approximately 20 minutes from Lancaster is Lititz, another interesting Pennsylvania town. One of the most interesting attractions here is the 1792 Johannes Mueller House.
The building will transport you back to the 18th century and will allow you to learn more about life within the Moravian community during that time. Booking a guided tour of the 1792 Johannes Mueller House in advance is a must.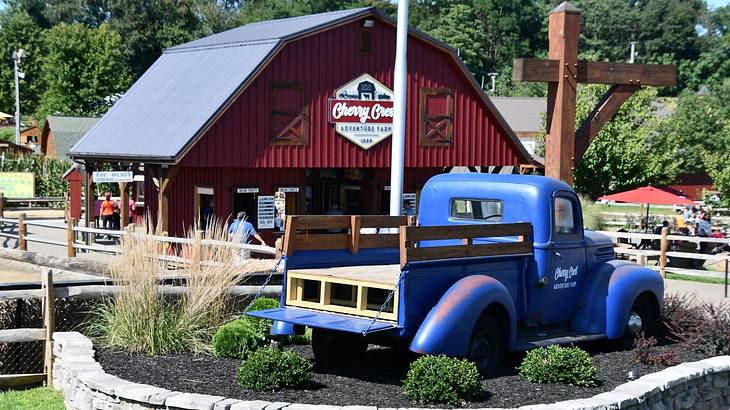 Have a fun family day out at Cherry Crest Adventure Farm
Cherry Crest Adventure Farm is an exciting family-friendly attraction that offers many activities and is about 20 minutes from Lancaster in Ronks. Things to do for kids include exploring a corn maze, taking a wagon ride, and challenging each other in a rubber duck race!
Adults can enjoy a farm homewares shop selling candles, pillows, dishes, and more. You can also treat yourselves to snacks, like apple cider donuts.
View model trains at the Choo Choo Barn
If you're interested in model trains or are visiting the area with kids that like trains, make sure you visit the Choo Choo Barn. The attraction is located just outside of Lancaster in Strasburg and features a 1,700-square-foot model train display with miniature models and railway vehicles. Many of the train models have been in the museum since it opened over 70 years ago and all still function perfectly.
Take in the views around Holtwood Dam
Another of the fun things to do near Lancaster, Pennsylvania, for outdoor activity enthusiasts is hiking around Holtwood Dam. The dam itself was constructed in 1910 and sits on the lower Susquehanna River.
You can find a few trails to follow, including one that will take you to an overlook where you can take in the views over Holtwood Dam, the river, and the surrounding forest.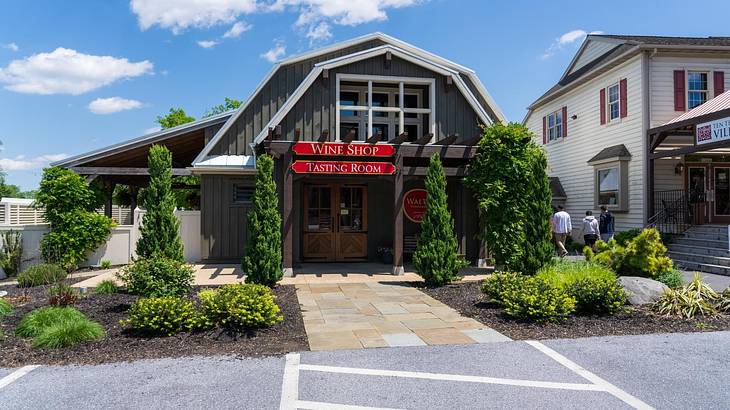 Wander around Kitchen Kettle Village
Kitchen Kettle Village is a charming Pennsylvania Dutch shopping village with stores and restaurants. Shops to visit include jewelry and accessory stores, pet shops, and home decor boutiques.
You can also find shops selling food goods, like bakery items, fudge, or olive oil. Once you've explored all of the boutiques, you can stop at eateries like the Harvest Cafe or visit the unique Jam & Relish Kitchen.
Dare to visit Field of Screams
Thrill seekers and horror lovers will want to plan a trip to Field of Screams! The attraction is situated around 15 minutes from Lancaster in Mountville and features an array of spooky things to do.
Amusements include a haunted hayride, a spooky trail through the "Nocturnal Wasteland," and the eerie "Frightmare Asylum." There are also some carnival-style games and lots of fun photo-ops with creepy characters.
Try shoofly pie at Dutch Haven
Shoofly pie is a traditional Pennsylvania Dutch dessert featuring a molasses filling, crumble topping, and a buttery crust. If you're interested in trying this local treat, Dutch Haven is one of the best places to do so.
Along with trying a slice of pie (or buying a whole one), you can explore Dutch Haven's unique Amish craft store, which sells souvenirs like magnets, mugs, and t-shirts.
Say hi to rescue wolves at the Wolf Sanctuary
Animal lovers that are wondering what to do near Lancaster, PA, should plan a trip to the Wolf Sanctuary. The sanctuary in Lititz is a refuge for wolves and houses wild wolves that have been rescued and are in rehabilitation and those that cannot be re-released into the wild.
Wolf dogs that have been rescued from bad living situations and breeders also call the sanctuary home. At the sanctuary, you can learn more about each animal's story and take a tour, on which you can see many of the beautiful canines.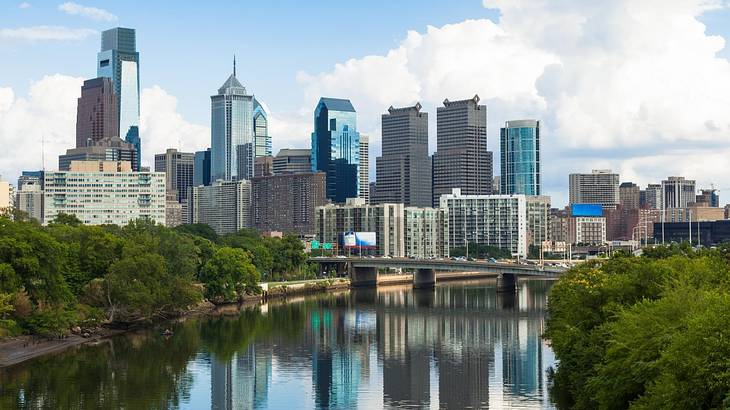 Plan a trip to Philadelphia
Philadelphia is one of the most well-known cities in Pennsylvania and is close to Lancaster, making it a fun place to plan a trip. If you're visiting with your other half, you'll also be pleased to learn that there are many romantic things to do in Philadelphia.
The city is about an hour and 30 minutes away, depending on traffic. While you could go for a day trip, planning an overnight trip from Lancaster is highly recommended and will allow you to see more of the city.
Things to do in Philadelphia include visiting historical landmarks, like the Liberty Bell in Independence Hall, going on a dinner cruise on the Delaware River, and checking out cool local breweries.
In Conclusion
Lancaster is a highly unique city to visit! Things to do range from learning about Amish communities to trying treats like shoofly pie and taking a memorable hot air balloon ride over the area. No matter what you like to do, you'll discover an array of attractions in Lancaster, Pennsylvania, you'll want to check out.
Give us feedback about this article
More articles about Pennsylvania:
Read more articles about the United States:
More articles about things to do:
More visual stories related to this article:
---
---
Want to keep exploring?
Subscribe for discounts on tickets and hotels and our latest guides.
Thank you for subscribing
We will be in touch soon with discounts on tickets and hotels and our latest guides.
Want to keep exploring?
Subscribe for discounts on tickets and hotels and our latest guides.
Thank you for subscribing
We will be in touch soon with discounts on tickets and hotels and our latest guides.
Related Articles