25 Famous Pennsylvania Landmarks You Must See
Destguides may receive commissions from purchases made through affiliate links in this article.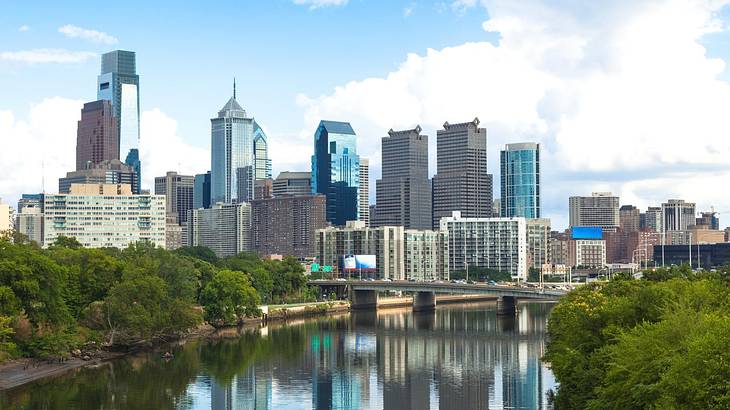 If you are wondering what Pennsylvania is known for, you've come to the right place! Pennsylvania is primarily known for its array of historical landmarks.
Many of these sites relate to the Revolutionary War and the creation of the United States of America. On top of historical sites, Pennsylvania is filled with beautiful forests and parks that feature scenic trails, waterfalls, and lots of wildlife.
If you want to discover famous Pennsylvania landmarks to visit, keep reading! A Pennsylvania map is also included below to help you see where all the landmarks are located.
25 Famous Landmarks in Pennsylvania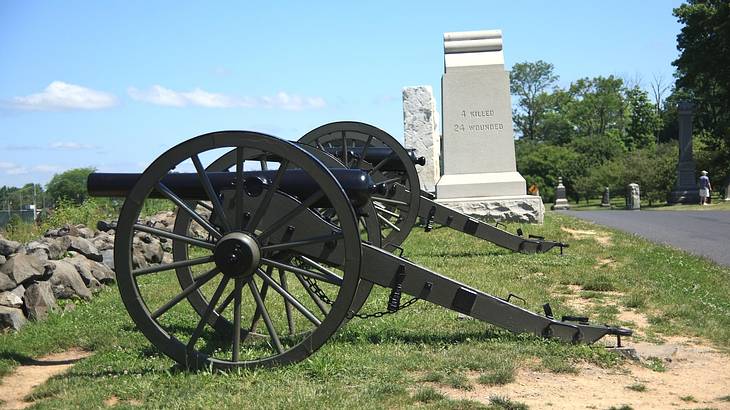 Gettysburg National Military Park
Gettysburg is one of the most famous historic sites in PA. Now known officially as Gettysburg National Military Park, this historical site is where one of the most prolonged and deadly battles of the American Civil War was fought.
The National Park Service operates the park and even hosts an annual historical reenactment of the famous Battle of Gettysburg in early July.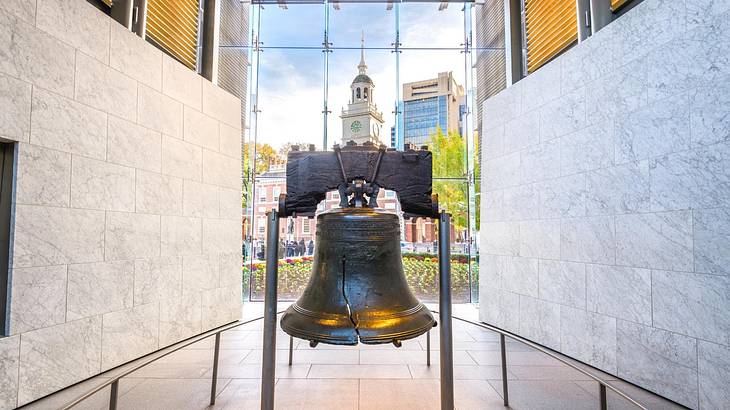 Liberty Bell in Independence Hall
Whether you're a history buff or not, visiting Independence Hall in Philadelphia and seeing the historical Liberty Bell is a must.
The bell and its inscription, which summarized means "liberty for all," was a source of inspiration for abolitionists and the movement to end slavery in America.
Despite the centuries that have passed, this North American landmark and its message remain symbols of freedom and patriotism.
Independence National Historical Park
During your visit to the Liberty Bell, you should also make time to see the rest of Independence Hall within the Independence National Historical Park. This park is one of the most important historical sites in Pennsylvania and the United States.
Independence National Historical Park is where the Declaration of Independence was signed and the US constitution was decided. It is also recognized UNESCO World Heritage Site. Do note that entry is by tour only.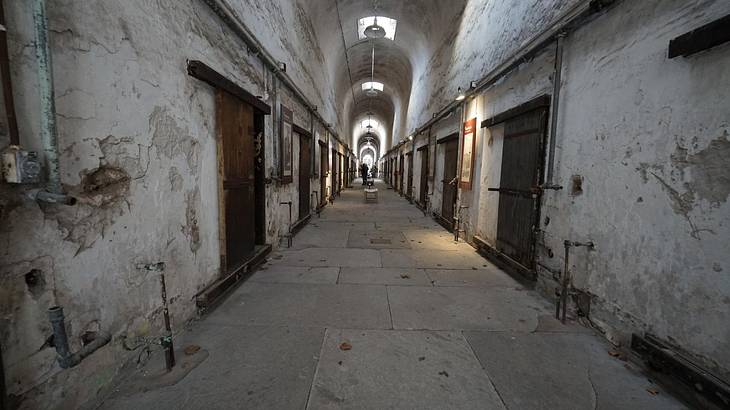 Eastern State Penitentiary Historic Site
Eastern State Penitentiary Historic Site is a very different sort of historic Pennsylvania landmark! The former prison now offers tours and not just daytime tours but also special creepy night tours for those who enjoy a bit of a fright.
When the Eastern State Penitentiary operated as a prison, it held some of the most notorious criminals in America, including Al Capone and the famous bank robber Slick Willie.
Marsh Creek State Park
If you are willing to travel a little further from Philadelphia, you can experience the lovely Marsh Creek State Park, just an hour's drive away.
Located on Marsh Creek Lake, this state park offers boating, fishing, and swimming in addition to regular park activities, such as hiking and biking. However, the lake is very popular, and launch permits sell out quickly.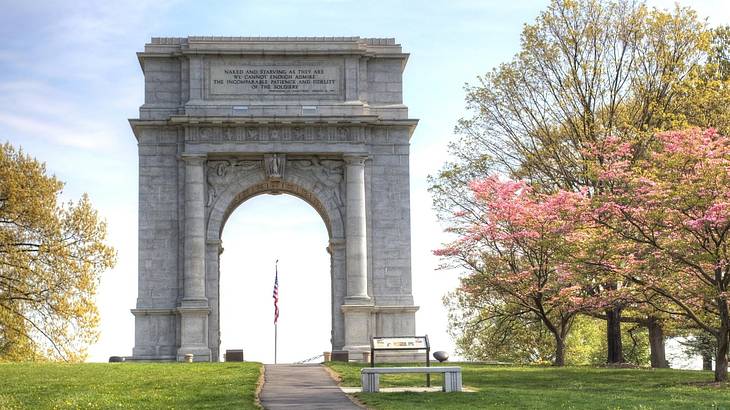 Valley Forge National Historical Park & the National Memorial Arch
Valley Forge National Historical Park was the site of an important military camp for the Revolutionary Army. It is another of the most significant historical landmarks in Pennsylvania.
Under the command of George Washington, the troops wintered here as they prepared to fight (and eventually defeat) the British. As you explore Valley Forge, make sure to stop at the National Memorial Arch, set up in honor of George Washington and his troops.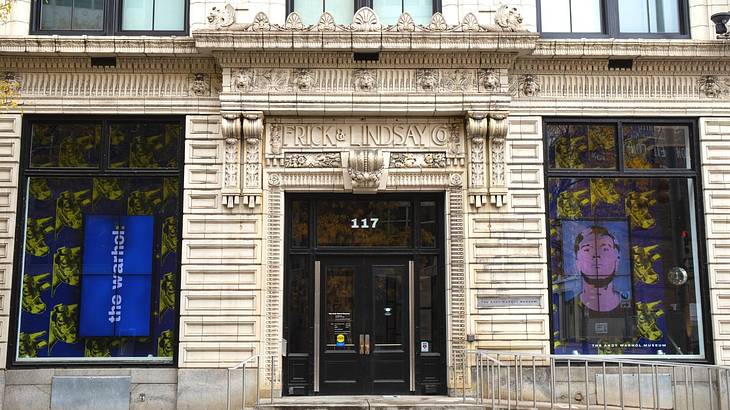 The Andy Warhol Museum
If you're into art and visiting Pittsburgh, check out the Andy Warhol Museum. This art gallery houses the largest number of art pieces, archives, and Warhol memorabilia in the world.
The museum regularly hosts events, like independent art shows and "Good Fridays," with late-night hours and reduced entry fees. Going to the Andy Warhol Museum also makes for a fun date idea for Pittsburgh!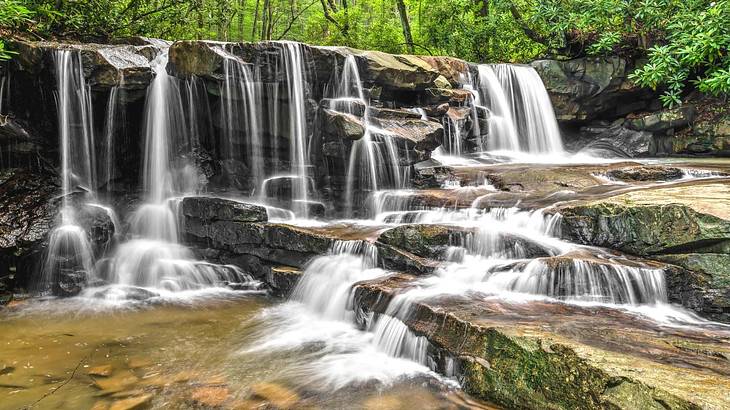 Ohiopyle State Park
Ohiopyle State Park offers outdoor adventures year-round and is only a one-hour drive from Pittsburgh. Interestingly, it is one of the most-visited state parks in Pennsylvania due to its breathtaking scenery and stunning waterfalls.
Not only is it a scenically beautiful place, but the fast-flowing Youghiogheny River means you can enjoy whitewater rafting in this park. Visitors can also go horseback riding, rock climbing, hiking, and more.
If you're looking for fun outdoor activities near Pittsburgh, going to Ohiopyle State Park has to be on your list!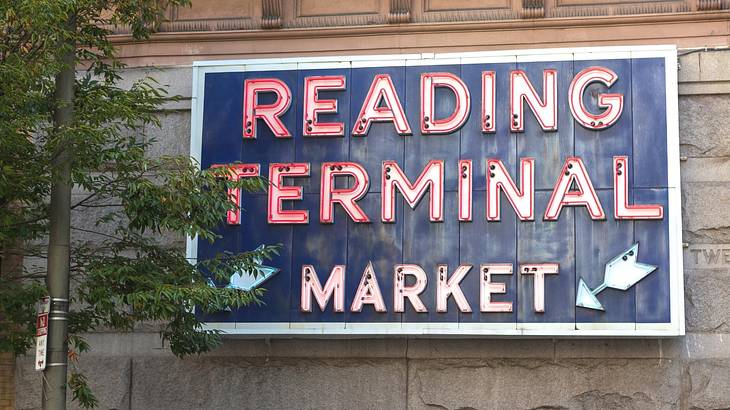 Reading Terminal Market
Reading Terminal Market is one of the historical places in PA that is a must-visit for foodies! The market has been in operation since 1893 and has been called 'the best public market in America' by USA Today.
Visitors can spend the afternoon sampling the local produce, cheeses, and pastries for which this market is known. Come hungry and bring your own bag so you can take some edible souvenirs home, too!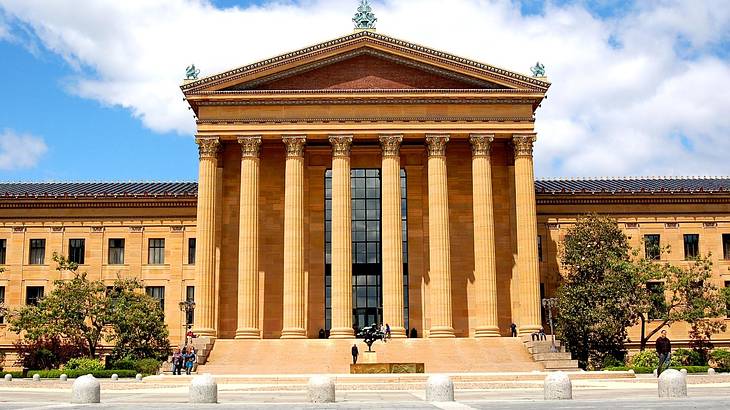 Philadelphia Museum of Art
Located on the iconic Benjamin Franklin Parkway in Philly is the Philadelphia Museum of Art. Visitors can peruse numerous works of art, from pieces like Grace Kelly's Wedding Dress, photographs by Paul Strand, and paintings by famous artists such as Georgia O'Keeffe and Pablo Picasso. Visitors can also enjoy study rooms and a library within the museum to make a visit a full-day event.
Tioga State Forest
Tioga State Forest is a famous landmark in Pennsylvania because the forest covers over 150,000 acres of land and is home to Pine Creek Gorge.
It's worth a visit not only for the Gorge but also because of the activities offered within this DCRN-run State Forest. Fun activities to partake in include horseback riding, mountain biking, snowmobiling, and cross-country skiing, to name only a few!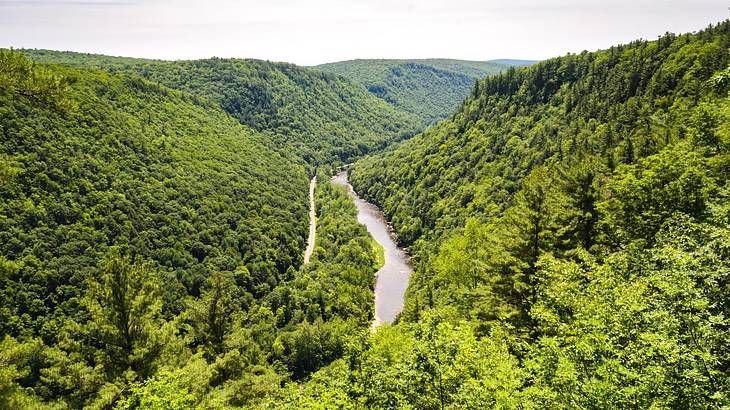 Pine Creek Gorge
This Pennsylvania landmark is found within the Tioga State Forest and is known as the "Pennsylvania Grand Canyon." Pine Creek Gorge comprises a green canyon with picturesque views.
Twelve miles of the canyon have even been designated a National Natural Landmark by the National Parks Service. The park additionally offers four miles of hiking trails that offer breathtaking views.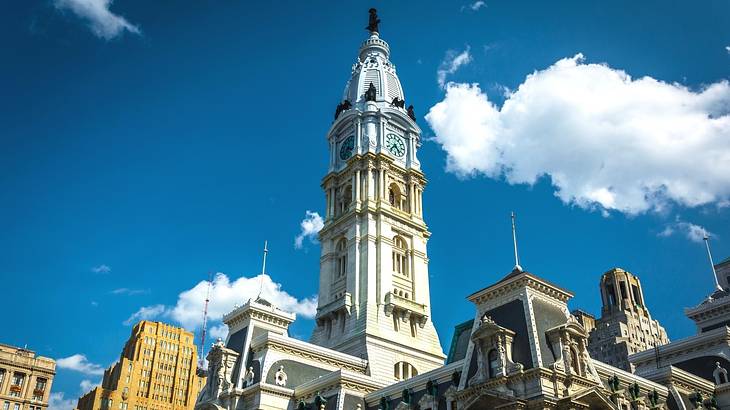 Philadelphia City Hall
Philadelphia City Hall is an architectural feat and a National Historic Landmark. At the time of its completion in 1901, it was the tallest building in the United States.
Today, it remains the largest municipal building in America and is the largest masonry-built structure in the world to not use a steel frame for support.
You can also see a statue of Philadelphia's founder, William Penn, standing at the top of this building. Visitors can take tours and admire the building's architecture.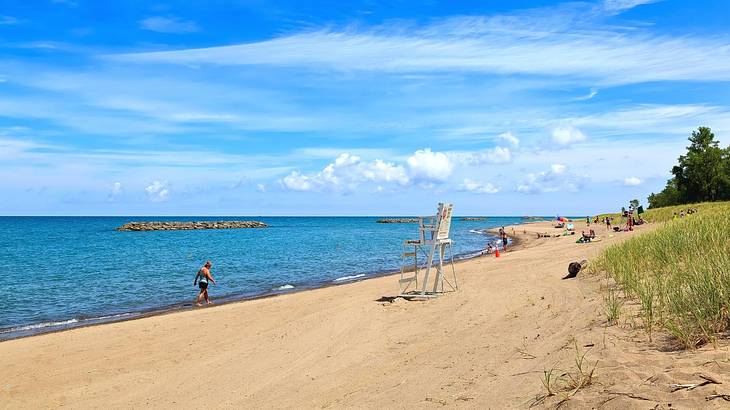 Presque Isle State Park
Just a few miles from downtown Erie is the lovely Presque Isle State Park that sits along Presque Isle Bay. This day-use park is open every day until dusk but does not offer overnight camping.
There are 11 beaches within the park, where visitors can enjoy water activities, including kayaking, surfing, pontoon boat rides, and even scuba diving.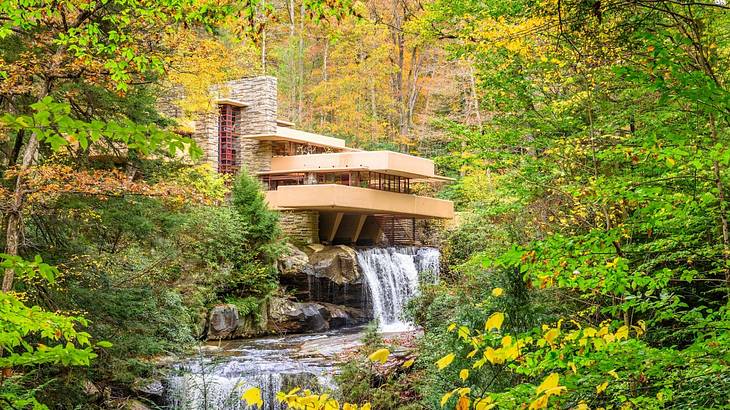 Fallingwater
If you're driving through PA, make a stop at one of the most famous landmarks of Pennsylvania, Fallingwater. This landmark is the former home of the American architect Frank Lloyd Wright and is located approximately one hour from Pittsburgh.
It is known as "Fallingwater" due to a waterfall built into the design. Visitors to the structure can take a tour and learn more about the design and Frank Lloyd Wright's career.
Ridley Creek State Park
While Ridley Creek State Park might be one of the smaller parks maintained by the Pennsylvania Department of Conservation and Natural Resources (DCNR), it is only 16 miles from the Philadelphia city center, making it the perfect place to get away from the bustle of Philly. The park is open year-round and offers overnight camping, horseback riding, hiking trails, and more.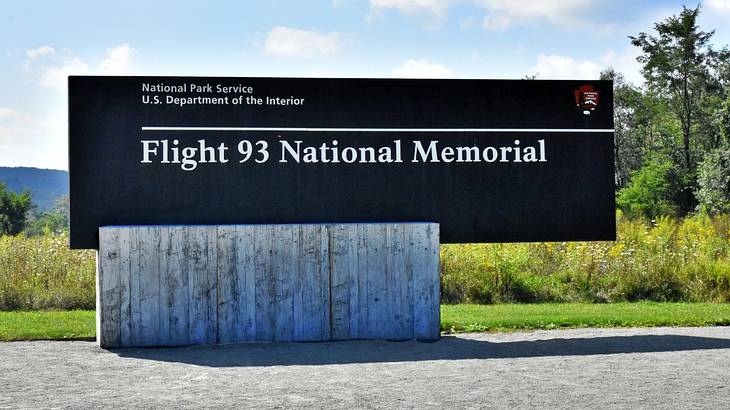 Flight 93 National Memorial
On September 11, 2001, the passengers and crew of United Airlines Flight 93 risked their own lives to intervene against hijackers who attempted to crash the plane into the US Capitol Building in Washington, DC.
Their heroic efforts thwarted the plan but resulted in their deaths. The passenger's and crew's sacrifice is immortalized at this monument in Somerset County, PA. To pay respects, you can visit the Tower of Voices and see the Memorial Plaza.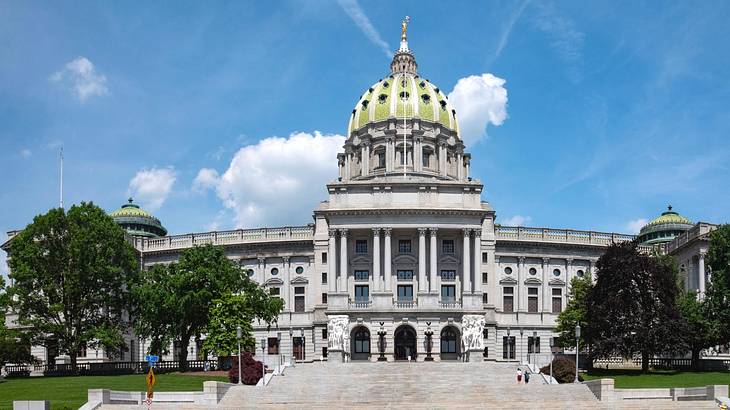 Pennsylvania State Capitol Complex
The Pennsylvania State Capitol Complex is an impressive building to see! This massive complex is located in Pennsylvania's state capitol of Harrisburg.
Visitors can take tours and even watch a live senate session, as long as they follow proper etiquette. In 1977 it was listed on the National Register of Historic Places and is one of the top National Historic Landmarks in Pennsylvania.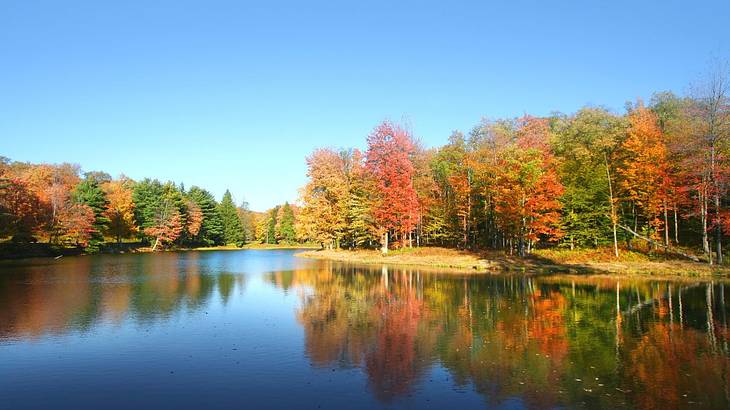 Allegheny National Forest
The Allegheny National Forest is Pennsylvania's only National Forest. It is located approximately two and a half hours from Pittsburgh and one and a half hours from Erie, PA.
Visitors can spend the day, or the weekend, enjoying the beauty of this forest. There are plenty of outdoor activities to enjoy at this landmark, including hiking, camping out under the stars, or riding ATVs on designated trails throughout the forest.
Bald Eagle State Park
In the heart of Pennsylvania, you'll discover Bald Eagle State Park, named after Bald Eagle Mountain. The park was established in 1971 and covers 5,900 acres.
Aside from hiking Bald Eagle Mountain, the park also has a large lake, Foster Joseph Sayers Lake. Visitors can hike, boat, kayak, and camp overnight at this beautiful state park.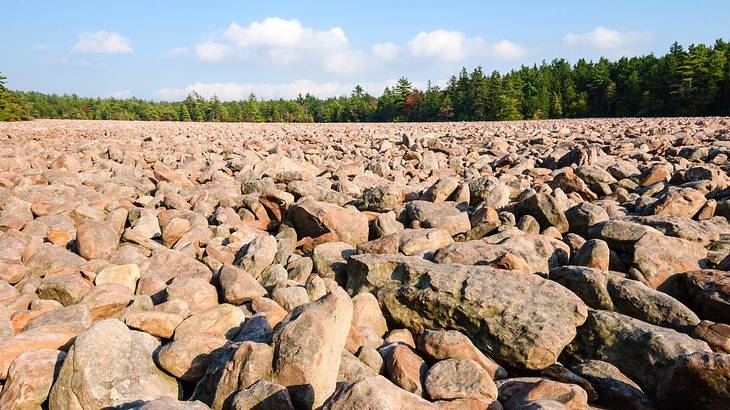 Hickory Run State Park and Boulder Field
Hickory Run State Park and Boulder Field are two of the Pennsylvania state landmarks that nature lovers won't want to miss. The boulders strewn about the Hickory Run Boulder Field are highly unique.
The park is famous for its many trout streams that draw fishing enthusiasts as well. Visitors can also enjoy the over four miles of trails for hiking, or spend the night camping in the beautiful state park in the foothills of the Poconos.
Cherry Springs State Park
Want to sleep out under the stars? Then visit Cherry Springs State Park! Campers can sleep at the top of a 2,300-foot mountain with an incredible view of the stars.
This park offers only the bare essentials for campers, with a focus on the astronomy observation field. If you plan to look at the stars and galaxies, you're welcome to bring your own telescope, and overnight camping is allowed from April through October.
Bushkill Falls
Bushkill Falls is a family-owned area that was previously a working mine. It's been open to the public as a recreation site for over 100 years. Visitors can tour the "Niagara of Pennsylvania," which comprises a series of majestic waterfalls.
Kids and adults alike can also pan for gold and gemstones or wander through a fun maze. There is a wildlife rehab center that animal lovers will enjoy visiting as well to see a range of woodland animals.
Rivers of Steel: Carrie Blast Furnaces National Historic Landmark
Pittsburgh was once the biggest steel-producing city in the United States and played an essential role in America's industrial revolution. As a result, even today, the city has the nickname "Steel City!"
A renowned Pittsburgh landmark relating to this industrial history is the Carrie Blast Furnaces National Historic Landmark. It is truly a testament to Pittsburgh's history and the importance of steel to the state of Pennsylvania.
Visitors to the site can take guided tours. In addition, Rivers of Steel hosts regular workshops throughout the year where you can learn to cast metal or create art with steel.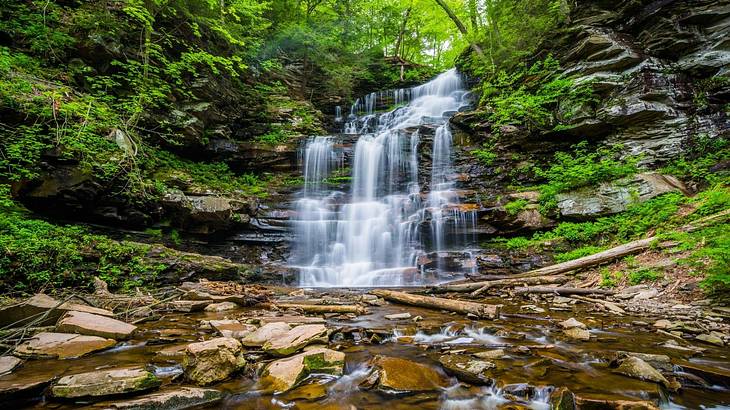 Ricketts Glen State Park
Within Ricketts Glen State Park is the beautiful Glens Natural Area that's filled with forests and waterfalls. Visitors are encouraged to hike to the many falls, the tallest of which is nearly 100 feet high! Visitors can also camp overnight or just stay for the day. The park is open year-round.
Conclusion
There are many important historical places in Pennsylvania to see, as well as natural landmarks and other significant attractions.
Pennsylvania has something for everyone, from adventure-seekers to history buffs and art lovers. No matter what you enjoy doing, you won't leave PA disappointed!
Give us feedback about this article
More articles about Pennsylvania:
Read more articles about the United States:
More articles about landmarks:
More visual stories related to this article:
---
---
Want to keep exploring?
Subscribe for discounts on tickets and hotels and our latest guides.
Thank you for subscribing
We will be in touch soon with discounts on tickets and hotels and our latest guides.
Want to keep exploring?
Subscribe for discounts on tickets and hotels and our latest guides.
Thank you for subscribing
We will be in touch soon with discounts on tickets and hotels and our latest guides.
Related Articles