35 Fun Date Ideas in Philadelphia, PA
Destguides may receive commissions from purchases made through affiliate links in this article.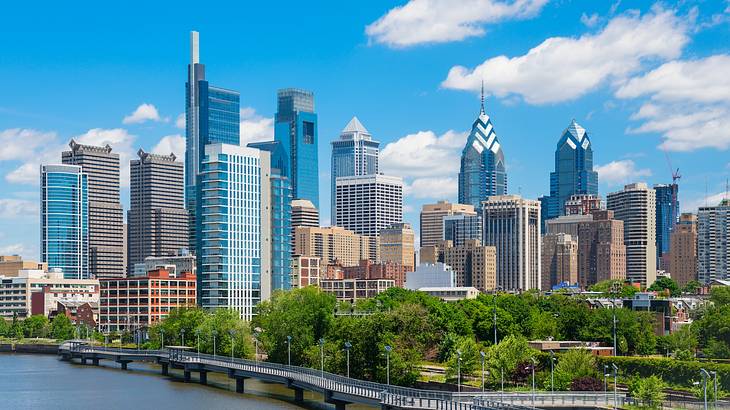 Philadelphia is a popular city to visit on the east coast of the US in the state of Pennsylvania. Couples visiting this destination will be pleased to hear that there are many fun date ideas in Philadelphia, PA, to enjoy.
During the day, you can visit museums, parks, and historical landmarks, like Independence Hall. You can also do more unique things, like ice skating or playing games at a board game cafe.
Date night ideas range from dining at top restaurants to going to a hockey or basketball game at Wells Fargo Center. Keep reading to discover everything to do on a date in and around Philadelphia!
35 Fun Date Ideas in Philly
Philly Date Ideas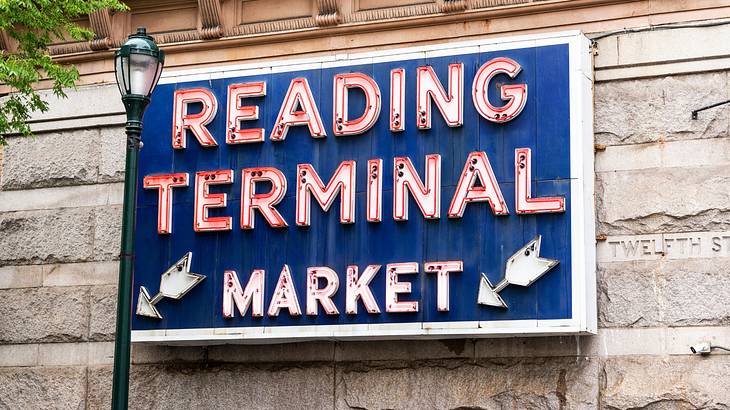 Shop at Reading Terminal Market
Foodie couples won't want to miss exploring the famous Reading Terminal Market together. At the market, which dates back to 1893, you'll find a range of vendors selling fresh produce, ready-to-eat dishes, baked goods and desserts, and more.
There are also some non-food vendors, like those selling flowers and arts and crafts items. While you could explore alone, taking a Philadelphia food tour is a great idea. Your guide will take you to Reading Terminal Market's best vendors and to some top local eateries.
Explore the Old City neighborhood
Old City gets its name from literally being one of the oldest areas of Philadelphia! You'll find many old buildings here as well as historical landmarks, like Independence Hall.
This area also has trendy bars, unique independent shops, and cute cafes. Day or night, it's the ideal place to explore with your date, stopping at any places that take your fancy. If you want to know more about the area's history, you and your date can go on an Old City walking tour.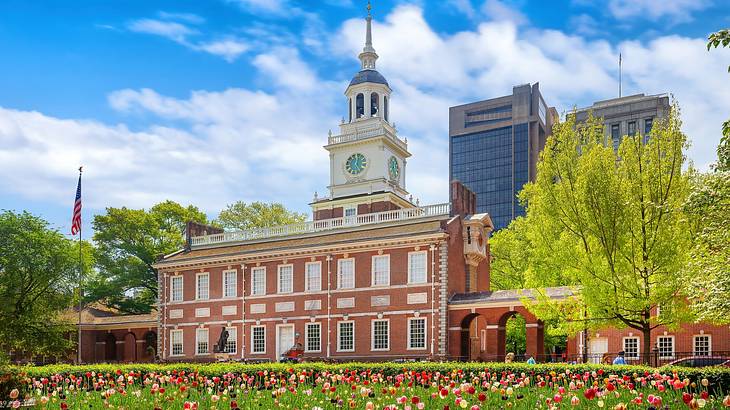 View the Liberty Bell and Independence Hall
If you and your partner are interested in United States history, going to the Liberty Bell and Independence Hall can't be missed. These Pennsylvania landmarks relate to the American Revolutionary War, with Independence Hall being where the United States Constitution was debated and agreed upon by the Founding Fathers.
To learn more about these historical landmarks and see other important sites, take a history tour of Philadelphia.
Discover the best bakeries on a donut tour
Experiencing a Philadelphia donut tour is a unique and highly fun date idea. You'll visit multiple spots selling delicious donuts, including Reading Terminal Market and Federal Donuts. At each spot, you can try samples and order some extra of your favorite donuts to enjoy later.
Admire Philadelphia's Magic Gardens
One of the most fun date ideas in Philly for art enthusiasts is going to Philadelphia's Magic Gardens. This vast outdoor art installation features beautiful mosaics by Isaiah Zagar.
There's also a labyrinth and an indoor art gallery. If you and your date want to discover more art attractions, going on a guided Philadelphia art tour is a must.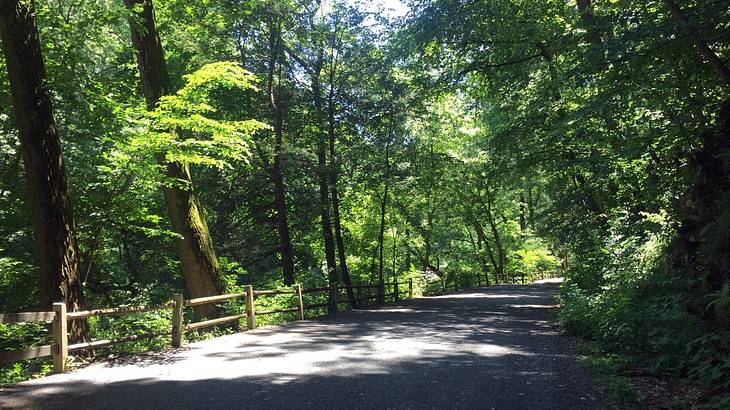 Hike through Wissahickon Valley Park
Wissahickon Valley Park is another excellent outdoor attraction to visit together. This park is located about 25 minutes from downtown and features hiking trails through beautiful woodlands. You'll see various woodland creatures as you explore, from woodpeckers and indigo buntings to woodchucks and foxes.
Spend time outdoors at the Morris Arboretum
Morris Arboretum of the University of Pennsylvania is a perfect place to visit with your date during the spring and summer months or on a crisp fall day.
The arboretum is split into different themed areas, including a charming English park, a rose garden, and a rock wall garden. As you explore together, you'll see many flower, tree, and plant species, as well as fountains, ponds, wildlife, and more. Visiting this landmark will help you understand why one of Philadelphia's nicknames is America's Garden Capital.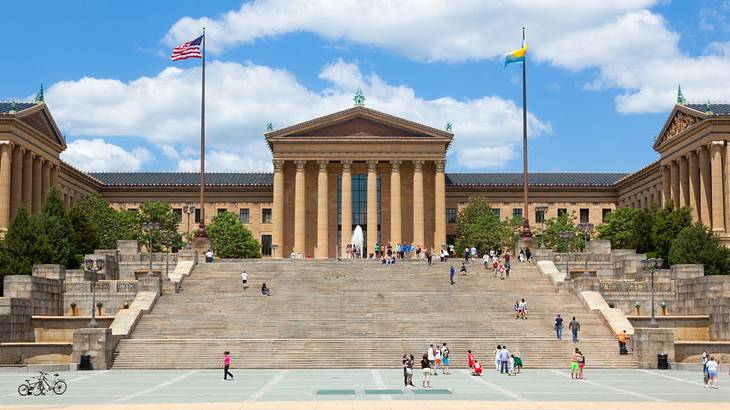 Appreciate artworks at the Philadelphia Museum of Art
If you and your other half love art, going to the Philadelphia Museum of Art is one of the Pennsylvania date ideas that has to be on your to-do list! Founded in 1876, the museum now houses an impressive collection of around 240,000 objects.
Artworks on display include contemporary pieces and those that date back 4,000 years! The museum also features works by many renowned artists, like Pablo Picasso and Henri Matisse.
Try archery at Callowhill Archery
Are you looking for unique date night ideas in Philadelphia, PA? If so, it won't get much more unique than taking your date to Callowhill Archery!
At the indoor archery range, you'll be taught the basics in a mandatory introduction and safety class. After that, you can both have a go at shooting paper targets with your bow and arrow.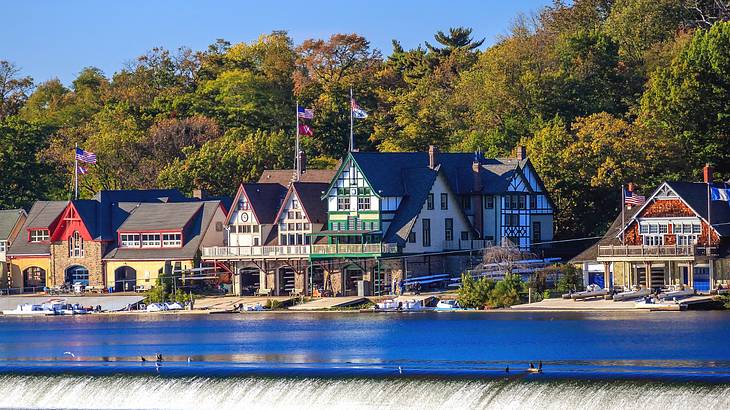 Visit Boathouse Row
Boathouse Row is a scenic place to visit with your date during the day or in the evening. This area sits on the Schuylkill River and features charming 19th-century boathouse buildings. It's a great place to go for a walk, taking in the river views and unique architecture.
You may also see rowing and sailing clubs practicing on the water and can easily continue your walk through the adjacent East Fairmount Park.
Bike along Schuylkill River Trail
Outdoor activity enthusiasts will be interested in biking the Schuylkill River Trail. This scenic route begins in central Philadelphia, and, as the name suggests, follows the Schuylkill River.
You can cycle along as much or as little of the trail as you like, but no matter how much you do, you'll be rewarded with breathtaking views.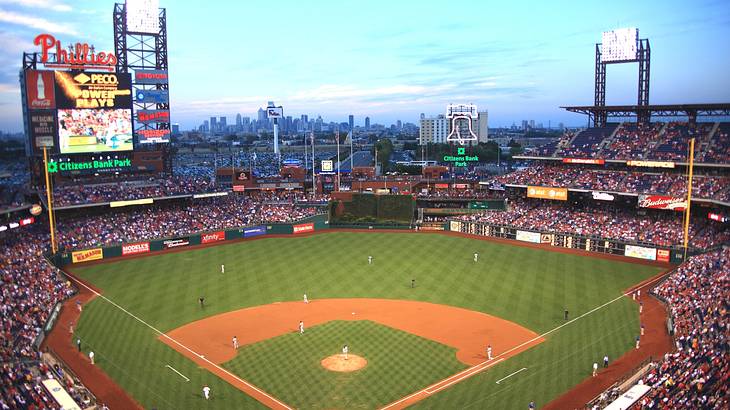 Catch a Philadelphia Phillies game at Citizens Bank Park
Philadelphia has multiple professional sports teams, including the Philadelphia Phillies. You can watch the MLB team with your date at Citizens Bank Park, located downtown. You can catch a game between April and October, with most games played in the afternoons.
Go to Spruce Street Harbor Park and the Delaware River Waterfront
In the summer, going to Spruce Street Harbor Park along the Delaware River Waterfront is a must. This park has a boardwalk along the river, which offers a fantastic view.
There are also many places to hang out, with picnic tables and hammocks spread throughout the area. In the evening, colorful light displays illuminate the park, and events are held frequently.
Check out Cherry Street Pier
Another cool place to check out by the waterfront is Cherry Street Pier. This bustling area offers stunning views and features art galleries, riverside bars and eateries, and a flea market. No matter the season, it's the perfect place to wander around, checking out unique local businesses.
Things to Do on Date Night in Philadelphia, PA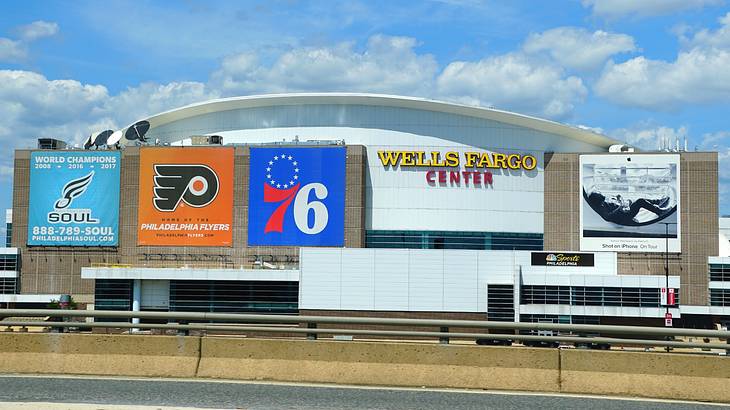 Attend a sporting event at the Wells Fargo Center
Couples that love sports can spend an evening at the Wells Fargo Center cheering on one of Philadelphia's local teams. The venue is home to the Philadelphia Flyers NHL team and the Philadelphia 76ers NBA team.
Both teams play between October and April in the regular season, with the majority of games in the evening. You may be able to catch some afternoon games on weekends, though.
Have a game of bowling at South Bowl
Going bowling is one of many fun date night ideas in Philadelphia, PA, and South Bowl is a great spot to check out. The bowling alley is located in a trendy renovated warehouse and features a bar and restaurant.
After a game or two, you and your date can relax with cocktails or beer and snacks like burgers or skillet S'mores.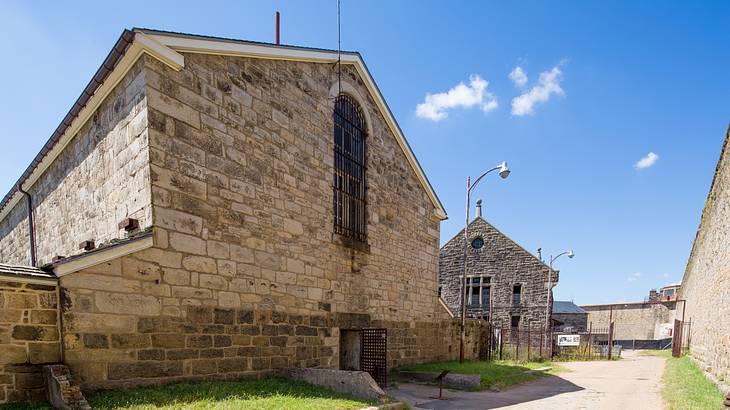 Tour the Eastern State Penitentiary after dark
Couples looking for the most unique Philadelphia date night ideas will be interested in touring the Eastern State Penitentiary after dark. The prison was operational between 1829 and 1971 and is now open for tours.
While you can go during the day, a nighttime tour is a little more exciting, especially if you like spooky activities. As you look around, you'll learn more about the penitentiary's history and notable events that occurred there.
If you want to go on another spooky date, book spots on a Philadelphia ghost tour!
Laugh all night at Punch Line Philly
While drinks or dinner are fun, there are many other date night options in Philly, like going to a comedy show at Punch Line Philly. Shows include those by nationally known and local comedians. While watching the show, you can order drinks and bar snacks, salads, or sandwiches.
Sip cocktails at the Ranstead Room
A drinks date at The Ranstead Room is a must for couples that like delicious drinks and trendy bars. This stylish speakeasy-style spot is somewhat of a hidden gem in Philadelphia and features a craft cocktail for all tastes. All drinks are served beautifully, so they will look great on your Instagram feed!
Most Romantic Things to Do in Philadelphia for Couples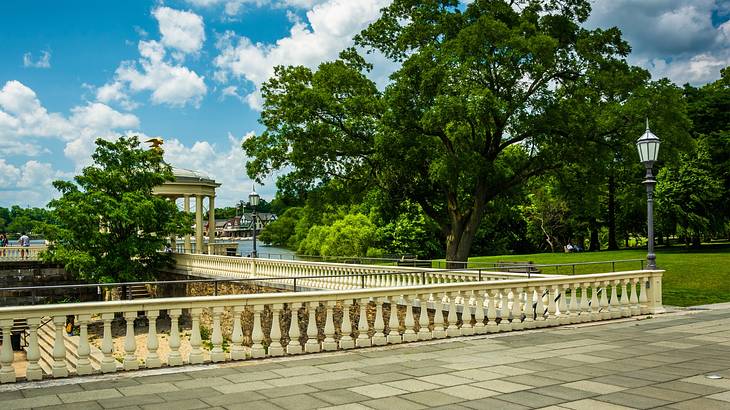 Take a romantic walk through Fairmount Park
Fairmount Park is a beautiful urban park that sits downtown on both banks of the Schuylkill River. It's the ideal place to go for a romantic walk before finding a scenic place to sit and chat or share a picnic. If visiting this Philadelphia landmark in the spring, you'll also be able to admire the stunning cherry blossom trees that line the park's trails.
Stay at the Four Seasons Hotel
You'll find many romantic places to stay in Philadelphia if you're visiting on a couples getaway. Booking a room at the Four Seasons is an excellent option if you want to stay somewhere luxurious downtown.
The hotel has stylish rooms and suites with stunning city views, plus amenities like trendy bars and restaurants, a spa, and a gym.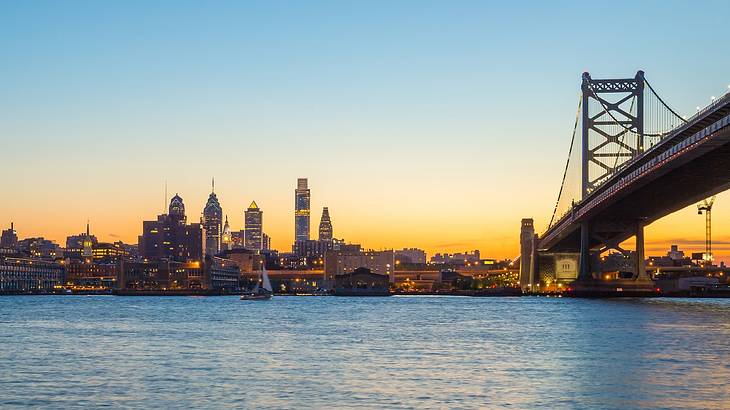 Luxuriate on a dinner cruise
Going on a Philadelphia dinner cruise is a romantic way to spend the evening. You and your other half will sail along the Delaware River, taking in the views of the city as the sun goes down. During the cruise, you'll be treated to dinner and drinks, with live music entertainment also onboard.
Wander around Bartram's Garden
Bartram's Garden is another romantic place to go for a walk together. Strolling around this pretty outdoor space together is also one of the best first date ideas in Philadelphia, PA.
At the 50-acre garden, you'll find trails through various themed gardens, including flower gardens, a wilderness area, and a kitchen garden with herbs and vegetables. Wildlife sightings are likely as well, with the gardens home to many bird species.
If you're wondering about the best time to visit Philadelphia to explore the gardens, opt for a spring trip when most of the flowers are in bloom.
Best Date Restaurants in Philadelphia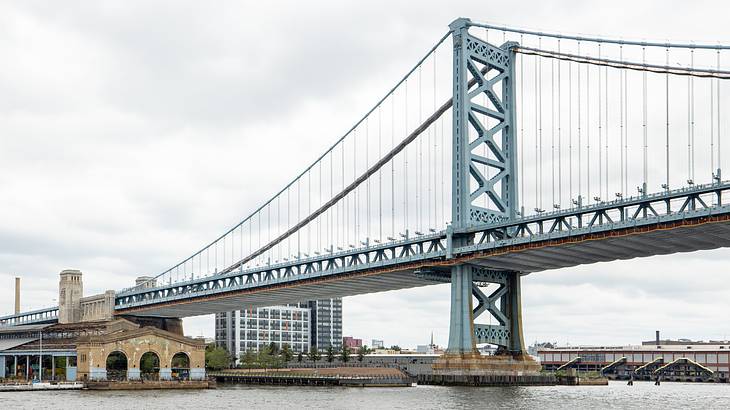 Cavanaugh's River Deck
Located right on the Delaware River, Cavanaugh's River Deck is a fun place for a dinner and drinks date in the spring and summer. This seasonal spot serves bar snack favorites like tacos, wings, and fish and chips. As you enjoy your meal and the river views, you can also order drinks, including fish bowl and bucket cocktails.
Double Knot
Double Knot is one of many excellent date night restaurants in Philadelphia. This trendy sushi spot and cocktail bar serves a variety of sushi rolls as well as sashimi, small plates, delicious drinks, and much more!
If you and your date can't decide what to order, opt for the chef's tasting menu. Double Knot also has a great happy hour.
Keating's Rope and Anchor Bar + Kitchen
Keating's Rope and Anchor Bar + Kitchen at the Hilton Hotel is another of the romantic places in Philadelphia, PA, to take your date for dinner. The waterfront eatery offers beautiful views and has an outdoor patio to enjoy during the warmer months.
Menu options include lobster bisque, BBQ baby cauliflower with quinoa, and flatbread pizzas. Wine or cocktails can accompany your meal, and you can finish with delicious desserts like coconut lime trifle or chocolate peanut butter mousse cake.
Charlie was a sinner
Charlie was a sinner is a trendy and sultry spot serving delicious drinks and plant-based dishes. Things to order include pumpkin gnocchi, mezze platters, and oyster mushroom "calamari." For dessert, you can treat yourselves to sweets like molten chocolate cake or roasted pear crepes.
Cute Date Ideas in Philadelphia, PA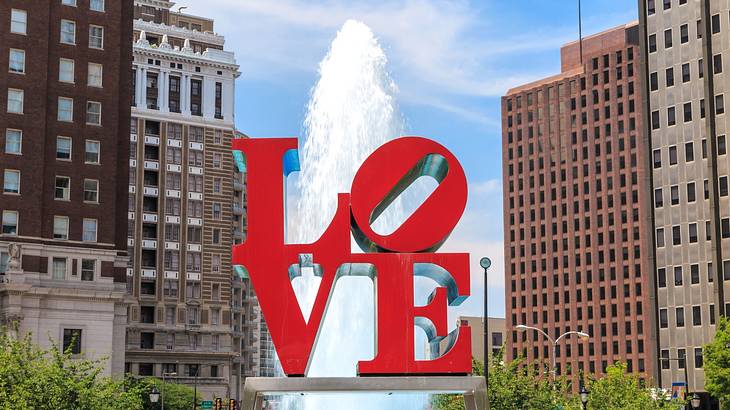 Snap a photo at LOVE Park
With a name like LOVE Park, it's no wonder this spot is popular with couples! Also known as John F. Kennedy Plaza, the park features a LOVE sculpture by Robert Indiana. During a visit, snapping a picture with your other half next to the red love sign is a must.
Play board games at Thirsty Dice
Going to Thirsty Dice is one of the most cute and laid-back couples activities in Philadelphia. You can choose from various games at this board game cafe, including classics and less well-known options.
As you play, you can order snacks, like nachos and wings, and alcoholic drinks and soft drinks are also available. There's even a fun ice cream menu with sundaes, milkshakes, and boozy milkshakes!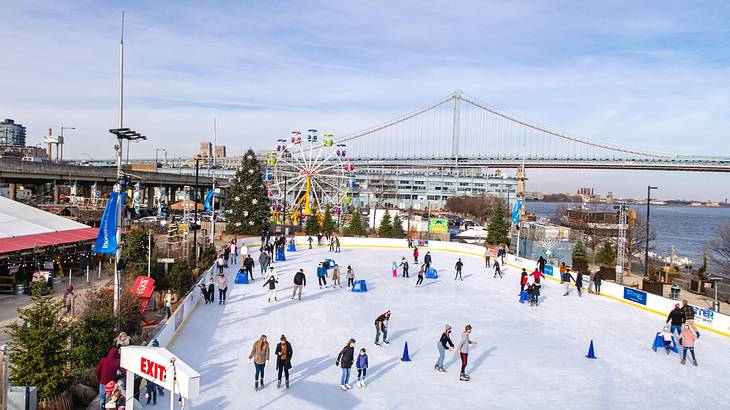 Skate at Independence Blue Cross Riverrink
Skating at the Independence Blue Cross Riverrink is a cute date idea that will appeal to most couples. The outdoor rink sits next to the Delaware River and is an ice skating rink in the winter and open for roller skating in the warmer months.
The rink stays open until late, with pretty lights illuminating the area in the evening. There's also a Christmas tree and other decorations around the holidays.
Treat your date to ice cream at The Franklin Fountain
There are many places to get dessert in Philadelphia, with The Franklin Fountain being one of the best. This unique spot resembles an old-fashioned ice cream parlor, complete with staff in retro uniforms.
Treats on offer include decadent sundaes, banana splits, milkshakes, and ice cream sodas made using a vintage soda fountain.
Learn to make new dishes in a cooking class
Couples that like going out to dinner together can change that experience a little by making a delicious meal themselves at a cooking class. There are many cooking classes in Philadelphia, with Let's Cultivate Food being a popular choice.
You can choose from many courses at this cooking school, including a French cuisine class or a sushi-making session. If you both love Italian food, consider also booking a class at La Cucina at the Market.
Things to Do Near Philadelphia, PA, for Couples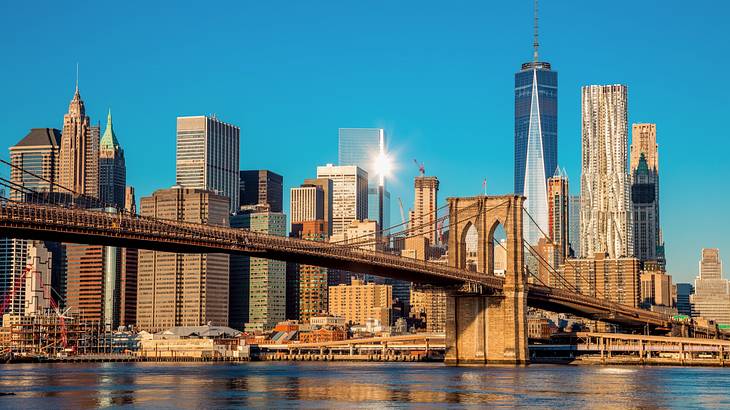 Plan a romantic trip to New York City
There are many fun things to do in Philadelphia for couples. However, sometimes it's nice to see a new city together. As New York City is only about an hour and 45 minutes from Philly, it's the ideal place for a getaway.
Romantic things to do in NYC range from strolling through Socrates Sculpture Park or having a picnic in Central Park to enjoying drinks at a rooftop bar or unwinding at AIRE Ancient Baths.
If it's your first time in the city or you want to do something unique, also consider booking an NYC tour. Options range from sightseeing trips to cruises on the Hudson River or food tours around Little Italy.
Tackle an escape room game
Playing an escape room game together is a great daytime or evening date idea. It's also the ideal thing to do on a cold or rainy day.
At The Escape Game at the King of Prussia Mall, you can choose from various themed rooms that you'll have an hour to escape from. Even if you don't complete the game, you'll have fun trying together!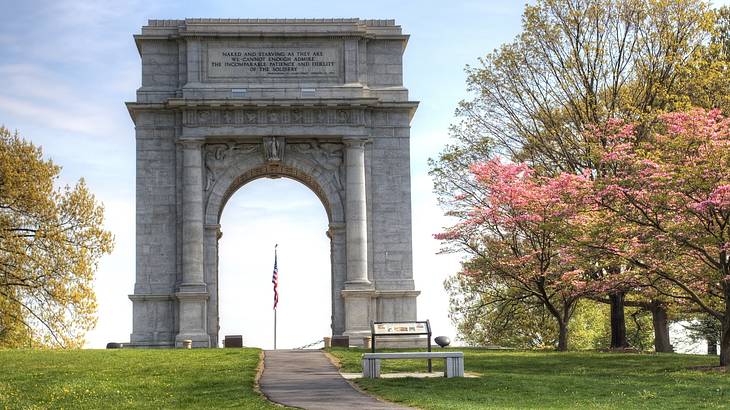 Travel back in time at Valley Forge National Historical Park
Couples that like United States history will be interested in going on a guided tour to Valley Forge National Historical Park. This landmark was the site of a Revolutionary War encampment and the location of George Washington's headquarters between 1777 to 1778.
The park is located around 30 minutes from Philadelphia in the King of Prussia area. On the tour, your guide will take you around the park and offer lots of historical information relating to the area.
In Conclusion
You and your date will find no shortage of fun things to do together in Philadelphia. Whether you like visiting museums, finding the best bars and restaurants, or checking out unique date night spots, Philly will have something for you!
Give us feedback about this article
Learn more about Philadelphia:
More articles about Pennsylvania:
Read more articles about the United States:
More articles about date ideas:
---
---
Want to keep exploring?
Subscribe for discounts on tickets and hotels and our latest guides.
Thank you for subscribing
We will be in touch soon with discounts on tickets and hotels and our latest guides.
Want to keep exploring?
Subscribe for discounts on tickets and hotels and our latest guides.
Thank you for subscribing
We will be in touch soon with discounts on tickets and hotels and our latest guides.
Related Articles