35 Fun Outdoor Activities in Pittsburgh, PA, to Try
Destguides may receive commissions from purchases made through affiliate links in this article.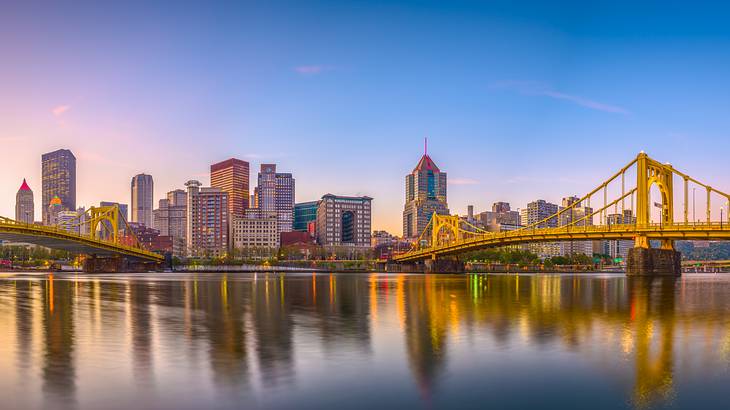 One of many great places to visit in the United States is the city of Pittsburgh. Located in the state of Pennsylvania, this exciting destination offers visitors an array of attractions to check out. You can also find numerous fun outdoor activities in Pittsburgh, PA, to try.
Things to do range from going to urban and state parks, watching the city's much-loved sports teams, and relaxing with a drink at a winery or rooftop bar. No matter what outdoor activities you enjoy, you'll find something to do in the fresh air in Pittsburgh!
35 Pittsburgh Outdoor Activities
Outdoors Things to Do in Pittsburgh, PA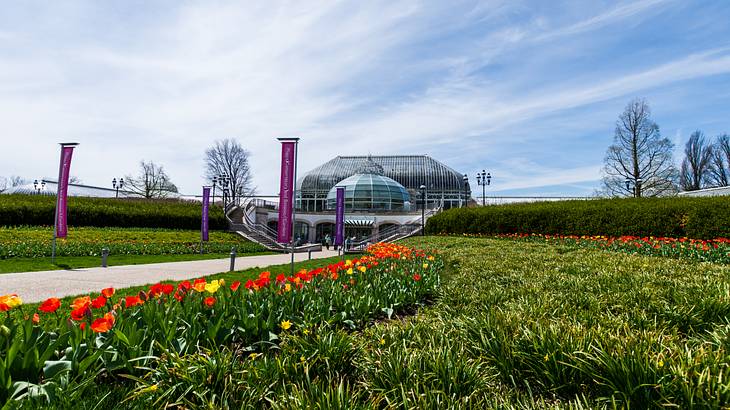 Admire pretty flowers at Phipps Conservatory and Botanical Gardens
A Pittsburgh attraction you have to visit is Phipps Conservatory and Botanical Gardens. The City of Pittsburgh historic landmark features beautiful flower and plant displays in conservatories and outdoor gardens. Flora to see include orchids, bonsai trees, and various desert plants.
Wander around the grounds at Hartwood Acres Park
One of the great parks in Allegheny County is Hartwood Acres Park. Located just 20-minutes from Pittsburgh, the 629-acre park includes beautiful grounds and a manor home, which you can tour.
During your visit, you can explore the woodlands and wander around the manicured gardens. Events are frequently held on the grounds too, like concerts.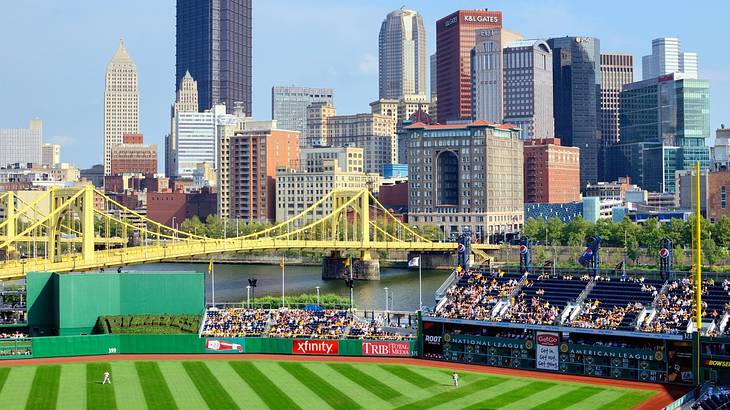 Watch the Pittsburgh Pirates at PNC Park
Pittsburgh is a city that loves its sports teams! If looking for a laid-back outdoor activity, heading to PNC Park to watch the Pittsburgh Pirates is recommended.
The open-air baseball stadium features stunning views of the city skyline and iconic yellow bridges, like the Clemente Bridge. You can also take tours of PNC Park to learn more about the stadium and the Pirates.
Picnic in Highland Park
If you're looking for a laid-back activity one of the fun outdoor things to do in Pittsburgh, PA, is enjoying a picnic in Highland Park. The park is about 15 minutes from downtown and is next to the Pittsburgh Zoo and Aquarium.
This leafy park features lots of trails, lakes, and a range of wildlife. You can also find many green spaces to relax with a picnic and appreciate your surroundings.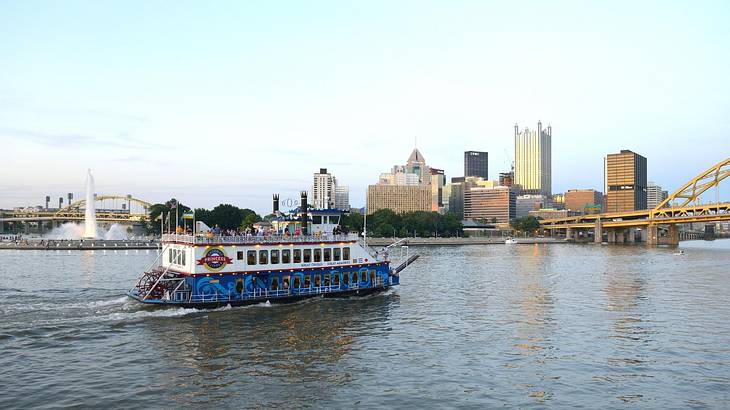 Get out on the water on a Gateway Clipper Fleet cruise
For those that like being out on the water, going on a Gateway Clipper Fleet cruise is a must! You can choose from a few cruise options, including a dinner cruise and a sightseeing cruise.
No matter which option you choose, you'll get to appreciate stunning views. You can also see a range of Pittsburgh landmarks, including the city's many bridges, which resulted in Pittsburgh gaining the nickname, the City of Bridges.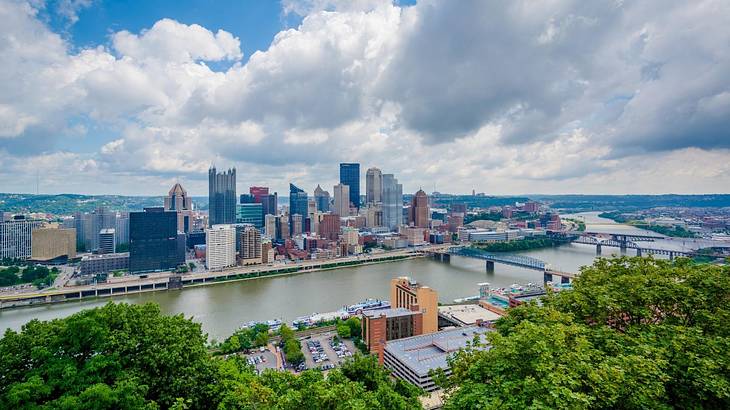 Explore the Burgh on walking tour
One of the Pittsburgh things to do outside that will allow you to see top attractions is going on a walking tour. Stops on this tour include Heinz Field on the North Shore, the Cultural District, and the Mount Washington Overlook.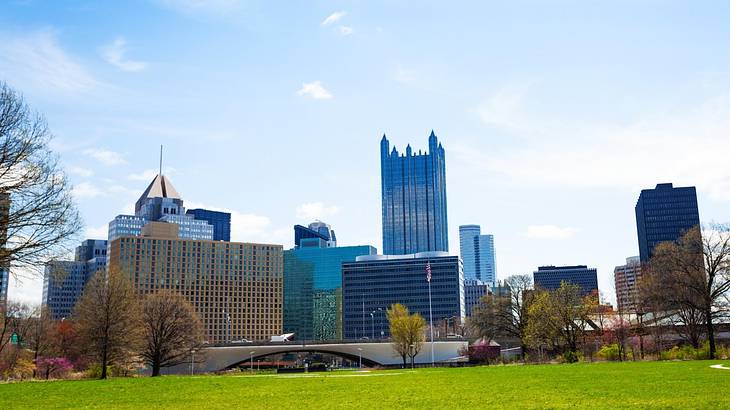 Bike at Point State Park
One of the most popular things to do outdoors in Pittsburgh is biking at Point State Park. The 36-acre park is located in downtown Pittsburgh and offers views of the Allegheny and Monongahela rivers.
Within Point State Park, you'll find lots of green space, plus bike paths that take you right along the river. Spending time at Point State Park offers a tranquil escape from the bustle of the city.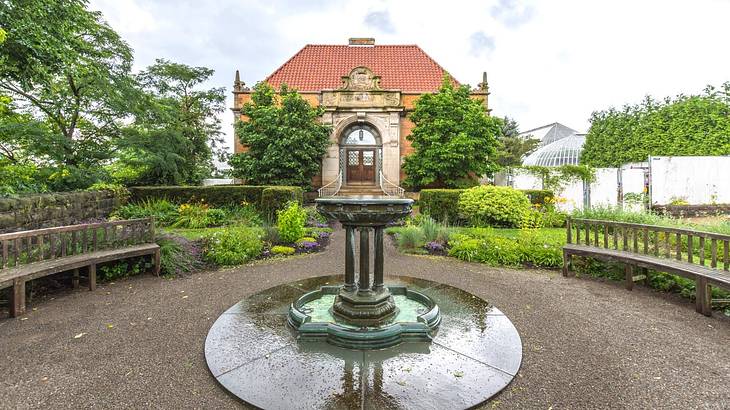 Enjoy time in the fresh air at Schenley Park
If looking to get outside and enjoy the fresh air, a trip to Schenley Park is a must. Located on the outskirts of downtown, the park features green space, charming patios, and beautiful flower gardens.
Locals and tourists head to Schenley Park to walk around the gardens, play sports like volleyball, take their kids to the playground, or simply escape the concrete jungle. If you like golf, you can also play in Schenley Park at the Bob O'Connor Golf Course.
Ice skate at the Schenley Park rink
During the winter, one of the most fun things to do outside in Pittsburgh is ice skating at Schenley Park. The rink typically opens in November and closes in the Spring.
You can head to the skating rink during the day or in the evening to skate for up to 90 minutes. You can also join a range of fun events, including disco skate nights and holiday-themed sessions.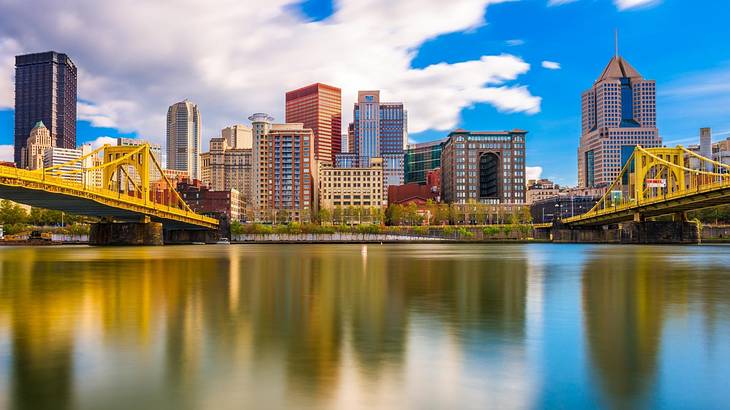 Kayak around downtown or North Park
Kayaking is another of the exciting Pittsburgh outdoors activities to try. With Venture Outdoors, you can kayak in two locations, on the river downtown or in North Park. In both locations, you'll get to appreciate your scenic surroundings while gliding through the tranquil waters. In North Park, you can also canoe or paddle board.
Follow the Three Rivers Heritage Trail
The Three Rivers Heritage Trail is a well-known attraction in Pittsburgh. The walking and biking trail runs for 33 miles down the city's riverbanks. The trail can be joined at various places, including from Point State Park. As you follow the trail, you can admire the river and surrounding greenery.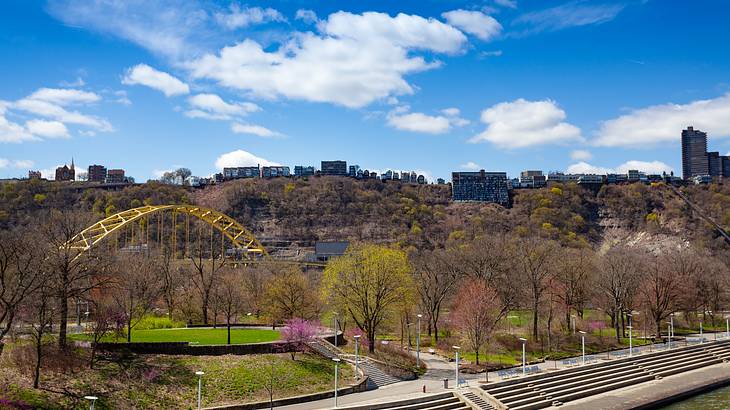 Sightsee in Pittsburgh on a biking tour
One of the best ways to see Pittsburgh's top attractions is on a biking tour. On this tour, you'll be provided with a bike and will follow a trail to an array of Pennsylvania attractions and landmarks.
Places to see include PPG Place, Mellon Square, and Point State Park. If you like outdoor activities, going on a bike tour is the best way to see Pittsburgh!
Walk through the woodlands at Frick Park
Frick Park is the largest municipal park in Pittsburgh and features multiple hiking trails. Known as "the woodland park," those visiting will get to appreciate dense forests and a multitude of wildlife.
Whether you want a place to bike, hike, or walk the dog, Frick Park is a great choice. You can also find a kids' playground if visiting with children.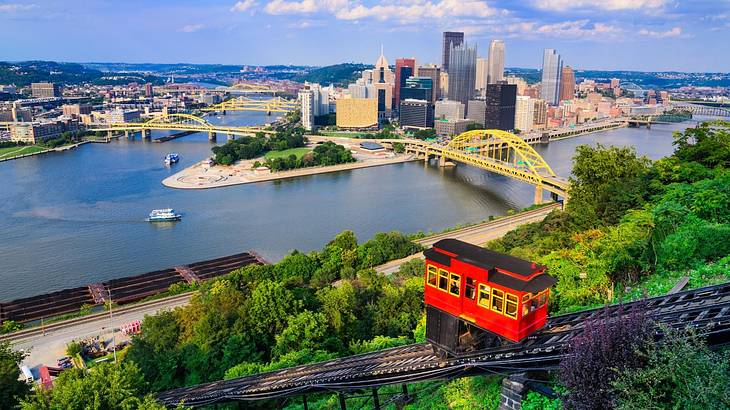 Take in the views from the Mount Washington Overlook
If looking for the best views of the city, a trip to the Mount Washington Overlook is recommended. You can reach the lookout, also known as the Grandview Overlook, by taking either the Duquesne Incline or Monongahela Incline.
Once at the lookout, located on a 450-foot-tall hill, you can admire the panoramic vistas. You'll discover a handful of restaurants around the outlook too.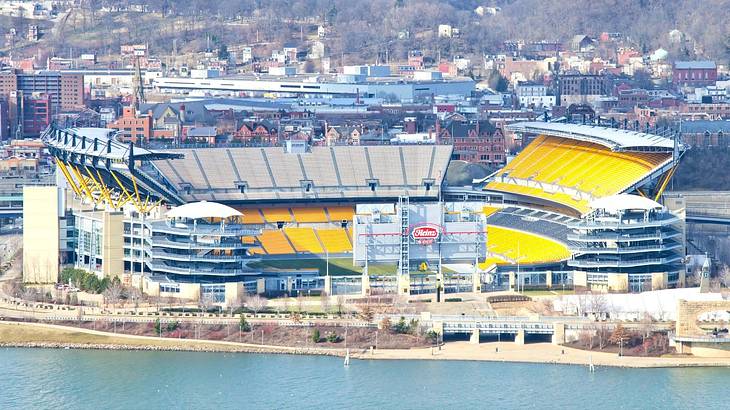 Attend a Pittsburgh Steelers game at Heinz Field
Another of the fun things to do outside in Pittsburgh for sports enthusiasts is watching the Pittsburgh Steelers play at Heinz Field. Locals truly love this team, and being a part of the crowd at a Steelers game is both exciting and memorable.
If you arrive at the game early, you can tailgate too, and tours of Heinz Field are available on non-game days. For those attending a game in the winter, be sure to wrap up warm!
Jump among the trees on a treetop adventure
This activity is a great one for thrill-seekers and those that like to try new things! With Go Ape Pittsburgh, you can try an exciting treetop adventure.
This experience will see you tackling a course set within the forest. You'll use zip-lines, Tarzan swings, and crossings to make your way through the 40-foot-high park!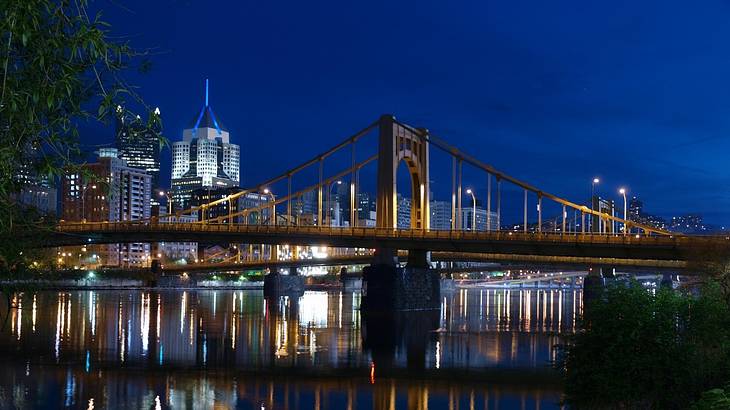 Dare to see the spooky side of Pittsburgh on a ghost tour
A unique outdoor activity to try is a Pittsburgh ghost tour. After dark, this walking tour will take you to some of the Steel City's most haunted spots.
Spooky places to visit include the Pennsylvanian Apartment and the Allegheny County Courthouse. At each location, your guide will tell you about paranormal sightings and other grisly tales.
Hike or bike the Great Allegheny Passage
The Great Allegheny Passage is a 150-mile-long rail-trail connecting Washington DC to Pittsburgh. The trail runs through the Appalachian Mountains and many other states and cities.
You can join the passage and various places around Pittsburgh. Whether you bike or hike, you can appreciate your scenic surroundings and may come across quaint towns along the way.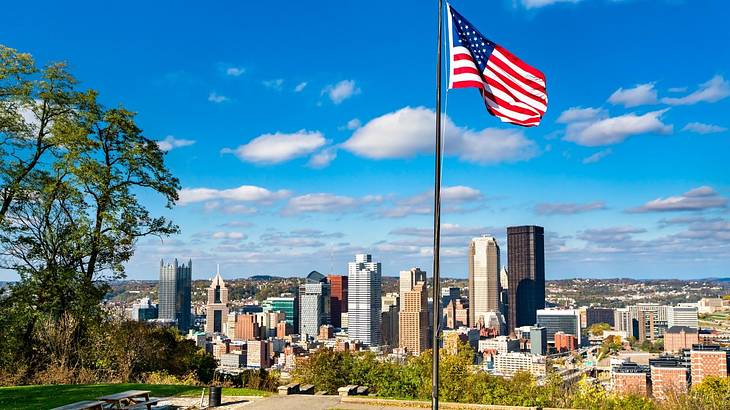 Visit Emerald View Park
Another of many outdoor places in Pittsburgh that offer views of the skyline is Emerald View Park. Created in 2005, the 280-acre park includes an observation deck that looks straight across downtown Pittsburgh.
Emerald View Park is the perfect place to head to at any time of the day. Going just before sunset is a great idea as you can watch the orange-pink sky surround the city.
Cool off by the water steps next to PNC Park
On a hot summer day, heading to the PNC Park water steps is a must. Adults can sit on the side of the steps and appreciate the cool breeze from the fountain and the river views in front of them. If with kids, they can get in the water to play and splash around.
Drink at a rooftop bar
One of the more cosmopolitan things to do outdoors in Pittsburgh is having drinks at a rooftop bar. Luckily, the Steel City has a selection of bars with a view to choose from!
Some must-visit locations include Over Eden, Biergarten at Hotel Monaco, and The Summit. Whichever spot you choose, you can sip delicious cocktails and craft beer while admiring panoramic city vistas.
Play mini golf or practice your technique at the driving range
Pittsburgh has quite a few golf courses within driving distance of downtown. While many of these courses are at country clubs, you can find public golf courses to play on.
Cool Springs Golf Course is a good choice. Located 20 minutes from downtown, the venue features a family-friendly 18-hole mini-golf course. There is also a driving range to practice your traditional golf skills, and lessons are available.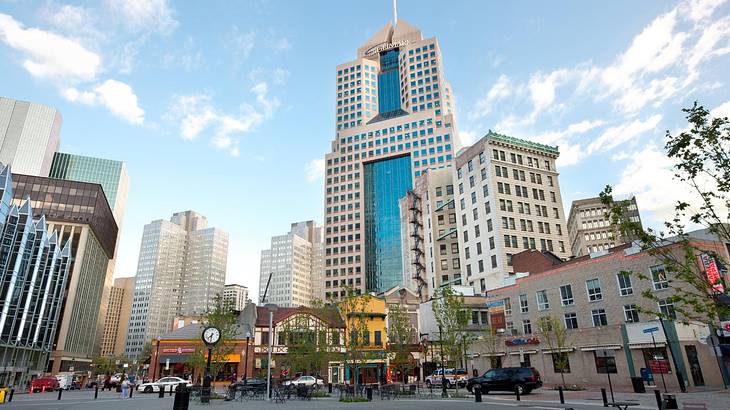 Relax with an outdoor yoga class
From May to October locals and visitors can take outdoor yoga classes in Market Square. Classes are free for everyone, but you must bring your own mat. Practicing your yoga moves and meditation within the pretty urban park of Market Square is a great way to start or end your day!
Outdoors Things to Do Near Pittsburgh, PA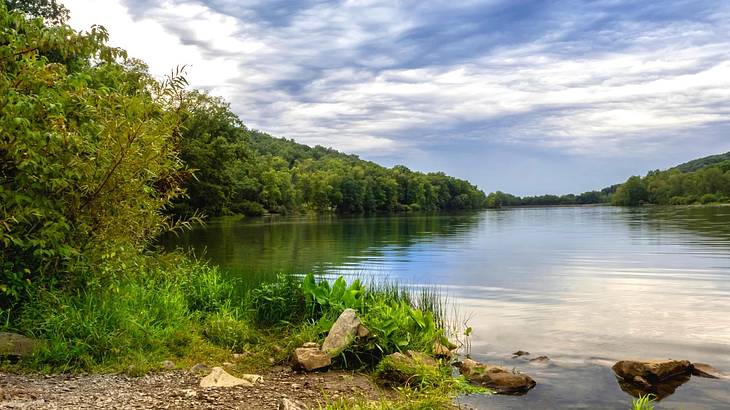 Spend a day at Keystone State Park
Keystone State Park is a tranquil park located in the Laurel Highlands. Featuring a scenic lake, forest hiking trails, and charming cabins, it's the perfect place for a day trip or overnight stay.
At Keystone State Park, you can kayak, boat, or swim on the lake. You can also hike and enjoy some snow sports in the winter. If planning to stay overnight, you can camp under the stars or rent cabins.
Go boating at Moraine State Park
One more of the many outdoor places near Pittsburgh to visit is Moraine State Park. This attraction is home to Lake Arthur and is the perfect place to go on a sunny day.
You can relax on the shore or hop aboard a boat on the lake. Along with boating, you can swim in the lake, and there are hiking trails to follow in the surrounding woodlands.
Ski or snowboard in the Laurel Highlands
The Laurel Highlands is a scenic region of Pennsylvania located one hour from central Pittsburgh. During the winter, this area is a popular snow sports destination.
At Laurel Mountain, you can try a range of snow sports, including skiing and snowboarding. Both equipment rentals and lessons are available so everyone can give winter sports a try!
Paddleboard with SurfsUp Adventures
A unique activity to enjoy near Pittsburgh is paddle boarding with SurfsUp Adventures. This company offers a range of paddleboard sessions in Oakmont and Moraine State Park. Experiences to choose from include eco-tours, white water paddleboarding, and evening glow-in-the-dark paddleboard sessions.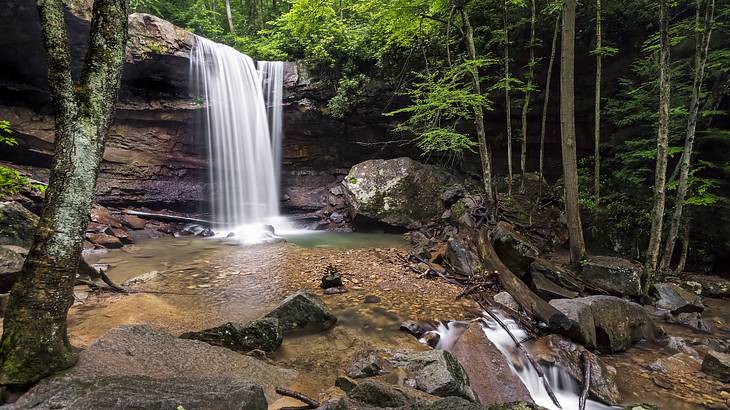 Find Cucumber Falls in Ohiopyle State Park
Hidden within Ohiopyle State Park is the beautiful Cucumber Falls. This tranquil waterfall can be reached by following an equally scenic hiking trail. Having seen the falls, you can hike down the river some more. While at Ohiopyle State Park, you can also try water sports, like rafting.
Spot bison at the South Park Game Reserve
South Park is another Allegheny County park that's the perfect place to spend the day. Just a few of the attractions found at the park include a lake, trails, a skate park, and a golf course.
The park is also home to some bison. You can see these animals from a distance by driving or hiking past the park's Game Reserve.
Discover waterfalls at McConnells Mill State Park
Another of the incredible parks near Pittsburgh is McConnells Mill State Park. The park is notably home to a National Natural Landmark, Slippery Rock Creek Gorge. Along with viewing the stunning glacial creek, you'll discover waterfalls as you explore the park. No matter which hiking trail you follow, you'll be met with breathtaking scenery.
See the Wildflower Reserve at Raccoon Creek State Park
Raccoon Creek State Park is located approximately 50 minutes from Pittsburgh. Visiting the Wildflower Reserve here is a must! The reserve features over 700 species of pretty wildflowers! At Raccoon Creek State Park, you can also hike, relax on the beach, kayak, and more.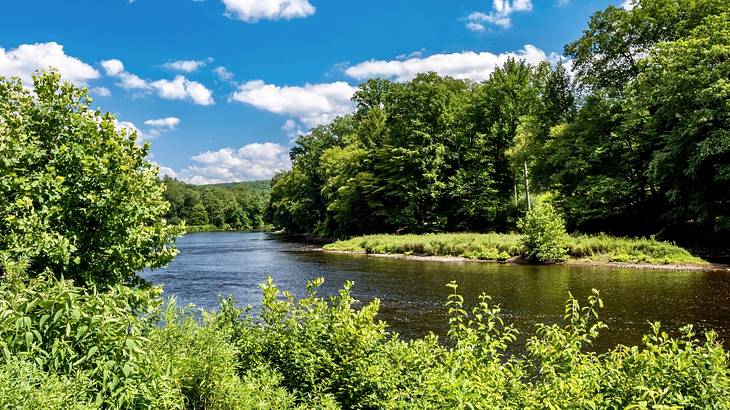 Look for wildlife in Cook Forest State Park
Another of many state parks near Pittsburgh is Cooks Forest State Park. Nature enthusiasts will be pleased to learn that this park is home to an array of wildlife. Animals you could spot include herons, raptors, and even black bears. Along with hiking and wildlife watching, kayaking or canoeing on Clarion River is a must!
Splash around at Sandcastle Waterpark
Kids and adults alike are sure to have a great time at Sandcastle Waterpark! The 67-acre attraction includes various water slides, a wave pool, a lazy river, and more! After enjoying the park's pools and slides, you can grab a snack at one of multiple food outlets.
Pick fruit and vegetables at Triple B Farms
One of the fun things to do outside near Pittsburgh that you can't miss is fruit and vegetable picking. At Triple B Farms, you can pick various fruits and veg throughout the year. In the spring and summer, choose from strawberries, blueberries, corn, and peaches, among other treats. In the fall, you can pick pumpkins, apples, and winter squash.
Taste wines at a local winery
You can find a few wineries close to Pittsburgh, with La Casa Narcisi Winery being a local favorite. Just 25 minutes from central Pittsburgh, this winery offers tastings and a stunning patio to relax on.
Outside, you can order a glass or bottle of your favorite wine, accompanied by a delicious meal. After eating, you can take a winery tour too.
In Summary
As you can see, there are an array of interesting outdoors activities in Pittsburgh. Whether you're a nature enthusiast that loves hiking, a sports fan, or someone that prefers to unwind in the sun with a glass of wine, the Steel City has an activity to please everyone!
Give us feedback about this article
More visual stories related to this article:
Want to keep exploring?
Subscribe for discounts on tickets and hotels and our latest guides.
Thank you for subscribing
We will be in touch soon with discounts on tickets and hotels and our latest guides.
Want to keep exploring?
Subscribe for discounts on tickets and hotels and our latest guides.
Thank you for subscribing
We will be in touch soon with discounts on tickets and hotels and our latest guides.