Where to Stay in Pittsburgh, PA - 8 Best Areas
Destguides may receive commissions from purchases made through affiliate links in this article.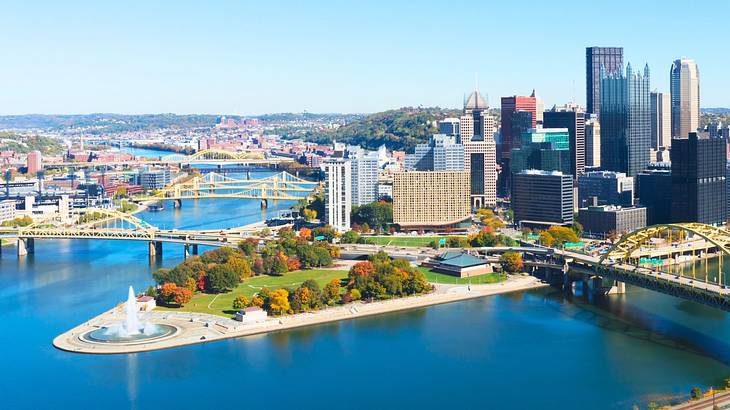 Are you ready for an engaging, action-packed visit to Pittsburgh, Pennsylvania? This is truly a destination that has something for everyone. Whether you are looking for a relaxing getaway or a fast-paced tour of top landmarks and attractions, Pittsburgh has something for you!
From the hustle and bustle of Downtown Pittsburgh to the unique ambiance of the Strip District, you are in for a treat during your visit. However, with many options at your fingertips, deciding which area provides you with the most ideal accommodation and activities can be challenging.
If you are planning a trip and are wondering where to stay in Pittsburgh, this article can help you out. It will cover the top eight neighborhoods as well as the best places to be for different travel needs, from family vacations to business trips. No matter where you choose, prepare for an unforgettable getaway!
8 Best Places to Stay in Pittsburgh, PA
Best Areas to Stay in Pittsburgh, Pennslyvania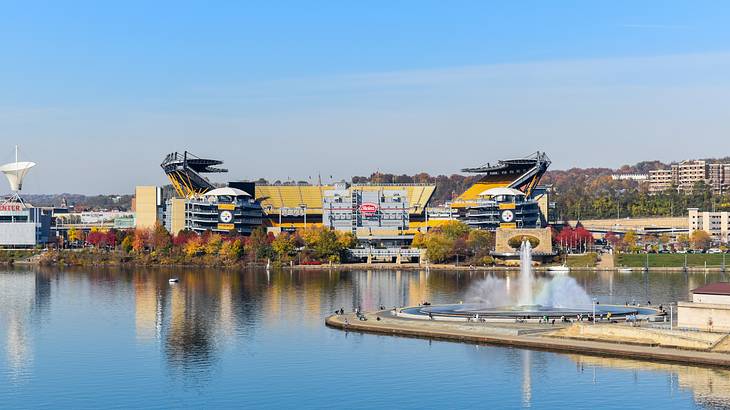 North Shore
North Shore is famously known for its sports venues, including Acrisure Stadium and PNC Park. The sports venues offer guided tours, which are ideal for die-hard fans. Be sure to also check out the impressive Mister Rogers Statue near Acrisure Stadium.
After cheering with the local fans at a baseball or football game, hit the pavement and visit one of the many museums that North Shore has to offer. The highly recommended Andy Warhol Museum won't disappoint as you experience energizing art.
In addition, if you want to breathe in the fresh air, walking or biking along the North Shore Trail is one of the best outdoor activities in Pittsburgh to enjoy. The trail offers stunning views and is suitable for most activity levels. Ultimately, this is the perfect area to visit for those who like a diverse and community-minded atmosphere.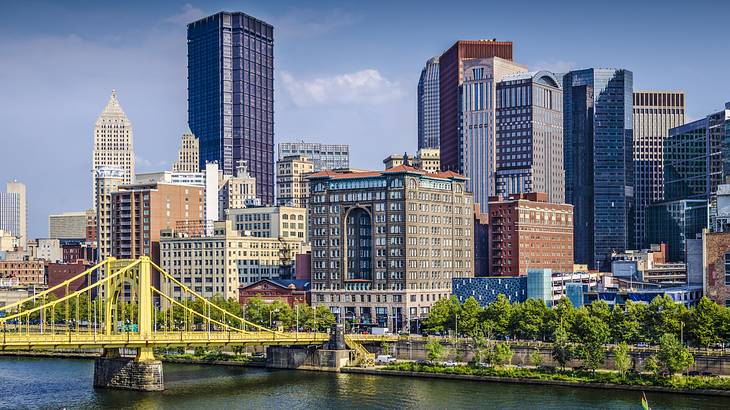 Downtown
Downtown is the heart and soul of Pittsburgh. If you love the thrill of an exciting, fast-paced setting, then this is where you need to be. The area is home to the hustle and bustle of businesses during the day and then offers an array of theaters, clubs, and restaurants for nightlife.
This part of the city also offers a wide variety of stores and boutiques where you are sure to shop until you drop. After visiting the unique boutiques, take a stroll through one of the parks. The green spaces come to life in the warmer months with live concerts and events. This is the location to stay in Pittsburgh for those looking to experience all the destination has to offer.
East Liberty
Just east of Downtown Pittsburgh, you will find the East Liberty neighborhood. This area has experienced major renovations in recent years and is now home to luxury lofts and trendy hotels. Google's offices are only a few blocks down the road as well!
The luxury ambiance in East Liberty is unparalleled to any other location. Developers have bought historic buildings and renovated them into boutique hotels.
After enjoying your unique hotel room, venture out to find a wonderful selection of cuisine options just outside your door. East Liberty is known for top restaurants and bars popping up at a rapid pace. This is an excellent place to be if you are looking for an edgy, urban setting.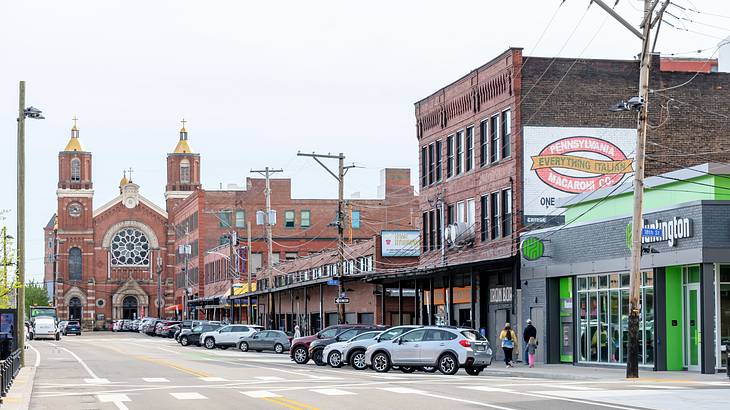 Strip District
"The Strip," as locals refer to it, is a foodie's dream. The food selection is plentiful, and prices are low. As you stroll down the one-half-mile stretch, the aroma will make your mouth water and stomach growl. This area is also home to many international grocery stores and retailers, which will give you a culinary experience like no other.
Numerous locals recommend the Strip District as a favorite place to stay that's known for its authenticity. So if you want to experience the sights, smells, and food of Pittsburgh, this is the place to be.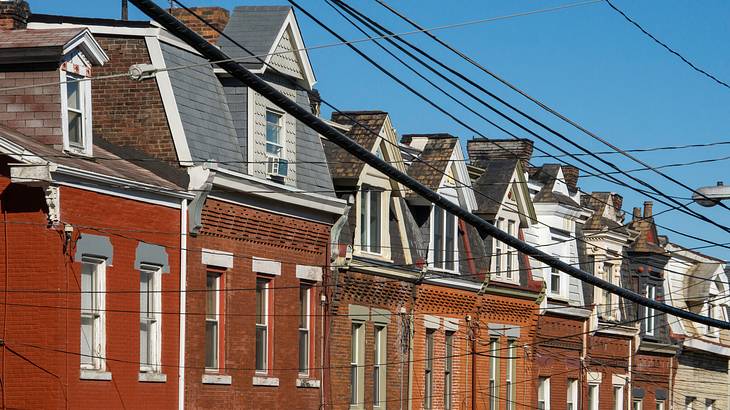 Lawrenceville
Trendy is the word tourists and locals alike use to describe Lawrenceville. This area in Pittsburgh has undergone a significant transformation in just under 10 years.
As with many other areas, Lawrenceville has vast selections of restaurants, breweries, boutiques, and more. What sets this area apart the most is how walkable it is. Many of these stores and restaurants can be found along Butler Street. You can take in the aromas, sights, and sounds while strolling down the street.
Lawrenceville also has a diverse offering of entertainment locations, such as bowling alleys, theaters, and intimate music venues. Be sure to visit the beautiful and historic Arsenal Park at the center of the neighborhood while exploring as well.
Green Tree
Tucked in the suburbs of the hustle and bustle of the city is Green Tree. If you are searching for a neighborhood to stay in Pittsburgh that has a small-town feel and a welcoming environment then look no further than this Allegheny County borough.
Green Tree provides visitors with a wonderful balance of tranquility and proximity to all the activities that Pittsburgh has to offer. Easy highway access means you are only minutes away from other parts of Pittsburgh, including Downtown Pittsburgh. With its variety of restaurants, stores, and hotels, Green Tree will make you feel right at home during your trip!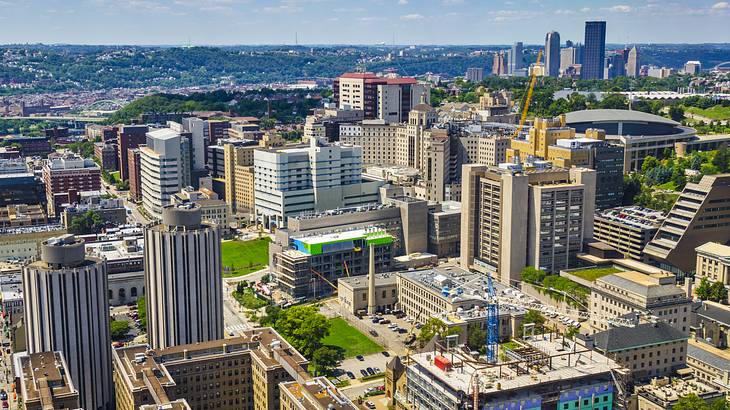 Oakland
Oakland is known as the "Second Downtown" because of its lively and diverse presence. This location in Pittsburgh is home to world-class hospitals, prestigious universities, and a plethora of museums. Oakland is the true intersection of culture and education.
When in Oakland, enjoying the fabulous architecture while having a picnic in the park is a can't-miss activity. After your relaxing time admiring the scenery, take a leisurely stroll to one of the many art and history museums. There truly is an endless amount of activities to fill your day.
The Oakland neighborhood is the perfect destination for tourists looking to explore an educational epicenter. You will leave this location with a deeper appreciation for the arts, history, and the wonderful city of Pittsburgh itself.
South Side
Just south of the center of Pittsburgh, along the Monongahela River, sits the neighborhood of South Side. This area in Pittsburgh is divided into two sub-neighborhoods; the South Side Flats and the South Side Slopes.
The South Side Slopes are primarily residential, while the Flats are considered more of a tourist destination. However, no matter which sub-neighborhood you stay in, you will be greeted with fabulous Victorian architecture and a plethora of activities at your fingertips.
This part of the city is known by locals as a top spot for a trendy nightlife experience. South Side is also a perfect place to be if you enjoy quirky boutiques and delicious food. This is definitely one of the premier locations to stay in Pittsburgh!
Where to Stay in Pittsburgh, Pennsylvania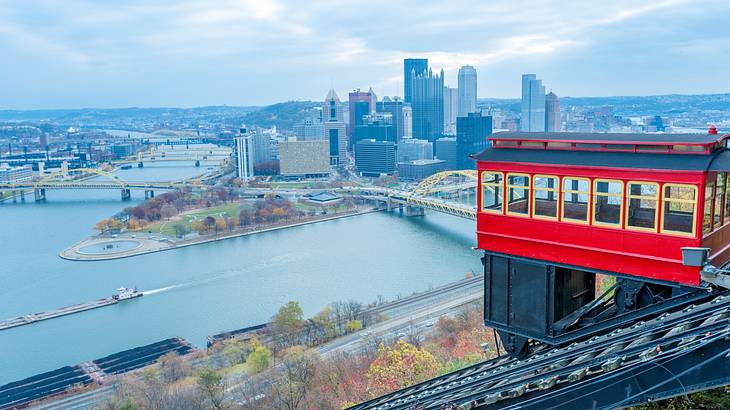 Where to stay in Pittsburgh for a romantic getaway?
There are many things for couples to do in Pittsburgh, and depending on your interests, there are two neighborhoods that are excellent for a romantic getaway: South Side and North Shore. Both are packed with delicious food options and top-rated accommodations.
South Side is the more lively, nightlife-focused option for your getaway. This neighborhood has numerous bars, distilleries, and nightclubs that will keep you on the town from dusk to dawn.
North Shore is an excellent choice for couples looking to explore different activities during their stay in Pittsburgh. With multiple sports venues, beautiful outdoor spaces, and an abundance of museums, you will love North Shore's atmosphere.
Where to stay in Pittsburgh with family?
When traveling to a new city as a family, safety is key. That is why it is crucial to research the location your accommodation is in. Luckily, Pittsburgh offers wonderful options for families.
Green Tree is an excellent neighborhood for families to stay in. This location in Pittsburgh offers guests a tranquil, small-town environment just outside of the constant downtown activities. However, Green Tree is still near museums, restaurants, and events, making it the ideal location for families.
Another good option is Lawrenceville. With various attractions like bowling alleys, family-friendly eateries, and movie theaters at walkable distances, this neighborhood makes it easy to travel with children of all ages.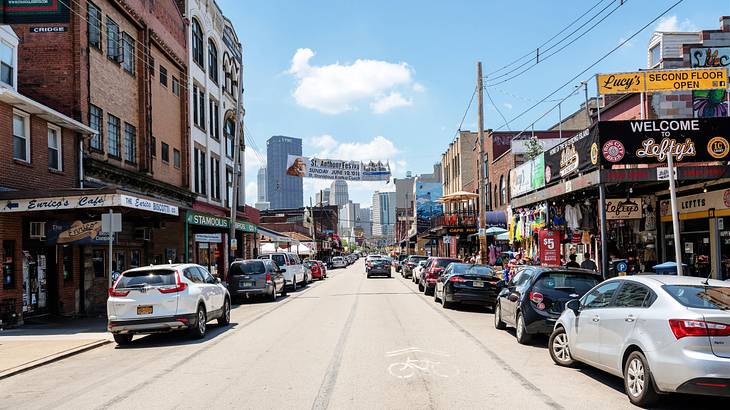 Where to stay in Pittsburgh for a weekend trip?
Everyone loves a weekend trip of action-packed adventure. However, deciding where to focus your energy in a limited amount of time can be challenging.
The Strip District is the best area to stay in Pittsburgh if you only have a couple of days to spend in this eclectic city. This location is very close to downtown without the hustle and bustle of that area. The Strip District is also a foodies' paradise!
Another excellent option for your weekend vacation is North Shore. This neighborhood is also very close to downtown and has much to offer itself. The sports venues, museums, and outdoor spaces in North Shore on their own will fill your weekend with fun.
Where to stay in Pittsburgh for a business trip?
Meetings may not always be the most exciting reason to visit a new city, though Downtown Pittsburgh may change your perspective on business trips. This central area is home to many hotels that allow you to be close to all the business activities you have planned.
It is important to balance work with play, and Pittsburgh's Downtown does just that. You can find a wide variety of exquisite restaurant and bar options, ideal for after-work relaxation. In addition, there are many shops and entertainment venues to enjoy.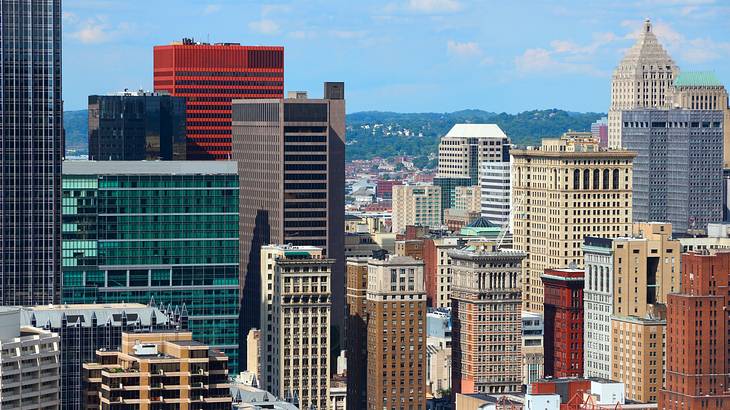 Where to stay in Pittsburgh for sightseeing?
Sightseeing is one of the primary reasons tourists flock to Pittsburgh. With such an abundance of possibilities, deciding on the best place to stay can be challenging. Downtown is the clear choice for those looking to catch all the sights during their visit.
The downtown area is at the heart of the city, which makes access to all other parts of the Pittsburgh fairly easy. With close proximity to museums, event centers, and the other main attractions of Pittsburgh, you will not be disappointed with your stay.
If you are looking for a more history-based sightseeing experience, Oakland may be the perfect fit. The sheer number of museums, historical sites, and other attractions packed into this diverse neighborhood are unparalleled.
Where to stay in Pittsburgh for nightlife?
After a day of museum exploration, important business meetings, or exciting sports games, the nightlife of Pittsburgh is waiting. Whether you prefer going to nightclubs and bars or having a more laid-back night at the theater, there are options for everyone.
South Side is the perfect place to stay in Pittsburgh for visitors looking to experience a more lively scene. There are bars and distilleries lining the street, which makes it easy to go bar-hopping.
Downtown is another location with many options for nightlife, though it offers other alternatives to a wild night on the town. The theaters have live music and plays that entertain audiences of all ages. No matter where you decide to stay in Pittsburgh, you will always be able to find an event to partake in.
In Summary
No matter the reason you are traveling to Pittsburgh, Pennsylvania, there is an exciting adventure in store. The city is diverse and vibrant which makes it a wonderful travel destination for individuals of all backgrounds and ages.
This is truly a city that has something for everyone. World-class museums, trendy dining options, and engaging events are only a few of the reasons people fall in love with Pittsburgh, and you will as well.
---
---
Want to keep exploring?
Subscribe for discounts on tickets and hotels and our latest guides.
Thank you for subscribing
We will be in touch soon with discounts on tickets and hotels and our latest guides.
Want to keep exploring?
Subscribe for discounts on tickets and hotels and our latest guides.
Thank you for subscribing
We will be in touch soon with discounts on tickets and hotels and our latest guides.
Related Articles