25 Most Romantic Things to Do in Charleston, SC, for Couples
Destguides may receive commissions from purchases made through affiliate links in this article.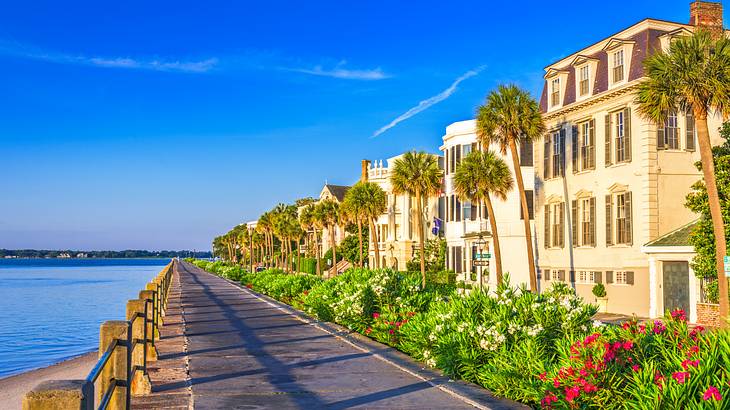 Featuring quaint cobblestone streets, historical architecture, and unique attractions, Charleston in South Carolina is a fascinating US city. If visiting with your partner or if you live in the area and are looking for date ideas, you'll be pleased to learn that there are many attractions and activities for couples in Charleston.
Some of the most romantic things to do in Charleston, SC, for couples include going on a sunset cruise in Charleston Harbor, taking fine dining cooking classes, and snapping photos together on Rainbow Row. To discover more fun date ideas in Charleston, read on!
25 Romantic Things to Do in Charleston, South Carolina
Things for Couples to Do in Charleston, SC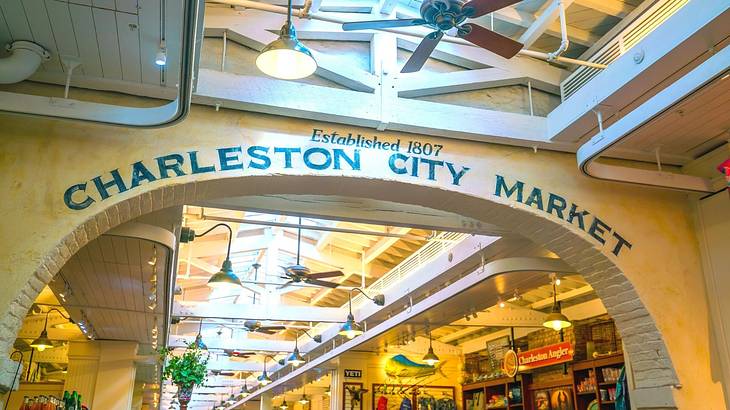 Shop at Charleston City Market in the French Quarter
The French Quarter is a charming part of Charleston, featuring historic architecture and attractions like Waterfront Park. An especially great place to visit with your date in this area is Charleston City Market.
Opened in 1841, the market remains a much-loved spot in the city. You and your partner can shop from a range of vendors, including those selling homewares, baked goods and chocolates, and jewelry. On Friday and Saturday, there's also a night market.
Cook delicious dishes at the Zero George Cooking School
Located in the Zero George Restaurant + Bar, the Zero George Cooking School offers the best cooking class in the city. Couples will have the chance to cook a three-course meal, and wine pairings are offered.
The restaurant's Executive Chef holds each class, and you'll be given step-by-step instructions on creating fine dining dishes.
Watch a minor league baseball game at Riley Park
Although South Carolina isn't home to any major league sports teams, they have some minor league teams, including the Charleston RiverDogs.
The minor league baseball team plays at Riley Park, and going to a game is a great date idea if you and your partner like sports. The regular season runs from April through September, with multiple weekly games.
Search for dolphins on a water taxi cruise
There are many bottlenose dolphins in the water around Charleston. If you and your date want to spot some of these creatures, book a dolphin water taxi cruise.
You'll sail through the waters around the city and are almost guaranteed to see dolphins. This cruise also takes you to popular attractions, such as the Charleston Harbor Resort and Marina and the Patriots Point Naval & Maritime Museum.
Tackle an outdoor adventure course
If you and your partner like adventure activities, one of the Charleston attractions for couples you have to check out is Wild Blue Ropes Adventure Park. When tackling the ropes course, you'll come up against a range of obstacles, and you have just two hours to complete the course.
You can work together to clear the adventure course or challenge each other and see who completes it the quickest.
See a performance at the Dock Street Theatre
Opened in 1809 and added to the National Register of Historic Places in 1973, the Dock Street Theatre is a must-visit for arts and culture lovers. You and your date can choose from a variety of shows to watch, including classic plays and more unique performances.
You can also book dinner before or after the show, with many restaurants to choose from on nearby East Bay Street.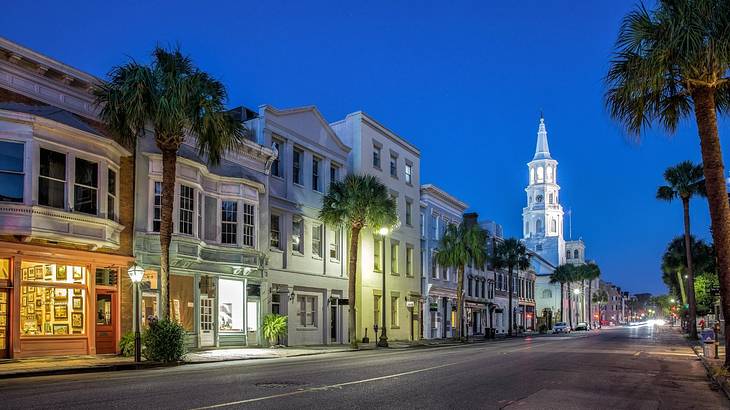 Hear spooky stories on a ghost tour
A unique and memorable evening date idea is taking a Charleston ghost tour. With a guide, you'll explore central Charleston and visit a variety of haunted locations.
At each stop, you'll hear ghost stories and supernatural tales. A particularly spooky place on the tour is the Unitarian Church Cemetery, a 1700s graveyard that's one of the most haunted places in America.
Dine at The Charleston Place Hotel
The Charleston Place Hotel, also known as Belmond Charleston Place Hotel, is one of the most luxurious hotels in the city. If visiting Charleston with your other half, it's a beautiful place to stay if you're willing to spend a little on accommodation.
Even if you don't stay at the hotel, you can have a dinner or drinks date at one of five bars and restaurants. Options include Charleston Grill, managed by an award-winning Executive Chef, and the charming Palmetto Cafe.
Spend the day at James Island County Park
On sunny days, one of the relaxed things to do in Charleston for couples is spending some time at James Island County Park. The popular park is just ten minutes from central Charleston, and you and your partner will discover an array of activities to enjoy there.
Things to do include kayaking, paddleboarding, or pedal boating on the lake, walking or biking along trails, and playing disc golf. You can also hang out on the grass and share a picnic.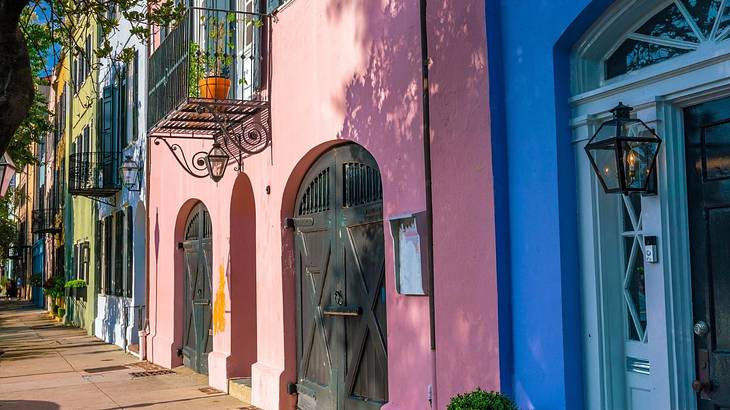 Snap photos on Rainbow Row
Rainbow Row is an interesting South Carolina landmark in Charleston. It features 14 brightly colored 18th-century Georgian row houses. The houses were not always painted cheerful colors, though; this redesign happened in the 1930s when one resident painted her house pink, and others followed suit!
A popular activity along Rainbow Row is taking pictures with the homes. One of the can't-miss couple things to do in Charleston, SC, is snapping some photos together with the vibrant houses in the background.
Look around Charleston Farmers Market
The Charleston Farmers Market has been held in Marion Square for 33 years and is a fun place to explore with your date. Vendors sell a variety of items from local produce to crafts and jewelry.
You'll also find many sweets to treat your date to, including gelato, cotton candy, and freshly made lemonade.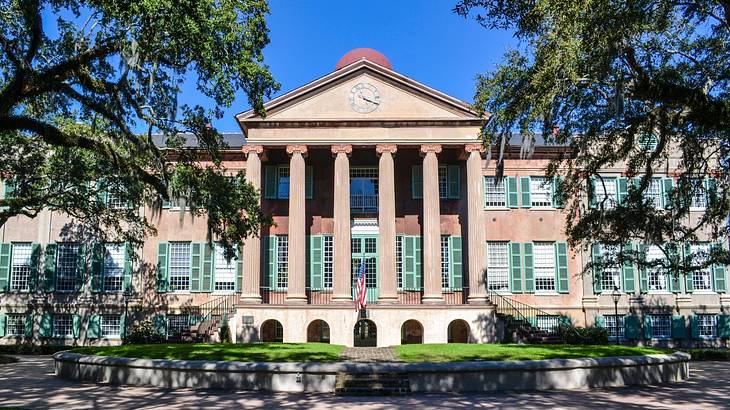 Get to know Charleston on a historic walking tour
If you're visiting Charleston or want to get to know your city better, you should take your date on a historical walking tour. Places to see on the two-hour tour include St. Michael's Church, Charleston City Hall, Rainbow Row, and the Dock Street Theatre.
Your local guide will also offer lots of information and interesting South Carolina facts on all the sites you pass.
Taste local cuisine on a culinary tour
Instead of choosing one spot for a lunch or dinner date, book a Charleston culinary tour. On this exciting two-and-a-half-hour tour, you can visit a variety of eateries within City Market and the French Quarter. You can try samples at every stop and will likely find a new favorite cafe or restaurant to go to on future dates.
Drink craft beer at Holy City Brewing
Are you looking for date night ideas in Charleston, SC? Holy City Brewing is a great spot to check out for a laid-back evening out. This local favorite features a taproom, hosts live music acts, and offers brewery tours.
There are numerous brews on tap for all tastes, and you can also order cocktails and mixed drinks. In addition, you and your date can share some bar snacks, like pretzels, wings, and burgers.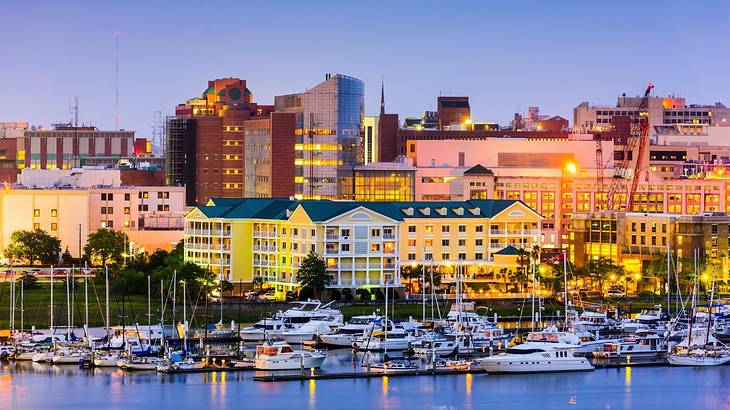 Take a Charleston Harbor sunset cruise
Another way to enjoy the sunset in Charleston is by taking a sunset cruise on Charleston Harbor. On this two-hour boat trip, you'll sail through the harbor, enjoying the views of the coast and Downtown Charleston.
As you sail, you'll pass famous landmarks like Fort Sumter National Monument, Fort Moultrie, and Battery & White Point Gardens. Of course, you and your date can also watch the beautiful sunset over the water and enjoy the starry night sky as you head back to the city.
Experience a haunted pub crawl!
Another way to visit eerie sites and hear ghost stories is by taking your date on a haunted pub crawl. This unique activity is sure to be fun and memorable!
You'll be accompanied by a pirate-themed guide who will take you to different bars and haunted places. At each spooky stop, you'll hear ghost tales before moving on to your next bar for a drink. Mysterious places to visit include Circular Congregational Church and The Powder Magazine.
Things to Do Near Charleston for Couples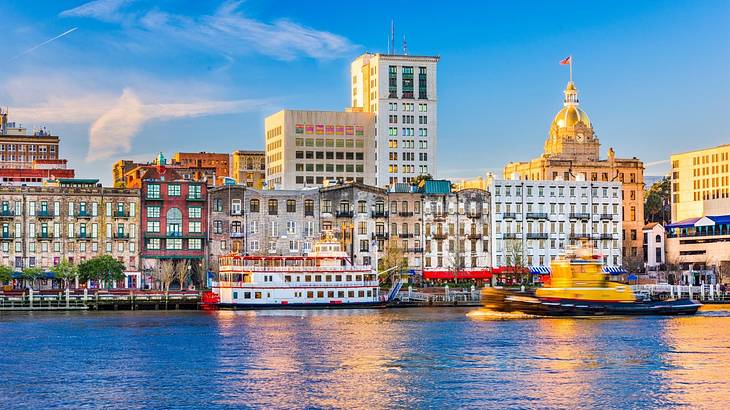 Road trip to Savannah
South Carolina sits next to the state of Georgia, and one of the fun things to do with your partner is road tripping from Charleston to Savannah, GA. You could spend a fun weekend in Savannah or go for the day.
No matter how long you spend in the city, you and your other half will find an array of things to do in Savannah, from shopping at City Market to visiting Forsyth Park and Savannah historical sites.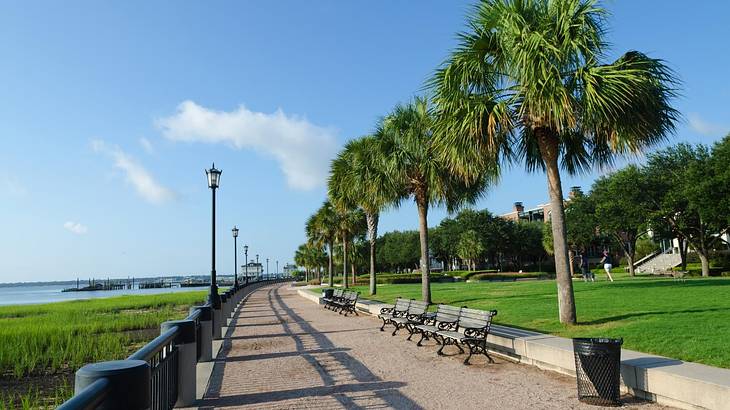 Enjoy the sunset at Mount Pleasant Waterfront Park
Mount Pleasant Waterfront Park, or Mount Pleasant Memorial Waterfront Park, is a charming coastal park. One of the best date ideas in Charleston, SC, is heading to this park to watch the sunset over the water. The park is located just ten minutes from downtown, across the Cooper River.
The park also features a 1,250-foot-long pier, the Mount Pleasant Pier. Walking along the pier as the sun goes down is a must when visiting with your date. If you want to visit another park, Joe Riley Waterfront Park in downtown Charleston is also beautiful and features a quirky landmark, a pineapple water fountain!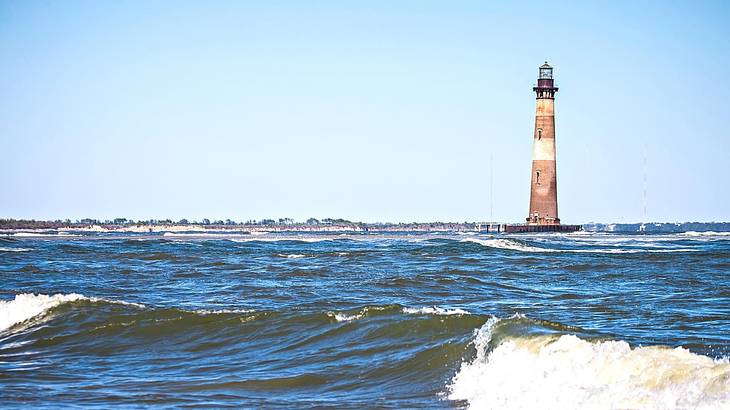 Hike along the Morris Island Lighthouse trail
If you and your partner like outdoor activities, one of the best Charleston, SC, date ideas is hiking the Morris Island Lighthouse trail. The coastal path covers 0.8 miles and offers fantastic views of the almost 150-year-old lighthouse.
To expand your time in the area, consider booking a Folly Island and Sullivan's Island tour. You'll get to follow the Morris Island Lighthouse trail, as well as go to Folly Beach Fishing Pier, Sullivan's Island Lighthouse, and Fort Moultrie.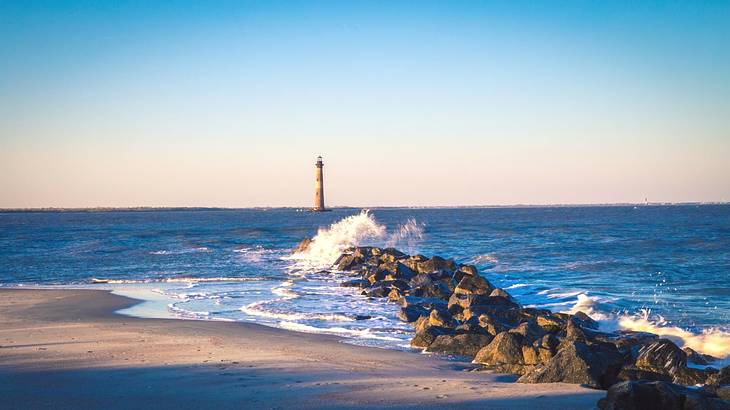 Sail to Morris Island on an eco-cruise
There are many ways for you and your date to get out on the water in Charleston. One of many fun options is taking a Morris Island eco-cruise. You'll spend about two hours sailing through creeks and estuaries spotting wildlife, like turtles, dolphins, and birds.
You can then spend one hour on Morris Island, exploring and taking in the views of Morris Island Lighthouse.
Hang out at Pitt Street Park
Pickett Park, known more often as Pitt Street Park, is a waterfront park. Things to do here include following trails and kayaking on the water. Admiring the coastal views, which are incredibly romantic at sunset, is also a must.
You'll want to wander along the Ocean Walk to Pitt Street Bridge to enjoy the best views. However, this attraction isn't actually a bridge but instead a lookout across the water.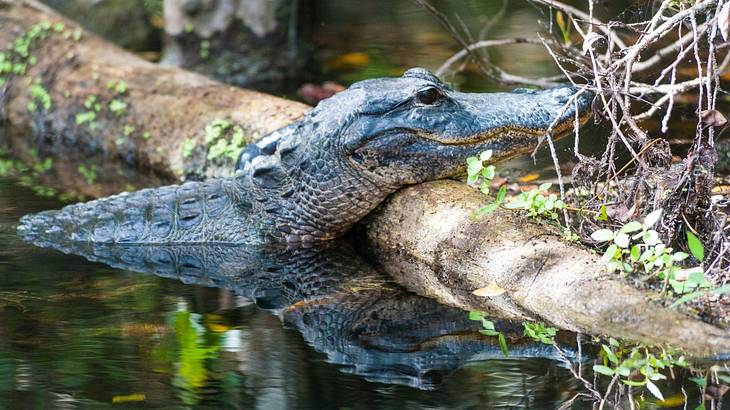 Spot alligators at Cypress Gardens
If you're looking for something unique to do, one of the fun date ideas near Charleston to enjoy is going to Cypress Gardens. This beautiful nature preserve is located about 40 minutes from central Charleston.
Once you arrive, you can enjoy a variety of activities that will allow you to see lots of wildlife, like alligators. Things to do include swamp boat tours, seeing exhibits in the "Swamparium," and exploring the butterfly house.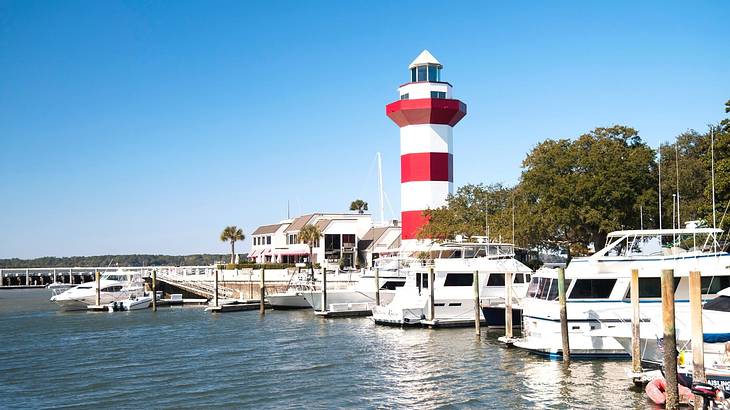 Kayak around Hilton Head Island
Hilton Head Island is another beautiful outdoor area about two hours from Charleston. It's a stunning place to go on a couples day trip. If you enjoy water activities, kayaking at Hilton Head Island is a must.
On a guided kayak tour, you'll sail through the Broad Creek Wildlife Area and can spot a variety of creatures. Your guide will also teach you more about the surrounding ecosystems.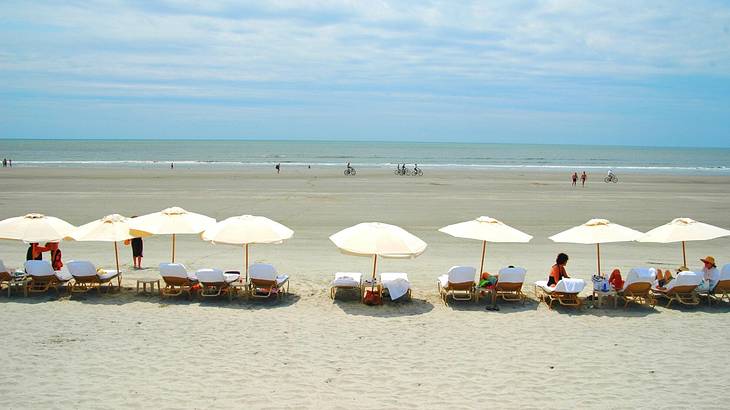 Book a couples getaway at Kiawah Island Golf Resort
If you want to plan a romantic getaway in South Carolina and are willing to splurge a bit, going to the Kiawah Island Golf Resort is highly recommended. The luxury beach resort features impressive accommodation, including hotel suites, villas, and beach cottages.
Guests also have access to a spa, 15 eateries and bars, and a golf course, as the name suggests. There's also a tennis court, and you can easily access the surrounding beaches and other outdoor attractions.
Go paddleboarding at Folly Beach
Another of the fun couples activities in Charleston, SC, is paddleboarding around Folly Beach. Folly Beach is located on Folly Island between the Folly River and the Atlantic Ocean. When paddleboarding, you'll be able to explore the area along the Folly River and likely spot wildlife, including dolphins.
Other things to do include relaxing on the beach, surfing, and visiting beachside cafes and souvenir shops.
In Conclusion
As you can see, there's no shortage of Charleston, SC, attractions for couples! Date ideas in this unique city include exploring parks and beaches, shopping in charming markets, and checking out local breweries, among many other exciting options.
Whether you try just one of these suggestions or all of them, you're sure to have a fun and memorable date!
Give us feedback about this article
Learn more about Charleston:
More articles about South Carolina:
Read more articles about the United States:
More articles about date ideas:
More visual stories related to this article:
---
---
Want to keep exploring?
Subscribe for discounts on tickets and hotels and our latest guides.
Thank you for subscribing
We will be in touch soon with discounts on tickets and hotels and our latest guides.
Want to keep exploring?
Subscribe for discounts on tickets and hotels and our latest guides.
Thank you for subscribing
We will be in touch soon with discounts on tickets and hotels and our latest guides.
Related Articles