35 Fun Austin Date Ideas to Impress Your Partner
Destguides may receive commissions from purchases made through affiliate links in this article.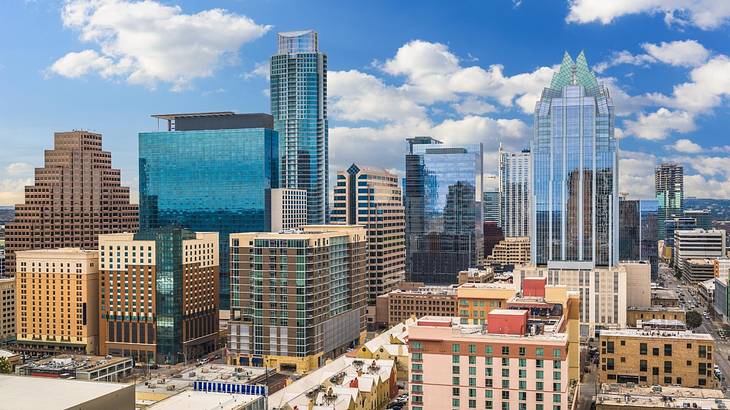 Austin is an exciting and vibrant city and the capital of Texas. Due to having so many unique attractions, quirky bars and cafes, and great outdoor parks, it's an ideal place for couples to explore.
Whether you live in the city with your partner or are visiting, you'll discover no shortage of fun Austin date ideas. Things to do include boating on Lake Travis, relaxing at the spa, and getting the best ice cream sandwiches at The Baked Bear! If you're planning a date in Austin, read on for 35 memorable things to do for couples.
35 Fun Date Ideas in Austin, TX
Date Ideas in Austin Texas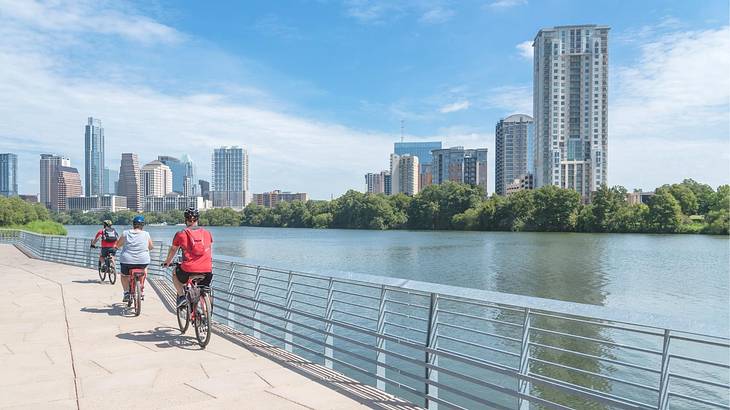 Bike around Lady Bird Lake
Lady Bird Lake is a popular natural landmark in downtown Austin. It features a loop trail around it that offers impressive views of the lake and the Austin skyline.
A fun Texas bucket list activity to try with your date is going on a guided bike tour around Lady Bird Lake. You can enjoy the views and fresh air and learn facts about Austin from your guide.
Mountain bike around Barton Creek Greenbelt
Adventure activity enthusiasts may want to consider going mountain biking on a date. One of the best places to do so is at Barton Creek Greenbelt. You and your other half can spend hours cycling through forests and past creeks and waterfalls, stopping as needed to take in the breathtaking views.
Go brewery hopping
Spending the day brewery hopping is a perfect activity for couples that love craft beer. With a guide, you can visit three top breweries, including Zilker Brewing Company. You can spend an hour at each stop trying the most delicious local brews.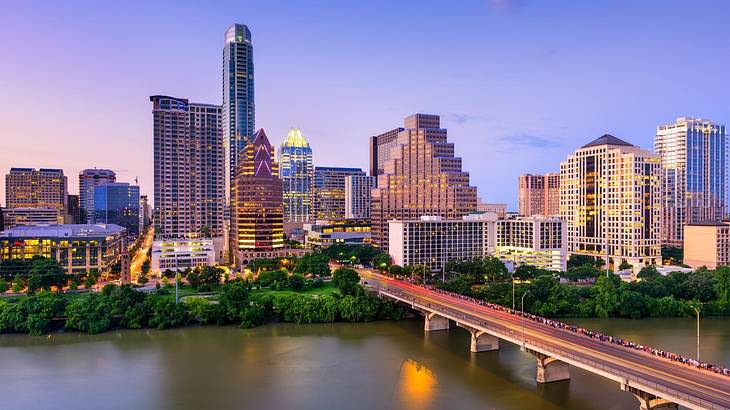 Kayak and watch the Congress Avenue Bridge bats
One of the more unique Austin date night ideas is kayaking at sunset around Congress Avenue Bridge. One of the interesting things about being near this famous Texas landmark is that when it gets dark, you'll get to see bats. As the sun goes down, hundreds of bats fly above you as they awake from where they live around the bridge.
Work together to get out of an escape room
An entertaining activity that will also help you bond is working together to tackle an escape room. The Escape Game Austin has a variety of themed escape games to choose from, all of which you'll have an hour to solve. Even if you don't manage to solve the puzzle, you and your partner are sure to have fun.
Experience a live music crawl
Live music is relatively easy to find in Austin! If you and your date want to see the best performances, book a live music crawl. You'll visit some of the most iconic live music venues on the three-hour tour, plus a few local secrets. Then, you can return to your favorite at the end of the night.
Play a round at Peter Pan Mini Golf
If you're looking for a fun and laid-back date spot, Peter Pan Mini Golf is the place to go! You can play an 18-hole or 36-hole game, and the course features a range of obstacles, from dinosaurs to castles and windmills.
The attraction is open from the morning until late, so it's an ideal date spot no matter what time you're hanging out. Do note that it is cash-only.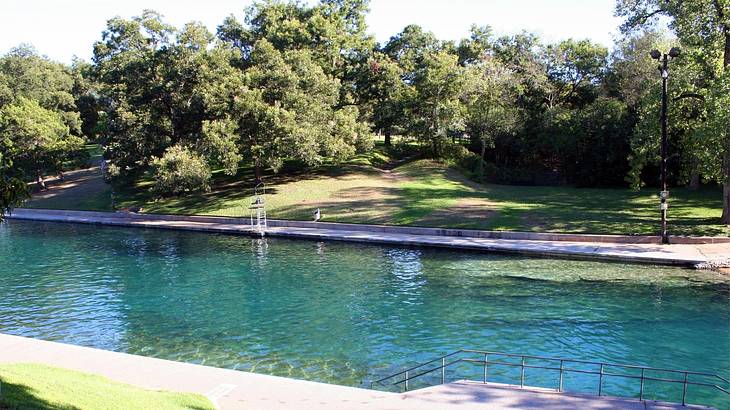 Spend the day at Barton Springs Municipal Pool
Another laid-back Austin date idea is spending some time at the Barton Springs Municipal Pool. A natural aquifer feeds this outdoor pool, where you can swim and relax under the sun on the surrounding lawn.
Pose for sweet pictures at the Museum of Ice Cream
A quirky attraction in Austin that also makes a unique place for a date is the Museum of Ice Cream. The niche museum has a range of cute pink, white, and red photo backdrops, including a pool of sprinkles.
After snapping lots of photos, you can see exhibits on ice cream and order unlimited sweet treats. To ensure you get in, order a Museum of Ice Cream tickets in advance.
Relax at Omni Barton Creek Resort & Spa
Omni Barton Creek Resort & Spa is the ideal place to unwind with your partner. During a visit, you can choose from a range of spa treatments and relax around three outdoor pools.
After your spa session, you can have dinner and drinks at one of eight on-site bars and restaurants. If you're planning a luxurious couples getaway, you can also book a room at the resort.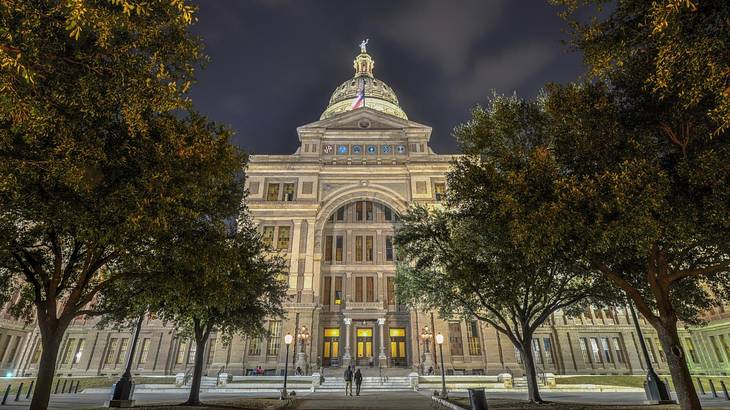 Dare to go on a ghost walk
For partners that are interested in the supernatural, going on a ghost tour is one of the couples things to do in Austin that you can't miss. Haunted places to visit include the Kreisle Building and the Driskill Hotel. Your guide will tell you spooky tales and some actual gory history facts at each spot.
Hike and swim at Barton Creek Greenbelt
Hiking and swimming are some other activities to enjoy along the Barton Creek Greenbelt. You and your date can explore the Violet Crown Trail around the creek before heading to the water to cool off. This is a great spot close to the city that's ideal for spending some time outdoors.
Rock climb at Austin Bouldering Project
If you and your date like adventure activities, planning a trip to Austin Bouldering Project is a great idea. The indoor rock climbing facility features a variety of bouldering circuits for all ability levels. Austin Bouldering Project also holds gym and yoga classes for those wanting to try other fitness activities.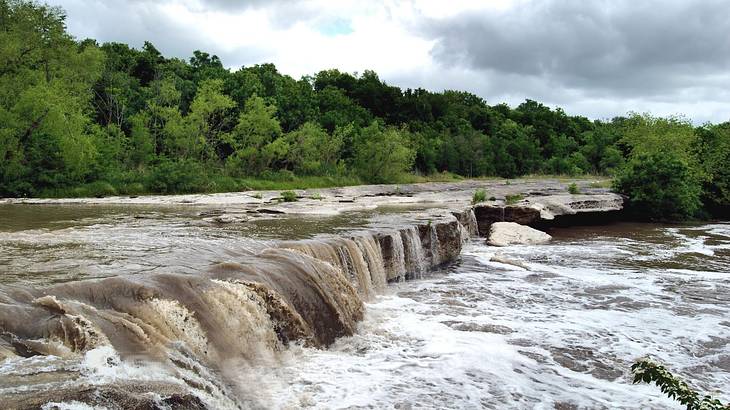 Search for waterfalls in McKinney Falls State Park
McKinney Falls State Park features beautiful scenery and lots of hiking trails. You and your date can also discover waterfalls in the park that can be reached easily by hiking. Other things to do here include mountain biking, bouldering, and swimming in the creek.
Create glasswares at Ghost Pepper Glass
A highly unique date idea is taking a class at Ghost Pepper Glass. This glassblowing studio offers a variety of classes for all levels, including group and private sessions.
Whichever class you take, you'll learn how to create glassware, and you can take the finished product home. You and your partner will then have a cute memento of your date!
Treat your date at Big Top Candy Shop on South Congress Avenue
If you and your other half like sweets, you must go to Big Top Candy Shop. The vast vintage-style candy store offers over 3,000 varieties of candy. After choosing some treats from this extensive selection, you can also indulge in ice cream sundaes, floats, or shaved ice.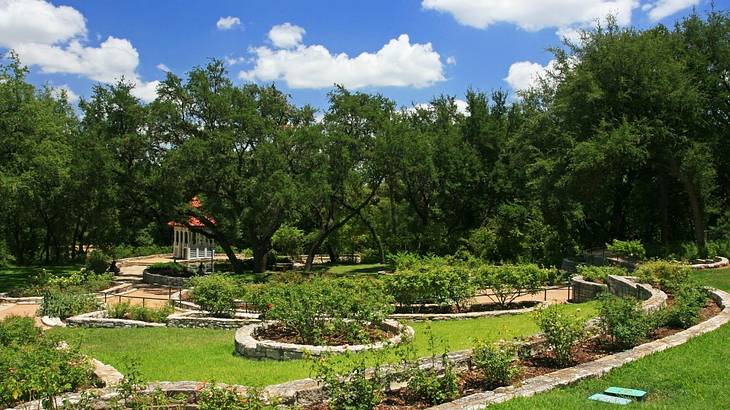 Get lost in the Zilker Botanical Garden
There are many beautiful places to go for a walk with your date, like the Zilker Botanical Garden. Located next to Zilker Park, the garden features floral displays, fountains, sculptures, and more.
When you arrive, get some coffee, tea, or lemonade from the on-site coffee truck and then enjoy a relaxing stroll around the themed gardens. This is another spot that is ideal for taking pictures too!
Hang out at The Original Pinballz Arcade
A super fun bar to check out in Austin is The Original Pinballz Arcade. At this retro-style bar, you can play various arcade games, including vintage and modern games.
As you play, you can enjoy drinks and food too. The central Austin location has a BYOB policy and food trucks on-site. The other two locations have bars and serve classic bar snacks.
Tour the Texas State Capitol
If you and your partner like cultural attractions, one of the fun things for couples to do in Austin, TX, that you'll want to add to your list is touring the Texas State Capitol.
The current capitol building has been in Austin since 1888 and remains the seat of government for the state. On a tour, you'll get to explore many parts of the building and learn about political history in the Lone Star State.
Chat at a coffee shop
Hanging out at a coffee shop is a classic date idea, and you'll be spoiled for choice in Austin when looking for fun and unique coffee shops.
If unsure of where to go, Manana is a good option and has two locations in the city. This trendy cafe serves a variety of coffee drinks, plus teas and baked goods.
If the weather isn't great on the day of your date, going to a coffee shop also happens to be one of the best things to do indoors in Austin!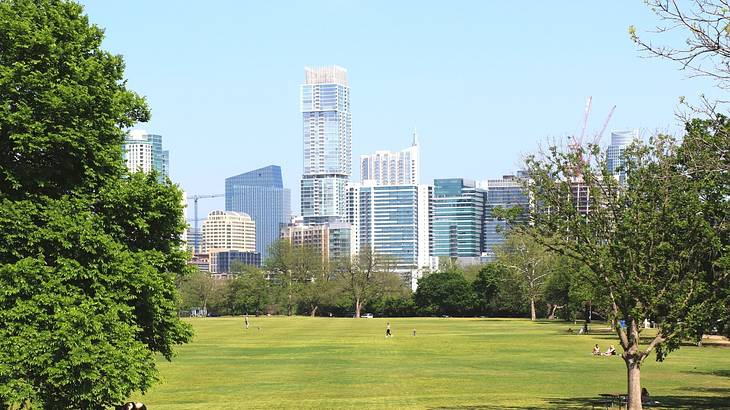 Check out Zilker Park
Zilker Park is a well-known urban park in Austin that offers many things to do. Along with strolling through the park and hanging out on the grass, you could picnic here with your date or go for a scenic jog.
The park also has volleyball courts and disk golf courses if you both like sports. Zilker Park is home to the Zilker Botanical Garden and Barton Springs Pool as well.
Find the best eateries on a secret food tour
Another of the fun things for couples to do in Austin, Texas that will help you find some hidden gems is joining on a secret food tour. This unique Austin activity will take you to a variety of outstanding eateries, many of which locals don't even know about.
At each stop, you can try the restaurant's most famous dishes. Once the tour is over, you and your other half will have some new places to head to for a dinner date!
Have dinner and drinks at the Driskill Hotel
The Driskill Hotel is an Austin landmark and one of the most luxurious hotels in the city. This over 100-year-old five-star hotel also has some outstanding bars and restaurants; it's the perfect place for a dinner date!
You and your partner can get craft cocktails in The Driskill Bar before going to The Grill for a high-end dinner. If planning a brunch date, head to 1886 Cafe & Bakery instead for classic breakfast dishes and Texas-shaped pecan waffles!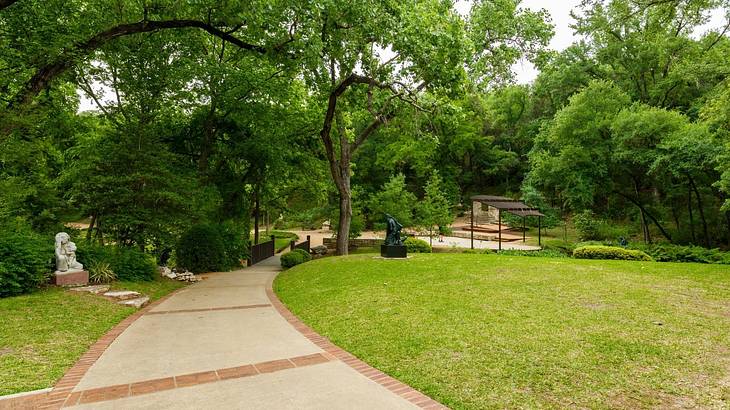 Wander around the Umlauf Sculpture Garden & Museum
Umlauf Sculpture Garden & Museum is a scenic outdoor attraction that's well worth visiting. It features pretty gardens and artistic sculptures and makes a fun backdrop for some couples pictures. In the garden, you can wander along trails, discovering colorful flowers, water features, and impressive artworks.
Get back to nature at Mayfield Park and Nature Preserve
Another of many beautiful places to spend the day outside with your date is Mayfield Park and Nature Reserve. Situated in West Austin, the park houses a historic cottage, gardens, ponds, and walking trails. You and your partner will also see wildlife here, including turtles, frogs, songbirds, and peacocks.
Learn new dishes at a cooking class
Cooking classes are a fun and unique thing to do with your other half. They also teach you how to cook professional recipes that you can whip up for your next date night. Cozymeal is an excellent resource for finding cooking classes in Austin. Just a few options include Italian cooking classes and sushi making 101.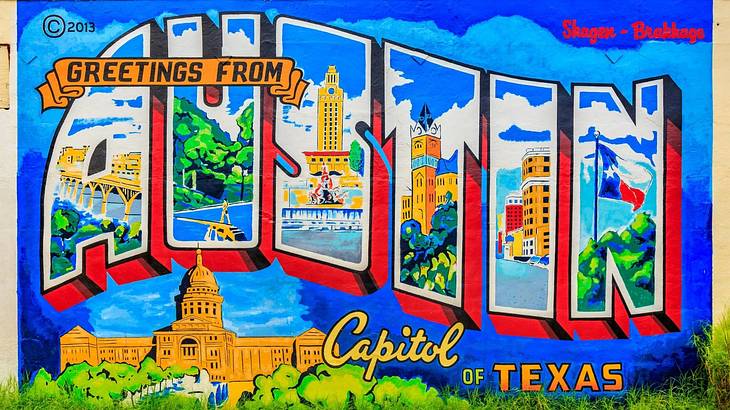 Explore the city on an Austin street art tour
Art lovers won't want to miss seeing Austin's fantastic street art. On a mural tour, you and your date can explore the city while also finding unique artworks. Murals to see include the famous "Greetings from Austin" mural and the romantic "I Love You So Much" mural.
Sip on cocktails at Loro
For those looking to plan the best date night in Austin, TX, Loro has to be on your must-visit list. This trendy bar and eatery serves Asian-inspired dishes plus delicious cocktails.
Menu items include wonton chips and dip, crispy Szechuan tofu, and mandarin margaritas. Loro also has a happy hour with discounted bar food, boozy slushies, and other beverages.
Meet kitties at Purr-Fecto Cat Lounge
Purr-Fecto Cat Lounge is the ideal date location for animal lovers. At this adorable cat cafe, you and your partner can hang out with cats while enjoying a coffee.
The cafe also hosts fun events, like wine evenings. Best of all, the cats are adoptable rescues, so if you and your other half have been looking for a pet, here is an excellent place to start looking.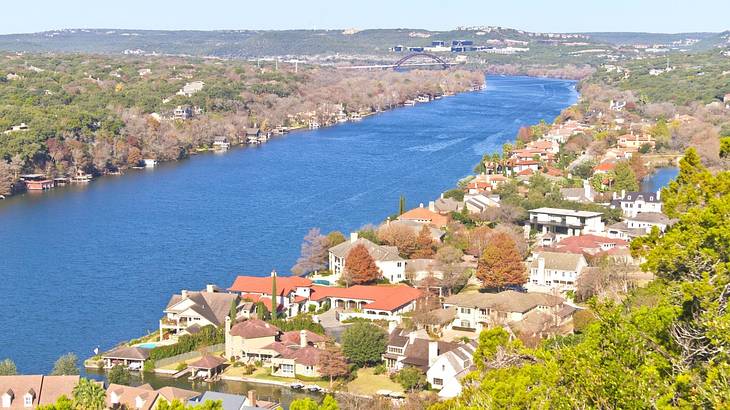 Admire the views from Mount Bonnell
Mount Bonnell has a stunning lookout point where you and your partner can enjoy the views. It's an ideal place to go no matter what time your date is, with sunrise, clear day, and sunset views equally beautiful. To get to the lookout, you must climb 102 steps, but the workout is well worth it!
The best time to visit Austin to enjoy this activity the most is in the spring or fall. The weather is warm and dry but not overly humid, perfect for a relaxed hike. You'll also be able to admire clear views from the peak.
Get ice cream sandwiches at The Baked Bear
Getting ice cream is always a good idea, and a top place to pick some up in Austin is at The Baked Bear. The fun twist with this spot is that you can add fresh baked cookies or brownies to your order to make ice cream sandwiches. You can also order sundaes with an array of toppings.
The Baked Bear stays open until late, making it one of the best date night in Austin, Texas, locations, especially if you're looking for sweets after dinner.
Things to Do Near Austin on a Date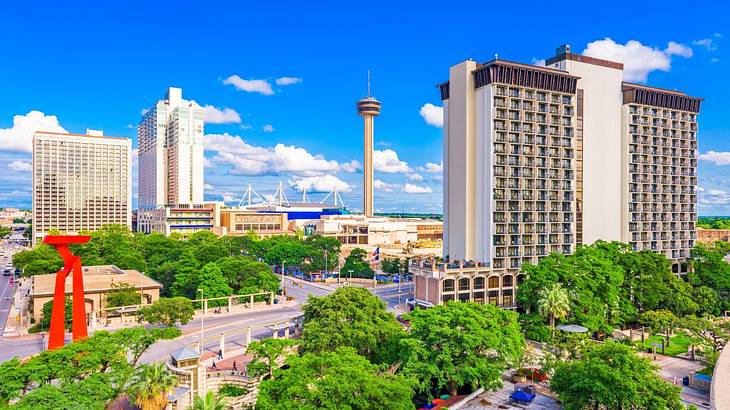 Road trip to San Antonio
San Antonio is another exciting city in Texas that's just an hour and 15 minutes away from Austin. So if you and your partner are looking for a place to spend the day, driving to San Antonio is a fun idea.
Things to do in San Antonio include visiting the famous Alamo, exploring San Antonio River Walk, or going on a sightseeing tour. You'll also find an array of free things to do in San Antonio!
Fort Worth is another city near Austin that you could plan a day trip to.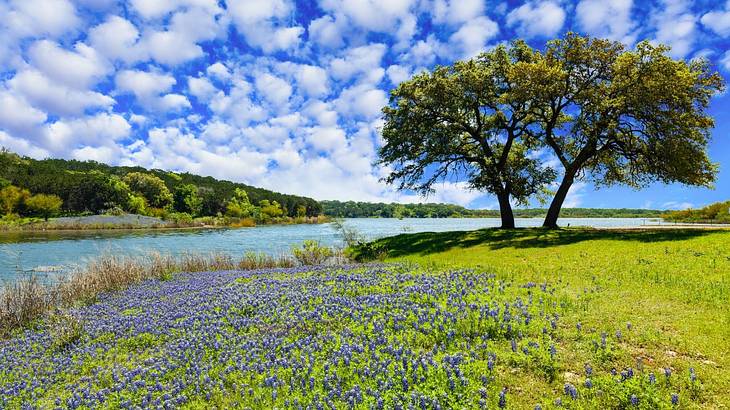 Go wine tasting in Hill Country
Hill Country is a charming area that features many wineries. Taking an Austin wine tasting tour in this area is a unique date idea.
During this experience, you'll be taken to a selection of wineries where you can do a tasting and purchase some bottles. You can also stop by The Salt Lick BBQ for some Texas-style barbeque.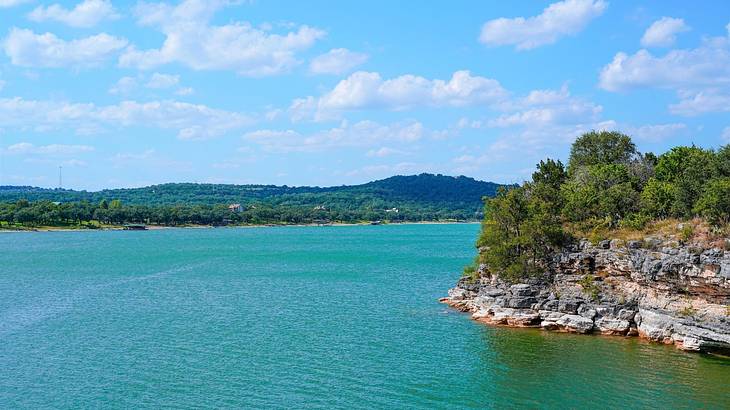 Enjoy a day boat trip on Lake Travis
Lake Travis is a beautiful lake situated 40 minutes from central Austin. If you're planning a daytime date, going on a Lake Travis boat tour is one of the most romantic things to do in Austin, Texas.
This early morning cruise will take you out on the lake and to Devil's Cove. After your sailing session is complete, you can spend the day lakeside and dine at The Oasis on Lake Travis, the largest outdoor restaurant in Texas.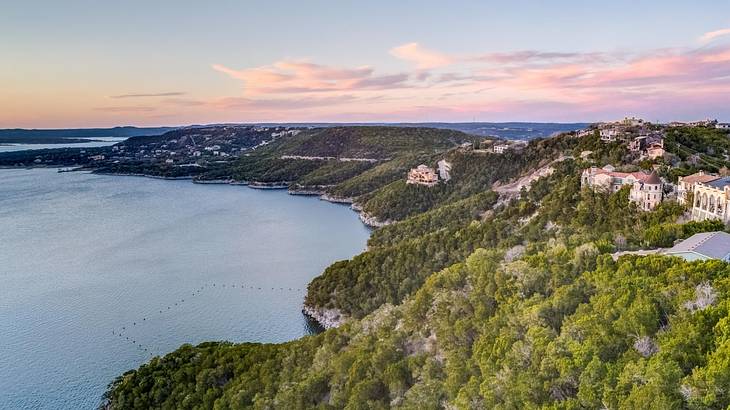 Sail on Lake Travis at sunset
Another romantic way to see Lake Travis is by experiencing a sunset boat tour. Once on the lake, you'll sail past Devil's Cove as the sky turns pink and orange. You and your partner may even be able to see a starry sky once the sun goes down.
This boat trip is BYOB, so pack a bottle of sparkling wine or champagne to make it extra special!
In Conclusion
This list of the most romantic things to do in Austin, TX, has a date idea for every type of couple. So whether you like outdoor activities, finding the best bars, or visiting one-of-a-kind attractions, Austin has something for you and your partner to enjoy!
Give us feedback about this article
Learn more about Austin:
More articles about Texas:
Read more articles about the United States:
More articles about date ideas:
---
---
Want to keep exploring?
Subscribe for discounts on tickets and hotels and our latest guides.
Thank you for subscribing
We will be in touch soon with discounts on tickets and hotels and our latest guides.
Want to keep exploring?
Subscribe for discounts on tickets and hotels and our latest guides.
Thank you for subscribing
We will be in touch soon with discounts on tickets and hotels and our latest guides.
Related Articles