35 Texas Bucket List Ideas to Try in the Lone Star State
Destguides may receive commissions from purchases made through affiliate links in this article.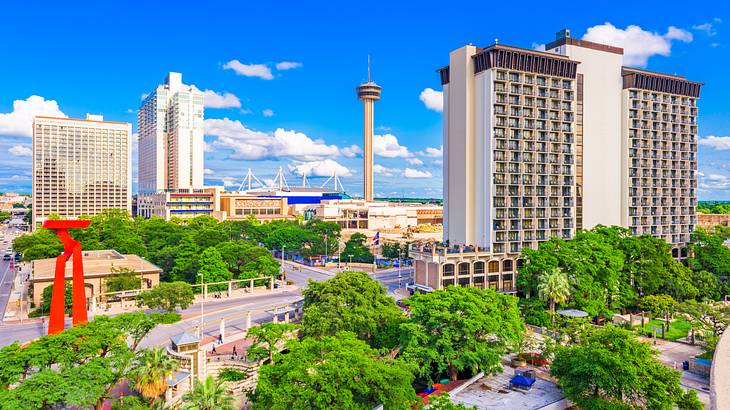 Texas is one of the most well-known states in the United States and features many amazing towns and cities. When visiting Texas, you'll find exciting activities to try and unique attractions to see.
Due to the number of famous Texas landmarks and attractions, it can be challenging to decide exactly what to do in the Lone Star State. Luckily, this Texas bucket list is here to help by outlining the top 35 things to do when visiting.
From Dallas and Austin to San Antonio and Fort Worth, there are incredible things to do in all Texan cities!
Bucket List for Texas - 35 Things to Do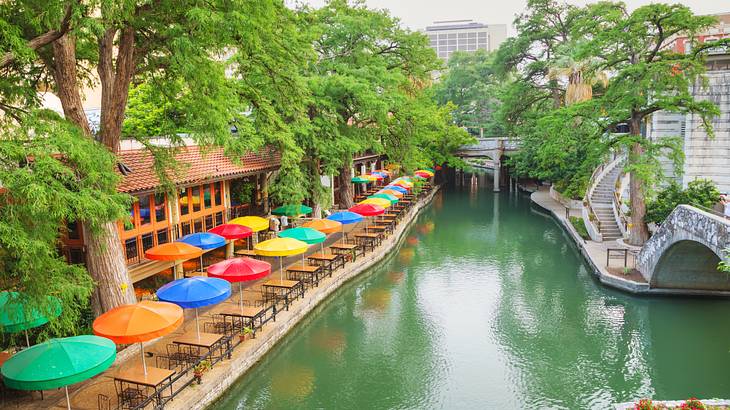 Go on a San Antonio Riverwalk cruise
The San Antonio Riverwalk is a pedestrian street running alongside the San Antonio River. When in the city, walking this scenic trail is a popular free activity.
Another fun way to enjoy the river is by hopping on a San Antonio Riverwalk cruise. Onboard, you get to sail along the water while taking in incredible vistas.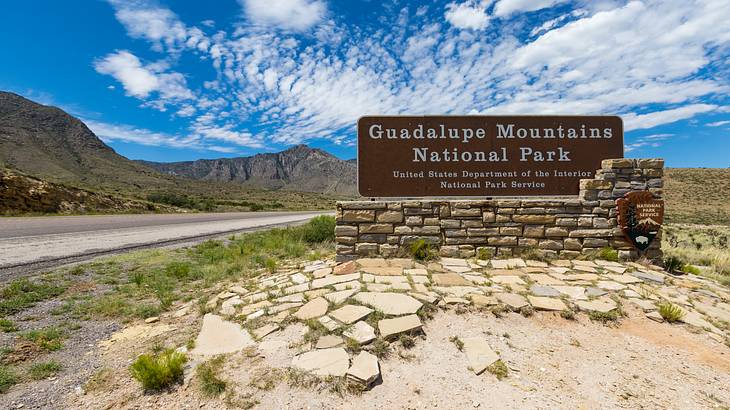 Hike in Guadalupe Mountains National Park
Guadalupe National Park is one of the best national parks on the West Coast. It features dunes, mountains, and desert landscapes.
The park is a great outdoor attraction to hike around, with hiking trails for all abilities. You may also spot wildlife like foxes, porcupines, and deer.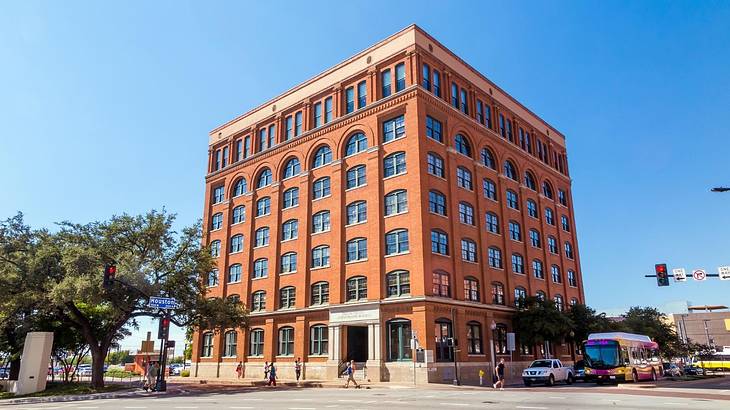 Visit the iconic Sixth Floor Museum
One of the most renowned Texas bucket list locations is the Texas School Book Depository. It's from this location that JFK was shot in 1963. Today, the depository is a museum called the Sixth Floor Museum.
At the museum, you can learn more about the life of JFK and the events that led to his death. If interested in learning more about this historic event, going on a JFK assassination tour is recommended.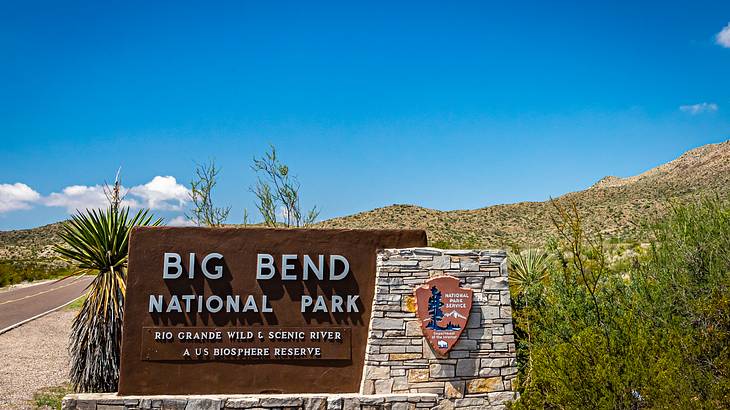 Tackle scenic trails at Big Bend National Park
An attraction in Texas that outdoor enthusiasts must visit is Big Bend National Park. In the 800,100-acre park, you can hike, bike, and drive along a range of scenic trails.
Chisos Basin contains some of the best hikes in Big Bend. Along with taking in spectacular views, you can spot animals, including lizards, black bears, and bobcats.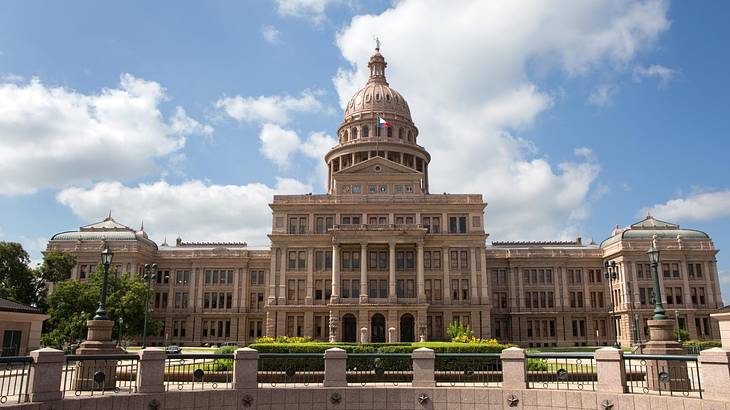 Tour the Texas State Capitol
The Texas State Capitol is one of the most famous landmarks in the state. Located in Austin, the Capitol is the seat of government for Texas.
Those that want to visit, can take a free 30-minute tour of the building. If you opt to do this, you'll also learn more about the history of the State Capitol and its political significance.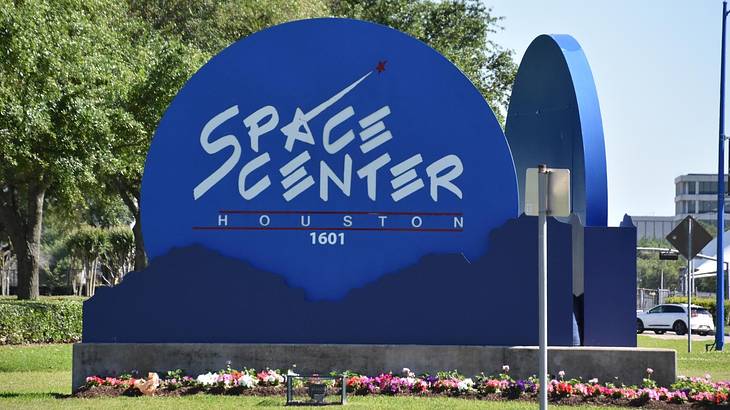 Learn about NASA and space travel at Space Center Houston
One of the bucket list things to do in Texas that's ideal for all ages is going to Space Center Houston. When at the museum, you can interact with fascinating exhibits on space travel and exploration and get a look at the life of those working for NASA.
If you're wondering about the best time to visit Houston to go to the Nasa Space Center, going on a weekday outside of the summer months is recommended if you want to avoid crowds.
During weekends and the summer, more families will visit, adding to crowd levels. However, if you can only visit during those periods, just make sure you purchase admission tickets in advance.
Discover amazing artworks at the Dallas Museum of Art
The Dallas Museum of Art was founded in 1903 and, to this day, features an array of works by famous artists. Collections cover a range of styles, with artworks from American and international creators. Renowned artists with pieces on show include Renoir, Monet, and Metcalf.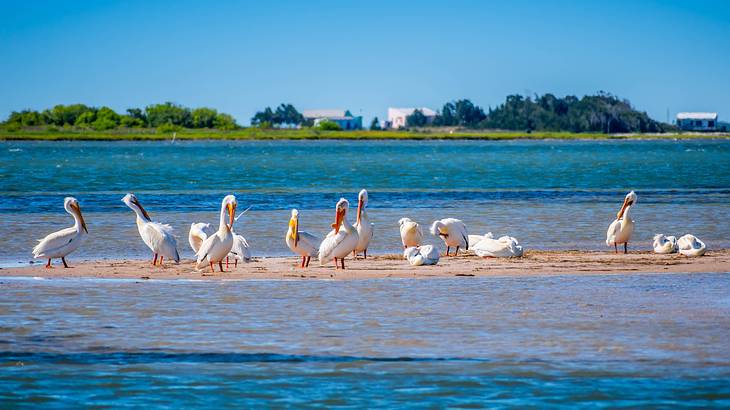 Spend a day at the beach at Padre Island National Seashore
You don't always associate Texas with beaches, but the Padre Island National Seashore offers Texans beautiful white sand beaches to visit. The seashore features 70 magnificent miles of beaches, sand dunes, and ocean.
There's also lots to do on the seashore! From relaxing on the beach to enjoying watersports and even camping.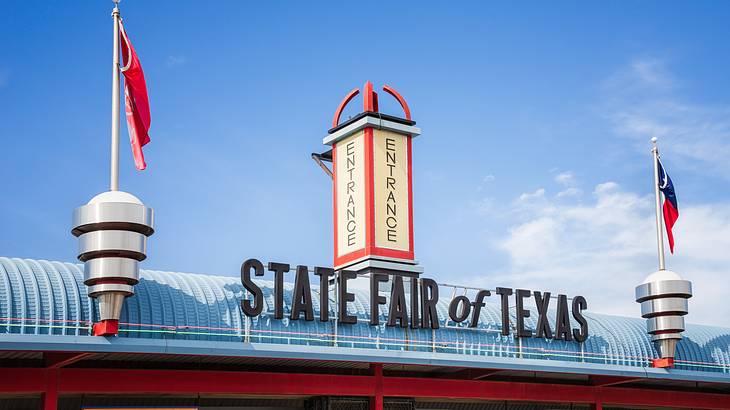 Experience the Texas State Fair
One of the most unique bucket list ideas in Texas is going on a trip to the Texas State Fair. Held in Dallas, the fair has been a popular annual event since 1886.
At the fair, you can ride a Ferris Wheel, eat carnival foods, listen to live music, and much more. There's also a parade in downtown Dallas before the fair begins.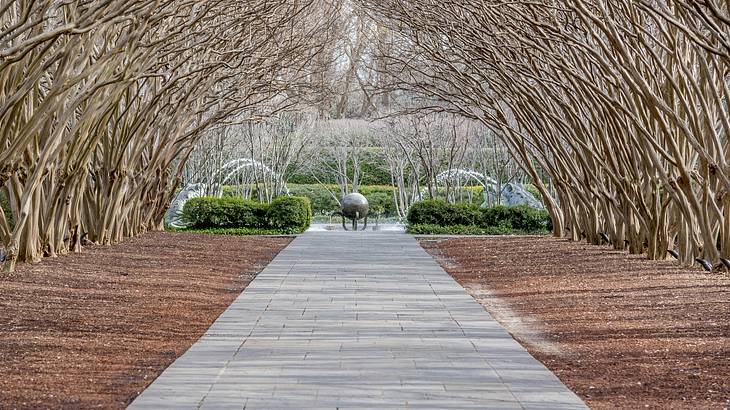 Wander around the Dallas Arboretum and Botanical Garden
Another great Dallas attraction is the Dallas Arboretum and Botanical Garden. This beautiful collection of gardens covers 66 acres and includes floral displays, water features, greenery, sculptures, and more. The gardens have also been named one of the best botanical gardens in the world by various publications.
If you're wondering when to plan a trip to Dallas to visit this attraction, you can really choose any time of year. The gardens are beautiful in every season, with each offering something a little different, from pretty spring blooms to festive winter decorations.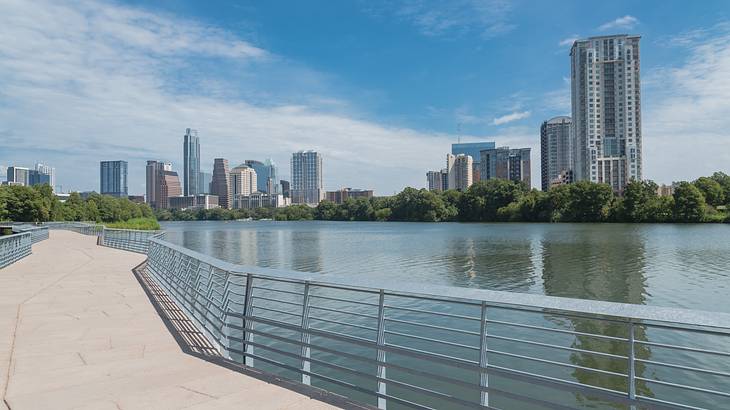 Follow the Lady Bird Lake trail
Located in Austin, Lady Bird Lake is a large reservoir that covers over 400 acres. When visiting Austin, following the Lady Bird Lake biking trail is a great outdoor activity to enjoy.
The trail takes you past the river and through lush green parks, with city views also visible. You're guaranteed to see wildlife too. Alligator sightings have even been reported in the past!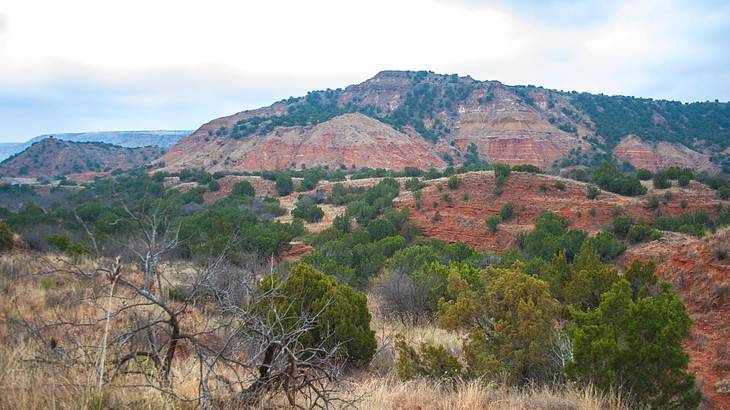 View vast canyons at Palo Duro Canyon State Park
One more of the numerous outdoor bucket list places in Texas to visit is Palo Duro Canyon. The canyon system is found near the cities of Amarillo and Canyon.
Notably, Palo Duro Canyon is the second-largest canyon in the United States, stretching for 120 miles and reaching widths of 20 miles. At the canyon, you can partake in a range of activities from hiking or mountain biking to bird watching.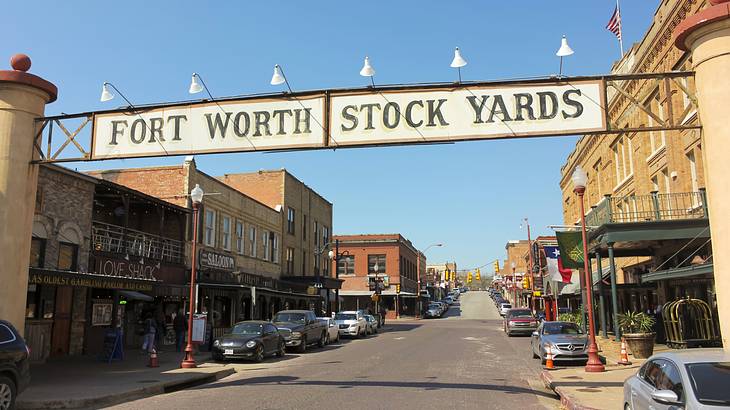 Dance and eat at a Texas Honky Tonk at Fort Worth Stockyards
Fort Worth Stockyards features a multitude of bars and restaurants, and one of the most fun is Billy Bob's Texas Honky Tonk. If interested in visiting this Southern-style bar, booking a Billy Bob's dinner deal is recommended.
With this package, you get to enjoy dinner at the bar, watch people ride the famous mechanical bull, dance, and play arcade games. Photos of you and your other guests are included too.
Pretend to be in the TV show Dallas!
Did you love the TV series Dallas? If so, you have to go to the show's Southfork Ranch when in Texas. On the three-hour tour, you can explore the ranch, see props, and learn more about the show's production.
Enjoy an exciting day at Six Flags Over Texas
For those that love amusement parks, one of the bucket list activities in Texas you have to try is going to Six Flags Over Texas. This renowned theme-park was the first-ever Six Flags location.
At the park, you can go on an array of rides and roller coasters. Other fun activities include watching live shows, shopping at themed stores, and dining at various eateries.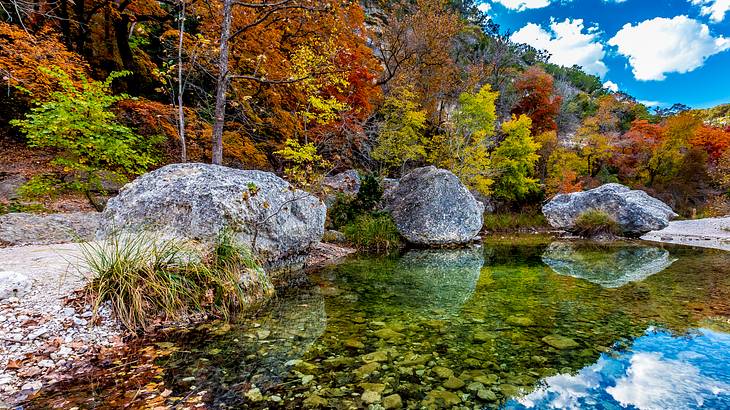 Admire the foliage at Lost Maples State Natural Area
Lost Maples State Natural Area is another breathtaking outdoor area in Texas. The natural area, located in the Edwards Plateau region, features hills and canyons and beautiful flora and fauna.
A popular activity here is viewing the spectacular colored foliage of the maple trees. The sea of orange and red is a stunning sight to see!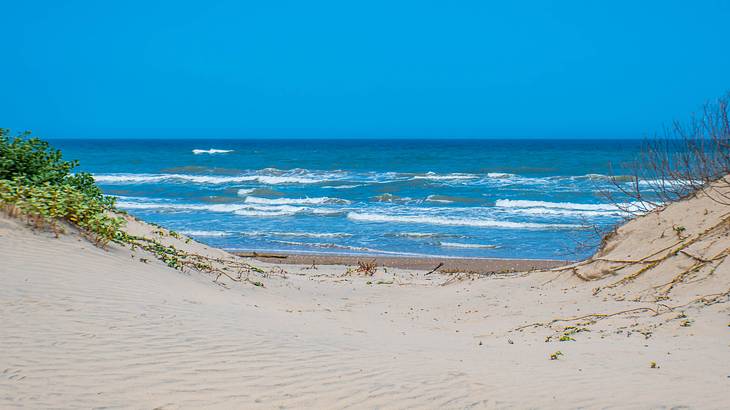 Parasail over South Padre Island
When in South Padre Island, you can find an array of outdoor activities to enjoy. A memorable one to try is parasailing over South Padre.
This thrilling activity is ideal for all levels, including beginners. Once in the air, you can take in the breathtaking coastal views.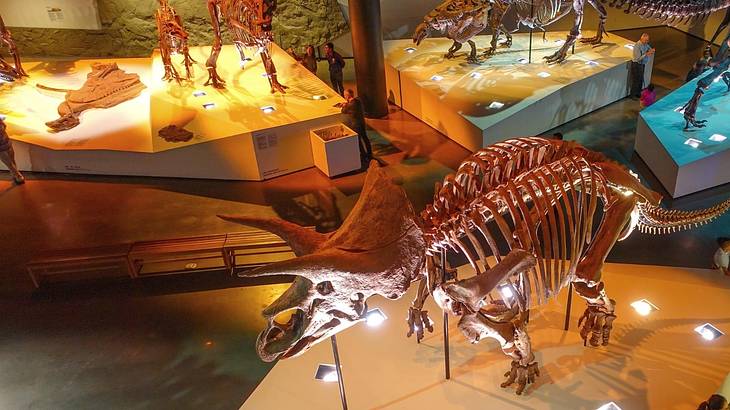 See dinosaurs at the Houston Museum of Natural Science
Another of the bucket list places in Texas to visit that's perfect for kids and adults alike is the Houston Museum of Natural Science. The museum houses various exhibits on science, including the largest dinosaur hall in North America!
Visiting the Museum of Natural Science is sure to teach you something new and is a great rainy day activity.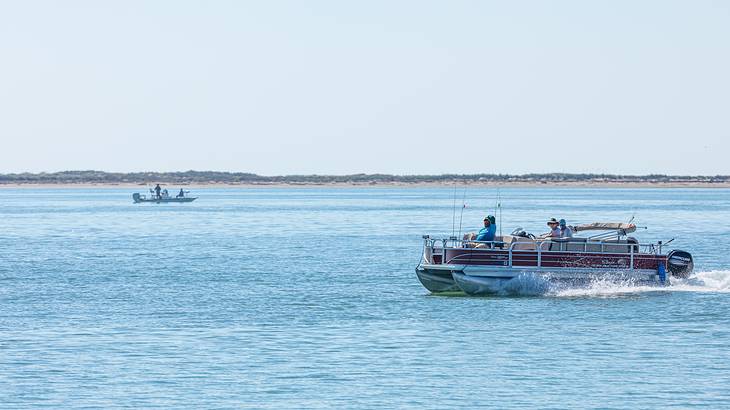 Get out on the water on a dolphin watching cruise
The waters of Texas' South Padre Island are home to many sea creatures, including bottle-nose dolphins. An ideal way to spot these marine mammals in their natural habitat is on a dolphin watching eco-cruise.
Once abroad, the boat will sail out to an area known to inhabit dolphins, and you can expect to see pods of 10 to 14 animals. You'll also spot the US Coast Guard station.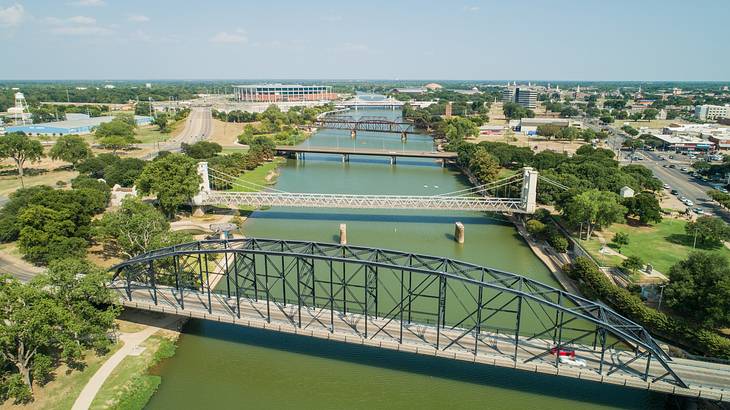 Luxuritate on a Brazos River cruise
A cool outdoor activity near Waco, Texas, is going on a Brazos River cruise. This luxury cruise will take you past various landmarks, including the Waco Suspension Bridge and McLane Stadium.
Your captain will also offer background on everything you see. There's even an onboard photographer to take high-quality images for you.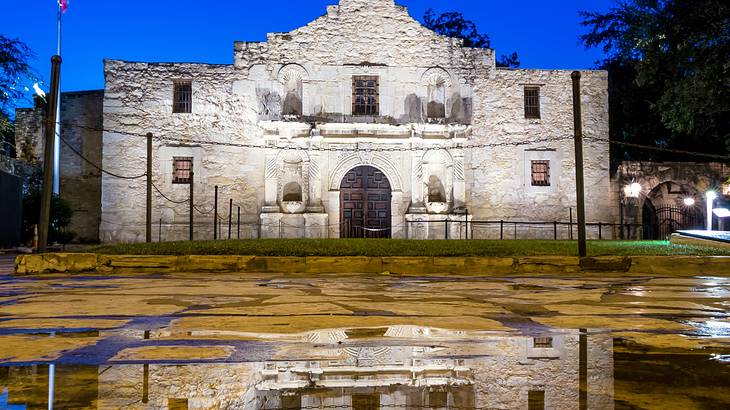 Hear spooky tales on a San Antonio ghost tour
If you're interested in the paranormal, one of the bucket list activities in Texas that you can't miss is a San Antonio ghost tour.
During this eerie nighttime experience, your guide will take you to the most haunted places in the city. At each stop, you'll learn of the spooky events that occurred there and of paranormal sightings reported.
Watch a magic show at The Magician's Agency
Seeing a magic show is always a fun activity! A great show to see in Texas is San Antonio's magic and illusions performance at The Magician's Agency Theatre. While at the family-friendly show, you get the chance to view an array of amazing tricks and stunts while enjoying free popcorn and soda.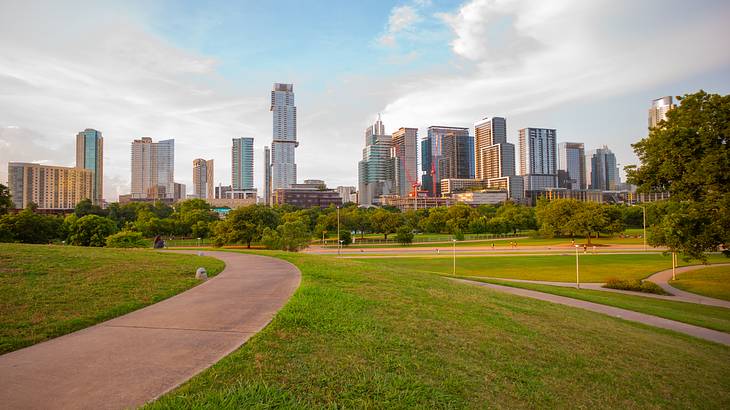 Bike around Austin
A unique way to see all the sights of Austin is on a bike tour. This experience will take you to various landmarks, including the Texas State Capitol and the Texas State Cemetery.
Best of all, this experience also includes brewery stops! Along with seeing the best landmarks, you get the opportunity to visit some of Austin's top craft breweries.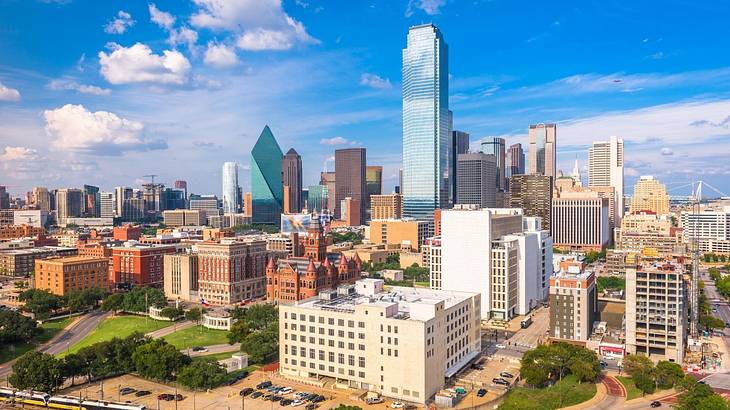 Sightsee in Dallas
Dallas is packed full of things to see and do, therefore, one of the can't miss bucket list ideas in Texas is sightseeing in Dallas. Top attractions to see include the John F. Kennedy Memorial Plaza, Dallas City Hall, and the Dallas Arts District.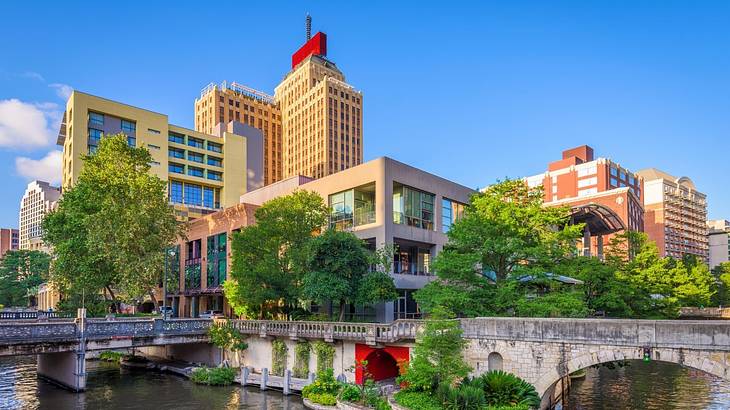 Eat your way through a San Antonio food tour
San Antonio has an array of outstanding eateries, and a great way to try them is on a San Antonio food tour. You'll get to visit a range of restaurants serving cuisine from Tex-Mex and Cuban to Creole and Southern comfort food dishes. On the way to each eatery, you'll pass many landmarks as well, like the Alamo.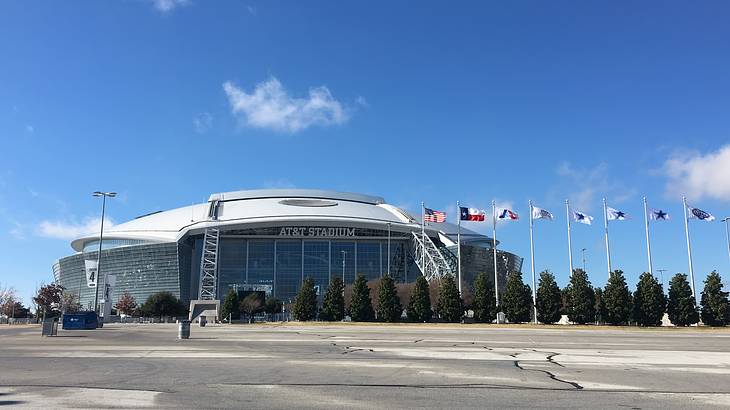 Take a Dallas Cowboys stadium tour
The Dallas Cowboys NFL team is one of Texas' most-loved teams. If you're a sports enthusiast, taking a tour of the Cowboys' stadium is one of the memorable things to do in Texas.
This experience allows you to explore AT&T Stadium, one of the most expensive sports venues to be built. You'll also learn more about the Cowboys franchise.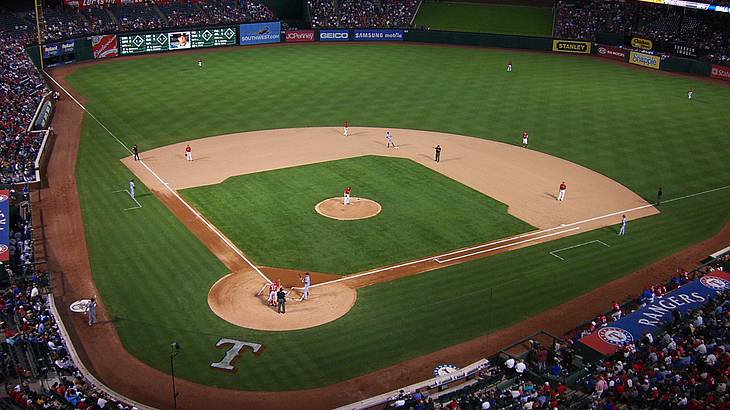 Cheer a Texas sports team
Texas has many professional sports teams to watch, including the Dallas Cowboys. Along with seeing the Cowboys play, you can watch the Dallas Stars NHL team, the Dallas Mavericks in the NBA, and the Texas Rangers MLB team.
Texas also has three MLS teams, Austin FC, FC Dallas, and Houston Dynamo FC, along with semi-professional and collegiate sports teams.
Snap a picture with the Greetings From Austin mural
Found just outside downtown Austin, the Greetings From Austin mural is a popular tourist attraction. The colorful mural mimics an old-fashioned postcard and includes images of famous places in the city, plus the words "Greetings From Austin."
When in the area, taking some pictures with the mural is a great keepsake reminder of your trip!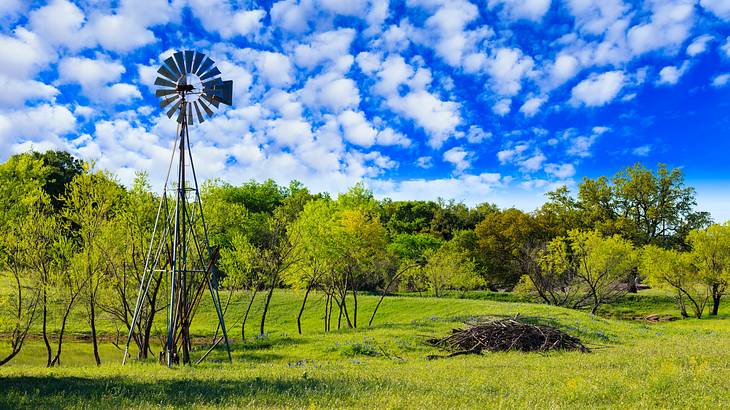 Book a wine tasting experience
If you're after a day-trip idea, one of the bucket list things to do in Texas to going to some wineries. The Texas Hill Country is located near Austin and features many great wineries.
On a Hill Country wine tour, you get the chance to visit two outstanding wineries. At each location, you can taste samples and buy some bottles.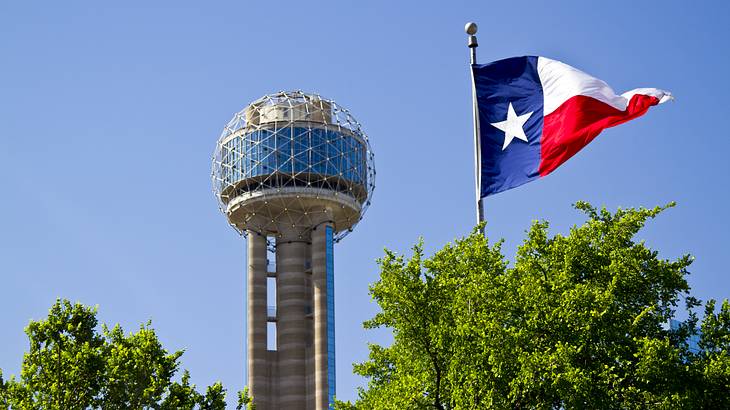 Appreciate 360 degree views from Reunion Tower
The Dallas Reunion Tower is a 561-foot observation tower with a viewing deck that offers amazing vistas. The Reunion Tower observation deck is located 470-feet up the tower and can be accessed during the day, at sunset, and in the evening.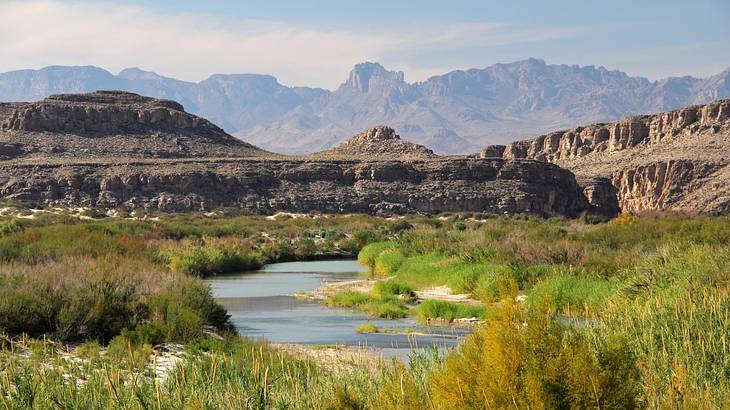 Kayak on the Rio Grande
Heading into the Chihuahuan Desert to kayak on the Rio Grande is a highly memorable activity to enjoy. Once in the desert, you'll learn a bit about the surrounding flora and fauna before getting in the water. You can then kayak through canyons and appreciate the desert scenery.
Pedal around Fort Worth on a bike tour
Biking around Fort Worth is a fun and unique way to see the city. On a biking tour, you'll ride past Fort Worth's most famous landmarks, like Fort Worth Water Gardens and Sundance Square.
The tour ends with a delicious meal at Cooper's Old Time Pit Bar-B-Que. This is one of the bucket list things to do in Texas that all types of travelers will love!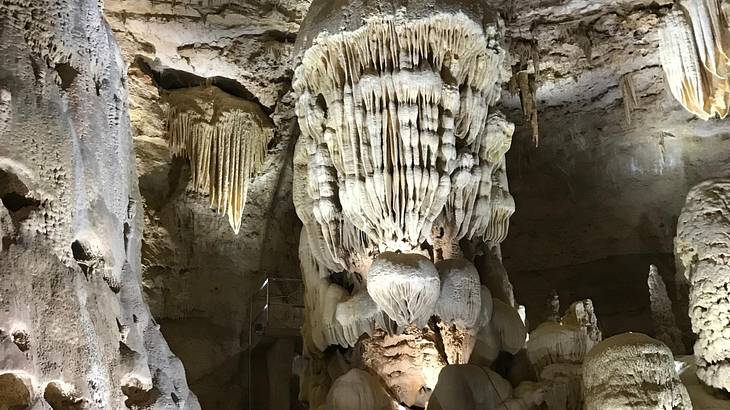 Explore the amazing Natural Bridge Caverns
The Natural Bridge Caverns are an outstanding landmark in San Antonio. The caverns are the largest known caverns in the state.
During your visit, you'll head underground to explore the vast caverns, with one cave being as large as a football field! Having enjoyed the caves, you can also try ziplining and tackle rope courses here.
Attempt to escape a thrilling Mafia adventure escape room
A thrilling group activity in Fort Worth is trying to escape a Mafia adventure escape room. In this escape game, you're in the pursuit of outlaws Bonnie and Clyde. Your team will race against the clock to find the clues to hunt down the couple and win the game.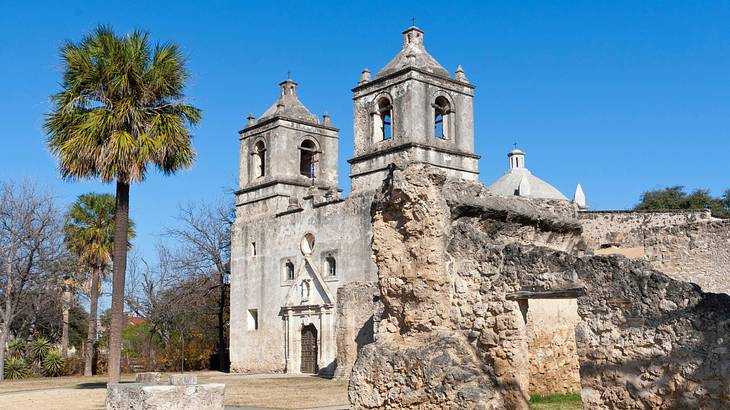 Take a cultural visit to the San Antonio Missions National Historic Park
The San Antonio Missions National Historic Park is a UNESCO World Heritage Site in San Antonio. This North American landmark comprises four 18th century Spanish Frontier Missions.
To get the most from a visit, taking a San Antonio Missions tour is highly recommended. This activity takes you around the historical park and to the Alamo, Mission Concepción, Mission San José, and San Fernando Cathedral.
In Summary
Texas is a great place to visit in the US. The state features a range of attractions that will appeal to all types of travelers. This guide of bucket list things to do in Texas should make planning a memorable trip to the Lone Star State both fun and easy!
Give us feedback about this article
More visual stories related to this article:
---
---
Want to keep exploring?
Subscribe for discounts on tickets and hotels and our latest guides.
Thank you for subscribing
We will be in touch soon with discounts on tickets and hotels and our latest guides.
Want to keep exploring?
Subscribe for discounts on tickets and hotels and our latest guides.
Thank you for subscribing
We will be in touch soon with discounts on tickets and hotels and our latest guides.
Related Articles