25 Fun Things to Do in Grand Prairie, TX
Destguides may receive commissions from purchases made through affiliate links in this article.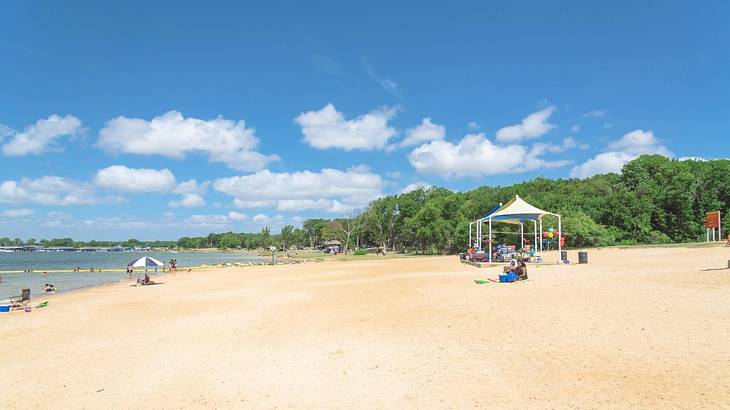 There are many excellent cities to visit in Texas, in the Southern United States, like Grand Prairie. Located under an hour from Dallas, the city is home to many attractions, with something for all types of travelers.
Fun things to do in Grand Prairie, TX that you must add to your to-do list include shopping at Asia Times Square, visiting the many parks around Joe Pool Lake, and spending a day at Epic Waters Indoor Waterpark. Read on for 25 top activities to enjoy in and around Grand Prairie!
25 Grand Prairie things to do
25 Fun Things to Do in Grand Prairie, Texas
Grand Prairie, Texas, Things to Do
Boat at Joe Pool Lake
Joe Pool Lake is situated within the Southern Dallas-Fort Worth Metroplex and is about a 20-minute drive from central Grand Prairie. The lake is an excellent place to go boating or enjoy other water activities.
There are seven boat ramps around the lake that you can reach from the different parks that surround it, like Lynn Creek Park or Loyd Park. Once on the water, you can relax and enjoy the views. Camping around Joe Pool Lake is also possible.
Look around Asia Times Square
Asia Times Square is a shopping, dining, and entertainment complex in Grand Prairie with a focus on Asian businesses. At the mall-style attraction, you can shop at a range of stores, including those selling clothing items and jewelry, decor items, and gifts.
In addition, you'll find some beauty outlets, like nail and hair salons. You'll also discover a range of dining options, serving dishes from many countries, including Vietnam, the Philippines, and South Korea. There are some Asian grocery stores, too, like Hong Kong Market Place.
Watch a race at Lone Star Park
Opened in 1997, Lone Star Park is a popular horse racing venue in Grand Prairie. There are races many days of the week, and larger events are also held throughout the year. At the race track, you can put on some bets and enjoy the races. Bars are also on-site, serving a variety of drinks and snacks like nachos and wings.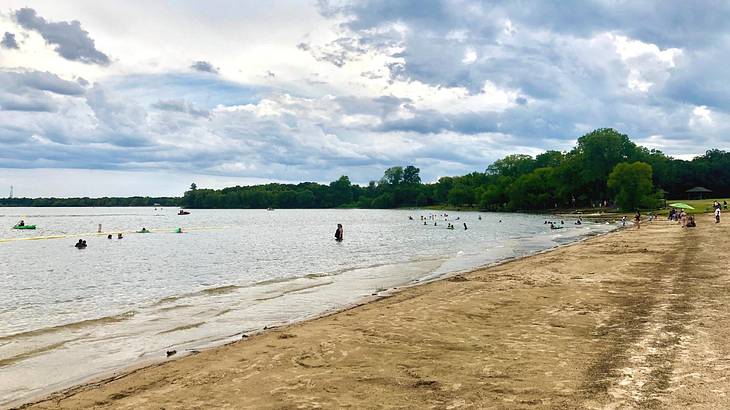 Camp at Loyd Park
If you enjoy outdoor activities, camping at Loyd Park is one of the best things to do in Grand Prairie. The park sits next to Joe Pool Lake and has campsites for tents, plus RV hookups. If you're looking for a slightly more luxurious option, cozy cabins and stylish yurts are available to rent.
In addition, a large lodge, Loyd Lodge, is bookable for big groups. The lodge has space for 15 people to stay, making it ideal for a getaway with friends or a big family trip. No matter which option you choose, you'll have a great time hanging out at the lakeside, surrounded by greenery and wildlife.
Shop at Grand Prairie Premium Outlets
If you like high-end items and great deals, you'll want to visit the Grand Prairie Premium Outlets. At the shopping village, you can buy designer and higher-end chain clothing and accessories, and home goods at reduced rates.
Just a few of the stores found include Nike, J. Crew, and Kate Spade. If you want a snack during your shopping trip, there are often food trucks on site, as well as chains like Starbucks and Auntie Anne's Pretzels.
Hang out at Firehouse Gastro Park
Firehouse Gastro Park is one of the coolest attractions in Grand Prairie, Texas. The trendy spot features a cafe and bar and a patio to hang out on. Menu items here include Nashville fried chicken, veggie burgers, cajun fries, and street tacos.
At the bar, you can get delicious craft cocktails like a vodka, lavender, blackberry, and mint drink or cucumber gin with sea salt and black pepper. Beer and other alcoholic beverages are also available. On the weekend, you can listen to live music acts too.
Go to see a movie at Cinemark Movies 16
Catching a movie at Cinemark Movies 16 is a fun way to spend an afternoon or evening. The movie theater shows most new releases, and you can get cinema snacks like popcorn, slushies, and candy. Whether you're planning a date, looking for something to do on the weekend, or want to occupy your kids, going to Cinemark Movies 16 will please everyone!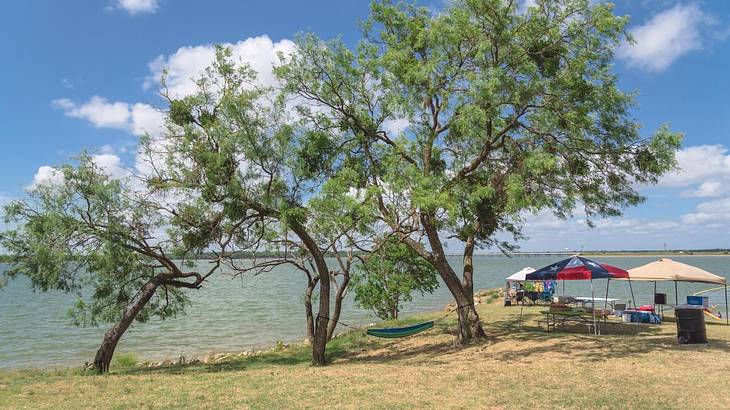 Spend a day on the beach at Lynn Creek Park
Lynn Creek Park is another of the Grand Prairie attractions that allows you to enjoy the outdoors. The park is located on Joe Pool Lake and has a beautiful sandy beach that's an ideal place to sunbathe, play beach games, and share a picnic with friends or family. There's also a boat ramp here for those that want to boat, or you can go swimming.
If you don't bring your own food, there are some eateries next to the park as well, like the Blue Sunshine Patio Bar & Grill, also known as the Lynn Creek Marina and Oasis Restaurant.
Get into the holiday spirit at Prairie Lights at Holiday Light Park
If you're in Grand Prairie during the holidays, going to Prairie Lights at Holiday Light Park is a must, especially if visiting with kids. The event runs from Thanksgiving through New Year's Eve and features over four million lights in beautiful colored displays.
You're encouraged to drive through most of the displays, but there are areas where you can stop to take pictures. In addition, there's a holiday village, walk-through lights forest, and carnival rides, and your kids can meet Santa!
Skate at Action Park - Alliance Skatepark
Going to Action Park, also known as Alliance Skatepark, is a must if you enjoy skateboarding. It's notably one of the best Grand Prairie, Texas, attractions to take your kids to. The all-weather park features a range of ramps and other equipment to do tricks on and is suitable for all levels.
The park also welcomes bike and BMX riders. Lessons are available for those looking to improve their skills, and there's a foam pit to practice tricks before trying them out in the park.
Enjoy a concert at the Uptown Theater in Grand Prairie
The Uptown Theater in Grand Prairie is located within a restored 1950s performing arts center and hosts a range of shows. You can also see many great concerts at the venue. Concerts to watch range from cover bands to Latin music shows and country music acts. No matter what you see, going to the Uptown Theater in Grand Prairie makes for a fun night out!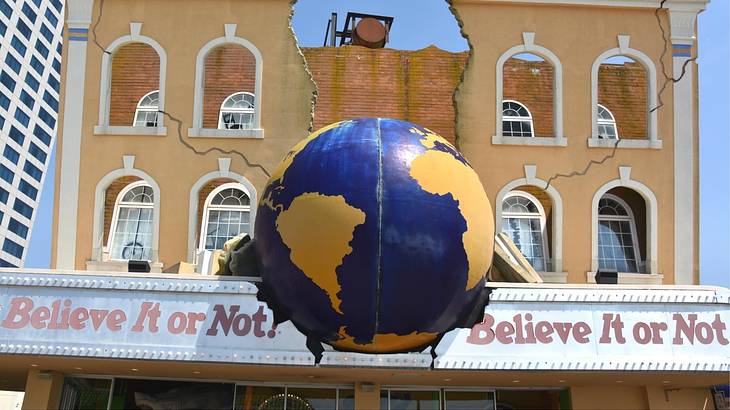 Experience Ripley's Believe it or Not!
Ripley's Believe it or Not! is an exciting attraction for all ages. The venue has a variety of unique and quirky amusements, including Ripley's Enchanted Mirror Maze and a laser obstacle course.
Other things to do here include creating wax hand models and seeing exhibits full of weird and wonderful items. Along with indoor attractions, you'll discover a unique art garden outdoors with large sculptures, such as a red dragon sculpture.
Take your kids to Epic Waters Indoor Waterpark
Epic Waters Indoor Waterpark by EpicCentral is one of the numerous attractions in Grand Prairie, TX, that's family-friendly. The expansive water park has multiple slides, plus other water rides. There are also indoor and outdoor pools, and poolside cabanas can be rented.
Little kids can additionally enjoy a lazy river and an aquatic playground with a splash pad, climbing structure, and smaller water slides. Once out of the pool, there's an arcade to enjoy, and you can get snacks like burgers, pizza, and churros.
See a Grand Prairie Arts Council performance
The Grand Prairie Arts Council is a local performing arts organization that hosts excellent shows throughout the year. Shows take place at the Uptown Theater in Grand Prairie and range from reproductions of famous shows like Cabaret to readaptations of fairy tales, such as Cinderella. Seasonal shows like Christmas performances are hosted too.
Treat yourself at Sugar Crush Boba & Ice Cream
Sugar Crush Boba & Ice Cream is a great spot to stop at for some ice cream or other sweet treats. Ice cream flavors include chocolate oreo, caramel macchiato, toasted coconut, and ube. Sugar Crush also has non-dairy options and drinks like milk teas with boba are available as well.
Buy records and cassettes at Forever Young Records
Forever Young Records is a must-visit shop for music lovers. The vast store sells vinyl records, cassette tapes, CDs, and music DVDs. You can find a range of genres of music, including iconic albums by famous artists. Merchandise like band t-shirts and posters are also available.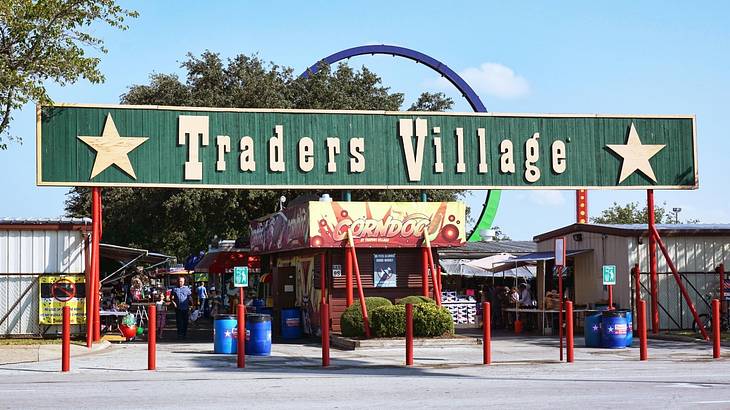 Discover unique pieces at Traders Village
Traders Village is one of the can't miss Grand Prairie, TX, attractions for those that enjoy thrift shopping or exploring flea markets. The vast outdoor market sells a range of goods, from jewelry and clothing to art, home decor items, children's toys, and so much more. You can even pick up a pair of cowboy boots! In addition, there are some theme park rides next to the market to enjoy.
Tour an apiary at Nottingham Bees
Nottingham Bees is one of the most interesting places to go in Grand Prairie, TX. Visitors can tour the apiary, the area where bees and beehives are kept. You'll learn more about the honey production process and will get to look inside a hive. After your tour, you can buy various products, from fresh honey to cosmetics made with beeswax.
Grab a beer and watch the game at Mickey's Sports Bar and Grill
Sports fans that want to watch a game and grab a drink and some food should head to Mickey's Sports Bar and Grill. The bar will put on major sports games, including most games featuring Texas teams. As you hang out, you can order beer or a fun cocktail.
Food options on the menu include wings, quesadillas, burgers, and pizza. You can also get sweet treats like triple fudge brownies, bread pudding, or churros.
Start the day with breakfast at Good Day Cafe
Good Day Cafe is a classic diner serving breakfast dishes and other homestyle meals. Just a few of the options to enjoy in the morning include waffles, French toast, Nutella crepes, and omlettes. If you want to visit the eatery later in the day, lunch and dinner are also served.
Things to Do Near Grand Prairie, TX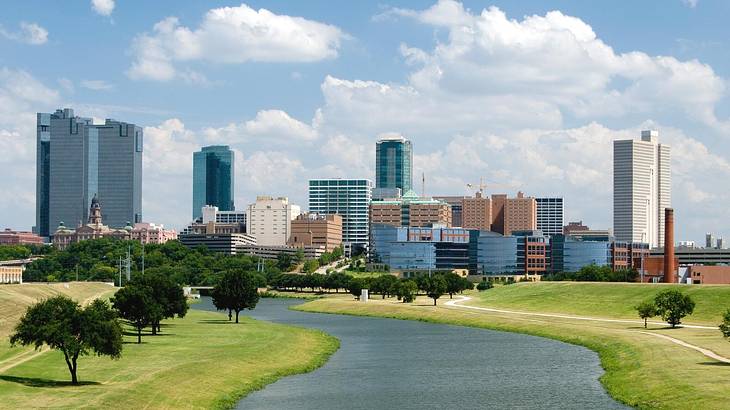 Spend some time in Fort Worth
Going to Fort Worth has to be on your Texas bucket list and conveniently, it's located only 30 minutes from Grand Prairie. Fort Worth activities include going to unique Western-style bars, exploring Fort Worth Stock Yards, and seeing artworks at the Kimbell Art Museum, among many other fun activities.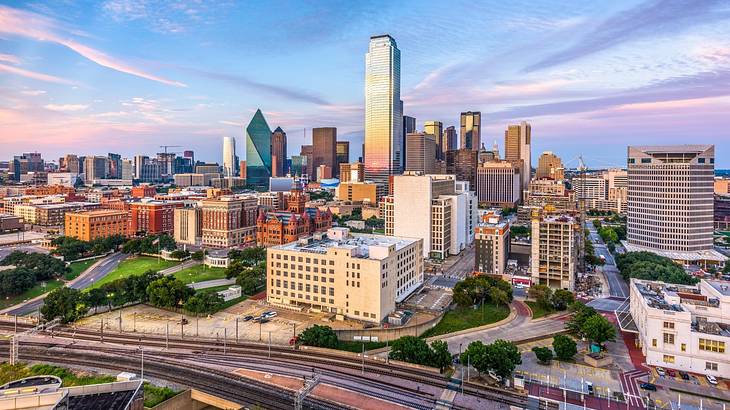 Plan a trip to Dallas
Located approximately 20 minutes from Grand Prairie, visiting Dallas is a must when in the area! Being such a well-known city, you'll find many things to do in Dallas, from seeing Texas landmarks like Reunion Tower to checking out museums, such as the Dallas Museum of Art.
This Texas destination is especially great for a couples day trip or weekend getaway as there are many things to do on a date in Dallas, like seeing a live music act at House of Blues or taking a romantic walk around Dallas Arboretum and Botanical Gardens.
Play a round or two of golf at Tangle Ridge Golf Course
Tangle Ridge Golf Course is an 18-hole championship course with tree-lined fairways and a selection of sand and water hazards. You can book a tee time and play on the course without instruction or opt for lessons to learn the basics or improve your skills. A bar and grill is set to open soon as well, meaning you can grab a meal and some drinks after your game.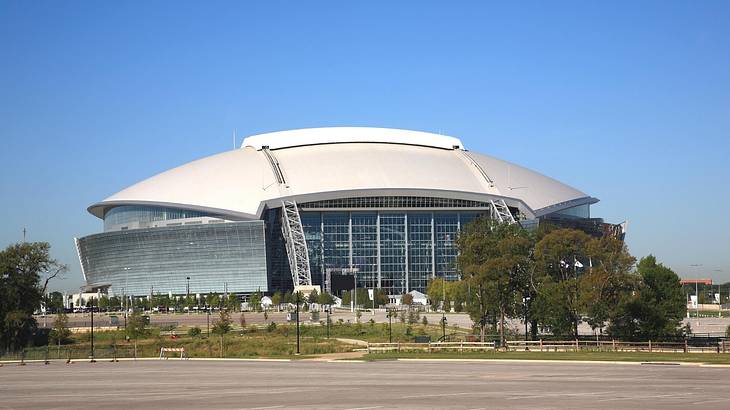 Check out Arlington
Arlington is another place to plan a day trip to. Located around 15 minutes from Grand Prairie, the city is notably home to two major sports teams, the Dallas Cowboys in the NFL, who play at AT&T Stadium, and the Texas Rangers MLB team, who play at Globe Life Field. Other fun things to do in Arlington include going to the UTA Planetarium and biking at River Legacy Park.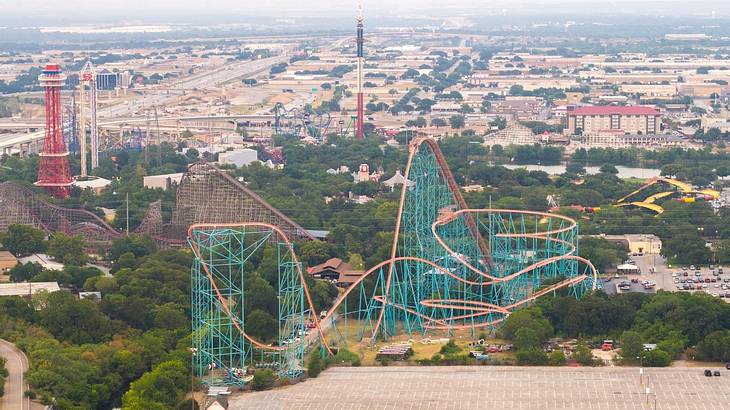 Have a fun day at Six Flags Over Texas
Six Flags Over Texas is located in Arlington and is about a ten minute drive from central Texas. At the 212-acre amusement park, you can enjoy many rides, including thrill-seeking roller coasters and more kid-friendly rides like spinning teacups. Fun performances are also hosted, and you can get theme park snacks like hot dogs, pretzels, and churros.
In Conclusion
As you can see, there are numerous Grand Prairie, TX, things to do! This bustling Texas city has something for everyone and is close to other great destinations, like Dallas and Fort Worth. Whether planning a family trip, visiting with friends, or on a couple's getaway, you'll find great activities to enjoy in Grand Prairie.
Give us feedback about this article
More articles about Texas:
Read more articles about the United States:
More articles about things to do:
More visual stories related to this article:
---
---
Want to keep exploring?
Subscribe for discounts on tickets and hotels and our latest guides.
Thank you for subscribing
We will be in touch soon with discounts on tickets and hotels and our latest guides.
Want to keep exploring?
Subscribe for discounts on tickets and hotels and our latest guides.
Thank you for subscribing
We will be in touch soon with discounts on tickets and hotels and our latest guides.
Related articles