50 Fun Date Ideas in Utah for Every Couple
Destguides may receive commissions from purchases made through affiliate links in this article.
Utah is a highly unique state that offers locals and visitors lots to do. You can also discover many things to do with your partner in the Beehive State.
Fun date ideas in Utah range from skiing or snowboarding to exploring the state's many parks or checking out top bars and restaurants. You could even take your other half on a sunrise hot air balloon ride; the options are endless! To discover all the cool and romantic things to do on a date in Utah, keep reading.
50 Fun Utah Date Ideas
Romantic Things to Do in Utah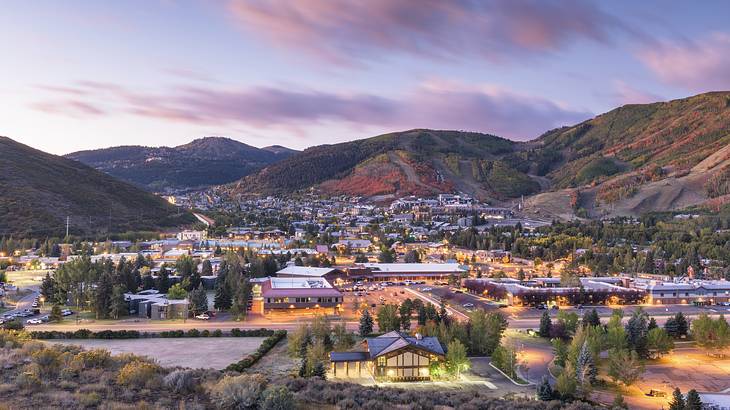 Fly above Utah on a hot air balloon ride
Taking a sunrise hot air balloon ride over Park City, Utah, with Bigfoot Balloons is a highly romantic thing to do. Private rides for two are available, and you'll get to fly over the city and surrounding mountains with your partner as the sun comes up. Flights over Eden, Utah, are also offered.
Stay at the Montage Deer Valley
The Montage Deer Valley is one of the most luxurious and romantic places to stay in Utah. Located in Park City, the spa resort is open year-round and features stylish rooms, indoor and outdoor spa facilities, a bar and restaurant, and many other amenities. You can also ski during the day in the winter or hike in the warmer months.
Take a pottery class
You and your other half can learn a new skill by taking a pottery class in St. George at the Titled Kiln. During the two-hour class, you'll be taught everything you need to know to make your own clay masterpieces. If you don't want to create your own piece of pottery, you can also pick a pre-made piece to paint with a unique design.
Dine at the Painted Pony
The Painted Pony is an ideal place for a romantic dinner in southwest Utah. The casual fine dining eatery serves contemporary dishes using seasonal ingredients. You can finish your dinner with a decadent dessert, and there's an extensive wine and cocktail list to choose from as well.
Fun Date Night Ideas in Utah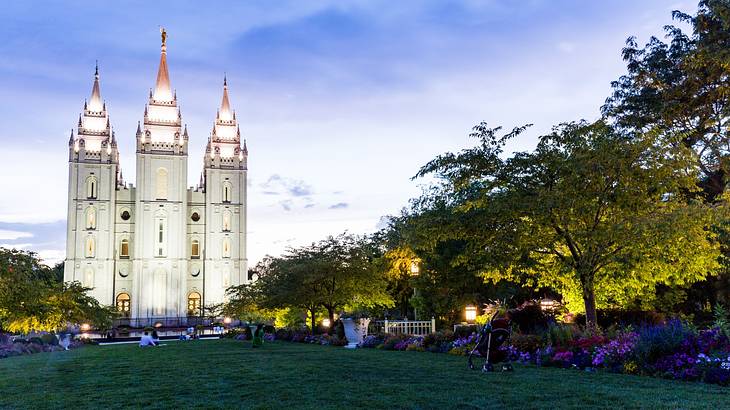 Hear spooky stories on a ghost tour
A slightly spooky date idea to plan in Salt Lake City is going on a ghost tour. During the eerie excursion, you'll visit haunted sites like Salt Lake Cemetery and the Rio Grande Train Depot. At each stop, you'll be told stories of ghost sightings and gruesome events that have occurred there.
Watch a movie at the Redwood Drive-In Theatre
Located in West Valley City, the Redwood Drive-In Theatre is a cool place to go for a movie date. This outdoor cinema shows an array of classic movies as well as some new releases.
The theater is easily accessible from larger cities, like Salt Lake City and Provo, and is generally open from the Spring through October.
Stargaze at the South Physics Observatory
Stargazing at the South Physics Observatory is one of the most romantic date ideas in Utah! The observatory is located at the University of Utah and opens in the evenings for visitors to look up at the stars and galaxies using state-of-the-art telescopes. You can also learn more about all the things you see from on-site experts.
Sip cocktails at Whiskey Street
If you're planning a dinner and drinks date, Whiskey Street in Salt Lake City is a highly recommended spot to head to. The menu features contemporary American dishes like grilled caesar salad, cajun pasta, and Nashville fried cauliflower. Drinks on offer include signature and classic cocktails, including various types of Moscow mule and Old Fashioned.
Fun Things to Do in Salt Lake City for Couples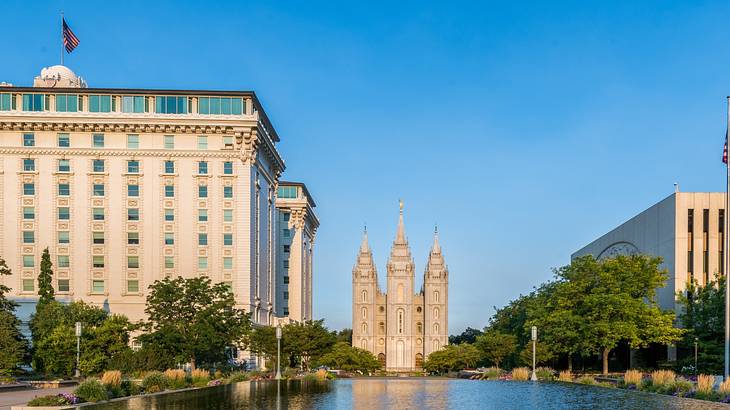 Tour Temple Square
Temple Square is one of the most famous landmarks in Salt Lake City, and touring the area is a must if you and your date are visiting. As you look around, you'll see Mormon temples, 19th-century buildings, and the headquarters of The Church of Jesus Christ of Latter-day Saints. To learn more about the area, take an informative Salt Lake City guided tour.
Relax with a coffee at Sugar House Coffee
A coffee date is always a good idea, and one of the best places to grab coffee with your partner in SLC is Sugar House Coffee. This cozy coffee shop serves various coffee drinks and kombucha, plus baked goods, bagels and sandwiches, and salad and acai bowls. You can often enjoy live music acts at the cafe as well.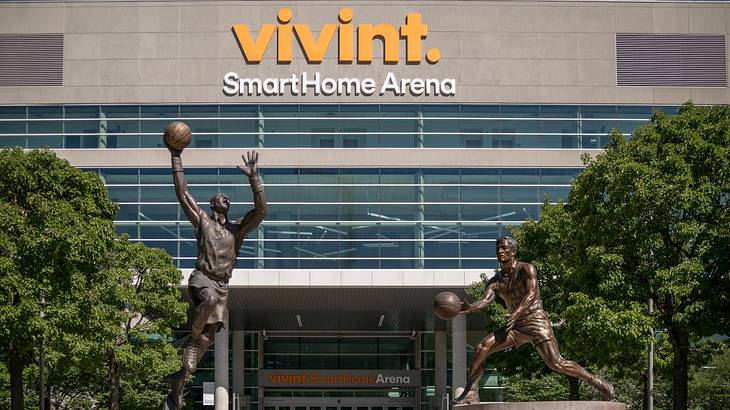 Catch a Utah Jazz game
Couples that like sports will want to plan at least one date at a Utah Jazz game! The NBA team plays at Vivint Arena in Salt Lake City, with games scheduled between October and April in the regular season. Many games are at night, making this a perfect date night activity. However, you can also catch some games in the afternoon on weekends.
Attend a Real Salt Lake FC game
Real Salt Lake FC is another Utah sports team to watch with your date. The MLS team plays at America First Field (formerly Rio Tinto Stadium), located 20 minutes from downtown SLC.
Games are played between March and October, and cheering on the team at some point throughout the season is sure to make for a memorable date!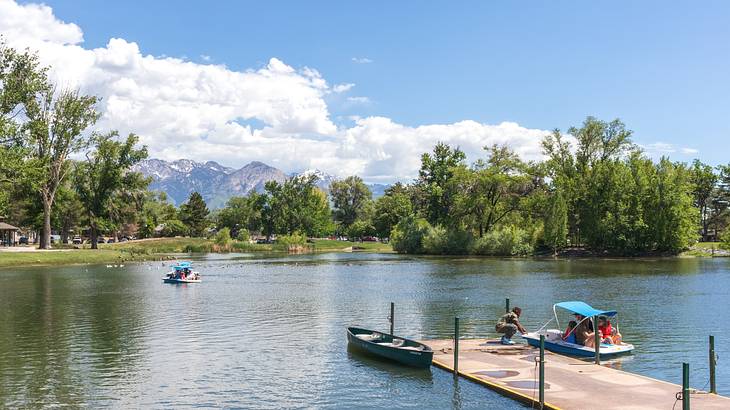 Hang out at Liberty Park
One of the fun things to do in Utah for couples that want to spend some time outdoors is planning a date at Liberty Park. The 80-acre park has walking trails and lots of green space to sit down and chat or share a picnic. You'll also come across the Tracy Aviary and sports facilities like tennis and basketball courts.
Stop for tea at The Tea Grotto
Another great place to get drinks with your date in Salt Lake City is The Tea Grotto. As you may expect, this spot specializes in teas, with various types of green, black, white, and herbal teas on offer. You can even order a pretty flowering tea! As you both enjoy your tea, you can order snacks like baked goods or sandwiches.
Walk with dinosaurs at the Natural History Museum of Utah!
Situated on the edge of downtown Salt Lake City, the Natural History Museum of Utah is a fun place to explore with your other half. At the museum, you can see fossils and dinosaur skeleton replicas while learning more about paleontology. Other topics covered include the geology of the Salt Lake area and the history of civilizations that have called Utah home.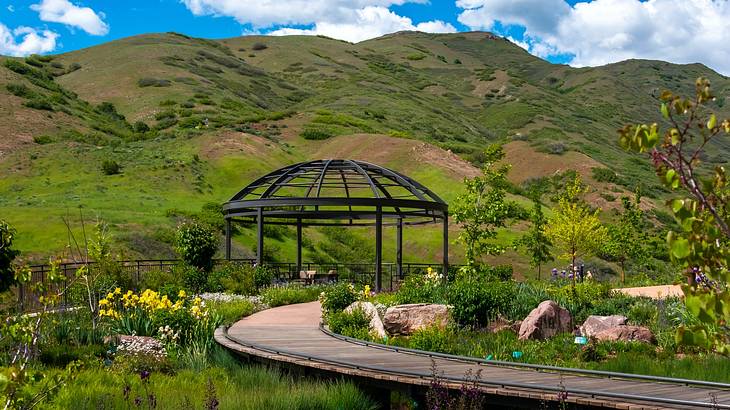 Snap photos at Red Butte Garden
One of the most scenic places to visit in Salt Lake City is Red Butte Garden. It's the perfect place to go for a walk, surrounded by greenery and pretty floral displays. The beautiful gardens also make a great backdrop for taking photographs together.
Shop at the Downtown Farmers' Market
If you're looking for something to do together on a Saturday in Salt Lake City, checking out the Downtown Farmers' Market is a fantastic idea. At the market in Pioneer Park, you can discover an array of local vendors. Just a few of the items for sale include fresh produce, flowers, and craft items.
View artworks at the Utah Museum of Contemporary Art
The Utah Museum of Contemporary Art is one of the best places to go on a date in Salt Lake City. The museum features six gallery spaces, and you can see a range of art mediums, from paintings to sculptures and photographs.
There are also fascinating temporary exhibits and works on display are created by both American and international artists.
Fun Date Ideas in Provo, Utah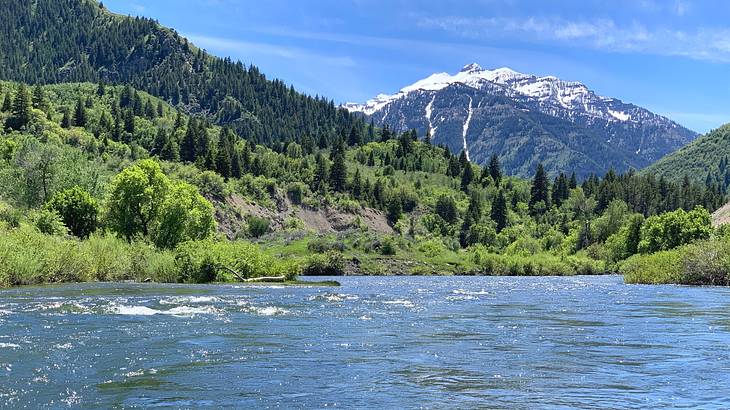 Boat along the Provo River
When in Utah County, taking a boating and rafting tour along the Provo River is another fun adventure activity date idea. You'll get to paddle along the scenic river before hitting some Class I and II rapids. You'll also get to stop frequently to take in the beautiful scenery around you.
Make soap at the Soap Factory!
Going to the Soap Factory is not only one of the best things to do in Provo but is also one of many cute date ideas in Utah.
At the Soap Factory, you and your partner can create customized soaps, choosing your own scents, colors, and shapes. You then get to go home with a unique souvenir to remember your date!
Sing together at Heart & Seoul Karaoke
Heart & Seoul Karaoke is a cool place to check out with your date in Provo. The karaoke spot has private rooms and open mic nights that are fun even if you decide not to sing. If you are singing, you can choose from an extensive song list, which includes many songs in languages other than English.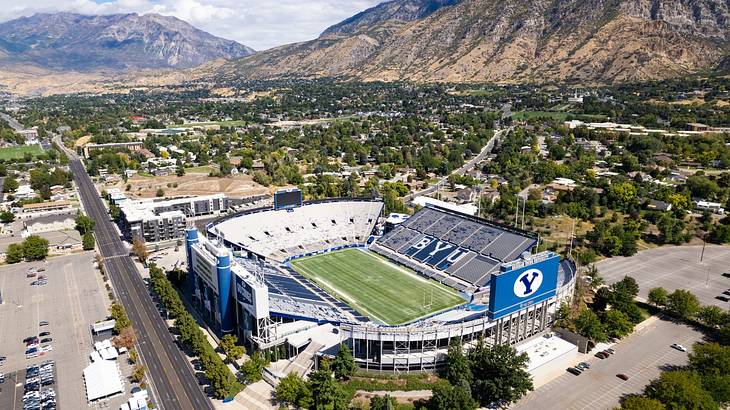 Catch a college football game at LaVell Edwards Stadium
Couples in Provo that like sports can plan a memorable date at a BYU Cougars college football game at LaVell Edwards Stadium. The venue is located at Brigham Young University (BYU), and the team plays between September and November. Even if your date isn't the biggest sports fan, they should still have fun enjoying the atmosphere cheering on the Cougars.
Take a scenic drive through Provo Canyon
If you want to plan a scenic and romantic drive with your partner, heading to Provo Canyon is a must. The beautiful area has lakes, mountains, forests, and even waterfalls to drive past. As you explore, you can stop to take in the views or go for a quick hike.
Play board games at Good Move Cafe
If you're looking for something laid-back to do in Provo, plan a date at Good Move Cafe. This cafe is unusual as it has an extensive board game library, and you and your partner can play games as you enjoy drinks and snacks. Going to Good Move Cafe is also one of the best double-date ideas in Utah!
Fun Date Ideas in Logan, Utah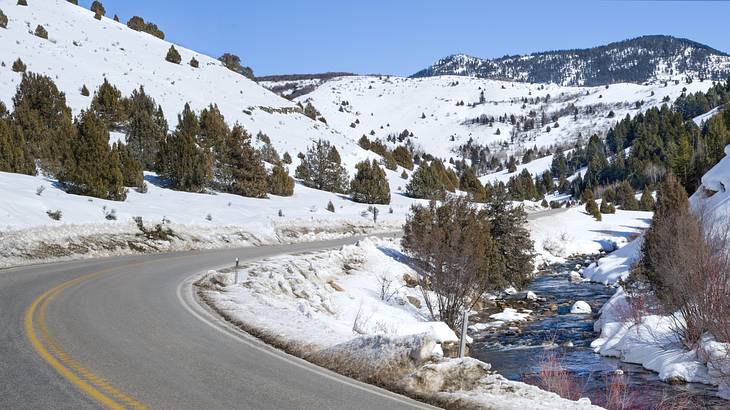 Follow the Logan Canyon Scenic Drive
When visiting Logan, following the Logan Canyon Scenic Drive with your date is a highly romantic thing to do. The road passes through mountains, including the Bear River Mountains and forests. You'll also go past pretty lakes, many of which have sandy shores to stop at and relax with a picnic.
Stroll along the Wind Cave Trail
The Wind Cave Trail is a great trail to tackle if you and your other half love to hike. The trail stretches for about 1.8 miles and takes you through forests and past unique arched rock formations and mountains. If you're happy to start out early, completing this hike around sunset is also one of the most romantic things to do in Utah!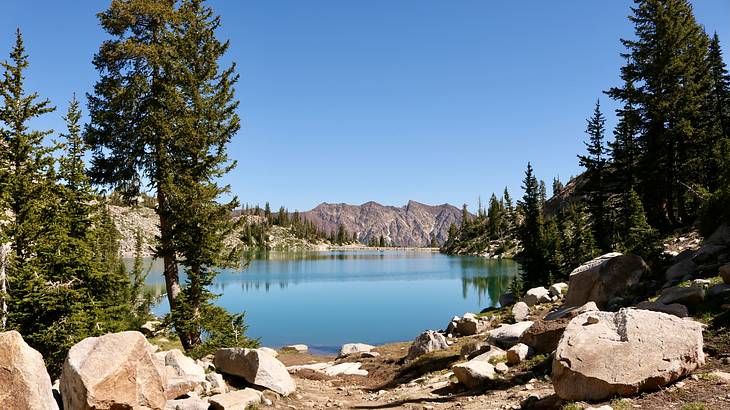 Walk to White Pine Lake
Another scenic walk to enjoy in Logan is the walk to the beautiful White Pine Lake. There are a few trails to follow, depending on your starting point, but all are relatively easy and appropriate for most activity levels. At the lake, you can stop and take in the pretty view of the tranquil water surrounded by mountains and alpine trees.
Look around the Logan Fine Art Gallery
Logan has many outdoor attractions to visit with your date, but there are also lots of cool indoor places to check out, like the Logan Fine Art Gallery. The art gallery showcases an array of paintings, drawings, and sculptures. Events, like exhibitions by local artists, are also held at the gallery.
Fun Things for Couples to Do in Utah Outdoors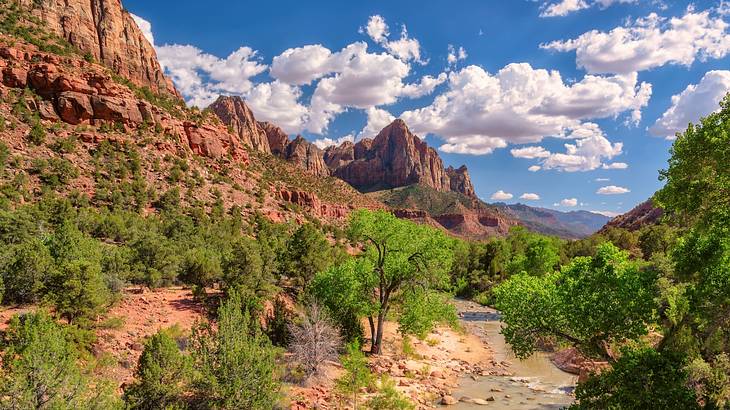 Experience canyoneering in Zion National Park
Zion National Park is a memorable place to visit with your date and features red rock mountains, canyons, and lots of wildlife. If you're both adventure activity enthusiasts, going canyoneering in Zion National Park is a must.
You'll see more difficult-to-reach parts of the canyon, and your guide will also take you hiking along scenic trails. For those looking to explore when it's most quiet, the best time to visit Zion National Park is between December and March. However, you're sure to have a great time whenever you visit.
Go to Canyonlands National Park
Another of the best date ideas in Utah is going to Canyonlands National Park. The desert park features stunning red rock mountains that are carved around the Colorado River. If you aren't sure where to start in the park, opting for a Canyonlands National Park tour is an excellent idea. Tour options include guided hiking tours and 4x4 excursions.
Raft along the Colorado River
Couples that like adventure activities can plan a date white water rafting on the Colorado River. This fun tour begins in Moab, and your guide will take you out onto the river where you can tackle rapids, including Class III rapids. Your guide will also point out natural landmarks along the river and offer some information on the area's ecology.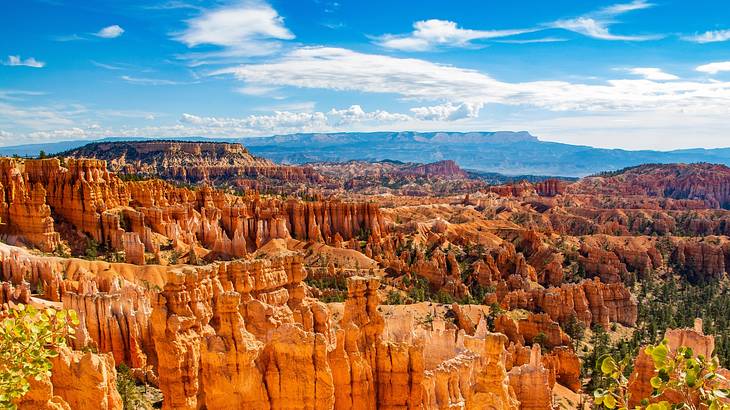 Plan a trip to Bryce Canyon National Park
Bryce Canyon National Park is a Utah landmark that is a must-visit destination for couples that like exploring the great outdoors. The vast park has stunning geological features like red rock mountains and crimson-colored hoodoos.
While you and your date could explore alone, booking a Bryce Canyon National Park tour is highly recommended to ensure you see the best parts of the park.
Appreciate the views at Dead Horse Point Overlook
While the name doesn't make it sound very romantic, Dead Horse Point Overlook is one of the best places to admire the sunset with your partner. Located in Dead Horse Point State Park in Moab, the viewpoint looks out over the park, Canyonlands National Park, and the Colorado River.
Seeing the desert landscape under a pink and orange sky is something you and your date will never forget!
Spot American bison at Antelope Island
Antelope Island is another fun place for an outdoor date in Utah. Despite the park's name, it's most famous for its American bison herd. However, you can also see antelopes as well as mule deer, numerous species of birds, and many other creatures while walking along the park's trails.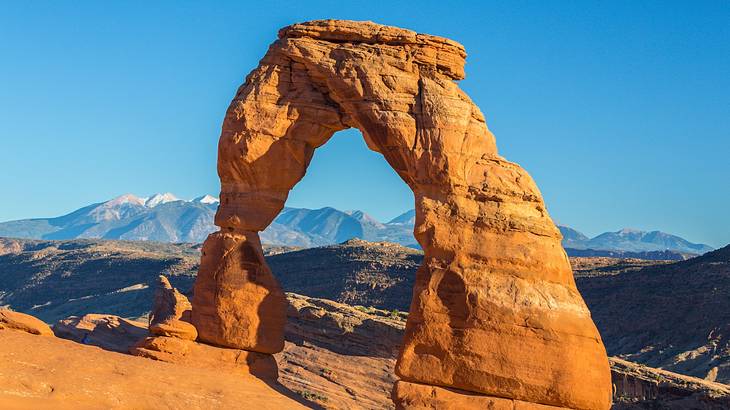 Explore Arches National Park
If you're looking for more Utah outdoor activities to enjoy with your partner, planning a trip to Arches National Park is a must. This attraction is one of the best national parks on the West Coast of the United States and is located in Moab, Utah.
There are many fun things to do in the park, from going on an off-road 4x4 tour of Arches National Park to experiencing a backcountry hiking tour. No matter what you do, you'll have a highly memorable date!
Visit Grand Staircase-Escalante National Monument
Grand Staircase-Escalante National Monument is somewhat of a Utah hidden gem. The landmark is a little isolated and far away from major cities. However, making the trip with your other half to see this natural attraction is well worth it!
The national monument covers 1,870,000 acres, and as you explore part of the vast park, you can see canyons, deserts, mountains, and other amazing natural features.
Marvel at Coral Pink Sand Dunes State Park
Located in southwestern Utah, Coral Pink Sand Dunes State Park is a beautiful place to visit with your loved one. As the name suggests, the park has many pink sand dunes that are amazing to see, especially at sunrise or sunset. During a visit, you can hike, take in the views, and snap lots of unique photos.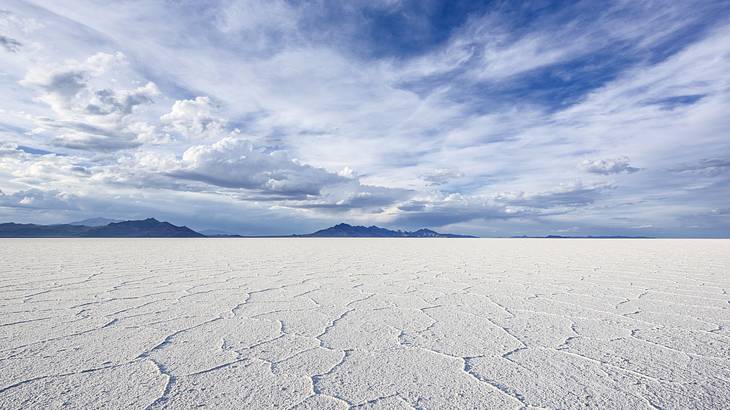 Check out Bonneville Salt Flats
Bonneville Salt Flats is one of many fantastic natural landmarks in Utah. The vast salt flats sit to the west of Great Salt Lake and can be reached in an hour and a half from Salt Lake City and surrounding areas. There are no designated trails, but you can hike around almost anywhere, taking photos of the unique landscape.
Have an adventure in Snow Canyon State Park
Located in the Red Cliffs Desert Reserve, Snow Canyon State Park is the ideal place to hike or try adventure activities like canyoneering or mountain biking. Along with red rock mountains, this park has an extinct volcano and lava tubes to see as well. Whichever way you explore the park, you'll have a great time seeing the beautiful scenery with your loved one.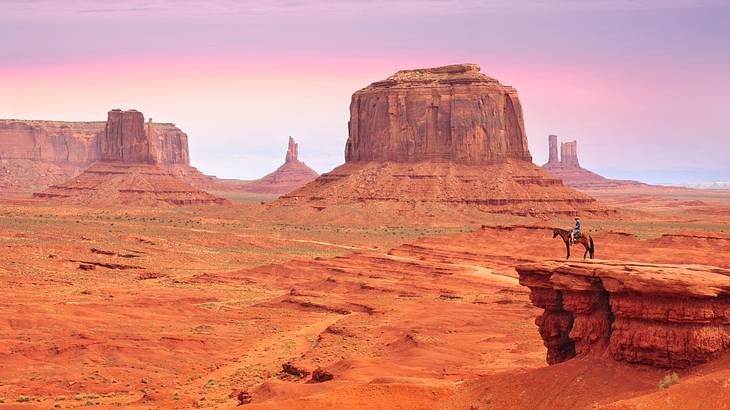 Visit Monument Valley at Sunset
Going on a sunset Monument Valley tour is a romantic way to see this natural landmark. The tour is taken with a Navajo guide who will take you to the most beautiful parts of the park as the sun goes down. You'll also get to see a traditional Navajo rug weaving demonstration.
Find fossils at Dinosaur National Monument
Dinosaur National Monument sits within the Uinta Mountains on the Utah border with Colorado. It's another of many natural landmarks that you must see with your partner when in Utah.
Notably, the park has 800 paleontological sites that feature dinosaur fossils. As you explore, you can see some of these fossils, learn about the park's rich history, and take in the breathtaking scenery.
Hike in Capitol Reef National Park
Capitol Reef National Park is situated in Utah's south-central desert and is a unique place to go hiking. There are numerous trails to follow that will take you past red rock formations, mountains, creeks, and more. You can even camp at Capitol Reef National Park if you want to spend the night in nature!
Fun Date Ideas in Utah During Winter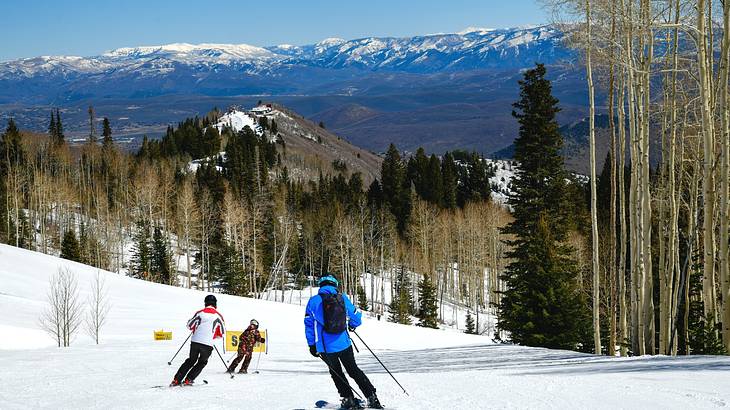 Ski or snowboard at Park City Mountain Resort
The Park City Mountain Resort is one of the most famous ski resorts in the US. If you and your partner like winter sports, visiting is a must! After a day on the slopes skiing or snowboarding, you can head to the resort village to find apres-ski bars and check into one of many cozy hotels or cabins.
Snowshoe in Park City
Another winter activity to enjoy together is snowshoeing in Park City. On a guided tour, you'll be taken to many scenic off-the-beaten-path spots that tourists don't know about. You'll also be able to enjoy views across the mountains and spot wildlife, like moose or foxes.
Unwind with spa treatments at the Sundance Mountain Resort
The Sundance Mountain Resort is another world-renowned place to go skiing or snowboarding with your partner. To unwind a little after a day on the slopes, why not book some romantic spa treatments? At the resort spa, you can enjoy massages, body scrubs, facials, and more. Couples massages are also available.
Zip line across the mountains at Sundance Mountain
When visiting the Sundance Mountain Resort with your other half, taking a ziplining tour across the snowy mountains is a fun thing to do. You'll get to fly across 3,870 feet of zipline, admiring the snow-covered mountains and alpine trees. A scenic lift ride and snowshoe hike are also included.
Cheap Date Ideas in Utah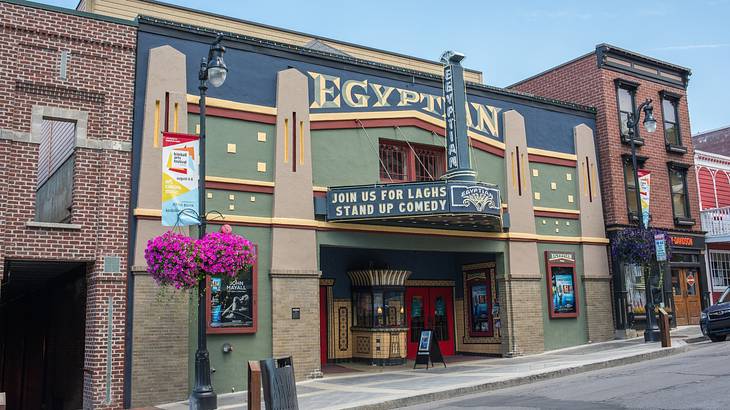 Experience a concert Egyptian Theatre
The Egyptian Theatre is a renowned theater in Park City that's actually very affordable to visit with your date. It's also a popular venue during the Sundance Film Festival! During the rest of the year, a range of artists perform concerts, from rock bands to jazz acts and solo musicians.
Admire artworks at the Springville Museum of Art
Art enthusiasts will definitely want to plan a date at the Springville Museum of Art in Springville, Utah. The museum features a range of temporary exhibits as well as a permanent collection of works by famous American artists. As admission is free, visiting the Springville Museum of Art is also a great date idea or those on a budget!
Feel like a kid again at Classic Fun Center
Classic Fun Center is an entertainment venue with multiple locations across Utah. While it's a popular kids' attraction, adults are also welcome, and as the center stays open until midnight, it's easy to visit when there won't be kids around!
Things to do include roller skating, playing laser tag, and enjoying arcade games. There are also fun evening events, like disco roller skating parties.
Try axe throwing
One of the unique dates in Utah is going axe throwing. You can find axe-throwing venues across Utah, with Social Axe Throwing being a popular chain to check out.
You'll be taught how to throw before giving it a go yourselves! You can also get beer and snacks like pizza at the venue, and Utah locations are found in SLC and Ogden.
In Conclusion
This list should have given couples some great Utah date ideas, from going to a spa resort or cocktail lounge to attending sporting events and shopping at farmers' markets. Those planning a date in Utah definitely won't find a shortage of activities to enjoy!
Give us feedback about this article
More articles about Utah:
Read more articles about the United States:
More articles about date ideas:
---
---
Want to keep exploring?
Subscribe for discounts on tickets and hotels and our latest guides.
Thank you for subscribing
We will be in touch soon with discounts on tickets and hotels and our latest guides.
Want to keep exploring?
Subscribe for discounts on tickets and hotels and our latest guides.
Thank you for subscribing
We will be in touch soon with discounts on tickets and hotels and our latest guides.
Related Articles