15 Landmarks in Milwaukee You Should See
Destguides may receive commissions from purchases made through affiliate links in this article.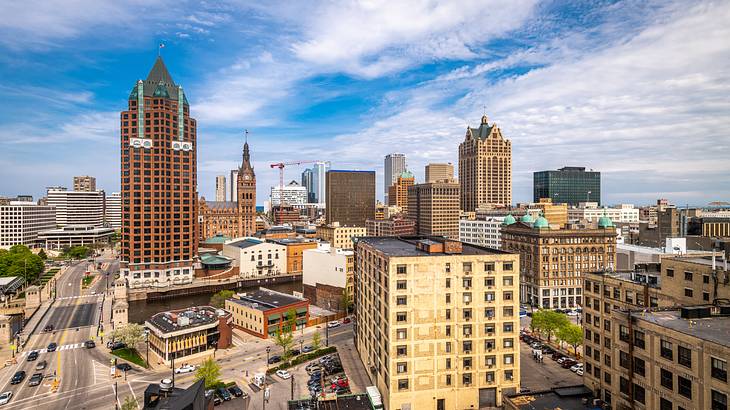 Located along the shores of Lake Michigan in the Midwest state of Wisconsin, Milwaukee may best be known for its beer: its Major League Baseball team is even named the Brewers. But while you should definitely check out Pabst Mansion, Milwaukee offers much more than just its brewing history.
If you like art, you'll find Wisconsin's most extensive collection at the Milwaukee Art Museum. And even someone who doesn't consider themselves an art enthusiast can appreciate the life-sized sculpture of Henry Winkler, the Bronze Fonz, along the Milwaukee Riverwalk.
Then there's the architecture: Milwaukee has many impressive landmarks from the late 1800s and early 1900s. Buildings like the Federal Building and U.S. Courthouse, and St. Paul's Episcopal Church offer some of the best historic architecture in the region.
Whether you're planning a trip to Milwaukee or are a local trying to make the most of the place you call home, this list of 15 landmarks in Milwaukee highlights a variety of must-see spots within the city.
15 Milwaukee Landmarks
Milwaukee Landmarks Video
Check out our highlights video of Milwaukee landmarks.
Milwaukee Landmarks Map
A map of Milwaukee landmarks. Use the map to explore all of the points of interest.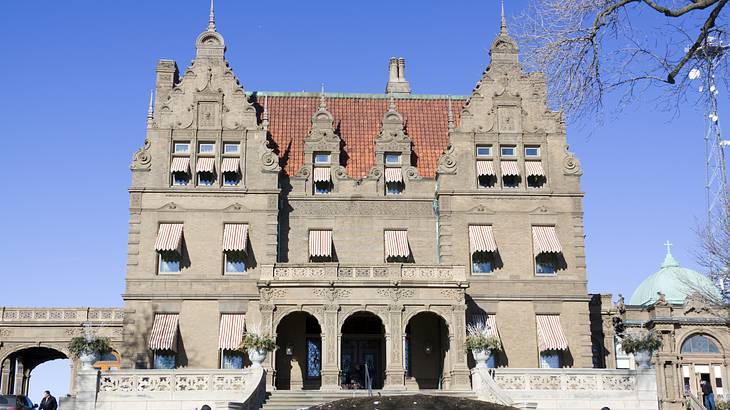 Pabst Mansion
Built between 1890 and 1892 for Captain Frederick Pabst, the Pabst Mansion is a 20,000-square-foot home on Wisconsin Avenue just west of Marquette University.
After being sold by the Pabst family in 1908, the Flemish Renaissance Revival landmark was owned by the Archdiocese of Milwaukee for nearly seven decades. Purchased from the Archdiocese by a historic preservation group, the Pabst Mansion has operated as a public museum since 1978.
Federal Building and U.S. Courthouse
Milwaukee's Federal Building and U.S. Courthouse is a five-story granite landmark in the historic Juneau Town neighborhood. Constructed between 1892 and 1899 in the Romanesque Revival and Richardsonian Romanesque styles, the Federal Building and U.S. Courthouse has housed federal offices, courts, customs services, and the United States Postal Service.
The landmark was added to the National Register of Historic Places in 1973. It remains a courthouse for the state of Wisconsin to this day.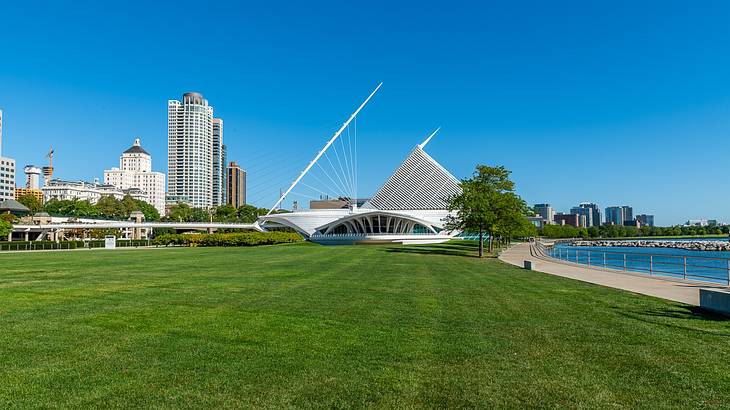 Milwaukee Art Museum
The Milwaukee Art Museum is the largest in the state of Wisconsin. It features a collection of more than 30,000 pieces of art across 310,000 square feet of space.
The Milwaukee Art Museum is, without a doubt, one of the most prominent Wisconsin landmarks for art lovers. One of the institution's most prized exhibits is its collection of works by Wisconsinite modernist painter Georgia O'Keefe.
Lake Michigan
As the fifth largest lake in the world, Lake Michigan is the most prominent of all Milwaukee points of interest. The city's position on the lake has even earned it the Milwaukee nickname of the Third Coast.
From water activities like kayaking and windsurfing to just taking in rays on famous city shorelines like Bradford Beach and South Shore Park Beach, Lake Michigan is a can't-miss during a visit to Milwaukee.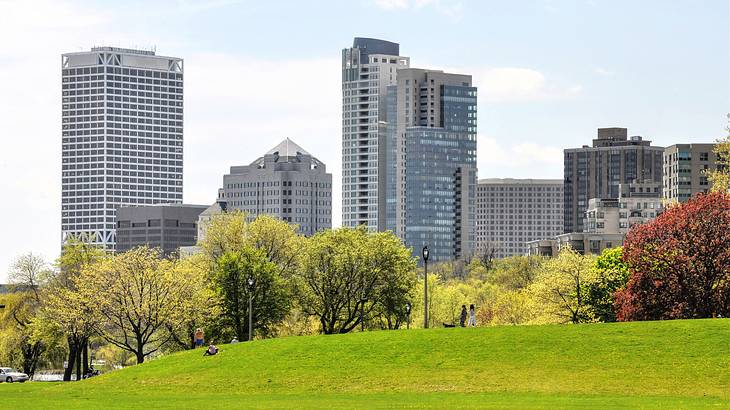 Juneau Park
Named after Milwaukee's first mayor, Solomon Juneau, Juneau Park is a 15.8-acre outdoor green space west of North Lincoln Memorial Drive and Veterans Park, along Milwaukee Bay.
Minutes from Downtown Milwaukee, Juneau Park features some of the best walking trails and views of Lake Michigan within the city's central area. You can also see some famous statues like the Juneau Monument and Leif, the Discoverer.
Iron Block Building
Situated on East Wisconsin Avenue just a block from the Milwaukee River, the Iron Block Building is the city's last remaining example of 19th-century cast-iron facade architecture.
The Iron Block Building's exterior is crafted from cast iron panels, which were considered cheaper and faster to install than traditional construction practices when it was built in 1860. The unique architecture of the building landed it a place on the National Register of Historic Places in 1974.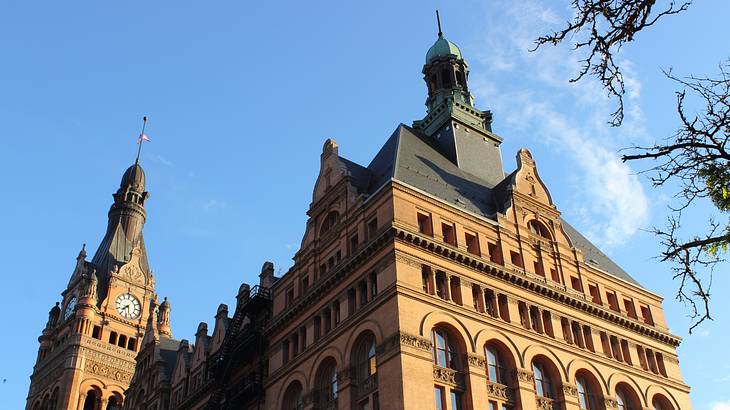 Milwaukee City Hall
Featured in city marketing and tourism campaigns throughout the 20th century, Milwaukee City Hall is both a functional government building and one of the most popular attractions in Milwaukee. Completed in 1895, Milwaukee City Hall was the city's tallest building until 1973.
The landmark, located just across the Milwaukee River from the Milwaukee County Historical Society, got a 60 million USD refurbishment between 2006 and 2008. This included a complete restoration of its bell tower.
Bronze Fonz
Standing along the Milwaukee Riverwalk, the Bronze Fonz pays tribute to one of Milwaukee's most famous (albeit fictional) sons: the Fonz. Portrayed on screen by actor Henry Winkler, the Fonz was one of the main characters in the hit 1970s sitcom "Happy Days," which was set in Milwaukee. The Bronze Fonz was installed in 2008.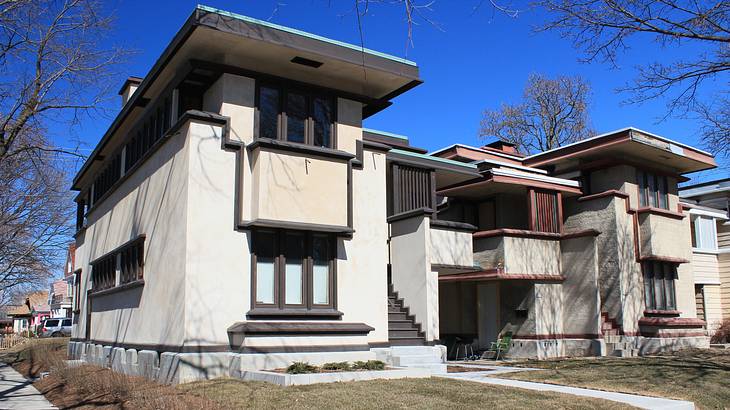 Frank Lloyd Wright's Burnham Block
One of the most interesting Wisconsin facts is that the state is the birthplace of famous architect Frank Lloyd Wright. In the early 1900s, Wright designed six working-class homes along Milwaukee's West Burnham Street.
Today, Frank Lloyd Wright's Burnham Block nonprofit owns four of the properties. It is working to restore them to their original splendor.
War Memorial Center
Originally planned as a tribute to Milwaukee County residents who died during World War II, the War Memorial Center also features monuments related to World War I, the Korean War, and the Vietnam War.
There's even a 10-foot bronze statue of Abraham Lincoln, president during the American Civil War. Milwaukee's War Memorial Center is a must-visit for anyone interested in the history of American conflicts.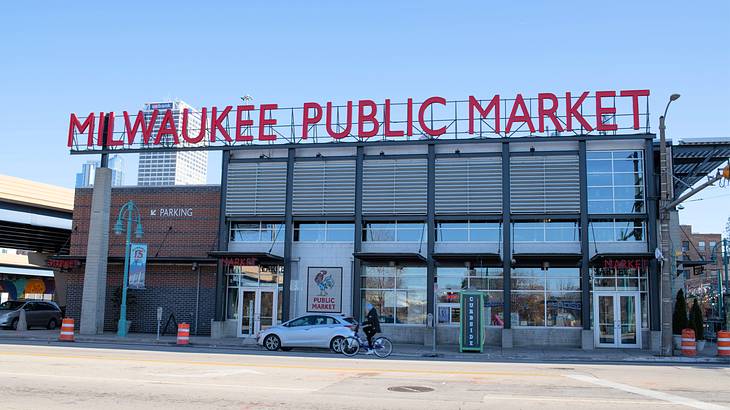 Milwaukee Public Market
Situated on the northern end of the Historic Third Ward, Milwaukee Public Market is an urban food court that hosts some of the city's most innovative up-and-coming chefs and artisan producers.
On top of prepared foods, the market also has vendors selling flowers, spices, apparel, and gifts. Milwaukee Public Market has become one of the most famous Milwaukee landmarks since its opening in 2005.
St. Paul's Episcopal Church
St. Paul's Episcopal Church is a Richardsonian Romanesque sandstone landmark in Milwaukee's Juneau Town neighborhood. The church is home to Wisconsin's most extensive collection of stained glass by designer Louis Comfort Tiffany of Tiffany & Co. fame.
Founded in 1838, St. Paul's Episcopal Church and its then-congregation of more than 1,000 members moved into its current location in 1884. The new church building was added to the National Register of Historic Places 90 years later, in 1974.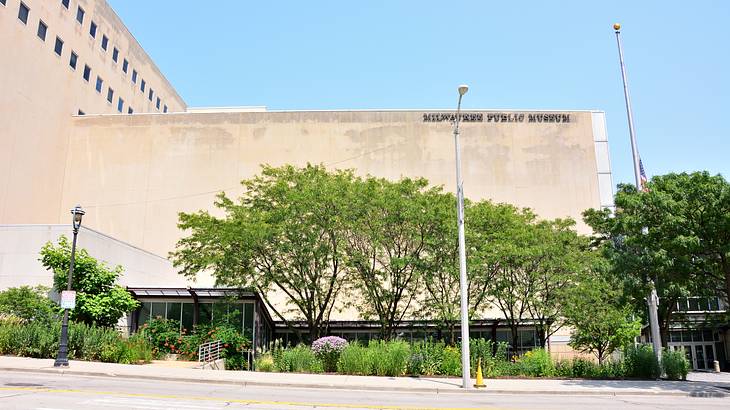 Milwaukee Public Museum
Milwaukee Public Museum prides itself as Wisconsin's natural history museum with an impressive catalog of more than four million pieces.
With collections ranging from anthropology to zoology, the museum welcomes individual visitors and offers group tours of its three floors of exhibits spanning 150,000 square feet. One can't-miss exhibit is the Puelicher Butterfly Wing and its glass-enclosed habitat.
Villa Terrace Decorative Arts Museum
Nestled among sprawling gardens on a bluff overlooking Lake Michigan, the Villa Terrace Decorative Arts Museum is housed in a Renaissance-style Italian villa. The museum is home to permanent exhibits, including the world's largest assemblage of Cyril Colnik ironwork.
It also regularly hosts traveling collections and events. But the Villa Terrace Decorative Arts Museum is perhaps best known as one of the most picturesque wedding venues in Milwaukee County.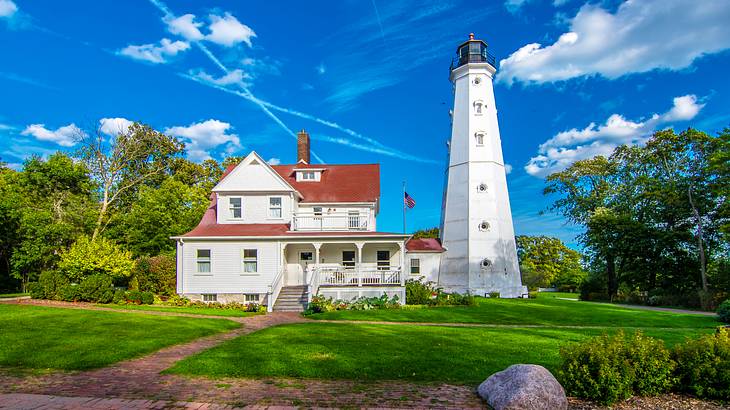 North Point Lighthouse
Set in Lake Park to the backdrop of Lake Michigan, the North Point Lighthouse is one of the best-maintained historical sites in Milwaukee. The lighthouse, decommissioned in 1994, marked the Milwaukee River's entrance within Milwaukee Bay. Today, the North Point Lighthouse is open to the public, with an informative museum guiding visitors through the site's past.
In Summary
With a history going back more than 200 years, Milwaukee is home to plenty of significant landmarks worth seeing during a visit to the city. From the Iron Block Building, which dates to 1860, to the Milwaukee Public Market, which opened in 2005, Milwaukee offers both historic and modern attractions.
Even if you call Milwaukee home, you've probably discovered a few exciting new landmarks, like the lesser-known Villa Terrace Decorative Arts Museum or the North Point Lighthouse. But whether you're from the city or just planning a visit, you'll find these 15 Milwaukee landmarks are only a part of all this waterfront city has to offer.
Want to keep exploring?
Subscribe for discounts on tickets and hotels and our latest guides.
Thank you for subscribing
We will be in touch soon with discounts on tickets and hotels and our latest guides.
Want to keep exploring?
Subscribe for discounts on tickets and hotels and our latest guides.
Thank you for subscribing
We will be in touch soon with discounts on tickets and hotels and our latest guides.