Where to Stay in Milwaukee, Wisconsin - 5 Best Areas & Hotels
Destguides may receive commissions from purchases made through affiliate links in this article.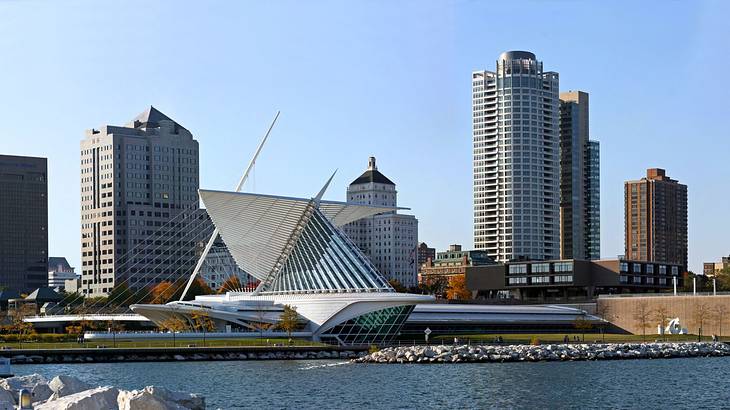 Located just off the shore of Lake Michigan, Milwaukee is an excellent destination for travelers from near and far. The rich history combined with cultural diversity gives it a unique flare that cannot be found in any other city.
Along with the eclectic atmosphere, the city is relatively compact, which makes it very walkable and easy to navigate. In addition, each neighborhood in the city is unique with its own charm, which begs the question, where is the best area to stay while in Milwaukee?
From the bustle of Westown to the laid-back Menomonee River Valley, there is a neighborhood for every type of traveler. So, continue reading if you want to discover where to stay in Milwaukee.
5 Best Places to Stay in Milwaukee, WI
Milwaukee Places to Stay Video
Check out our highlights video of Milwaukee places to stay.
Milwaukee Places to Stay Map
A map of Milwaukee. Use the map to explore all the places to stay.
Best Areas to Stay in Milwaukee, Wisconson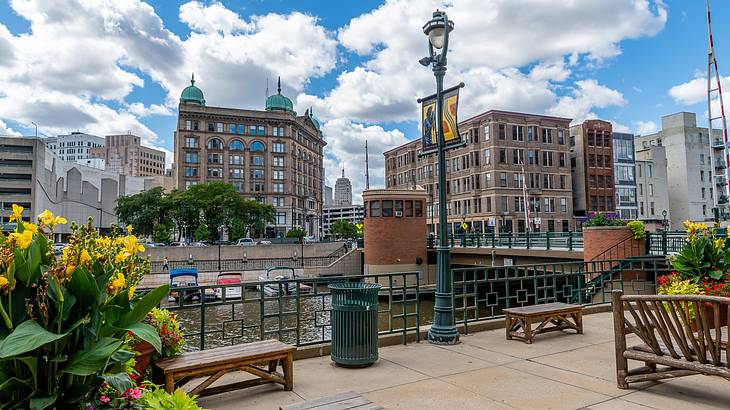 Historic Third Ward
It is said that every trip to Milwaukee should start in the Historic Third Ward. This revolutionized warehouse district is the true intersection of culture and creativity.
The Historic Third Ward is home to Milwaukee's highest concentration of art galleries and exhibition spaces. The numerous art galleries, the Milwaukee Ballet, and a park that hosts special events contribute to the vibrant atmosphere. If you are interested in the theater scene, the Broadway Theatre Center (home to the Skylight Music Theatre and Milwaukee Chamber Theatre) is also located in this lively neighborhood.
Additionally, there are a plethora of boutiques and specialty shops. Historic Third Ward is well known as the place in Milwaukee to adventure through many unique stores and markets. You will never be bored with all the fabulous activities at your fingertips.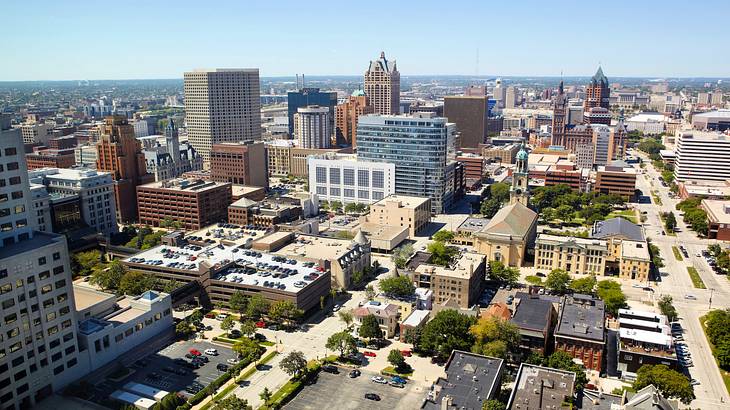 East Town
As a lively downtown community, East Town has something special to offer every tourist. This is the location to stay in Milwaukee if you prefer an energetic, active environment.
This district is located right along Lake Michigan and offers tourists direct access to the water. The views of the lakefront are breathtaking and a must-see during your visit.
Along with the gorgeous lakefront views, East Town boasts a scenic riverwalk and well-maintained paved paths for biking or running. In addition, riverboat tours take you out on the water so you can get a new perspective of the beautiful city while enjoying drinks and music.
If you enjoy spending time outdoors, the neighborhood is home to Jazz in the Park and Milwaukee's Cathedral Square Market. Your days of exploration may also lead you to theaters, museums, or an award-winning restaurant when you reside in East Town.
Westown
This part of Milwaukee provides visitors with the ultimate downtown experience. Nestled in the heart of the city, Westown is the ideal destination if you prefer a central location with just about everything to offer.
The options are plentiful, from exploring engaging exhibits at the Milwaukee Public Museum to attending an NBA game at Fiserv Stadium. Westown also boasts intricate, grandiose architecture that combines old-world and modern styles. Beyond the beautiful buildings, you will find various restaurant and nightlife options just outside your door.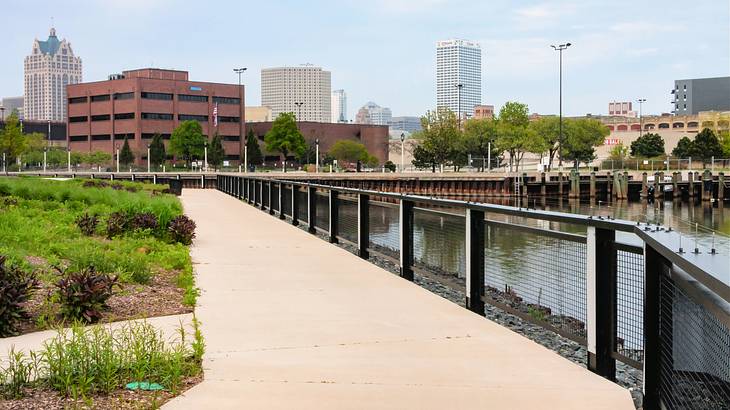 Menomonee River Valley
Menomonee River Valley is just west of the heart of Milwaukee's downtown hustle and bustle. The once-desolate industrial area has undergone a significant transformation.
Today, it is home to Three Bridges Park, a scenic 24-acre park, and multiple other must-see attractions. This is the best neighborhood to stay in Milwaukee if you want to experience greenery while not compromising the city feel.
Interestingly, the only Harley Davidson Museum in the world is located in Menomonee River Valley. Whether you are a motorcycle enthusiast or just appreciate the historical legacy, you will enjoy the fascinating exhibits found here.
Another hot spot is the Potawatomi Casino and Hotel. This casino has everything you need in one place; luxury accommodation, excellent dining, and engaging entertainment.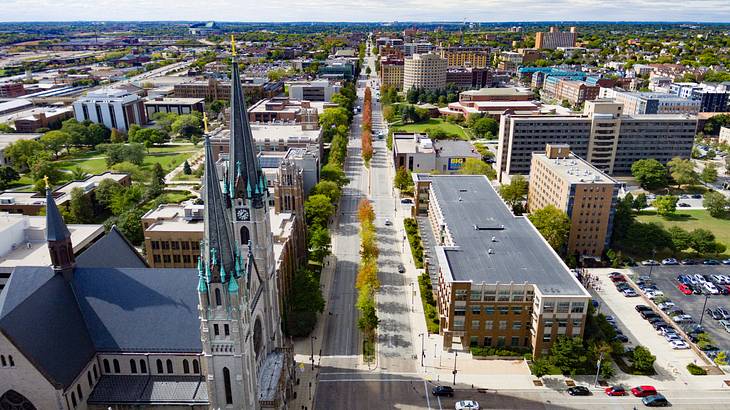 Avenues West
On the edge of Downtown lies Avenues West, a neighborhood that serves as the intersection between historical and contemporary atmospheres. The history of Avenues West goes back to the 1870s when it served as a residence for the wealthier individuals of Milwaukee. This means that the architecture of old mansions along Grand Avenue is breathtaking.
Nowadays, this neighborhood is known for its rich diversity and blend of cultures. Much of this integration is because Avenues West is home to Marquette University, a highly acclaimed school.
You will also find an array of quality dining options and nightlife around the college neighborhood. A notable college favorite is Soblelman's Pub and Grill, which offers the famous "Hangover Burger." There is no doubt that your stay in Avenues West will leave you wanting to return!
Where to Stay in Milwaukee, Wisconsin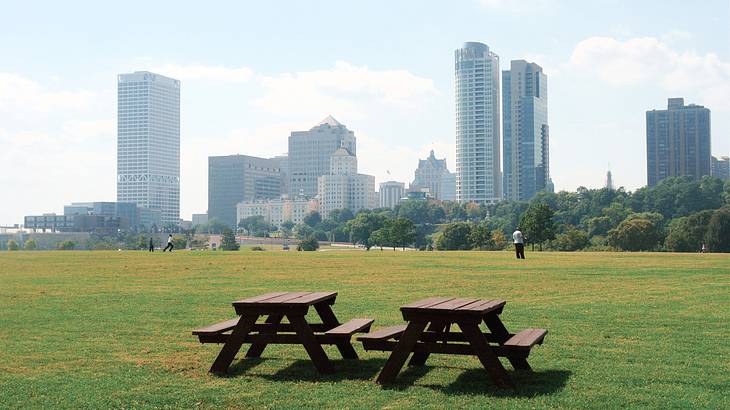 Where to stay in Milwaukee with family?
Milwaukee is a wonderful city for families to visit. From engaging museums to fabulous outdoor spaces, the children are sure to be entertained from the moment you arrive. The best place to stay while in Milwaukee for families is most definitely East Town.
With plentiful outdoor spaces and events, there is always something to do in this neighborhood. Notably, East Town hosts North America's largest outdoor French-themed festival, known as Bastille Days. This festival in July offers fun activities for adults and children of all ages. Every year, families flock to the park from around the country to attend the event.
If you cannot be around for this event, you can still stop by Cathedral Square Market every Sunday. This market is open on Sunday mornings and offers a wide variety of fresh produce, local art pieces, and live entertainment. There are even yoga classes that will help you and your family find your inner zen.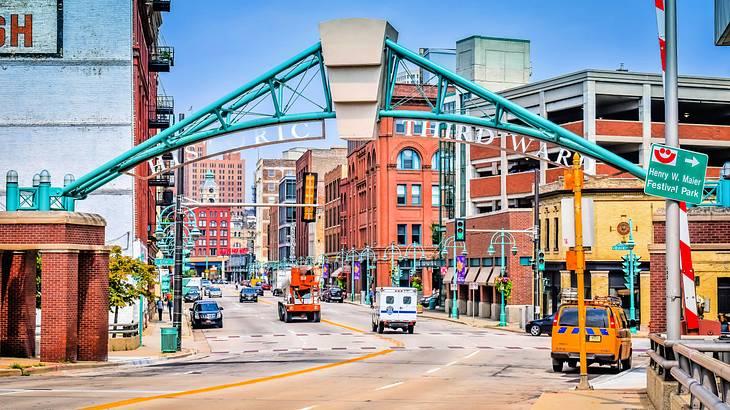 Where to stay in Milwaukee for a romantic getaway?
Downtown Milwaukee is the place to stay for a romantic getaway. The downtown area provides visitors with the ultimate experience of all Milwaukee has to offer. The city is compact, which allows for easy walkability and access between activities.
Historic Third Ward is another ideal place for those looking to take a romantic getaway. You can enjoy one of many unique date ideas in Milwaukee while in this area, like going to an art gallery or shopping at diverse markets.
You can also have a dinner date at a plethora of restaurants. Restaurants in Historic Third Ward are known for being upscale and trendy, perfect for a date night dinner! After dinner, check out the Henry W. Maier Festival Park's schedule for events and live music.
The Broadway Theater Center also offers exhilarating performances throughout the year. There is no doubt that your romantic getaway stay in the Historic Third Ward will be action-packed and memorable.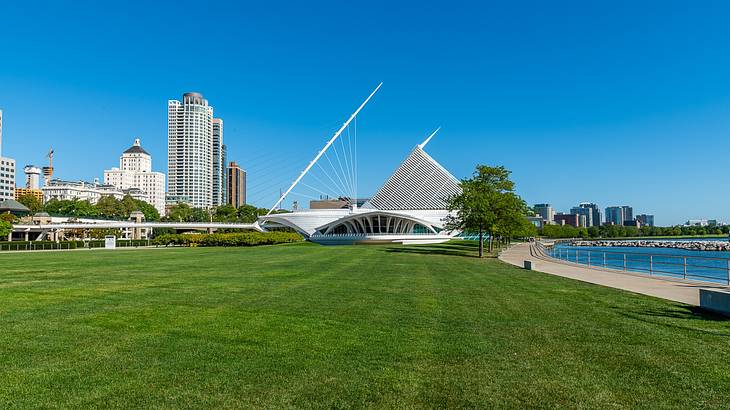 Where to stay in Milwaukee for sightseeing?
It is a challenge to pick an area to stay in Milwaukee when there are so many amazing sights to see. However, East Town is generally thought of as the ideal location to reside when you want to be central to attractions and landmarks.
This neighborhood in Milwaukee is home to lakefront museums and exhilarating summertime events. It has everything from large, open green spaces to upscale art and history museums.
If you enjoy tours, take a sightseeing walking tour. A tour offers an ideal way to learn about the culture, local lifestyle, and rich historical facts of all the Milwaukee landmarks and attractions you see.
Where to stay in Milwaukee for a weekend trip?
Do you only have a couple of days to spend in the great city of Milwaukee? No problem! You can pack a lot of excitement into one weekend.
Westown may be the perfect place for you to reside during a weekend getaway. As part of the downtown area, you will experience all the bells and whistles of Milwaukee in a short timeframe.
Sports fans can catch a Milwaukee Bucks NBA game at Fiserv Forum. Additionally, you can watch the Milwaukee Panthers NCAA basketball team play at UW-Milwaukee Panther Arena. In Westown, you are also only a block away from Old World Third Street, which is the cultural heart of the city's German heritage.
Alternatively, if you want to escape the city buzz, Menomonee River Valley is an excellent option for a variety of activities and accommodation. This place to stay in Milwaukee has lots to offer without requiring extensive travel, perfect for a short weekend getaway.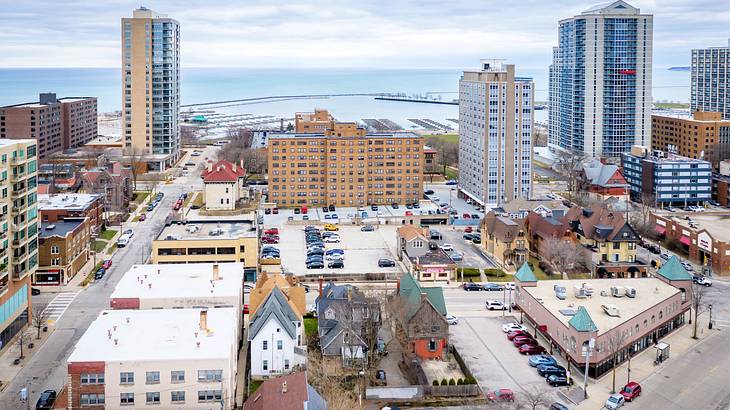 Where to stay in Milwaukee for a business trip?
There are two locations in Milwaukee that would be excellent places to reside for a business excursion. The East Town and Westown neighborhoods both offer excellent hotel accommodation for business travelers.
Both regions are fairly centrally located since Downtown is split into two halves. Therefore, it will not take much time to hop from meetings to dinner outings and back to your hotel. The area is very walkable and easy to navigate as well.
East Town and Westown also have excellent dining and entertainment options for unwinding after a long day of work. During your business trip, don't forget to check out one of the famous breweries with colleagues!
Swingin' Door Exchange is a staple of Westown and is known for the craft beers on tap. SafeHouse in East Town is another must-see pub in Milwaukee. This is the city's iconic hidden bar and restaurant, be sure to stop and explore during your business trip.
Where to stay in Milwaukee for nightlife?
If you prefer a laid-back, casual nightlife scene, Avenues West may be the right fit for you. This area is part of a college neighborhood, which means the atmosphere is more relaxed and party-like than in more upscale areas. In addition, Avenues West is famous for its college bars and breweries, which makes it a perfect bar-hopping location.
East Town also offers wonderful options for nightlife. With theaters, nightclubs, and other venues, you will not be bored during your time in Milwaukee. Water Street runs straight through the heart of Downtown and is popular among locals and tourists alike.
Pabst Theater on Water Street is a must-see location for nightlife in Milwaukee. With over 200 acts a year ranging from comedy shows to concerts, you will experience the true vibrancy of the city.
In Summary
Whether you are traveling solo, looking to take a romantic getaway, or exploring with family, Milwaukee has something unique to offer for every individual. From award-winning restaurants and breweries to laid-back college-town dive bars, foodies absolutely love visiting the city.
Additionally, shopaholics can "shop till they drop" at various marketplaces and boutiques. Fans from near and far can cheer on their favorite Wisconsin teams at state-of-the-art sports venues.
Even children can run and play in the parks with their families, and couples can enjoy the vibrant nightlife with one another. The possibilities are truly endless when you visit Milwaukee, Wisconsin!
Give us feedback about this article
Learn more about Milwaukee:
More articles about Wisconsin:
Read more articles about the United States:
More articles about places to stay:
---
---
Want to keep exploring?
Subscribe for discounts on tickets and hotels and our latest guides.
Thank you for subscribing
We will be in touch soon with discounts on tickets and hotels and our latest guides.
Want to keep exploring?
Subscribe for discounts on tickets and hotels and our latest guides.
Thank you for subscribing
We will be in touch soon with discounts on tickets and hotels and our latest guides.
Related Articles