18 Milwaukee Nicknames and the Reasons for Them
Destguides may receive commissions from purchases made through affiliate links in this article.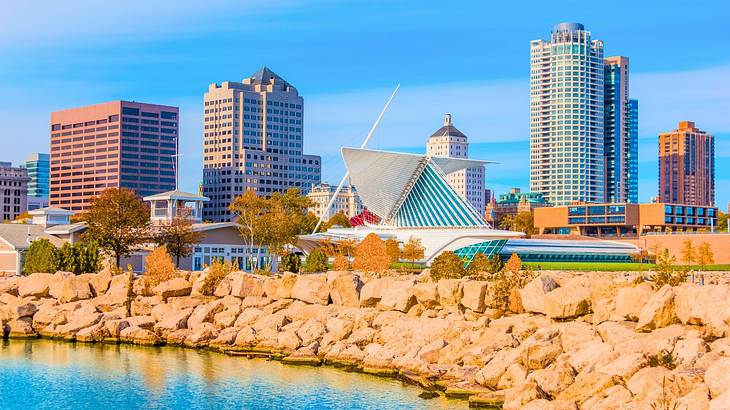 As Wisconsin's largest city, Milwaukee has a reputation as a bustling cultural hub on Lake Michigan with a diverse population. It also boasts plenty of slogans, so make sure you use one of these Milwaukee nicknames next time you visit.
In fact, Milwaukee has so many monikers that it's often dubbed the city of nicknames - which might just be the best nickname in the world, right? There are practical names, like the 414 and MKE, as well as those like the Beer Capital of the World, that tell us plenty about Milwaukee's culture. And then there are the downright strange names, like Moo-Waukee!
But no matter how you decide to refer to Milwaukee, it remains a vibrant and exciting city that should be on your US bucket list. Keep reading to discover the top Milwaukee monikers you need to remember.
18 Nicknames for Milwaukee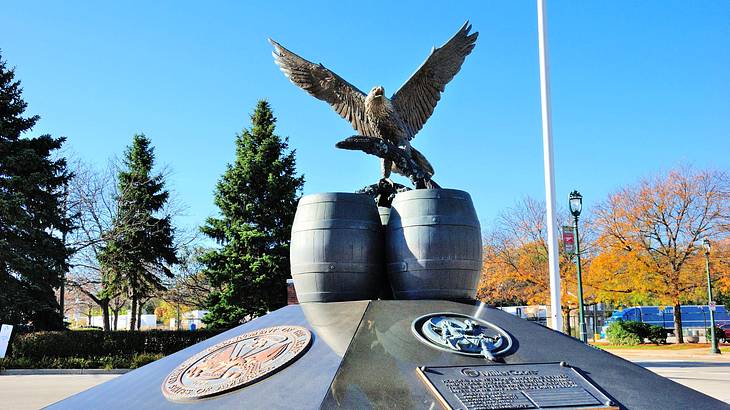 Beer Capital of the World
Beer Capital of the World is the first of many beer-related nicknames for Milwaukee, a city that's kind of obsessed with all things brewed. While many cities in the USA try to claim this title (Denver, Portland, and Grand Rapids, to name a few), Milwaukee is more than deserving.
This dates back to the 19th century when Milwaukee's beer culture was thriving. Today, Milwaukee's MillerCoors brewery produces more than 10 million barrels of beer annually! The city is also home to a large number of breweries and pubs where you can indulge in a local pint or two.
Brew City
Brew City is another moniker that nods to Milwaukee's beer history. This, in part, is thanks to the influx of German immigration in the 19th century.
When Germans started to settle in Milwaukee, they brought their love for brewing beer along with them, as well as their successful techniques. Eventually, this helped Milwaukee establish itself as a powerhouse in the USA brewing scene.
By the end of the 19th century, Milwaukee boasted a number of large breweries, including Pabst, Schlitz, and Miller. Not only did these breweries produce a wide variety of beers, but their products were distributed all over the world, putting Milwaukee on the beer map.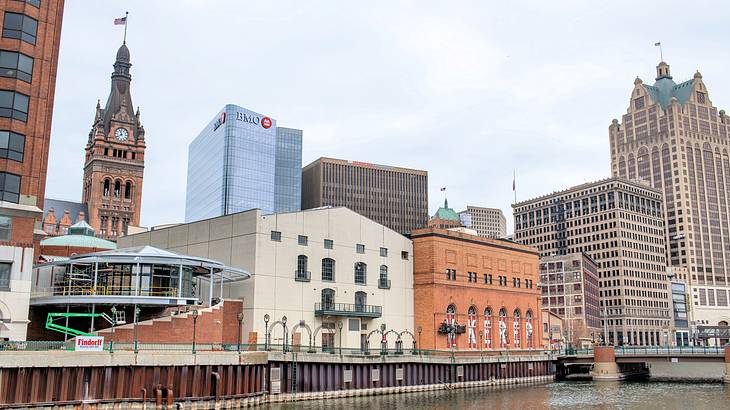 Brewtown
You can already guess where this next nickname stems from. While it might not be as famous for its brews as the likes of Denver and Memphis, Milwaukee is often referred to as Brewtown (or Brew Town), thanks to the abundance of craft breweries in the city.
From classic barrel-aged beers to fancy IPAs, and even flavored beers, you're guaranteed to find your new favorite drink in Milwaukee. Central Waters, Lakefront Brewery, Eagle Park Brewing Company, and the Good Brewing Company are some of the most popular craft beer companies to come from Milwaukee.
And visiting their taprooms in the city to chill out after a long day of exploring is the perfect way to unwind in Milwaukee. Better yet, many of these breweries are near Milwaukee River, so you can enjoy a pint with a view.
Cream City
Many people think that the Milwaukee nickname Cream City refers to Milwaukee's large number of cows, but it actually has more to do with its architecture. Cream City bricks are light in color and made of clay. They're incredibly striking and can be found on the vast majority of the buildings, from old breweries to government buildings and even the Milwaukee Public Library.
Frank Lloyd Wright was one of the top architects in Wisconsin throughout the early 20th century. He was responsible for a number of cream-colored buildings across Milwaukee, as well as some more unique builds. He was even the inspiration behind Santiago Calatrava's Milwaukee Art Museum.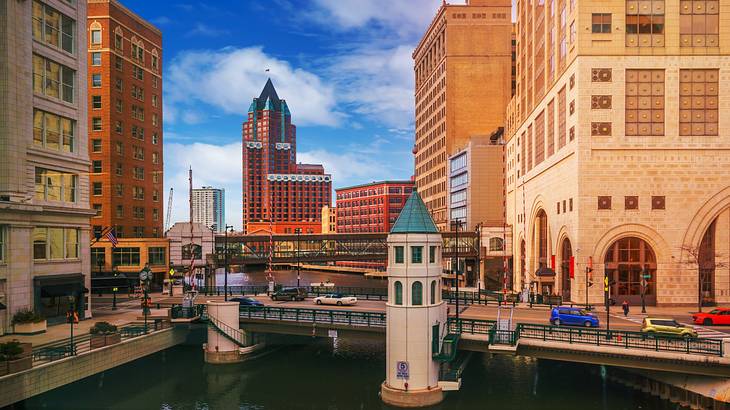 Machine Shop of the World
One of the more unique names for Milwaukee is the Machine Shop of the World. This slogan relates to the abundance of industrial workers in the late 19th century, mainly made up of European immigrants (by 1870, a third of Milwaukeeans were born in Germany).
Some of the most common industries were breweries, tanneries, steel mills, and granaries. This was aided by the fact that Milwaukee sits on Lake Michigan's western shore and had excellent transport links. Additionally, the invention of the railway made it a lot easier for goods to be transported to the western part of the United States.
MKE
Many cities will adopt their nearest airport's IATA code as an informal nickname, and Milwaukee is no different. So, MKE is a rather straightforward name for Milwaukee and has become one of the most popular ways to refer to the city.
Milwaukee Mitchell International Airport is the airport's official name. However, you will see the IATA code all over Milwaukee, from the airport welcome sign to numerous companies named after the city. It's also how most people from Wisconsin will refer to Milwaukee on social media, as it saves you a lot of typing time!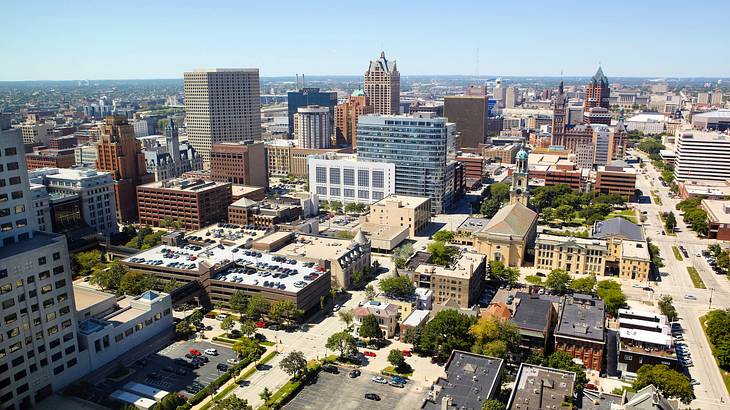 Smallwaukee
Despite Milwaukee having a larger population than Madison, the capital of Wisconsin, it retains a small-town feel. This has led to the loveable moniker Smallwaukee. This is used to describe the city in a positive way to celebrate the city's welcoming atmosphere.
Milwaukee is fairly small, and it is possible to walk or cycle to the majority of tourist attractions. There's also a strong sense of community amongst the locals, not to mention that there are plenty of small businesses and farmers' markets to support.
Bay View is an excellent example of Milwaukee's community spirit. It's a neighborhood that feels more like a cookie-cutter village, and it even existed as its own independent town between 1879 and 1887.
The 414
The 414 is a Milwaukee name that has simple origins. This is the city's area code. Like with many cities across the USA, the locals have taken this code and adopted it as a symbol of the city.
However, Milwaukee has taken it a step further: there's a day dedicated to this code. April 14th is a day in which Milwaukeeans celebrate the city they call home. If you visit Milwaukee on this day, you'll notice plenty of celebrations across town (and lots of Milwaukee's tasty craft beer will also be available).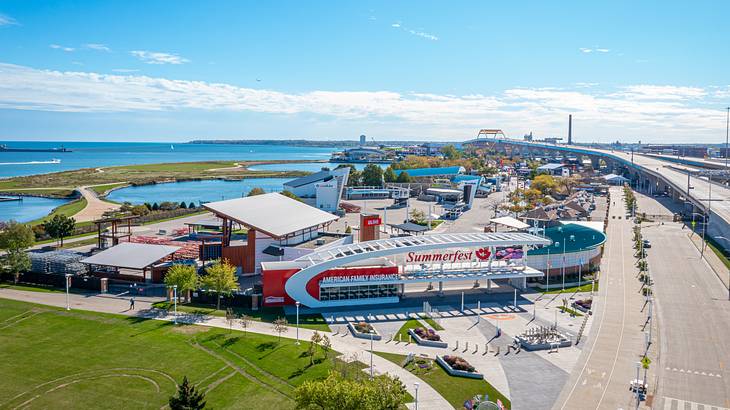 The City of Festivals
Festival lover? Make sure you pay a visit to Milwaukee. The city is known for hosting more than 100 festivals every single year, which has given it the City of Festivals nickname.
Some of the top festivals include Brewfest, an annual celebration of all things beer, as well as the one-day bike ride known as Riverfest 24. And, if you fancy getting your hands dirty, there's the Tomato Romp that takes place on the East Side. At this event, you can throw tomatoes at your friends with zero consequences.
The German Athens of America
Wisconsin has plenty of German heritage, and nowhere is this clearer than in Milwaukee. This has led to the city being dubbed the German Athens of America or das Deutsch-Athen Amerikas, as it is in German.
Why Athens? Well, it's related to the way in which the Greek capital is known for being the cultural hub of an ancient civilization. Milwaukee was (and still is) home to a substantial German community that allowed music, TV, and even newspapers in the German language to thrive.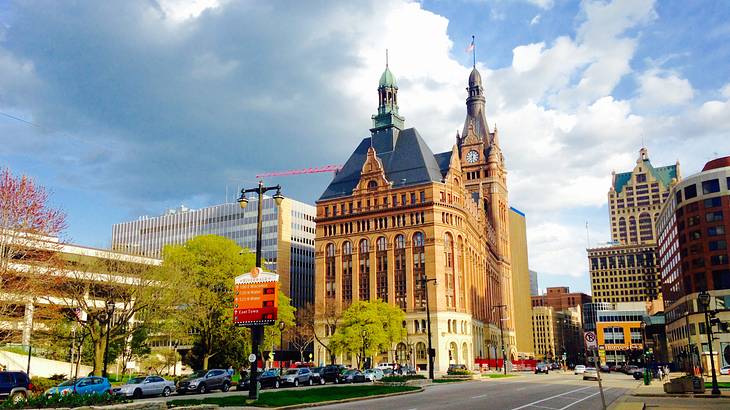 City of Steeples
The City of Steeples is another name that pays homage to the city's European influence. When immigrants from Germany, Poland, and the UK settled in Milwaukee, they built churches with impressive steeples all over the city.
Are you planning a trip to Milwaukee? Make sure you visit some of these religious buildings. The Calvary Presbyterian Church, the St. Joan of Arc Chapel, and the Saint John Evangelical-Lutheran Church are some of the most beautiful and famous churches in the city.
The Good Land
In a myriad of Native American languages, like the Ojibwa, Potawatomi, and Menominee, Milwaukee translates to the Good Land. This is where the next Milwaukee slogan stems from.
The nickname was popularized in the movie Wayne's World, where Alice Cooper states that Milwaukee comes from an Algonquin term. While he wasn't quite right (that's an entirely different language), this scene about Milwaukee has turned into an internet meme that caused the Good Land moniker to spread.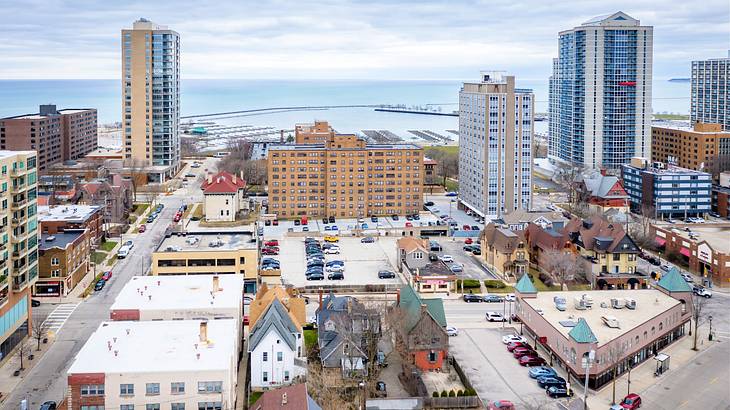 The Mil
Milwaukee is often referred to as the Mil by younger locals. This is a shortened name and a more relaxed way to refer to the city, which also reflects Milwaukee's laid-back vibe. While this isn't an official nickname, it's one of the most common. If you use this when you visit Milwaukee, you'll sound like a true Milwaukeean.
Third Coast
It's commonplace to refer to the USA as having three coasts: the West Coast, the East Coast, and the Third Coast. The Third Coast is most often used to describe the Great Lakes region.
The Great Lakes is a region of North America that surrounds the five Great Lakes: Superior, Michigan, Huron, Erie, and Ontario. Milwaukee sits on the edge of Lake Michigan, therefore making it part of the USA's Third Coast.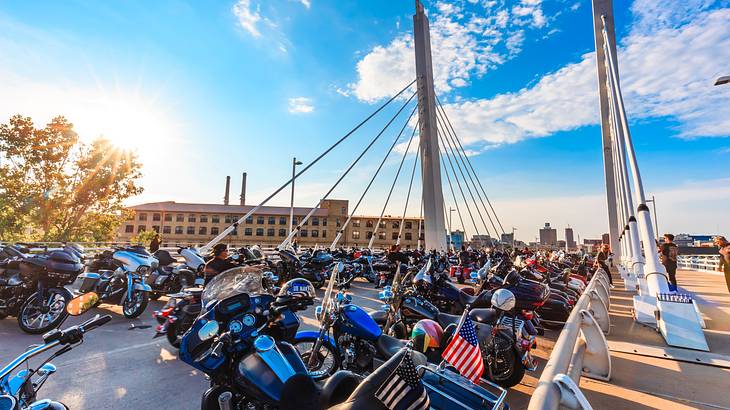 Motorcycle Mecca
Motorcycle Mecca is a fun way to refer to Milwaukee. Why? The city has a hardcore motorcycle community and birthed one of the most famous motorbike brands in existence.
Harley-Davidson was founded in Milwaukee in 1903, and the headquarters is still in the city today. Additionally, the Menomonee Valley neighborhood is home to the Harley-Davidson Museum dedicated to the biker brand (it's one of the top landmarks in Milwaukee). If you're a petrolhead, you also need to attend Brewtown Rumble, Milwaukee's most famous motorcycle show that takes place annually.
Terrible City
While most of Milwaukee's nicknames have been formed in the city's long history, Terrible City is a modern moniker with a rather awkward story behind it. In June 2021, while the NBA playoffs were in progress, an ESPN presenter referred to Milwaukee as a "terrible city" live on air.
The Milwaukee Bucks (the city's basketball team) and the residents of Milwaukee were, understandably, upset by this comment at first. Following the event, outrage poured in over social media. But what followed has been a tongue-in-cheek attempt to reclaim this nickname in order to prove that Milwaukee is, in fact, a wonderful city.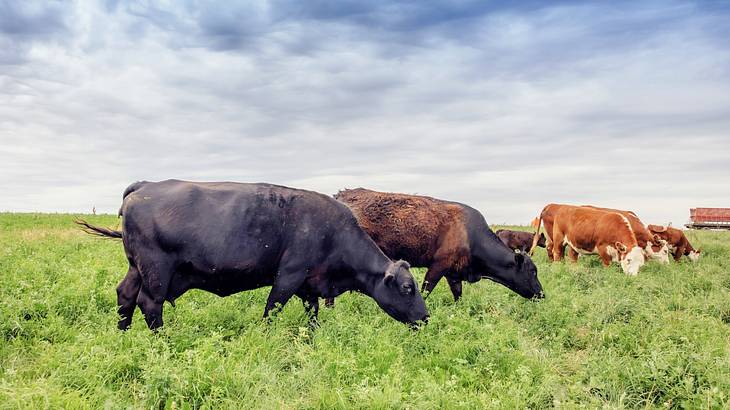 Moo-Waukee
Moo-Waukee is possibly the funniest nickname for Milwaukee. But how did it get this cow-related moniker? Dairy is a huge industry in Wisconsin, and the state is often called America's Dairyland for this very reason. You'll even see this slogan on license plates.
Greater Milwaukee is home to a large number of dairy farms. Additionally, Milwaukee sounds a little bit like Moo-Waukee, which is how this nickname soon caught on.
Fresh Coast
Former Milwaukee Mayor, Tom Barrett, is responsible for the next name. At a Washington DC speech in 2008, he proposed the idea of referring to Milwaukee as being on the Fresh Coast, thanks to Lake Michigan's freshwater rather than on the Rust Belt.
The Rust Belt is a negative term that describes the industrial decline that has faced many cities in the northern and midwest regions of the USA. It references the old factories that dot the likes of Milwaukee, Buffalo, and Detroit, gathering dust and becoming rusty.
In Summary
Milwaukee is a city with a thousand nicknames, and you'll likely hear more than a few when you visit. Many of these names are practical, such as the 414 and MKE, which relate to the city's area and airport codes, respectively.
But some of these monikers have more unique origins, like Milwaukee's many beer-related nicknames that chart the city's long history with brewing. Additionally, the German Athens of America and the City of Steeples both illustrate the area's fascinating history with European immigration and the resoundingly positive influence it has had on this beautiful Wisconsin city.
Give us feedback about this article
Learn more about Milwaukee:
More articles about Wisconsin:
Read more articles about the United States:
More articles about nicknames:
---
---
Want to keep exploring?
Subscribe for discounts on tickets and hotels and our latest guides.
Thank you for subscribing
We will be in touch soon with discounts on tickets and hotels and our latest guides.
Want to keep exploring?
Subscribe for discounts on tickets and hotels and our latest guides.
Thank you for subscribing
We will be in touch soon with discounts on tickets and hotels and our latest guides.
Related Articles