16 Most Romantic Things to Do in Prague for Couples
Destguides may receive commissions from purchases made through affiliate links in this article.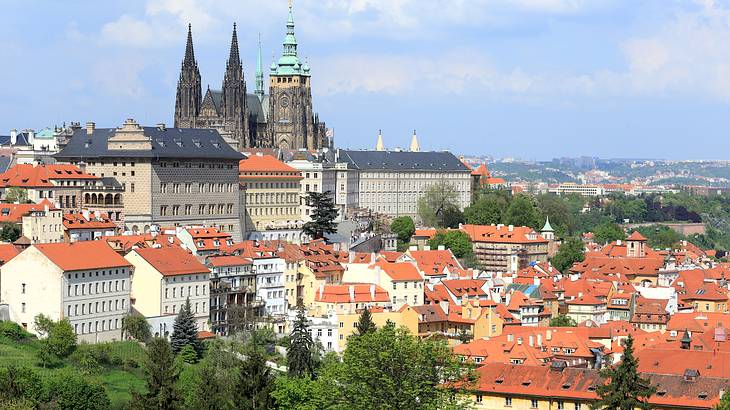 Prague, along with London, Paris, and Rome, is one of the most beautiful and romantic cities in Europe. If you have booked a romantic getaway to the capital of the Czech Republic with your loved one, whether for a long weekend or just 48 hours, you are probably looking for the most romantic things to do in Prague for couples.
Luckily for both of you, Prague is packed with breathtaking architecture, stunning views, charming alleys, maze-like cobbled streets, and fascinating art galleries. It might not be as grand as Paris or Rome, but there are plenty of romantic things to see and do in Prague.
Prague is also full of great food options and lovely restaurants, with fantastic dining spots dotted all over the city. You can find fabulous high-end restaurants along Prague Castle, Vltava River, Old Town and Lesser Town.
For the less expensive but still charming options, head to a traditional Czech pub, which are often tucked away inside Prague's narrow alleys. These pubs serve tasty locally-brewed beer and heartwarming homemade meals.
As you can see from the quick overview above, you will not be short on options when it comes to finding romantic places in Prague for both you and your partner.
16 Top Romantic Places in Prague for Couples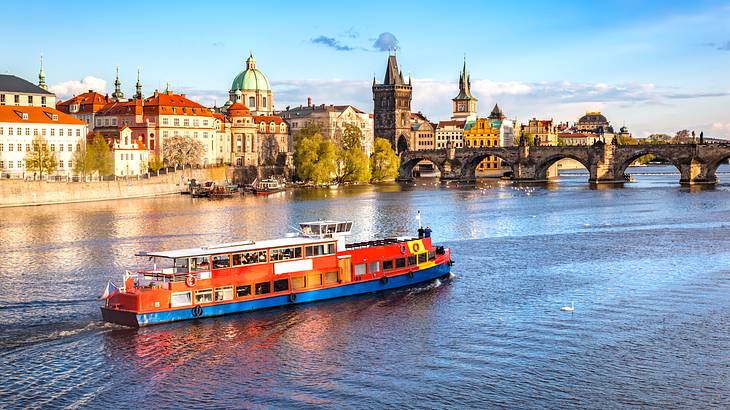 Vltava River Cruise
Vltava River is the longest river in the Czech Republic and divides Prague into two parts: the Old Town (Stare Mesto) with New Town (Nove Mesto) and the Lesser Town (Mala Strana).
River cruises run daily from late morning until late evening, every half hour or hour depending on the season. Cruises are usually in between 1 - 2 hours long and pass through the most famous landmarks in Prague.
You will be able to see the stunning beauty of Prague Castle, Lesser Town, Old Town, New Town and Charles Bridge. I recommend taking a cruise in the evening, allowing you to enjoy breath-taking night views of the city with a glass of wine and lovely music. A Vltava river cruise is one of the most romantic things to do in Prague at night.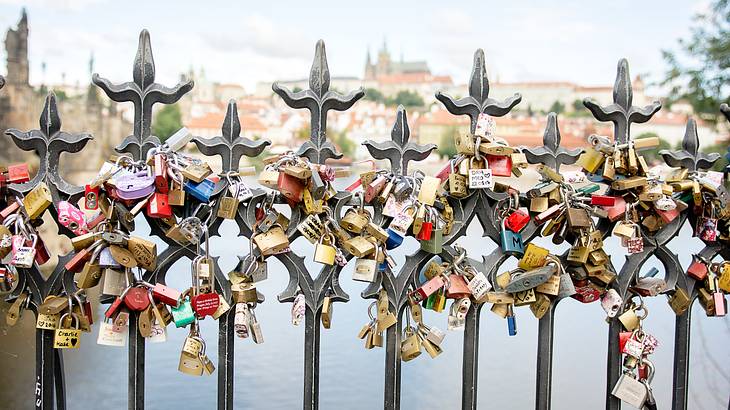 Love Lock Bridge
Love Lock Bridge (Lovers Bridge) is a simple pedestrian bridge in Lesser Town, close to Prague Castle and the John Lennon Wall. The bridge got its name from the locks that are on the bridge's structures. However, its history has deeper roots.
The tradition of putting locks on the bridge came from a local legend of two lovers whose families didn't approve of their relationship. According to the legend, the lovers planned to meet on the bridge for a kiss. However, their families discovered their plans and killed them.
Now, the bridge is a significant tourist attraction that attracts tourists and local couples who are eager to put their lock on the bridge as a symbol of eternal love. To find the bridge, follow directions to the John Lennon Wall and head towards the stream.
Charles Bridge
Built during the 14th century, the Charles Bridge spans over 516 metres and is the most iconic European landmark in the Czech Republic. It is a Gothic-style stone bridge that connects Old Town and Lesser Town and showcases the best views of Prague.
The bridge is adorned with majestic lamps, 30 grand statues and beautiful towers at the end of it. It is these features that immediately catch the eyes of every passerby.
You can reach the bridge by tram (Malostranské náměstí tram station) or by walking from Prague Castle. I recommend visiting the bridge for the sunset or sunrise as you will be able to catch the most beautiful views of the Vltava River.
There are several restaurants next to Charles Bridge, making the nearby area a perfect place for a romantic dinner with bridge views.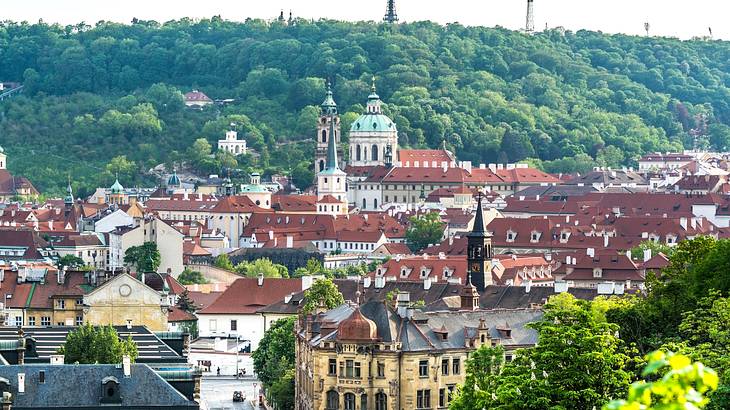 Malá Strana
The beautiful district of Malá Strana is nestled across the river from the Old Town.
Malá Strana or Lesser Town, or even 'Little Quarter' if translated from Czech, is filled with cobblestone squares and alleys, medieval churches, hidden gems (gardens) and other cultural sights.
I recommend walking around the district as you will discover its rich history and find impressive old cellar pubs and traditional Czech restaurants serving the best Czech meals in Prague city this way.
There is nothing more romantic than wandering around the maze-like streets of Lesser Town. Also, if you are looking for gifts, Lesser Town is the ideal place for shopping for traditional Czech glassware and handcrafted jewellery.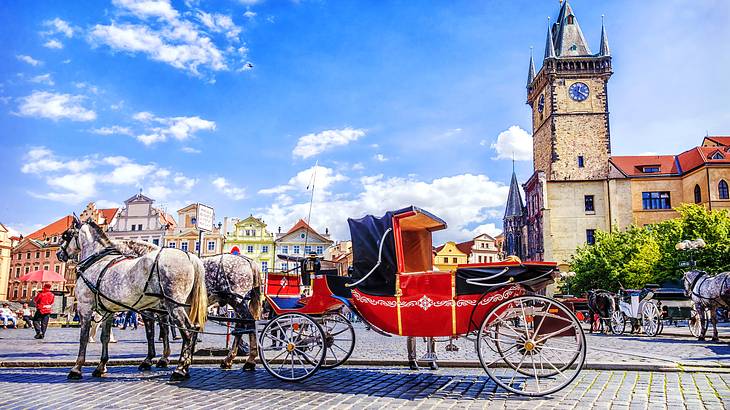 Horse Drawn Carriage Ride
A horse-drawn carriage ride is another activity I recommend for couples who want to make their evening more romantic and unique. You can find the carriages around the Old Town Square all year round.
A tour usually starts and ends at Old Town Square. A single carriage is suitable for up to four people. The experienced driver will take you through the most beautiful streets and famous sights of Prague. So sit back, relax and enjoy the ride.
A carriage ride usually lasts for 20 minutes. However, most drivers are happy to rent a carriage to you for up to an hour on request. I recommend starting with 20 minutes, and if you've fallen in love with the ride, you can always ask to extend your journey.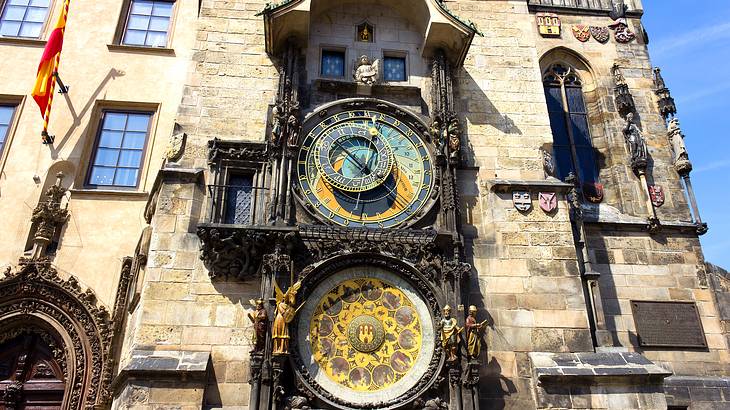 Astronomical Clock
The Astronomical Clock is the most popular tourist attraction in the Czech Republic. It is a medieval clock built into the Old Town Hall Tower and is visible from the tower's chapel and the Old Town Square.
The clock was created in 1410. In that same year, it was placed on the front of the tower. When the clock strikes the hour, the mechanism sets a procession in motion. During the event, the eight figures on the side of the clock move as well. Four of the eight characters represent civic anxieties of the 15th-century people; Vanity, Greed, Death and Pagan Invasion.
The performance lasts for 45 seconds and attracts hundreds of people. I recommend getting there 10-15 minutes before the hour. Bring a warm coffee along and hold a spot just below the clock face.
State Opera
Initially built in 1888 as a German theatre, the State Opera is now an opera house that hosts about 300 performances a year. It is located in a grand neo-renaissance building with a luxurious looking interior.
I recommend having dinner at Wenceslas Square or Old Town Square. After dinner, you can head to the opera house for a show. It is located a few minutes walk from Wenceslas Square and a 15-minute walk from the Old Town Square. An event at the State Opera is a great way to end your evening date.
Most of the tickets can be purchased online or at the State Opera building several days in advance. Due to its majestic exterior and interior, the Prague State Opera building is one of the most beautiful and romantic theatre buildings in Europe.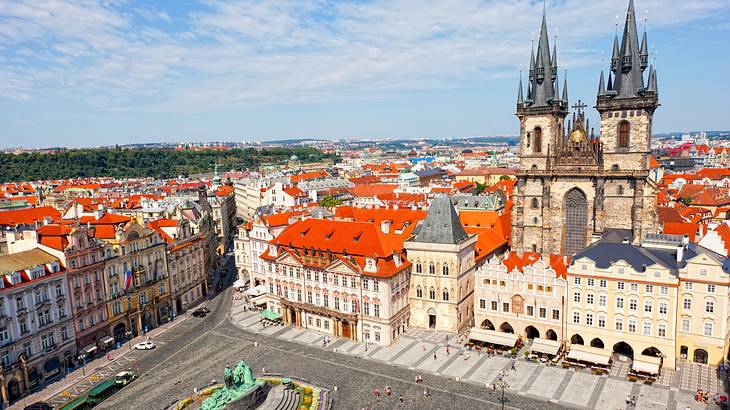 Old Town Square
Old Town Square, or Staroměstské náměstí in Czech, is a central square in the Old Town. It was constructed in the 12th century, and since then, has been a centre for various historical events.
The square is located between Wenceslas Square and Charles Bridge. It is surrounded by many recommended sights, such as the Church of Our Lady before Týn, Kinský Palace, the Astronomical Clock, Old Town Hall and more.
Old Town Square is a great spot to start sightseeing and to relax after long walks. It often hosts street performances. I recommend spending some time here to enjoy the atmosphere.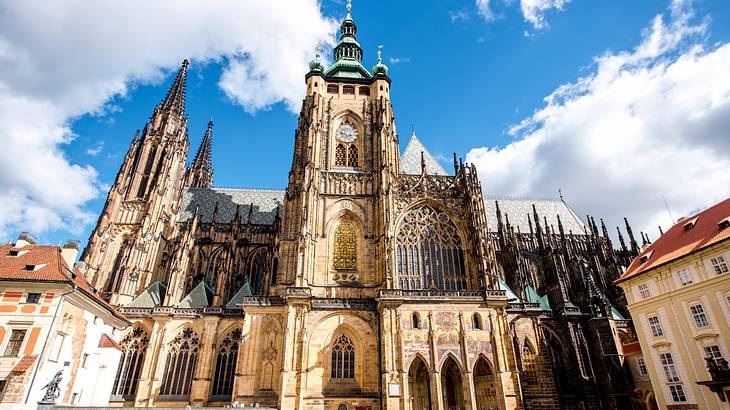 Prague Castle
Prague Castle (Pražský hrad) complex is one of the best Czech castles to visit and the most historically significant monument in the Czech Republic. Founded in 880 AD, the Prague Castle is believed to be the largest castle complex in the world and is included in the UNESCO World Heritage List.
It is located in the Castle District (Hradčany) and sits on a hill overlooking the city and Lesser Town. The castle complex consists of numerous historic buildings, including the presidential residence, art galleries and St. Vitus Cathedral.
The courtyards are free to enter. However, you will need to buy a ticket to enter the buildings. If you are looking for something more romantic than a tour around the castle, consider purchasing tickets for a concert in the castle complex.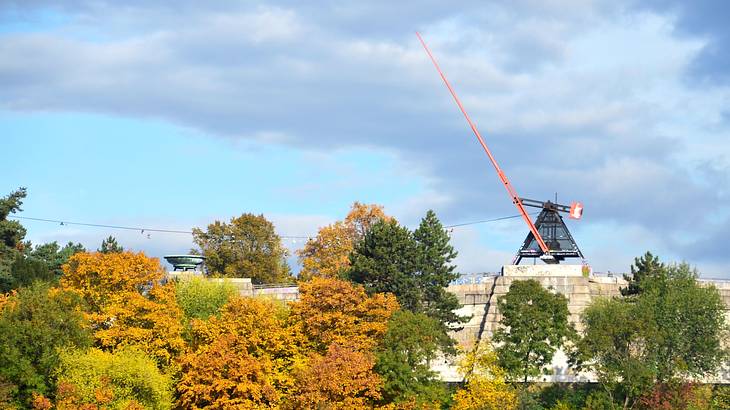 Letna Park
Letna Park (Letenské sady) is a massive park located on an embankment overlooking the Vltava River. The park became famous in Eastern Europe for having the most significant monument of Stalin in the world. The memorial was removed in 1955, however, and now a giant ticking metronome is standing in its place.
A little bit further from the metronome is a Hanavský Pavilion - a neo-Baroque cast-iron building with a cafe overlooking the bridges of Prague and the city area.
If you aren't a fan of coffee and cake, the park has a beer garden which serves the best locally brewed beer. Deeper inside the park, you will find walking trails, Letna Mansion with a luxurious restaurant and the oldest functioning European carousel.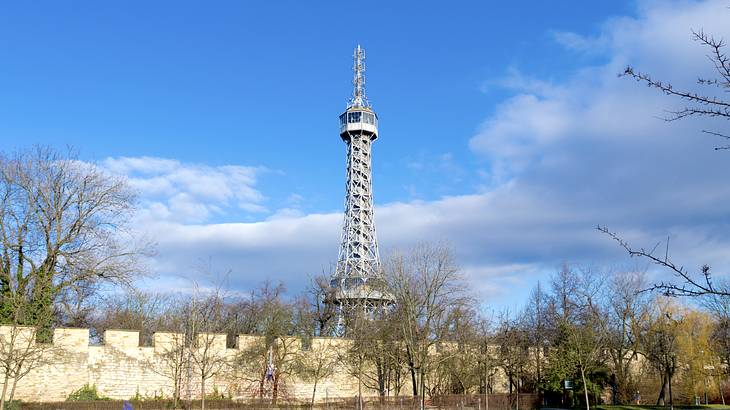 Petrin Tower
Petrin Tower, also known as Petřínská rozhledna or the Petrin Lookout Tower, was built in 1891 for the General Land Centennial Exhibition. Standing on Petrin Hill, the tower reaches a height of 63,5 metres. It has two viewing platforms, with the highest one located at 55 metres. To get to the top of the tower, you will need to climb 229 steps, but it's worth the spectacular views of the city.
Petrin Tower is sometimes called a 'mini version' of the Paris Eiffel Tower because of its similar metal structure. It is also the romantic symbol of Prague attracting thousands of couples every year, so it should not come as a surprise that it has been included as one of the most romantic spots in Prague to visit. For the most romantic view, visit the tower in the evening.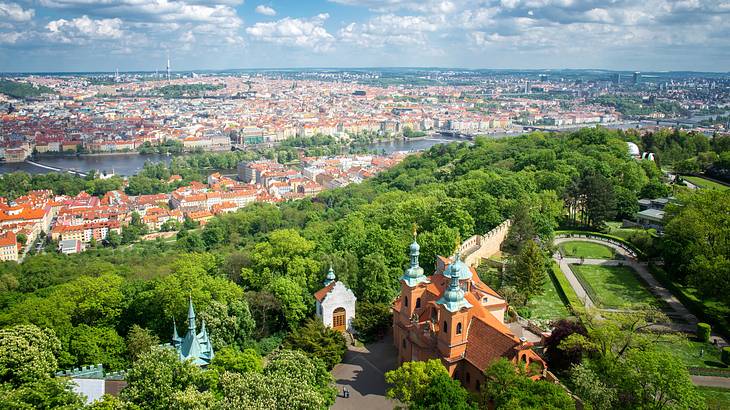 Petrin Park
Petrin Park (Petřínské sady), or Petrin Gardens, is a large urban park located on Petrin Hill. It offers many picturesque and unobstructed views of the city. The park is divided into several gardens, such as the Rose Garden, Lobkowicz Palace Garden, Nebozízek Garden, and Seminar Garden, which has more than 2,100 fruit trees. You will also find playgrounds, benches, and picnic spots here.
Petrin Park is extremely popular among families and couples due to its relaxing atmosphere and striking viewpoints. You can also try to escape from the mirror maze located here. To add more romance, take the funicular to the top of the hill during sunset!
Vitkov Hill and the National Monument
Vitkov Hill, or just Vitkov, is a popular hill park known for its incredible views and spectacular rows of trees.
The park used to be a massive vineyard; however, it was transformed in 1929 when the National Monument was built. Today, Vitkov is filled with walking trails.
You will also find some rare species of trees, such as Norway maple, horse-chestnut, Turkey oak, white mulberry, eastern white pine, and more.
Visit in the autumn to see colourful leaves and enjoy a fresh, cool breeze. Believe me; there is nothing more romantic than Vitkov's autumn leaves!
Chocolate tasting
Did you know that Prague has a wide variety of the finest chocolate shops? The majority of the shops are located in the Old Town Square. It shouldn't take you long to find them.
I suggest looking for the Viva Praha chocolate shop as they offer a chocolate tasting and making experience. You can also select boxes of the finest Belgian chocolates here.
This fun couple thing to do in Prague is best done during the colder months, especially during winter when most outdoor activities aren't as pleasant to experience due to poorer weather.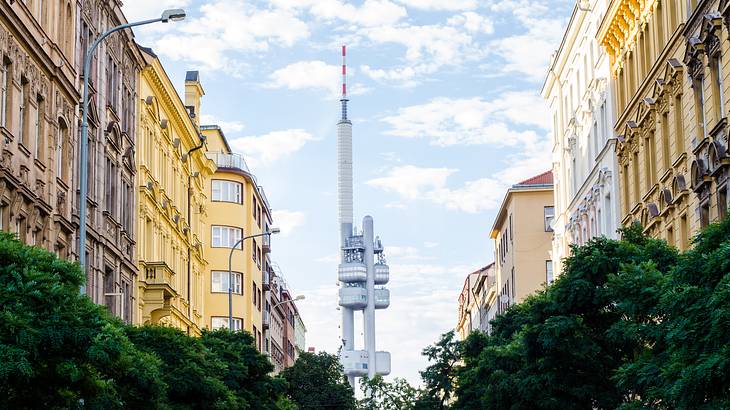 Zizkov Television Tower
Zizkov Television Tower, or Žižkovská televizní věž, is the highest and the ugliest (you will know why when you see it) building in Prague, showcasing 360-degree views of the city.
The TV tower reaches 216 metres and has an observation platform at 93 metres. When you are at the platform, you can watch a short film about the tower's history and enjoy scenic views.
Below the observatory, there is a restaurant which serves the finest Czech and drinks with views. Come just before the sunset, and don't miss a chance to see Prague covered in golden light!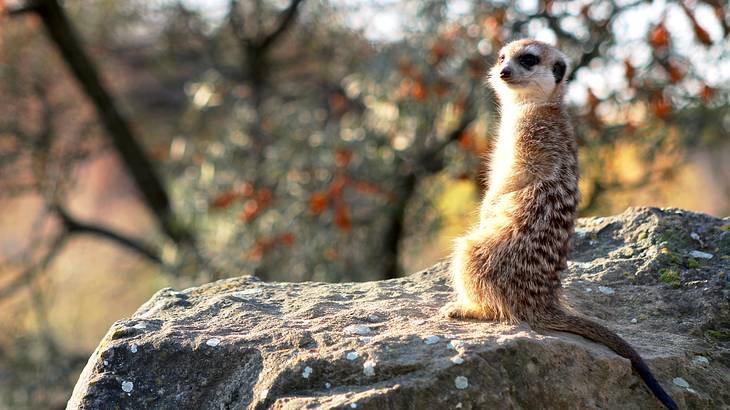 Prague Zoo
Prague Zoo, also known as Zoologická zahrada hl. m. Prahy, is listed as one of the most beautiful zoos in the world. It is the perfect place to have a date and learn more about fascinating animals.
The zoo is divided into several areas, such as the Africa House, the Indonesian jungle, the Valley of the Elephants, and the Darwin Crater. You will also find several exhibitions and various activities for adults and kids to do here.
Make sure to check the zoo's website before visiting as it often organises night tours that help visitors see the animals differently.
In Summary
This article covered the 16 most romantic things to do in Prague as a couple. It also included some major tourist attractions, such as Prague Castle, the Astronomical Clock, Charles Bridge and Lesser Town.
By following some of the suggested Prague romantic spots above, you will be able to visit iconic buildings, learn more about Prague city, taste great food and enjoy your date.
Forget about constant planning and research; just write down a couple of the places from the above list and enjoy your romantic weekend in Prague. Even if you are staying longer than 48 hours, the activities mentioned can be done slowly over several days.
Take your time, have a look around and feel the loving atmosphere all over historical Prague. Have a lovely romantic trip!
Give us feedback about this article
More articles about date ideas:
---
---
Want to keep exploring?
Subscribe for discounts on tickets and hotels and our latest guides.
Thank you for subscribing
We will be in touch soon with discounts on tickets and hotels and our latest guides.
Want to keep exploring?
Subscribe for discounts on tickets and hotels and our latest guides.
Thank you for subscribing
We will be in touch soon with discounts on tickets and hotels and our latest guides.
Related Articles