20 Fun Facts About Cancun, Mexico, You Probably Didn't Know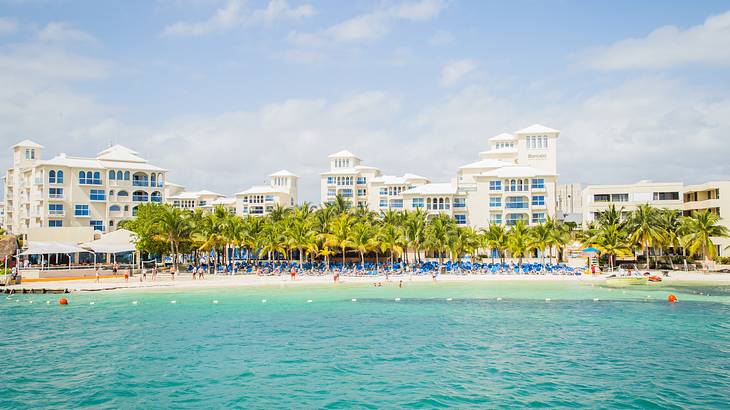 Located in the Mexican state of Quintana Roo, Cancun on the Yucatan Peninsula is one of the world's most popular tourist destinations.
The travel hotspot features an array of resorts, outstanding beaches, and lots of interesting and unusual attractions.
As one of the most popular vacation destinations in Latin America, it's not surprising that there is a lot to learn about Cancun.
Fun facts about Cancun, Mexico, to discover include how the area got its name and what record-breaking attractions are to be found there.
To learn more about this Mexican vacation spot, keep reading for 20 Cancun facts!
Disclosure: Destguides may receive commission for purchases made through links in this article at no cost to you.
20 Cancun Facts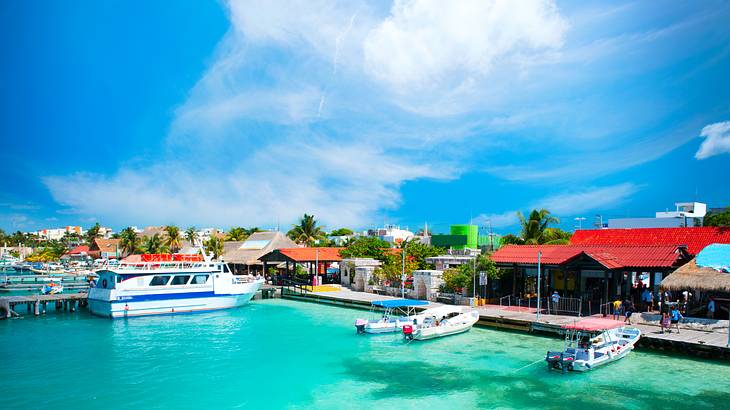 Isla Mujeres is the easternmost point of Mexico
Isla Mujeres is an island that sits directly opposite Cancun and is just a short boat ride away. This part of Quintana Roo is notable as being the easternmost point in Mexico. Specifically, the southeast tip of the island is the easternmost point!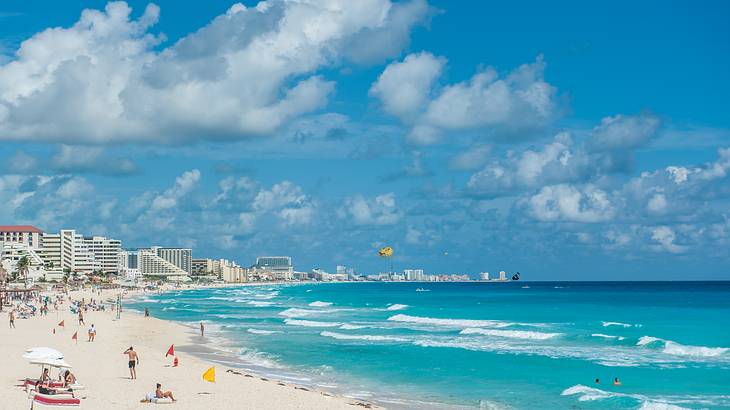 Cancun contributes a quarter of Mexico's tourism revenue
Cancun is one of Mexico's most popular tourist destinations. The stunning beaches, various attractions, and incredible weather attract millions of vacationers annually. Due to this, Cancun contributes approximately one-fourth of all of Mexico's tourism revenue.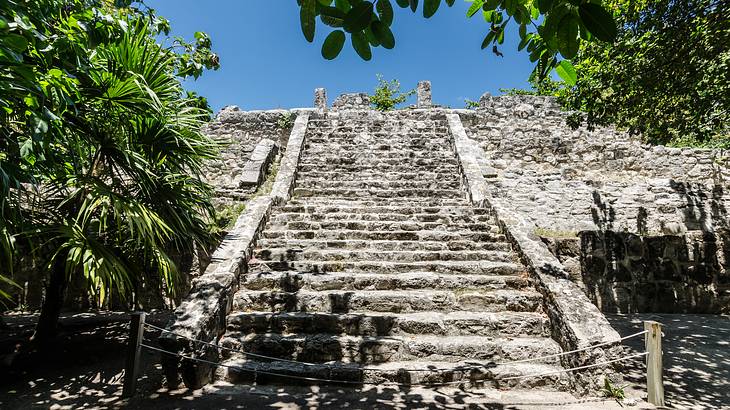 One of the largest collections of Mayan artifacts is in Cancun
One of many cool facts about Cancun, Mexico, is that you can visit a museum that houses one of Mexico's largest collections of Mayan artifacts. The Mayan Museum of Cancun (Museo Maya de Cancun) is located on the same site as the San Miguelito Archaeological Zone.
The museum houses artifacts found at Mayan sites around Quintana Roo, as well as from some further afield. The museum offers a unique look into the Mayan civilization that inhabited the area hundreds of years ago.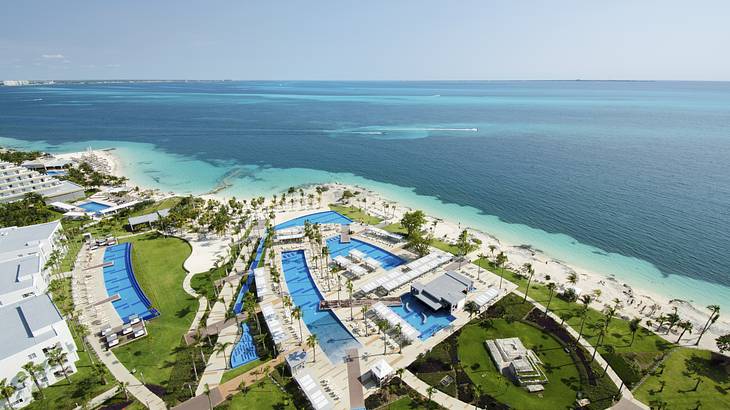 A government tourism project led to Cancun's development
Another of the fascinating things to know about Cancun is that it didn't become a tourist hotspot by chance. The Mexican Government intentionally chose the area of Cancun and financed a tourism development project in order to benefit from tourism revenue.
In the late 1960s, the Government searched for areas of Mexico where no other feasible development was possible to build resorts, hotels, and other tourist attractions. Cancun, previously almost uninhabited, was selected and has since become the country's top travel destination.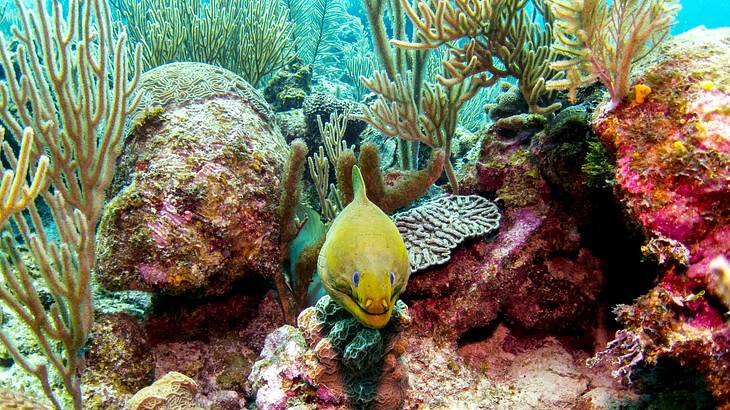 The Mesoamerican Barrier Reef is full of biodiversity
The Mesoamerican Barrier Reef System, part of which is in Cancun, is understandably home to an array of marine life. The reef has over 500 fish species, 65 species of stony coral, and an incredible 350 mollusk species.
Many of those living on the reef are unfortunately endangered. Species that need protecting include sea turtles, the American crocodile, and the splendid toadfish.
Another interesting fact is that the reef has one of the largest populations of manatees in the world. This population includes the endangered West Indian Manatee.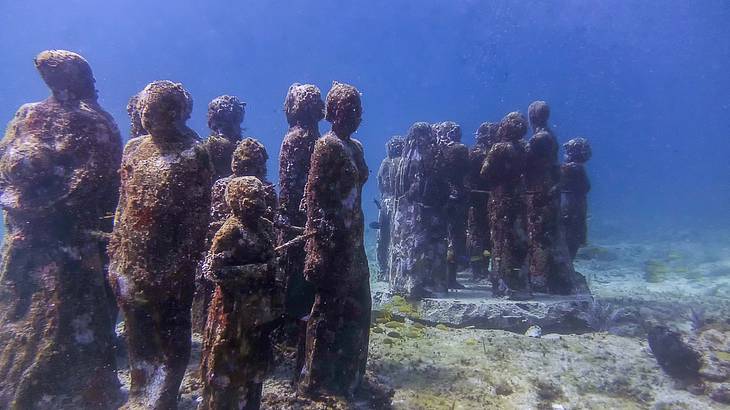 You can visit an underwater museum when in Cancun!
Cancun has many exciting attractions, and one of them is a museum that's completely underwater. The Underwater Museum, or Museo Subacuático de Arte in Spanish, features various statues and other displays on the ocean floor.
To view the exhibits, you must join a tour and snorkel down to them. There are around 500 fascinating sculptures to see in total. If you're looking for unique things to do in Cancun, going to the Underwater Museum is the activity for you!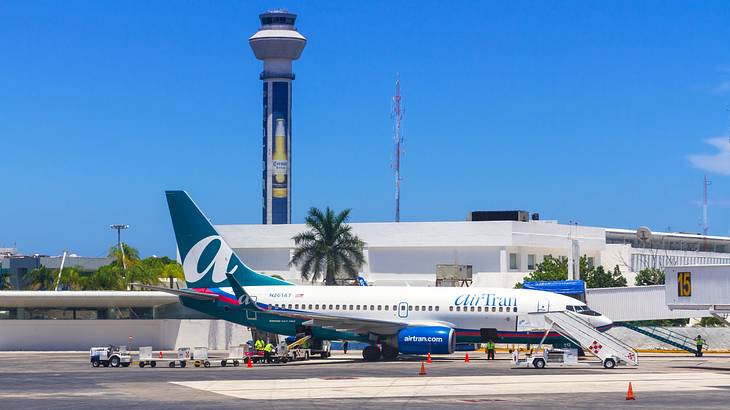 The second busiest airport in Mexico is in Cancun
One of the interesting facts about Cancun, Mexico, is that Cancun International Airport is Mexico's second busiest airport. As such a popular tourist destination, this shouldn't be too surprising! The airport welcomes approximately 25 million travelers annually.
Mexico City International Airport is the country's busiest airport, with almost 50 million passengers passing through each year. Guadalajara International Airport comes in third, with almost 15 million passengers visiting in 2019.
Cancun's hurricane season runs May to December
If planning to visit, an indispensable piece of information about Cancun to know is when hurricane season is. Cancun's hurricane season runs from May to December. Cancun falls in the Caribbean hurricane impact area.
Cancun has not been devastatingly damaged due to a hurricane in recent years. However, the chance of damage occurring due to a hurricane is there. Hurricanes passing near Cancun tend to result in intense rainy periods, with precipitation levels being highest in October.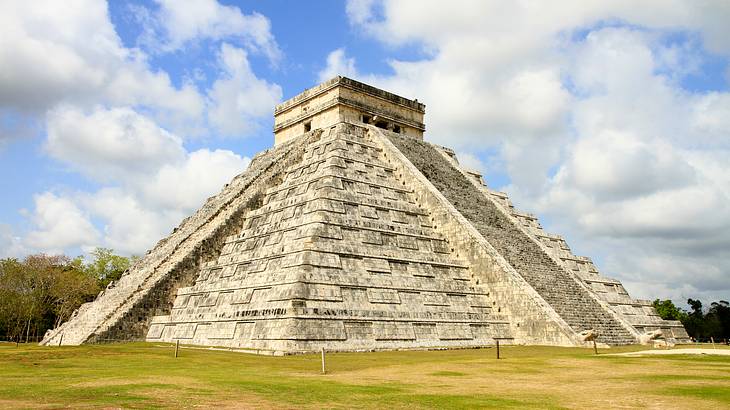 Chichen Itza is one of the most-visited Mayan ruins sites in Mexico
Chichen Itza, a Mayan ruins site, is one of Cancun's most-renowned attractions. While the city has many Mayan ruins nearby, this is definitely the most well-known site. In fact, Chichen Itza is one of the most-visited archaeological sites in all of Mexico.
If in Cancun, be sure to make a trip to see these incredible ancient ruins. If you can, stay at night for the Chichen Itza Light and Sound show. Watching this amazing spectacle is one of the best things to do in Cancun at night!
The name Cancun comes from a Mayan name
One of the fascinating historical facts about Cancun, Mexico, relates to how the area got its name. It's not disputed that the name dates back to the Maya population. It comes from the Mayan name "Kaan Kun," which comprises two words "Kaan," which means snake, and "Kun," which roughly means to overfill.
It has never been confirmed exactly what phrase this translates to. Suggestions include "nest of snakes" or "place of the golden snake." More recently, it's been suggested that Cancun could stand for "place of the four lagoons."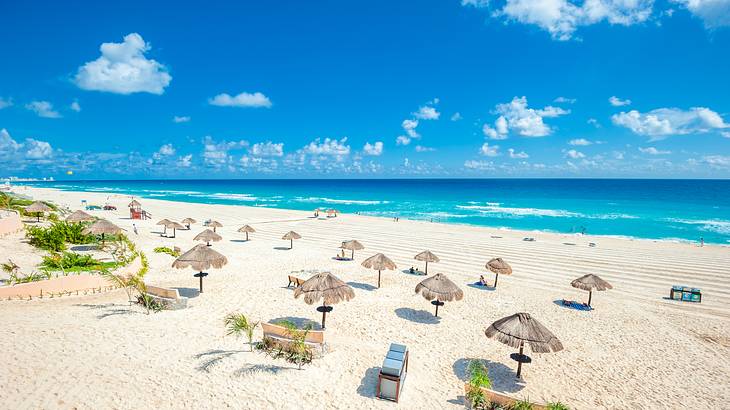 Cancun is one of the most popular tourist destinations in Mexico
Most people would expect Cancun to be one of the spots that draws the most tourists in Mexico. While Mexico City sees the most people pass through its airport, Cancun and the Riviera Maya are the most popular tourist destinations in the country. Cancun sees the highest number of tourists pass through its airport, as opposed to those transiting through.
The flag of Cancun is red, blue, and yellow
Cancun is located in the municipality of Benito Juarez. This area has a municipal flag, which is red, blue, and yellow. Joe Vera, a Mexican-American artist, created the flag. Its design represents Cancun and the surrounding area very well, with red representing the sun, blue for the ocean, and yellow referring to sand.
The flag design features a circle filled with red at the top, yellow in the middle, and blue at the bottom on a white background. The colored design mimics the sun setting over sand with waves crashing onto the shore.
The world's longest underwater cave system is near Cancun
The world's longest underwater cave system was discovered in Mexico in 2018. This system stretches through Cancun and the rest of Quintana Roo. The flooded cave system is just under 350 kilometers long.
Having been undiscovered for so long, the remains of many extinct creatures were discovered in the caves. Artifacts connected to the earliest civilizations in the Americas were also found.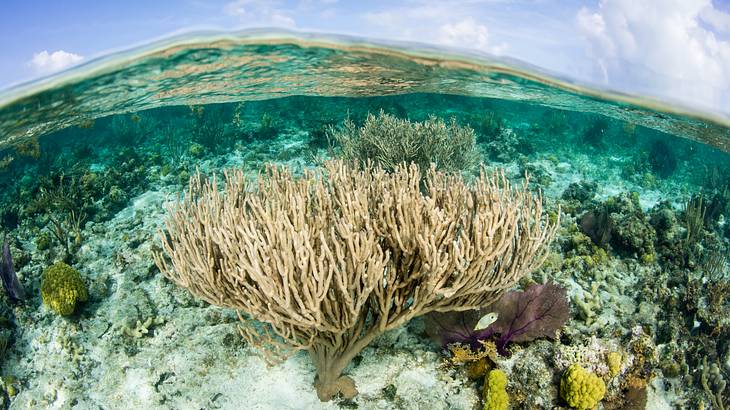 The Great Maya Barrier Reef is the second-largest reef system in the world
The Mesoamerican Barrier Reef System, also known as the Great Maya Barrier Reef, is the second-largest coral reef system in the world. The Great Barrier Reef in Australia is the biggest.
A part of the Mesoamerican Barrier Reef called the Belize Barrier Reef, is the part technically classified as the second largest. The Belize Barrier Reef is 300 kilometers long, and the Mesoamerican Barrier Reef System is 900 kilometers long.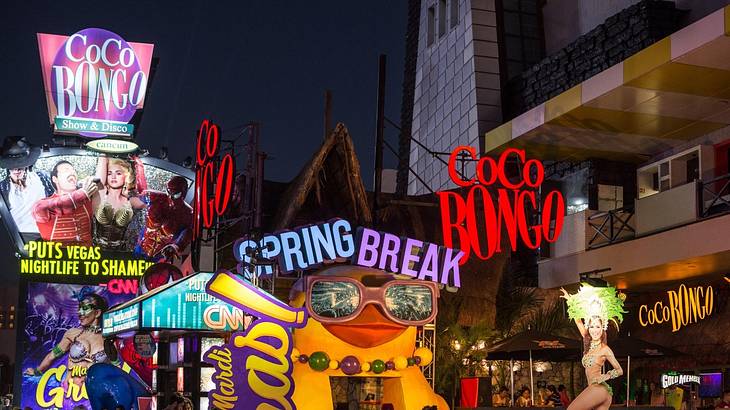 Tourism peaks in Cancun during Spring Break
Spring Break sees millions of college students head to sunny destinations to relax and party. Cancun is one of the most popular spring break destinations and, as a result, tourism peaks in Mexico, especially Cancun, during the Spring break period.
The tourism hotspot ranks in the top ten spring break locations on many publications' lists. Students are attracted to Cancun due to the sunny weather, stunning beaches, and affordable hotel, food, and drink deals. The many exciting clubs and parties found in Cancun add to its appeal.
Daylight savings isn't observed in Cancun
Cancun doesn't adjust its clocks each year as most other areas of the world do. The entire state of Quintana Roo passes on this activity. This means that the time difference between Cancun and places that observe daylight savings differs by an hour every six months. Cancun uses Eastern Standard time, which is GMT-5.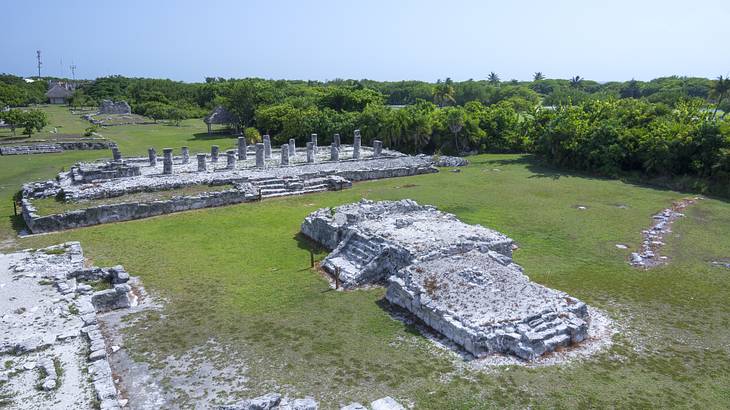 Hundreds of iguanas inhabit the El Rey Archaeological Zone
The El Rey Archaeological Zone is another of the Cancun landmarks that dates back to the Maya civilization. The site features 47 sets of ruins that are more than five hundred years old. The historic site is also home to lots of iguanas!
When visiting, you're sure to spot at least a few of the creatures and can take some fun pictures of them around the ruins. Just remember not to feed, touch, or bother them!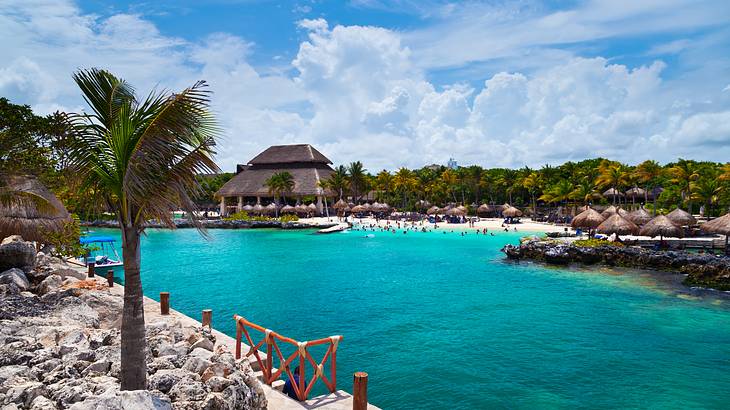 Cancun has many eco-theme parks
The concept of a theme park won't be unheard of to anyone. But theme parks in Cancun are different from those found in other parts of North America. Cancun's theme parks are "eco-parks"!.
Instead of roller coasters and other rides, these parks feature caves to explore and cenotes to swim in. There are also forests to zipline and ride ATVs through and access to the ocean to snorkel in.
Popular eco-theme parks include Xplor, Xcaret Eco-Park, and Xel-Ha Park. Visiting at least one of these parks is especially recommended for those visiting Cancun with kids.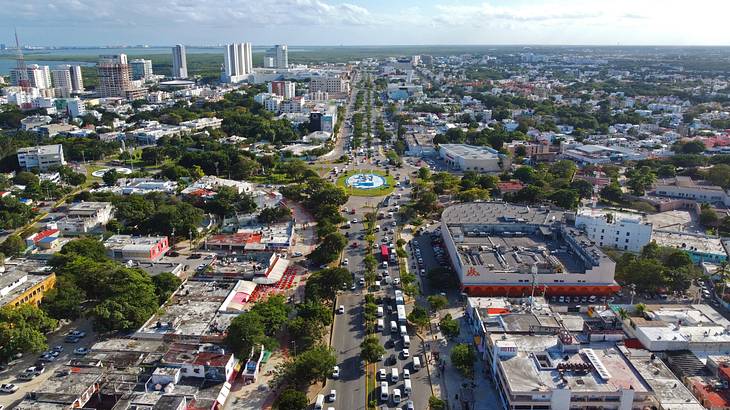 Less than one million people live permanently in Cancun
As Cancun is predominantly a tourist destination, it's not too surprising that the population of Cancun is just over 970,00 people. This means about 380 residents per square kilometer, with Cancun being just under 1,980 square kilometers in size.
The majority of these residents work in industries that primarily serve tourists. They also mainly live outside the main tourist area (also known as the hotel zone or zona hotelera).
Cancun is split into the Hotel Zone and Downtown Cancun
Cancun is predominantly split into two main zones. These zones are the hotel zone and downtown Cancun, known as El Centro.
The hotel zone is where the tourist resorts, hotels, and other attractions are. Downtown Cancun is more frequented by locals and features markets, shops, bars, and restaurants. There is also a small residential area.
The hotel zone is additionally said to be safer than downtown. The majority of people working in the tourist zone speak English as well as Spanish.
In Summary
Cancun is a favorite vacation destination of many tourists. There's also a lot to learn about this beautiful area of the world.
Whether you visit Cancun frequently or are planning a trip there soon, these 20 Cancun facts are guaranteed to have taught you something you didn't know before.
This article was edited by Loredana Elena.
For more interesting articles about Mexico, read:
For some great articles about facts, check out:
---