20 Best Things to Do in Cancún, Mexico, for Couples
Destguides may receive commissions from purchases made through affiliate links in this article.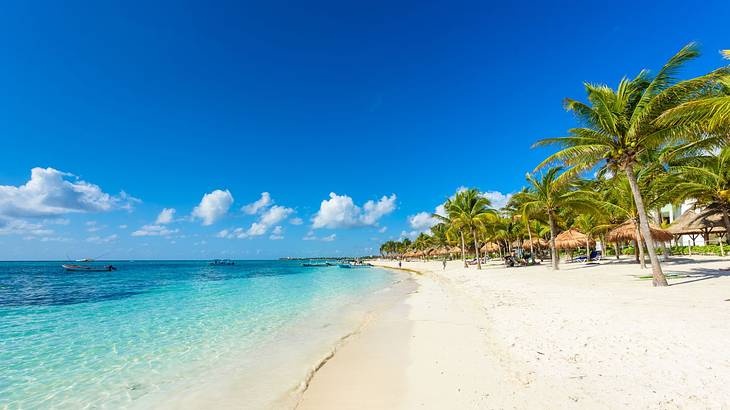 As one of the most popular Mexican vacation spots for couples, it's not surprising that Cancún offers visitors many romantic things to do. Whether you prefer a serene sunset cruise or a pampering spa day, you and your partner can create unforgettable memories during your visit.
Beyond the classic romantic experiences, there are exciting activities to enjoy. For example, you can dive into the vibrant nightlife scene at world-famous clubs or snorkel around an underwater museum. If you're planning a getaway soon, keep reading for 20 of the best things to do in Cancún, Mexico, for couples!
20 Best Things to Do in Cancún for Couples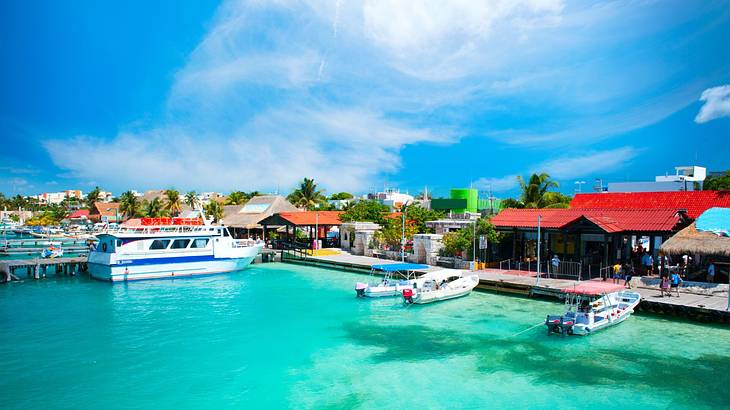 Luxuriate on a private catamaran cruise to Isla Mujeres
If you're searching for the most romantic day trip tours, booking a private Isla Mujeres catamaran trip should be top of your list. Aboard the boat, you can take in the beautiful vistas of the Caribbean Sea as you sip on cocktails or sparkling wine from the open bar.
You can even hop in the water to swim and snorkel and will be taken past a turtle reserve. A stop at Playa Norte to relax on the beach is also included. You can end the excursion by strolling around Isla Mujeres, exploring shops, and wandering along the white sand beaches.
Spend the day exploring Isla Contoy
Going on an Isla Contoy tour is another excellent day trip to consider with your other half. This tropical excursion takes you via boat to Isla Contoy National Park. Here, you can swim and snorkel in the turquoise waters, spotting an array of marine life, like colorful fish and turtles.
You and your loved one will then also sail to Isla Mujeres. On the island, you can wander around the shops or relax on the beach before returning to Cancún.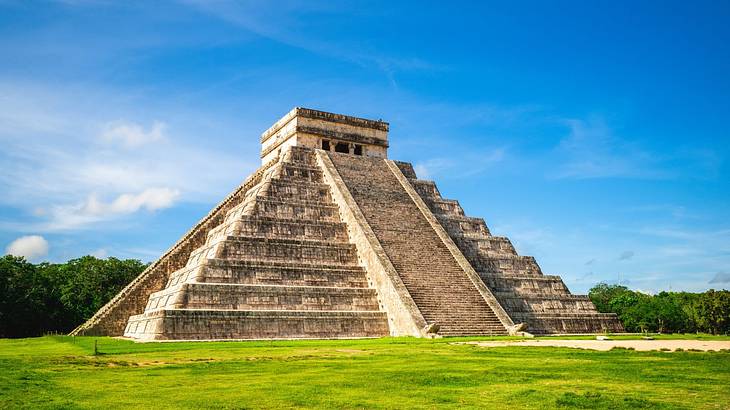 Marvel at the famous Chichén Itzá
Without a doubt, one of the most memorable excursions in Cancún for couples is taking a day trip to Chichén Itzá. During the bucket list tour to this famous Mexican landmark, your guide will offer an array of information on the history and mythology of the site.
Having thoroughly explored the ancient Mayan ruins, you and your partner can unwind in the cool waters of Cenote Saamal. The afternoon will be spent enjoying a buffet lunch and exploring the colonial town of Valladolid, where you can shop and admire the stunning architecture.
Dance all day at a beach club
Couples that like to party may be interested in spending the day at Coco Bongo Beach Club. This exciting beach club sits right on the sand and has swimming pools and live DJs. As you dance, you can get a range of tropical drinks from the on-site bars.
If you want to check out another beach club, consider going on an Isla Mujeres catamaran tour. On this tour, you can swim and snorkel in the ocean and enjoy an open bar on the boat. You'll then head to a beach club for lunch, drinks, and dancing.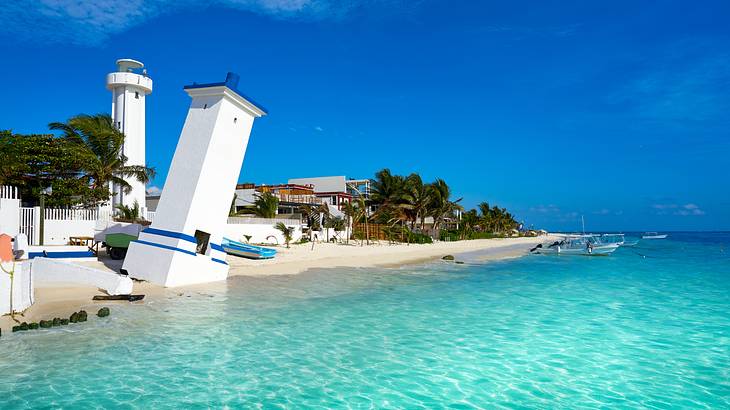 Explore Puerto Morelos
Located about 40 minutes from Cancún, Puerto Morelos is a charming Riviera Maya port town. It makes a fun and romantic day trip destination. One of the excellent things to do here is going on a Puerto Morelos city tour. The excursion will take you to the city's landmarks and a flea market. You can then get tacos and do a tequila tasting.
Alternatively, if you and your partner like watersports, opt for a Puerto Morelos catamaran tour with reef snorkeling. Both of these excursions include pickup to and from Cancún.
Treat yourselves to a dinner cruise on Nichupté Lagoon
There's no shortage of romantic activities in Cancún for couples, with one of the best being a sunset dinner cruise around Nichupté Lagoon. You and your loved one will board a unique Spanish-style Galeon and sail along the lagoon as the sun sets.
Drinks are provided during the cruise, and there's live music. You can also have an indulgent dinner with options like surf 'n' turf on offer. After dinner, you'll sail back under the scenic starry night sky.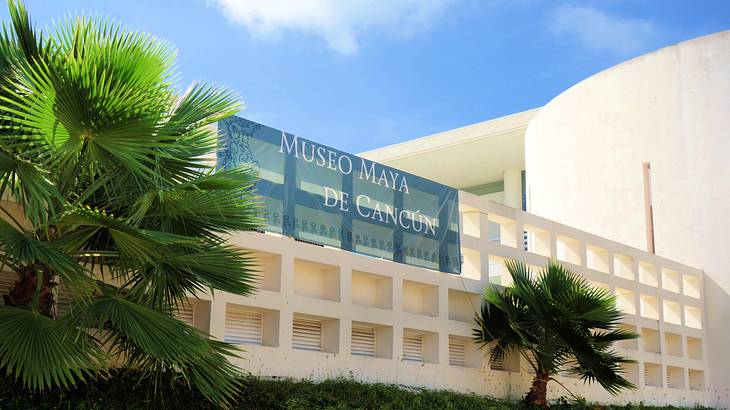 Learn new things at the Mayan Museum of Cancun
The Mayan Museum of Cancun is one of the most fascinating landmarks in Cancún. Located within the Zona Hotelera (Hotel Zone), the museum showcases Mayan artifacts and exhibits on the history and culture of Mayan civilizations. Having explored this attraction together, your admission tickets also provide access to the San Miguelito Archaeological Zone.
Dine at Cenacolo
There are numerous places to eat in Cancún. With so many options, choosing where to go for a romantic dinner can be challenging. If you can't decide, dining at Cenacolo is recommended.
The sophisticated Italian restaurant sits on Nichupté Lagoon, offering stunning views, especially around sunset. The menu is excellent as well, with an array of options, from fresh seafood risotto to handmade pasta dishes, including those cooked at your table. Of course, there's also an extensive Italian wine list from which to select a bottle (or two) to share.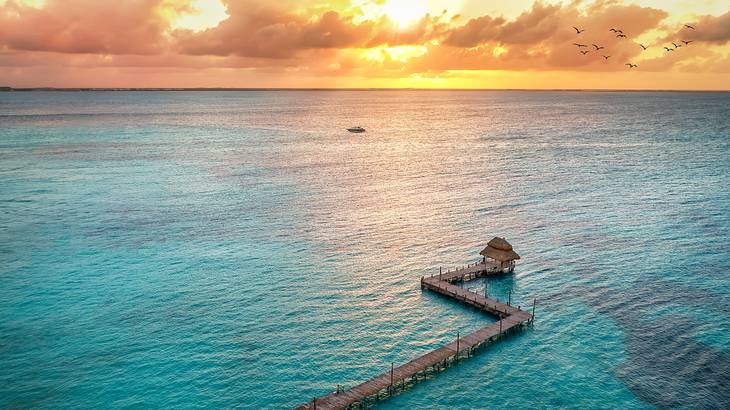 Sail to Isla Mujeres at sunset
Another of the most romantic things to do in Cancún for couples is going on a sunset sail to Isla Mujeres. During the four-hour trip, you'll sail along the scenic coast from Cancún to Isla Mujeres while enjoying drinks and the breathtaking views.
You can then explore Isla Mujeres, whether you stop at a bar, wander around the shops, or relax on the beach. You'll also get to go to Playa Norte with your loved one to admire the pink and orange sunset sky over the ocean.
Relax with a beach day at Playa Delfines
Although there are many activities and excursions to partake in while in Cancún, having a relaxing beach day is also an excellent idea. While you and your partner can choose any beach in the area, Playa Delfines is among the most beautiful beaches.
While here, you can sunbathe on the white sand shores under the swaying palm trees or hop in the water to swim or snorkel. Beach umbrellas are available if needed, and many bars and restaurants line the beach where you can head for lunch. You may even see dolphins in the ocean (hence the name "Dolphin Beach"); however, sightings are not guaranteed.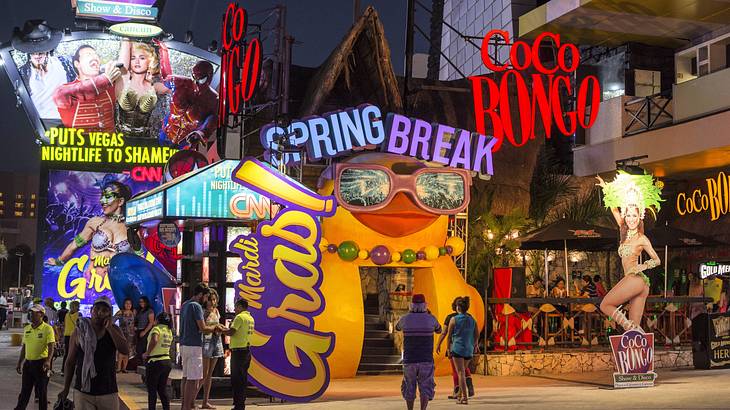 Party at Coco Bongo
After a fun day of activities (or just relaxing on the beach), going to a nightclub together is the best thing to do in Cancún at night if you love to party. Arguably, the most popular club in the area is Coco Bongo.
This nightclub has DJs, performers, multiple bars, and more. To make admission easy, purchase Coco Bongo tickets with open bar access in advance. Alternatively, treat yourself to Coco Bongo VIP tickets. This package features skip-the-line tickets, access to free premium drinks all night, and private waiter service.
Try a variety of dishes on a food tour
Couples that love finding the best local eateries will be interested in going on a Cancún food tour. On this excursion, your guide will take you to numerous restaurants where you can taste a variety of Mexican dishes. These options range from tacos and pulled pork to churros.
Your guide will also point out landmarks as you go from spot to spot. They can give more background on the culture of some of the dishes you try as well.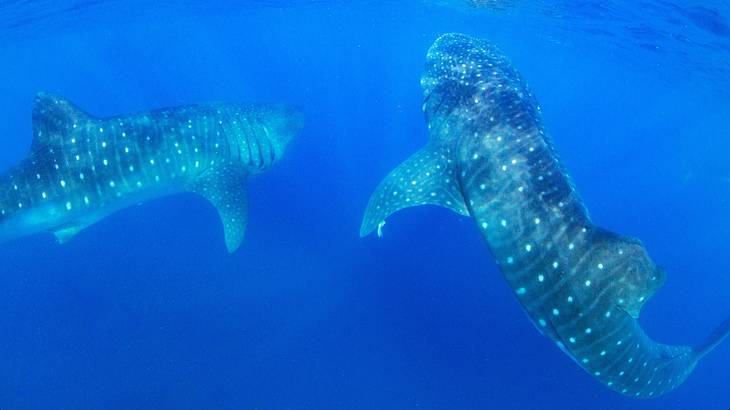 Swim with whale sharks
Swimming with whale sharks on an organized tour is one of the top Cancún activities for couples that love marine life. There are various operators to choose from, but all will take you to areas known to be home to these gentle and safe creatures.
When you spot whale sharks, you can get into the water to swim or snorkel near them. You may also see tropical fish species and other marine life, like turtles and rays. This unique Cancún experience is sure to make life-long memories for you and your partner!
Cook authentic dishes together at a Mexican cooking class
During your couples trip to Cancún, you'll try lots of delicious food. But along with eating prepared dishes, why not learn to make some yourself by joining a Mexican cooking class?
You and your loved one will start the tour by going to a local market with your guide to shop for ingredients. Then, you'll head to the kitchen to create a four-course meal, including drinks.
While menu items vary, things you could learn to make include guacamole, handmade tortillas, and enchiladas. You and your partner can whip up some margaritas as well and will also learn a dessert recipe.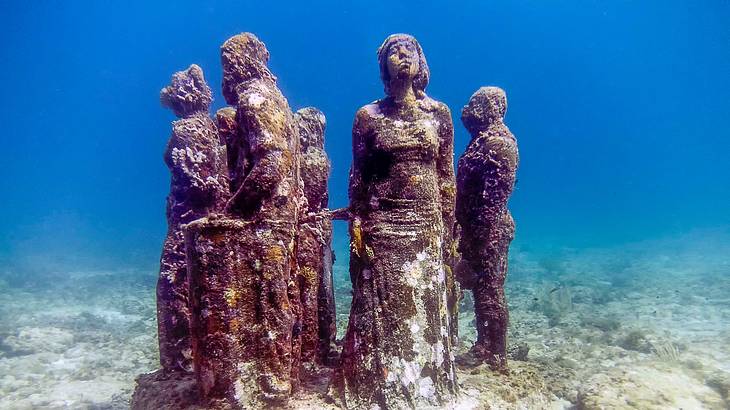 Visit the Underwater Museum of Art
Couples that want to do more water activities will definitely be interested in going to the Underwater Museum of Art. The unique attraction (called Museo Subacuático de Arte or MUSA in Spanish) is an art museum located entirely underwater. It includes hundreds of statues and other sculptures.
To reach the museum exhibits, you'll need to snorkel below the surface. As you swim around, you'll also see a lot of marine life and even some corals.
Pose for stunning vacation photos on a professional photoshoot
One of the best ways to remember your romantic vacation is by taking some beautiful photos together. You and your other half can get some excellent pictures by organizing a professional photoshoot in Cancún.
Your photographer will take you to the most photographable places in the city, including breathtaking beaches. At each spot, you can pose for high-quality pictures.
You can even upgrade to add a makeover by a make-up artist before the shoot begins! No matter which options you choose, you'll have the perfect couples photos to share on social media and with friends and family.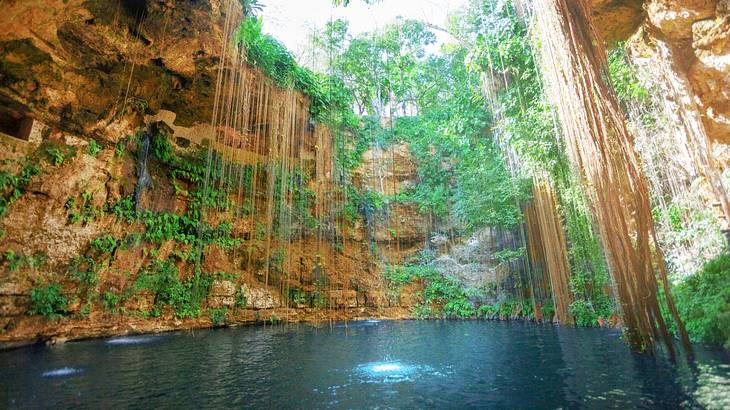 The Yucatan Peninsula is known for its natural pools called cenotes. These bodies of water are very relaxing and are often surrounded by lush jungles. Visiting some lesser-known ones on a hidden cenote tour is a fun and unique activity.
The tour begins by going to Tulum, where your guide will take you to various cenotes. You and your loved one can swim in the bodies of water while admiring their natural beauty. This day trip additionally includes a trip to Akumal Beach, where you can enjoy some of the best snorkeling in the area.
Notably, you'll probably have the chance to swim with sea turtles. Before heading back to Cancún, you can have lunch and hang out under the sun at a stylish beach club.
Enjoy a night out at Mandala Nightclub
Are you looking for more fun things to do in Cancún for couples at night? Then add an evening out at Mandala Nightclub to your activity list. This stylish club has excellent DJs, exciting performances, and multiple bars to grab drinks from. Table service is also available.
To really treat your other half, purchase Mandala Nightclub Gold Passes. With these VIP tickets, you can skip the entry line and will get credits for drinks. If you enjoy the nightclub, Mandala also has a beach club to check out during the day.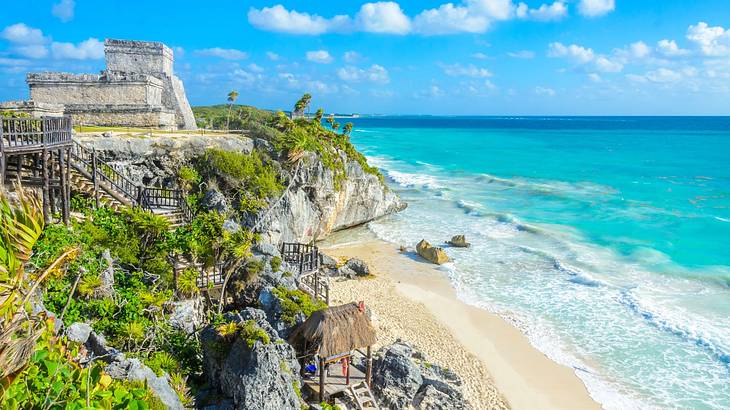 Plan a trip to Tulum
Situated just under two hours from Cancún, Tulum is another beautiful destination to check out with your other half. You can rent a car to get to the area or book a Tulum tour from Cancún.
This exciting day trip is one of the best excursions from Cancún and will take you to some of Tulum's top attractions. Places to visit include the Tulum Archaeological Site and Cenote Yax-Muul. You can also spend some time on the beach with your partner and explore the main town of Tulum before heading back to Cancún.
Unwind with spa treatments
There are so many activities to participate in while in Cancún that you and your other half may want some downtime to relax. If so, having a spa day is the perfect thing to do. You will find numerous spas, including resorts with spas, to go to around the Hotel Zone. While some require you to be a guest at the resort, many don't and allow day visitors.
Treatment options vary but will include various kinds of massages, facials, and scrubs. Lots of spas also have pools and hot tubs, along with treatment packages for couples. Recommended spas include Zen Spa and Bamboo Hair & Spa.
In Conclusion
Couples visiting Cancún will find an array of fun and romantic things to do together. This list should have given you some unique activity ideas to make your getaway even more memorable. Whether you swim with whale sharks, visit archeological sites, or treat yourselves to a catamaran cruise, you're guaranteed to have a fantastic vacation!
---
---
Want to keep exploring?
Subscribe for discounts on tickets and hotels and our latest guides.
Thank you for subscribing
We will be in touch soon with discounts on tickets and hotels and our latest guides.
Want to keep exploring?
Subscribe for discounts on tickets and hotels and our latest guides.
Thank you for subscribing
We will be in touch soon with discounts on tickets and hotels and our latest guides.
Related Articles