35 Long Beach Date Ideas to Impress Your Other Half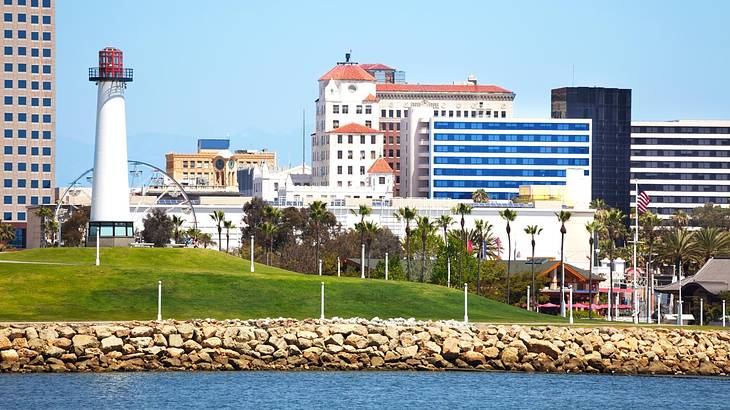 Located on the West Coast of the United States, Long Beach is a vibrant Californian seaside town. This destination has stunning beaches and lots of other attractions.
You can also discover numerous things to do with your other half. Some of the many Long Beach date ideas to try include going to cocktail bars, taking a gondola ride, and flying above the city on a helicopter tour.
If you're looking for some fun things to do with your partner in Long Beach, read on for 35 unique date suggestions.
Disclosure: Destguides may receive commission for purchases made through hyperlinks in this article at no cost to you.
35 Fun Date Ideas in Long Beach, CA
Long Beach Date Ideas Map
A map of Long Beach. Use the map to explore all the date ideas.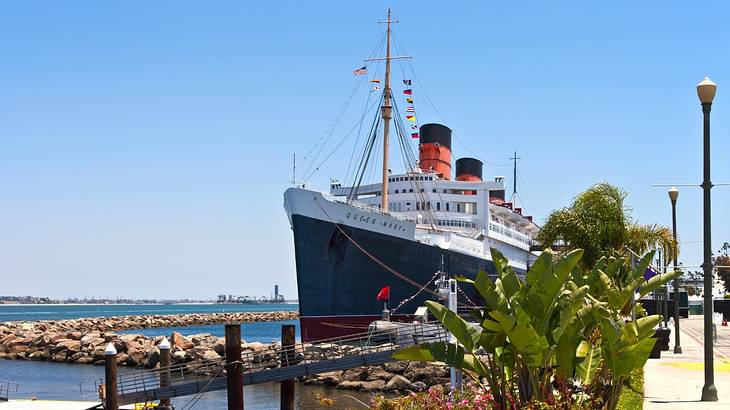 Dine on the Queen Mary
The Queen Mary is a unique hotel that's located in a vintage ocean liner. Located in Queensbay Way, the hotel also has dining options, and taking your date to dinner here is a unique and memorable experience.
The hotel has a casual restaurant and a fine-dining eatery. There's also a bar with views of the bay, and brunch is offered on Sundays.
Interact with wildlife at El Dorado Nature Center
One of the best attractions in Long Beach, California is the El Dorado Nature Center. If your date likes wildlife, a trip to this park is a must!
The El Dorado Nature Center covers 105 acres and features trails, lakes, and forests. Animals you could see here include turtles, rabbits, and over 150 species of birds.
Admire artworks at the Long Beach Museum of Art
An ideal spot for a date is the Long Beach Museum of Art. Founded in 1950, the gallery has around 4,000 works, including paintings, drawings, and sculptures.
You and your partner can wander around the museum, admiring the works and learning about the artists.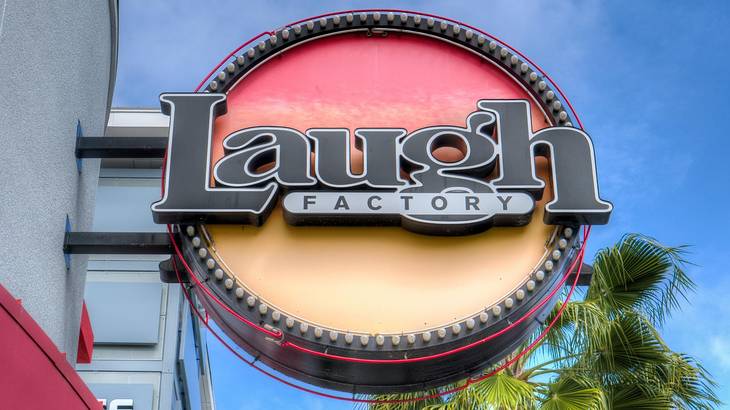 Catch a comedy show at Laugh Factory
Another of the fun dates in Long Beach is going to a comedy show at Laugh Factory. This venue is one of the best comedy spots in the area. You can watch a range of shows by well-known and local comedians. While most performances are ticketed, Laugh Factory hosts some free events too.
Challenge your date to a mini-golf game at Golf n Stuff
At Golf n Stuff, you and your other half can have a friendly game of mini-golf. The venue has an 18-hole course, plus an arcade and go-karts. Golf n Stuff stays open until 10 PM or midnight, meaning you can go for a daytime or nighttime date.
Enjoy a glass of wine at District Wine bar
Whether it's your first date or you've been together a while, going to a wine bar is a classic couples' activity to enjoy. A popular venue in Long Beach is District Wine.
You can order from a vast wine menu, and they have flights if you can't decide what to try. District Wine also serves small plate dishes, charcuterie boards, and flatbreads.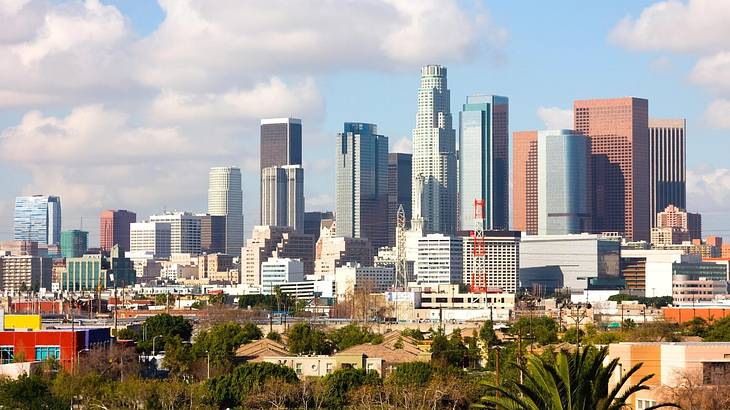 Go on a trip to Los Angeles
Los Angeles is just 40 minutes away from Long Beach, so taking a trip to this world-famous city is a must. You and your other half could spend the day there or go for a date night.
There are many things to do in LA, including going sightseeing, shopping, or visiting some of the numerous bars and restaurants in the area.
Kayak in Belmont Shore
If you like outdoor activities, one of the fun couple things to do in Long Beach is kayaking in the ocean and waterways around Belmont Shore. You can bring your one equipment or rent kayaks from a provider, like Kayaks on the Water.
As you paddle through the water, you can enjoy the views and each other's company.
Hang out on Alamitos Beach
As one of the best beach towns in California, going with your date to the beach is a fail safe idea. One of the most popular beaches in the area is Alamitos Beach.
The beach has vast sandy shores, warm water, and some beachside restaurants and bars. Packing a picnic to enjoy on the sand or going to the beach at sunset are some great romantic ideas to try.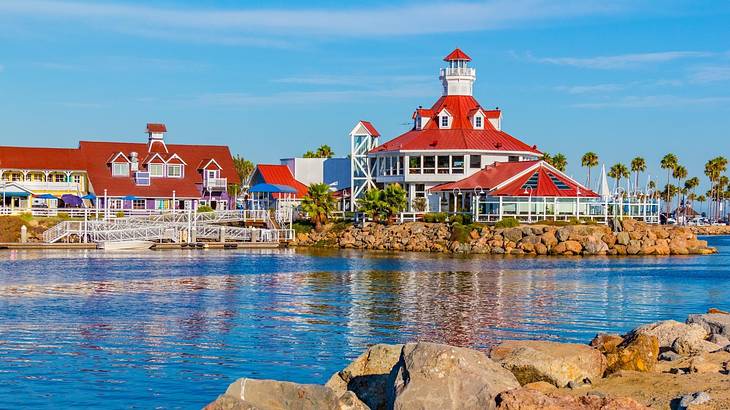 Shop at Shoreline Village
Long Beach's Shoreline Village is a shopping village located on the harbor front. You and your date can discover an array of specialty shops selling products like clothing, home decor items, and jewelry.
After exploring the shops, you can get something to eat, with fine dining and casual eateries on-site. You can also pick up ice cream, candy, and other sweet treats.
Get ice cream at Hug Life
Treat your date to some ice cream by going to Hug Life. This quirky plant-based ice cream spot offers flavors like cookies and cream, yuzu creamsicle, and peanut butter.
You can get a one, two, or three scoop cone, plus ice cream sandwiches, waffle bowls, and brownies with ice cream. If you and your date are planning to have a date night at home, you can pick up pint tubs to take away too.
Fly above Long Beach on a helicopter tour
One of the most romantic things to do in Long Beach is taking your date on a helicopter tour. The 15-minute ride will fly you over Long Beach and Los Angeles.
Once in the air, you'll be able to see various Long Beach and LA landmarks. You can also enjoy views across the ocean.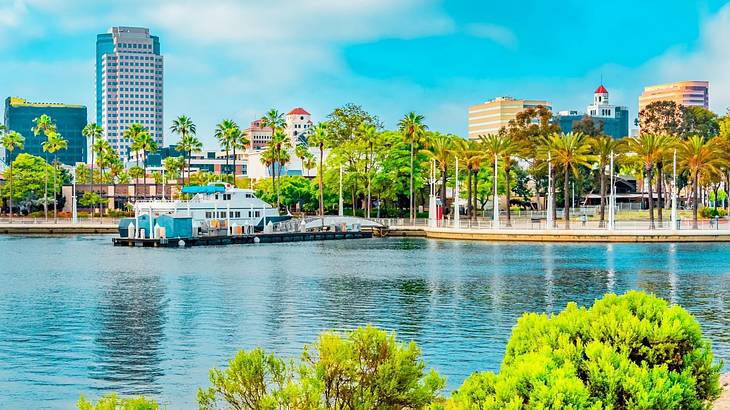 Pedal through Rainbow Harbor on a swan boat
Rainbow Harbor is a charming waterfront area of Long Beach. One of the great activities on offer here is sailing around the harbor on a swan pedal boat.
You and your partner can rent a swan boat on the shore and then pedal it through the lagoon. You'll also get to admire the surrounding views. In the evening, you can even rent swan boats with LED lights.
If your partner likes unique and vintage items, a fun daytime date to try is going to the Long Beach Antique Market. The outdoor market is held every third Sunday and has an array of one-of-a-kind treasures to find. Pieces on offer include decor items, clothing, accessories, and furniture.
Have dinner at Bo Beau Kitchen + Roof Tap
If you're planning a date night in Long Beach, CA, making a reservation at Bo Beau Kitchen + Roof Tap is a great idea. This French-style comfort food spot serves dishes like beer tartare, vegan mushroom scallops, and wood oven flatbreads.
The restaurant itself is rustic yet sophisticated and offers the perfect date night atmosphere.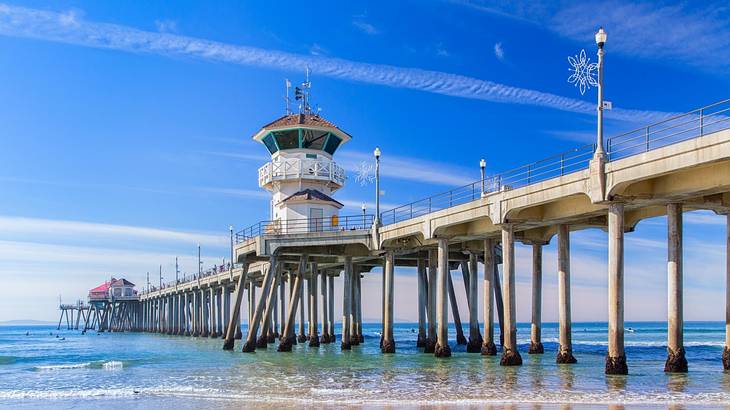 Go to Orange County
Orange County is another great area of California that's located 40 minutes from Long Beach. You'll find numerous things to do in Orange County during the day and at night.
Just a handful of the cute Orange County date ideas to try include relaxing at the beach, wandering around Fullerton Arboretum, and going whale watching.
Explore the Earl Burns Miller Japanese Gardens
One of Long Beach's most popular attractions is the Earl Burns Miller Japanese Gardens. The scenic botanical garden makes for a romantic date spot too.
At the gardens, you can wander along the paths, admiring the pretty flowers and tranquil ponds. The beautiful scenery also acts as a great backdrop for photos.
Share brunch at Padre
A brunch date is always a cute date idea! In Long Beach, Padre is a popular place to go. For brunch, they serve a selection of Latin-inspired dishes.
Options include chilaquiles, breakfast burritos, and coffee French toast. You can accompany your brunch meal with craft cocktails, wine, or beer.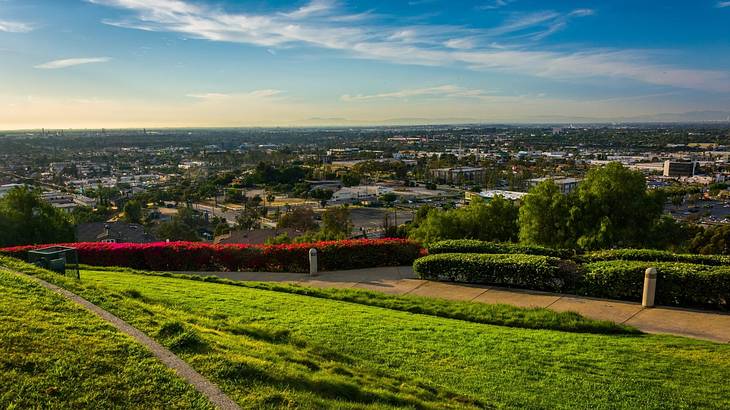 Watch the sunset at Signal Hill Park
Signal Hill Park, also known as Hilltop Park, is a scenic attraction located about ten minutes from central Long Beach. Due to its elevation, you and your partner can enjoy stunning views from the park.
While these views are good at all times of the day, going at sunset and watching the sky turn orange and pink over Long Beach is highly recommended.
Sip on cocktails at Bamboo Club
Another perfect spot for a Long Beach date night is Bamboo Club. This relaxed tiki bar has an extensive cocktail list to order from.
Drinks on offer include Mai Tai, a rum, lime, passion fruit, and Aperol mix, and a vodka, pineapple, lime, creme de peche, and blue curaçao beverage. You can also get food, and Bamboo Club has a happy hour from 3 PM to 6 PM.
Go to vintage stores on 4th Street Retro Row
4th Street, also known as Retro Row, houses an array of vintage and thrift shops. A laid-back date idea is to check out some of these shops with your partner. Pieces to discover include clothing and jewelry, decor items, and records. There's even a shop selling retro roller skates!
Spot sea creatures at the Aquarium of the Pacific
The Aquarium of the Pacific is a five-acre venue located in Rainbow Harbor. At the aquarium, you and your date can see exotic fish, otters, sharks, penguins, and more!
Buying admission tickets for the Aquarium of the Pacific in advance is recommended.
Walk along the canals in Naples Island
Naples Island is an area of Long Beach with canals that stretch through residential areas. Walking along the banks of these canals is a romantic thing to do with your partner. Doing so at sunset is highly recommended!
Paint a masterpiece at Brushstrokes + Beverages
If your date likes crafts, one of the Long Beach activities for couples to try is going to Brushstrokes and Beverages. During a visit, a professional artist will guide you through a class where you can create your own artwork.
You can also bring your favorite drinks (alcoholic or non-alcoholic) to enjoy as you paint.
Work together to get out of an escape room
Trying to solve puzzles to get out of an escape room is a great way to bond and have fun. At Planet Escape Room, you can choose from a range of themed rooms, like medieval and mafia-themed games. No matter which you choose, you'll have a great time trying to win the game!
Take your date on a Gondola Getaway cruise
Another perfect date idea in Long Beach is going on a gondola ride with Gondola Getaways. You and your partner will be taken through the Naples Canals and across Alamitos Bay. The one-hour experience will make it seem as though you're on a date in Venice, Italy, not California!
Solve crimes at a Dinner Detective event
Going to dinner is a tried and tested date idea, but going to a murder mystery dinner makes this activity more unique.
At a Dinner Detective event, you can enjoy a multi-course dinner while watching a murder mystery comedy performance. The show is very interactive, and the diners work together to solve the fictitious crime.
Watch a movie at Paramount Drive-In Theatres
Paramount Drive-In Theatres is another of the many great date spots in Long Beach. The outdoor movie theater shows most new releases. You can also buy classic cinema snacks on-site or bring your own for a car picnic!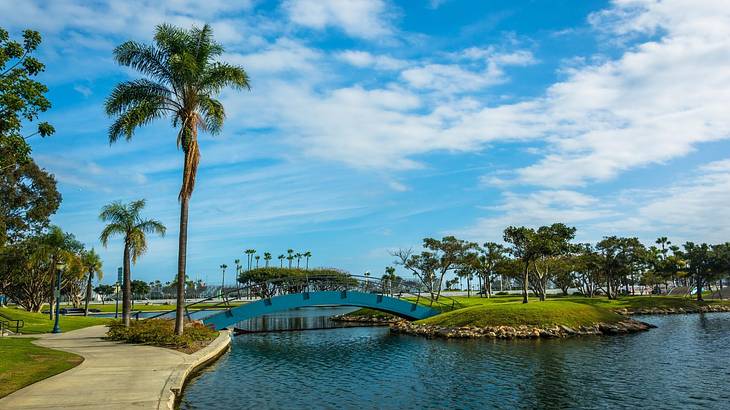 Explore Rainbow Lagoon Park
Rainbow Lagoon Park is one of the prettiest places in Long Beach and is a fun place to visit with your partner. As you walk around the park, you'll see the sparkling lagoon, tropical plants, and water features. It's a great spot to go to on a sunny day.
Taste local cider at Ficklewood Ciderworks
If you and your other half like cider, going to Ficklewood Ciderworks is a must. They have many options on tap, and you can get a flight if you want to try multiple brews. The laid-back brewery also has some board games that you can play together as you enjoy your drinks.
Grab coffee at Ground Hideout
There are many coffee shops in Long Beach to grab a drink and relax with your date. A cool place to check out is Ground Hideout. They serve classic coffees, like cappuccino or mocha latte, plus more unique options, such as an orange cardamom latte.
Stroll along the Belmont Pier
Belmont Pier, or Belmont Veterans Memorial Pier, is a seaside pier located at the end of Long Beach City Beach. The beautiful attraction is one of many romantic places in Long Beach and is especially scenic at sunset.
As you wander along the pier with your loved one, you'll be able to enjoy the ocean view and beach scenery.
Visit Seal Beach National Wildlife Refuge
Visiting the Seal Beach National Wildlife Refuge is a must for wildlife and outdoor enthusiasts. When in the wetland area, you and your partner can take an educational tour. During the tour, you'll spot an array of wildlife and plant life.
Take sweet photos at the Donut Life Museum
Located 25 minutes from central Long Beach, the Donut Life Museum is an interactive gallery with photo backdrops. The backdrops are fun and colorful, and all feature donuts! It's the ideal place to snap some adorable Instagram pictures with your other half.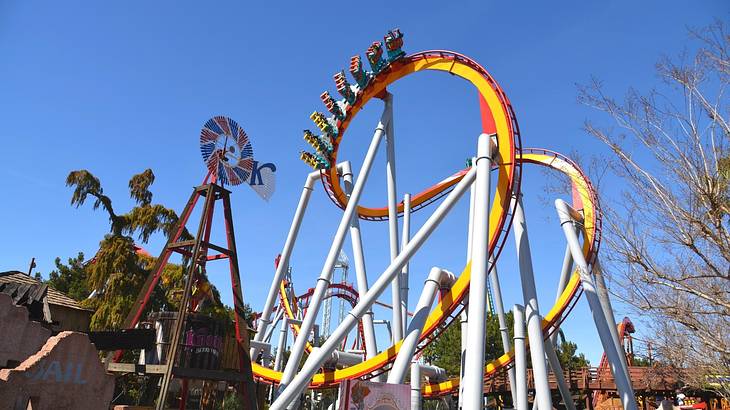 Have a fun day out at Knott's Berry Farm
You and your partner can be kids again with a daytime date at Knott's Berry Farm! The 57-acre theme park is located 20 minutes from Long Beach and has multiple roller coasters, rides, and other amusements. There's also a waterpark and numerous places to grab something to eat.
In Summary
Long Beach is a great destination for all types of couples. Whether you're visiting or live in the area, this list of romantic dates in Long Beach should have given you some inspiration for your next couples' activity.
Give us feedback about this article
For more interesting articles about United States, read:
For some great articles about date ideas, check out:
---
---
Want to keep exploring?
Subscribe for discounts on tickets and hotels and our latest guides.
Thank you for subscribing
We will be in touch soon with discounts on tickets and hotels and our latest guides.
Want to keep exploring?
Subscribe for discounts on tickets and hotels and our latest guides.
Thank you for subscribing
We will be in touch soon with discounts on tickets and hotels and our latest guides.
Related articles