Where to Stay in Crete? 10 Best Places to Stay in Crete
Destguides may receive commissions from purchases made through affiliate links in this article.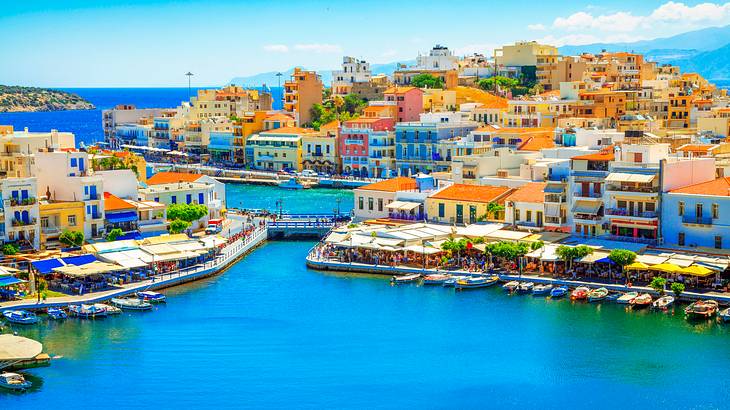 Crete is Greece's largest and most populated island. It also has a long and complex history and rich culture. So, it's not surprising that it's a popular vacation destination. However, first-time travelers can get overwhelmed when trying to figure out where to stay in Crete.
If spending time by the beach is important, Agios Nikolaos is a top choice. On the other hand, places like Rethymno are more suitable for visitors who prioritize sightseeing. Additionally, families might have more fun somewhere like Sitia.
No matter what sort of trip you're planning, there's a place in Crete that's perfect for you. Keep reading to find out more about the top 10 spots you should consider for your Cretan vacation.
10 Best Places to Stay in Crete, Greece
Best Areas to Stay in Crete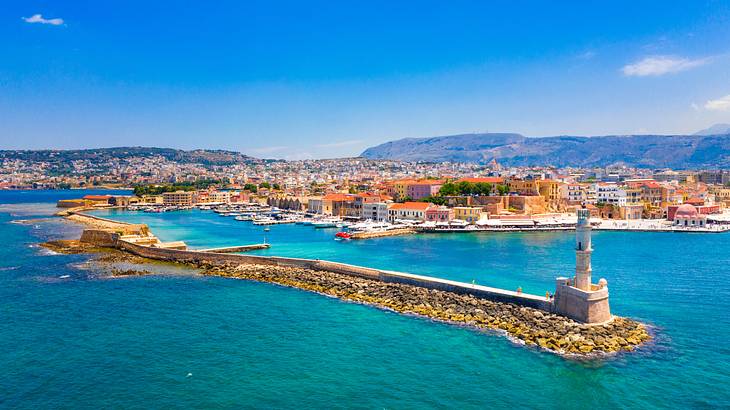 Chania
Chania, located in Western Crete, is the perfect spot for history lovers to relax while on vacation. That's because it's home to some of Greece's most important landmarks, like the Old Venetian Port of Chania and the Lighthouse of Chania.
You can spend your days exploring the town's winding streets or visiting its numerous museums, which cover topics ranging from archeology to nautical history. Since there's so much to see here, it's even a great spot for families since kids won't get bored.
As Chania is a pretty big tourist town, there are various hotels, many of which are budget-friendly. Vacation apartments are also available for rent if you'd prefer a little more privacy.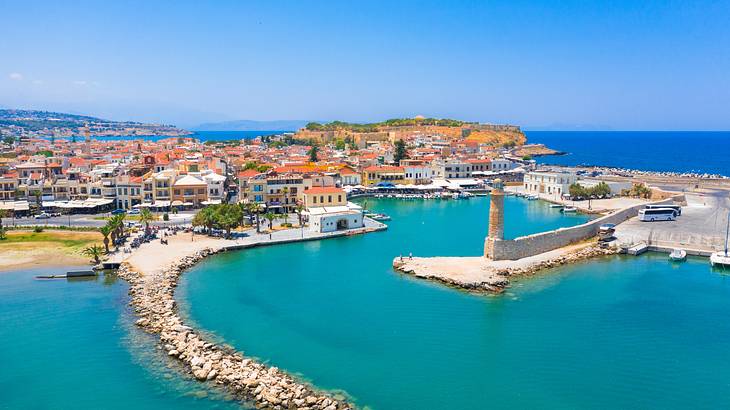 Rethymno
If you ask locals, they'll likely tell you that Rethymno is the best area to stay in Crete. Home to over 30,000 people, it's one of the larger communities on the island, so you won't get bored while here and can get to know the locals.
Rethymno (or Rethimno) is a versatile place with something for virtually everyone. History lovers rave about the Venetian Fortezza Castle and Rimondi Fountain, while those who want to relax can lay out at the beach and enjoy the sun. There are also some museums, like the Museum of Contemporary Art of Crete.
Best of all, Rethymno is one of the most affordable places to stay in Crete. You can find low-cost accommodations that still offer plenty of amenities, even during the busy summer season.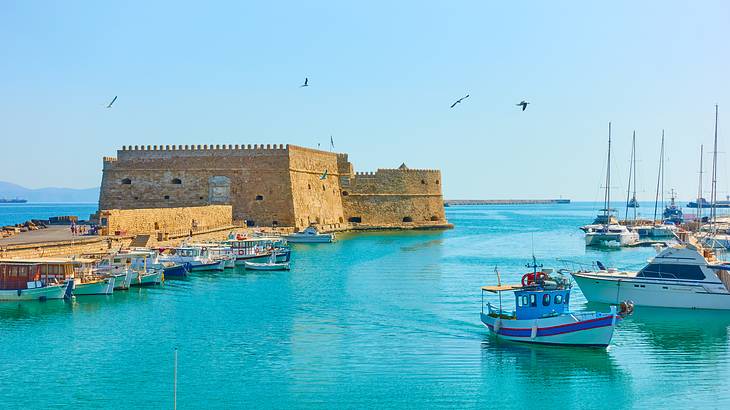 Heraklion
Heraklion is Crete's largest city and one of the island's most popular tourist spots. Its coastal location and fascinating history make it popular among a variety of travelers.
The Heraklion Archeological Museum houses artifacts that date back centuries and mark the cities evolving history. You can also spend your days walking around the city looking for landmarks like the Morosini Fountain or heading to Ammoudara Beach for a swim.
As the largest city, Heraklion also has the most hotels to choose from. So, you shouldn't have a problem finding something within your budget. Hotels closer to the port tend to be a bit expensive as they're near the main tourist paths. Heading a little further inland for your stay usually comes with lower crowd levels and cheaper prices.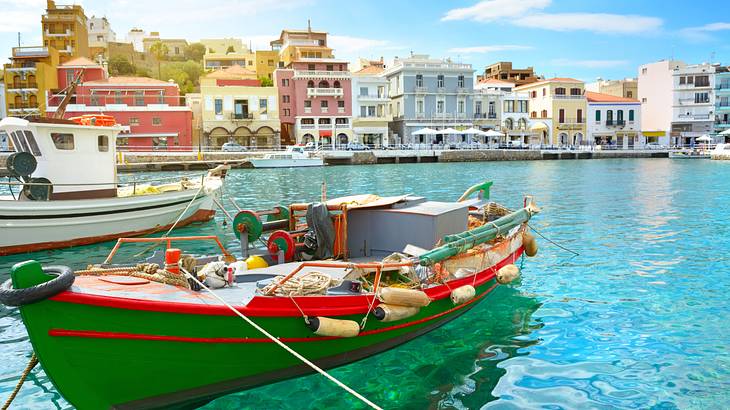 Agios Nikolaos
Agios Nikolaos is a relatively small coastal city that often flies under the radar of tourists. So, it's a great place if you'd prefer to stay a little off the beaten path while in Crete.
Just because Agios Nikolaos sees less tourist traffic than other parts of Crete doesn't mean you'll be bored, though. The town is full of cafes, shops, and restaurants, and you can relax on its less crowded beaches.
If sightseeing is important to you, make sure to check out the Archaeological Site of Gournia and the Kremasta Monastery, which are both relatively close by. However, make sure you rent a car or take a taxi to get to both places, as they're about 10 miles away from the downtown area.
Agios Nikolaos has various lodging options ranging from budget-friendly inns to luxury resorts, meaning you won't have trouble finding a place to stay. Just remember that many of the cheaper hotels are also smaller, so they aren't always suitable for larger travel groups.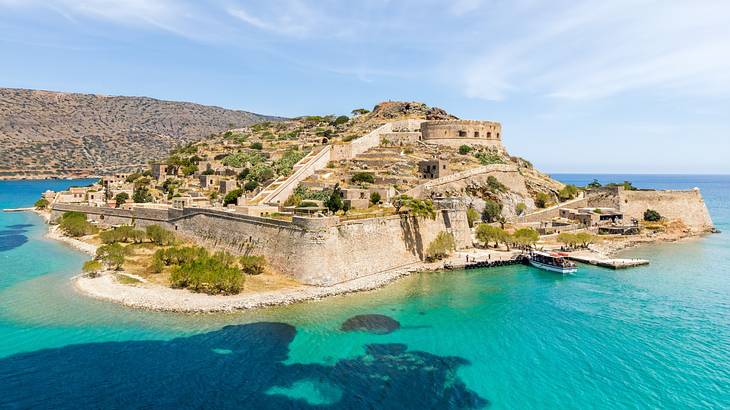 Elounda
Elounda might be the best area to stay on Crete for history lovers. Located on the northern coast, it's home to the ruins of both the Olous sunken city and a Venetian fortress on the area's Spinalonga Island.
Even if you're not a history person, there's still plenty to see in Elounda. The area is made up of multiple small villages you can explore, or you can spend your days relaxing by the water at Kolokytha Beach.
Though prices for accommodation in Elounda can span a variety of budgets, many of the hotels in this area are on the pricey side. Make sure to give yourself plenty of time before your trip to shop around the cheaper options, especially if you're planning on booking multiple rooms.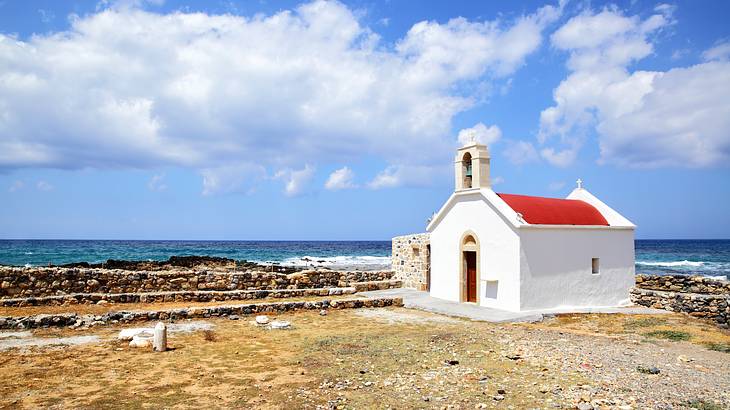 Hersonissos
Hersonissos is one of the most family-friendly places to stay in Crete. That's in large part due to the numerous activity parks located within the city.
The Aquaworld Aquarium & Reptile Rescue Centre lets kids learn about the fish and reptiles that call the island home. On the other hand, the Lychnostatis Open Air Museum lets you learn about Cretan folklore and culture.
Even if you're traveling with friends or taking a solo trip, you won't get bored here. Hersonissos is considered the social center of the island. It has numerous cafes, restaurants, shops, and nightclubs you can visit.
In addition to its entertainment, Hersonissos is a relatively affordable place. While there are a few luxury resorts, there are also numerous affordable hotels that are perfect for budget travelers.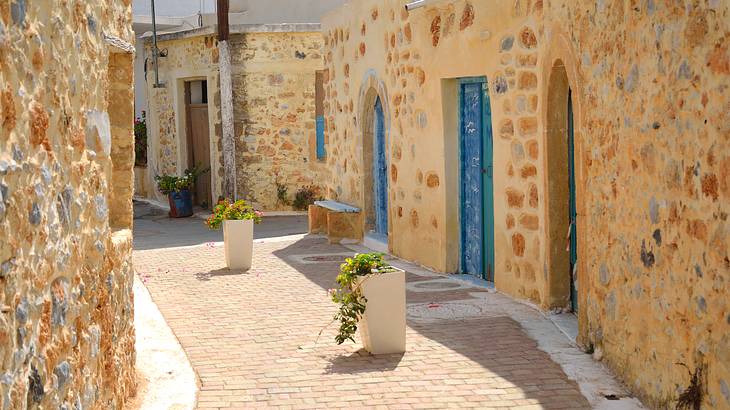 Malia
If you're a night owl, Malia is the best part of Crete to stay. This part of the island is known for its vibrant and sometimes wild nightlife, thanks to its dance and beach clubs that stay open late into the night.
However, even if you don't plan on dancing the night away, this might still be the perfect spot for your vacation. It's close to both the beach and the Malia Palace Archaeological Site, which houses the ruins of one of the largest Minoan structures in Greece. If you'd like to venture to sites that are a little further away, like Knossos Palace, you may want to rent a car.
Since Malia has a big party scene, you can find hotels to accommodate a variety of budgets. There are luxury resorts, but you can also find cheap hotel rooms, which can be perfect for bachelor, bachelorette, or birthday trips.
Sitia
Sitia is a port town located in Eastern Crete. Largely considered one of the most family-friendly places on the island, there are numerous sites and activities suitable for visitors of any age.
For example, nature lovers can hike around the Richtis Gorge. On the other hand, the Archaeological Museum of Sitia lets you learn about the Minoan era in an indoor setting.
Sitia's hotels tend to be relatively affordable, but options are limited. They're all pretty large, which is excellent if you are traveling with a group. However, waiting until the last minute to reserve accommodations does raise the chances that all rooms will be booked.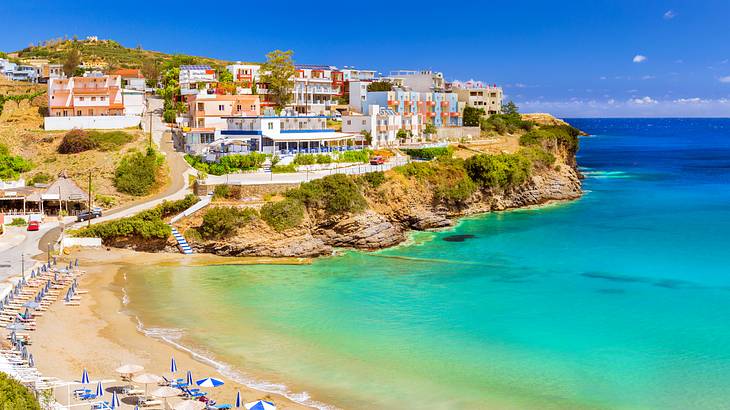 Bali
Bali might be a small village, but to people who want to relax and unwind, it's the best place to stay in Crete. The village itself tends to be relatively relaxed and quiet, without the tourist crowds of the larger cities. You can go for peaceful walks through the streets and enjoy calm meals at the local restaurants and tavernas.
While most people spend their days on the beach here, if you have a car, Bali is also close to some of Crete's best sites. Ancient Knossos is about 32 miles away (around a 50-minute drive), and you can arrive at the Arkadi Monastery in about 40 minutes.
In recent years, numerous new and modern hotels and resorts have opened in Bali, ranging from affordable to high-end. So, it's an ideal spot for virtually any budget, even during the busy summer season.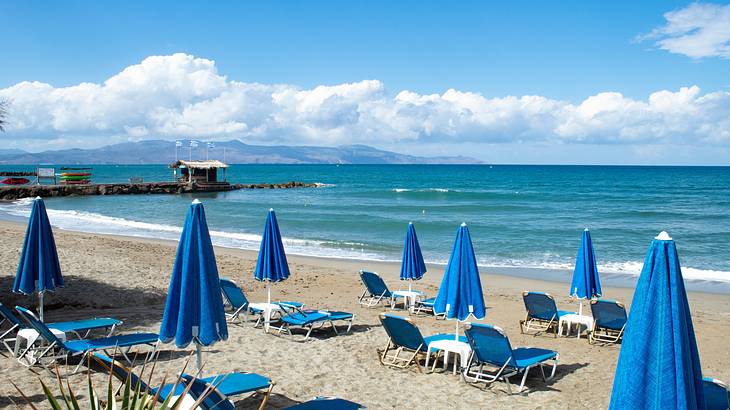 Agia Marina
Agia Marina is the perfect spot for people who love the water. While Crete has multiple coastal towns, Agia Marina takes it to a new level by offering visitors the chance to parasail, jet-ski, or go sailing.
You can also take an excursion from the town's port to see Thodorou Island, which is home to wild goats! It's also the site of a World War II aircraft crash, and you can snorkel around the plane wreck, which remains submerged in the water. Make sure you find time to try out the local restaurants as well, especially after a day by the water.
Since you can find a number of affordable boutique and resort hotels, Agia Marina is an excellent place for families. Many of these lodging options even offer private beach access to avoid crowds.
Where to Stay in Crete, Greece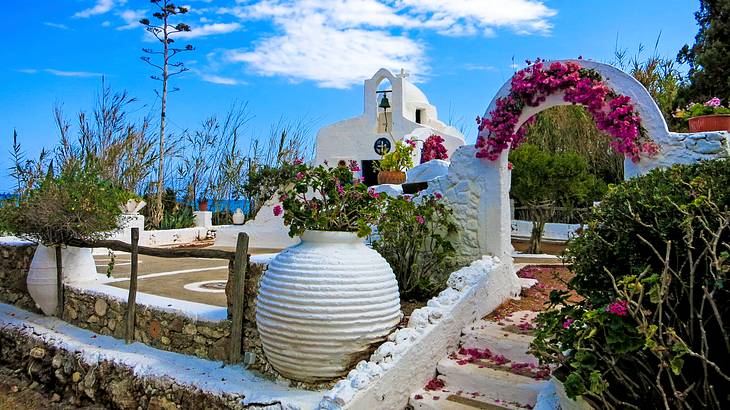 Where to stay in Crete for families?
Hersonissos and Sitia are generally considered the best towns in Crete to stay in if you're planning a family vacation. These two towns offer a wide variety of activities that are suitable for travelers of all ages.
Hersonissos has multiple parks and museums younger kids can enjoy. On the other hand, Sitia has nature trails and archeological sites that are perfect for kids who have started learning about Greek history.
Both of these towns are affordable as well. While there are expensive hotels, you can also find more budget-friendly options and even apartment rentals.
Where to stay in Crete for nightlife?
Since Crete has become a popular tourist spot, you can find evening things to do all over the island. However, Malia is often considered to be the best spot for nightlife.
This city has multiple late-night restaurants, bars, and clubs, so it's the perfect place to go out for drinks and dancing. However, remember that Malia's main tourist season lasts between April and October. During the "off-season," some establishments close, so there might be limited options.
Hersonissos may be a better option if you're more interested in going for walks and checking out a few cafes after the sun's gone down. It's still a vibrant city but tends to be a bit calmer than Malia.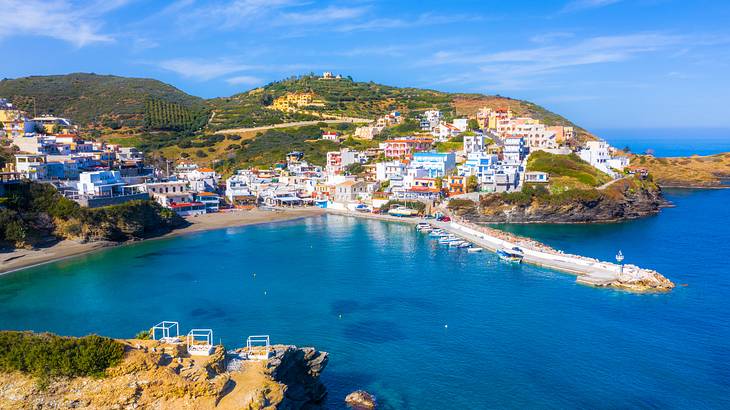 Where to stay in Crete for couples?
Crete is an excellent place for a romantic break, and it's also one of Europe's best winter sun spots if you and your partner want a winter getaway. When planning a romantic trip, Bali is the best place to stay on Crete.
Since it's a small town, it doesn't get as crowded as some of the larger cities. This also helps it retain its laid-back and quiet ambiance.
You can spend your days relaxing on the beach and trying some local dishes. As Bali is near Rethymno, excursions to sites like the Venetian Fortezza Castle are also possible, though you'll need to rent a car or take the bus.
Couples who like a more lively atmosphere might prefer Malia instead. This town is the center of Crete's nightlife, so it's a great place to dance the night away, especially during the summer.
Where to stay in Crete for honeymoon?
It's hard to go wrong planning a honeymoon anywhere in Crete. However, Bali is generally considered the number one spot for romantic getaways on the island. It's quiet and relatively uncrowded, so it's perfect for newlyweds who want to relax and unwind on the beach.
Couples who are more social and enjoy dancing and partying will likely prefer the vibrance of Malia. That's especially true when planning a summer honeymoon since most establishments are open then.
Chania is a good versatile option. As one of the island's bigger cities, there's plenty to do. You can relax by the water or spend your days sightseeing.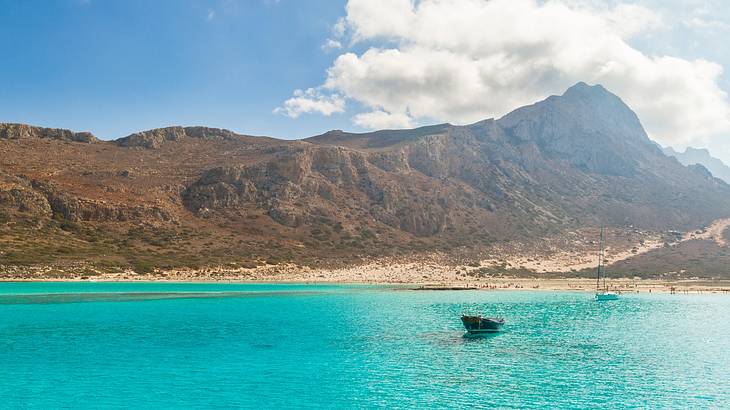 Where to stay in Crete for beaches?
Crete has a wide variety of beach spots worth visiting. If you're looking for some seclusion, stay in Kissasmos. This town gives you the best access to Balos Beach, a tucked-away lagoon that's only accessible by boat or by hike.
Alternatively, Agia Marina is great for more adventurous days by the coast. Its clear water makes it an ideal spot for sailing, jet-skiing, and swimming.
However, when determining where to stay on Crete, it's important to keep the climate in mind before planning a trip. While Greece is known for its sunny days, temperatures can get quite chilly in the winter, even reaching as low as 30 degrees Fahrenheit. If you're coming during the colder months, don't plan on going swimming.
Where to stay in Crete with a car?
Agios Nikolaos is one of the best Cretan places to stay with a car. This coastal town doesn't get quite as crowded as the island's larger cities, so it has a more relaxed ambiance that visitors love. It also has numerous shops and eateries worth trying while on vacation.
Staying in Agios Nikolaos allows you to visit nearby sites like the Archaeological Site of Gournia and also lets you easily venture out to other areas. It's additionally a viable option for arrivals and departures from Heraklion, as the two towns are less than 40 miles away from each other, and driving is much faster than taking the bus.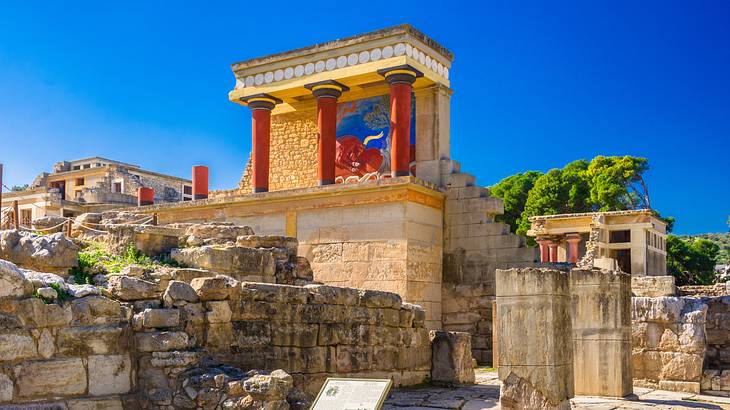 Where to stay in Crete without a car?
If you want to avoid renting a car, the best town to stay in Crete is Heraklion. That's especially true if you'll be arriving by boat because that's where the main port is. As the largest city, most things you'll need are within walking distance, from restaurants to shops. It also has more reliable public transportation.
However, any of the island's bigger communities are good options. So, consider Chania and Rethymno as well. All of these towns are relatively close to monuments, and you're more likely to find tour groups here that can take you on day excursions to other parts of the island.
In Summary
Clearly, Crete has a lot to offer. From its beaches to its history, there's plenty to do and see in this corner of Greece. Hopefully, this list has helped you figure out what your travel needs are, so you can pick the best place to call your home base while on vacation.
Give us feedback about this article
Read more articles about Greece:
More articles about places to stay:
---
---
Want to keep exploring?
Subscribe for discounts on tickets and hotels and our latest guides.
Thank you for subscribing
We will be in touch soon with discounts on tickets and hotels and our latest guides.
Want to keep exploring?
Subscribe for discounts on tickets and hotels and our latest guides.
Thank you for subscribing
We will be in touch soon with discounts on tickets and hotels and our latest guides.
Related Articles