Where to Stay in Tel Aviv? 6 Best Places to Stay in Tel Aviv, Israel
Destguides may receive commissions from purchases made through affiliate links in this article.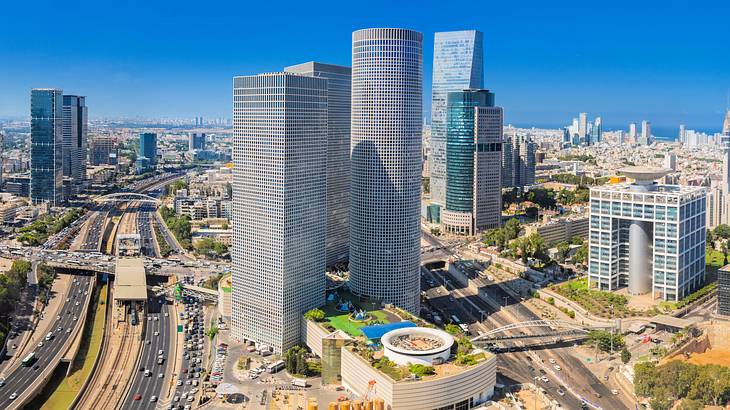 Are you wondering where to stay in Tel Aviv? Get ready to discover the best neighborhoods in this Israeli city, where history and modernity meet. Tel Aviv sits just to the North West of Jerusalem, along the country's picturesque coast.
Choosing where to base your trip can feel like a giant task. This is because each area of the city offers something completely different. From the history-filled Jaffa to the laidback Old Port and the undeniably cool Florentin, Tel Aviv is an extraordinarily varied destination in both culture and vibe.
Whether you want to spend your vacation wandering from bar to bar along the sandy boardwalk or indulging in the city's rich culture and heritage, identifying your ideal area is crucial. This guide is here to help you decide. So, get ready to take a look at the most popular areas to stay in Tel Aviv!
6 Best Places to Stay in Tel Aviv, Israel
Tel Aviv-Yafo Places to Stay Video
Check out our highlights video of Tel Aviv-Yafo places to stay.
Tel Aviv-Yafo Places to Stay Map
A map of Tel Aviv-Yafo. Use the map to explore all the places to stay.
Best Areas to Stay in Tel Aviv, Israel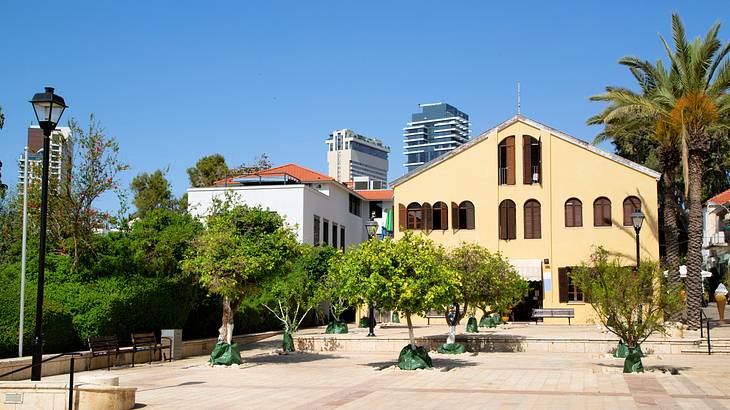 Neve Tzedek
When it comes to the best area in Tel Aviv to stay, Neve Tzedek is hard to beat. That's because this neighborhood blends the historic parts of Tel Aviv with more modern features. This is where to visit if you want to discover more about the colorful history of Neve Tzedek.
As you walk around, you will notice many pre-1940 Bauhaus buildings here (think functional-looking design with smooth edges in plain colors). However, Neve Tzedek is also home to modern boutiques, luxury accommodation options, and huge skyscrapers sporting high-end dining spots.
For this reason alone, Neve Tzedek can be a little bit expensive compared to other regions. But it's worth it for the convenience of staying here, especially if you don't want to rely on public transport to get around and would rather walk.
There are also a few art galleries and museums in this area, such as the popular Nahum Gutman Museum of Art. Charles Clore Park and Charles Clore Beach additionally sit next to Neve Tzedek. Connectivity to other areas is good as well; for example, you can walk to neighboring Florentin.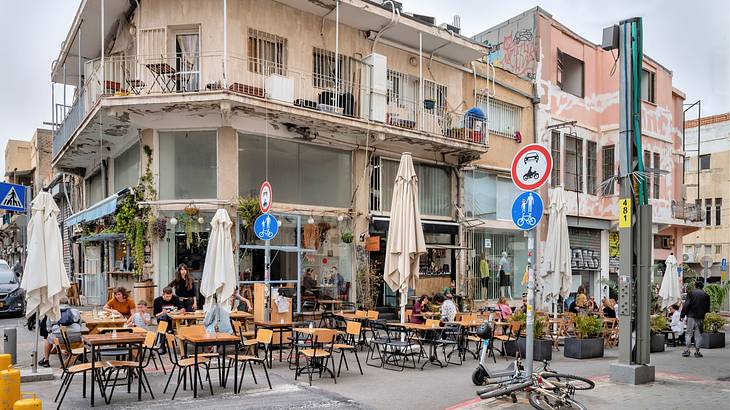 Florentin
Sandwiched between Neve Tzedek and Jaffa, Florentin is the coolest place to stay in Tel Aviv. But it hasn't always been that way; only in the last 20 years has it become a hipster spot.
In the 90s, the younger residents of Tel Aviv moved into abandoned buildings and transformed the neighborhood into the buzzing hub of fun it is today. Expect independent coffee shops and fashion stores, as well as plenty of street art spots showcasing some of the city's most creative individuals.
You can also taste authentic cuisine at one of many local eateries and hunt out bargains at Levinsky Market. This gem is filled with numerous stalls selling everything from fruits and vegetables to spices.
As you might expect from a younger crowd, the nightlife is also epic in Florentin. There are hundreds of bars where you can sip cocktails until the early hours. Or party hard, if that's more your style.
The accommodation in Florentin tends to be cheaper, with plenty of hostels and budget-friendly hotels to choose from.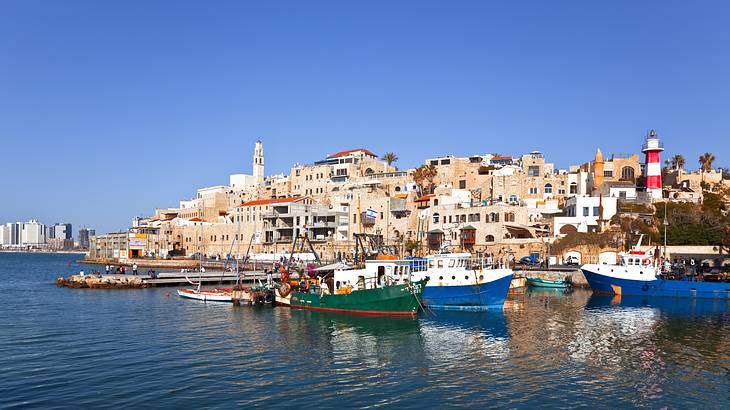 Jaffa
Jaffa is another of the best neighborhoods to stay in Tel Aviv. This is an ancient port city that dates back more than 7,000 years. Technically Jaffa is its own city, which is why this Israeli destination's full name is Tel Aviv – Yafo. But the two areas were combined in 1950.
So, why should you stay in Jaffa? Its cobblestone streets and ancient alleyways are a huge part of its charm. But it's also one of the best areas for history and is near the beach.
Its accommodation options range from modest apartments to luxury hotels. However, expect to be paying a premium if you want to stay in this part of town.
The Jaffa Port is one of the oldest in the world and is still in use, while the Jaffa Flea Market has over than 100 years of history behind it. Strolling around it in the morning is one of the top things to do here. As well as this, make sure you visit the impressive Art Deco Alhambra Cinema and Jaffa Clock Tower next to the market.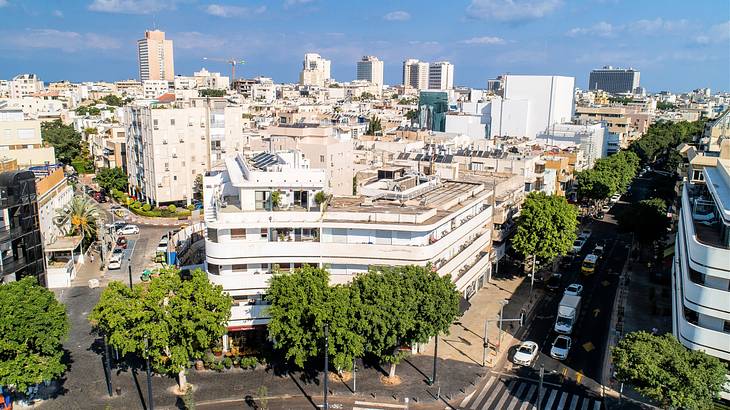 Lev Ha'ir
Situated to the east of the city is Lev Ha'ir. In Hebrew, Lev Ha'ir (or Lev HaIr) means "heart of the city." So, it should come as no surprise then that this is one of the most vibrant areas of Tel Aviv.
When it comes to accommodation, Lev Ha'ir has boutique hotels in abundance. It's not the cheapest area of the city, but it's certainly not the most expensive, either. There are a few nearby hostels to help you save some cash, too.
Whether you're in town to shop or party, Lev Ha'ir has got you covered. Much of the action in this neighborhood takes place around Dizengoff Street, where you'll find the Dizengoff Center shopping mall and Rothschild Boulevard.
As well as this, there's plenty to see and do in Lev Ha'ir. Catching a show at the Habima Theatre (Israel's National Theater) is a must. Exploring the UNESCO World Heritage Site, White City, which boasts more than 4,000 Bauhaus buildings, can't be missed either.
Don't visit Lev Ha'ir without seeing the Pagoda House (the first place in Tel Aviv to have an elevator) and the Great Synagogue of Tel Aviv. These landmarks are some of the most unique examples of architecture in the city and a testament to Tel Aviv's blended culture. The Tel Aviv Museum of Art is also nearby, and you can easily get to other neighborhoods like Neve Tzedek and Florentin.
Kerem HaTeimanim (Yemenite Quarter)
Just north of Neve Tzedek, near Allenby Street, is Kerem HaTeimanim. This part of town is home to a huge population of Yeminite Jews. It's also an excellent place to stay for budget travelers and those who want to save money on accommodation.
Here is where you'll find Tel Aviv's famous Carmel Market, the city's largest and most diverse market. Aviv Beach sits at the other end of the market, just a five-minute walk away.
This area stands in stark contrast to the likes of Neve Tzedek and Jaffa and remains pretty much untouched by modernity. The best part? This means it's also filled with cheap places to eat and cozy coffee shops where you can grab a bite in the morning.
Don't expect huge, fancy hotels or high-flying restaurants in this part of town. But, if you want to immerse yourself in culture, eat where locals do, and see a different side to the city (which you totally should), this is the best area of Tel Aviv to stay.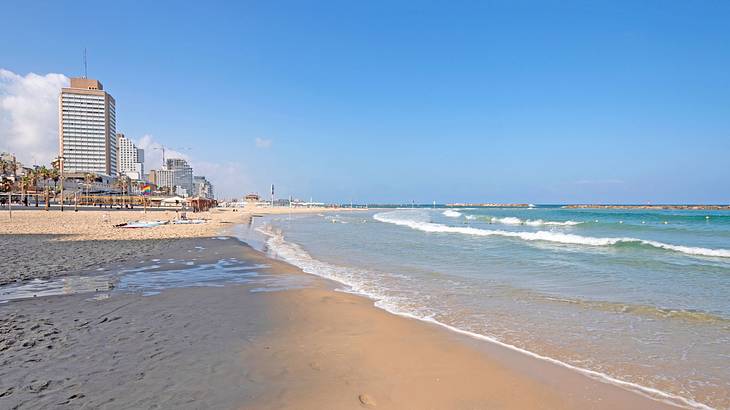 Old North
If you're looking for a resort-style vacation in Tel Aviv, Old North is perfect. Perched on the Mediterranean Sea, this eastern corner of the city is a beachy paradise.
In terms of hotels, the coastline here is filled with resorts. Or, if you would rather stay somewhere lowkey, head inland where you will find mainly boutique offerings.
Wandering along Tel Aviv Tayelet is a must during your stay in this neighborhood. Aside from being a great place to admire the tranquil water, it is filled with Mediterranean restaurants and big-name hotels sporting private stretches of sand.
Old North is not the most popular area in Tel Aviv because it has less to offer regarding historical sites and culture. But it's the best place to stay for a low-key trip by the sea. In between relaxation sessions on Gordon Beach, you should check out the iconic Old Tel Aviv Port.
When the sun begins to set, make a beeline to Independence Park near the Hilton Hotel and admire the sunset amongst the crowds that gather. If you do want to visit landmarks and attractions, you can reach more central areas like Neve Tzedek in around 25 minutes via public transport or 15 minutes by car or taxi.
Where to Stay in Tel Aviv, Israel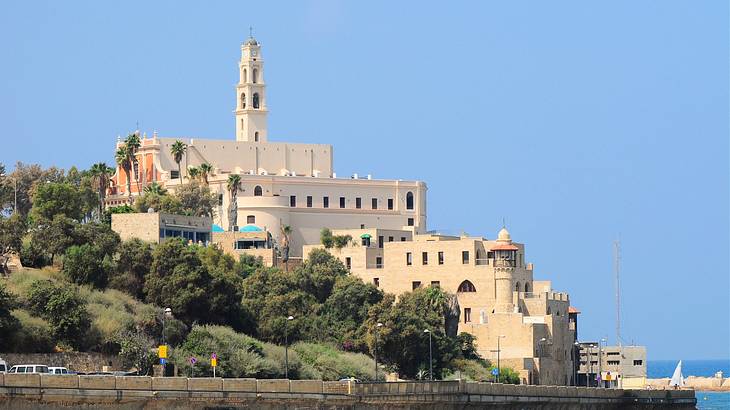 Where to stay in Tel Aviv with family?
For families, the best location to stay in Tel Aviv is Jaffa. Why? Here you'll find an abundance of big-name hotels and iconic tourist attractions within walking distance from the neighborhood. There are also many small parks for little ones to enjoy dotted throughout the area.
Better yet, if you want to spend a day relaxing on the coast, the southern end of Charles Clore Beach is easily reachable from the oldest parts of the city. There are plenty of places in this area to dine, too, ranging from popular chains to smaller, family-run eateries.
Jaffa is one of the more expensive areas to stay in Tel Aviv, and prices can be heavily inflated near the port. But it's worth spending a little bit more money to stay in one of the most historic and beautiful parts of the city. And you can always choose to stay and dine at local spots to reduce costs.
Where to stay in Tel Aviv for cheap?
Tel Aviv is notoriously expensive (it consistently ranks as one of the most costly cities in the world), but there are ways to explore for less.
The best place to stay in Tel Aviv on a budget is Kerem HaTeimanim. This extremely underrated area is packed with wallet-friendly hotels and vacation rentals. Despite this, you are still well-placed to explore the city's top sights and attractions.
This quarter is also filled with cheap and delicious places to dine and charming coffee shops that won't break the bank. Additionally, wandering through Carmel Market and relaxing on nearby Aviv Beach are both wonderful free things to do.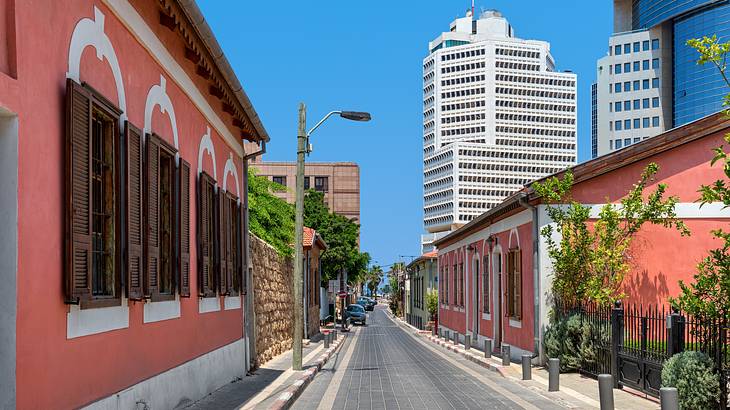 Where to stay in Tel Aviv for tourists?
If you're a tourist heading to Tel Aviv for the first time, base yourself in Neve Tzedek. This is the oldest neighborhood in the city (outside of Jaffa) and is full of stunning architecture. It also has a variety of high-end, boutique, and basic hotels to suit a range of budgets.
Neve Tzedek has excellent connections to other parts of the city, including Jaffa and Florentin. This means that you can explore both contemporary and historic parts of the city on foot or by public transport.
Another reason to stay in Neve Tzedek is its proximity to Charles Clore Beach, one of the most popular in the city. This neighborhood might not be beachfront, like Old North, but you're only a short walk away from soft, white sand.
Where to stay in Tel Aviv for nightlife?
When it comes to nightlife, Tel Aviv is a surprisingly fabulous place to celebrate with friends and family. Old North and Neve Tzedek offer a few places to drink and dine in style. But for those who are serious about partying hard and hitting up some of the city's best bars, there's only one place to stay: Florentin.
As it has a younger population, the neighborhood boasts a youthful energy that translates perfectly to its nightlife scene. Its tiny, cobbled streets are peppered with cool bars, clubs, and lively restaurants, many of which are reasonably priced. There's also a cinema here if you want a more relaxed night out.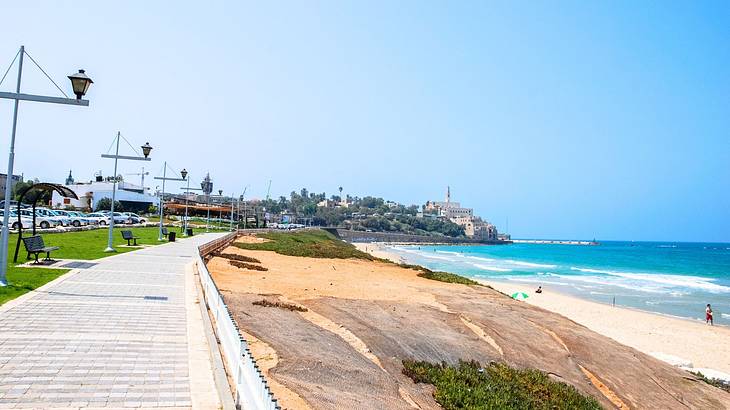 Where to stay in Tel Aviv near the beach?
Choosing any of the neighborhoods on Tel Aviv's west coast will satisfy sun worshippers. But if you're after a quintessential beach vacation, Old North is the best area to stay in Tel Aviv.
You will find huge branded hotels sitting directly on the beach at a variety of price points. And the Mediterranean atmosphere translates to the restaurants and bars that line the coast, too.
As a bonus, you'll also find most of the beach and surf clubs up in the Old North. The surf scene in Tel Aviv isn't huge, but here's where to head to indulge in a surfer-chic lifestyle. You can hit up one of the beach bars (Bayz Hilton is a popular choice) for a cold beer after, too.
In Summary
Tel Aviv's neighborhoods are as diverse as the city itself, which can make choosing where to stay a little bit tricky. But don't panic, as there's somewhere to stay in Tel Aviv for every traveler.
If you want to learn more about the city and its history, the best areas to stay are Neve Tzedek and Jaffa. However, if you're looking to stay somewhere a little bit off the beaten path, with plenty of brilliant options for dining and drinking, you won't go wrong with Florentin or Lev Ha'ir (especially if you love shopping).
And, for those after a classic escape on the Mediterranean Sea, Old North has beaches on its doorstep, making it the best neighborhood to stay in Tel Aviv for those planning a beach break.
Give us feedback about this article
More articles about places to stay:
---
---
Want to keep exploring?
Subscribe for discounts on tickets and hotels and our latest guides.
Thank you for subscribing
We will be in touch soon with discounts on tickets and hotels and our latest guides.
Want to keep exploring?
Subscribe for discounts on tickets and hotels and our latest guides.
Thank you for subscribing
We will be in touch soon with discounts on tickets and hotels and our latest guides.
Related Articles