The Best 3 Day Kuala Lumpur Itinerary
Destguides may receive commissions from purchases made through affiliate links in this article.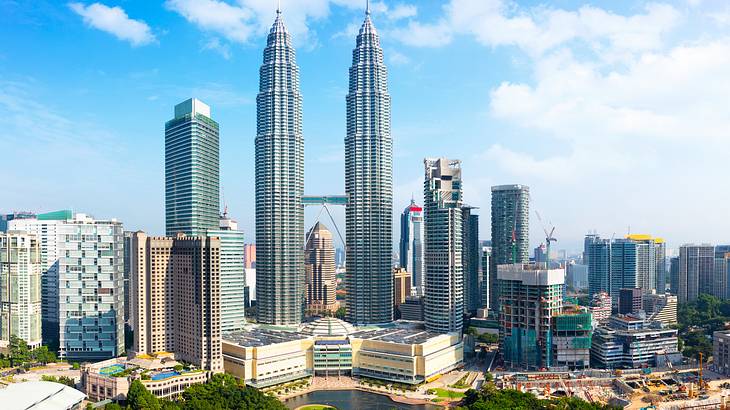 Kuala Lumpur is an iconic city that should be included on everyone's travel bucket list. The multicultural and vibrant capital of Malaysia, one of the cheapest countries to visit in Asia, has everything you could imagine, including fantastic short getaways from KL.
It should be no surprise then that sometimes it can be too overwhelming for visitors to the city to figure out what attractions to prioritize. As such, this 3 day Kuala Lumpur itinerary focuses on the main historically and culturally significant Asian landmarks and natural wonders of the city.
Kuala Lumpur, or KL as the locals call it, is mostly known for its famous skyline, colorful streets, and natural beauty. It is the perfect combination of modern technology and nature. Kuala Lumpur is one of the few cities where different cultures and religions coexist peacefully.
KL is a city where you can spend all day shopping at the largest shopping malls in the world, eat exotic food, visit exciting museums, and explore busy streets and natural landmarks.
My KL itinerary is fast-paced and jam-packed with breathtaking places to visit in KL in 3 days. Believe me; you won't have time to wonder what to do in the city after reading my Kuala Lumpur itinerary! You will see almost everything there is to see, from the city's notorious skyscrapers to its lush gardens.
If you have only two days in this phenomenal city, consider the following 2 day Kuala Lumpur itinerary that was written by a local. If you have longer than a weekend or are backpacking Malaysia, then consider also visiting its beautiful islands, such as Langkawi and Tioman Island.
The weather in Kuala Lumpur stays almost the same year-round: hot, humid, and tropical. The city experiences annual monsoons in March and April, so try to avoid this period if you can!
The perfect time to visit Kuala Lumpur is during the summer (May to July) when the weather is warm, and the chance of rain is low. However, summer is always filled with tourist crowds and has higher prices, while in winter (December to February), you can expect lower temperatures and prices. So, it's really up to you when to visit.
3 Days in Kuala Lumpur Itinerary
A Day Trip to the Batu Caves and the Genting Highlands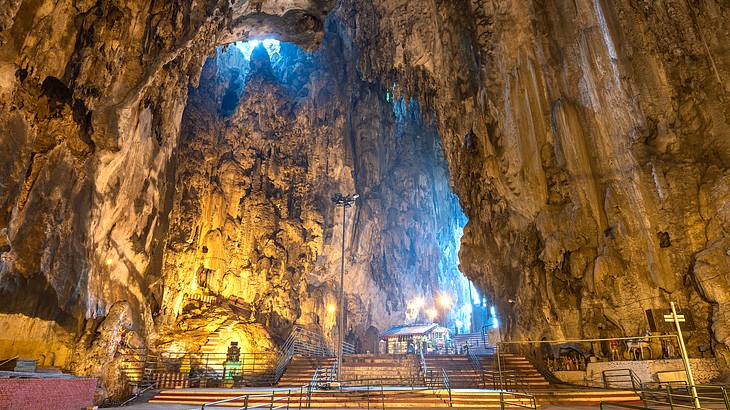 The first day of this 3 days in Kuala Lumpur itinerary will start with a trip out of Kuala Lumpur. On this day, you will visit the most famous landmarks in Malaysia. This day trip is one of many exciting trips that you can take while staying in Kuala Lumpur.
Your day will start early in the morning as you will have to travel outside the city centre. You can take a train, hire a driver, or rent a car/motorbike. The best option is to hire a driver who will pick you up from your accommodation and will be able to tell you more about the area.
On the first half of the day, you will explore Batu Caves, which are considered one of the most stunning natural and human-made wonders in Malaysia.
There are five (be aware that Dark Cave is no longer available to the public) main caves that you can choose to visit, or you can decide to see all of them if you want. I also suggest grabbing a quick breakfast before you start exploring the caves.
After lunch, you will head to the Genting Highlands where you will take the Genting cable car, visit a colourful temple, and explore the shopping area.
You will finish your first day in Kuala Lumpur in the Changkat Bukit Bintang neighbourhood which is filled with great restaurants and bars.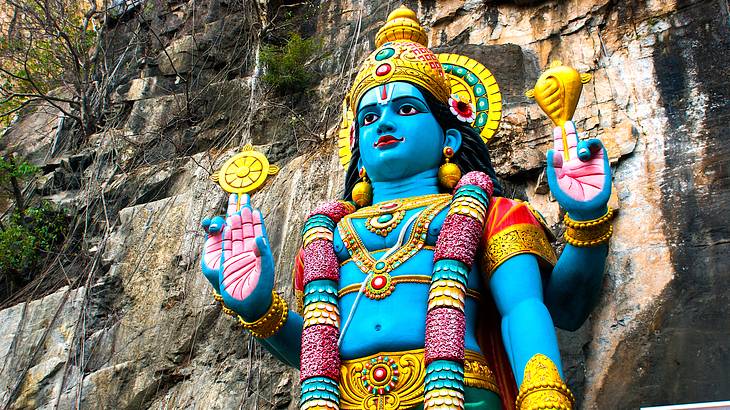 Ramayana Cave
The first stop of the day is located next to the train station and the main parking lot. Ramayana Cave is a colourful temple filled with various statues of Hindu gods.
Interestingly, Ramayana Cave is not usually considered as one of the main caves in the Batu Caves complex but is still well worth the visit when exploring Batu Caves.
Ramayana Cave's entrance is marked by a giant statue of the Hindu deity Hanuman – a monkey god. The cave also has a courtyard where you can find a statue of a five-legged bull that was once alive and used to run around the courtyard until its eventual death.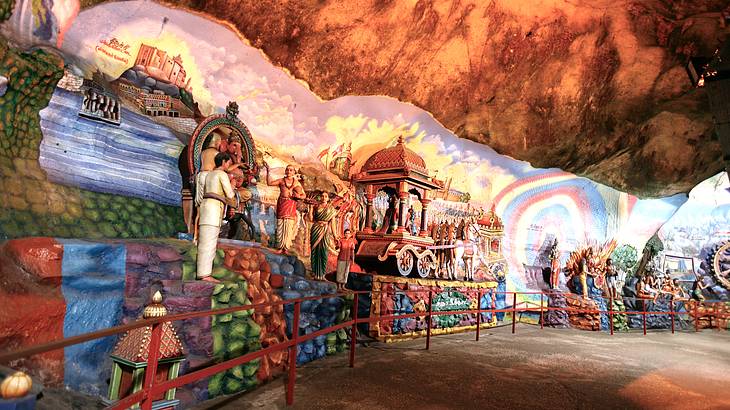 Cave Villa
Cave Villa is a cave temple formed of two caves that educate visitors about the Hindu religion.
In the first cave, you will find pastel-painted walls with murals, sculptures, and information tables. These tables are filled with information about Hindu gods, epic legends, and Hinduism history. You will need a good hour to read everything.
The second cave is dedicated to various animals, including reptiles, fish, birds, and other wild animals.
However, be aware that animals are in tiny enclosures, and you will be hassled to pay for a photo with the animals. So skip this part if you are against keeping wild animals for entertainment.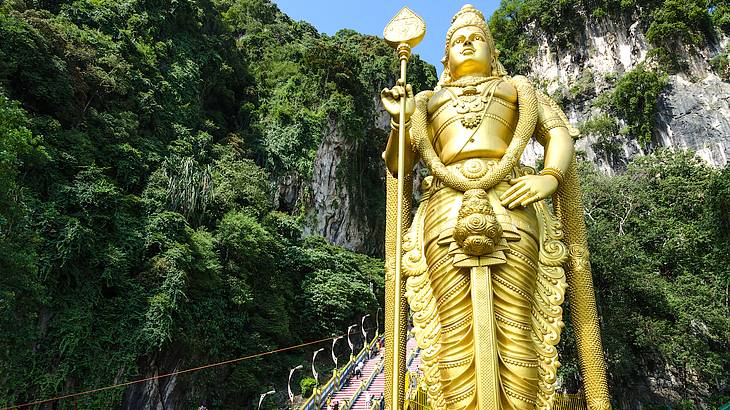 Statue of Lord Murugan (Sri Murugan)
Lord Murugan statue, also known as Sri Murugan and Tugu Dewa Murugga, marks the entrance to the Batu Caves. It is the tallest Hindu deity statue in Malaysia and the third tallest in the world. This statue is one of the world's most famous Hindu statues too.
Unveiled to the public in 2006, the statue is 42.7 m tall, and it took three years to build. Fifteen sculptors worked on creating the figure with 350 tons of steel bars and 300 litres of gold paint being used.
The iconic statue is the perfect spot for Instagram photos, and you may be able to view wild monkeys that love hanging around it!
Cathedral Cave
Cathedral Cave, known as Temple Cave or Murugan Temple, is the main cave in the Batu Caves complex. It is also one of the best things to see in Malaysia.
This cave is a temple dedicated to the Murugan diety. It is accessed via a very steep flight of 272 steps. You will be able to see the steps behind the Lord Murugan Statue. While climbing steps, make sure to hide your snacks as monkeys usually harass visitors for the food!
The temple consists of an entrance area with a shrine and two chambers where the temple is constructed. During the Thaipusam Festival, the temple welcomes almost a million devotees a day.
Before entering the temple, make sure you have covered your skin, including your shoulders, bust, and knees. You can purchase a cover-up by the entrance if you have forgotten to bring your own.
Pak Tam Sri Corner
There is a vast selection of restaurants near the Temple Cave; however, I suggest grabbing a meal from Pak Tam Sri Corner restaurant.
This cosy restaurant serves a wide variety of meals including Nasi Ayam, a chicken rice dish, and Char Kuey Teow, a noodle dish, at very affordable prices.
This is a popular spot among locals, and you definitely won't be disappointed no matter what you order. Eating here also provides the perfect opportunity to try traditional Malaysian food.
Another good thing is that Pak Tam Sri Corner is less busy than other restaurants located closer to the Batu Caves, meaning you won't need to wait in a long queue.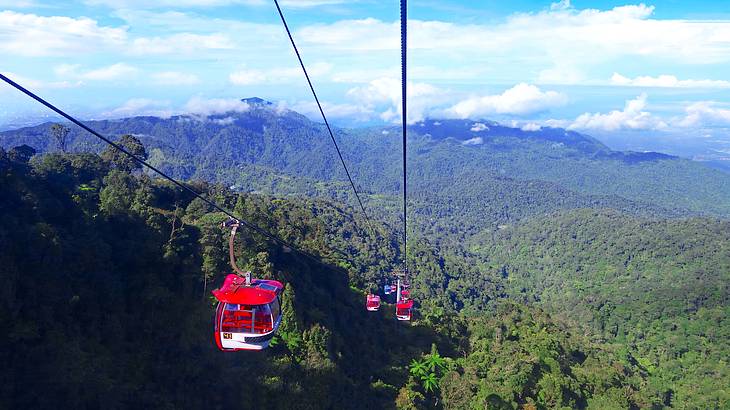 The Genting Skyway
The Genting Skyway is one of the longest and fastest cable cars in Southeast Asia. Located in the Genting Highlands tourist complex, the cable car takes you above the lush 120-year-old rainforest.
Genting Skyway connects the Genting Highlands Resort World Hotel to Gohtong Jaya and another cable car, Awana Skyway.
The cable car stops at several stations between the two main stations. A ticket is valid for the full ride, so you won't need to pay extra if you get off at other stations.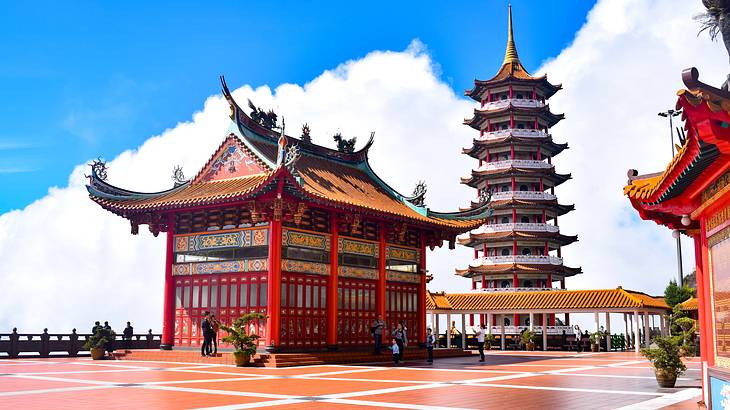 Chin Swee Cave Temple
Chin Swee Cave Temple is one of the best places to visit in Kuala Lumpur in 3 days. Nestled between a golf course and a resort, the temple stands on the top of a cliff and amazes everyone by its beauty.
Completed in 1994, the Chin Swee Cave Temple complex is well-known for its nine-storey pagoda which has 10,000 'blessing lamps' for devotees to dedicate to people who deserve the Buddha blessing.
You will also find a five-storey main temple hall, numerous statues of lotus-seated Buddha, and dioramas depicting the journey from hell to heaven according to ancient Chinese beliefs.
The temple can be reached by the shuttle bus, car, or taking Genting Skyway. After exploring the temple, you can go down and visit the Genting Highlands resort complex, a great place to shop for gifts.
Changkat Bukit Bintang
After an adventurous day out of Kuala Lumpur, you are going to finish your day exploring the busy Changkat Bukit Bintang neighbourhood which is famous for its nightlife.
The area is filled with high-class restaurants, chic cocktail bars, and nightclubs. You will also find traditional Irish pubs and whisky bars. Almost every venue has live music to brighten up your night out too.
Grab dinner from any of the restaurants and enjoy a drink or two at the bar. Try to finish your evening before midnight as you will have to wake up early for your next day's activities!
Iconic Kuala Lumpur Attractions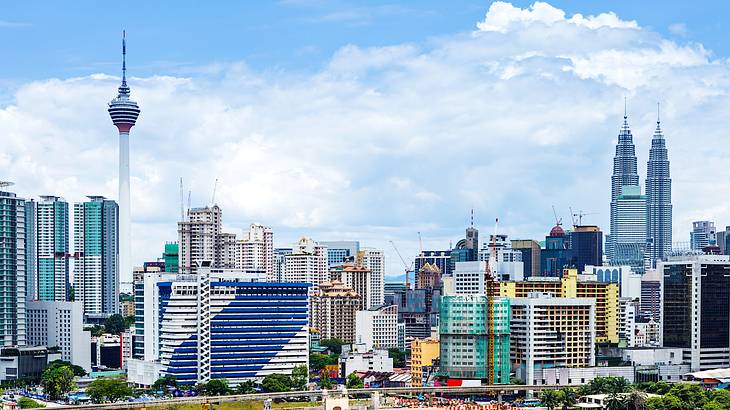 On the second day of this 3 day in Kuala Lumpur travel guide, you are going to visit the most iconic Kuala Lumpur attractions which are located in the city centre. I suggest starting the day early in the morning after grabbing a simple breakfast.
You will start your morning at the KL Forest Eco Park where you will have a chance to stroll through dense trees, see rare tropical plants, and try a canopy walk. Later on, you will move towards the KL Tower where you will find several restaurants, a mini Zoo, and a communications tower.
At KL Tower, you will also get to take in the picturesque views from its 'open-air' observatory deck and can enjoy lunch at the tower's restaurant.
Towards the evening, you are going to visit KLCC Park and watch a spectacular water show before entering Petronas Twin Towers. The twin towers are one of the most famous landmarks in Kuala Lumpur (and Malaysia in general), so it is impossible not to visit.
Finally, you will finish your day wandering around Jalan Alor Street, a fantastic place to try Malaysian street food. Just don't forget to take enough cash as you will want to try lots of dishes!
You won't need a car for this day as all destinations are easily reachable on foot or by public transportation. However, if you don't want to walk or use public transit, the best option is to hire a driver who will drive you through the crazy Kuala Lumpur's traffic.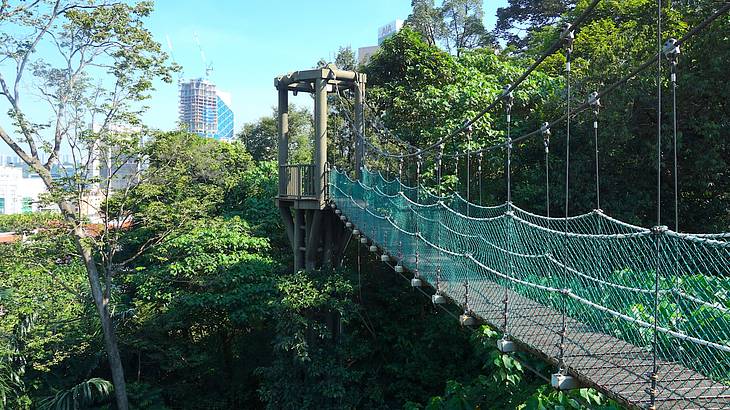 KL Forest Eco Park
You will start the second day of your three days in Kuala Lumpur itinerary by visiting a lush forest in the middle of the city. KL Forest Eco Park is the only natural rainforest in the world that is situated in the town.
KL Forest Eco Park, formerly known as Bukit Nanas Forest Reserve, was designed as a nature reserve in 1906 and is one of the country's oldest parks.
The most well-known attraction in the park is a 200-metre canopy walk which provides people with majestic of the rainforest and iconic Kuala Lumpur buildings.
The park also has a herbal garden, information centre, various hiking and walking trails, and picnic spots. It gets hectic after 10 AM, so if you can, try visiting the park between 7 AM and 9 AM.
Beryl's Chocolate Kingdom
Located near another great attraction, Upside Down House, Beryl's Chocolate is a small and cosy cafe specialising in chocolate treats.
It is a perfect place to relax, have a drink, and shop for chocolates to take home as gifts or as a treat for yourself. The cafe also has excellent views of the KL Tower and surrounding attractions.
The chocolate is quite pricey, but the price is worth it to enjoy the confections' high-quality and heavenly taste.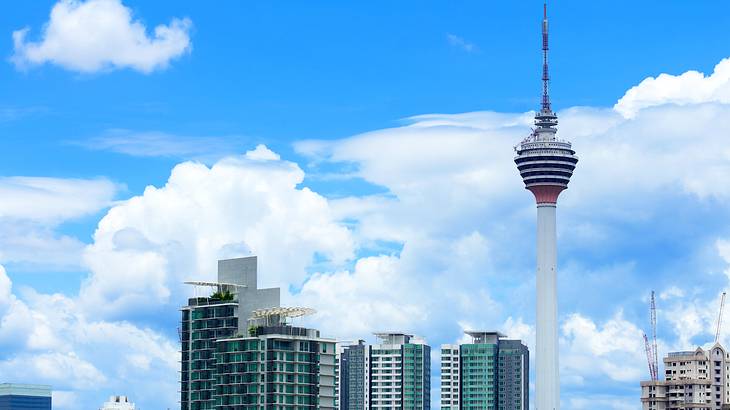 Kuala Lumpur Tower
Completed in 1995, Kuala Lumpur Tower, or KL Tower, is a communications and entertainment tower offering spectacular views over the city. The building is 421-metres tall and is the 7th tallest free-standing tower in the world.
The most popular activity here is visiting the observation deck. To reach it, take the lift to get to the observation deck in just 54 seconds! The observation deck is a circular glassed room that provides 360-degrees views of Kuala Lumpur.
If you are an adrenaline seeker, you can go up to the Sky Deck as well. This viewing platform doesn't have walls just railings.
The tower also has a high-class revolving restaurant which is the perfect place to have lunch, dinner, or "hi-tea" with majestic views.
KLCC Park (Central Park)
Located near the Suria KLCC shopping mall, KLCC Park is a 50-acre urban park that is sometimes called Central Park.
The park provides excellent views of the Petronas Twin Towers from below. There are several walking paths, waterfalls, fountains, and sculptures. The park also has a lot of rare trees and seasonal flowers that make a perfect background for your photos.
KLLC Park is well-known for its human-made Lake Symphony which features water fountains that can shoot water up to 42-metres into the air. The daily water shows occur at noon and in the evening but be sure to check the times before your visit if you want to see the show.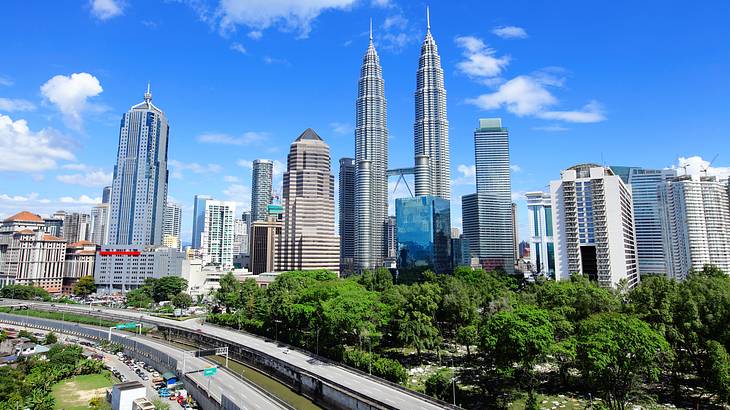 Petronas Twin Towers
The Petronas Twin Towers are a very iconic attraction that has to be included as a place to visit in every Kuala Lumpur travel guide.
Opened to the public in 1998, the twin towers were ranked as the tallest buildings in the world from 1998 until 2004 when Taipei 101 in Taipei in Taiwan surpassed them. However, they are still the tallest twin towers in the world.
The 88-floor towers are joined together at the 41st and 42nd floors by a double-decker Skybridge. You can purchase tickets for the Skybridge and enjoy a walk across it to see great views of the city.
There is also an observation deck on the 86th floor. This is just one of several places in the city where you can enjoy a great view of Kuala Lumpur!
The towers have a limited ticket availability, so I suggest booking your ticket in advance and getting the "skip the queue" ticket. Be aware that if you haven't booked tickets in advance, you will need to queue up from the early morning and will be able to go into the towers only at a designated time.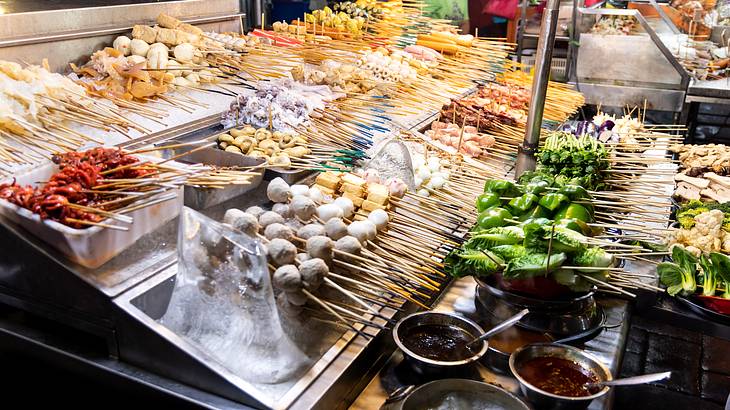 Jalan Alor Street
Jalan Alor Street is the most famous street in the city for food. It is packed with endless seafood and traditional restaurants, street food stalls, and relaxing bars, and you will be able to get anything from Western food to regular Malaysian meals.
The colourful street is usually packed with locals and tourists wandering around. While there, I recommend grabbing a fried oyster egg (omelette served with oysters and coriander) from Restoran Meng Kee Grill Fish and smoky-flavoured chicken satay or grilled chicken wings served with soy sauce from Restoran Wong Ah Wah.
Kuala Lumpur Off the Beaten Path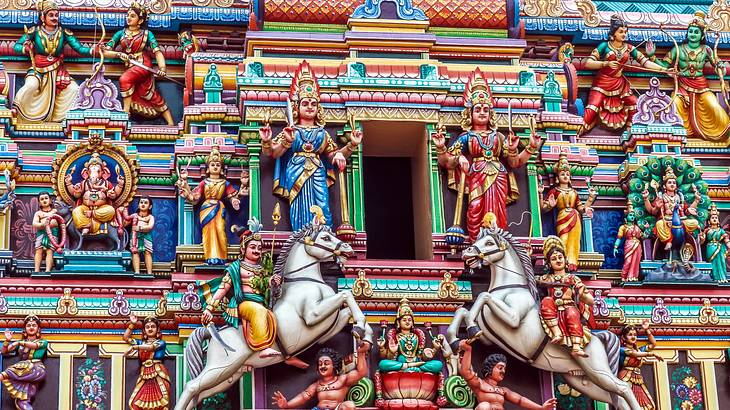 The third day of this Kuala Lumpur itinerary for three days is going to start early in the morning. The day is going to be fast-paced so wear comfortable clothes and shoes.
This day will introduce you to the hidden gems and historically significant places of Kuala Lumpur. These landmarks usually aren't the top priority for tourists, so you will be able to enjoy these attractions without the crowds found in more well-known areas.
You will start and end your third day in Kuala Lumpur's Chinatown. The first stop is going to be to the colourful and peaceful Sri Maha Mariamman Temple situated on the edge of Chinatown.
After the temple, you will head towards the National Mosque of Malaysia and the National Museum, where you will learn more about Malaysian history and culture.
Next, you will take a passage leading to the Lake Gardens (Botanic Gardens) where you will take a relaxing stroll around the lake, visit bird and butterfly parks, and have lunch.
The next half of the day will be filled with historical monuments such as Merdeka Square and the Sultan Abdul Samad Building.
Having visited these attractions, you will head back to Chinatown and explore Petaling Street, which is famous for its night street market. You will have your evening meal there and will have a chance to shop for affordable souvenirs.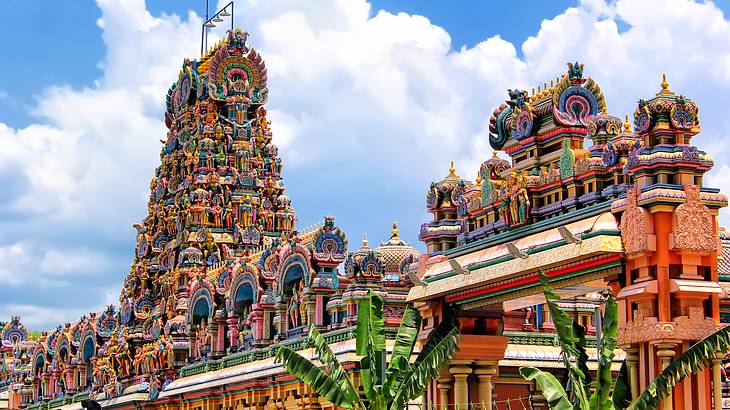 Sri Maha Mariamman Temple
Nestled on the edge of Chinatown, Sri Maha Mariamman Temple, also known as Sri Mahamariamman temple, is the oldest Hindu temple in Malaysia.
It was initially built in 1873 and was renovated in 1968. The spectacular tower was added to the temple's structure, and Spanish and Italian designs highly influenced the current architectural style of the temple.
The temple is most well-known for its 23-metre tall tower called 'Raja Gopuram'. According to legend, the building represents the material and spiritual worlds. The temple features more than 228 Hindu deities as well that decorate its walls.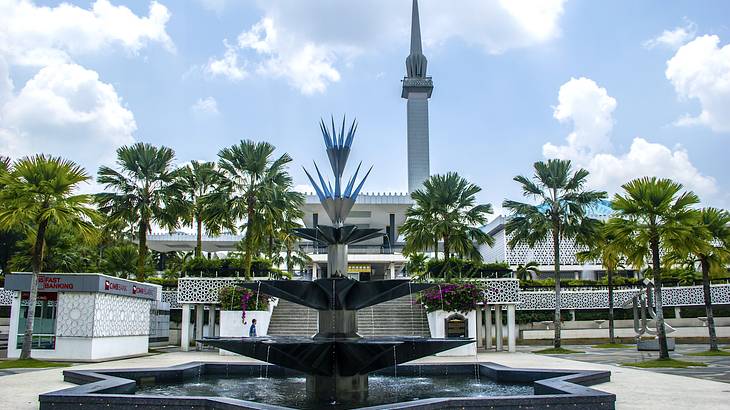 The National Mosque of Malaysia
The National Mosque of Malaysia, also known as Masjid Negara mosque, is a national symbol of Islam. This magnificent building is one of the top places to visit that you can't miss while in Kuala Lumpur.
The mosque covers 13-acres and can accommodate about 15,000 people, and it was built in 1965 by British and Malaysian architects. The modern 18-point star-shaped dome represents the 13 states of Malaysia and the five pillars of Islam.
You can enter the mosque free of charge after prayers are over. You will have to wear suitable clothes to enter, such as long sleeves and no shorts or short skirts.
The National Museum of Malaysia
Situated near the National Art Gallery and the Islamic Arts Museum, the National Museum of Malaysia is one of the most important museums in the country. It is the ideal place to visit to learn more about the country's history, economy, arts, crafts, and culture.
Established in 1963, the museum has three floors that house a large variety of exhibitions. The building has a traditional Minangkabau-style roof and murals that depict important historical events.
The National Museum of Malaysia hosts regular guided tours in English; however, you will have to pre-book them before your visit.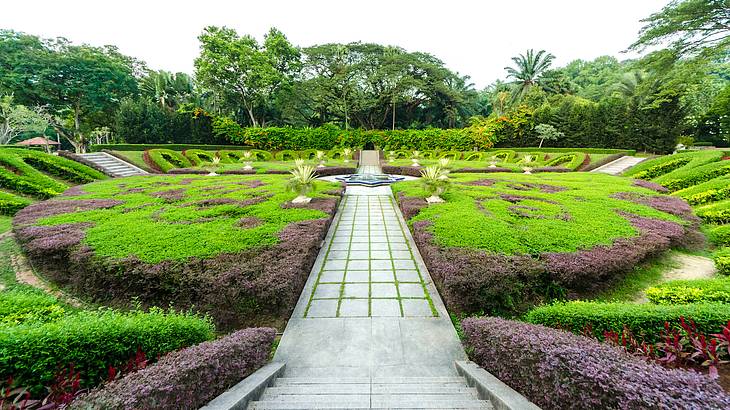 Perdana Botanical Garden
Perdana Botanical Garden, also known as Lake Gardens, is located within the city near national museums and the National Mosque of Malaysia.
Established in 1888, the garden covers 91.6 hectares and features various gardens, parks, buildings, monuments, and ponds. Park visitors can enjoy a relaxing stroll while appreciating the rare tropical plants and beautifully designed gardens.
You can additionally pay a visit to the butterfly and the bird park, which is home to more than 3,000 birds and 6,000 butterflies. I recommend visiting to view the stunning animals and insects that live here.
Perdana Botanical Garden has several restaurants and cafes where you can grab a nice lunch too.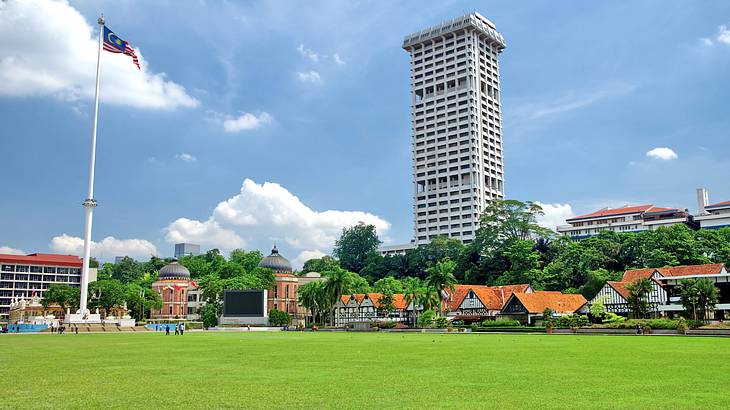 Merdeka Square
Merdeka Square, also known as Dataran Merdeka, is a well-known Kuala Lumpur landmark. It is located in front of the Royal Selangor Club and St. Mary's Anglican Cathedral.
It is a former colonial square that is home to the tallest flagpole in the world which stands at 95-metres tall. The square is the place where the Malaysian flag was first raised in 1957 as well and is the venue for the annual Merdeka Parade.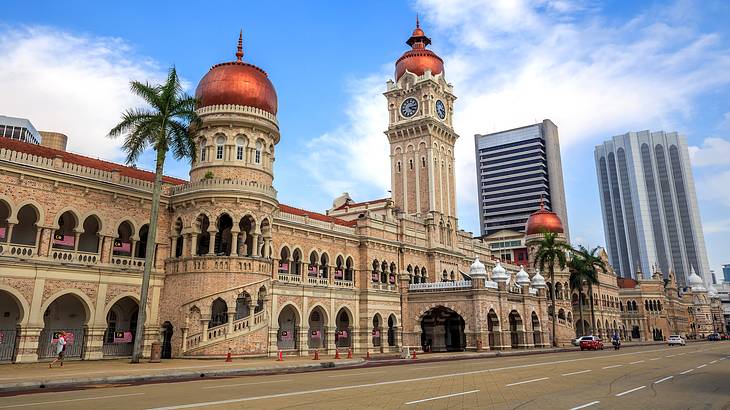 Sultan Abdul Samad Building
The Sultan Abdul Samad Building is a Moorish-style building situated near Merdeka Square. It was built in 1897 and named after the reigning sultan of Selangor, Sultan Abdul Samad. Today, the building houses the Ministry of Information and the Ministry of Tourism and Culture of Malaysia.
The building was constructed from bricks and features a mix of gothic, western, and Moorish architectural styles. It also has a 41-metre tall clock tower.
The Sultan Abdul Samad building is an attractive and culturally significant building that is a must-visit while in Kuala Lumpur.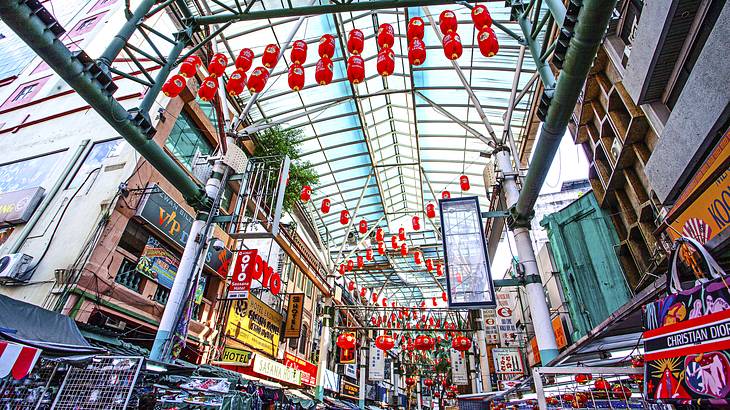 Petaling Street
Situated in Kuala Lumpur's Chinatown, Petaling Street, or Petaling Street Market, is a vibrant shopping road filled with food stalls, restaurants, and shops.
The street comes to life in the evening when vendors set up their stalls selling cheap clothes, accessories, bags, traditional crafts, and other things. It is probably the most famous night market in the country. You can get almost everything here but be aware that the majority of designer items are fake.
Petaling Street is a wonderful place to shop for cheap souvenirs too as you can easily haggle to lower the price, especially if you buy more than one item from the same vendor.
The street also has numerous affordable restaurants and food stalls that serve simple Chinese and Malaysian dishes, as well as drinks. You can easily satisfy your appetite without spending a fortune!
The market is open 24 hours, so don't worry if you can't get there in the evening. Make sure you put aside enough time to explore all the shops and stalls and thoroughly enjoy the food on offer.
Conclusion
As you can see, there are many exciting things to do in Kuala Lumpur in 3 days! Kuala Lumpur is truly an incredible destination where you can experience various activities and soak up the culture that the city exhibits.
What's great is that the city has everything in one place: art, modern buildings, natural wonders, places of historical significance, and delicious food. It is just impossible to be bored in Kuala Lumpur when there are so many things to see and do!
This Kuala Lumpur itinerary for 3 days covered the city's architectural wonders, areas of natural beauty, shopping, and eating spots, and more. This fast-paced travel guide is perfect for first-time visitors who want to see lots of destinations in a short time.
This guide also has just enough room to squeeze in a guided walking tour if you wish to take one to explore more of the city.
---
---
Want to keep exploring?
Subscribe for discounts on tickets and hotels and our latest guides.
Thank you for subscribing
We will be in touch soon with discounts on tickets and hotels and our latest guides.
Want to keep exploring?
Subscribe for discounts on tickets and hotels and our latest guides.
Thank you for subscribing
We will be in touch soon with discounts on tickets and hotels and our latest guides.
Related Articles