26 Best Places to Visit in Kandy, Sri Lanka
Destguides may receive commissions from purchases made through affiliate links in this article.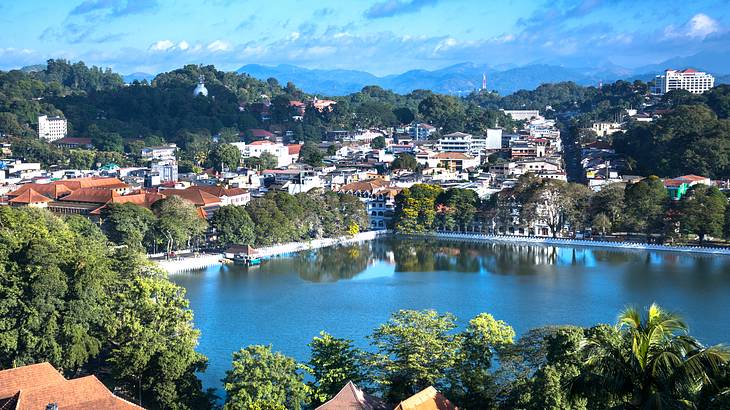 Kandy is a Sri Lankan city perched atop a plateau surrounded by giant green hills. It is a town famed for its serene beauty and is a budget destination in Asia. Modern advancements have bruised Kandy's charm a little bit, however.
That being said, there are still a lot of beautiful places in Kandy to visit. Kandy is a landlocked region located in the Central Province of Sri Lanka - about 3 hours south of Polonnaruwa, with Mirissa even further south.
Kandy bears many historical tales of both pride and pain and is one of the strongest kingdoms in the country. It was the last to fall under the reign of foreign invasion.
Below, you will find a list of the best places to visit in Kandy, Sri Lanka, which shows the town in its purest and serene form. A Kandy tourist map is also included for your convenience.
26 Tourist Places in Kandy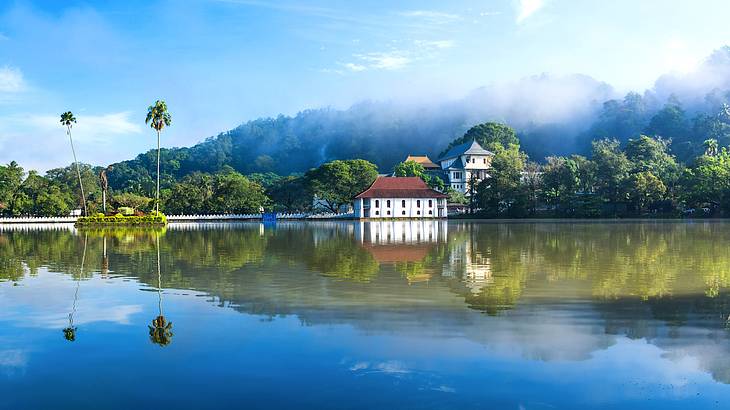 Dalada Maligawa
Otherwise known as the Temple of the Sacred Tooth Relic, Dalada Maligawa is of utmost importance to the Buddhists in Sri Lanka as it houses a sacred tooth of Lord Buddha. The interior of Dalada Maligawa is awe-inspiring as well, with intricate carvings, paintings, and statues to observe.
You need to be dressed in clothing that covers past your knees to enter the palace premises. You must also maintain silence at all times once inside, as it's a place of religious observation.
The Esala Perahera is one of the most spectacular festivals in Sri Lanka and South Asia. The festival begins from this temple, and the celebration consists of an array of performances in Kandy's streets. It is truly amazing to watch!
So if you're in Sri Lanka during the festival season, make sure to include a stop at this temple on your Sri Lanka itinerary!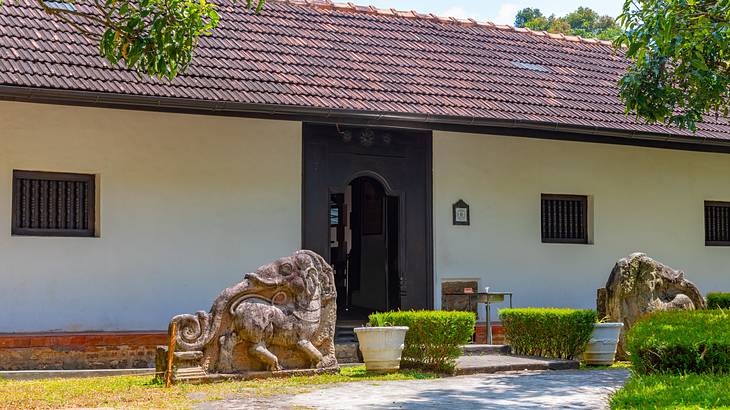 National Museum of Kandy
If you are interested in learning about Kandy's long-standing history, drop by the museum adjoining the Temple of the Tooth Relic. The Kandy National Museum is on the premises of the former Royal Palace complex of the Kandyan Kingdom rulers.
The museum houses an exciting collection of jewellery, relics, coins, thrones, and armaments from the Kandyan period and the colonial rule after that.
You can also take a look at the remains of the Royal Palace of Kandy while you are here to get an understanding of the royal life of kings back then.
World Buddhist Museum
The World Buddhist Museum in Kandy is not only one of the first museums dedicated to Buddhism in the city and Sri Lanka but also in the world. It is located close to both the Temple of the Sacred Tooth Relic and the National Museum of Kandy.
Allocate one to two hours to spend in this spacious and organised museum. It has detailed descriptions in English under the displays for the convenience of English-speaking visitors.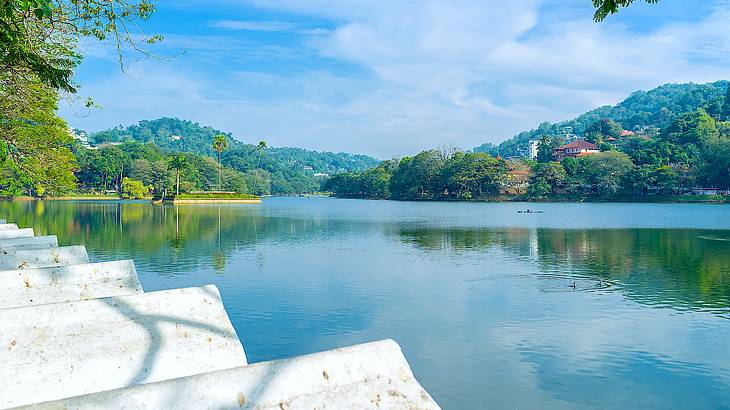 Kandy Lake
Opposite Dalada Maligawa is a large artificial lake that was constructed in 1807. Fenced by white stone pillars, it is one of the most beautiful places in Kandy to visit. Spend some time observing the birds and the lizards and ducks idling along the water's edge.
There is a small island in the middle of the lake, which you can see up close if you go on a boat ride. Kandy Lake is more enjoyable early in the morning when mist surrounds the area, and the weather is quite refreshing. It is also one of the romantic places in Kandy to visit at night when the city's chaos has subsided, and tranquillity takes over.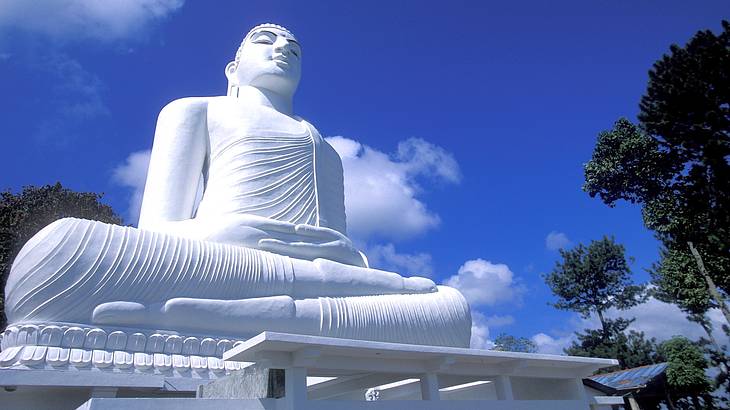 Bahirawakanda Vihara Buddha Statue
This massive Buddha statue in a seated position is located atop a hill known as Bahiravo Kanda (Devil's Hill). It is two kilometres from Dalada Maligawa, and you can easily reach the foot of the mountain by tuk-tuk.
The origin of this statue and how it came to be a place of worship has some mythical tales surrounding it, the most intriguing being the sacrifice of 100 virgin women.
The Vihara Buddha Statue is 88 feet high and is one of Kandy's primary places of worship. Climbing to the top is a bit of a challenge, but you get stunning panoramic views of the entire city from here.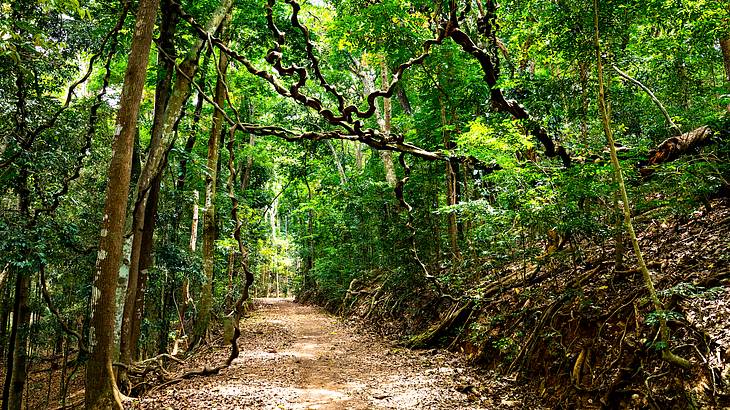 Udawattakele Sanctuary
Also known as the Royal Forest Park of Kandy, this forest reserve is a popular place for bird watching as it is home to many native bird species. You will also get a chance to observe some wild animals, like monkeys, porcupines, wild boars, and deer.
Some noteworthy walks and sights here are 'The Lover's Walk,' the 'Marble Seat', and a few Buddhist monasteries. The forest reserve is not very dense, so you get a picturesque view of nature, and you should be able to navigate yourself around easily without the help of a guide.
Kandy Lake Club
If you want to enjoy a cultural performance, you should check out the Kandy Lake Club. It hosts a cultural dance show every day starting at 5:30 PM.
The entire show is a mixture of different traditional Sri Lankan dances performed by experienced dancers wearing colourful outfits. It concludes with a fire show outside where some performers walk on hot coal, which is pretty interesting to see.
They will provide you with a leaflet containing information about the significance of each performance. You will love the aesthetic and energetic vibe of the entire event! The Lake Club is located in Sangamitta Mawatha in Kandy, and you can reach it by tuk-tuk.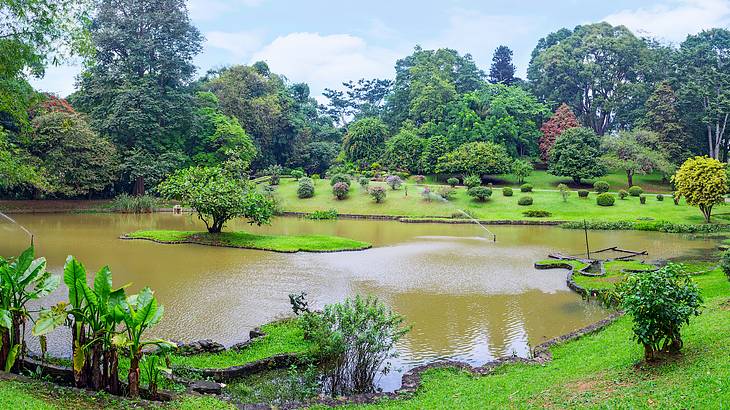 Royal Botanical Gardens
The Peradeniya Botanical Gardens are one of the prettiest sites in Kandy and are cradled by Sri Lanka's longest river, Mahaweli. It was initially designed as a pleasure garden for a Kandyan queen, but it was later extended into a botanical garden during British colonial rule.
Today, it is the largest botanical garden in Sri Lanka, with over 4,000 varieties of plants. It has an array of exotic flowers, most notably many types of orchids. There is a herbarium that has an extensive collection of plant specimens as well.
You can spend some time relaxing on the lawn too. If you don't want to walk around the gardens, you can book a cart to take you on a tour.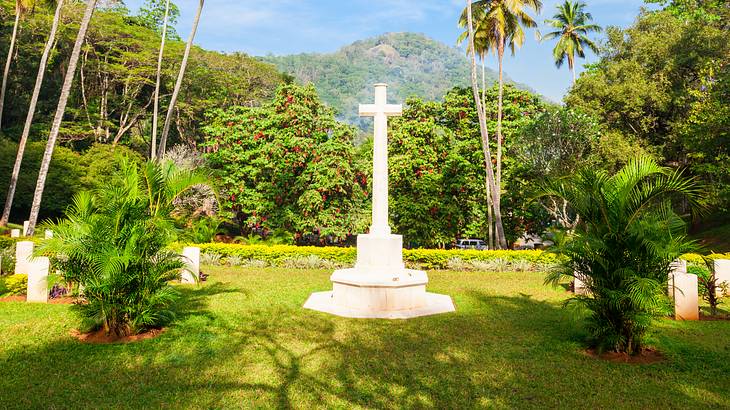 Commonwealth War Cemetery
After time well spent in the Botanical Gardens, you can pay a visit to a unique burial ground located less than two kilometres away. It is a war cemetery dedicated to 203 soldiers and men who lost their lives during the Second World War in a fight against the Axis Powers.
This cemetery is also known as the Kandy War Cemetery, or the Pitakande Military Cemetery, and is maintained by the Commonwealth War Graves Commission. The Kandy War Cemetery stands as a testament to the tragic war whose wounds are borne by every country in the world.
You will find this place very peaceful and ideal for spending some quiet time. You will have to book in advance if you want to visit the cemetery.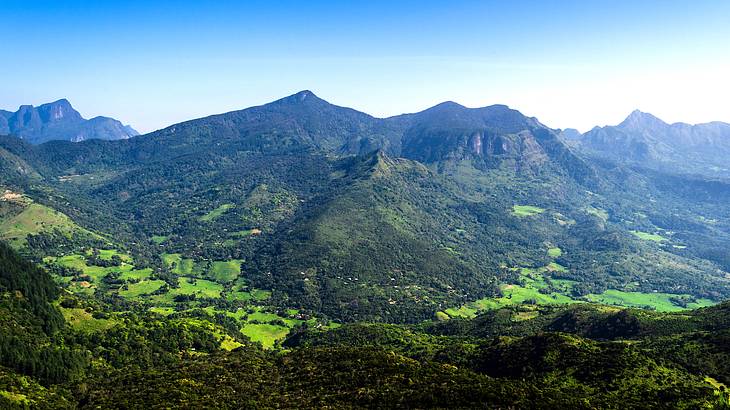 Knuckles Mountain Range
The towering mountains in Kandy not only take your breath away with their beauty but also invite you to hike their challenging routes to the top. In this regard, the Knuckles Mountain Range is a paradise for anyone who wants a rush of adrenaline.
The Knuckles Range is rich in biodiversity and is home to a range of animal and bird species. You will love the fantastic view of the lush greenery with mist clinging onto the mountains as well.
It is best to allocate at least a day to get the best experience from trekking. You will have to hire an experienced guide to accompany you as it is strictly prohibited to trek alone due to unpredictable weather conditions. You also have to purchase entry tickets in advance via the tour guide.
There are many trails available, and you can pick one according to your preferences and level. Make sure to wear the appropriate clothes to keep you warm, and come equipped with the essential travel gear!
Laksala
Laksala is a state-owned gift and souvenir boutique that sells a wide range of local handicrafts. They have a collection of leather items, batik clothes, handloom toys, miniature elephant figurines, jewellery boxes with intricate wooden carvings, ceramic pieces, and gems.
They are perfect for souvenirs to take back home to keep as memorable items for yourself or to give as gifts for your loved ones. If you find them too expensive, you can shop at the other nearby stores.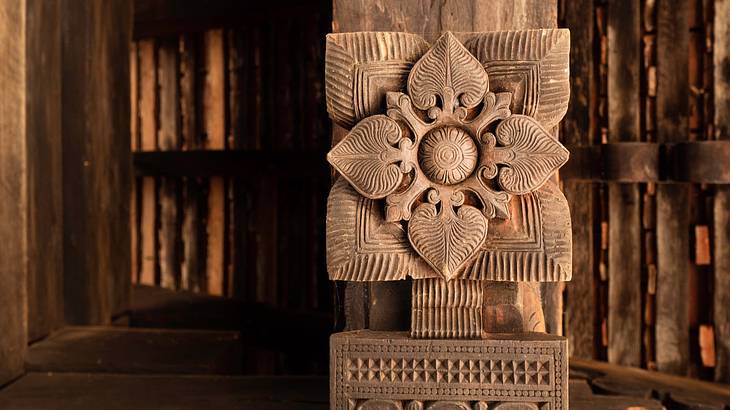 Embekke Devalaya
The Embekke Temple in the Udu Nuwara area houses some of the best wooden carvings in the world, as recognised by UNESCO. The temple, located only a 30-minute drive from Kandy City, is a place of worship and a major tourist attraction.
It was constructed under the patronage of King Wickremabahu III of the Gampola Kingdom over six centuries ago.
The temple's interior is a sight of intricately carved wooden pillars, beams, rafters, and doorframes. They feature swans, eagles, dancers, and many other imaginary hybrid figures entwined with precision to create splendid woodwork.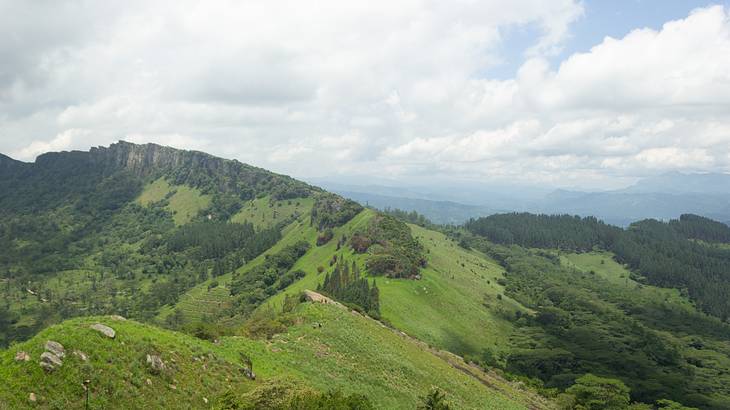 Hanthana Mountain Range
Hanthana Mountain Range consists of seven peaks and was declared an Environmental Protection Area (EPA) by the government. Its highest peak, known as Ura Kanda, is 3800 feet tall.
The mountain range is a popular hiking destination, primarily among locals, although it's gaining fame with foreign tourists as well. So, if you love hiking, this is one of the best things to do in Kandy.
It's also great for picturesque views of Kandy city, the Knuckles Mountain Range, and Piduruthalagala, among other exciting landmarks. You will come across several endemic bird species and native animals on your way too.
There are many trails available for moderate-level hikers, each covering a unique landscape of the mountain range. The most popular one is the Sherwood Forest trek.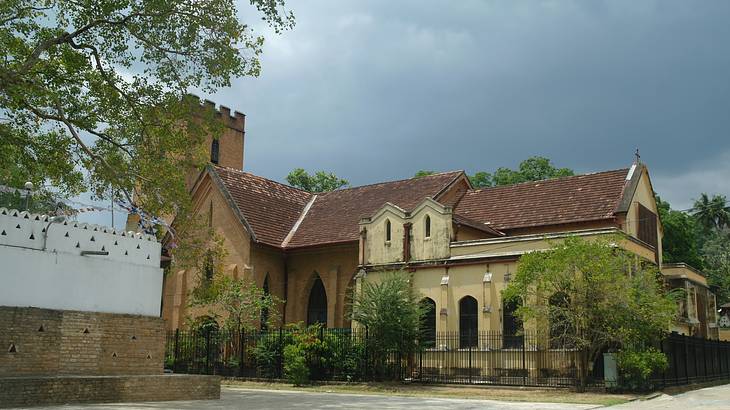 St. Paul's Church
St. Paul's Church, located close to the Temple of the Sacred Tooth Relic, was built during the colonial era for the British troops stationed nearby. The Neo-Gothic Anglican Church is made out of terracotta bricks that have faded into a red-ochre colour over time.
The church sustained significant damage from the bomb blast in 1998 but was restored. The beautiful stained glass window on the east side of the church, depicting key elements of the religion, was also shattered into fragments from the bomb blast. The pieces have been collected carefully and restored to their original condition.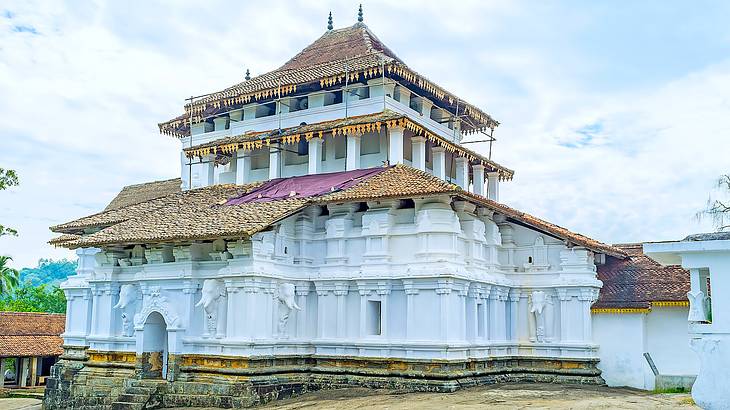 Lankathilaka Viharaya
Another interesting historic place to visit in Udu Nuwara, Kandy, is Lankathilaka Viharaya. The 80-foot high temple is built atop an uneven rock called Panhalgala, which overlooks the Hanthana Mountain Range. Beautifully sculpted arches and walls dominate the white exterior of the temple, in addition to the inscriptions carved into the rock.
The Buddha Image House, the primary attraction of the temple, houses a giant statue of Buddha in a seated position under a dragon arch. The interior walls are adorned with magnificent paintings portraying the lives of Buddha. Lankathilaka Viharaya has a very serene ambience, and you can spend some time admiring the surroundings as well.
Degaldoruwa Raja Maha Viharaya
Travellers are always quick to tour the city and leave hastily for Nuwara Eliya or Ella. But, there are many attractions in Kandy worth your attention. This is one of them.
Degaldoruwa Raja Maha Viharaya is famous for its murals, which have been carefully preserved for centuries. This cave temple, built by carving out a giant rock, dates back to the 18th century when the Kandyan Kingdom was reigned by King Kirthi Sri Rajasinghe.
The Buddha Image House has frescoes that portray Buddhist Jathaka stories unfolding beautifully as you walk from one end of the wall to the other. In addition, there are many other paintings on the premises as well.
One could easily spend a good couple of hours here observing them, learning about the culture and social customs that prevailed during the era.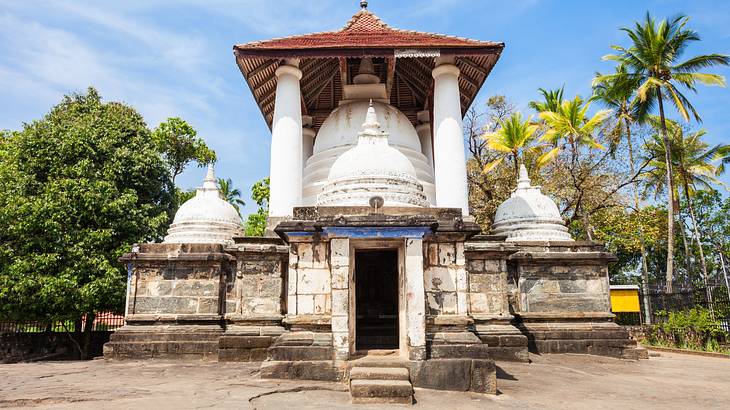 Gadaladeniya Rajamaha Viharaya
Also known as Gadaladeniya Rajamaha Viharaya, this temple is situated atop a large flat rock is in Pilimathalawa, Kandy. It was built in the 14th century by King Buvanekabahu IV. The main shrine room houses a large statue of Buddha seated under a dragon arch known as Makara Thorana.
The temple and its adjoining buildings are built mimicking South Indian architectural styles with carvings of lotus petals, dancers, drummers, flutists, and other elements adorning the walls and pillars. There are many other statues and paintings of Buddha within the premises as well.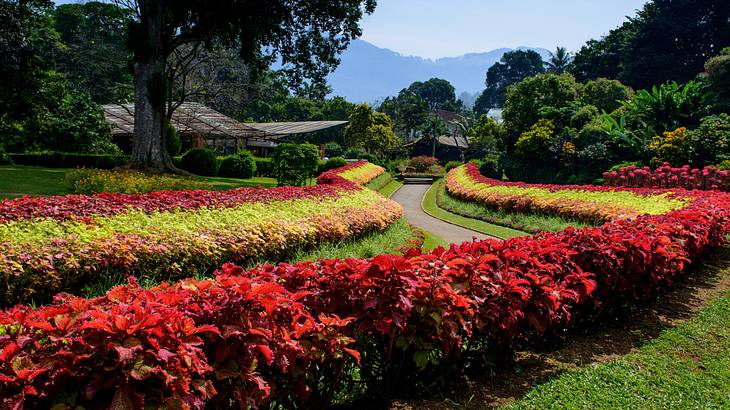 New Ranweli Spice Garden
Sri Lanka has been known for its extensive range of spices and herbs around the world for centuries. This is your chance to learn about them when you're in Kandy!
A guided tour will inform you how exotic spices, such as cinnamon and cloves, are grown and harvested with extreme care. There's also a store within the premises to purchase spices and Ayurvedic products if you're interested. Many reviews say they are reasonably priced and of good quality.
The spice garden is located in Gannoruwa, closer to the Royal Botanical Gardens in Peradeniya. Even though the New Ranweli Spice Garden is a relatively small area, it is full of things to observe.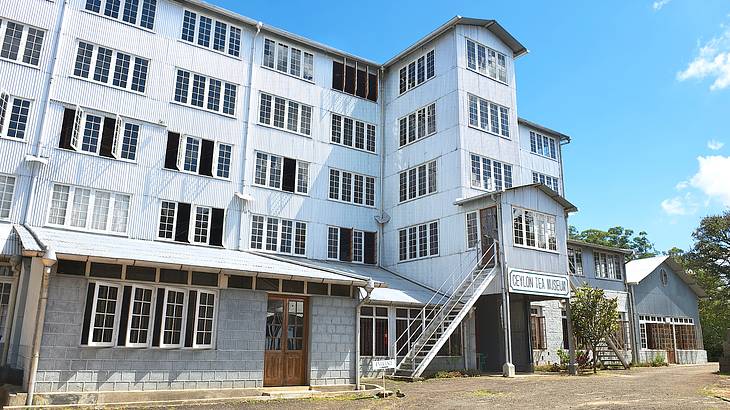 Ceylon Tea Museum
The Ceylon Tea Museum, formerly the Hantana Tea Factory, is one of the must-visit Kandy attractions. The building, a vintage statement in itself, consists of four floors. It is located in Hanthana, just three kilometre from the city.
Two floors are dedicated to exhibits of antique machinery that were used for processing tea back then. Another floor is equipped with a library and an auditorium for visual presentation purposes to educate visitors on the history of Ceylon Tea and its pioneers like Thomas Lipton.
The top floor houses a café where you can settle for a cosy cup of tea and some snacks while enjoying Hanthana's breezy weather.
Riverstone Gap
If you have more time to spare, it is recommended to go on a day tour to visit the Riverstone Gap in Matale. It's a mountainous region with a trail that takes you to a cliff with a 300-meter drop.
Although it's a hotspot among hikers, it's less frequented by foreigners. So, if you love off-the-beaten-path tracks, don't miss visiting it! The Riverstone Gap is one of the best places to visit around Kandy to enjoy the scenic sunrise or sunset. You will also get a view of the Knuckles Mountain Range on a clear day.
The hike isn't very tedious, so it's ideal for big kids as well. However, be extra careful as you reach the top, where the pathway becomes very steep. The weather can be windy and cold, so make sure you wear the right gear to keep you warm. It's advised to start your hike early morning to return by 3 PM before it gets too dark.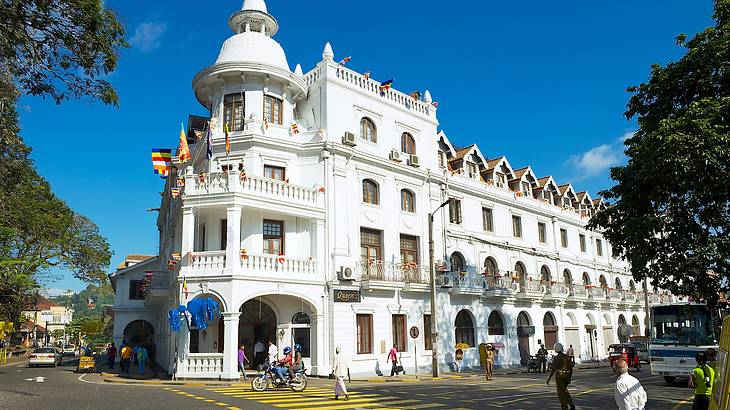 Kandy City Centre
Want to shop for some essentials, grab a few souvenirs, or go for a good meal? Then, the Kandy City Centre (KCC) is the place for you.
It is the only commercial and shopping complex in Kandy with a wide range of stores selling clothes, electronics, jewellery, cosmetics, and several other things. You will find retail stores of leading international brands here too.
In addition, the complex also houses an entertainment zone, a top-notch food court serving a variety of international cuisines, supermarkets, and banks to give you a convenient experience. KCC is used for many local events and celebrations from time to time as well.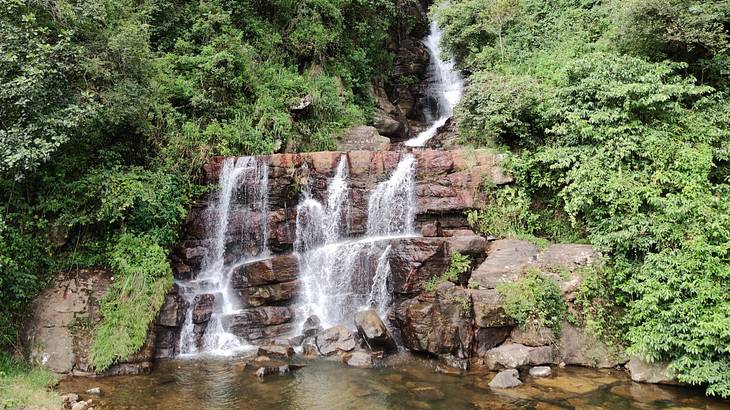 Saree Ella Waterfall
A trip to this waterfall would take an hour and a half from the city. But, as you step into the serene ambience of the waterfall, you will forgive the somewhat tedious journey through the winding paths.
Saree Ella Waterfall is located in Gomara Village, 30 kilometres from Kandy city. The waterfall gets its name due to its cascade taking the form of a sari, a traditional dress worn by Sri Lankan women.
The upper tier of the falls is around 20 metres in height. The natural pool at the base is ideal for swimming as it isn't very deep. However, be cautious of the water level. It's a great place to have fun and relax with your family and friends. Please be careful not to litter and help the locals preserve the area's beauty as it is.
Geragama Tea Factory
Although Kandy is not famous for tea estates like Nuwara Eliya, there are a few in the district you can visit. If you are heading to Kandy from Colombo, you can drop by the Girgama Tea Plantations in Pilimathalawa before heading to the city.
It's best to take a guided tour for an optimal experience, but make sure you hire a guide from a reliable agency. Inside the factory, you get to observe how tea leaves are processed and packaged with care. You can also pay a visit to the plantations to enjoy the view of the greenery spanning over the quaint village.
Then, head to the café located in the estate to taste your favourite tea while admiring the scenic surroundings. Don't forget to take some packaged tea leaves home with you!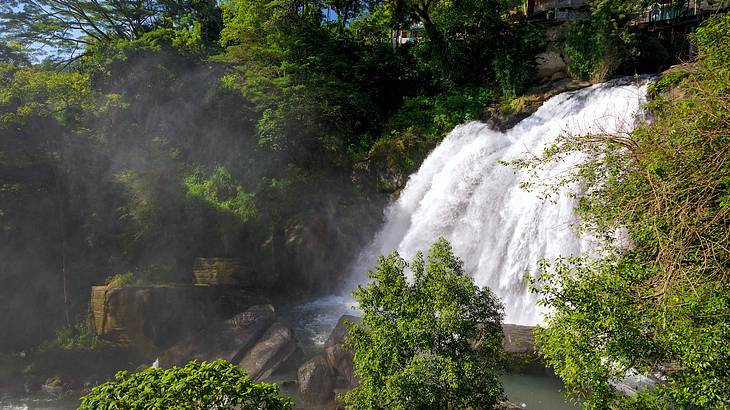 Huluganga Ella Waterfall
Also known as Hulu Ganga Falls, this waterfall is located a one-and-a-half-hour drive from Kandy in Huluganga Town. It is a part of the Hulu River, which originates from the Knuckles Mountain Range.
The waterfall drops from a soaring height of 75-metres and eventually feeds the Victoria Reservoir. Hulu Waterfall is famous for its beautiful form and pristine waters, as it doesn't get muddy even during the rainy season.
There's an observation deck built near the waterfall base to provide you with a clear view. However, it's not advisable to swim here.
Natural Gems and Gemological Museum
Besides tea and spices, Sri Lanka is also world-famous for its rare and precious gemstone varieties. A visit to the Natural Gems and Gemological Museum will give you a good idea about the history of gem mining as a major trade in Sri Lanka.
There's a fascinating collection of both polished and unpolished gemstones exhibited for visitors. Moreover, a fossil collection belonging to the Cambrian Era is on display here as well.
The staff here provides detailed and interesting information on the formation, extraction, and polishing of gems and the genesis of gemology in Sri Lanka.
You will also learn how certain gems found on the island, like blue sapphires, excel in clarity and value compared to their counterparts.
At the end of the tour, you will be led to a store where you can purchase authentic gemstones and jewellery if you are interested. But, they are expensive. The museum is located in Kiribathkumbura.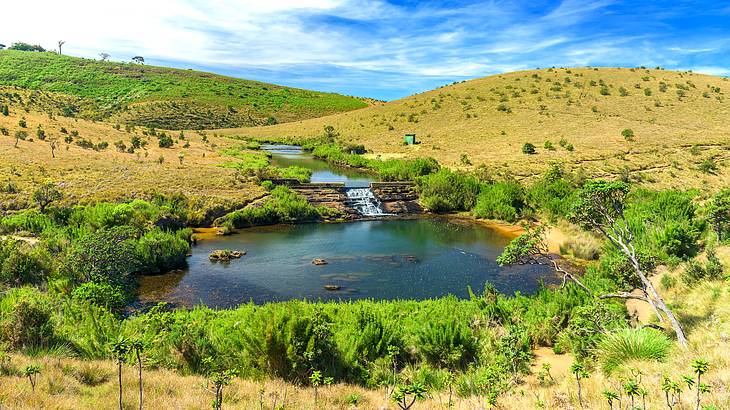 Horton Plains National Park
Anyone who has been to Horton Plains would dream of going again, and for good reason. Horton Plains National Park is closer to Nuwara Eliya, and it takes around 3-4 hours to get here from Kandy.
It is a large plateau of expansive grasslands, thick forests, rocky hills, waterfalls, and lakes. This diverse landscape, together with the wide variety of wildlife, is enough to spellbind any nature lover. Sri Lanka's 2nd and 3rd highest mountains, Kirigalpotta and Thotupolakanda, border this magnificent highland area.
The World's End, a cliff with a drop of 884 meters, is one of the most popular landmarks in the Horton Plains. The view from the cliff is spectacular, with mist-laden greenery dominating the scene. On a clear day, you can even see the southern coastline. So, undeniably, it's one of the top places to visit around Kandy.
There are over 100 species of wild animals reported here, and many of them are endemic. The park is also not short of bird species and exotic plant varieties to bring you an immersive experience.
The best time to visit Horton Plains National Park is in the first few months of the year. Start your journey early, so you don't have to rush your hike. You can camp and spend a night in the park as well, as long as you make all the preparations beforehand.
In Summary
All in all, you will love the perfect weather and diverse attractions Kandy has to offer. If you are returning to Colombo after your stay, you can also visit Pinnawala Elephant Orphanage on your way. Enjoy your time in Kandy!
Give us feedback about this article
More articles about Central:
Read more articles about Sri Lanka:
More articles about places to visit:
---
---
Want to keep exploring?
Subscribe for discounts on tickets and hotels and our latest guides.
Thank you for subscribing
We will be in touch soon with discounts on tickets and hotels and our latest guides.
Want to keep exploring?
Subscribe for discounts on tickets and hotels and our latest guides.
Thank you for subscribing
We will be in touch soon with discounts on tickets and hotels and our latest guides.
Related Articles