28 Top-Rated Things to Do in Sri Lanka You Will Enjoy
Destguides may receive commissions from purchases made through affiliate links in this article.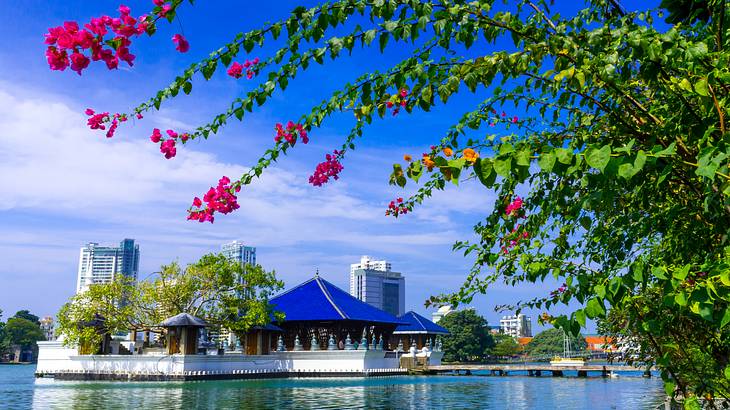 This top-rated things to do in Sri Lanka guide will help you capture the best of the island by taking you through its most famous attractions. The good thing about traveling to Sri Lanka is that you can experience its many attractions within a short time frame.
Tucked away in South Asia and surrounded by the Indian Ocean, Sri Lanka is a majestic island nation that travelers must visit at least once in their lifetime. It boasts calming tropical weather, jaw-dropping adventures, and diverse attractions that will keep you wanting more.
It is an ideal cheap Asian holiday destination renowned among backpackers, solo travelers, and honeymooners alike. You can relax and unwind on its sandy beaches or partake in thrilling mountain activities. Its old-heritage monuments and colonial remnants will speak of its centuries-old history.
If you are wondering how to get around Sri Lanka, I have included some useful tips below and throughout the article. When traveling long distances, for example, I advise you to opt for train rides whenever possible because you can easily purchase tickets, and they are cheap.
Also, tuk-tuks are the most convenient way to visit different places and areas in each city. They are reasonably priced and offer a fun riding experience. But make sure you get a good bargain, and don't overpay!
When it comes to accommodation, Sri Lanka has a fair share of motels, lodges, resorts, and hotels for a range of prices. I recommend you choose places most comfortable for you and within your travel budget.
28 Best Places to Visit in Sri Lanka
Things to Do in Colombo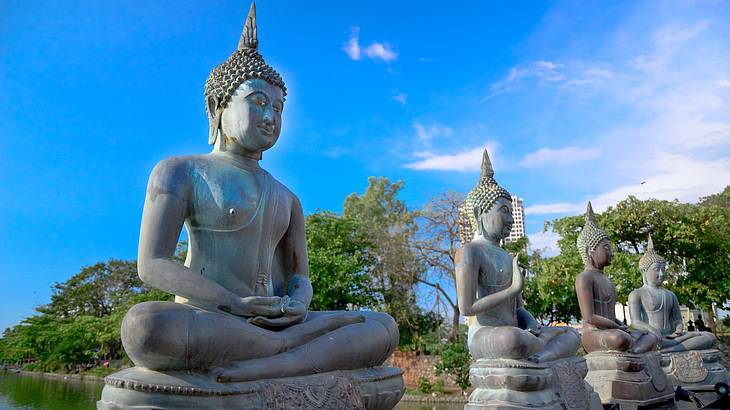 Even though Colombo is not one of the best cities or places to visit in Sri Lanka, it still has some interesting attractions and sites worth checking out. Therefore, it should be on your Sri Lanka bucket list!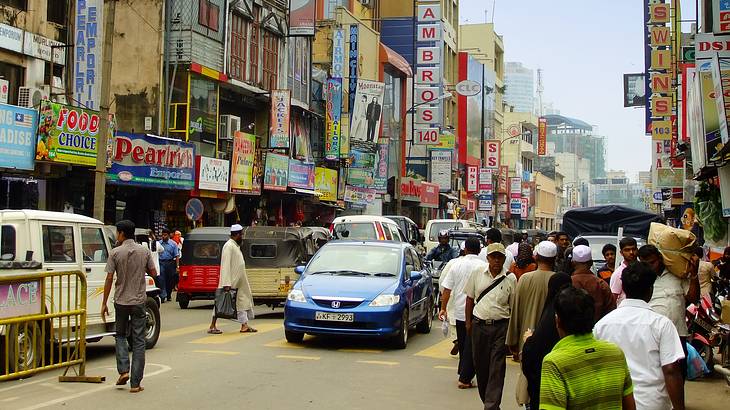 Pettah
Head to Pettah - the noisiest and most overwhelming part of Colombo. All you can see there are people walking past in a hurry, vehicles caught in traffic, and vendors screaming prices under the scorching sun. It is also the busiest market in Colombo. You can purchase anything from clothes to food to ornaments here for low prices.
The Jami Ul-Alfar Mosque, located on Main Street, is a magnificent sight notable for its architectural value. Another important place within the market is the Dutch Museum, which is where you can learn about Dutch colonial rule in Sri Lanka.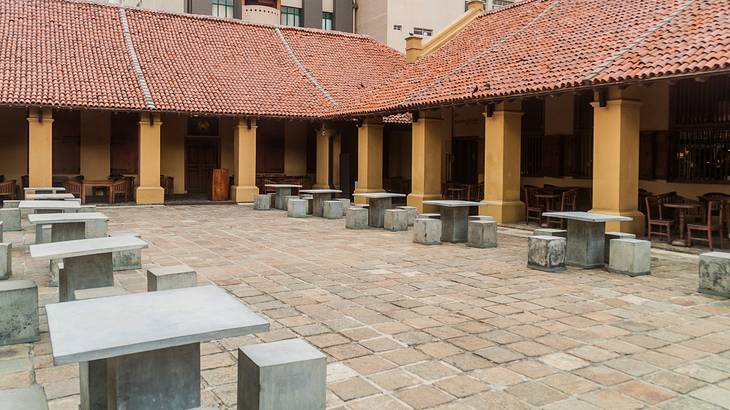 The Old Dutch Hospital
The Old Dutch Hospital, also located in Pettah, is a shopping precinct full of stores and restaurants selling luxury items. You can dig into a delicious Sri Lankan crab curry here - check out the highly-rated Ministry of Crab.
You can also find some interesting souvenir shops in this area and is where you can purchase handcrafted items. Grab an ice-cream to beat the heat and rest for a bit to ward off your fatigue before heading to Colombo- 07.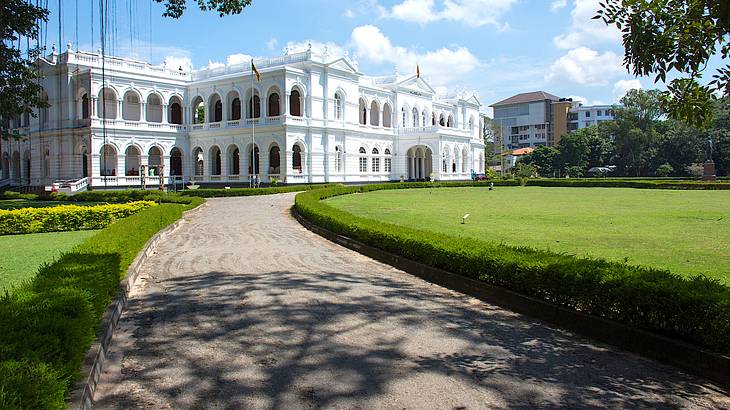 Colombo National Museum
Located in Colombo- 07, the Colombo National Museum is the largest national museum in Sri Lanka. It houses an extensive collection of historical and cultural artifacts, statues, paintings, and other significant collectibles.
Here, you will gain a good understanding of Sri Lanka's multi-ethnic and multi-religious settings. You will learn about the colonization of Sri Lanka by the Portuguese, Dutch and British empires.
The museum also has a section dedicated to natural history and zoology, which is where you will see specimens of the different species you can find in Sri Lanka.
You will need to allocate around 2-3 hours to spend quality time here. The walk can be a bit exhausting, so do energize yourself with a caffeinated drink at the cafe in the museum.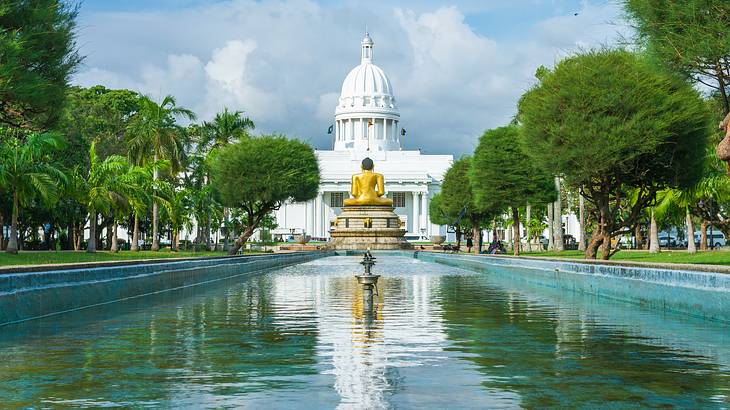 Viharamahadevi Park
Viharamahadevi Park allows you to spend some idyllic time in nature before jetting off again the next day. You will see many locals enjoying the park with their families and friends. You can walk or relax on one of the benches and people-watch.
The green surroundings are calming, and the weather is pleasant during the evening. If you are hungry, you can grab some Sri Lankan street food from one of the vendors nearby.
Things to Do in Polonnaruwa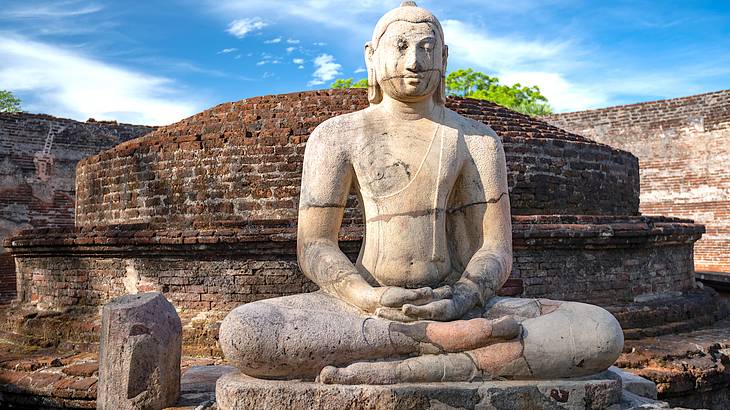 Tourists go to Polonnaruwa to get a flavor of Sri Lanka's history; it is recognized as a UNESCO world heritage site and is one of the best places to visit in Sri Lanka, so you won't run out of places to visit here. Each site's architecture, carvings, and structure were subject to changes according to the different rulers who influenced this ancient city.
The best way to get to Polonnaruwa from Colombo Fort Railway Station is by train, which will take around five hours. Since Polonnaruwa is also in the dry zone of Sri Lanka, the weather can get hot here. But, you will come across plenty of king coconut vendors to help you refresh yourself in-between visits.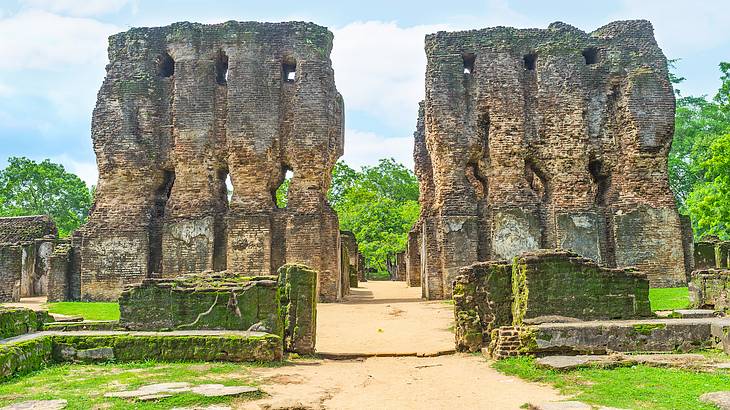 The Royal Palace - Vejayanta Pasada
The Royal Palace is one of the best places to visit in Polonnaruwa. The palace is a spectacular 7-storeyed complex and was home to King Parakramabahu - the most famous ruler of Polonnaruwa.
Today, the complex only has three floors that are remaining. But enough remains to give you a good idea of the years of effort it took thousands of people to build this place.
Sadly, the palace was burnt down by South Indian invaders, and if you look closely enough, you will see traces of burnt brick walls.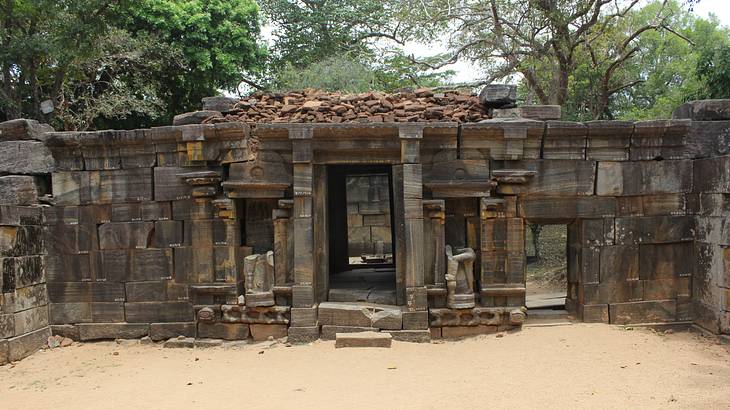 Siva Devalaya (No 1) Temple
This particular religious site was built in the 13th century and was dedicated to Lord Siva. It shows the influence South Indians had on Sri Lankan culture as it was built by the Chola invaders back then.
The complete structure was built out of stone in a compact style. The architecture is intriguing and different from the other Buddhist sites you see here. The temple is located close to the Royal Palace.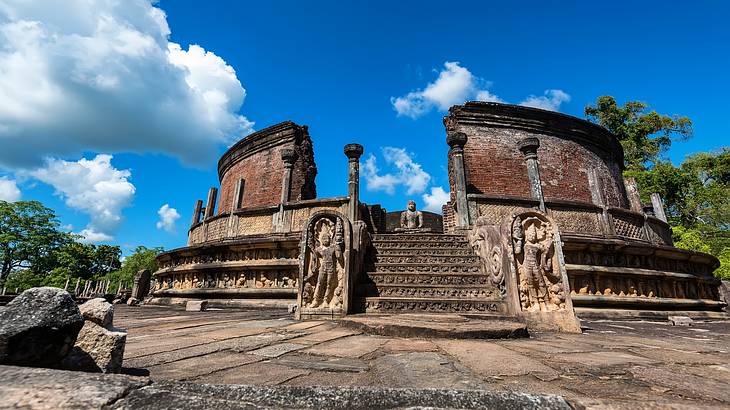 Vatadage
The Vatadage is another fascinating sight to explore. It is a circular-shaped structure that was initially built to house Buddha's Sacred Tooth Relic and the bowl used to consume food. At the entrance, you can also find an intricately-sculpted moonstone and two guarding stones.
Even the staircase is carved with details that denote the main elements of Buddhism. Archaeologists have made considerable effort over the years to preserve the Vatadage in good condition.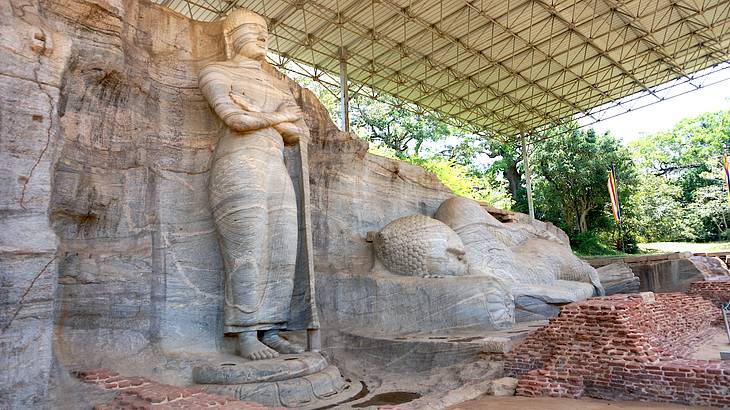 Gal Vihara Temple
Gal Vihara, or Gal Viharaya Temple, is one of the primary places visited by Buddhist devotees and is a must-see in Sri Lanka for many. Here, you will see four massive statues of Lord Buddha carved out of granite, which are considered the best in Sri Lanka. Three of the four figures were built during the reign of the Great Parakramabahu king.
Gal Vihara Temple has also been labeled a UNESCO World Heritage Site due to the detailed skill and expertise of the sculptors who created this work.
Things to Do in Dambulla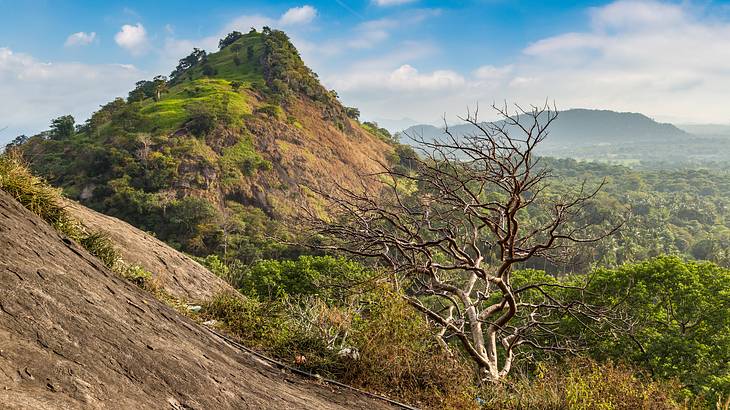 The most cost-effective way to get to Dambulla is by bus. You also have the option of hiring a cab driver or a tuk-tuk. It can also be a bit warm in Dambulla, so make sure to wear light clothes.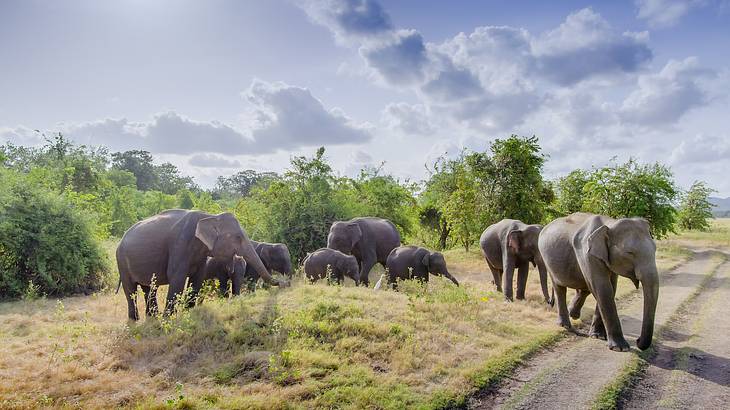 Minneriya National Park
Minneriya National Park is where you will encounter large herds of elephants wandering about in their natural habitat. Every year, during the dry season, they make a trip to the Minneriya Reservoir (Minneriya 'Tank') located inside the park. Known as 'The Gathering', this is more of a mini version of the Great Migration in Africa.
Elephants are not the only attraction here, however. There's also a considerable variety of reptiles, birds and fish species that you can observe. Watch out for exciting animals, like wild buffalos, spotted deer, sloth bears and purple-faced monkeys.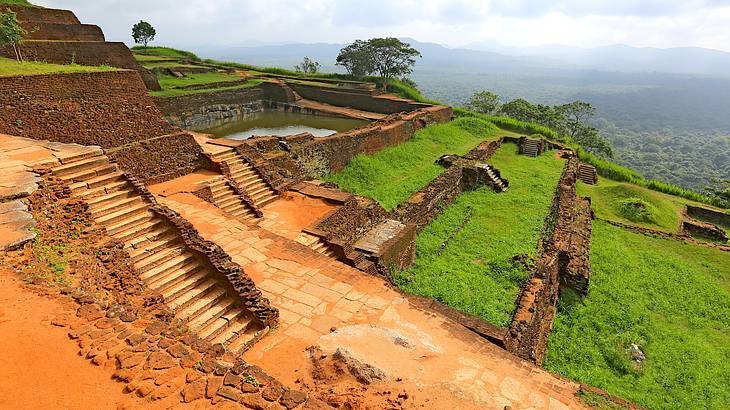 Sigiriya Rock
If you ask a local about an iconic place to visit in Dambulla, they will probably suggest Sigiriya Rock Fortress & Lion Rock, which actually refers to the same place!
Sigiriya Rock - a UNESCO World Heritage Site - is a prime example of the sophisticated engineering technology that existed centuries ago. I am talking about a giant rock that's 200 meters high and was built as a fortress for a king 1000 years ago.
Sigiriya is a place that is frequented by tourists who want to admire the remains of artistic murals, large tanks and ancient statues. If you want to climb to the top, you have to take a long flight of stairs, which can be a bit exhausting, but is totally worth it!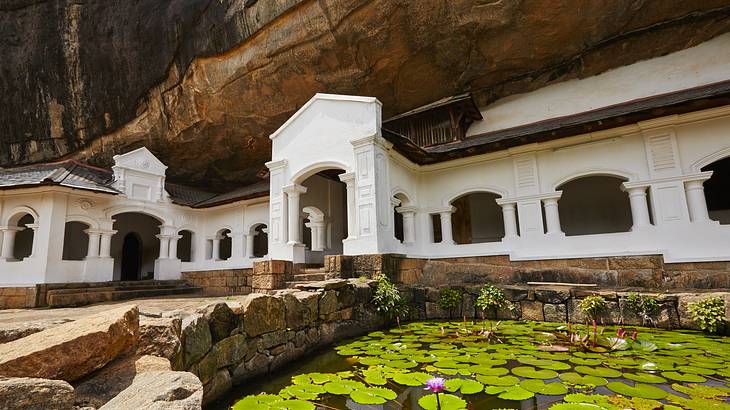 Dambulla Cave Temple
The Dambulla Cave Temple, or the Golden Temple of Dambulla, is a temple complex recognized as another UNESCO World Heritage Site in Sri Lanka.
Dambulla is one of the top places to go in Sri Lanka. The temple is on top of a rock that is 150 meters high. It takes about 30 minutes to get here from Sigiriya.
The temple was built by excavating the caves with great precision, which remains strong to date. Altogether, there are five caves, each bearing many statues of Lord Buddha and paintings that portray different ancient periods that are significant to Buddhism.
Every year, a large number of devotees gather here to pay homage to the shrines and seek blessings.
Things to Do in Kandy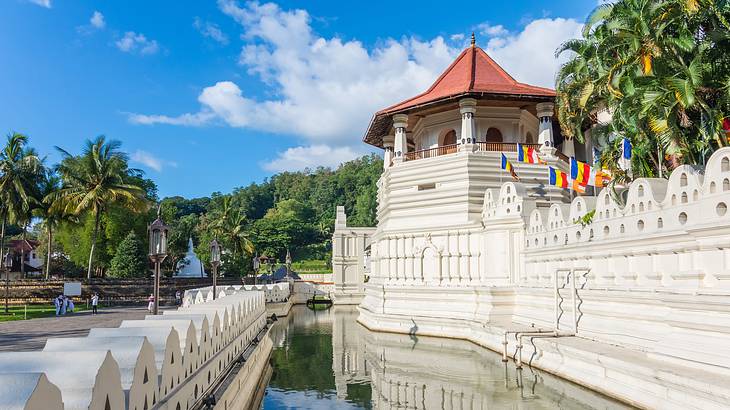 Kandy is the hill capital of Sri Lanka, as it's encircled by towering mountains. It is also located in the central province.
An interesting fact about Kandy: When Kandy was a kingdom, the hills acted in favor of Kandyans when the local and foreign invaders tried to capture the city.
You can take a bus from Dambulla, which will take around 2 hours to get here. If you want a more comfortable ride, you can hire a cab.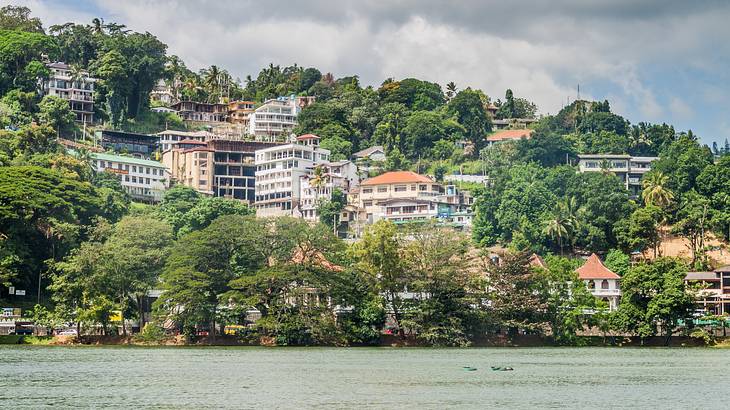 Kandy Lake
Energize yourself by starting your day early and walking along the stunning Kandy Lake. It is one of the most beautiful places in Kandy and is a famous spot among both locals and foreigners for the scenic views it provides.
As you walk, you will notice the mist clinging to the mountains around you and a few reptiles and birds along the lake's edges. You can even take a boat ride on the lake with your loved ones if you wish.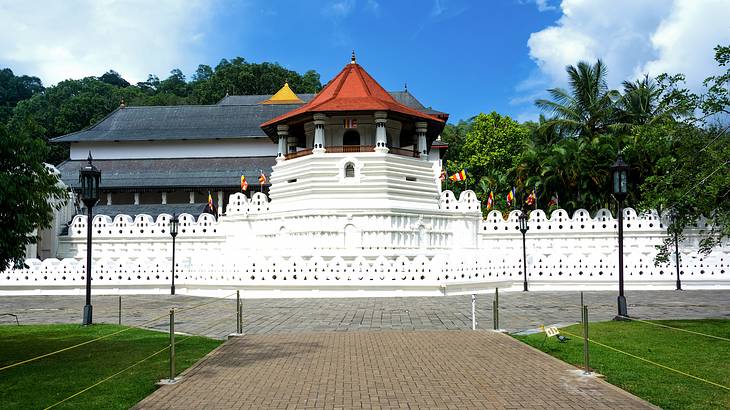 Temple of the Sacred Tooth Relic
The Temple of the Sacred Tooth Relic, also known as 'Dalada Maligawa,' is a place you shouldn't miss in Kandy. It's an ancient Buddhist temple that bears the Sacred Tooth Relic of Lord Buddha. The intricate wood carvings and the magnificent architecture of the temple are astounding.
Visitors aren't allowed to see the tooth relic in person, but you can observe the rituals that take place here daily. There's a strict dress code that requires both men and women to cover well below the knees before entering the premises. There are sarongs available near the entrance for rent if you are wearing shorts.
National Museum of Kandy (Royal Palace)
If you want to learn more about Kandy's history, the National Museum of Kandy is where you should head next. This is where the last king of the Kandyan Kingdom lived until the British invaded the city.
The museum, the 'Royal Palace,' used to be the former residence of the monarchs. It currently houses crucial objects from the Kandyan Kingdom and colonial rule. The architecture of the palace is also noteworthy. It's close to the Temple of the Tooth Relic, and you can get here by tuk-tuk.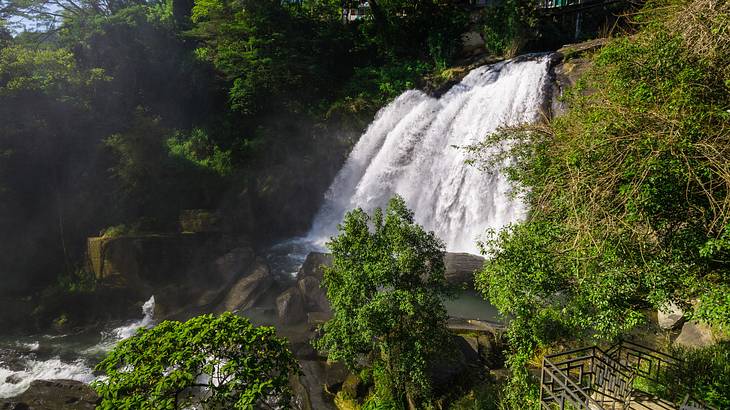 Huluganga Ella Falls
If you are looking for something more nature-bound to do next, visiting a waterfall might be a good idea. There are so many options when it comes to picking a good waterfall in Kandy, but none of them is located within very close proximity to the city.
However, if you travel by vehicle, you can access most of them within an hour or so. Huluganga Falls, located on the border of the Knuckles Forest Reserve, is one of the popular tourist attractions in Sri Lanka. There's a stairway built so you can observe it up close and enjoy the surroundings.
If you are looking for a waterfall ideal for swimming, consider visiting Saree Ella, located 20 minutes from Huluganga, as it has an incredible natural pool!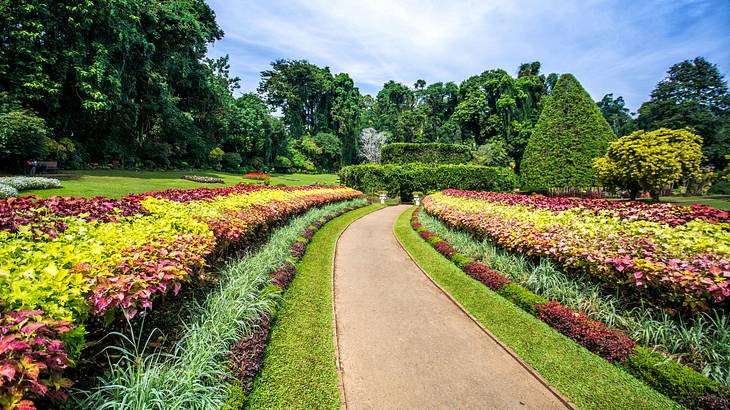 Royal Botanical Gardens
Your final stop for the day is the Royal Botanical Gardens in Peradeniya. It exhibits over 4000 species of plants, flowers, and trees, most of which are native to Sri Lanka. If you are a botanist or a person who is interested in plants, then this is your place!
Interestingly, during the British colonial era, it was known as the Queen's pleasure garden. It's a great place to sit and take a break under the shade of giant trees if you are exhausted from touring around.
Want more? You can also take a walk on the hanging bridge and snap some great pictures here!
Things to Do in Nuwara Eliya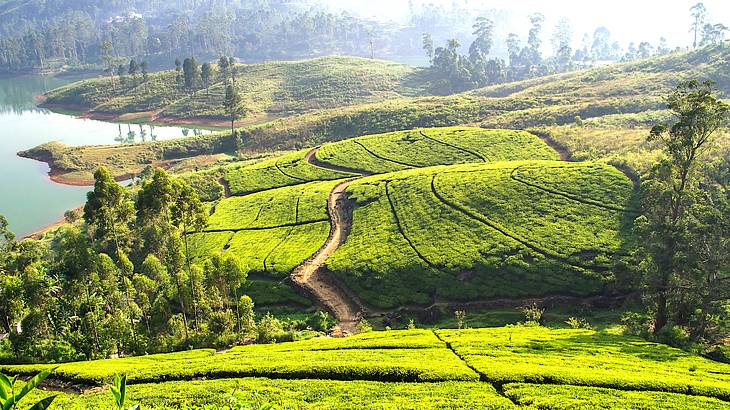 Famed as 'Little England' for its charming setting with English-styled Bungalows, Nuwara Eliya is where people go to detox from busy city life.
The train ride from Kandy to Nuwara Eliya is very picturesque and refreshing. If you look out the window during the train trip, you will see large tea plantations, gushing waterfalls and tunnels built during the colonial era.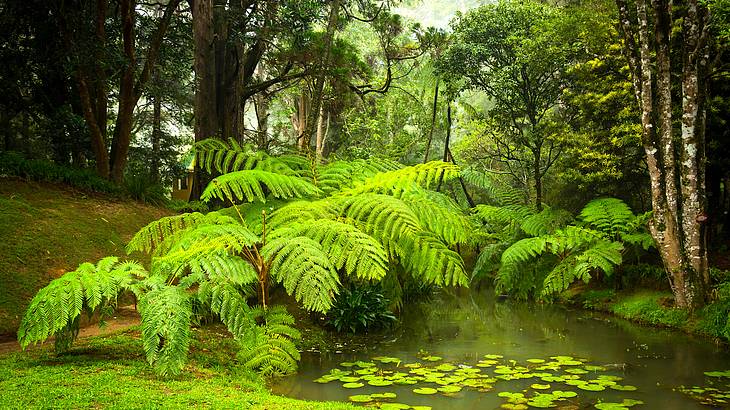 Hakgala Botanical Garden
Hakgala Botanical Garden is the perfect haven for nature lovers and a nice picnicking spot for others. It can get cold here as it is situated 5400 feet above sea level.
While the rare orchids and rose collections are its star attractions, there are also many other eye-catching plant and flower varieties to see here.
Adma Agro Strawberry Farm
How do you like the idea of walking through beautiful strawberry fields as your next activity? There are many strawberry farms in Nuwara Eliya, but I have included the most accessible one in this list.
Upon purchasing a ticket, you will be given a chance to walk through the fields and pluck your strawberries. But, this is only during the fruit-bearing season, which starts in September and goes until December or February. During other months, you will still be able to purchase strawberries from the store and buy products like strawberry jam.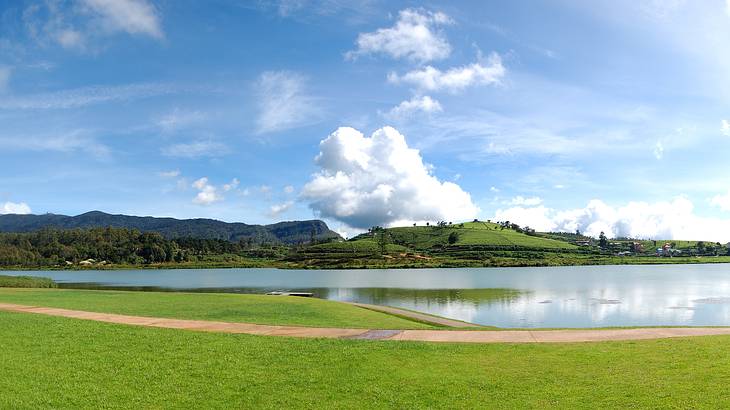 Gregory Lake
As your final stop before leaving for Ella, spend some time at the charming Gregory Lake. The lake is surrounded by many trees and different flowers worth admiring.
Gregory Lake offers many things to do, such as boat riding, picnicking, and even rowing for those interested. Don't worry; a few fun activities are also available for children here.
Things to Do in Ella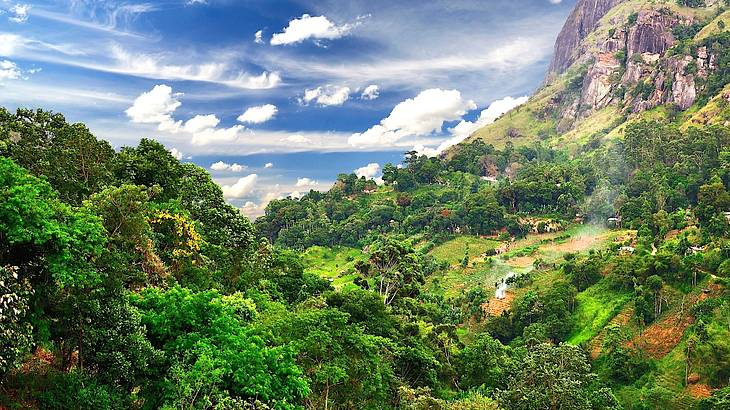 From Nuwara Eliya, head to the iconic Ella - one of the most picturesque villages in Sri Lanka known for its lush greenery. The train ride to Ella is voted one of the most beautiful train rides in the world.
It's a very serene environment, with friendly locals always willing to lend a helping hand. It's an excellent place to unwind and rest in a laid-back atmosphere. Ella has some of the best attractions in Sri Lanka, so don't miss it!
Flying Ravana Mega ZipLine
If you are someone who is always on the lookout for adventurous things to do in a new place, then Ella is for you as it has some exciting activities. One such activity is zip lining, which is very popular among tourists who visit Ella.
So, prepare to spike up your adrenaline by taking the longest zipline in Sri Lanka - the Flying Ravana Mega ZipLine. It will leave you breathless, excited, and maybe a tad bit scared! Make sure you are in good physical shape before partaking in this activity.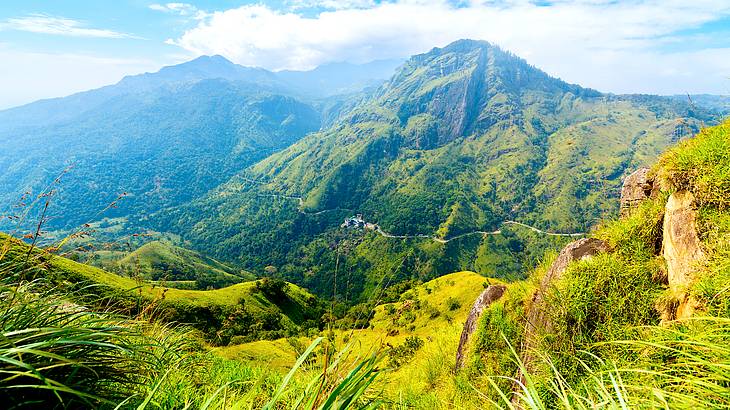 Little Adam's Peak
If you love hiking, then Little Adam's Peak can be a fun but challenging opportunity for you to get out in nature. This walk takes around 1-2 hours to reach the top, which leaves you with a fantastic view of the breathtaking surroundings.
Make sure you get the right directions from a local beforehand or hire a guide. It's one of the most popular things to do in Sri Lanka that shouldn't be missed. There's also a café nearby where you can rest and grab a bite to eat or drink in.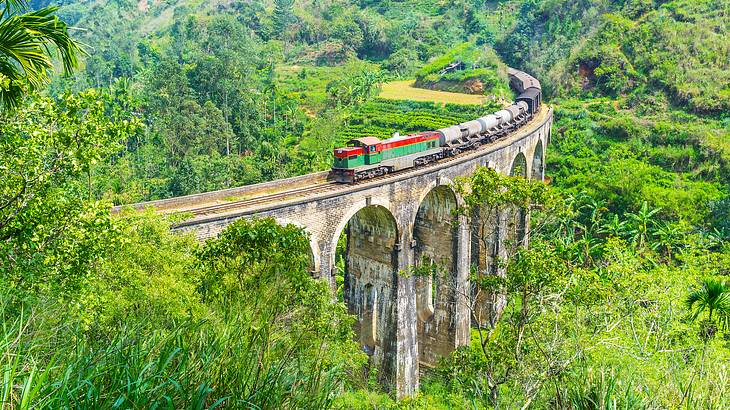 Nine Arch Bridge
End your day at the famous Nine Arch Bridge. This bridge is well-known due to being a massive bridge that was built entirely of bricks and cement with no aid of steel. The structure remains sturdy to date and has a very colonial appeal to it.
Nine Arch Bridge is an impressive sight at sunset against the backdrop of the pastel-hued sky. You can take a walk on the bridge at this time and snap great pictures here!
Things to Do in Hambantota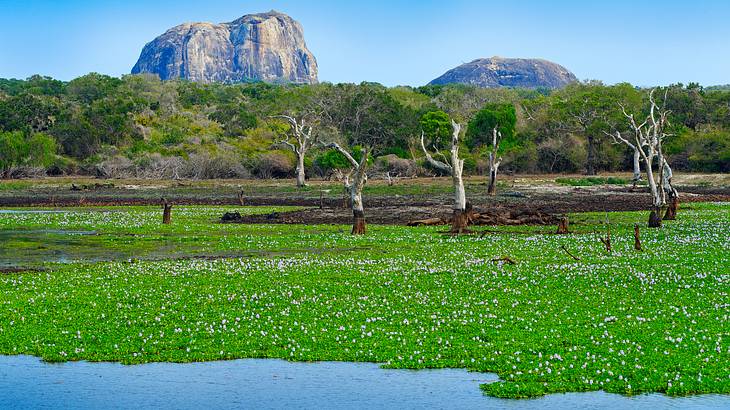 The best way to reach Hambantota from Ella is by taxi, which will take around two hours. Your ultimate stop has to be in Palatupana to enter Yala National Park. I have allocated the entire day to explore Yala as it gives you plenty of time to spend here.
If you prefer to check off another site, I suggest you visit Udawalawe National Park first and then head to Yala.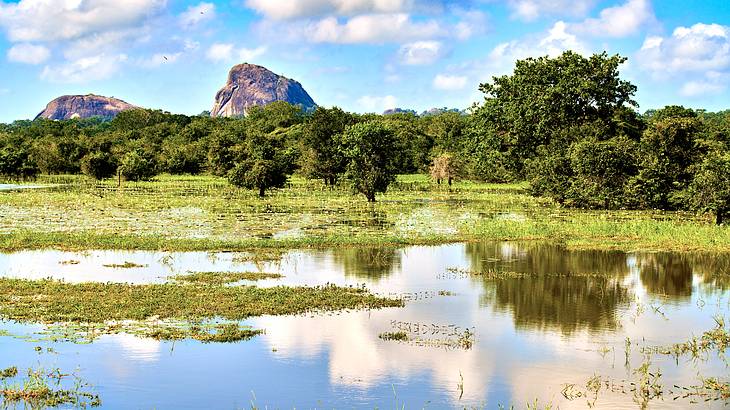 Yala National Park
Your Sri Lanka trip wouldn't be complete without a safari ride in Yala National Park - one of the best things to see in Sri Lanka. So, start your day early and head to the second-largest park in the country for a timeless wildlife experience. Home to many exotic animals and bird species, Yala Park will allow you to witness stunning wildlife really close.
Yala National Park is famous for its high concentration of Sri Lankan leopards, which are an endangered species in the world today. If you are lucky, you will come across them along with other threatened species, such as elephants, sloth bears, and Golden jackals.
The animals are used to seeing visitors, so they wander about nonchalantly. Now, that's a perfect chance to snap great pictures!
Best Things to Do in Arugam Bay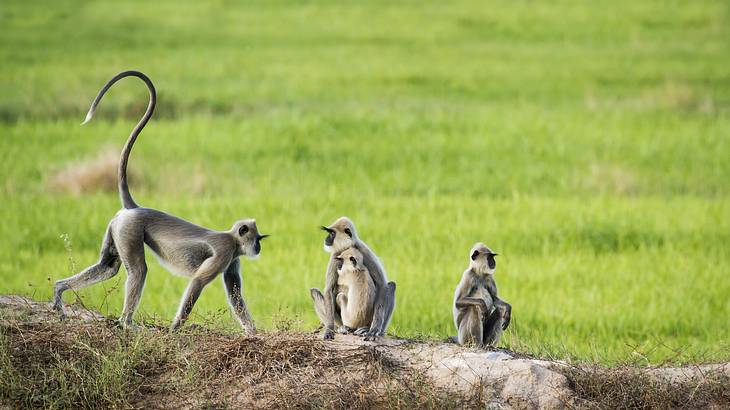 Now, I am guiding you toward the east coast of Sri Lanka, where sandy beaches lined with towering palm trees welcome you for an unforgettable stay.
Arugam Bay is one of the top 10 destinations in Sri Lanka that tourists from all around the world love.
Even though the main attraction here is Arugam Bay Beach, you can also spend time exploring the place, chatting with locals, and shopping! If you are a foodie, you will love the authentic seafood varieties you can find here.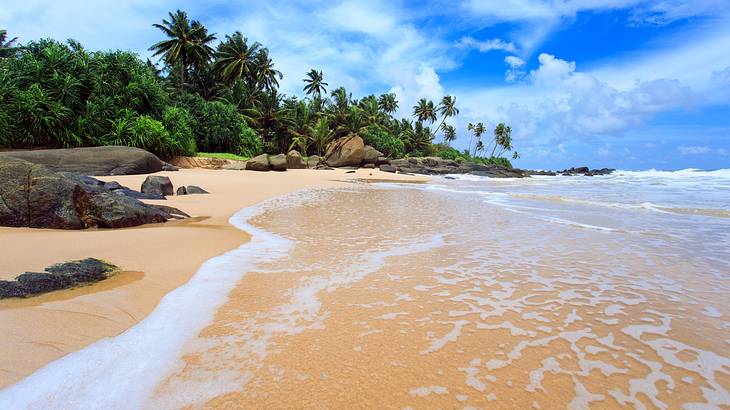 Arugam Bay Beach
Get into your swimming gear and get your surfboards out because Arugam Bay Beach is where the waves don't stay calm. If you are a beginner, you can take surfing lessons here. I have dedicated the entire day to be spent here because it gives you plenty of time to have fun in the sun.
If you are not into surfing, you can always lie on the beach under the warm sun and breathe in the tropical weather and air. You can also engage in other water sports, like kayaking, jet skiing, and boat riding.
Things to Do in Mirissa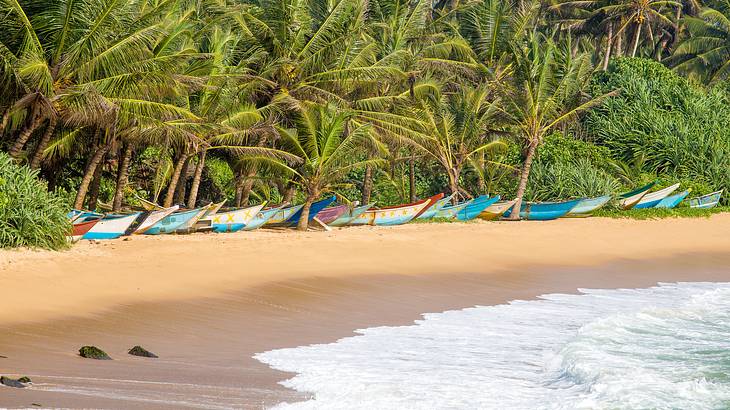 Bidding adieu to Arugam Bay, let's head to the south coast of Sri Lanka to explore more beaches and partake in other exciting activities. Beware, though, that it's a long ride, as it takes nearly 6 hours to get here from Arugam Bay.
Mirissa is a small town in the Matara District with one of the best beaches in Sri Lanka. It is also one of the most sought-after destinations in the world for blue whale watching, which is one of the many fun things to do in Mirissa! It's simply an incredible sight and a once-in-a-lifetime experience!
Whale Watching, Mirissa
It's not every day you get to see close-ups of giant whales and dolphins swimming in their natural habitat and leaping in and out of the water magnificently. Mirissa is the best place to visit in Sri Lanka for whale watching.
The ideal whale watching season is from November to April as the whales migrate to the northern hemisphere. You can book a whale-watching tour at one of the agencies in Mirissa. Be there around 6-7 AM to get the best view.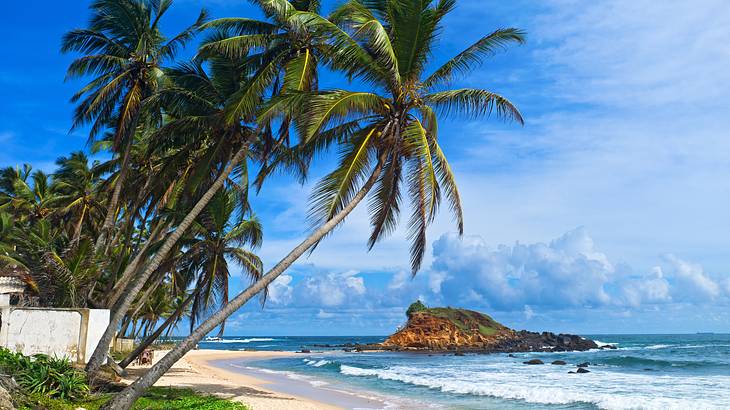 Mirissa Beach
You know the kind of beaches you see on indescribably beautiful postcards, and you wonder whether it's real or art? That's Mirissa Beach! Sometimes, it can get crowded here during peak season, but that's also when the weather is excellent.
I recommend you come here to cure the beach hangover of the previous day. You can spend the day swimming, surfing or looking around. There are great bars and mini restaurants here, so you can even choose to chill, sipping cocktails all day.
Best Things to Do in Galle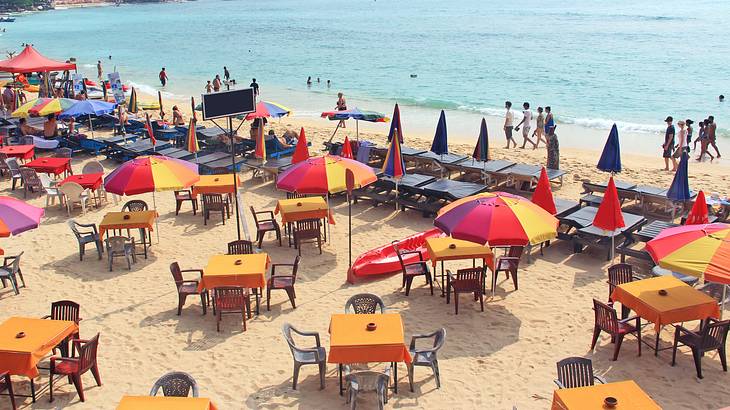 Galle, also on the south coast is known for its colonial and beach appeal. It takes around an hour and a half to reach Galle from Mirissa.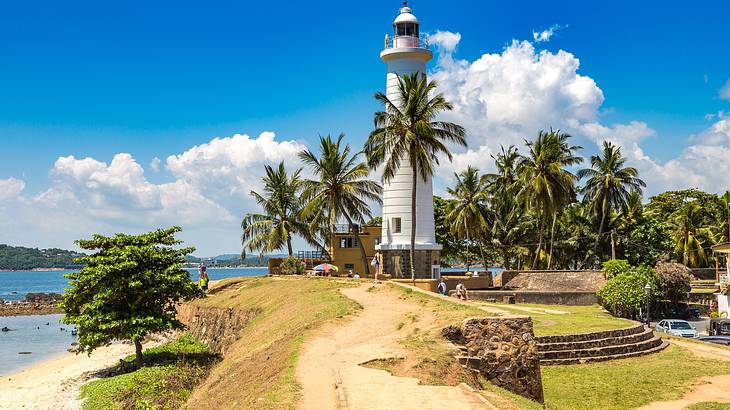 Galle Fort
Galle Fort is one of the prominent structures that remains today from the Dutch ruling period. The Galle Lighthouse and the rampant walls of the fort are fascinating to observe to get an idea of the sophisticated architecture that existed back then.
Another exciting thing to do in Galle Fort is trying the local and ethnic cuisine available at the nearby restaurants. You can also find shops selling beautiful souvenirs that you can take back home as a reminder of your time in Sri Lanka.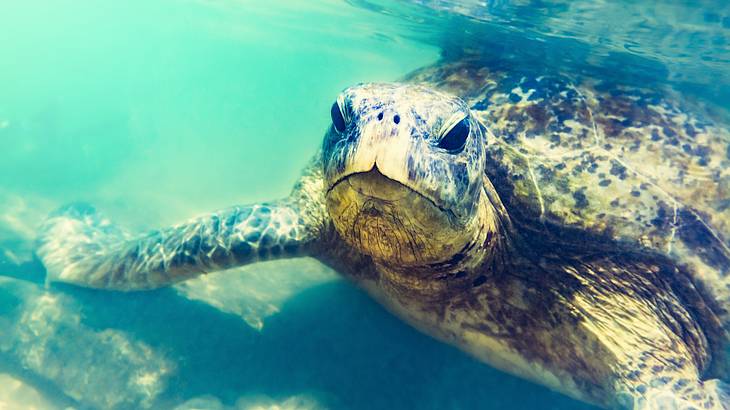 Turtle Hatchery, Hikkaduwa
Turtles are increasingly becoming endangered as human activities like fishing threaten their habitat. The Turtle Hatchery in Hikkaduwa aims to conserve the sea turtle population in this area.
When you visit, you can expect to gain a lot of knowledge about the life cycle of a sea turtle, the different types of sea turtles in the Indian Ocean, and how their lives are currently endangered. It's also a great place to stop by and observe how sea turtles are hatched and released back into their natural habitat.
Conclusion
I do not doubt this list gives you a real sense of the bio-diversity that exists in Sri Lanka. It covers places that simultaneously let you enjoy and learn about beautiful Sri Lanka.
You will love the transformation of the ambiance and climate as you move from one place to another. I hope this list has helped you decide what to see in Sri Lanka.
Before you travel to Sri Lanka, it is possible to sign up for an evisa online for Sri Lanka, so make sure to see if you're eligible beforehand!
---
---
Want to keep exploring?
Subscribe for discounts on tickets and hotels and our latest guides.
Thank you for subscribing
We will be in touch soon with discounts on tickets and hotels and our latest guides.
Want to keep exploring?
Subscribe for discounts on tickets and hotels and our latest guides.
Thank you for subscribing
We will be in touch soon with discounts on tickets and hotels and our latest guides.
Related Articles