The Perfect 4 Days in Dubai Itinerary
Destguides may receive commissions from purchases made through affiliate links in this article.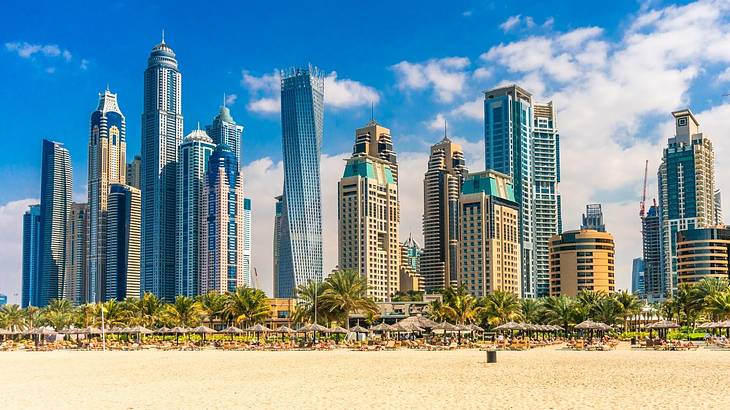 Dubai is a world-renowned location in the United Arab Emirates. The city is extremely easy to reach by flying to Dubai International Airport, and its luxurious atmosphere and excellent attractions make it a location on many people's travel bucket lists. Conveniently, you can see everything the city offers in less than a week.
This 4 days in Dubai itinerary will show you everything you can do in only a few days. From visiting landmarks like Burj Khalifa to shopping at the world's largest mall and going on a desert safari, there's no shortage of once-in-a-lifetime things to do. If you're planning a trip soon, read on for the perfect Dubai itinerary!
4 Day Dubai Itinerary
Explore Historical Dubai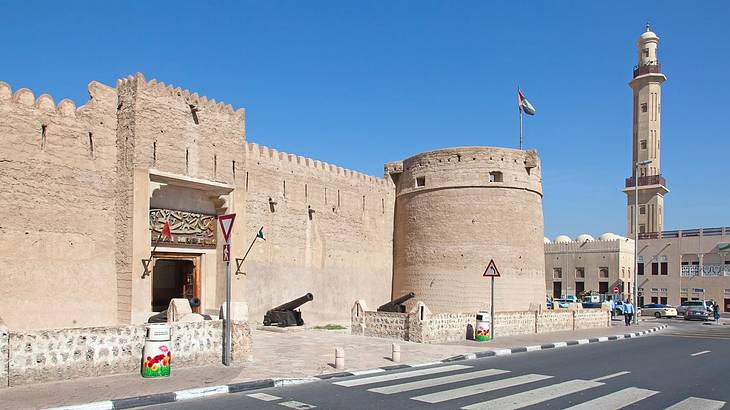 The first day of your 4 day trip to Dubai will be spent seeing some of the city's historical sites. You'll begin the day looking around the Al Bastakiya Quarter, known for its 19th-century buildings and unique cafes. Next, you get the chance to learn about Dubai's history at Dubai Museum, which is housed in a fort from the 1700s.
After exploring the museum, you can take an abra ride across Dubai Creek to visit the city's famous markets known as souks. You can buy spices, clothing and accessories, oils, and more at these markets.
Later in the afternoon, you can head to Jumeirah Public Beach. It's the ideal place to go for a walk or sunbathe. You can also find beachside bars and many trendy restaurants to choose from for dinner.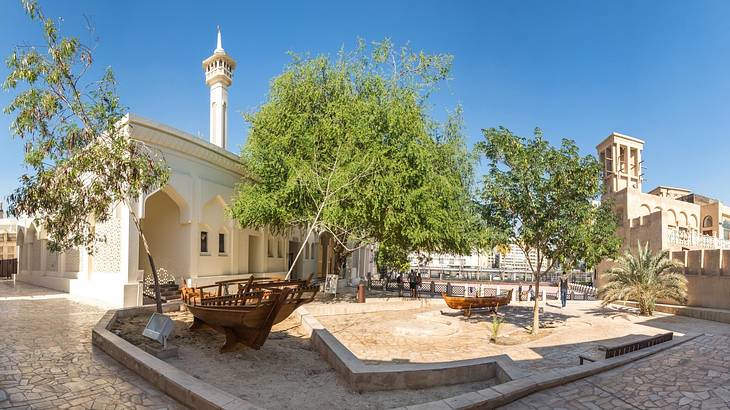 Al Bastakiya Quarter
Also known as the Al Fahidi Historical Neighbourhood, the Al Bastakiya Quarter is a fascinating area to wander through in the morning. Construction of the area dates back to the late 1800s when Dubai was a famous merchant city.
As you look around, you can see interesting buildings and houses constructed with unique materials like gypsum, coral, and sand. You'll also come across cafes and boutique shops. If you want to learn more about the area, you can also book a guided heritage walking tour that takes you through the Al Bastakiya Quarter and Old Dubai.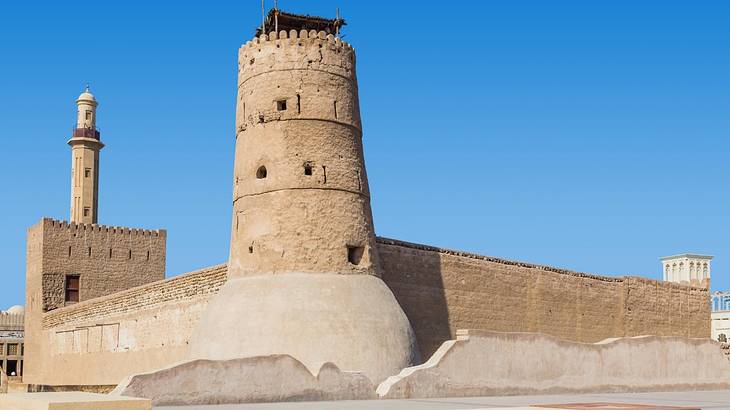 Dubai Museum
The Dubai Museum is one of the can't-miss places to visit in Dubai in 4 days. The museum opened in 1971, but it's housed in a historic fort, Al Fahidi Fort, which was constructed in 1787 and is one of the oldest buildings in Dubai.
At the museum, you can see an array of items, from art and pottery to weapons and antiques. You can also see old maps and watch videos on Dubai's transformation over the last few hundred years.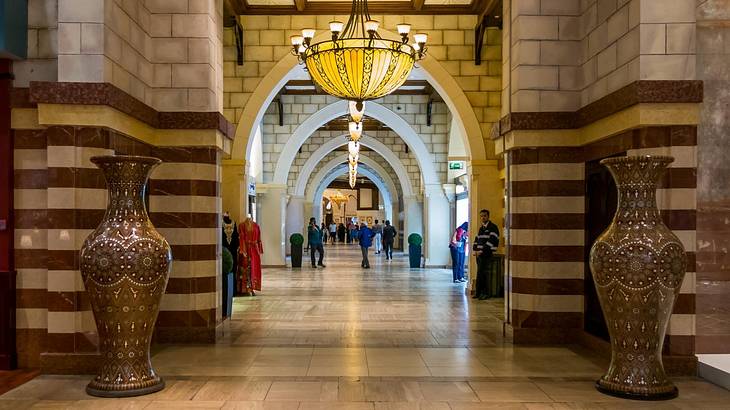 Dubai Creek and Souks
After exploring Dubai Museum, you can take an abra boat across the scenic Dubai Creek to visit the city's famous markets, or "souks." The most notable are the Gold Souk and the Spice Souk. Before hopping on the boat, you can also visit Bur Dubai Grand Souq.
As you wander through the markets, you can discover various products, including spices, herbs, oils, and Arabian clothing and accessories. The market is also an ideal place to snap some unique photos.
If you're interested in learning about the history of the souks, you can book a Dubai cultural tour, which will take you around the markets with a guide and to some other historical landmarks.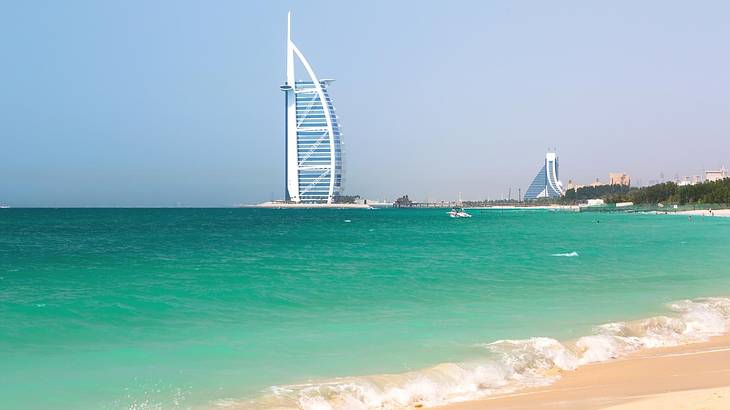 Jumeirah Public Beach
Jumeirah Public Beach is an ideal place to go for a walk or sunbathe on the sandy shore. In addition, you can enjoy a breathtaking view of Burj Al Arab.
There are also some attractions around the beach, like shops, plus restaurants and trendy beachside bars and beach clubs, where you can get dinner or drinks. You can also enjoy many memorable activities here, like parasailing over Jumeirah Public Beach!
Visit Iconic Landmarks and Attractions in Downtown Dubai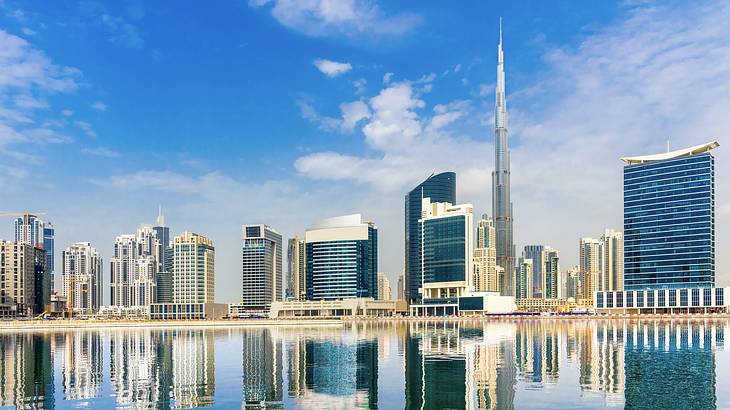 Seeing impressive landmarks and attractions downtown is on the agenda for the second day of your 4 days itinerary for Dubai! Your first stop is the Dubai Mall, where you can shop and check out other entertainment options.
It's recommended that you visit the unique VR Park and then the Dubai Aquarium & Underwater Zoo while at the mall. However, there are many other attractions in the mall, so choose the ones that interest you the most!
Once done exploring the mall, you can go to the observation deck at the world-renowned Burj Khalifa. After taking in the stunning views, head to Dubai Fountain, located near the tower's base, to watch the magical Dubai Fountain Show.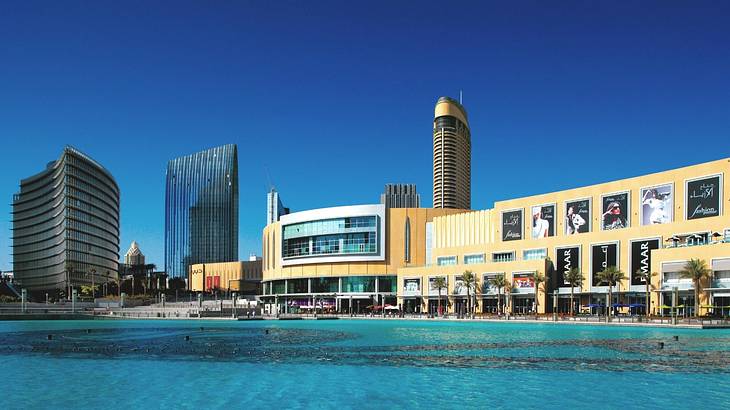 Dubai Mall
Located in Downtown Dubai, Dubai Mall is one of the city's most popular attractions and is also the largest shopping mall in the world. Opened in 2008, the mall houses an array of shops and has other entertainment options, like an aquarium and an ice rink.
Visitors can splurge in one of over 1,2000 stores, many of which are high-end and designer boutiques. Even if you don't want to spend, window shopping here is still a fun thing to do.
The mall is easy to reach from almost anywhere in the city, with the nearest metro station, Burj Khalifa/Dubai Mall Station, located right next to the mall. If you want to check out some other malls, Dubai Marina Mall and Ibn Battuta Mall are good choices.
VR Park at Dubai Mall
One of the most unique things to do within Dubai Mall is going to VR Park. The entertainment venue is one of the world's largest indoor gaming and virtual reality parks. Visitors can enjoy various games suitable for all ages and gaming levels. Multiple genres are covered, too, from retro gaming classics like King Kong to sports and action games.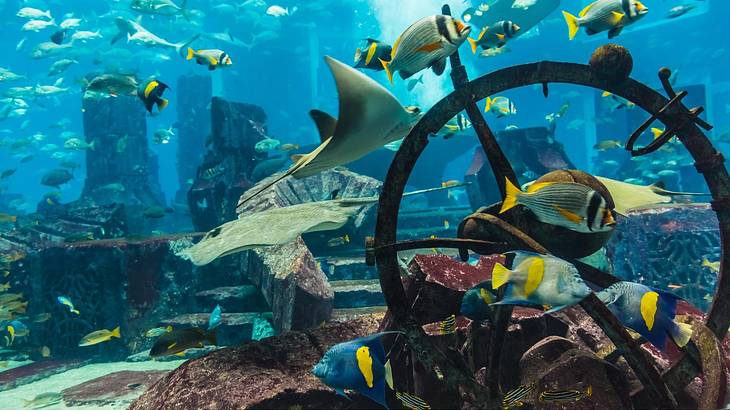 Dubai Aquarium & Underwater Zoo
Another can't-miss attraction in Dubai Mall is the Dubai Aquarium and Underwater Zoo. The aquarium features a large ten-million-liter tank tunnel that you can walk through, admiring all the marine life around you.
Creatures to see include tropical fish, sharks, and rays. The aquarium notably has the largest number of sand sharks in the world. This attraction is extremely popular, so purchasing Dubai Aquarium and Underwater Zoo tickets in advance is a must.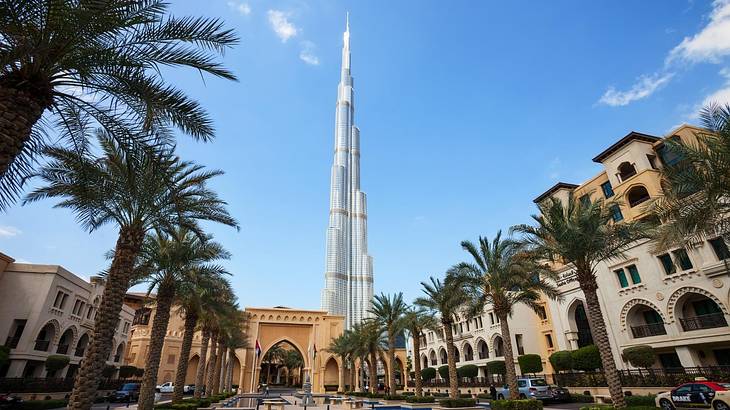 Burj Khalifa
If you're wondering what places to see in Dubai in 4 days, you can't leave Burj Khalifa off your must-visit list! This world-famous landmark is the tallest building in the world, standing at 2,722 feet and offers breathtaking views of the city from the observation decks on the 124th and 148th.
As you take in the views, you can see landmarks like Dubai Marina and Palm Jumeirah. There are even telescopes that allow you to get a close-up view of Dubai attractions.
Getting Burj Khalifa observation deck admission tickets before you arrive is highly recommended, and there's a lounge on the observation deck where you can enjoy drinks while taking in the vistas.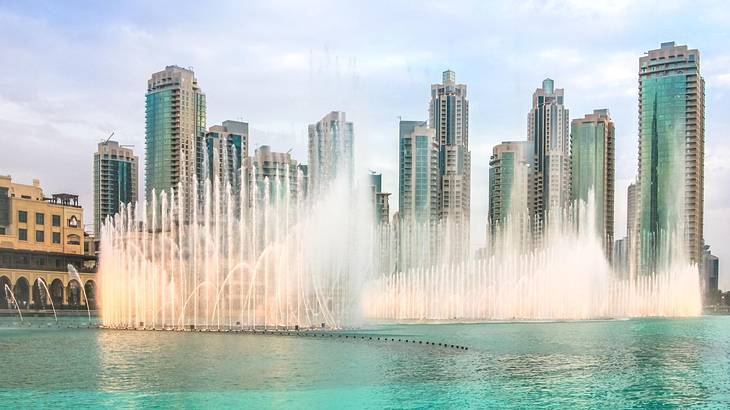 Dubai Fountain Show
Dubai Fountain sits next to Burj Khalifa and features a stunning fountain show. The show generally runs at intervals from just before 6 PM until 11.30 PM. You'll be amazed by dancing water features that move to music and light displays that illuminate the water.
While you can watch from next to the fountain, taking a boat ride during the fountain show is a unique thing to do. You'll board a small boat to enjoy the show on the water, close-up to beautiful fountains.
See Beautiful Mosques and Experience Desert Adventures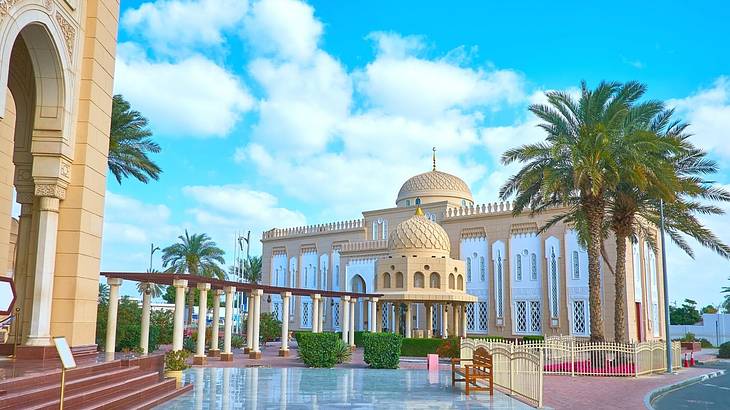 Your third day in Dubai will be highly unique and memorable! The day starts at Jumeirah Mosque, where you can take a tour and admire the architecture. You can then cool off at the fun Wild Wadi Water Park.
Next on your Dubai itinerary for 4 days is a trip to the desert! On a desert safari, you'll get to admire the landscapes, take a camel ride, and go sandboarding. You can even enjoy dinner in the desert and watch the beautiful sunset.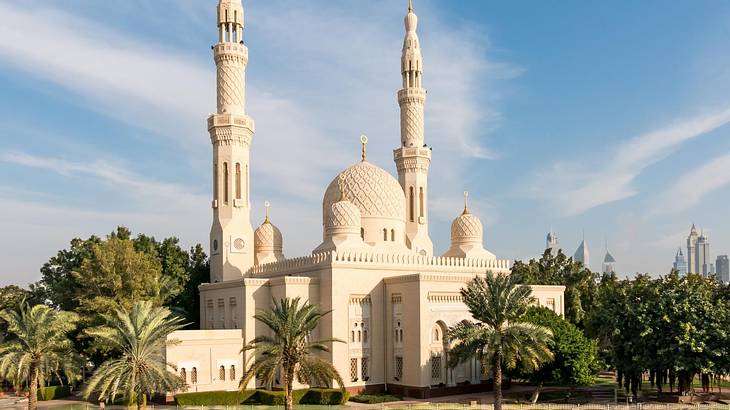 Jumeirah Mosque
The Jumeirah Mosque is a stunning piece of Islamic architecture that you can't miss seeing when in Dubai. It's one of the few mosques in the city that's open to the public and features beautiful design details inside and out. Visitors can take a tour of the mosque and will learn more about its history and Muslim traditions.
Tours take place between 10 AM and 2 PM, and the mosque is closed on Fridays for tours. Also, remember to dress appropriately when visiting, including covering yourself as much as possible and wearing a headscarf if you're a woman. The Sheikh Zayed Grand Mosque is another beautiful mosque to visit if you have time.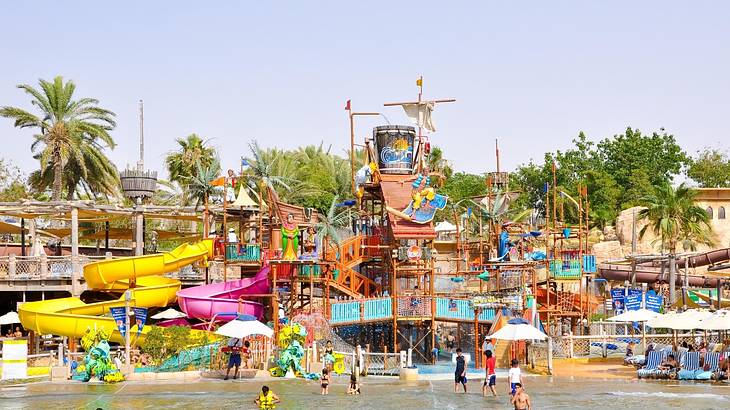 Wild Wadi Water Park
Going to Wild Wadi Water Park is highly recommended if you're wondering what to do in Dubai in 4 days with kids! This is also a fun attraction for adults, and going during the early afternoon is a great idea, as you can cool off during the hottest part of the day.
The water park has an array of water slides for all thrill levels, plus numerous swimming pools, wave pools, and a lazy river. Multiple eateries are on-site, too, if you want to have lunch here or grab a quick snack. Like with many other places, buying Wild Wadi Water Park tickets in advance is a must.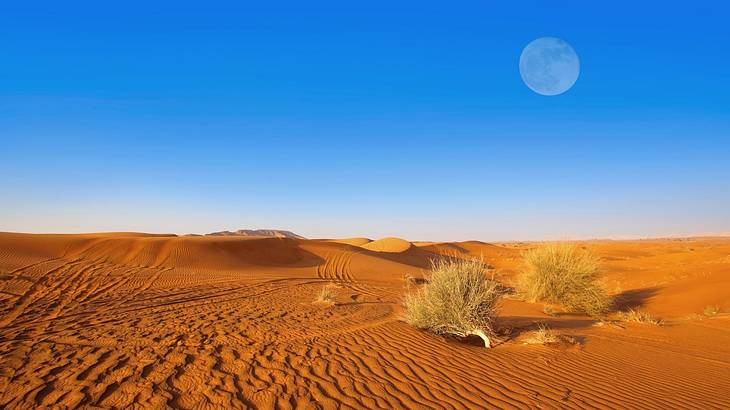 Dubai Desert Safari Tour
The city of Dubai is close to a vast desert, which includes the Dubai Desert Conservation Reserve. Exploring this area on a desert safari tour is a fun and very memorable thing to do.
Seven-hour and four-hour tours are available, with the latest departure time being 3 PM for a four-hour tour. If you want to do a desert day trip, you can skip going to the water park and will have time to enjoy a full day in the desert.
Activities to enjoy include desert sandboarding, driving through the desert, and going on a camel ride. Those opting for the seven-hour tour can also have a BBQ dinner and will get to see a traditional show, like Tanoura dancing or belly dancing.
Enjoy Stunning Architecture, Gardens, and Beaches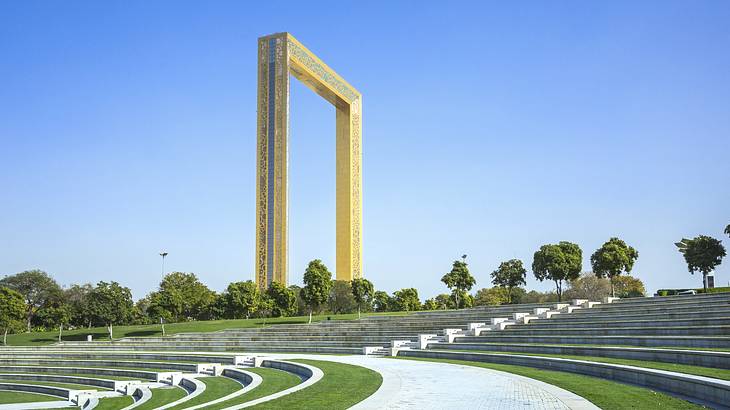 The last day of your Dubai in four days itinerary will allow you to visit some of the city's most beautiful and photogenic landmarks. The day begins at Dubai Frame in Zabeel Park, where you can travel to the top of the frame structure to take in views over the city.
Next, you'll go to the incredible Dubai Miracle Garden and Dubai Butterfly Garden, both of which are filled with colorful flower displays and structures. You can then spend the afternoon on the Palm Islands. While exploring the artificial islands, you can take a speed boat tour, relax on the beach, visit the iconic and family-friendly Atlantis Hotel, and much more.
On your last night in Dubai, you'll explore the area around Dubai Marina and take a memorable Dhow dinner cruise. You can also return to Zabeel Park at any point in the evening to visit Dubai Garden Glow and Dinosaur Park.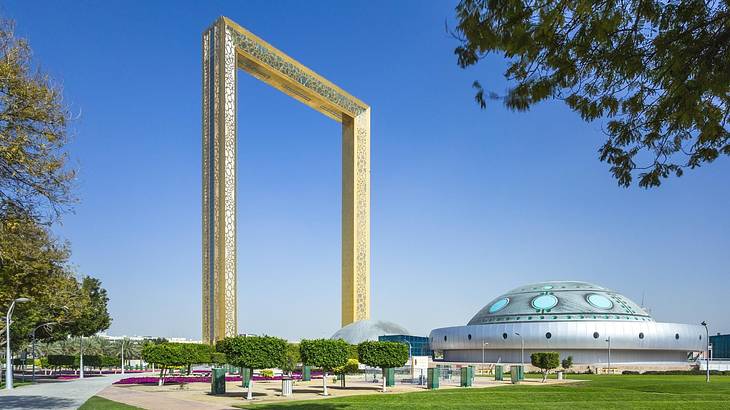 Dubai Frame and Zabeel Park
The Dubai Frame is a famous Dubai landmark that's located in the beautiful Zabeel Park. Opened in 2018, it's the largest frame in the world, standing at 493 feet high and 313 feet wide.
The frame has a bridge at the top, which you can visit to enjoy stunning views over the city. Be sure to purchase Dubai Frame admission tickets before you arrive to ensure you gain entry. Before leaving the area, you can wander around Zabeel Park, which features pretty floral displays, palm tree-lined paths, and a pond.
If you're looking for something to do in the evening, you could return to the park to visit Dubai Garden Glow and the Dinosaur Park, which opens at 5 PM most days. You could also rearrange your itinerary to visit Dubai Frame in the evening if you want to visit all the attractions at once.
Dubai Garden Glow features stunning sculptures, including those of flowers and animals, which are illuminated with thousands of colorful lights. At the Dinosaur Park, you can see life-sized replicas of many dinosaurs. Don't forget to take some unique photos at both of these landmarks!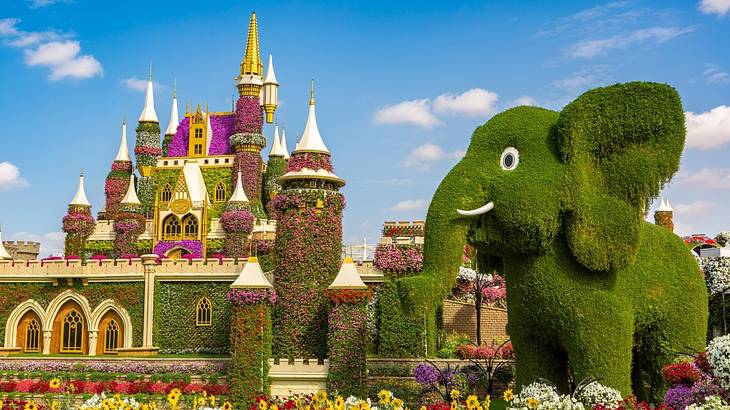 Dubai Miracle Garden and Dubai Butterfly Garden
The Dubai Miracle Garden and Dubai Butterfly Garden are some of the most breathtaking attractions in the city! The Miracle Garden is the world's largest natural flower garden and features an array of sculptures covered in colorful flowers.
Sculptures to see include a princess castle, animals like cats and peacocks, and an airplane. You can buy entry tickets for the Dubai Miracle Garden in advance, and don't forget your camera as the displays offer the perfect photo backdrop.
If time allows, you can head next door to the Dubai Butterfly Garden. This garden contains equally stunning floral displays but is also home to an array of pretty butterflies, with over 150 varieties to see. Again, purchasing Dubai Butterfly Garden tickets in advance is recommended.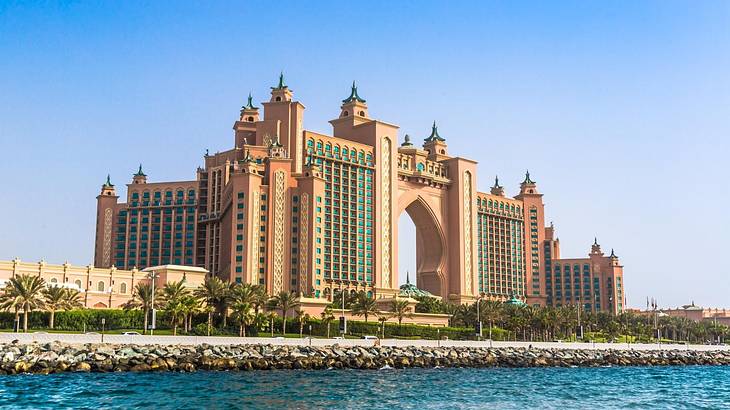 Palm Islands
The Palm Islands are some of the most beautiful places to visit during your four days in Dubai. The attraction comprises three artificial islands: Palm Jumeirah, Deira Island, and Palm Jebel Ali. Along with hanging out on the white sand beach, you'll discover an array of attractions during your visit.
The most notable Asia landmark here is the Atlantis Hotel. Booking a room at the Atlantis Hotel is highly recommended, but if you have accommodation already, you can still visit for drinks or a meal at one of the hotel's restaurants. Kempinski Hotel & Residences Palm Jumeirah is another luxury hotel on Palm Islands to book a room at or visit for drinks or a meal.
Other activities to enjoy on Palm Islands range from, visiting Lost Chambers Aquarium and Aquaventure Waterpark to taking a speed boat tour around the islands.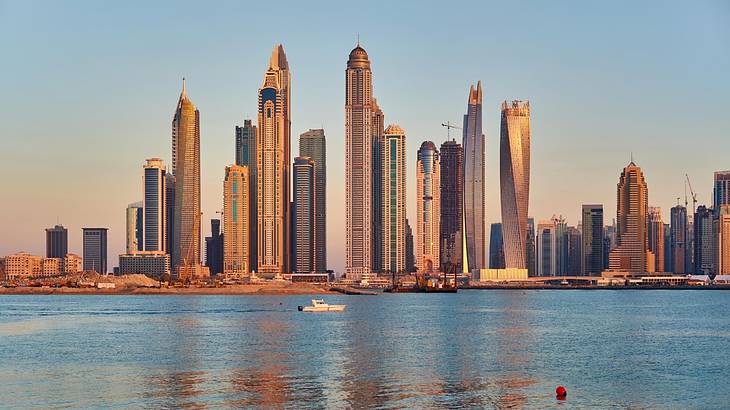 Dhow Dinner Cruise at Dubai Marina
You'll finish your trip to Dubai by going on a scenic and memorable Dhow dinner cruise. The cruise takes you around Dubai Marina and Dubai Creek, allowing you to see many landmarks.
As you enjoy the views, you'll be served a delicious buffet dinner with local and international dishes. Alcoholic and non-alcoholic drinks are also included to sip on as you admire the vistas. A Dubai Water Canal cruise is also a great option to consider.
Before or after the cruise, you can also explore the promenade at Dubai Marina. You'll discover unique shops and fun bars to stop at for a drink or two while taking in marina views.
In Conclusion
This Dubai travel guide should have given you a good idea of what to do in Dubai for 4 days. Some other popular attractions to visit if you have time include IMG Worlds of Adventure, a fun indoor theme park, and Global Village, an entertainment complex that showcases a range of cultures.
In addition, those wanting to plan a day or overnight trip should consider visiting Abu Dhabi. Located just over an hour from Dubai, you can see an array of famous landmarks in Abu Dhabi and will find lots of memorable activities to add to your one or two day Abu Dhabi itinerary.
No matter what you do in and around Dubai, you're guaranteed to have a fantastic time in the United Arab Emirates!
Give us feedback about this article
More visual stories related to this article:
---
---
Want to keep exploring?
Subscribe for discounts on tickets and hotels and our latest guides.
Thank you for subscribing
We will be in touch soon with discounts on tickets and hotels and our latest guides.
Want to keep exploring?
Subscribe for discounts on tickets and hotels and our latest guides.
Thank you for subscribing
We will be in touch soon with discounts on tickets and hotels and our latest guides.
Related Articles