35 Fun San Diego Date Ideas That Will Impress Your Partner
Destguides may receive commissions from purchases made through affiliate links in this article.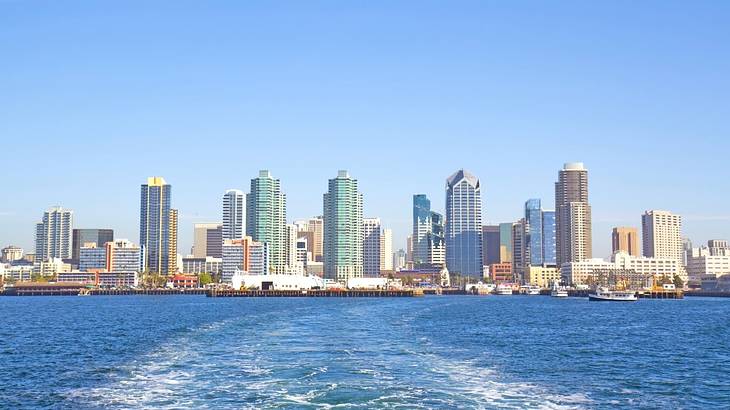 Located in Southern California, San Diego is an exciting coastal city with activities for all types of visitors. Notably, you can find lots of San Diego attractions that make an excellent place for a date.
Some fun San Diego date ideas include visiting bars in the Gaslamp Quarter, having a relaxing weekend at Paradise Point Resort & Spa, and admiring the romantic views at Sunset Cliffs Natural Park. Read on to discover all the fantastic date ideas in the San Diego County area!
35 Fun Date Ideas in San Diego, CA
Things to Do in San Diego on a Date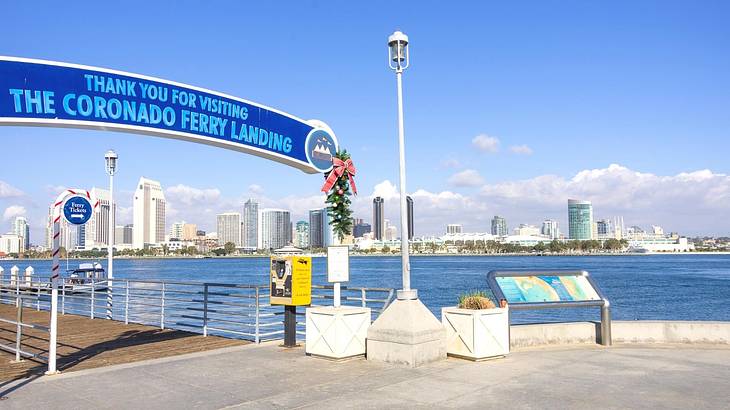 Explore Coronado Ferry Landing
Coronado Ferry Landing is a shopping, dining, and entertainment area located on Coronado Island just across the bay from San Diego. You can reach the attraction by driving across Coronado Bridge or taking the ferry.
Once at the waterfront marketplace, you and your date can shop at some unique independent boutiques. You can then get lunch or dinner and drinks at one of many restaurants and bars. Other things to do here include biking around the area and enjoying the view of San Diego Bay.
Wander around the Liberty Station Arts District
The Liberty Station Arts District is the ideal place to go for couples that like arts and culture. The attraction has a range of art galleries showcasing the works of local artists and events are often held, such as craft sessions and dance classes. You'll also find shops selling crafts and artworks and lots of local eateries.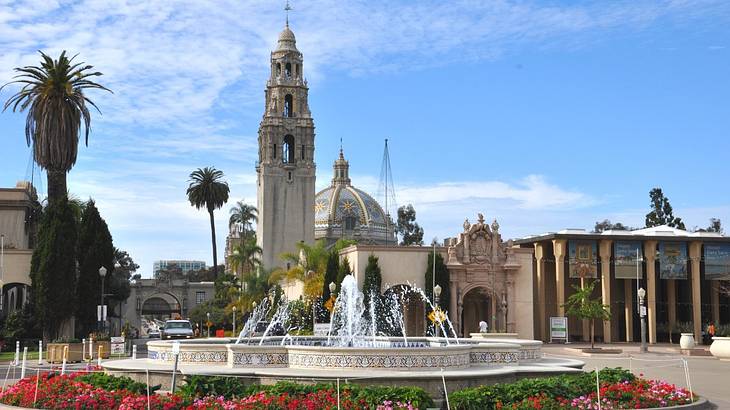 Marvel at artworks at the San Diego Museum of Art
Another of the fun things to do in San Diego for couples that like the arts is visiting the San Diego Museum of Art. Founded in 1926, the gallery has a collection of 20,000 pieces.
Artworks range from those dating back to 3,000 BC to more contemporary art. This particular gallery also has an extensive collection of Spanish art.
Shop and eat at Liberty Public Market
A fun place to explore with your date is Liberty Public Market. The market opened in 2017 and was San Diego's first seven-day-a-week public market. As you look around, you'll find many places to grab food together, with various cuisines on offer, including Mexican, French, and Thai dishes.
You'll also discover many places selling sweet treats for dessert, and there are some craft and jewelry stores to shop at before or after you eat.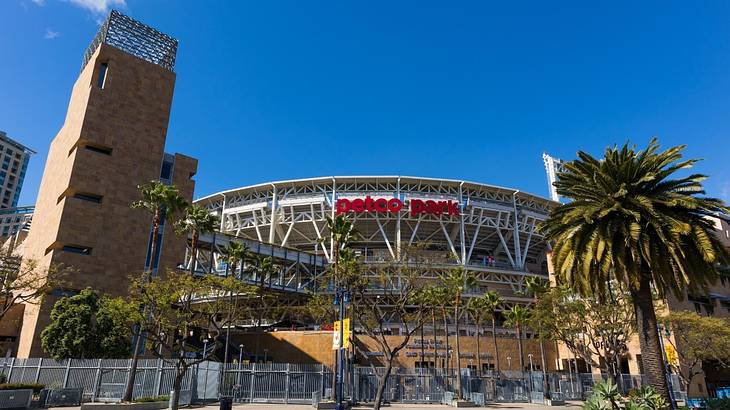 Watch the San Diego Padres at Petco Park
If you both like sports, going to a San Diego Padres game at Petco Park is a perfect date idea. You can watch the team play if you're in the city between March and October. Even if you don't usually watch baseball, going to a game can still be a fun and memorable thing to do together!
Enjoy the views from Shelter Island Shoreline Park
Shelter Island is a peninsula connected to mainland San Diego by a small strip of land. It's an exciting area to visit with your other half and has lots of things to do.
Going to Shelter Island Shoreline Park is a great idea. There's a sandy beach as well as biking paths and picnic tables. In addition, there's a pier to walk along that offers fantastic ocean views, especially at sunset.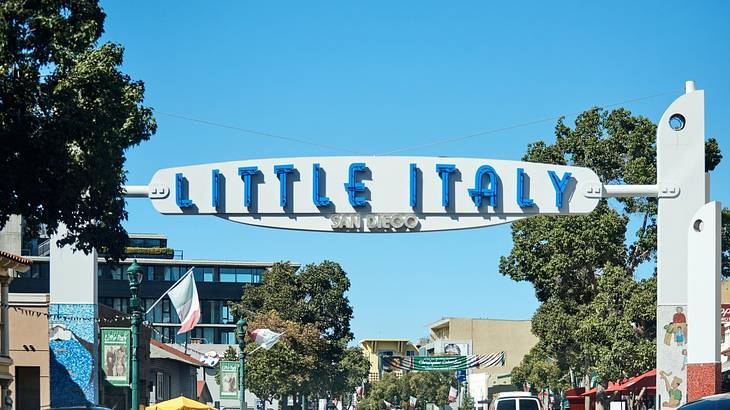 Get a taste of Little Italy
Little Italy is a bustling neighborhood in San Diego with an array of Italian eateries and shops. A fun way to explore the area with your partner is by joining a taste of Little Italy tour.
During this food tour, you'll visit the best local restaurants to try classic dishes. Your guide can also offer more information on the area's history and will point out some landmarks.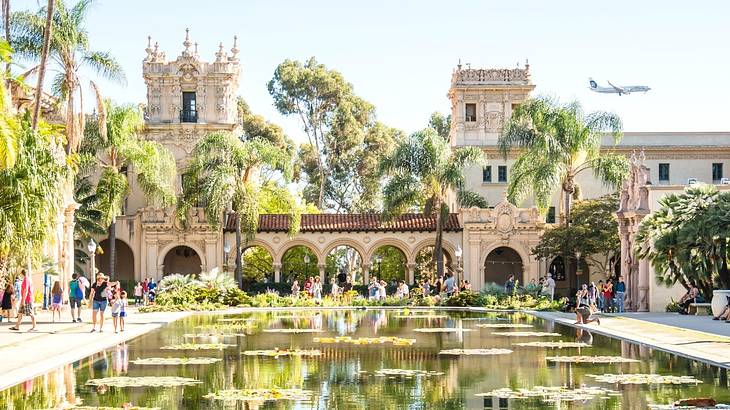 Check out Balboa Park
Another of the best things to do in San Diego for couples is visiting Balboa Park. The 1,200-acre historic park features green space and gardens, museums, walking trails, and more. You and your date can explore the area on your own or book a Balboa Park hidden gems tour to discover the best attractions.
Cuddle with cats at The Cat Cafe
The Cat Cafe is one of the cutest places to take your date in San Diego. You can get a coffee at this spot and hang out with adorable kitties. All cats are also up for adoption, so you and your partner could adopt a new pet during your visit!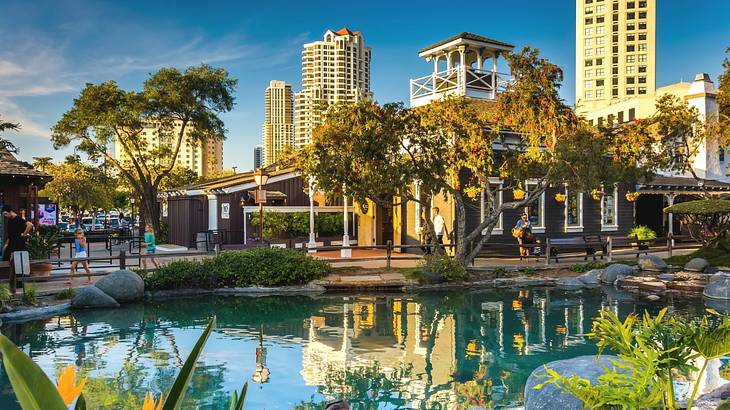 Go to Seaport Village
Seaport Village is another waterfront dining and shopping complex to explore with your other half. After looking around some independent shops, you can dine at bayfront eateries that offer incredible views of San Diego Bay. Seaport Village also has some art galleries to visit and a charming carousel from 1895!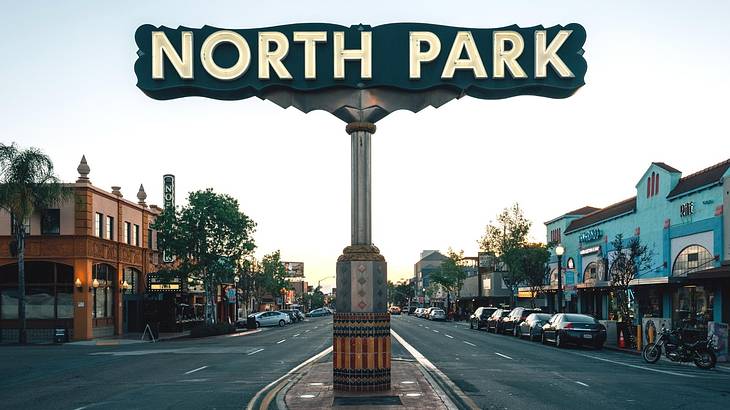 Bar hop in North Park
San Diego date nights will always be fun when checking out the city's many excellent bars. One of the areas with an array of bars, pubs, and breweries is the North Park neighborhood.
If you can't decide on just one spot in this trendy part of San Diego, why not go to a few bars? Some popular options include Bluefoot Bar and Lounge, Seven Grand SD, and West Coast Tavern. There are many fantastic live music venues in this area too.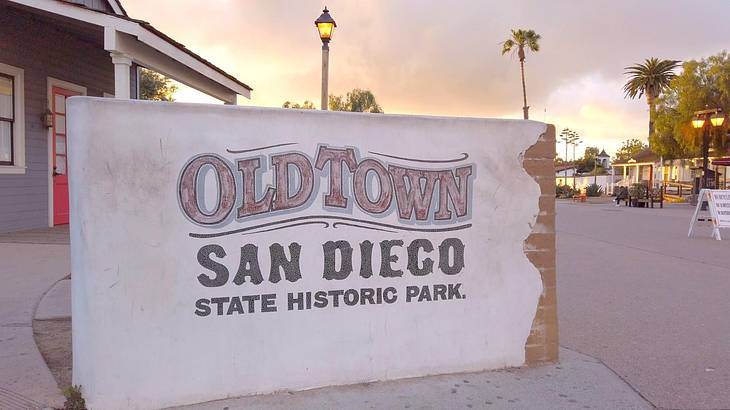 Get dinner in Old Town San Diego
Another fantastic neighborhood to explore with your other half is Old Town San Diego. This is one of the city's oldest parts and was previously the central hub of San Diego.
Today, it has restaurants, bars, museums, and shops. It's a great place to get dinner together, and you'll find many Mexican eateries here. Just a few places to try include Miguel's Cocina and Cafe Coyote.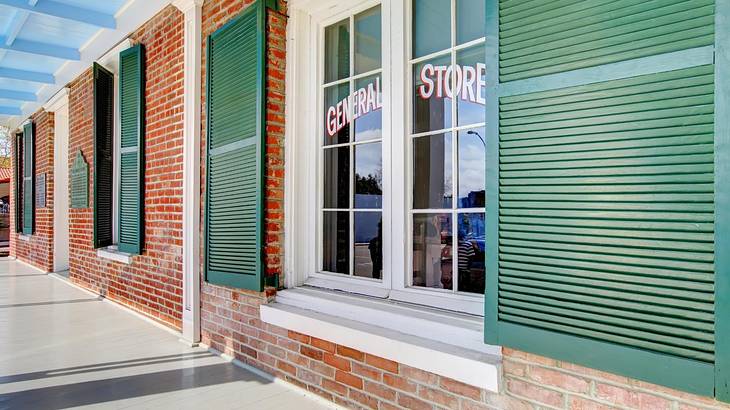 Look around the Whaley House Museum
The Whaley House Museum is a great place to go with your date if you like history. The house was constructed in 1857 in a Greek Revival style and was owned by Thomas Whaley, an early settler in the city during Westward Expansion.
At the museum, you can find out more about the family that lived there and life in San Diego in the mid-19th century. Interestingly, the site is also known as one of the most haunted places in America!
Treat your date to ice cream
Getting ice cream together is a fun but laid-back date idea that's sure to please! There are many great ice cream spots in San Diego to choose from. Stella Jean's Ice Cream is an ideal place to try.
The ice cream shop sells delicious flavors like brown butter pecan or strawberry oat crumble and has limited edition flavors. Other popular ice cream shops in the area include Salt & Straw and Mariposa Ice Cream.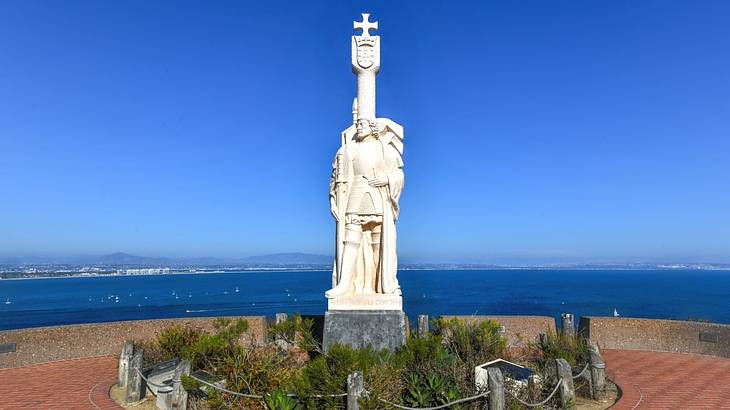 See the Cabrillo National Monument
If you're visiting the city with your partner, seeing some landmarks can be a fun date idea. One San Diego landmark you can't miss is the Cabrillo National Monument. The statue marks the 1542 landing of Juan Rodríguez Cabrillo, the first European to land on the modern-day West Coast of America.
Sip wine at The Rose Wine Bar
Going to The Rose Wine Bar is one of the romantic San Diego date ideas that will appeal to most couples. At the stylish wine bar, you can order wine by the glass or the bottle. Craft cocktails can also be ordered, as can bar snacks like olives, salads, or flatbread pizzas. In addition, The Rose Wine Bar hosts brunch on the weekends.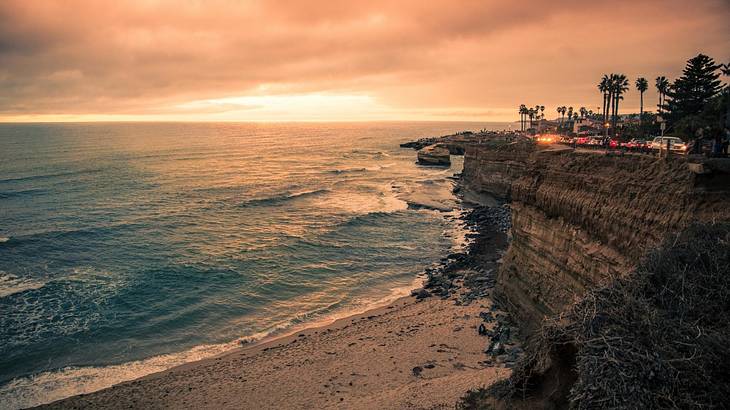 Admire the views from Sunset Cliffs Natural Park
A stunning place to go with your date, located just 20 minutes from central San Diego, is Sunset Cliffs Natural Park. The coastal park features a short hiking trail that takes you to the cliff's peak. From there, you can admire views of the Pacific Ocean and surrounding beaches.
Do yoga on the beach
The San Diego nickname of Beach Paradise was created due to the area's many stunning beaches. While you can have a fun beach day with swimming and sunbathing, a more unique date idea is doing yoga on the beach in La Jolla.
The hour-long session with an experienced instructor will allow you to unwind surrounded by beautiful coastal scenery. This activity is ideal for all levels, from newbies to experienced yogis.
Look for seals on a seal watching tour!
The waters around San Diego are filled with sea life, especially seals. You and your date can spot these creatures by taking a seal-watching tour. On the water, you'll pass some landmarks like Harbor and Shelter Islands and Point Loma while looking for cute seals around you!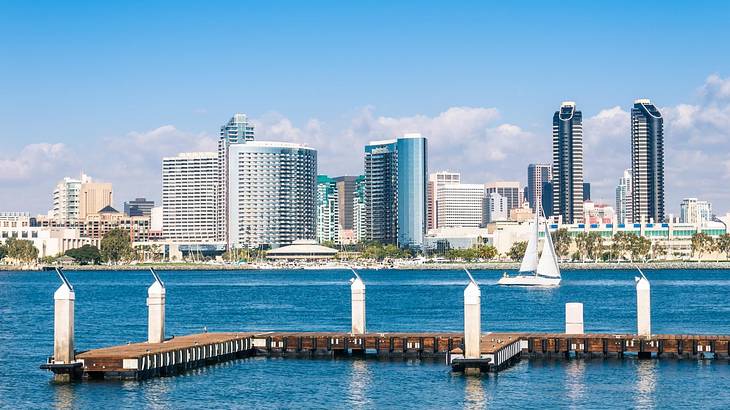 Treat yourselves to a champagne brunch
If you're spending time together on the weekend, one of the most romantic things to do in San Diego, CA, is going on a champagne brunch cruise around San Diego Bay. You and your partner can order classic brunch dishes and sip as many mimosas as you like! As you eat, you can admire the San Diego skyline.
Experience a whale watching tour
Another of the San Diego tours to experience with your partner is a San Diego whale-watching tour. Departing from Mission Bay, the cruise takes you to areas known to be home to pods of whales and dolphins. During the trip, you'll also be provided with information on the animals you see.
The best time to plan a trip to San Diego to see whales is during winter or summer. However, even if you visit during spring or fall, your chances of seeing some species of whales are still high.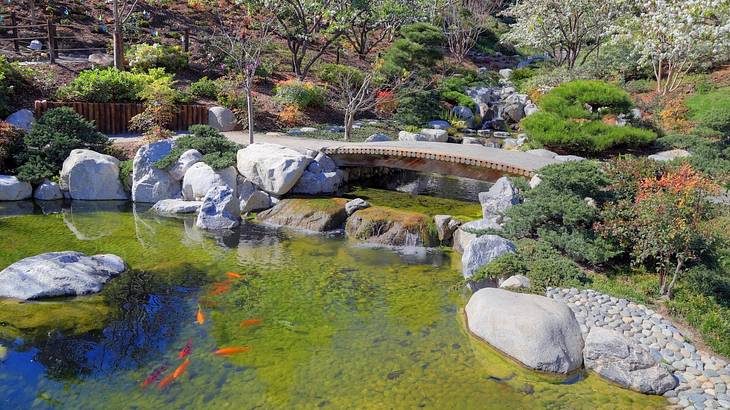 Unwind at the Japanese Friendship Garden
One of the most romantic things to do in San Diego for couples is wandering around the tranquil Japanese Friendship Garden. The garden is located in Balboa Park and features Japanese-style plant displays.
You'll also see koi ponds and beautiful trees like cherry blossoms and bonsai trees. For those visiting the city, a trip to the Japanese Friendship Garden must be on your San Diego itinerary.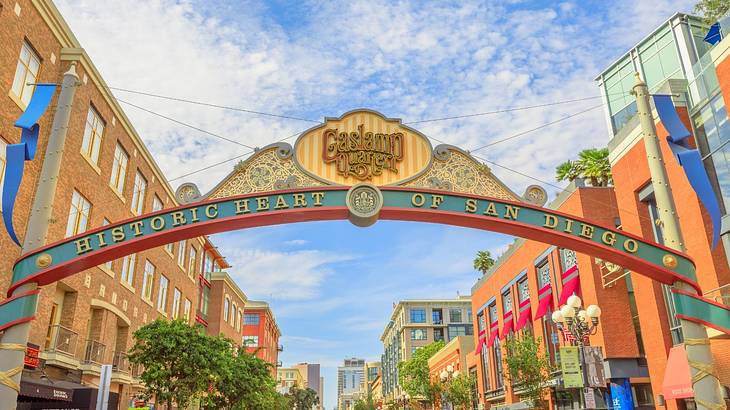 Discover the best eateries in the Gaslamp Quarter
The Gaslamp Quarter is another vibrant neighborhood in the city and is one of the best places to visit in San Diego at night. It's filled with unique restaurants, cool bars, and independent boutiques, most of which stay open until late.
You and your date could also participate in a Gaslamp Quarter food tour. This three-hour excursion will take you to five of the best food spots in the area, with samples offered at each stop.
Relax at Paradise Point Resort & Spa
For those planning a couples getaway, one of the most romantic things to do in San Diego, California, is staying at Paradise Resort & Spa. The high-end hotel and spa features stylish guest rooms, suites, and private bungalows.
Guests can access five swimming pools, a golf course, tennis courts, and more. There's also a full-service spa and waterfront fine dining restaurants.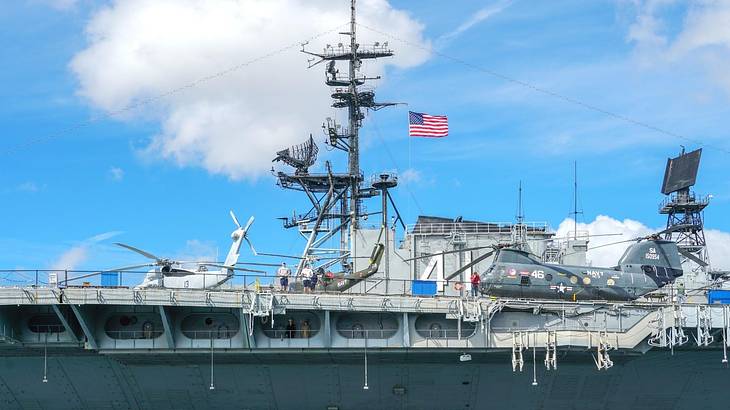 Visit USS Midway Museum
The USS Midway Museum is a fascinating San Diego landmark to visit with your partner. Housed within a naval aircraft carrier, the museum features exhibits on US maritime history. You can also see a vast collection of aircraft. To make admission easy, purchase USS Midway Museum tickets in advance.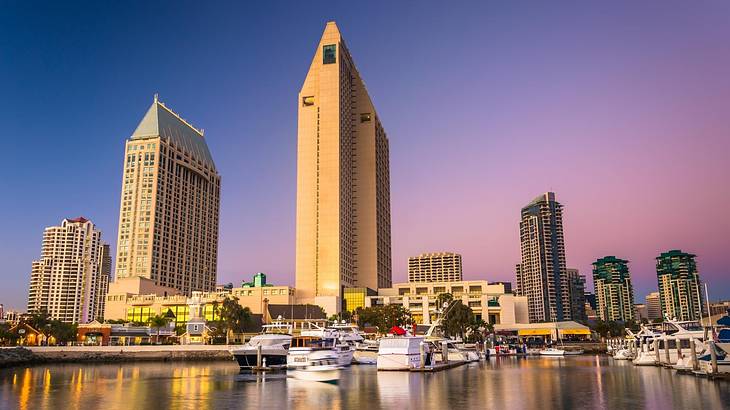 Luxuriate on a San Diego Bay dinner cruise
If you want to plan the perfect romantic date, going on a dinner cruise in San Diego Bay is recommended. You and your someone special can hop aboard a luxury ship where you'll enjoy views of the bay and the San Diego skyline. You'll also be served a delicious gourmet meal with drinks.
Things to Do Near San Diego on a Date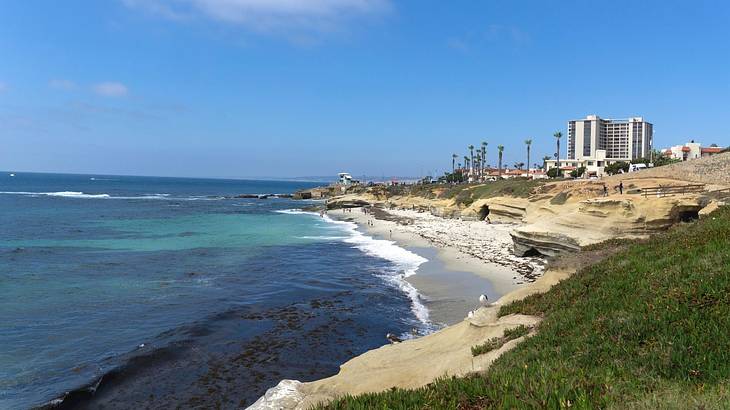 Hike in Torrey Pines State Park
If you and your date enjoy outdoor activities, hiking in Torrey Pines State Park is one of the best San Diego date ideas. Situated only 25 minutes from San Diego when driving, the 2,000-acre coastal park has many trails to follow.
Most trails will take you along the cliffs and offer amazing views of the beaches and oceans below. Note that this park is not dog-friendly if you like to bring your pup on hikes.
Hang out at Ellen Browning Scripps Park
Ellen Browning Scripps Park is a charming oceanside park that's the perfect place to spend time with your date in the fresh air. Notably, this park is one of the most photographed spots in the city!
After strolling around the park, you can hang out on the grass and admire the ocean views. You may even spot some seals. Of course, taking a picnic is also a great idea, as is going at sunset to watch the sun go down over the ocean.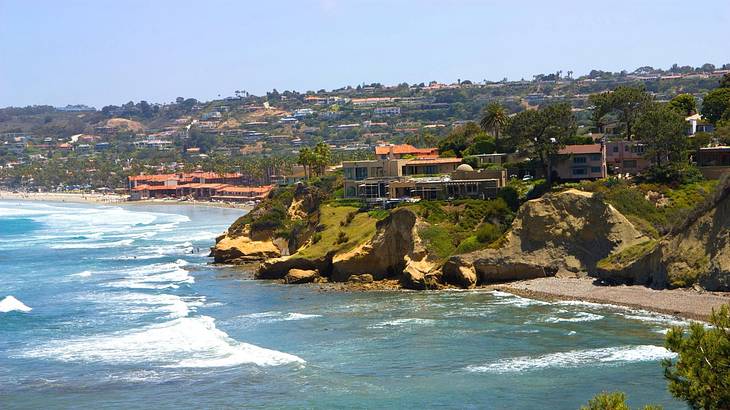 Sea kayak around La Jolla Shores Beach
La Jolla is one of the best beach towns in California. La Jolla Shores Beach is particularly pretty, and you and your date can go here to sunbathe or surf. Another fun activity in La Jolla is going sea kayaking. You'll be able to explore sea caves and may see marine life, like dolphins or sea lions.
Watch a performance at La Jolla Playhouse
A perfect night out activity is going to a show at La Jolla Playhouse. The performance venue hosts a variety of shows, including classic plays and independent productions. Performances change frequently, but you can consult the playhouse's calendar to see what's currently on.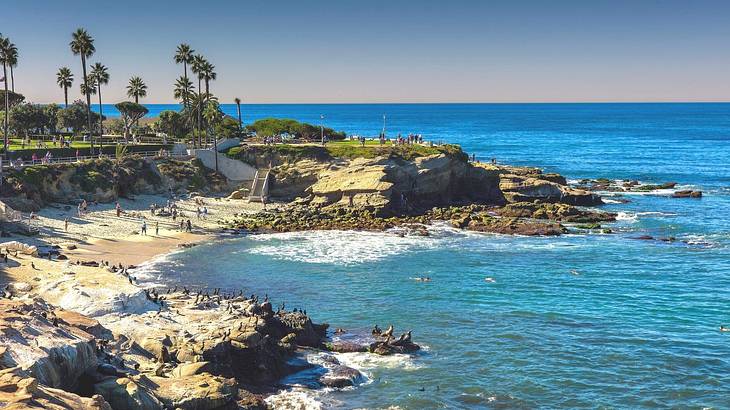 Snorkel at La Jolla Cove and Ecological Reserve
Snorkeling around La Jolla Ecological Reserve and La Jolla Cove is a fun idea when in La Jolla. The waters here are protected but are open to snorkelers and divers. Beneath the surface, you can see crabs, octopuses, squid, and much more. You may also spot sea lions and dolphins as you explore the waters.
The find all the best snorkel spots, book a La Jolla kayaking and snorkeling tour. Snorkeling and kayaking gear are provided, and your guide will take you to areas known to be home to lots of sea life.
Spot exotic animals at the San Diego Zoo Safari Park
San Diego has two zoos, the San Diego Zoo in Balboa Park and the San Diego Zoo Safari Park, located about 40 minutes from downtown in Escondido. If you have a car, going to the safari park is a fun thing to do.
You can go on a mini safari at the park, driving through habitats and seeing over 3,500 animals. Creatures to see include giraffes, lions, and elephants. You can also purchase a San Diego Zoo Safari Park ticket in advance to avoid waiting in line.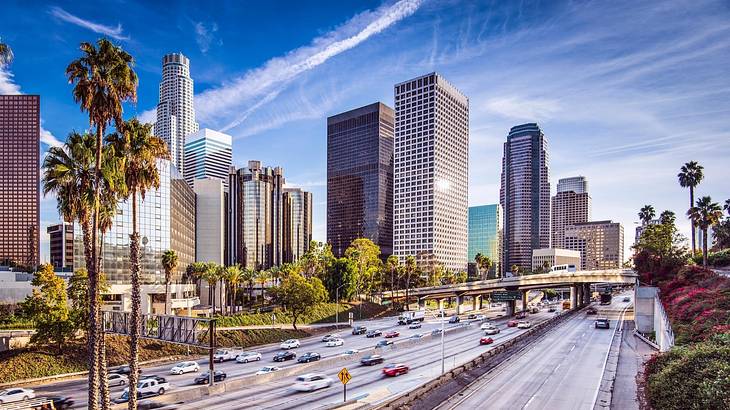 Drive to Los Angeles
California's most famous city, Los Angeles, is just two and half hours away from San Diego, making it the ideal place for a day or overnight trip.
You'll find an array of things to do in LA together, from visiting theme parks to dining at world-class restaurants and seeing famous Los Angeles landmarks. You'll also discover many romantic things to do in LA!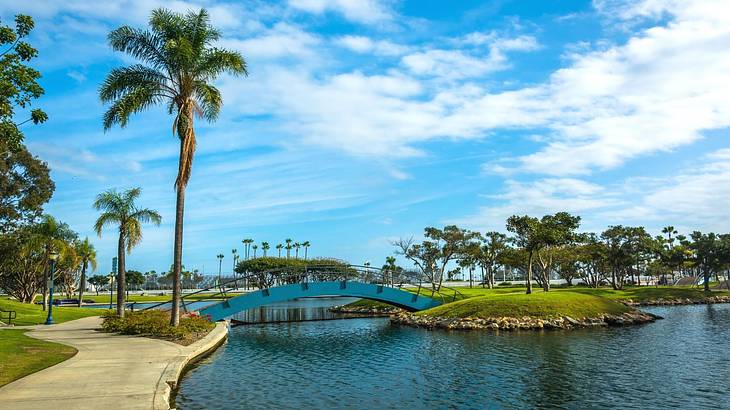 Spend the day in Long Beach
Another fun day trip or weekend getaway location close to San Diego is Long Beach. Situated two hours away, there are things to do in Long Beach for everyone!
Activities range from visiting parks and kayaking to hanging out on the beach and checking out bars and restaurants. Some especially fun date ideas in Long Beach include strolling around the Earl Burns Miller Japanese Gardens and taking a sunset helicopter tour over the city.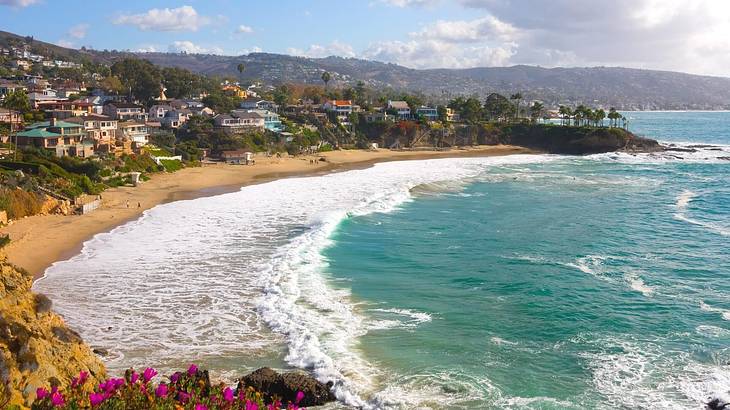 Road trip to Orange County
If you're looking for more couples getaway locations, you could add Orange County to your list. Making a road trip out of traveling to Orange County, LA, and Long Beach is a fun idea too!
Best of all, there are many things for couples to do in Orange County, including getting drinks at rooftop bars, taking a romantic drive down the Pacific Coast Highway, and going wine tasting. You could also book some fun Orange County excursions.
In Conclusion
This list of the best date ideas in San Diego, CA, should have given you lots of inspiration for things to do with your other half. From bar hopping to going on seal or whale watching tours and dining at waterfront restaurants, San Diego has no shortage of unique and memorable date activities!
Give us feedback about this article
Learn more about San Diego:
More articles about California:
Read more articles about the United States:
More articles about date ideas:
---
---
Want to keep exploring?
Subscribe for discounts on tickets and hotels and our latest guides.
Thank you for subscribing
We will be in touch soon with discounts on tickets and hotels and our latest guides.
Want to keep exploring?
Subscribe for discounts on tickets and hotels and our latest guides.
Thank you for subscribing
We will be in touch soon with discounts on tickets and hotels and our latest guides.
Related Articles