35 Best Free Things to Do in Oahu, Hawaii
Destguides may receive commissions from purchases made through affiliate links in this article.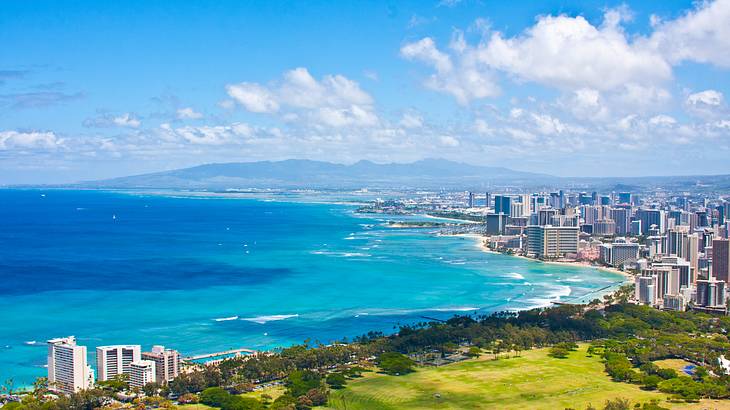 Oahu is a famous Hawaiian island that's a favorite vacation destination for many. The island is home to well-known towns like Honolulu and Waikiki, and there are numerous activities to do on Oahu, from visiting landmarks to surfing and hiking scenic trails.
You can also find an array of things to do in Oahu that are free, including watching hula shows, visiting cultural sites, and spending the day on stunning beaches. If you're looking for activities to do on the island at no cost, continue reading for the 35 best free things to do in Oahu, Hawaii.
35 Best Things to Do in Oahu for Free
Free Things to Do on Oahu, Hawaii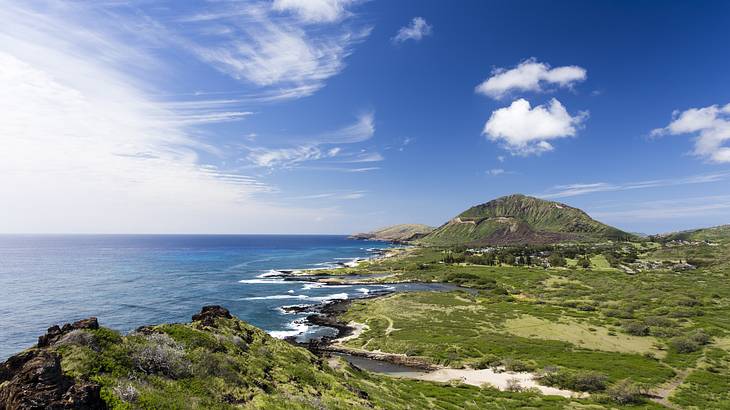 Enjoy views of Hanauma Bay at Koko Head District Park
Hanauma Bay is one more of the incredible Honolulu landmarks. However, there is an admission fee to access the marine conservation area. If you want to view Hanauma Bay for free, you can do so from certain places in Koko Head District Park.
When here, you must try the Koko Crater Railway Trail. The hike features over 1,000 stairs, and you'll encounter incredible views all the way up.
At the top of the trail, you'll get panoramic views of Hanauma Bay and the rest of Oahu. This hike is quite challenging and may not be appropriate for all activity levels.
Stroll around Ho'omaluhia Botanical Garden
Ho'omaluhia Botanical Garden in Honolulu covers 400 acres and features an array of flora and fauna. Interestingly, the gardens were constructed in 1982 by the U.S. Army Corps of Engineers as a form of flood protection.
Despite the garden's practical beginning, it's a much-loved attraction today. When visiting, you can see a variety of tropical plants from across the world. A trip to Ho'omaluhia Botanical Garden is undoubtedly one of the best things to do on Oahu for free.
Marvel at the stunning Manoa Falls
Located a short drive from central Oahu, Manoa Falls is a 150-foot-tall waterfall you can visit at no cost. To get to the waterfall, you must hike a short and easy trail. This hike is through lush jungle and is a scenic and relaxing experience in itself.
Once at the falls, you can find a few more trails to follow and can, of course, appreciate the stunning natural water feature. Taking lots of pictures is highly recommended too! Swimming is discouraged as the water below the falls could cause disease.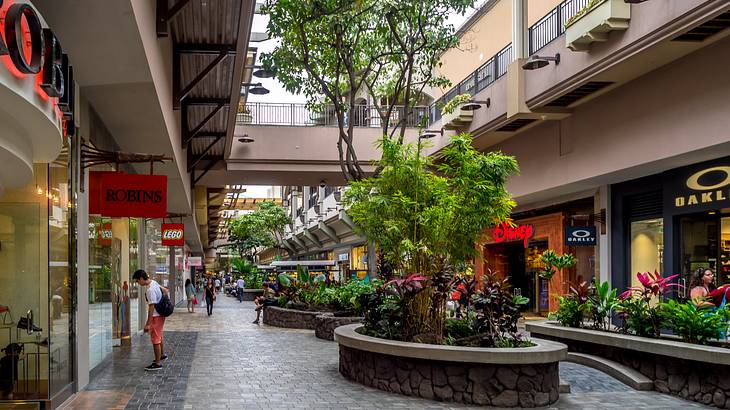 Catch a hula show at Ala Moana Center
Ala Moana Center is a large open-air shopping mall in Honolulu next to Ala Moana Beach Park. Along with finding some excellent shops here, the mall hosts a free hula show daily.
Ala Moana's hula show is just 20 minutes long but is well worth watching! The dancers will incorporate traditional and more modern variations of hula dance for a memorable performance.
Surf at Sunset Beach
Sunset Beach is located on the Oahu North Shore. It's a scenic sandy beach known as a top big wave surfing spot. So if you love to surf, this is one of the best places in Oahu to do so!
Even if you don't want to surf, it's the perfect beach to relax and watch those who surf hit the waves. Sunset Beach is a little less known than popular spots like Waikiki Beach, so it's unlikely to be overly crowded. As the name suggests, this beach is also the ideal location to watch the sunset.
Snap a photo with the Haleiwa Signs
Located on the North Shore are two famous welcome signs that are popular photo-op locations. Taking a photo of or with one of the signs is free, so it's a must when in the North Shore area.
They feature an image of a surfer, Hawaiian flowers, and the words "Haleiwa." The signs are at 62-330 Kamehameha Hwy and 62-400 Joseph P. Leong Hwy.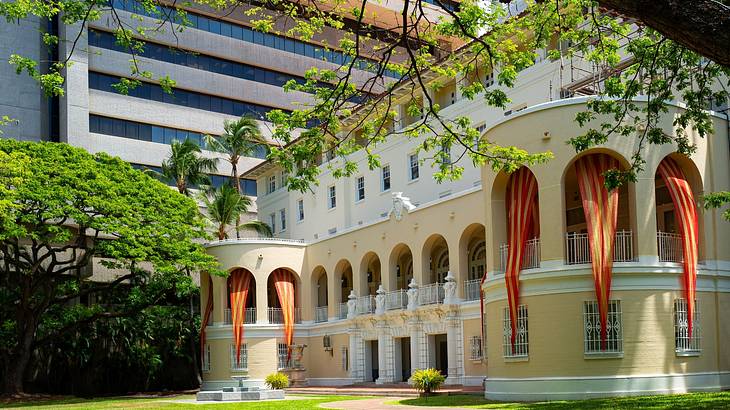 Get creative at Hawaii State Art Museum
A visit to the Hawaii State Art Museum is an excellent idea for a fun cultural day out in Oahu. Best of all, admission to the museum is always free.
Exhibits on display feature a range of artworks, with many by American artists. There is additionally a whole section of the museum featuring Hawaiian-themed artworks and pieces by Hawaiian artists.
Unwind at Kapiolani Park
Kapiolani Regional Park is Hawaii's largest park. It's also the second oldest park in Hawaii. There are many attractions in Kapiolani Park, including the Honolulu Zoo. However, if you want to save money, you can simply explore the green public park.
As you wander around Kapiolani Park, you'll enjoy vast open green spaces, beautiful trees and plants, and wildlife. The views of Diamond Head from here are also incredible. On Sundays, there are even free concerts at the park bandstand.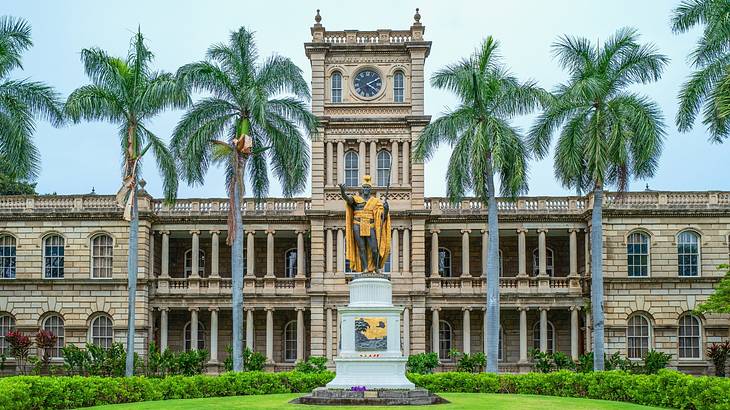 Check out the King Kamehameha statue
The King Kamehameha statue is located outside of Honolulu's Aliʻiōlani Hale building and opposite the famous Hawaiian landmark of Iolani Palace. This historic statue is of Hawaii's King Kamehameha I, who aided in the unification of Hawaii.
Although the statue sits in Hawaii, it was constructed in Italy and shipped to Honolulu. Unfortunately, the original was lost at sea, so the statue you can see is the second commissioned. Viewing this iconic statue is a must-do activity in Oahu.
Visit the Halona Blowhole
The Halona Blowhole is located just off Hanauma Bay. The landmark is a rock formation and blowhole that costs nothing to visit. When visiting, you may see water geysers spurting out of the blowhole high up into the air.
Halona means "lookout," and you can also take in breathtaking coastline views from the blowhole. You might even see whales from here during whale season.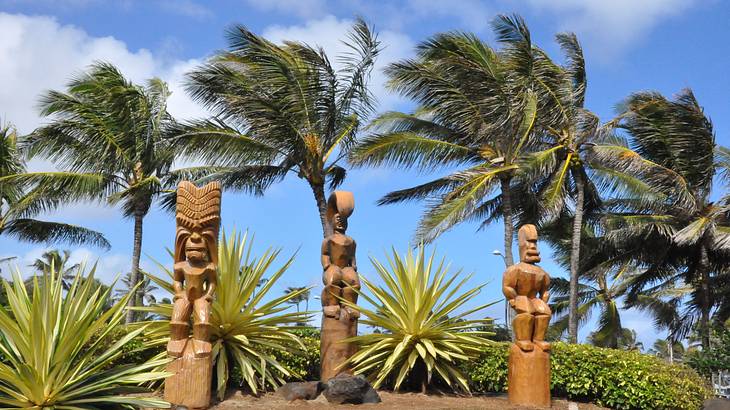 Explore the Polynesian Cultural Center
Visiting the Polynesian Cultural Center is one of the best things to do in Oahu. The center honors Polynesian culture and history and hosts many interesting shows and events.
Hukilau Marketplace is open to the public six days a week and is free to look around. There are many fascinating shops, including one selling just Ukuleles, and there is a Football Hall of Fame with free admission.
While checking out the Polynesian Cultural Center is one of the best things to do in Oahu for free; if you want to spend, you can purchase experiences like attending a luau.
Wander around Ala Moana Beach Park
Ala Moana Beach Park is another excellent place to go if you're traveling on a budget. This beach and park cover 100 acres and feature sandy shores and scenic walking paths. After a walk, you can hang out on the grass or sand, taking in the views and enjoying a picnic.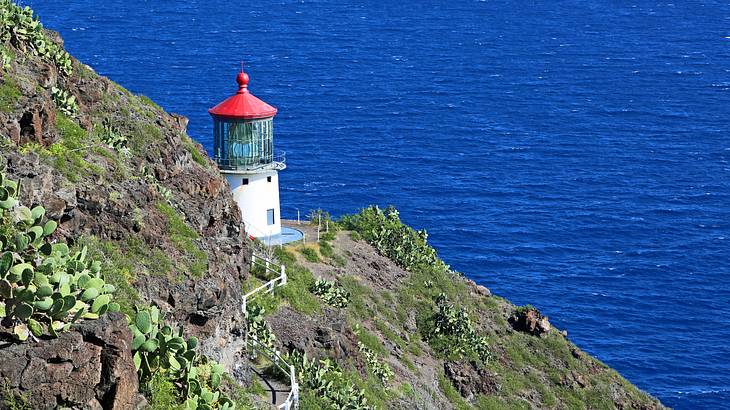 Hike the Makapu'u Point Lighthouse trail
The Makapu'u Point Lighthouse Trail is located east of Oahu and is a relatively easy scenic hike. As you walk along the trail, you'll enjoy breathtaking ocean views. You'll also come across the quaint lighthouse that sits on the path.
Viewpoints along the hiking trail are also the ideal place to spot whales during whale season. If you want to see whales, the best time to visit Oahu, Hawaii, is between December and May. Watching the sunrise and sunset from the Makapu'u Point Lighthouse trail is also well worth it!
Take in the views from the Aloha Tower
Opened in 1926, the Aloha Tower has been a much-loved Oahu landmark for almost 100 years. The Art Deco and Gothic tower in Honolulu stands 56 meters tall and has an observation deck on the tenth floor that's free to access. From the observation deck, you can marvel at the panoramic vistas of Honolulu.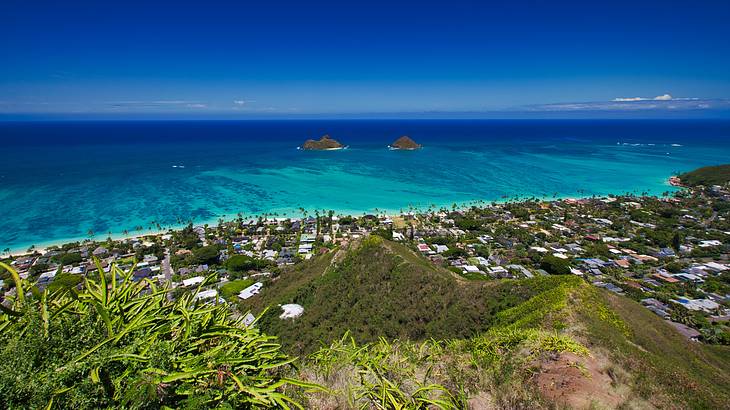 Complete the Lanikai Pillbox Hike
If you enjoy outdoor activities, following the Lanikai Pillbox hiking trail has to be on your Oahu itinerary. This trail is free to access and covers about 1.7 miles.
As you hike, you'll get to admire breathtaking views of Lanikai Beach. Completing this hike at sunrise or sunset is a great idea, but you'll be amazed by the vistas whenever you go!
Admire the floral displays at Liliʻuokalani Botanical Garden
Going to Liliʻuokalani Botanical Garden is another of many free things to do in Honolulu, Hawaii. The garden's grounds were once a much-loved picnic spot of Queen Liliʻuokalani. Today, visitors can stroll through tranquil gardens with beautiful floral displays, waterfalls, and many native Hawaiian plants.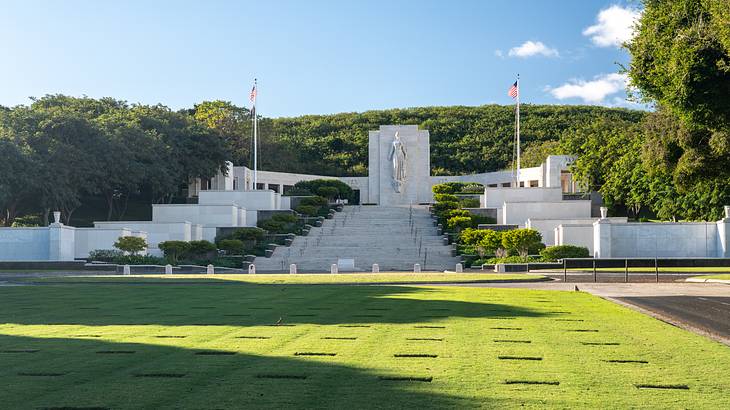 Go to the National Memorial Cemetery of the Pacific
One of the more unique places to visit for free is the National Memorial Cemetery of the Pacific. It's the resting place of United States military personnel and was even added to the National Register of Historic Places in 1976. As you walk around, you can see some memorial plaques relating to various battles.
Appreciate the views from the Nu'uanu Pali Lookout
Another beautiful outdoor attraction is the Nu'uanu Pali Lookout. The lookout is located on Koʻolau mountain and offers stunning views of the windward coast of Oahu.
You can reach the overview by driving along the Pali Highway. There's no entry fee for those arriving on foot, but it's currently 7 USD if you want to park a car.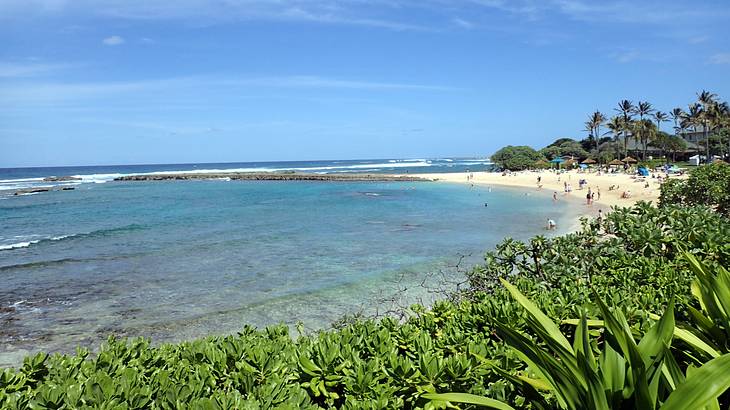 Snorkel at Kuilima Cove at Turtle Bay
Kuilima Cove at Turtle Bay is one of the best snorkeling spots in Oahu. If you have your own snorkel gear, this activity is free. Even if you buy or rent snorkeling equipment during your trip, the costs will be minimal.
Once in the water, you'll see a range of colorful tropical fish. The water is very calm here, so it's an excellent place for all snorkeling abilities, from beginners to advanced snorkelers.
Look around the Aloha Home Market
Located at the Ala Moana Center, the Aloha Home Market is a pop-up market that specializes in homewares. Vendors offer a range of products, from furniture and art to decor items.
It's free to enter the market, and just looking at all the unique items on offer is a fun activity. If you have a little to spend, you can also find some affordable pieces to purchase. There's also a market in Kailua If you can't make it to the one at the Ala Moana Center.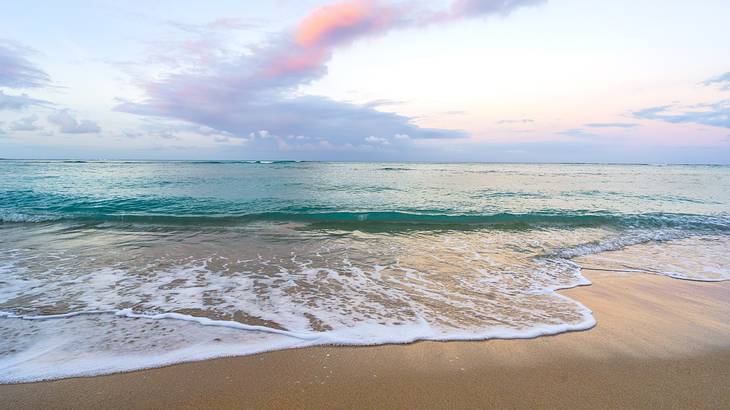 Have a picnic on the beach
There are numerous beaches across Oahu, and visiting most of them is free. Going to the beach for a picnic is an excellent activity idea and is fun for all types of travelers, from families to couples.
No matter which beach you choose, you could have a full beach day with a picnic lunch or opt for a dinner picnic, enjoying your food as the sunsets over the ocean.
Snap photos with street art
If you're exploring Honolulu on a budget, seeing the area's street art is a must. Kaka'ako is a great place to go to see street art murals. This area covers nine blocks and features an array of colorful murals. Taking photos with the art as a backdrop will make a great addition to your vacation photo library!
Catch a Pau Hana Music show
A Pau Hana Music show is one of the best things to see in Oahu for free! You can catch a show at the Ala Moana Center. Performances are held throughout the week in the early evening (check the website for exact dates) and feature different artists each time.
The venue hosts many other free events as well, including other musical performances. Just go to the website's event section to see everything that is on during your visit.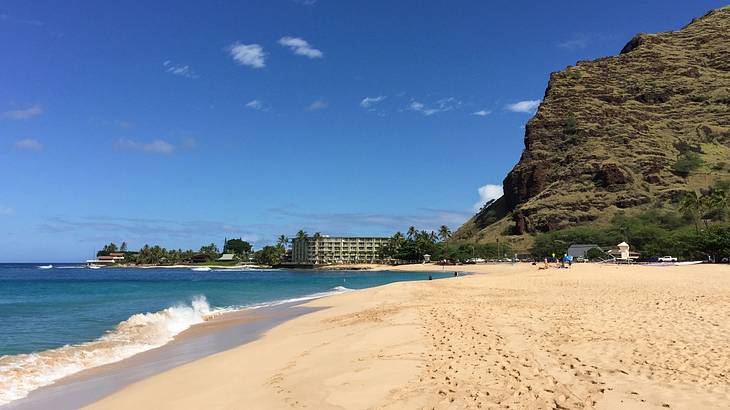 Relax at Makaha Beach Park
Another excellent outdoor attraction in Oahu that's free to visit is Makaha Beach Park. As this is a lesser-known beach in Oahu, it's mostly peaceful and quiet. You can sunbathe or take a relaxing walk next to the ocean during your time here. It's also a top surfing and snorkeling spot.
Go to the Aloha Stadium Swap Meet & Marketplace
Aloha Stadium Swap Meet & Marketplace is another great market to check out with free entry. This marketplace sells various products, from jewelry to antiques and souvenirs.
You can simply browse if you don't want to spend money and take some photos of the colorful market stalls. Again, if you have some money set aside for souvenirs, you can pick up a few items, as most are affordable. There are also food truck vendors to grab sweet or savory dishes at.
Things to Do in Waikiki for Free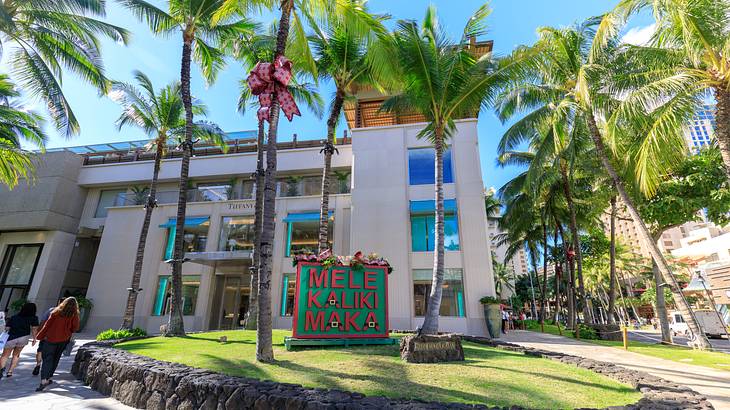 Take hula lessons at the Royal Hawaiian Center
The Royal Hawaiian Center is a luxury shopping mall in Honolulu, Oahu. Along with browsing some high-end shops, the mall offers many free activities.
One of the top Hawaii travel tips is to join a hula lesson at the mall. Each week, you can join a free hour-long class that will teach you this traditional Hawaiian dance. If traveling to Oahu with children, they can partake in kids-only Keiki hula lessons, which is one of the best free family things to do on Oahu!
Learn how to play the ukulele at Royal Hawaiian Center
Another of the free activities in Oahu, Hawaii, to partake in at the Royal Hawaiian Center is learning how to play the ukulele. You'll spend time with a seasoned ukulele player and learn some songs on the traditional Hawaiian instrument.
During the lesson, you can also sing along to well-known songs. Learning to play the ukulele is a great skill to gain to remind you of your trip. As doing so costs nothing, it's well worth it!
Take pictures at the Royal Hawaiian Beach and Resort
The Royal Hawaiian Resort is an iconic Waikiki landmark known for its pink facade. Getting some pictures of this building is a must when in the area!
You can see the hotel from Waikiki Beach, so taking some photos is one of the fun free activities in Oahu, Hawaii, to try when relaxing at the beach. Having snaps of this renowned and pretty hotel will be a great reminder of your trip.
View the Duke Kahanamoku Statue
A fun fact about Hawaii is that surfing has been enjoyed for centuries. When in Honolulu, you can visit a landmark relating to the sport and one of its most notable figures.
The nine-foot-tall bronze Duke Kahanamoku Statue honors Olympic surfer Duke Paoa Kahanamoku, who is referred to as "The Father of Modern Surfing."
This impressive statue is often adorned with leis. There are also torches around it that get lit at night. Located on Kalakaua Avenue, it's free for all to see and is a must-visit landmark.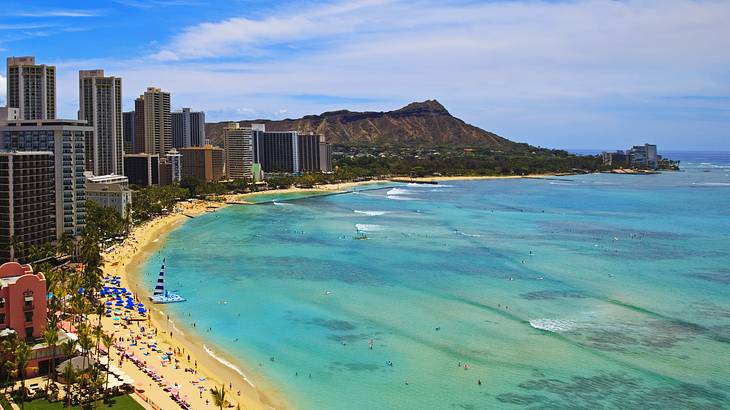 Spend the day at Waikiki Beach
Waikiki Beach is one of the most stunning beaches in Hawaii. It's also close to luxury resorts and hotels. The beautiful Waikiki Beach has white sand shores, crystal clear waters, and mountainous surroundings. You can even see Diamond Head State Monument on the horizon.
Spending a relaxing day at Waikiki Beach is one of the popular things to do in Oahu for free. While there, you can sunbathe, swim, surf, and more. It's the ideal spot for a chill beach day.
A fact about Oahu relating to Waikiki Beach that you'll want to keep in mind is that it sees around 10 million visitors annually. Due to this, the free attraction can get busy. However, planning a trip on a weekday will generally allow you to enjoy the beach with fewer crowds.
Create some Hawaiian crafts
If you like crafting, head over to the Royal Hawaiian Center to attend a free craft event. For free, you can go to a lauhala weaving class or a lei making class, both of which are also very family-friendly activities. Best of all, you'll have a handmade souvenir to take home with you!
Things to Do in Oahu at Night for Free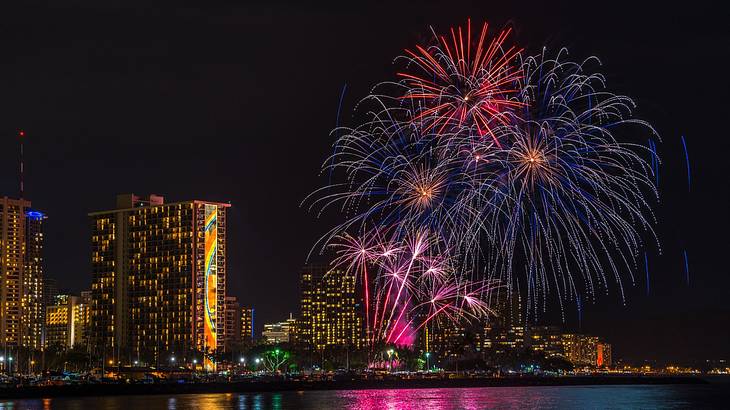 See the fireworks at Hilton Hawaiian Village
Hilton Hawaiian Village is a luxury resort near the famous Waikiki Beach. Every Friday night, the hotel hosts a free fireworks show. The show is open to everyone, not just those staying at the resort.
If you do stay at the resort, you can watch it from one of the outside areas. If not, you can see the show from various places around Waikiki Beach, all the way to Diamond Head. Watching the spectacular show is the ideal way to finish (or begin) your Friday night! Going to this event is also one of the best date ideas in Oahu.
Dance all night at a nightclub
One of the most fun free things to do in Honolulu at night is going to a nightclub. Entrance to most clubs is either free or just a few dollars unless you're attending a special event.
You can then dance all night, only spending if you want drinks. Just a few of the popular clubs in Honolulu to check out include NextDoor and The District.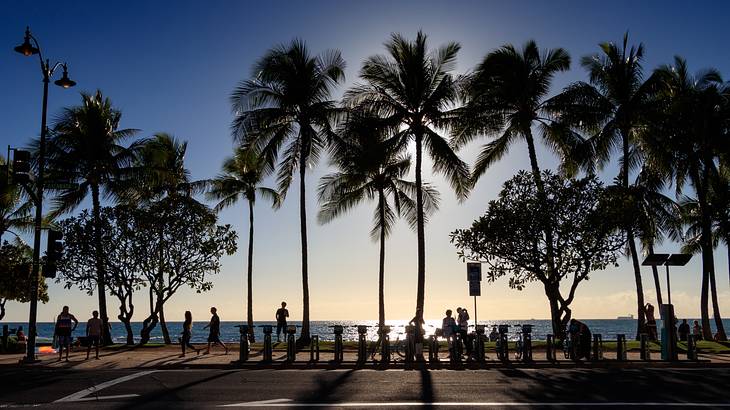 Walk along Kalakaua Avenue at sunset
Kalakaua Avenue is an excellent free place to explore any time of day. However, the area comes to life at night, and visiting around sunset and taking a walk along the beachside promenade is recommended.
The avenue goes past various landmarks, like the Duke Paoa Kahanamoku Statue, and offers stunning ocean views. After your walk, you can stop for drinks at one of the fun nearby bars.
Watch a hula show at Kuhio Beach Hula Mound
Another great place to watch a music and hula show for free in Oahu is at the Kuhio Beach Hula Mound. The hula mound is close to the Duke Kahanamoku statue.
The exciting traditional performance is held right by the ocean, so you can enjoy stunning coast views as you watch the show. The hour-long event also opens with torch lighting and conch blowing for an authentic experience.
In Conclusion
Oahu is a bucket list destination in the beautiful state of Hawaii. There are several activities to try here, many of which are free. From visiting Hawaiian landmarks and museums to hiking scenic trails and watching hula shows, you can have a memorable time in Oahu without spending a penny!
Give us feedback about this article
More visual stories related to this article:
---
---
Want to keep exploring?
Subscribe for discounts on tickets and hotels and our latest guides.
Thank you for subscribing
We will be in touch soon with discounts on tickets and hotels and our latest guides.
Want to keep exploring?
Subscribe for discounts on tickets and hotels and our latest guides.
Thank you for subscribing
We will be in touch soon with discounts on tickets and hotels and our latest guides.
Related Articles