The Perfect 3 Day Kauai Itinerary
Destguides may receive commissions from purchases made through affiliate links in this article.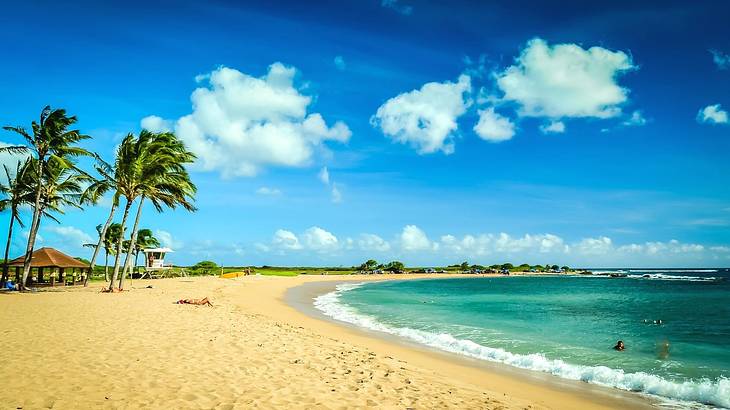 Are you planning a trip to Kauai? If so, this 3 day Kauai itinerary is the ideal guide to follow to ensure you see everything this spectacular destination has to offer!
Located in Hawaii in the United States, Kauai is known worldwide as one of the most beautiful Hawaiian islands. This scenic location is home to a range of renowned landmarks and also features breathtaking beaches, lush forests, and magical waterfalls.
Activities to check off your Kauai bucket list when visiting include taking a helicopter tour, trying tasty Hawaiian dishes, and exploring numerous state parks. Other fun things to try when on the Garden Isle range from spotting wildlife and taking boat tours to simply hanging out at the beach.
No matter what you like to do on vacation, there's something for everyone to enjoy in Kauai! If this tropical location sounds like the perfect vacation spot for you, read on for the perfect Kauai itinerary.
3 Day Itinerary for Kauai
Exploring Kauai's North Shore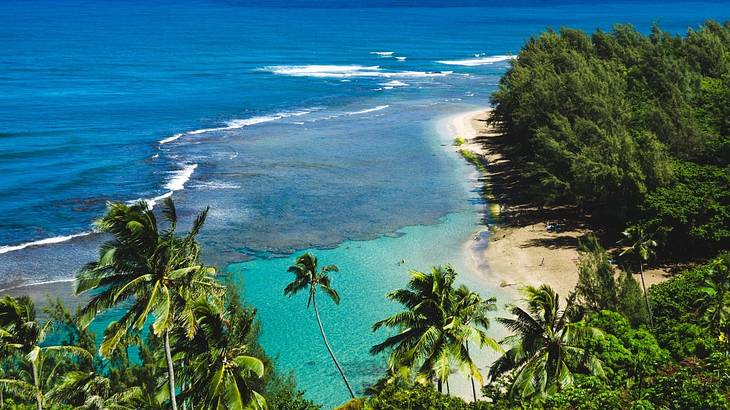 Your first day in Kauai, Hawaii will begin at the Kilauea Point National Wildlife Refuge. At this attraction, you can spot protected creatures before making your way to the renowned Kilauea Lighthouse.
Next, head to the Hanalei Valley Lookout to appreciate breathtaking views of the lush valley. Hanalei Bay is the next stop of the day. At this pretty beach, you can kayak, snorkel, and relax on the sand.
The afternoon will be spent hiking part of the Kalalau Trail. If you want to complete the entire trail, you can camp overnight under the stars and extend this activity into day two of your Kauai vacation itinerary. If not completing the trail, end the day watching the sunset at Tunnels Beach.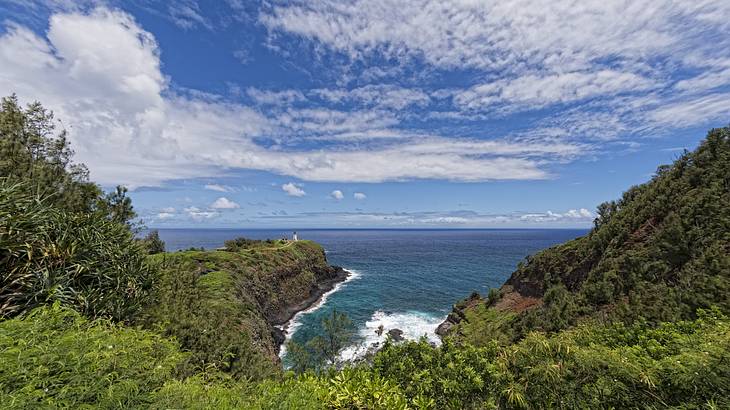 Kilauea Point National Wildlife Refuge
One of the best nature attractions in Kauai is the Kilauea Point National Wildlife Refuge. The coastal refuge is home to many protected species.
Animals you may spot include a vast array of birds, like Hawaiian geese and black-footed albatross. Seeing spinner dolphins, whales, and more in the surrounding oceans is highly likely too!
A fun way to visit Kilauea Point National Wildlife Refuge is on a best of Kauai tour. If you opt to join this tour, other attractions you'll visit include the Fern Grotto and Opaekaa Falls.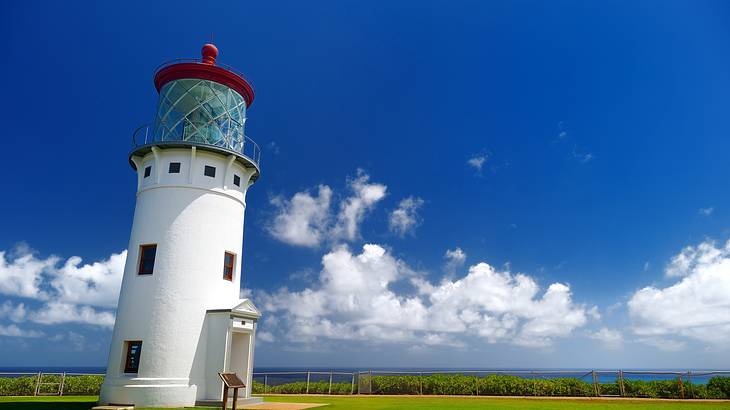 Kilauea Lighthouse
Located within the Kilauea Point National Wildlife Refuge, the Kilauea Lighthouse is a well-known Kauai landmark. The charming lighthouse has sat within the refuge since the early 1900s and stands at approximately 50-feet tall.
The best thing to do when visiting the lighthouse is to climb the stairs to the very top. Having made your way up the lighthouse, you can take in the stunning panoramic vistas of the Kilauea Peninsula.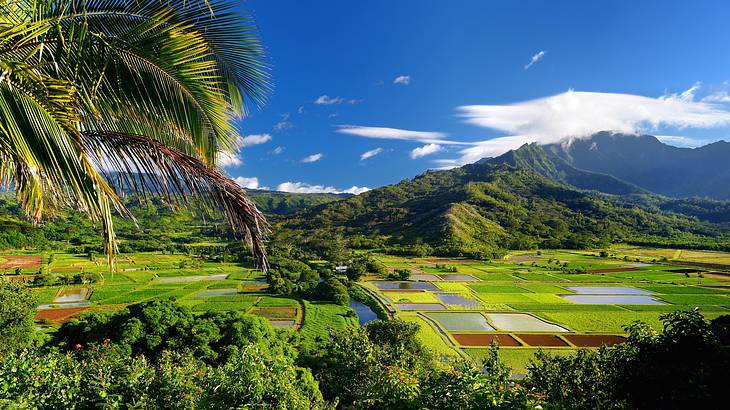 Hanalei Valley Lookout
A popular attraction that must be on your Kauai travel itinerary is the Hanalei Valley Lookout. This location provides amazing views of the surrounding lush green hills and valleys.
Along with appreciating the beautiful the valley, you can enjoy the vistas of the many taro fields within the valleys. Heading to the Hanalei Valley Lookout offers a relaxing break from an otherwise busy day in Kauai.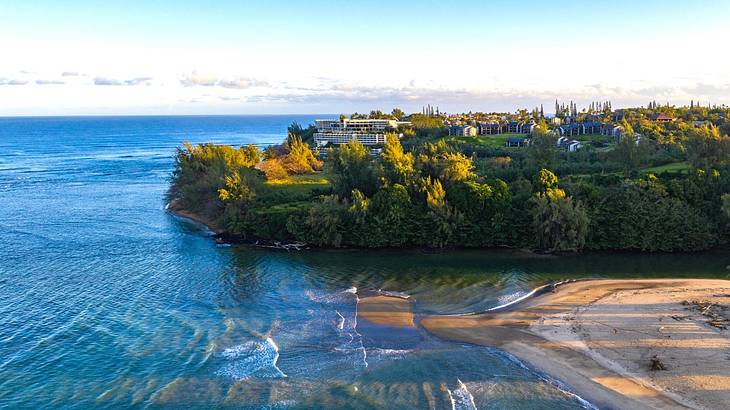 Hanalei Bay
Hanalei Bay is one of the most stunning North Shore beaches. The coastal area features sparkling blue water and sandy beaches surrounded by green mountains.
Snorkeling and kayaking at Hanalei Bay are two highly recommended activities to try. You can kayak out to the best snorkel spots where you can spot tropical fish and sea turtles in the crystal-clear waters.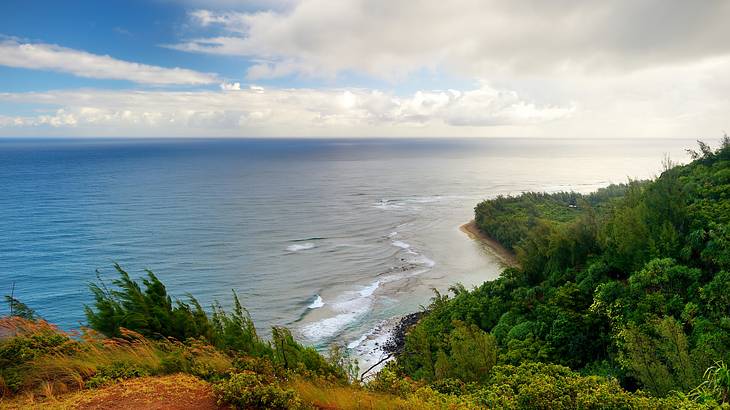 Kalalau Trail
Another incredible Kauai attraction is the Kalalau Trail. This scenic hiking trail is found in Na Pali Coast State Park and is recommended for experienced hikers.
As you hike this trail, you'll be able to take in the breathtaking coastline. Scenery to enjoy includes lush forest, sparkling turquoise ocean, and white sand beaches.
If interested in completing the entire hiking trail, you'll need to camp overnight and obtain a camping permit. However, it's easy to tackle just a small part of the trail for those looking for a less time-consuming activity.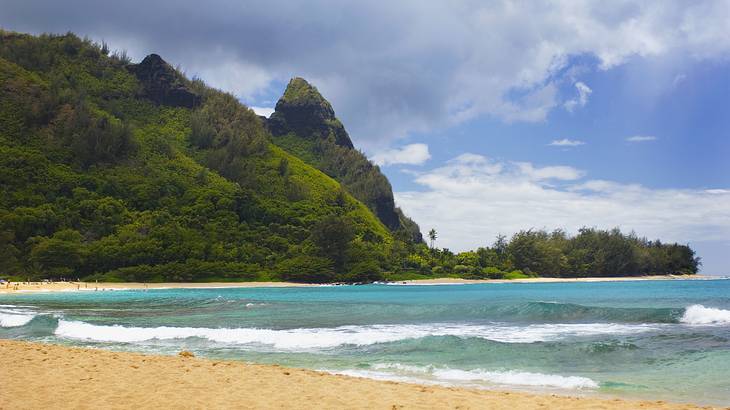 Tunnels Beach
Tunnels Beach is another of the amazing North Shore beaches. This relaxing beach has warm and calm waters and white sand shores. At the beach, you can sunbathe, enjoy a picnic, and swim in the ocean.
Wildlife sightings here are also likely. Hawaiian monk seals frequently relax on the sand at Tunnels Beach, and you may see dolphins or whales frolicking in the sea. Watching the sunset here is magical too.
The Breathtaking State Parks of Kauai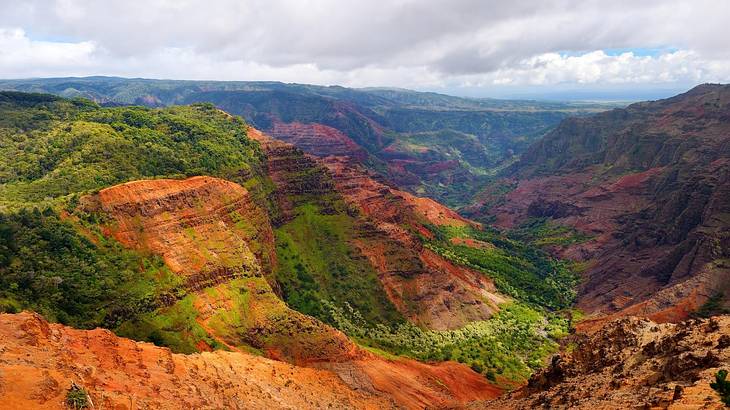 The second day of your Kauai 3 day itinerary will see you visiting the island's best state parks. The first stop of the day is Koke'e State Park. This tranquil oasis features many hiking trails and an educational museum.
After exploring Koke'e State Park, you'll follow the Kalepa Ridge Trail to the Kalalau Lookout. Once at the lookout, you can look out across the coast and the Kalalau Valley.
Polihale State Park is your next stop. This stunning beach is the ideal place to sunbathe, relax, and share a picnic. After lunch, you'll get to see one of the most iconic Kauai attractions, Waimea Canyon.
Having thoroughly explored Waimea Canyon State Park, your day will finish with an incredible sunset cruise on the Na Pali Coast.
Koke'e State Park
One of the most tranquil parks in Kauai is Koke'e State Park. At the park, you can discover various hiking and running trails. These trails will take you through a scenic forest where you can see unique flowers, plants, and bird species.
A fun free Kauai attraction also found here is the Koke'e State Park Museum. The informative museum offers exhibits on Kauai culture and history. There is additionally a visitor center where staff can offer advice on the best ways to explore the park.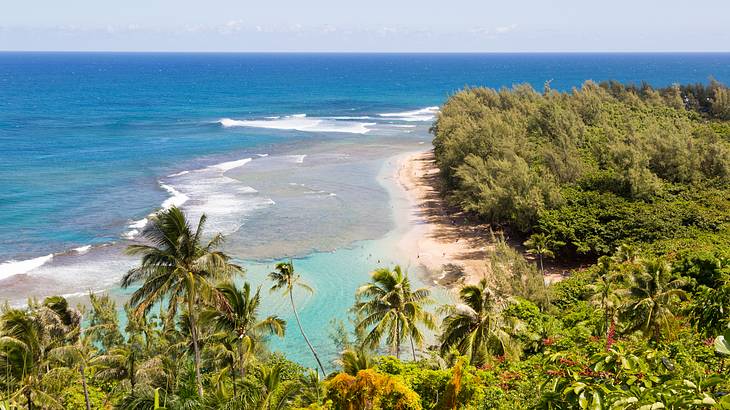 Kalalau Lookout and the Kalepa Ridge Trail
If you're after spectacular views of the Na Pali Coast, then you have to go to the Kalalau Lookout. Sites to see include the Kalalau Valley and surrounding coastline.
You can head to the lookout yourself, or why not take a Kauai private tour? The tour takes you to Kalalau Lookout as well as other landmarks like Waimea Canyon, Spouting Horn, and the Kauai Coffee Company.
Alternatively, you can follow the Kalepa Ridge Trail from your first stop of the day, Koke'e State Park, to the lookout.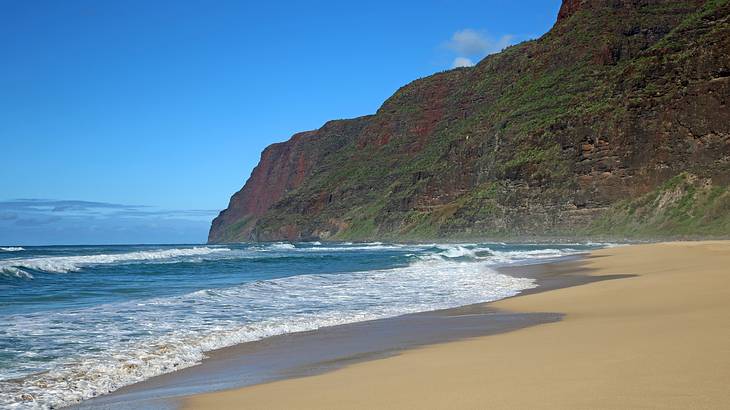 Polihale State Park
If you love spending time at the beach, then a stop at Polihale State Park has to be part of your Kauai, Hawaii, itinerary. This beach is relatively remote but benefits from fewer crowds than other beaches.
When visiting the tranquil and scenic oasis, you can take in breathtaking coastal scenery, play beach games, and relax on the sand. Strong currents mean that swimming and water sports aren't recommended here. A trip to Polihale State Park is the ultimate way to unwind under the sun!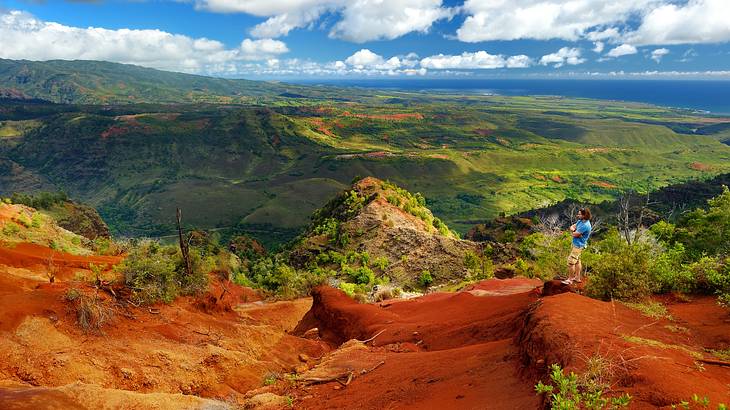 Waimea Canyon State Park and the Waimea Canyon Lookout
Known as the "Grand Canyon of the Pacific," Waimea Canyon is a famous Hawaiian landmark that can't be missed. Within the park, you can follow a range of hiking trails that all offer scenic views of the canyon and surrounding lush forests.
As you explore the area, you'll likely come across beautiful waterfalls and will see various birds and other animals. If you're an outdoor activity enthusiast, taking a Waimea Canyon bike tour is also recommended.
No matter how you explore the park, be sure to head to the Waimea Canyon Lookout. This lookout offers an amazing panoramic look across the lush green canyon.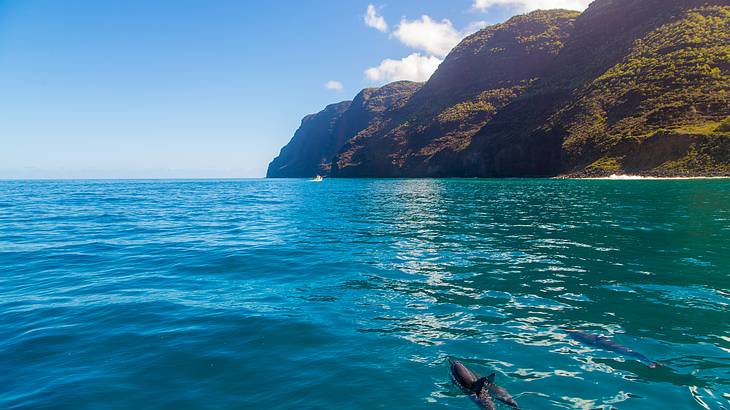 Na Pali Coast Boat Tour
The Na Pali Coast is one of the most spectacular parts of Kauai. Seeing the coastal area on a boat tour is an exciting and memorable experience. There are many unique boat tours to choose from, including snorkeling tours and champagne sails.
A highly popular Na Pali Coast tour is the Na Pali sunset dinner cruise. This scenic cruise allows you to appreciate the stunning pink and orange sunset as you enjoy dinner and drinks.
After sunset, you can sail beneath the breathtaking starry night sky. Spotting marine life, such as whales, dolphins, and turtles, is almost guaranteed too.
Hiking, Hawaiian Snacks, and a Helicopter Tour
The last day of your 3 perfect days in Kauai offers you a laid-back look at some more of the island's most popular landmarks. Your day will start with a scenic hike to the stunning Wailua Falls. Having taken in the breathtaking waterfall, your next activity will be following the Maha'ulepu Heritage Trail to pretty Shipwreck Beach.
At lunchtime, you can enjoy some classic Hawaiian eats. A visit to Koloa Fish Market allows you to grab a delicious poke bowl. For dessert, head to Waikomo Shave Ice to get a fruity ice-cream-like treat.
Your afternoon will be spent relaxing at Poipu Beach Park. At this renowned beach, you can play games or relax on the shore. Alternatively, get into the water to enjoy some fun water sports.
Your last day in Kauai will end memorably with an exciting helicopter tour. You'll fly above the island to appreciate stunning aerial views of this Hawaiian paradise.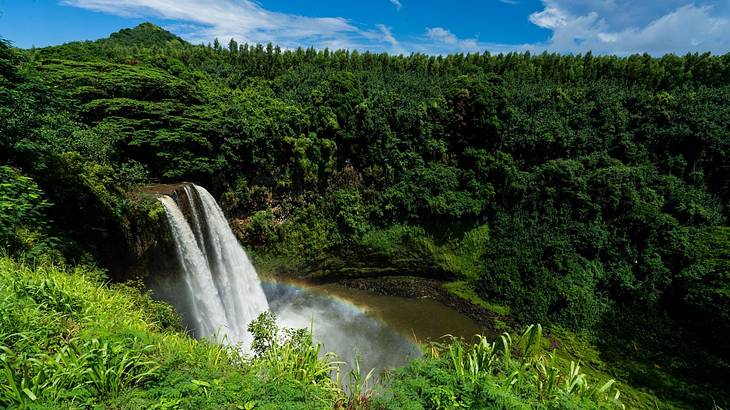 Wailua Falls
Wailua Falls is another Kauai landmark that must be on your itinerary. The amazing waterfall is located in Wailua River State Park and stands at 173 feet tall.
When you reach the waterfall, you can take lots of stunning photographs and are likely to spot rainbows forming above the pools below. An exciting way to visit Wailua Falls is on a Kauai waterfalls tour. Your guide will not only take you to Wailua Falls but also to Spouting Horn and the Menehune Fish Pond, among other landmarks.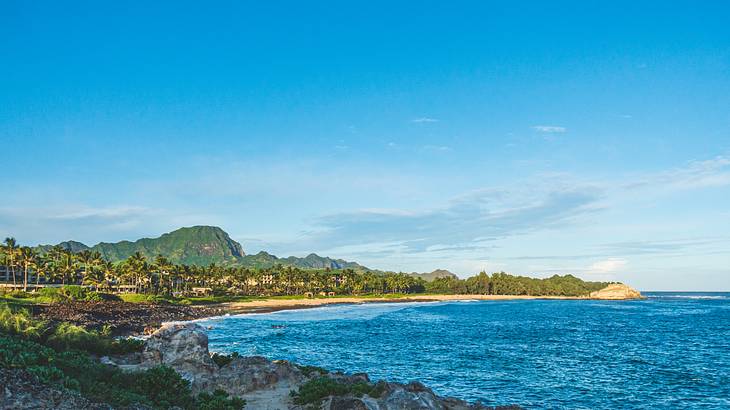 Maha'ulepu Heritage Trail
Hiking enthusiasts are guaranteed to enjoy following the Maha'ulepu Heritage Trail! This 3.7-mile coastal path takes you from Punahoa Point to Shipwreck Beach.
Along the route, you can appreciate spectacular coastal views and will even spot lava formations. Wildlife sightings are likely too. You can see both birds along the path and marine creatures in the ocean below.
Koloa Fish Market
Koloa Fish Market is a family-owned eatery that specializes in fresh fish dishes. Delicious Hawaiian poke bowls are particularly popular here.
Meat dishes, such as those with chicken or roast pork, are also featured on the menu. No matter what you order, you won't regret adding a visit to Koloa Fish Market to your Kauai trip itinerary!
Waikomo Shave Ice
Getting some delicious shaved ice is an absolute must when in Kauai, especially if visiting during the hot summer months. One of the most popular shaved ice locations on the island is Waikomo Shave Ice.
Tasty flavors to choose from include guava, pineapple, and mango. Sundae-style desserts, complete with coconut cream and fresh fruit, are on offer too. You can even get your shaved ice in a tropical coconut shell bowl!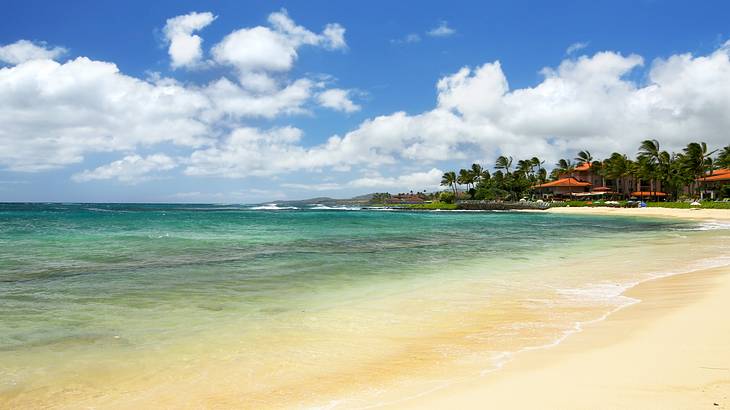 Poipu Beach Park
One of the most spectacular South Shore beaches is Poipu Beach Park. The beautiful tropical oasis is a favorite among tourists and locals alike. It's also the perfect place to hang out when visiting Kauai with kids.
At the beach, you can relax on the soft white sand and sunbathe under the warm sun. The area is also ideal for playing beach games.
If you prefer water sports, no problem! The calm waters found at Poipu Beach Park make it the ideal place to swim, snorkel or learn to surf. You may also see cute monk seals and green sea turtles lazing on the sand.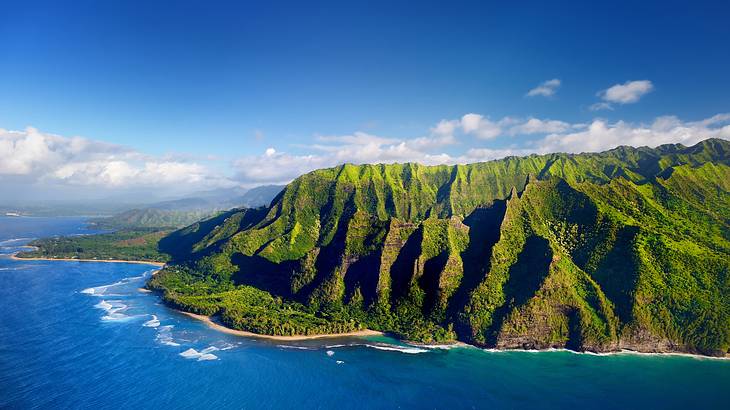 Kauai Helicopter Tour
The ideal way to end your three perfect days in Kauai is by seeing the island from above on a Kauai helicopter tour. You'll discover an array of helicopter adventures to choose from.
Options include an eco-tour, a waterfall flight, and even a "doors-off" helicopter ride. Whichever type of helicopter tour you decide to go with, you're guaranteed to enjoy incredible aerial views of Kauai's beautiful scenery and most famous attractions.
In Summary
Kauai is an incredible vacation destination that appeals to a range of travelers. Whether you're an outdoor activity enthusiast, a beach lover, or are looking for the perfect family holiday location, Kauai is sure to please.
Those planning an island hopping trip around Hawaii should absolutely add the Garden Isle to their list of islands to visit too.
If you decide to visit, this three day itinerary will ensure you see all of Kauai's breathtaking landmarks and attractions. Visiting the sights and hotspots of Kauai, from white sand beaches and lush parks to outstanding eateries, will result in lifelong memories of an amazing and exotic vacation!
Give us feedback about this article
Learn more about Kauai:
More articles about Hawaii:
Read more articles about the United States:
More visual stories related to this article:
---
---
Want to keep exploring?
Subscribe for discounts on tickets and hotels and our latest guides.
Thank you for subscribing
We will be in touch soon with discounts on tickets and hotels and our latest guides.
Want to keep exploring?
Subscribe for discounts on tickets and hotels and our latest guides.
Thank you for subscribing
We will be in touch soon with discounts on tickets and hotels and our latest guides.
Related Articles