20 Unique Things to Do in Kauai
Destguides may receive commissions from purchases made through affiliate links in this article.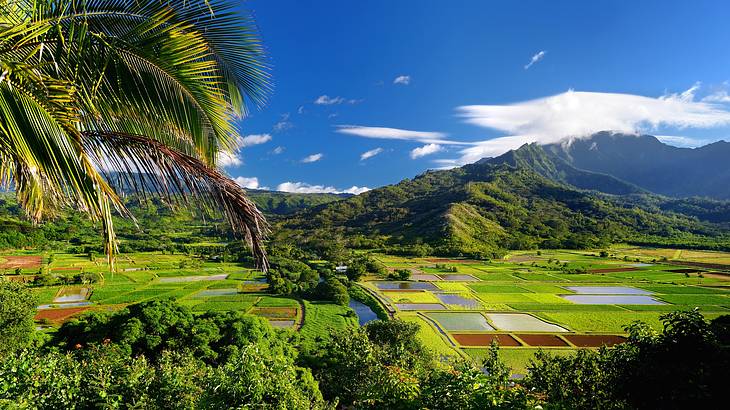 When on vacation in Hawaii in the United States, going to Kauai is a must! Known as the Garden Isle, Kauai is one of the most breathtaking Hawaiian Islands. It features lush green forests, beautiful plants and flowers, and outstanding attractions.
If you're more of an adventurous traveler, you'll be pleased to learn that there are numerous unique things to do in Kauai. These exciting activities include taking a helicopter tour, hiking to waterfalls, and camping under the stars.
Want to plan an incredible Hawaiian vacation? Read on for 20 memorable Kauai activities!
20 Unusual Things to Do in Kauai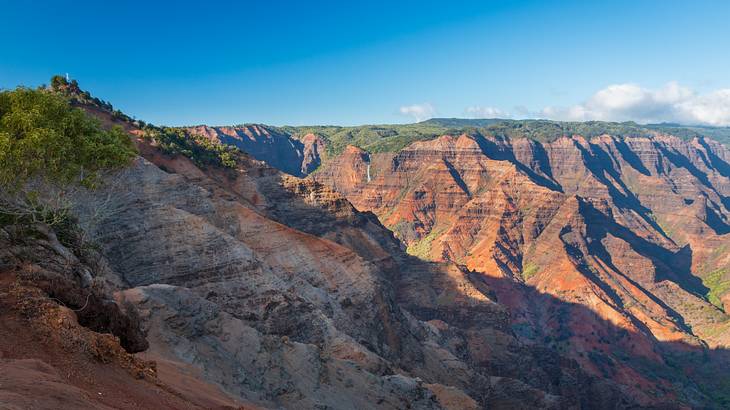 Bike and hike in Waimea Canyon State Park
Waimea Canyon State Park is one of the most famous places in Hawaii and is often referred to as the "Grand Canyon of the Pacific."
This attraction is a must-visit for nature lovers and outdoor activity enthusiasts. When visiting, you'll discover numerous scenic hiking and trails to follow, all of which offer breathtaking views. Taking a Waimea Canyon biking tour is also a highly recommended activity to try.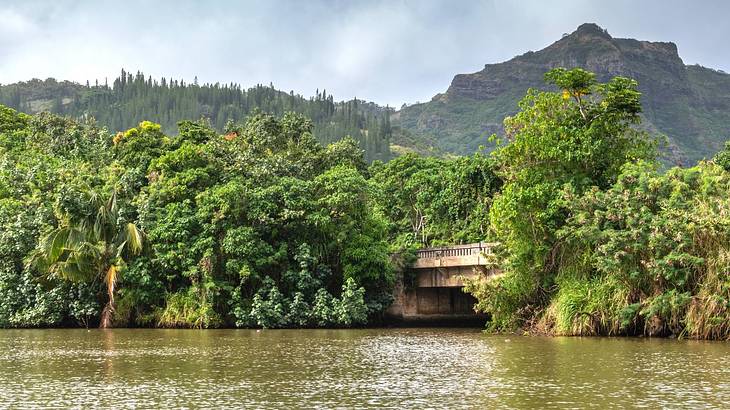 Kayak in Wailua River State Park
Another outstanding outdoor attraction in Kauai is Wailua River State Park. There are many ways to explore the park, with one of the most fun ways being on a Wailua River kayak tour.
Kayaking along the river is one of the best ways to take in the spectacular surroundings. You can then hop back onto land to hike through lush forests and discover beautiful waterfalls.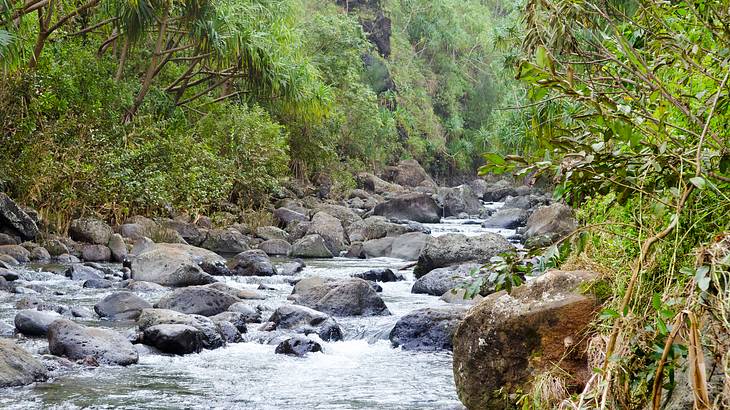 Sleep under the stars on the Kalalau Trail
If you're looking for memorable activities to try, one of the most adventurous things to do in Kauai is hiking the entire Kalalau Trail. As you walk along this breathtaking trail, you'll encounter tropical coastline, magical waterfalls, and amazing forests.
The trail is recommended for experienced hikers only, and to complete the whole trail, you must camp along the way. If you're up for the challenge, you'll have the unique opportunity to camp under the Hawaiian stars surrounded by stunning scenery.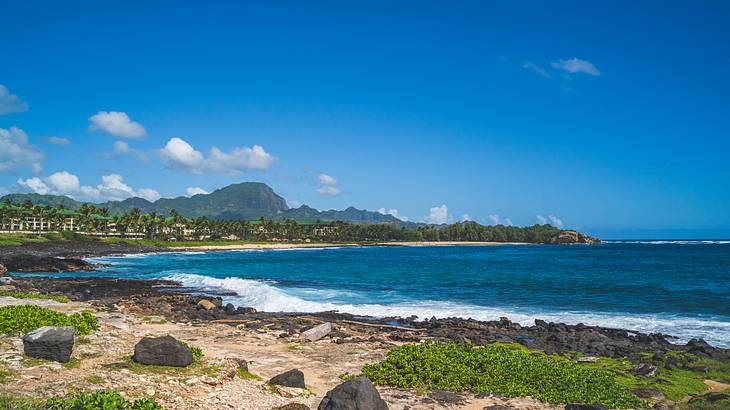 Follow the scenic Maha'ulepu Heritage Trail
The Maha'ulepu Heritage Trail connects Punahoa Point to pretty Shipwreck Beach. The hiking route is relatively easy and provides some of the best coastal views on Kauai.
As you hike the route, you'll spot sandy beaches, lava formations, and lots of Hawaiian wildlife. Following this trail is an ideal laid-back activity that allows you to appreciate the beauty of Kauai.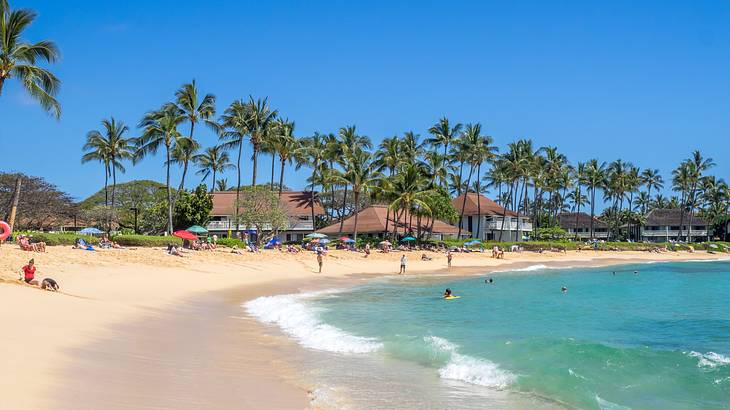 Spend a fun day at Poipu Beach Park
One of the many stunning South Shore beaches that you must visit is Poipu Beach Park. All types of travelers, from couples to families visiting Kauai with kids will enjoy spending the day on this tropical beach.
The beach is especially ideal for those that like water sports. You can swim, snorkel, surf, and much more in the calm, warm water. You can also find lots of great places nearby to grab an ice cream or Hawaiian shaved ice to enjoy under the sun.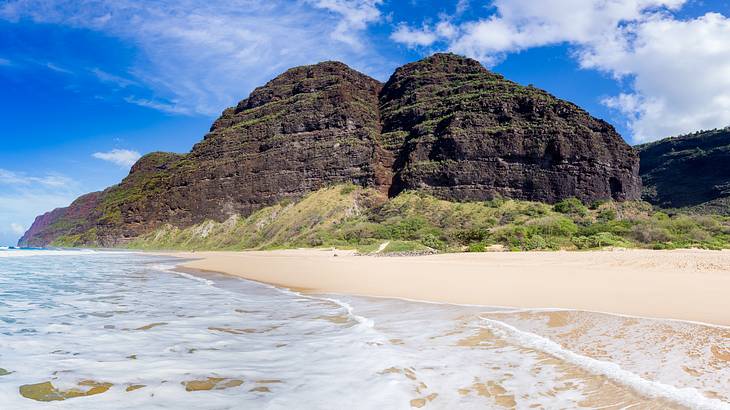 Discover the tranquil Polihale State Park
If you're looking for a quiet attraction, one of the best non-touristy things to do in Kauai is going to Polihale State Park. This pretty location is much less crowded than some other beaches on the island. Despite this, the beach here is still breathtakingly beautiful and is the perfect place to relax.
Polihale State Park offers visitors a fun place to explore and hang out on the sandy shore. However, swimming and water sports aren't recommended here as the ocean features strong, sometimes dangerous, currents.
Taste Hawaiian coffee at the Kauai Coffee Company
Hawaiian coffee is known as some of the best in the world, so trying some when in the state is a must. Luckily, Kauai is home to the Kauai Coffee Company, and you can taste some fresh coffee here for free!
Along with trying some delicious brews, you can explore the arm and learn more about coffee production. At the end of your tour, be sure to pick up some coffee beans and other products to take home.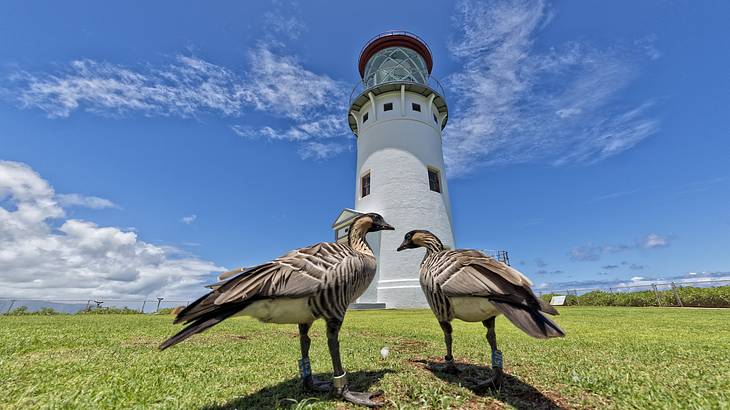 Spot Hawaiian animals at the Kilauea Point National Wildlife Refuge
The Kilauea Point National Wildlife Refuge is an important area for animal conservation. This attraction acts as a protection zone for a range of birds, mammals, and sea creatures that call Kauai home.
At the refuge, you can follow nature trails that will allow you to safely spot some of these animals. Creatures to see include Hawaiian monk seals, green sea turtles, albatross, and more!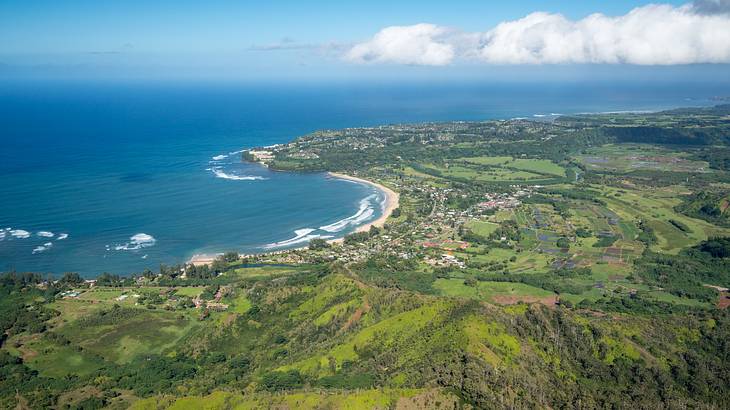 Take a memorable Kauai helicopter tour
One of the coolest things to do in Kauai is taking a helicopter tour. Flying over the island allows you to enjoy stunning aerial views and spot most of Kauai's famous landmarks.
There are numerous helicopter tour operators to choose from, with options available during the day as well as at sunrise and sunset. If you're looking for an incredibly memorable activity to try, a helicopter tour has to be on your Kaui itinerary!
Experience the fun Smith Family Garden Luau
You can't visit Hawaii without attending a traditional luau! One of the best luau experiences on Kauai is the Smith Garden Family Luau. At the luau, you'll be treated to delicious Hawaiian food and drinks.
As you enjoy your meal, you can also watch an exciting Polynesian performance. The show includes hula dancing, Tahitian drum dancing, and even Samoan fire knife dancing. Going to the luau is guaranteed to be one of the most fun nights out you've had!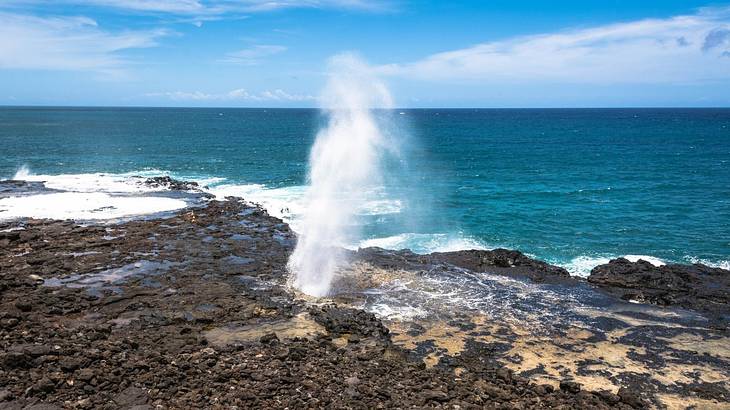 Marvel at the Spouting Horn Blowhole
One of the most fascinating Kauai attractions is the Spouting Horn Blowhole. This landmark is a volcanic geological feature that amazes visitors by spouting seawater up to heights of 50-feet.
If you're looking for a guided tour that takes you to Spouting Horn, the Secret Kauai tour comes highly recommended. On the tour, you'll also be taken to Waimea Canyon and Poipu Beach Park.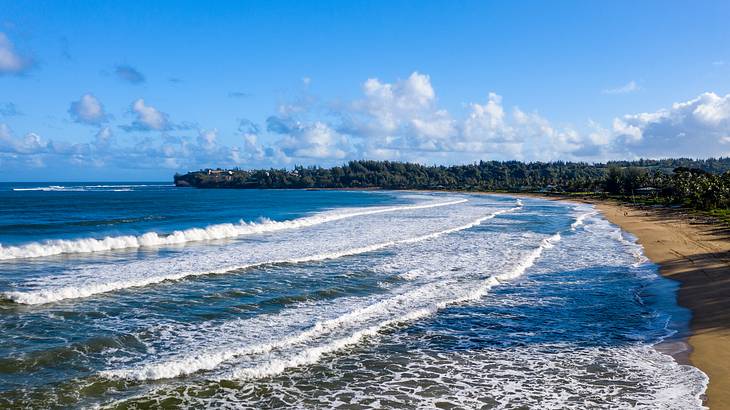 Snorkel among tropical fish at Hanalei Bay
Hanalei Bay is a beautiful coastal area on the North Shore. One of the cool things to do in Kauai for those that love aquatic activities is snorkeling at Hanalei Bay. The seawater here is extremely clear, making it ideal for spotting sea creatures.
Marine life you may see in the ocean includes colorful exotic fish, dolphins, and sea turtles. You may also see cute monk seals relaxing on the sandy shore.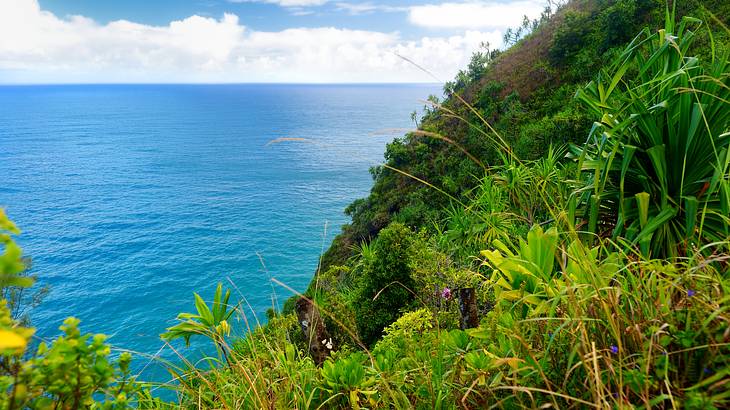 Explore the vast Na Pali Coast State Wilderness Park
When on the Garden Isle, a trip to the Na Pali Coast State Wilderness Park can't be missed. The famous Kauai landmark features stunning coastline, lush green forests, and pretty waterfalls.
You can discover a multitude of Na Pali Coast activities to enjoy. These things to do range from cruises and sunset sails to rafting adventures and hiking.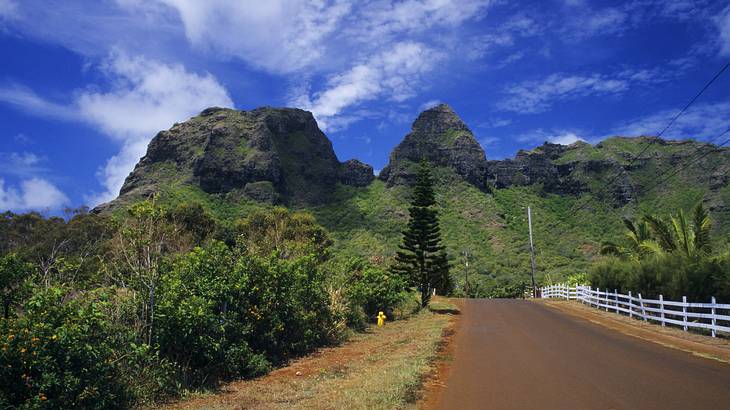 Climb the magnificent Sleeping Giant
Also known as Nounou Mountain, Sleeping Giant is one of Kauai's most amazing landmarks. The mountain is found in the Nounou forest reserve and stands at over 1,240 feet.
A fun free thing to do in Kauai is climbing to Sleeping Giant's peak. At the top of the mountain, you'll get rewarded with amazing panoramic views.
Wander around the pretty Na'Aina Kai Botanical Gardens
A great laid-back attraction to visit is the Na'Aina Kai Botanical Gardens. The beautiful gardens comprise pretty flower displays, stunning water features, and magical forests.
You can also try a range of tours when visiting, including a coastal walk and Formal Gardens and Wild Gardens tour. Exploring these stunning botanical gardens is one of the Unique Kauai activities that all travelers will enjoy!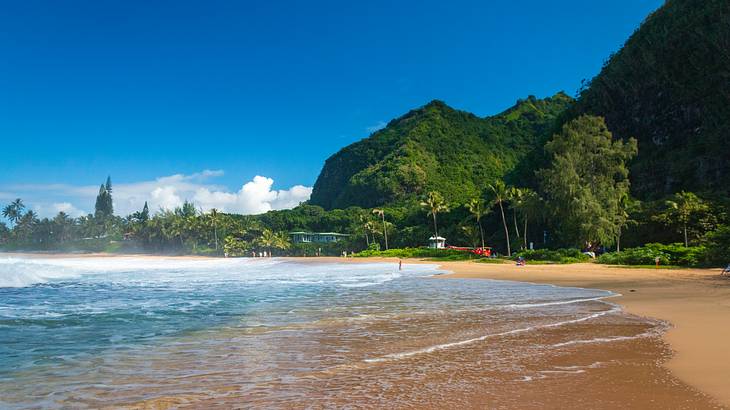 Enjoy scenic views at Ha'ena State Park
Kauai is home to multiple state parks, with one of the most spectacular being Ha'ena State Park. Outdoor adventurers will appreciate the array of hiking, biking, and running trails located in this coastal park.
Those looking for stunning views won't be disappointed either. The park boasts panoramic views of the coast and surrounding lush forests. Having tackled some trails, you can head down to the beach to relax, swim, and catch some rays!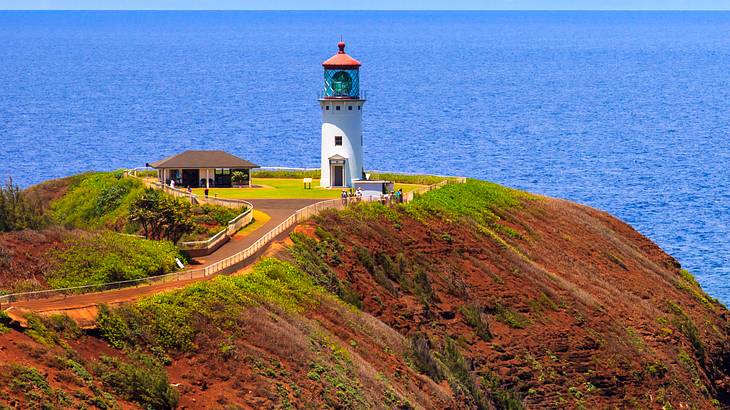 Go to the top of the Kilauea Lighthouse
Located in the Kilauea Point National Wildlife Refuge is the Kilauea Lighthouse. The lighthouse was constructed in 1913 and is a much-loved landmark on the island.
When in the area, head to the lighthouse and climb to the top to appreciate incredible views. There are only around 50 steps to climb to reach the top to enjoy the vistas of the Kilauea Peninsula.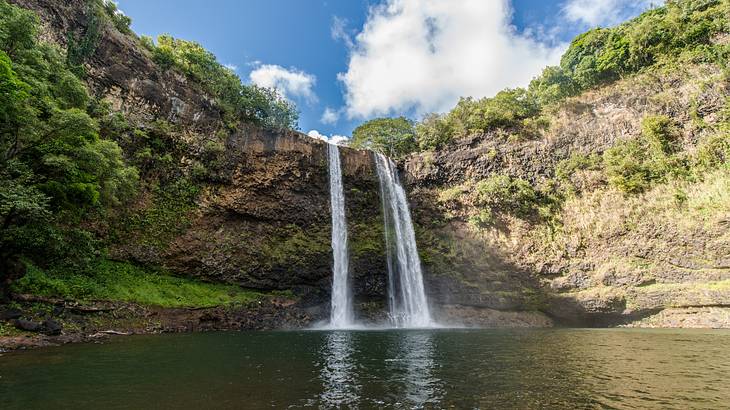 Trek to the magical Wailua Falls
One of the most stunning Kauai landmarks is Wailua Falls. The 173-foot tall waterfall can be accessed by a short trek through lush jungle.
Once at the falls, you can appreciate the attraction's beauty and take some stunning photographs. If you're after a unique way to see the falls, one of the cool things to do in Kauai is taking a secret waterfalls tour.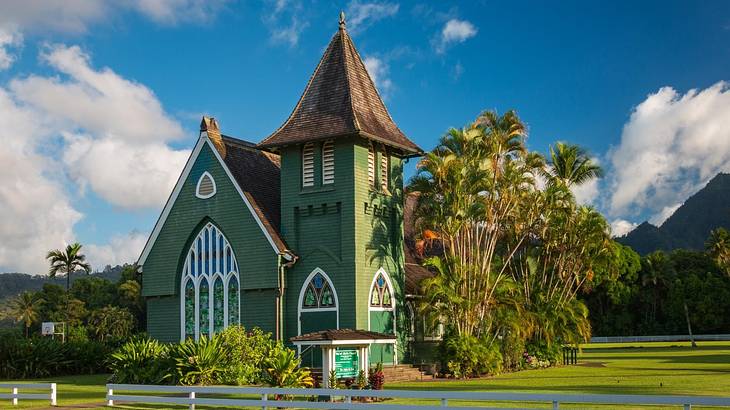 Visit Waioli Huiia Church
Waioli Huiia Church is a charming historic church in Hanalei. The church has sat in Kauai for over 100 years and is an important religious landmark.
Today, you can explore the church and appreciate its beautiful gothic-style interior and exterior. You can also attend a service if you're religious and can even host your wedding in this quaint church with breathtaking surroundings.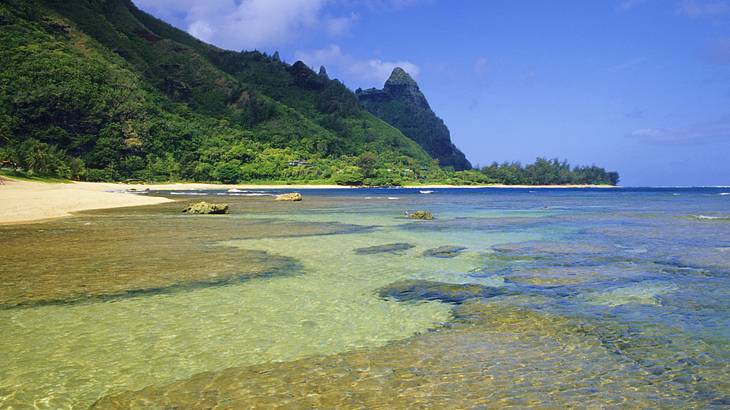 Share a picnic at Tunnels Beach
Tunnels Beach is another of the incredible coastal locations in Kauai. This beach features white sand beaches and turquoise water. One of the unique ways to enjoy the spectacular surroundings is by sharing a picnic on the shore.
After eating, you can also swim, sunbathe, or play games. You may also discover monk seals sleeping on the sandy shore and see whales and dolphins frolicking in the ocean.
In Summary
Thanks to these Kauai off the beaten path travel tips, you should have lots of ideas for unusual things to do when on this spectacular Hawaiian island. From a vast selection of outdoor activities to wildlife encounters and relaxing by the sea, there's a unique activity for everyone to enjoy in Kauai!
Give us feedback about this article
Learn more about Kauai:
More articles about Hawaii:
Read more articles about the United States:
More articles about things to do:
More visual stories related to this article:
---
---
Want to keep exploring?
Subscribe for discounts on tickets and hotels and our latest guides.
Thank you for subscribing
We will be in touch soon with discounts on tickets and hotels and our latest guides.
Want to keep exploring?
Subscribe for discounts on tickets and hotels and our latest guides.
Thank you for subscribing
We will be in touch soon with discounts on tickets and hotels and our latest guides.
Related articles