20 Fun Things to Do in Kauai for Free
Destguides may receive commissions from purchases made through affiliate links in this article.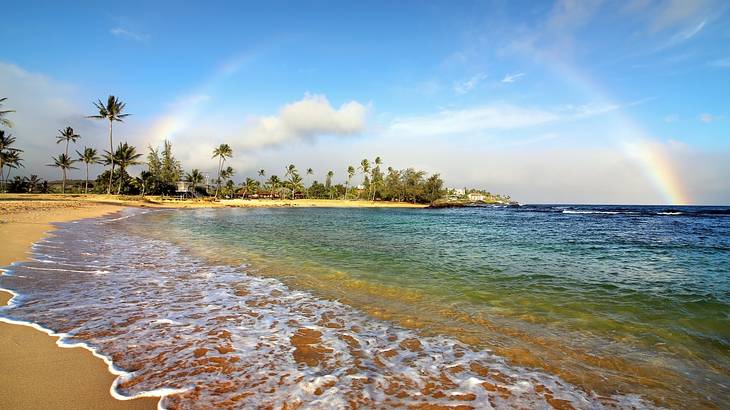 One of the most beautiful areas of Hawaii in the United States is the island of Kauai. This scenic destination offers travelers an array of outdoor activities to enjoy. From hiking to relaxing on the beach and participating in water sports, Kauai has something to offer everyone.
Best of all, you can find numerous fun things to do in Kauai for free. Along with outdoor attractions, you can try ukulele lessons, watch hula shows, and much more, all at no cost. If planning a visit to this part of Hawaii, read on for some Kauai free activity suggestions.
20 Best Free Things to Do on Kauai, Hawaii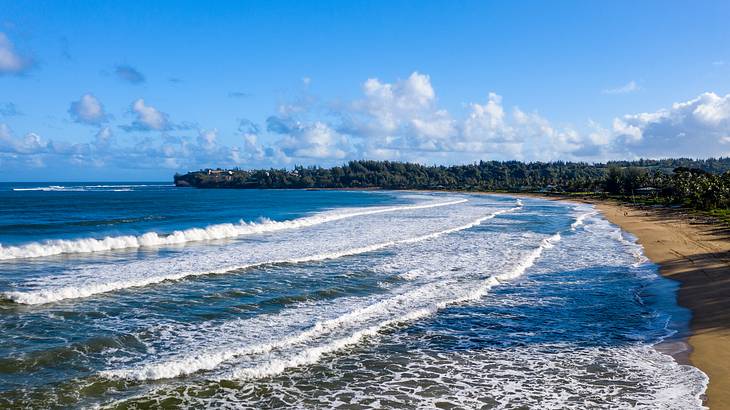 Go snorkeling at Hanalei Bay
Hanalei Bay is one of the most beautiful places in Kauai. This coastal area has a stunning beach and clear, calm ocean waters.
If you have snorkeling gear, then visiting the bay to snorkel is a must (and it's free!) Marine life you may see in the water includes an array of tropical fish and green Hawaiian sea turtles. You may also spot seals, dolphins, or whales from the shore.
Try coffee at the Kauai Coffee Company
Coffee is an important product in Hawaii, with many farms growing beans and producing Hawaiian coffees. In Kauai, the Kauai Coffee Company is a very large producer.
When in the area, you can visit the Kauai Coffee estate for free to participate in a tasting. You'll also learn more about coffee production and can tour the estate.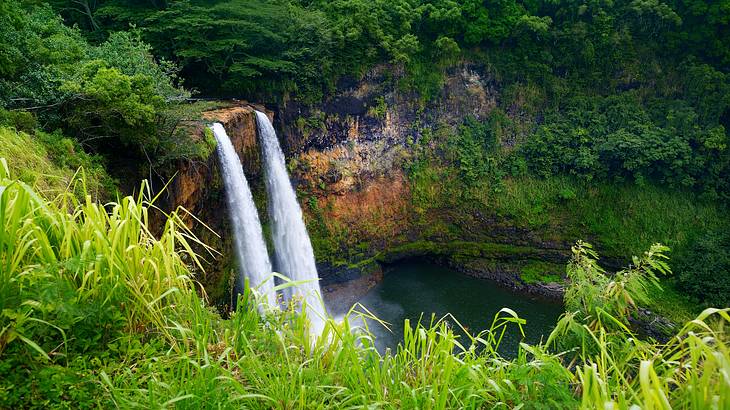 Follow hiking trails at Wailua River State Park
If you like outdoor activities, then one of the things to do on Kauai for free that you have to do is follow some hiking trails at Wailua State Park. This gorgeous park has many attractions to discover as you hike on various paths.
Things to see include the Wailua River, the magical Fern Grotto, and various waterfalls. The Wailua Twin Waterfalls are a highly recommended natural phenomenon to see. Walking through the dense, lush forest and discovering various landmarks will please all outdoor and nature enthusiasts.
Wander along the Mahaulepu Heritage Trail
The Mahaulepu Heritage Trail is a scenic coastal path from Shipwreck Beach to Punahoa Point. Along the way, you can take in breathtaking views of the ocean and surrounding cliffs, coastline, and lava formations. Wildlife sightings are also guaranteed.
This trail is 3.7 miles long, and most activity levels will be able to tackle it from start to finish. You can also walk the trail with your dog on leash.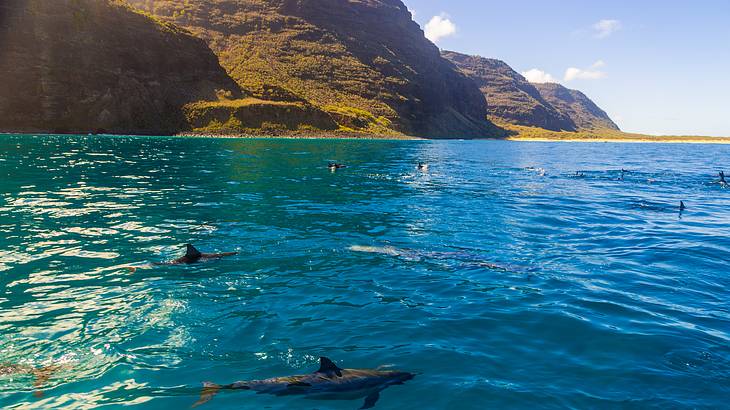 Spot whales and other marine creatures
Kauai is home to an array of sea life, including marine mammals, like whales and dolphins. While you can get the chance to see these creatures on paid-for excursions, you don't have to pay to do so. Luckily, you can see whales and other marine animals from the shore.
Places you may spot humpback whales and dolphins include Poipu Beach, the top of Kilauea Lighthouse, and on the Kapaa Overlook. Visiting places known for whale sightings is one of the best Kauai free activities for animal lovers.
Attend free events at the National Tropical Botanical Garden
The National Tropical Botanical Garden includes five gardens on Kauai. These include the Allerton and McBryde Gardens. While you must pay to explore these pretty gardens, a range of free events are hosted across the five botanical gardens each week.
Events to attend include free hula shows, yoga sessions, and educational sessions. There is also a weekly craft market that you can explore and free movie nights with on-site food trucks.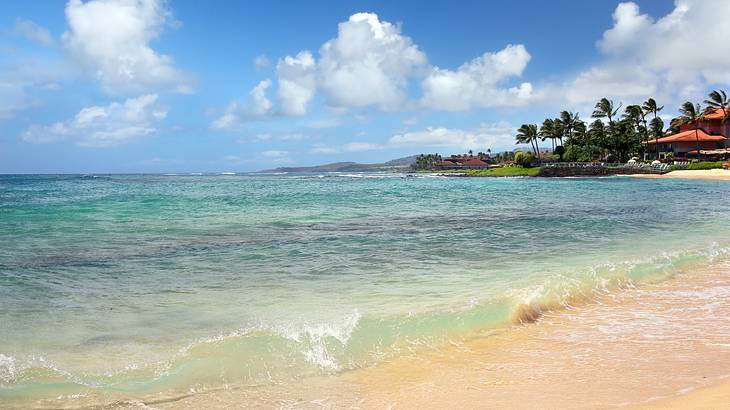 Spend the day at Poipu Beach Park
You can find many beaches in Kauai, and Poipu Beach Park is one of the most popular. Of course, hanging out on this beach is completely free too. This South Shore beach has soft sand, sparkling turquoise water, and generally warm, sunny weather.
At the beach, you can sunbathe, play games, swim, and much more! You may even spot some monk seals. Poipu Beach is the ideal palace to spend a relaxed day in the sun.
Look around the Kauai Culinary Market
One of the best Kauai attractions that will help you connect with the locals is the Kauai Culinary Market. This food market is at the Shops at Kukuiula, and you can enter for free.
Walking from stall to stall to admire all the local food is fun even if you don't buy anything. Free cooking demonstrations are often held too. Having walked around the culinary market, you can do some window shopping in the Shops at Kukuiula.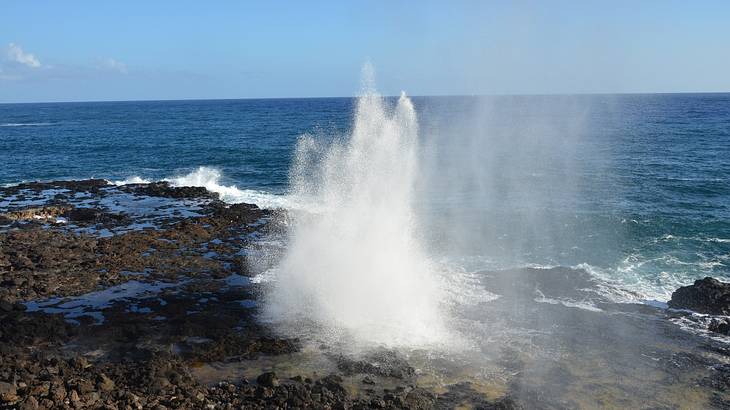 View the fascinating Spouting Horn
One of Kauai's most unique geological features is the Spouting Horn Blowhole located in Spouting Horn Park. The blowhole developed due to volcanic erosion of rocks.
When at the park, you can see seawater pushed through the holes in the volcanic rocks and sprayed up to 50 feet in the air. Visiting Spouting Horn is one of the free activities in Kauai that can't be missed.
Window shop at Poipu Shopping Village
Even if you don't want to splurge, taking a trip to Poipu Shopping Village to do some window shopping is a fun experience. This open-air shopping mall has a range of shops. Clothing, jewelry, and gift shops are just some of the stores to visit.
The shopping village additionally holds free events each week. These events include dance performances and live music shows.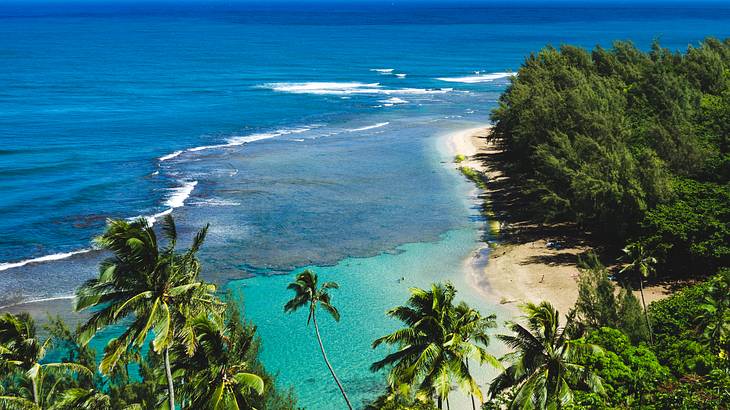 Hike the Na Pali Coast on the Kalalau Trail
The Na Pali Coast State Wilderness Park is located in northwest Kauai. This park features lush forest and stunning coastline with sparkling ocean and towering cliffs surrounding beaches below.
A popular free activity on the Na Pali Coast is hiking the Kalalau Trail. On the trail, you'll be taken past Hanakapiai Falls and will walk from Ke'e Beach to Kalalau Valley.
Visit Kauai's Hindu Monastery
If you're wondering what to do in Kauai for free, a visit to the Hindu Monastery is highly recommended. The monastery is located within tropical gardens and is open to visitors in the mornings.
When visiting, you can take a guided tour where you can learn more about Hinduism in Hawaii and the history of the Monastery. Going to the Hindu Monastery is a unique and educational cultural activity that is extremely worthwhile.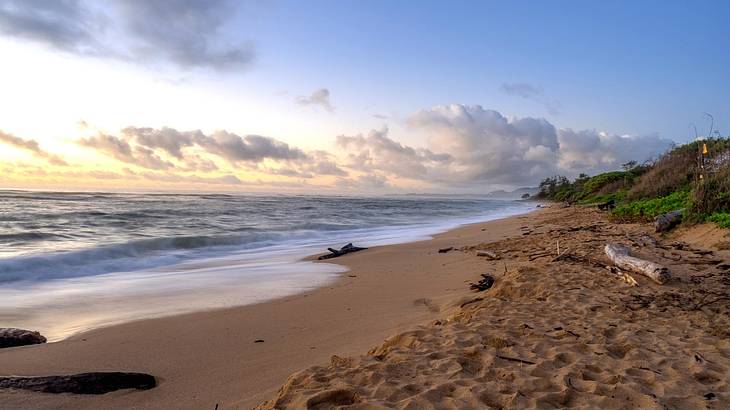 Hang out at Lydgate Beach Park
If you want to spend some time on the beach, sunbathing and taking in coastal views, you must go to Lydgate Beach Park. This tranquil beach is the perfect place to relax and enjoy a picnic.
Along with being a great free attraction, Lydgate Beach Park is very family-friendly. If traveling to Kauai with kids, be sure to add a trip to this beach to your to-do list.
Try a range of activities at Coconut Marketplace
Coconut Marketplace is another of Kauai's open-air shopping malls that houses an array of unique shops. Along with visiting these stores, there are lots of events to join in at no cost when at Coconut Marketplace.
Activities to try include ukulele classes, hula classes, and lei making classes. You can also catch free hula shows at the mall, and there is often a farmers' market to explore.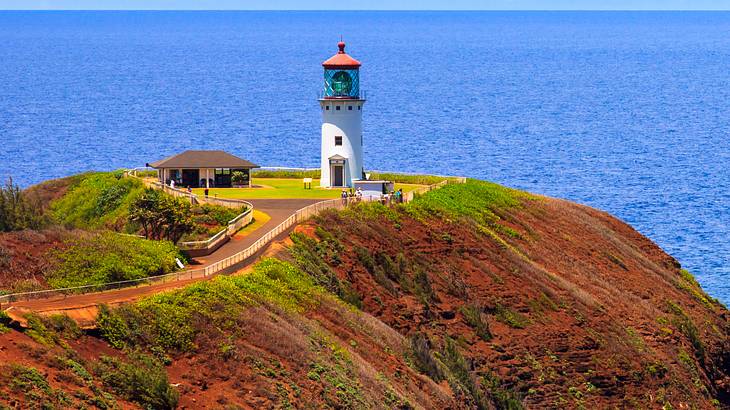 Enjoy stunning views from the Kilauea Lighthouse
Another of Kauai's landmarks is the Kilauea Lighthouse on the North Shore. Constructed in the early 1900s, the lighthouse still stands in Kilauea Point National Wildlife Refuge to this day.
If you want to take in incredible views, one of the things to do in Kauai, Hawaii, for free that you can't miss is going to the top of the Kilauea Lighthouse. After climbing a few flights of stairs, you'll get to look out across the Kilauea Peninsula at the stunning coastline.
Discover local arts and crafts at Hanapepe Art Night
A fun and laid-back Friday night activity that costs nothing is attending Hanapepe Art Night. Taking place in the small town of Hanapepe, the art night allows local artists to show their work.
As you explore the arts and crafts, you can enjoy live music. If you want to stop for a snack, there are also many quaint independent eateries in the area.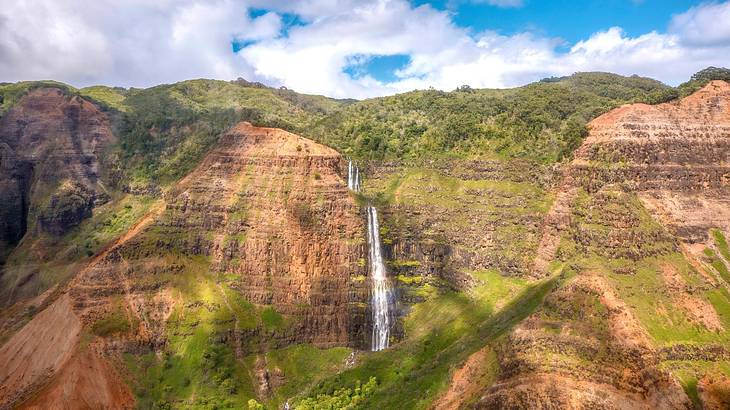 Explore Waimea Canyon State Park
Kauai's Waimea Canyon State Park is often likened to the Grand Canyon. It's definitely one of the most stunning natural landmarks in Hawaii. If you want to explore the park, there are many ways to do so.
The park has an array of hiking trails, all of which have multiple lookouts and offer incredible views. You can also bike here, and there are waterfalls to discover too.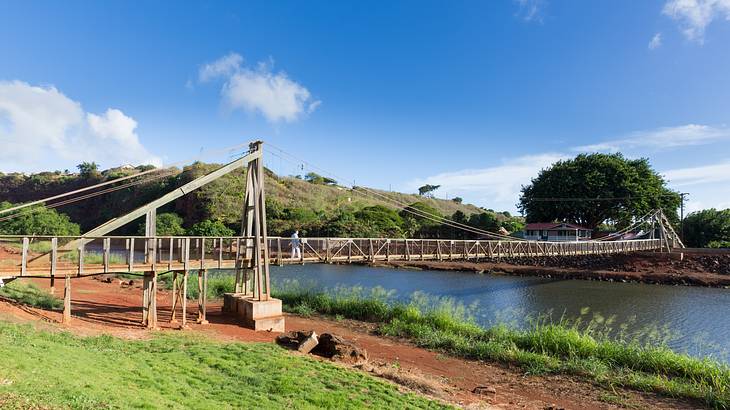 Dare to run over the Hanapepe Swinging Bridge
Those looking for free stuff to do in Kauai must visit the Hanapepe Swinging Bridge. Located in Hanapepe, this attraction is a wooden swinging suspension bridge that crosses a river.
A popular activity of locals and tourists is to challenge each other to run across the bridge to the other side. If in the area, checking out the bridge and attempting the short but daunting cross is a must!
Learn about Kauai at the Koke'e State Park Museum
Koke'e State Park, in northwest Kauai, is beautiful and full of green forest and wildlife. The park has a few easy hiking trails to follow that offer scenic views and the chance to spot wildlife.
While in the park, be sure to head to the museum and visitor center too. Here you can see exhibits relating to the park and Kauai in general. You can also chat with staff who will help you plan which routes to follow to see everything the park has to offer.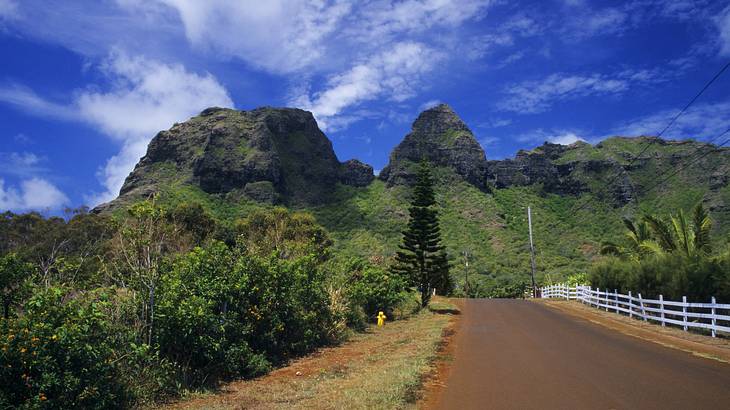 Climb up Sleeping Giant
Another attraction that offers outstanding views of Kauai is Sleeping Giant, also known as Nounou Mountain. Located in the Nounou Forest Reserve, you can attempt various trails that will take you up to the mountain peak.
You can also enjoy incredible scenic views as you work your way up. Best of all, you can tackle this hike for free.
In Summary
Kauai is an ideal vacation destination for all types of travelers, from families with young kids to couples wanting a romantic getaway. What's great is that there are numerous things to do on Kauai for free. Hopefully, this list of activities you can try at no cost in Kauai has inspired you to book a trip, even if you have a limited travel budget.
---
---
Want to keep exploring?
Subscribe for discounts on tickets and hotels and our latest guides.
Thank you for subscribing
We will be in touch soon with discounts on tickets and hotels and our latest guides.
Want to keep exploring?
Subscribe for discounts on tickets and hotels and our latest guides.
Thank you for subscribing
We will be in touch soon with discounts on tickets and hotels and our latest guides.
Related Articles