16 Kauai Landmarks You Absolutely Must See
Destguides may receive commissions from purchases made through affiliate links in this article.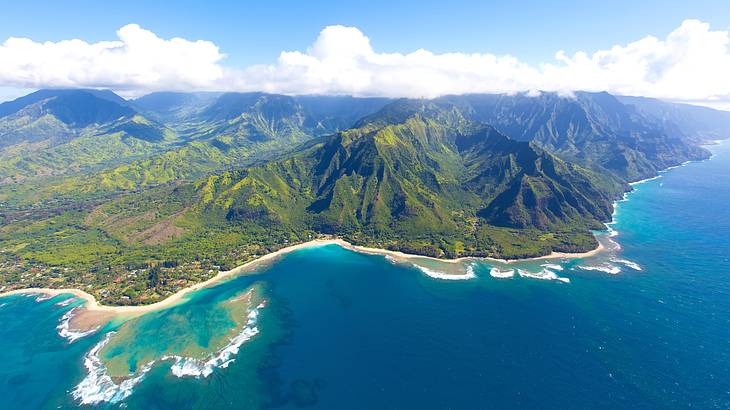 Kauai is the largest island in the northwestern tip of the Hawaiian island chain, and about 100 miles from Oahu as the albatross flies.
Whether you're heading to Kauai for beach life, waterfall hikes, or small-town vibes, this list of Kauai landmarks will have you ready to make the most of your trip. What are you waiting for? The beauty of Kauai awaits you.
16 Landmarks in Kauai, Hawaii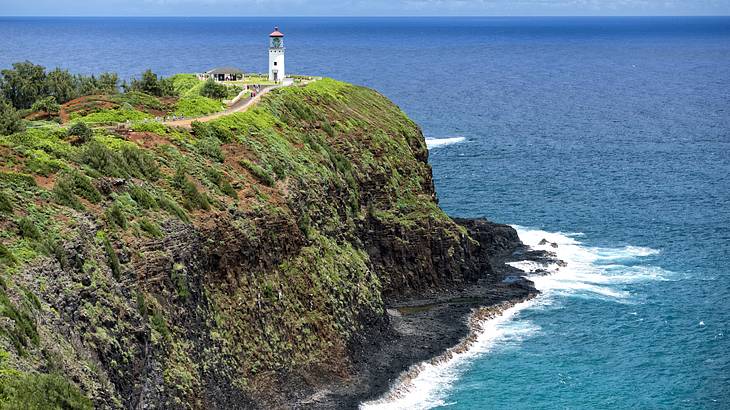 Kilauea Point Lighthouse
The Kilauea Lighthouse is found in northeast Kauai and stands upon 180-foot cliffs overlooking the Pacific Ocean. Visitors can climb another 50 feet to its top to complete the panorama from the top of the lighthouse, which is no longer functional.
The lighthouse was built in 1913 and then restored in 2013 after a century of storms and salty winds had seen it fall into disrepair. History buffs will love taking a tour to learn about Hawaii's role in early flight while nature lovers will enjoy the spectacular views.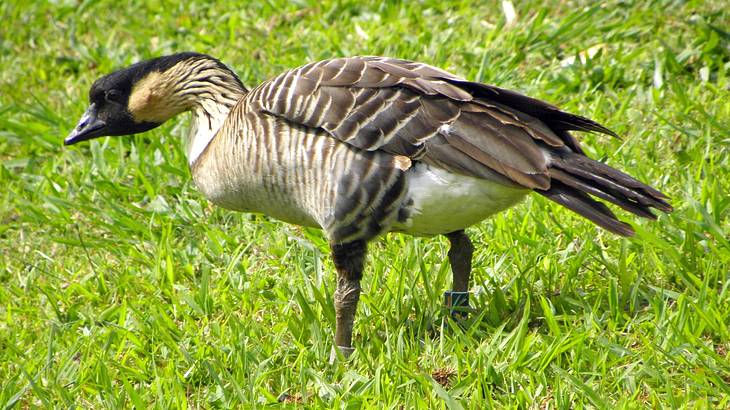 Kilauea Point National Wildlife Refuge
Kilauea Point is not only the site of the island's famous lighthouse but is also a National Wildlife Refuge. In fact, protecting the unique wildlife is a major reason why the lighthouse wasn't restored to full operation, as its lens needed to sit in a vat of mercury to rotate.
To further protect the area, predator-proof fencing is used along the perimeter of the refuge. This keeps out most predators and allows the island's albatrosses, endangered monk seals, red-footed boobies, and Hawaii's endangered state bird, the Nene goose, to rebuild and maintain healthy populations.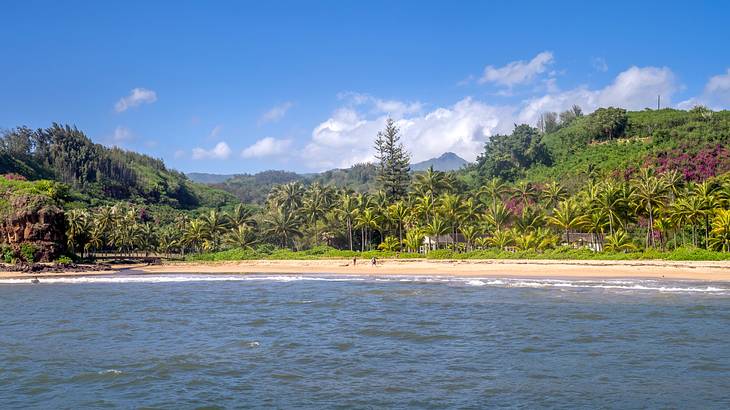 Allerton and McBryde Gardens
Where the Kilauea refuge is primarily for Kauai's fauna, much of the island's flora is protected through the conservation efforts of Allerton and McBryde Gardens. Unlike the refuge, however, the two gardens also include many non-native species from other tropical regions of the world.
McBryde Garden features collections of palms and flowering plants, and Allerton Garden is more known for its rainforest trees and tropical fruits. Visitors will need to make an appointment to visit either of these gardens, so be sure to schedule in advance.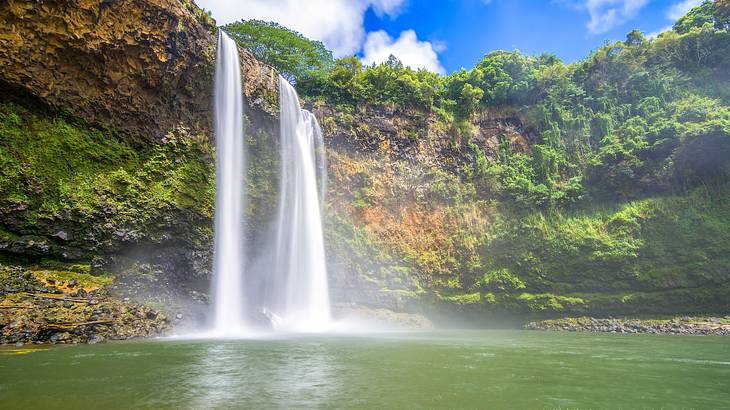 Wailua Falls
Wailua Falls is certainly one of the must-see places in Kauai, and fans of TV's "Fantasy Island" will recognize its iconic dual streams from the show's opening credits. The falls overlook can be easily accessed from the road, with no hiking required.
The falls can sometimes be seen with three streams or just one thunderous cascade, depending on recent rainfall, but visitors who arrive on the right morning at the right can see its most magical feature: a rainbow rising from the mists where the Wailua River crashes into the pool below.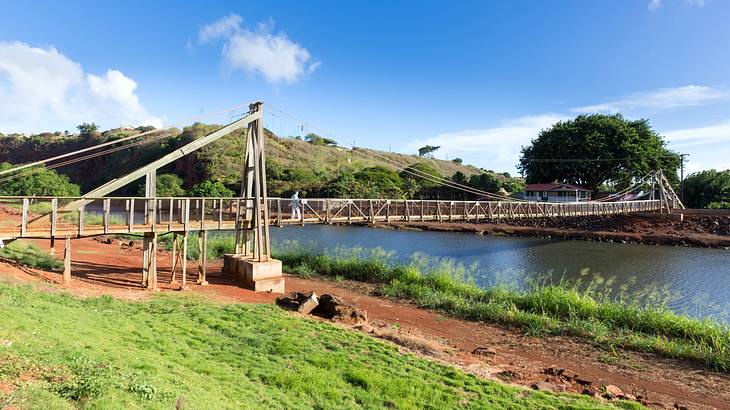 Hanapepe Swinging Bridge
The swinging pedestrian bridge in the town of Hanapepe is a popular destination near the south shore of Kauai. The bridge is narrow (only three feet wide), allowing people to walk in only one direction at a time across its shakey 186 feet.
After braving the bridge, visitors may want to stick around in Hanapepe, or "Kauai's Biggest Little Town," as it's called. It was used as the model for Disney's "Lilo and Stitch" movie and has a farmer's market, booths for local artists, and charming shops and cafes.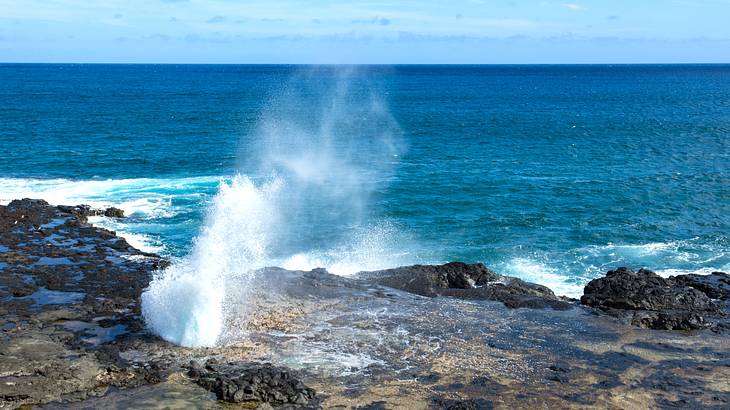 Spouting Horn Blowhole
For more Kauai points of interest on the south shore, visitors can find their way to the famed Spouting Horn Blowhole. The blowhole itself is an old lava tube that channels the incoming surf, resulting in huge spouts up to 50 feet high with each incoming surge.
Before seeing the ocean water ejected into the sky, visitors will often hear something like a hiss or a roar coming from the lava tube. This sound is the basis of the legend that a giant lizard is trapped deep in the blowhole, struggling to get out.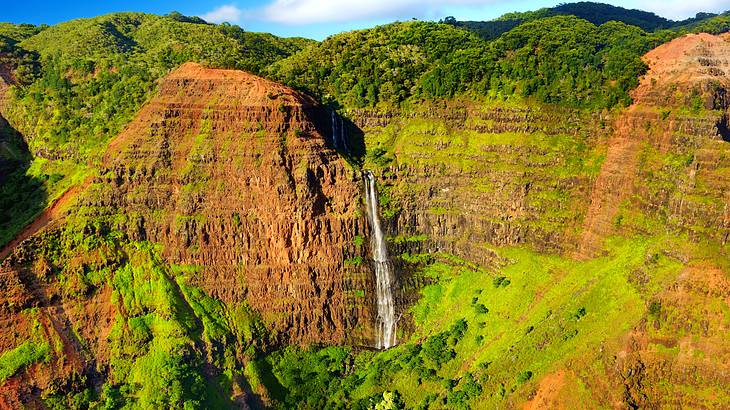 Waimea Canyon State Park
Often called "The Grand Canyon of the Pacific," Waimea Canyon is one of the most famous landmarks in North America and offers visitors to Kauai many viewpoints along its 14-mile length. It reaches 1 mile wide and plunges as much as 3600 feet into the valley below, making it one of the more spectacular Kauai sights.
Waimoo Falls gives visitors a clear sense of this scale, as its 800-foot descent can be seen in the distance from many of the viewpoints in the State Park. Adventurous visitors can plan a closer look at the falls by taking advantage of Waimea Canyon's many hiking trails.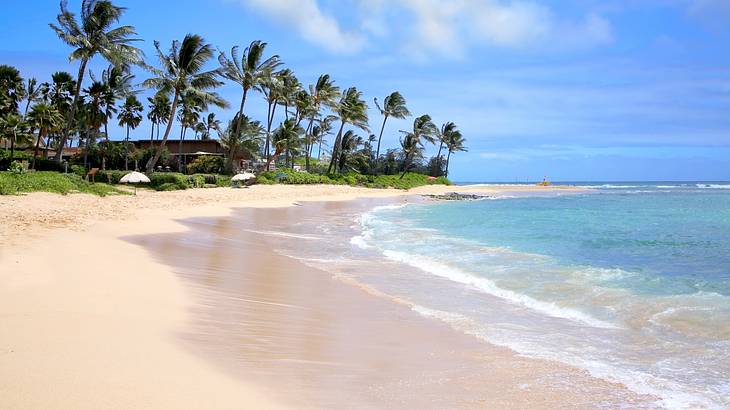 Poipu Beach Park
Poipu Beach Park is a favorite for families in Kauai, as it provides visitors with picnic tables, bathrooms, and showers to complement the experience of its white sands and crystal clear water. It also has lifeguards on duty every day and a natural wading pool for young kids.
Surfing, bodyboarding, and snorkeling are all on the menu here, so there is no shortage of activities. Endangered monk seals are sometimes spotted nearby, and the beach is a great place to look for migrating humpback whales in the winter.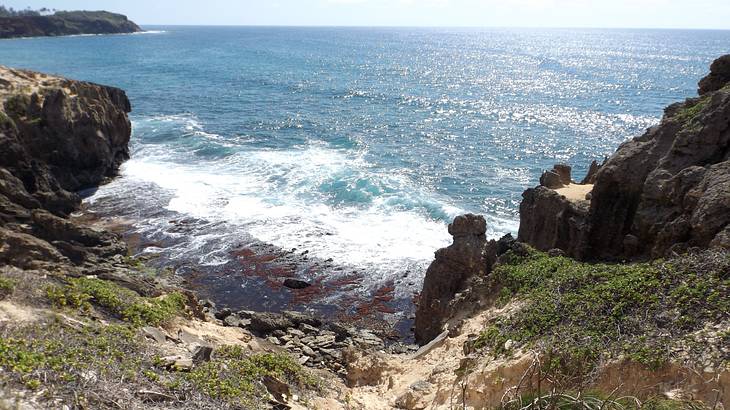 Koloa Heritage Trail
The Koloa Heritage Trail is a 14-stop, 10-mile trail that honors the history, environment, and people of the South Shore area of Kauai. Stops include an old whaling port, lava formations, Hawaiian and Buddhist temples, fossil beds, botanical gardens, and beaches.
The stops have descriptive placards explaining the significance of each of the Kauai sights to visitors. People can hike, bike, or drive as much as they want on this self-guided tour, and there's no need to do it all in a single day.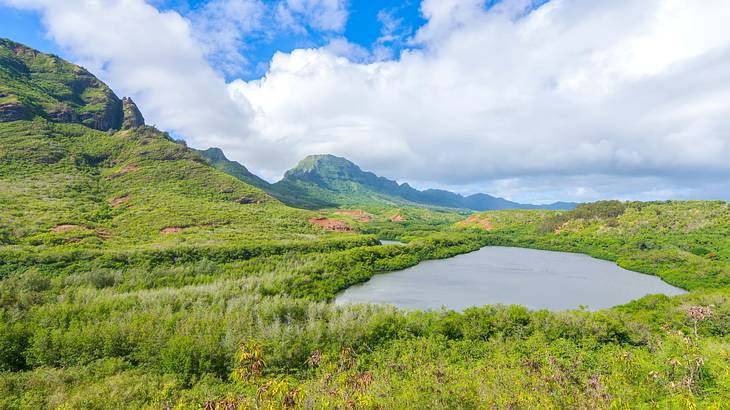 Alekoko Fishpond
According to legend, the Alekoko Fishpond, also known as the Menehune Fishpond, was created by a race of little people called the Menehune before the arrival of the Polynesians. Whether or not this group existed is debated, but the resulting fishpond is very real and was used to feed Hawaiin royalty.
A 900-yard long stone wall was built along a bend in the Huleia River, with a few wooden gates constructed in certain parts so that only water and small or young fish could pass through. As the young fish grew, they could not escape, so a new mini-ecosystem was developed to stock the pond.
Grove Farm Sugar Plantation Museum
For over 150 years, sugar cane was king in Kauai. It replaced whaling as its leading industry and has only recently been replaced by tourism.
The Grove Farm Homestead Museum brings the age of sugar cane into the age of tourism, educating visitors about the crop's significance in Hawaiian and United States' history.
The historic Wilcox House has been preserved and is available for tours, and visitors can also explore the grounds and gardens of the sprawling estate.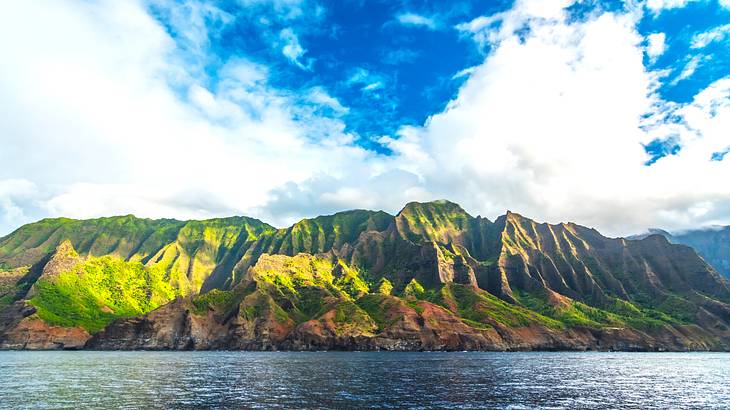 Na Pali Coast State Wilderness Park
In northwest Kauai, Na Pali Coast State Park stretches for fifteen miles and is one of the world's most beautiful coastlines. Sea cliffs drop as much as 400 feet down into the Pacific Ocean, with caves, waterfalls, and lush forests all around, making this not only among the top Kauai sights and but also one of the most famous landmarks in Hawaii.
Visitors can go to Kokee State Park to find scenic overlooks of the park, and those looking for a bit more adventure can lace up their boots and hit the Kalalau Trail. The most popular section takes hikers approximately two miles from Ke'e Beach to Hanakapiai Falls.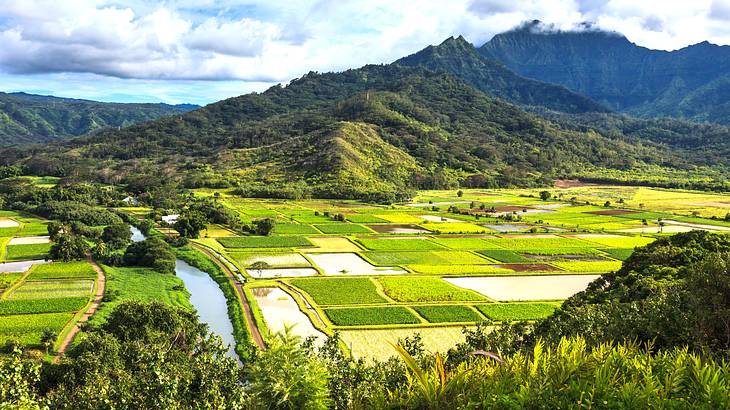 Hanalei Valley Lookout
The Hanalei Valley Lookout will leave visitors spellbound amid a dazzling array of greens. The mountains, valley, marshes, and patchwork taro fields give a texture and variety to the color that is both unexpected and beautiful, making it one of the most photographed areas in all of the Hawaiian islands.
The lookout and pull-off area are found just off of Highway 56/560, and from there, visitors can either start a five-mile out-and-back hike into the valley or drive onwards to the town of Hanalei.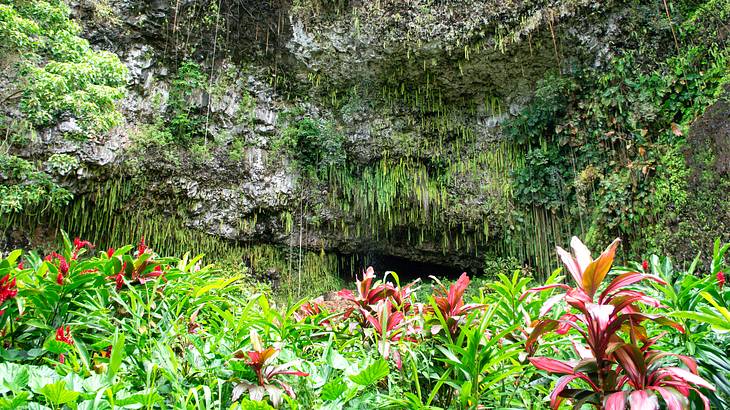 Fern Grotto
About two miles up the Wailua River and only accessible by boat, the Fern Grotto is an impressively lush cave where ferns seem to spill from the rock surrounding its entrance.
The ferns are fed by the moisture of the constantly irrigated sugar cane fields above, and preservation efforts have been needed since the sugar industry has slowed dramatically over the last several decades.
This unique spot feels like something out of a fairytale, which is likely why it's become a favorite spot for wedding ceremonies and photography.
Ke Ala Hele Makalae Coastal Path
Translating to "The Path that Goes by Coast," the Ke Ala Hele Makalae Coastal Path is a self-explanatory way to experience Kauai's east coast. The eight-mile paved pathway is not for vehicles, allowing people to hike or bike around the island more safely.
Along the way, visitors can stop to relax on one of the many beaches, and early birds can enjoy a sunrise over the ocean. There are also many signposts provided to help people learn about nearby cultural and historical sites.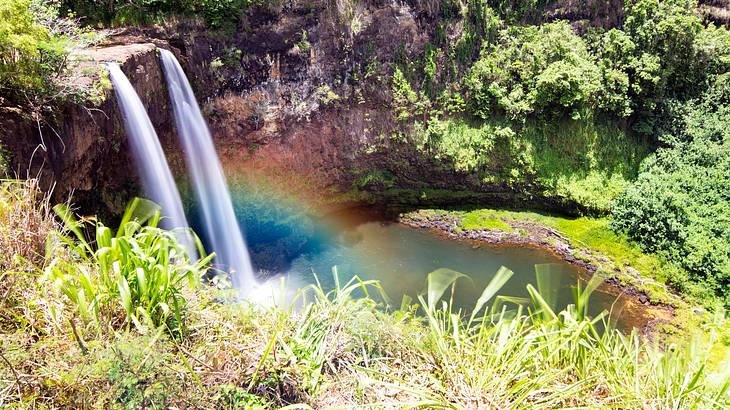 Opaekaa Falls
Opeakaa Falls is a massive 40-foot wide, 150-foot falls that can be seen from an overlook on Kuamoo Road. The Hawaiian word "Opaekaa" means "rolling shrimp," as they used to be seen getting churned up in the tumult at the bottom of the falls when the creatures were more abundant.
An overlook going the other direction gives views of the Wailua River Valley and the jungly world where scenes from "Raiders of the Lost Ark" and "Jurassic Park" were filmed.
Conclusion
While Kauai and its towns may lack some of the modernity and the more famous landmarks of Honolulu and the nearby Oahu, its rustic charm and natural beauty are more than enough to make up for it.
You won't regret taking the time to visit a single one of these 16 unforgettable Kauai landmarks, and this enchanting island will leave you eager to return.
Give us feedback about this article
More visual stories related to this article:
---
---
Want to keep exploring?
Subscribe for discounts on tickets and hotels and our latest guides.
Thank you for subscribing
We will be in touch soon with discounts on tickets and hotels and our latest guides.
Want to keep exploring?
Subscribe for discounts on tickets and hotels and our latest guides.
Thank you for subscribing
We will be in touch soon with discounts on tickets and hotels and our latest guides.
Related Articles