A Fun-Filled 5 Day Maui Itinerary
Destguides may receive commissions from purchases made through affiliate links in this article.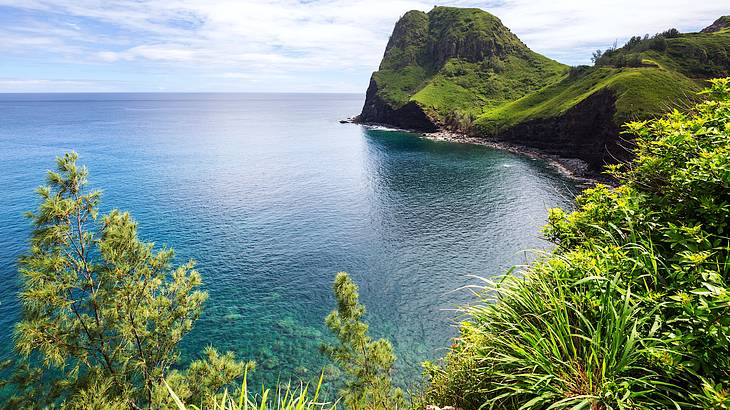 Hawaiian Islands, like Kauai and Oahu are well-known vacation locations. But, if planning a trip to Hawaii, don't leave out a visit to the island of Maui. This travel destination has colorful beaches, stunning volcanoes, undisturbed rainforests, and many famous Hawaiian landmarks.
Maui has over 80 pink, white and black sand beaches, a 60-mile road through lush rainforest, and loads of exhilarating and unique activities, such as hiking, surfing, and fishing.
This 5 day Maui itinerary is suitable and adaptable for a variety of travelers. It includes the best travel tips, fun day trip ideas, tasty restaurant and food recommendations, and what not to miss with five days in Maui, Hawaii.
5 Days in Maui Itinerary
Get to Know Maui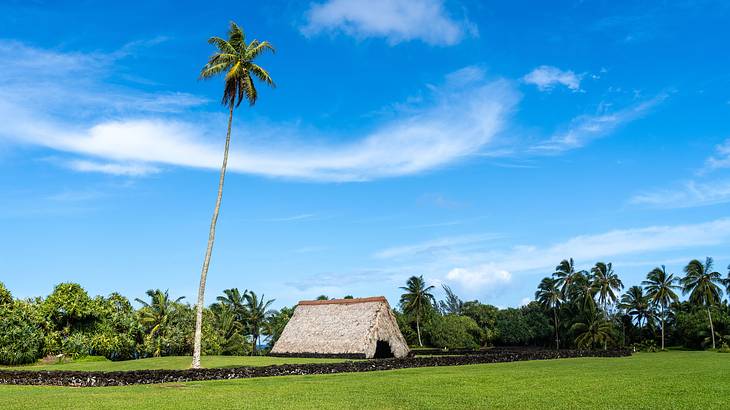 Maui has more to offer than just beautiful beaches and waterfronts. Its popularity with tourists began soaring in the early 70s when the first luxury resort was built on Kaanapali's pristine beaches.
Before the resorts came, a majority of Maui was used as farmland to grow sugar cane, which also contributed to the growth of the island's economy.
You can also find old Hawaiian temples known as heiau on the island. These sacred temples served many purposes, including a place to treat the sick and for rituals (offerings and prayers).
Today, the island is a perfect mix of culture, history, and tourism. Planning a trip to Maui should be on everyone's USA bucket list.
Parasailing
A fun way to see things in Maui is from a birds-eye-view, or in our case, an alien's eye view. Companies like UFO Parasail fly you high into the sky, perfect for three-person flights and couples in Maui!
UFO Parasail sends you up into the clouds on a thrilling ride 800 ft above the sea. Parasailing is a top activity in Hawaii and a great way to set the tone for the start of your exciting Hawaiian adventure!
You are sure to see sea life through the crystal-clear water like turtles, fish, dolphins, and jaw-dropping scenery.
Kayaking, Snorkeling and Whale Watching
Maui Kayak Adventures offers group and private kayaking tours that are intimate, eco-friendly, and safe but thrilling adventures. Even group tours max out at eight people, keeping the tours small and private.
The Marine Naturalists tour guides offer three different experiences. You can kayak along the coast to see unforgettable landscapes and marine life, get under the sea with a snorkel and goggles to gain a unique perspective of the island, or try your luck with a whale watching tour.
During a whale-watching tour, you can get up-close and personal to these mysterious, gentle giants with photos to remember the moment by.
Poke Stop at Tamura's
After a morning of parasailing and kayaking, you're going to need to refuel. Maui has some of the freshest seafood around, and what's a trip to Maui without trying a Poke Bowl?
Poke, which means "to slice or cut" in Hawaiian, is a local favorite. These bowls come with freshly cut chunks of raw fish, typically tuna, on top of rice and vegetables.
Many visitors get their raw fish fix at Tamura's Fine Wine & Liquor, one of the best places for a poke stop in Maui. Here, you can also enjoy a selection of spirits. This store has a liquor business at the front and a poke party at the back.
Atlantis Adventures
Atlantis Submarines Maui is a once in a lifetime experience. This adventure tour is enough to be the only reason to travel to Maui.
Maui Atlantis Adventures takes you 100 ft below the sea on a 48-person airconditioned submarine. You can explore Maui's seafloor and see things like coral reefs, tropical fish, stingrays, turtles, and more, all while staying cool and dry in this state of the art, underwater vessel.
Atlantis Adventures also offers package deals that include whale watching, an on-shore luau and buffet, museum tours, and snorkeling.
Mai Tai at Kimo's
Sunset drinks are a way of life on the islands, especially when you visit Maui. A popular drink to start the night with is a local favorite called a Mai Tai. Mai Tais are a rum drink infused with grapefruit juice. You can find the best ones at a place called Kimo's.
Not only does Kimo's have the best Mai Tais on the island, but their food will also give you something to talk about. Kimo's is well-known for their famous Hula Pie.
Why is Hula Pie so famous you ask? Just look at this description! A Hula Pie is "macadamia nut ice cream stacked high on a scrumptious chocolate cookie crust. A layer of cool chocolate fudge sits atop the ice cream giving form to this delight" and the description keeps going. Mai Tai's and Hula Pies are the best way to end your first day in Maui and prepare yourself for a fantastic night out.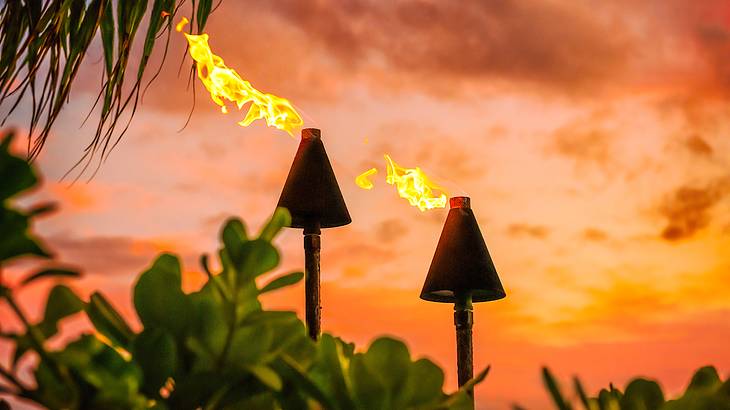 Old Lahaina Luau
The Old Lahaina Luau is the perfect way to end the first of your 5 days in Maui. This dinner theater gives you an authentic luau experience in Maui.
As you walk in, you will be welcomed with a lei made of fresh flowers before you're taken to your reserved table.
The Old Lahaina Luau is located on Front Street. At the luau, guests can experience the Imu unearthing ceremony, the kalua pig, traditional Hawaiian drinks and a buffet.
Of course, you can dance the night away to Hawaiian music as well as hula, or for parents, grab a drink at the bar!
Explore Maui from Land and Sky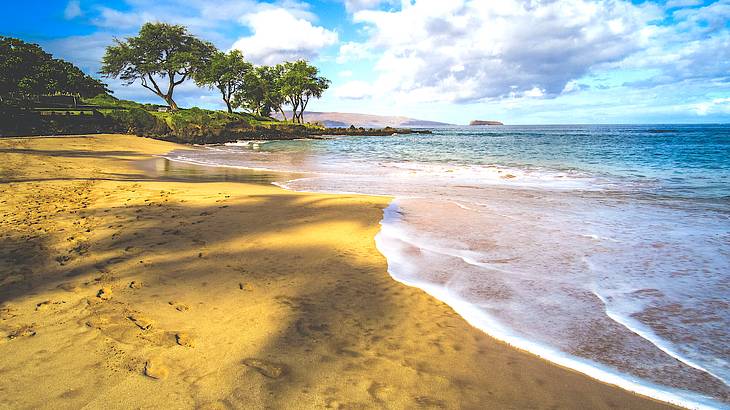 Maui is exactly what you would picture a tropical paradise to be like, with a little extra. It is home to beaches, tropical rainforests, mountains, cliffs, caves, waterfalls, and volcanoes.
If you are a thrill-seeker or even a little bit of an explorer, Maui has a lot to offer you from both the land and sky.
Spend the second day of your trip to Maui exploring this whimsical land with different adventures like hiking, skydiving, and a drive through the rainforest in search of enchanting waterfalls to cool off in.
'Ōhai Trail, West Maui
In West Maui, there is a 1.2-mile trail loop that gives you the perfect vantage point for sunrise. The path leads you to the top of rocky cliffs that drop straight down into the sea, making the sunrise even more dramatic.
As the sun rises, you can also see the crater of Haleakalā as well as the ant trail of cars leading up to the summit. You can rest assured that you will avoid the crowds and still see a stunning sunrise.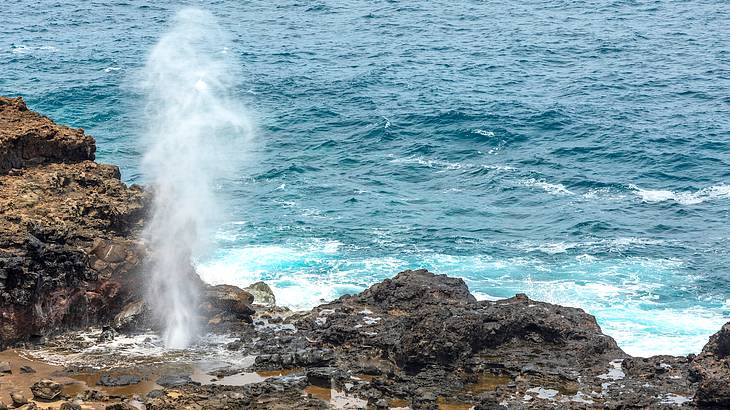 Nākālele Blowhole
Not far from the epic sunrise spot on the Ohai Trail is the mystical Nākālele Blowhole. The Nākālele Blowhole is a popular tourist spot, but if you go right after sunrise, it should be relatively quiet.
This natural wonder is an impressive show of the ocean's power, beauty, and strength. Depending on the wave and swell size, every few minutes, the sea gets pushed through a hole in the rocks, shooting water over 100 feet in the air.
While this show is impressive, it is also dangerous. Make sure you stay on the dry rocks so that you don't accidentally get sucked into the hole.
Surf Lessons
You can't take a 5 day trip to Maui without learning how to surf. Surfing is a huge part of Hawaiian life, culture, and history, and what a better way to pay tribute to that than by taking surf lessons.
Learning to surf in Hawaii is ideal. The sun is always shining, the water is always warm, and the beginner spots offer perfect, gentle waves to learn on. More than anything, the view from sitting on your surfboard is indescribable and unforgettable.
Soul Surfing Maui offers private lessons, semi-private lessons, group lessons, surf and stay packages, surf tours, and private surf camps. Whether you've been a surfer for years, have never touched a surfboard or are somewhere in between, Soul Surfing Maui has something perfect for you.
Big Beautiful Burgers
After hiking and surfing, you need to renew your energy so you can continue on with the rest of your adventurous day.
The best place to fuel up is at Fatt Chicks Burgers, home of the original Korean Burger that comes on, "a buttery brioche bun with ko chu jang aioli, a signature patty, housemade kimchee, crispy sweet fried onions, and a kalbi glaze".
Korean not your style? Fatt Chicks also offers 11 other gourmet burgers, including the Teri Cheese Burger, the Ahi Steak Burger, and the Caprese Burger.
Every burger that Fatt Chicks delivers to your table is sourced from local Maui ranchers. There is more to the menu than just mouth-watering burgers. Fatt Chicks also has gourmet hotdogs, bowls and plates as well as fresh salads.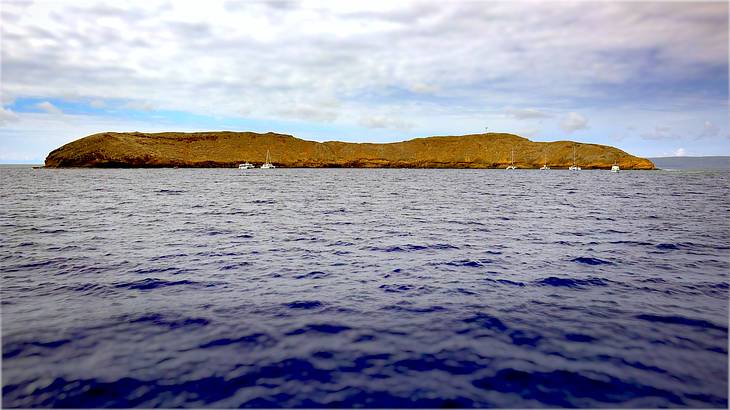 Molokini Crater
After filling up on burgers, head over to the world-renowned Molokini Crater. This semi-underwater crater is one of only three in the world and is believed to have formed after an underwater eruption many thousands of years ago. The crescent-moon shaped isle is considered a world-class scuba diving and snorkeling spot.
The crater is now an island marine sanctuary, and it is the only one in Hawaii. The spot is popular with tourists and locals and is typically crowded, but for good reason. The water is clear as glass and is home to hundreds of species of fish, coral and other marine life, some of which are only native to Hawaii.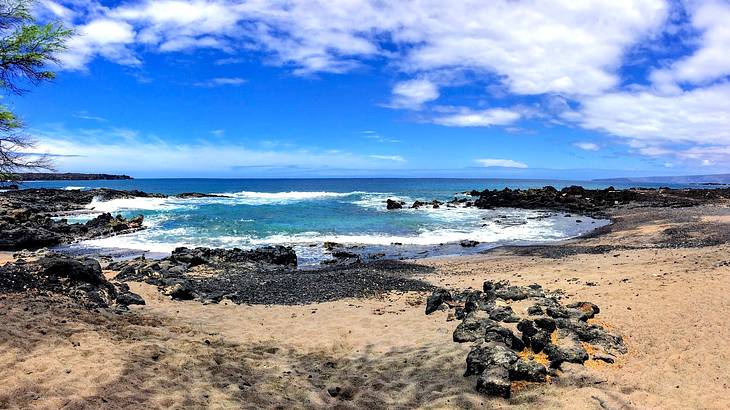 Maluaka Beach
This quaint little beach town is ideal for swimming. The turquoise waves gently lap against the golden sandy shore. Maluka Beach is sometimes referred to as a turtle town because it is a popular spot for viewing turtles in their natural habitat.
Tourists who have visited Maluaka Beach recommend the beach for its small crowds and magnificent scenery. This off-the-beaten-path beach is ideal for those looking for quiet time on the shore. Plus, as mentioned before, turtles can be found everywhere, so don't forget to bring your snorkel gear.
Cuatro Restaurant
After a full day of activities, stop for dinner and drinks at Cuatro Restaurant. Start your night off with their award-winning Spicy Tuna Nachos.
The menu at Cuatro Restaurant caters to everyone, including tourists, locals, and even families. Everything on the list is super tasty, making it hard to decide on what to order.
They have a daily fresh fish cooked in a style of your choosing, grilled steak, crab cakes, plus much more. It is highly recommended that you call and make reservations in advance if you want to dine in.
Of course, take out is always an option, and you can take it to watch a stunning sunset on the summit of Haleakala Volcano.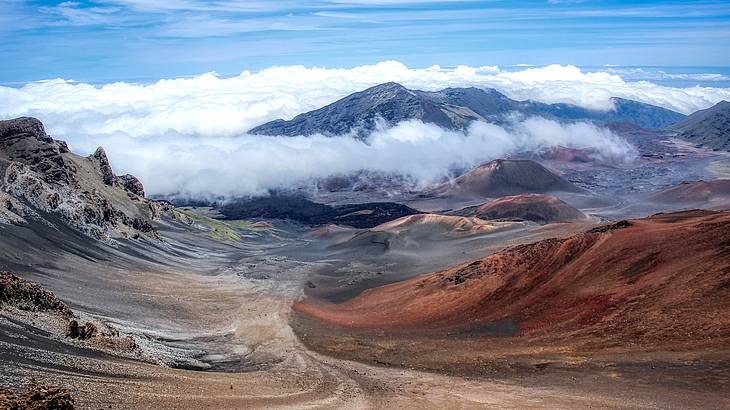 Sunset at Haleakala Volcano
The Haleakala Volcano is located in Haleakala National Park. The volcano reaches over 10,000 feet into the clouds and is the world's largest dormant volcano. It provides the very best views to watch both the sunset and sunrise from.
Sunrise has become so popular here that you now need to make a reservation to see it. Absurd, I know. So instead, skip the crowds and enjoy your take away meal as the sun melts beneath the clouds.
Before you get to the park, make sure you fill up on gas and snacks as the park is still wild and rugged. You also need to be prepared with extra warm clothes because the temperature can dip into the 30s! There have even been times where there has been snow at the summit, so make sure you check the time of the sunset beforehand.
If it happens to be a clear night, stay awhile after the sun sets to stargaze. On an exceptionally clear night, you can see planets, shooting stars, and over 100 miles out to sea. Even on a cloudy night, you can spot moonbows and moon halos.
Haleakala National Park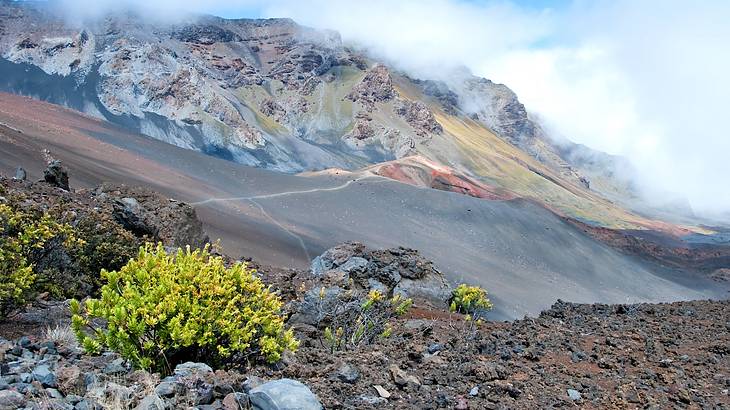 Haleakala National Park has to be on your Maui 5 day itinerary as it is a top landmark in Maui. The park is a protected 33,265-acre area home to more endangered species than any other West Coast park in the US. It is divided into two distinct areas, the coastal town of Kipahulu and the Haleakala Volcano region.
Both areas offer thrilling and relaxing adventures that you can take to explore the national park. You can take helicopter rides, go horseback riding or zip-lining, or go hiking and swimming, mountain biking, and stargazing.
Be warned, though, that mountain biking in Haleakala National Park can be intense and dangerous and is not intended for beginners.
You need to make the park into a day trip to experience as much of it as you can. You might even find yourself spending more time here than you expected!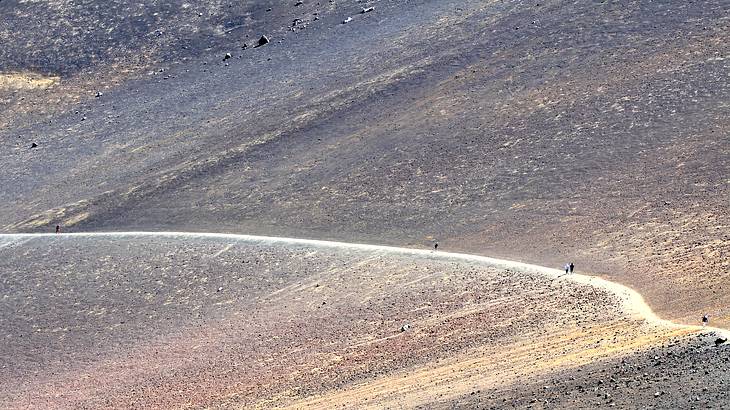 Hiking the Keonehe'ehe'e Trail
Also called the Sliding Sands Trail, this is a full-day hike that takes you deep into the Haleakala Crater and to a magical place lovingly called Pele's Paint Pot.
This hike can be strenuous and dangerous yet satisfying. The trek into the crater is nearly 4 miles long with an elevation change of almost 2,500 feet. Pele's Paint Pot is 5.7 miles from the trailhead, making the entire hike over 11 miles long.
Being in the crater will make you feel like you are on another planet. Keep an eye out for Haleakala Silverswords. These alien-looking plants have silver covered leaves and only blooms once in its lifetime, and they can live up to 90 years!
Pele's Paint Pot is a popular spot with tourists for its bright, muli-colored dirt and rocks, which makes an epic background for photos.
As mentioned before, this is an intense hike, and you should be relatively fit, wear proper shoes and attire and a lot of sunscreen, and bring water and snacks!
Birdwatching at Hosmer Grove
If hiking isn't your thing, you can visit Hosmer Grove Campground to see some of the world's rarest birds. Birdwatching is a hugely popular activity for people visiting the park, and there is an interpretation trail that brings you close to the Alauahio and Amakihi; both birds are native to Hawaii.
This hike through Hosmer Grove will loop you through a forest filled with sandalwood, cedar, spruce, pine, and eucalyptus trees.
Road to Hana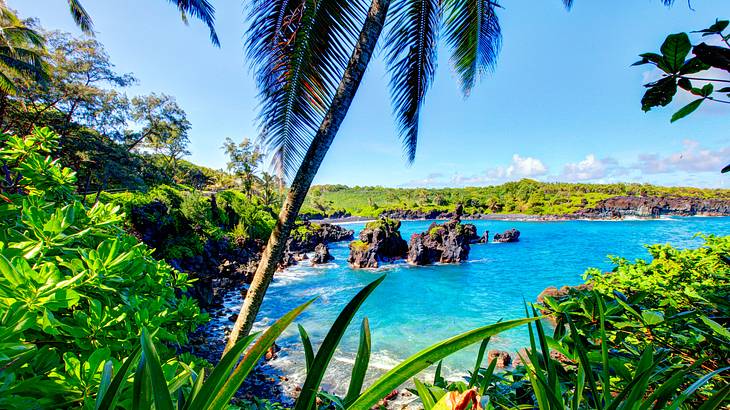 No trip to Maui is complete without a road trip on the ever-popular Road to Hana. As the cliche saying goes, "it's not the destination but the journey." The town of Hana itself is not a major tourist destination, but the stops (or 'markers') along the way are some of the most talked-about on Earth.
Arguably the most dramatic, this Maui scenic drive is one for the memory book, and there are a couple of ways to experience it. You can join a tour or rent a car, such as a jeep, if you want to feel the freedom of the road.
The Hana Highway typically starts from the northern point in Pa'ia, where you will then head south through bamboo forests towards the Seven Sacred Pools at Ohe'o.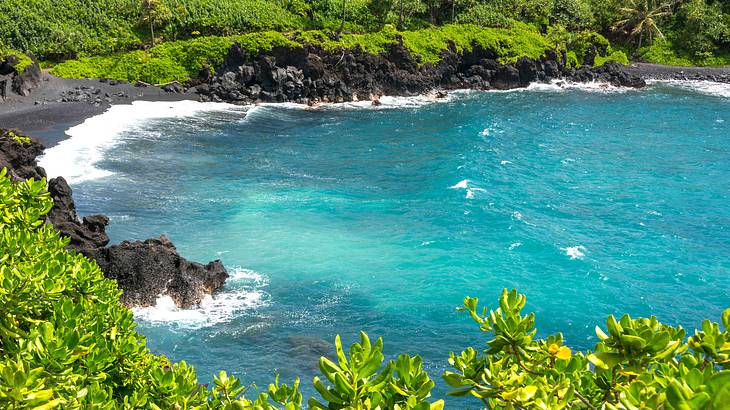 Waianapanapa State Park
Waianapanapa State Park is conveniently located right off the Hana Highway near marker 32. Waianapanapa is a slice of heaven, dropped right into the middle of the Pacific Ocean. In Hawaiin, Waianapanapa can be appropriately translated to "glistening water".
The park is most famous for its volcanic, black sand beaches, but there are so many other reasons to stop and explore this 120-acre natural theme park.
In addition to black sand beaches, Waianapanapa has blowholes, lava tubes and caves, stunning rock formations and arches, sea stacks, alkaline pools, freshwater caves, and of course, epic overlooks for picture-perfect panoramic views.
Shaka Pops
Shaka Pops makes legendary, fresh fruit popsicles. These handmade ice pops only use the freshest of fruits from local farmers.
The pops come in all sorts of flavors, like mango, watermelon, pineapple, cucumber, and coconut, as well as loads of other combinations. They even have chocolate-covered pops and nut covered ones if you prefer a bit of a crunch.
Shaka Pops are the perfect tropical, tasty treat while on your road trip to Hana.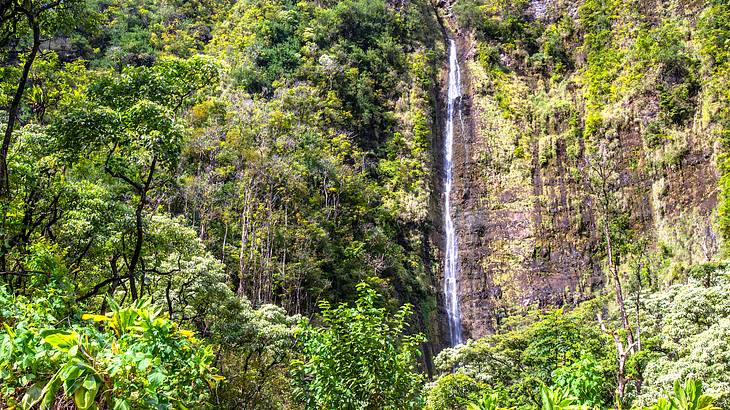 Pipiwai Trail
The Pipiwai Trail is a 4 mile, round trip hike that brings you through a magical bamboo forest and along a whimsical cave and stream system to the base of a dramatic 400-foot waterfall.
Waimoku Falls is one of the highest waterfalls in Maui, and the falls drop into a boulder-filled pool, so it is not recommended to swim here.
The Pipiwai Trail also takes you past Makahiku Falls. The Makahiku Falls drops almost 200 feet and is another impressive sight. There are several swimming areas along the way if you want to hang out and swim.
As with all waterfall hikes and swims, take care to bring the proper hiking shoes or boots, and your feet will most likely get wet from crossing streams. If there has been a lot of rain, check to see if there are warnings in place, and take signs seriously as flash floods have been known to happen in this area.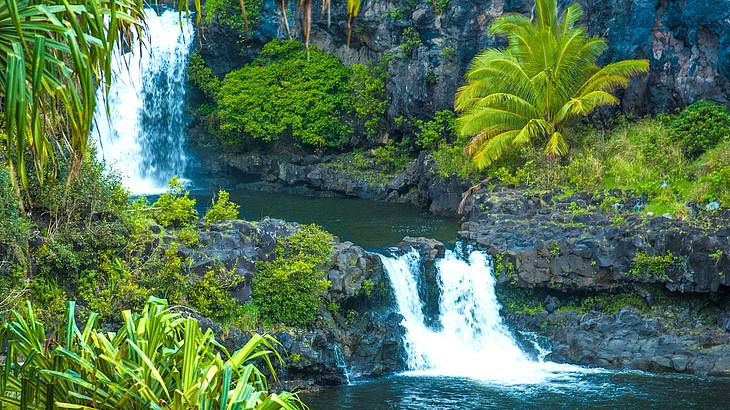 Seven Sacred Pools at Ohe'o Gulch
Ohe'o Gulch, or the Seven Sacred Pools, is a rejuvenating stop that many people make on their journey to Hana. Just off of the main road, still close to Haleakala National Park, you can hike up a cliff where you can stare in awe at the powerful Pacific Ocean waves crashing into the rocks below you.
There are bamboo trails to walk along, more than seven waterfalls and small pools you can cool off in and cliffs to jump off. If you find yourself looking to cliff jump, make sure you're in a spot that other people are jumping from, that you jump from a dry place and that you're not jumping on top of someone.
If you want to avoid all the crowds, make sure to come here early in the morning so that you can enjoy this magical place with a quiet mind.
Hoapili Trail
Hoapili Trail is sometimes called the King's Highway Trail and is the perfect way to stretch your legs before finishing your road to Hana journey. The trail is around 3 miles round trip and is a rugged, rocky path due to a lava trail that formed in the late 1700s.
The trail gets incredibly hot because of the black lava rocks, but you can stop at Keawanaku Beach where you can swim and snorkel and explore the tidal pools. This tiny beach town is just a little off the main trail and is a welcome refreshing break from hiking. Make sure you have proper shoes and attire as well as water and sunscreen!
Last Day in Maui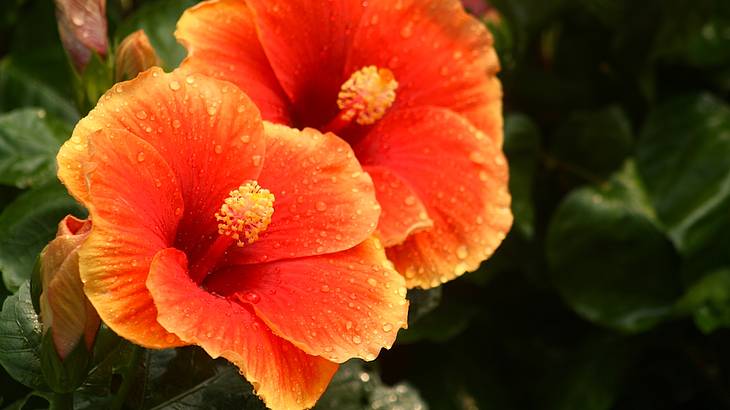 Trying to visit all the best things in Maui in 5 days can feel a bit rushed, especially after discovering the incredible beauty and power this tropical island and paradise holds. So spend your last day exploring one more waterfall, and then relax and unwind at Kula Lodge.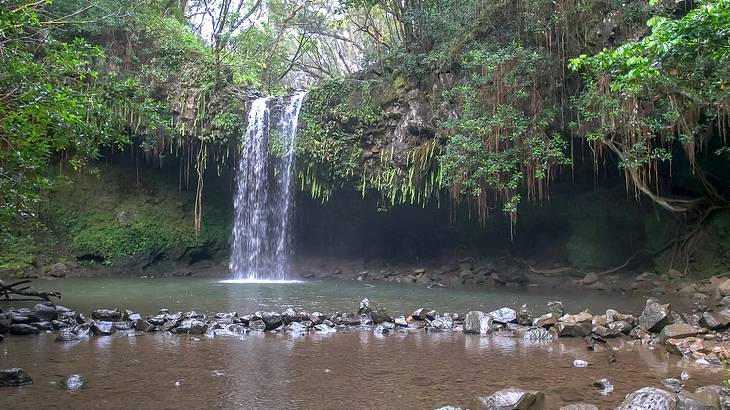 Twin Falls
The Twin Falls is said to be one of the easier falls to get into on the Road to Hana. Located on a private family farm, these falls are well worth the visit.
The main falls are a perfect place to rejuvenate and refresh while swimming in the cool, blue water. You can jump off a rope swing and explore a "caveman" swimming hole - a local name for a cave you can swim in that is covered in jungle vines.
Many other small trails also lead to other swimming holes, waterfalls, and cliffs you can jump off. There is a 40 ft jump for adrenaline junkies, but be cautious as it can be dangerous.
If there has been a lot of rain lately, check the conditions of the power of the waterfalls before swimming or getting too close.
Kula Lodge and Restaurant
The Kula Lodge is the ideal place to relax and remember everything you experienced in the last 5 days in Maui.
The lodge and restaurant sit in a private, perfectly-manicured garden. At an elevation of 3200 feet, you have an unrestricted view of the land and the sea.
The lodge was built in the 1940s and was originally a private residence. It has been catering to guests for many years now with locally sourced, delicious food, and has five separate lodges for overnight stays.
Whether you're staying overnight or enjoying a last dinner in Maui, the Kula Lodge has the best view of the stunning sunset - a perfect way to end your trip!
Final Thoughts
Maui is one of the most beautiful Hawaiian islands, offering picture-perfect views and exciting adventures. Whether you're traveling to Hawaii on a budget, with a group of friends or as a young family, this magical paradise has something to offer everyone.
I hope my Maui travel guide has given you some ideas on how to make the most of your time here!
Give us feedback about this article
More visual stories related to this article:
---
---
Want to keep exploring?
Subscribe for discounts on tickets and hotels and our latest guides.
Thank you for subscribing
We will be in touch soon with discounts on tickets and hotels and our latest guides.
Want to keep exploring?
Subscribe for discounts on tickets and hotels and our latest guides.
Thank you for subscribing
We will be in touch soon with discounts on tickets and hotels and our latest guides.
Related Articles