12 Incredible Landmarks in Maui, Hawaii to See
Destguides may receive commissions from purchases made through affiliate links in this article.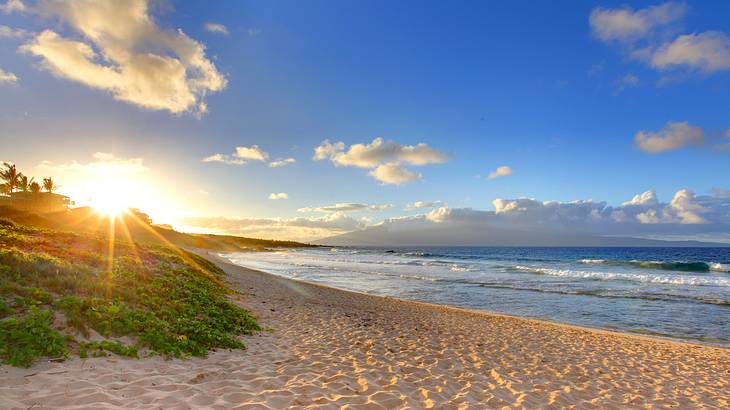 Maui is one of the most-visited Hawaiian islands. Tourists can discover a range of landmarks in Maui, along with enjoying the island's stunning beauty and friendly locals.
Due to its tropical jungle climate and many beaches and national parks, most of Maui's landmarks are nature-based. This makes a trip to the island perfect for families and those that love outdoor activities, including hiking and watersports. So if you're planning a fun trip to this Hawaiian island, read on for 12 incredible landmarks in Maui, Hawaii, to see.
12 Maui Landmarks to See
Maui Landmarks Video
Check out our highlights video of Maui landmarks.
Map of Maui Landmarks
A map of Maui landmarks. Use the map to explore all of the points of interest.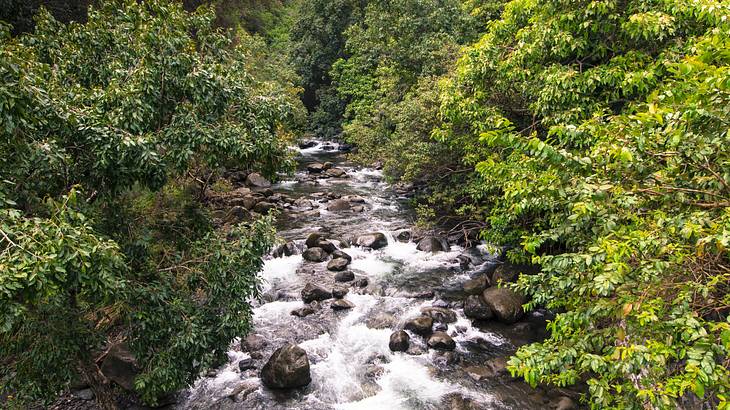 Iao Valley State Park and Iao Needle
Iao Valley State Park, or Iao Valley State Monument, is a stunning attraction west of Wailuku. Visitors can enjoy the breathtaking green mountainous scenery. There are also various hiking trails to follow.
The main attraction at the park is the Iao Needle or Kuka'emoku. This landmark is a peak that stands 1,200 feet above the valley. To get the best views of the Iao Needle, follow the Iao Needle trail.
This trail is 0.6 miles long and easy to hike, meaning everybody can enjoy it! Exploring Iao Valley State Monument is one of the best free things to do on Maui and has to be on your to-do list.
Hana Highway
Hana Highway, also known as the Road to Hana, is a 64.4-mile-long stretch of highway. The route connects Kahului to Hana in East Maui and can be accessed from the North Shore. Many consider this scenic highway to be one of the best Maui attractions!
During your journey along the highway, you can enjoy views of beautiful lush rainforests and waterfalls. There are also several small villages to visit before you eventually reach Hana. Once in Hana, you can explore this remote village, which offers a look at life in Hawaii before mass tourism arrived.
Traveling the Hana Highway with a tour guide is recommended, especially as an activity for couples to do when in Maui!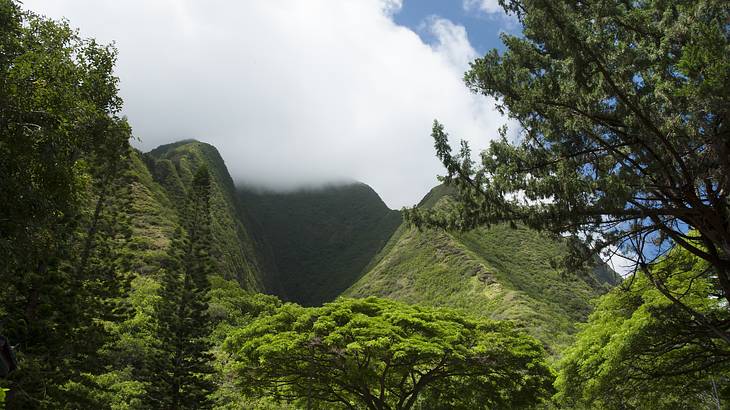 West Maui Mountains
The West Maui Mountains are one of the major volcanic landmarks in Maui. The mountains include one of only two volcanoes on the island, the other being in Haleakala National Park.
The shield volcano, called Mauna Kahalawai, rose above sea level almost two million years ago and covers the western quarter of Maui. Visitors to the mountains can view the volcano and also enjoy the ocean scenery and surrounding waterfalls.
Bailey House Museum
Owned by the Maui Historical Society, the Bailey House Museum, or Hale Hōʻikeʻike at the Bailey House, is an art and history museum in Wailuku. Bailey House Museum specifically features exhibits on Hawaiian art and history.
These exhibits cover pre-European Hawaiian history, Hawaiian gods, the Hawaiian royal family, and Hawaiian artists, among other topics. A visit to the Bailey House Museum allows you to look back at Hawaii's rich history. It's one of the must-visit Maui historical sites!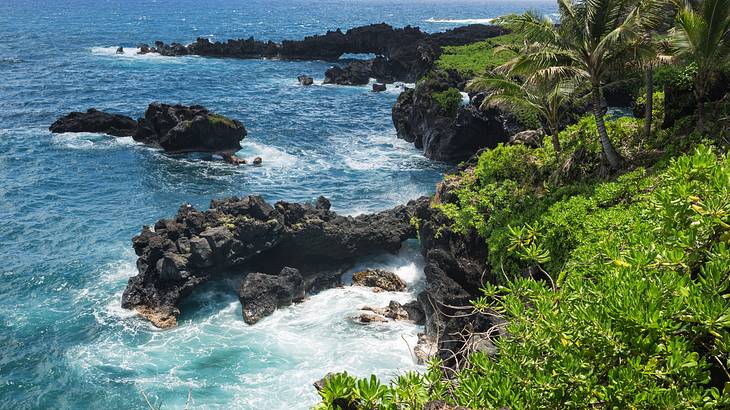 Waianapanapa State Park
Maui features various phenomenal state parks, and Waianapanapa State Park is one of them. This 122-acre Hawaiian landmark is found in Hana and features lush greenery, sparkling blue ocean, and the famous Black Sand Beach.
Having checked out the beach, visitors to Waianapanapa State Park can hike various trails. These trails offer incredible ocean and rainforest views, and you'll also be able to spot sea caves and lava formations. You can even camp or stay in a tranquil rainforest cabin to extend your visit.
Ahihi-Kinau Natural Area Reserve
Ahihi-Kinau Natural Area Reserve is one of the numerous coastal landmarks in Maui. Found on the island's southern coast, the area is a marine life conservation zone and is home to many Hawaiian marine creatures.
The interesting coastline made up of coral reefs and volcanic lava rock is also an ideal snorkeling spot. As the aquatic life here likes to live in the shallows, you won't have to go too far to spot them either! Swimming is allowed too, but as it's a marine conservation area, fishing is banned.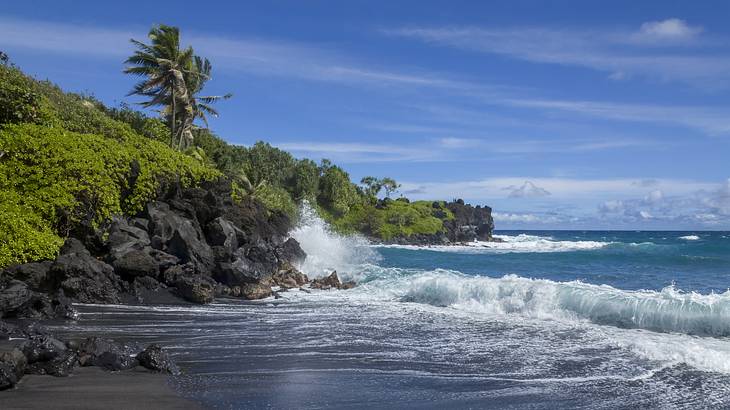 Black Sand Beach
Black Sand Beach, or Honokalani, is located in Waianapanapa State Park. This unique beach is one of the most popular Maui, Hawaii landmarks.
Visitors will get to enjoy the fascinating black beaches surrounded by lush green forest, crystal blue sea, and white crashing waves. The stunning black beaches feature a mix of sand and small pebbles. A Hawaii fact relating to the beach is that the sand gets its unique color due to being made of eroded volcanic material.
Molokini Crater
Molokini Crater is found just off Maui's South Shore. This Marine Life Conservation District is incredibly popular with scuba divers and snorkelers. The waters around the crater have very high visibility and are home to a diverse range of fish and stunning reefs. You may see sea turtles and non-dangerous whale sharks here too.
Along with diving and snorkeling near Molokini Crater, you can rent a boat or go on a canoe tour. There are all sorts of other Molokini Crater guided tours available as well!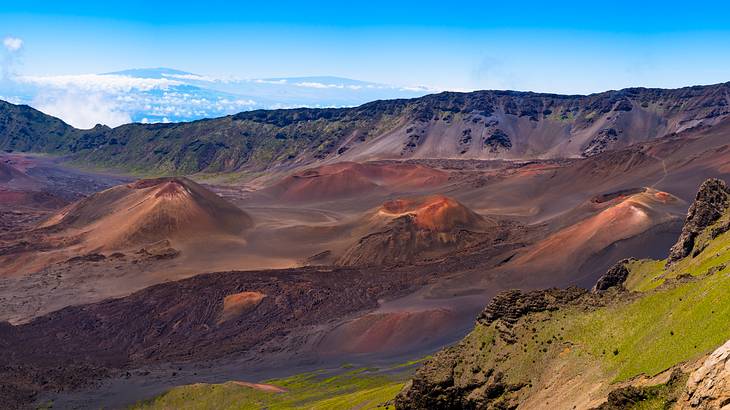 Haleakala National Park
Haleakala National Park is another of many natural landmarks in Maui. The attraction gets its name from the dormant volcano that sits within the park. Interestingly, this landmark is home to one of just two volcanoes found on Maui.
Visitors to Haleakala National Park can hike various trails and may come across sacred and archaeological sites. A particularly popular activity here is watching the spectacular sunrise and sunset. You must reserve to watch either event, so be sure to do so before you visit.
La Perouse Bay
La Perouse Bay is found on the south shore of Maui, within Ahihi-Kinau Natural Area Reserve. This coastal landmark is made up of coves and small beaches. These coves can be challenging to access, especially during high tide. However, if you reach the, they are a fantastic snorkeling location.
Along with incredible snorkeling opportunities, the views of lava rocks, turquoise ocean, and coral beaches are highly memorable. However, this area can get dangerous, so check weather conditions and wear good shoes when climbing the rocks.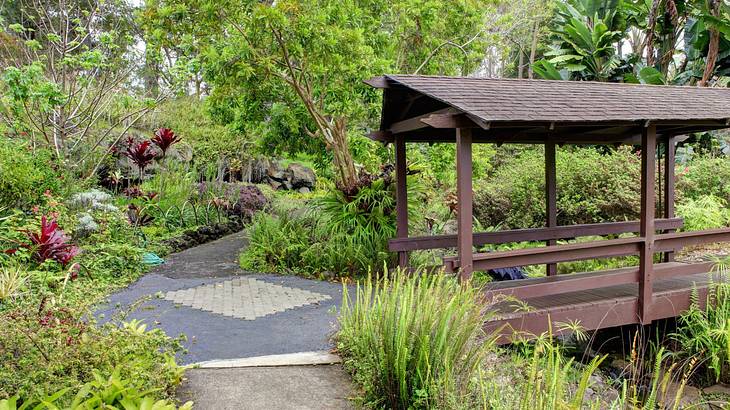 Kula Botanical Gardens
Kula Botanical Gardens is an eight-acre collection of breathtaking botanical gardens located on Kekaulike Highway. The gardens feature a range of stunning flowers, plants, and trees, several of which are native to Hawaii.
Flora to see includes orchids, white ginger plants, and lemon eucalyptus trees. You'll also find many tranquil water features. There's even a chameleon exhibit and bird sanctuary to check out.
Maui Ocean Center
Maui Ocean Center is a must-visit for all tourists on the island! This aquarium and oceanography center is frequently named one of the best aquariums in the world, and it is the largest tropical reef aquarium in the western hemisphere.
Visitors will get to view a range of marine life, including many species native to Hawaii. Creatures living here include Hawaiian monk seals, Hawaiian green sea turtles, blacktip reef sharks, and even humpback whales.
In Conclusion
If visiting the island, this list of 12 landmarks in Maui should give you an idea of where to go and what to do during your trip. Even if you have just five days in Maui, you should be able to visit all 12 landmarks mentioned on this list.
---
---
Want to keep exploring?
Subscribe for discounts on tickets and hotels and our latest guides.
Thank you for subscribing
We will be in touch soon with discounts on tickets and hotels and our latest guides.
Want to keep exploring?
Subscribe for discounts on tickets and hotels and our latest guides.
Thank you for subscribing
We will be in touch soon with discounts on tickets and hotels and our latest guides.
Related Articles