15 Fun Things to Do in Maui at Night
Destguides may receive commissions from purchases made through affiliate links in this article.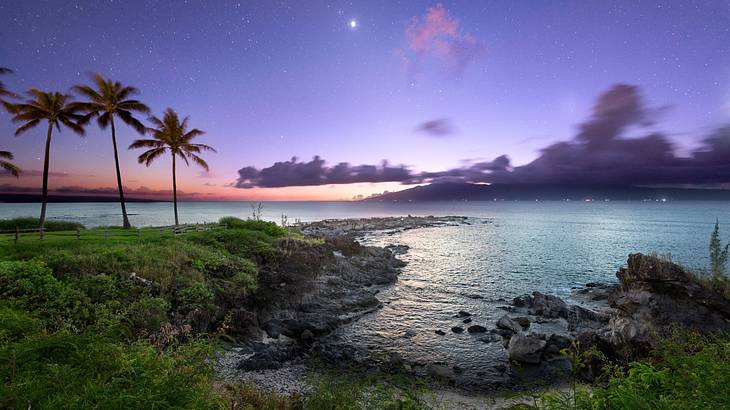 Maui is a beautiful Hawaiian island featuring lush jungles, stunning beaches, and an array of activities to try; it's understandably a tourist hotspot! While there are many things to do during the day in Maui, the fun doesn't stop once the sun goes down.
After dark, you can discover numerous fun things to do in Maui at night. The range of nighttime activities is quite astonishing too. You can enjoy a sunset cruise, bar hop, or even scuba dive with nocturnal marine life. The choices are endless!
If you're visiting Maui soon and looking for fun things to do in the evening, keep reading for 15 Maui nightie activities.
15 Things to Do on Maui at Night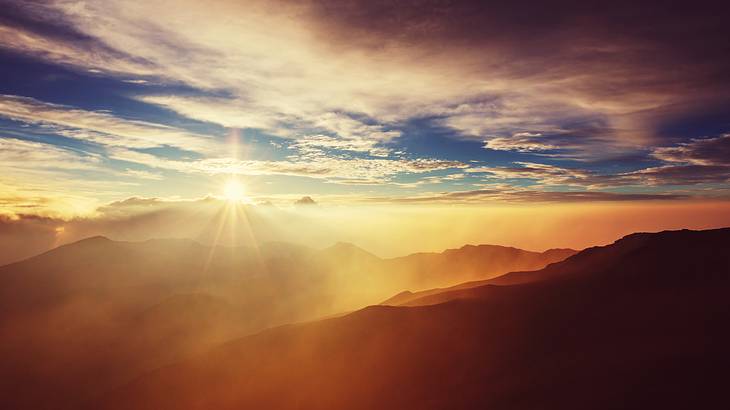 Watch the Sunset at Haleakala National Park
Haleakala National Park is one of the most beautiful parks in Hawaii. A popular nighttime activity at the park is watching the sunset. In fact, doing so is in such high demand that you must reserve, for free, to watch as day turns to night.
If you want to view the renowned Haleakala National Park sunset, why not try a sunset and dinner tour? You'll be collected from your accommodation and will hike with a guide up to the best places to watch the beautiful sunset. Afterward, head to Café O'Lei for a three-course dinner.
Stargaze at Haleakala National Park
Stargazing at Haleakala National Park is just as magical as watching the sunset. Once it becomes dark, you'll be able to appreciate a sky filled with twinkling stars.
Going on a stargazing tour with Maui Stargazing is recommended. A guide will take you up to the Haleakala summit, where they will give more information on the stars and even planets you're spotting. Telescopes are also provided to allow for an up-close view of the cosmos.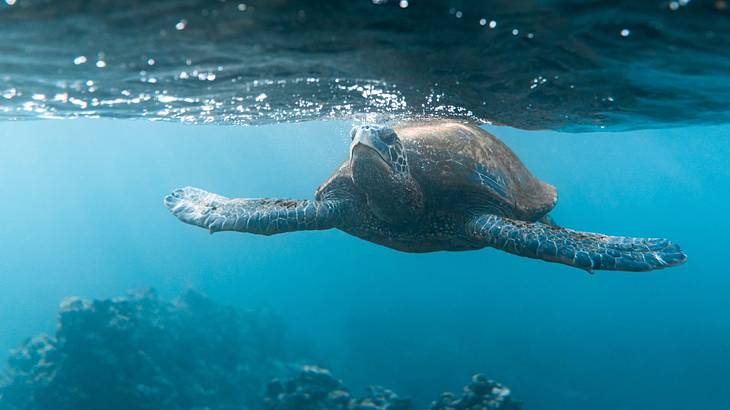 Scuba dive at night
Scuba diving at night is not something many people think of doing. But it makes for a thrilling nighttime activity in Maui. The Maui night scuba tour leaves from Lahaina and offers a look under the ocean as the sun goes down.
As the water becomes darker, a range of nocturnal creatures emerge. Marine life you may spot includes lobsters, octopi, and turtles. You'll also get a light to see the marine life better without disturbing them. Once back above the water, your guide will offer more detailed information on all the night creatures you spotted.
Celebrate the weekend at the Friday town parties
Attending a Friday town party is one of the most exciting Maui night activities. The parties are held at a different location each week, with five possible locations: Wailuku, Lahaina, Makawao, Kihei, and Lanai.
At the party, you can listen to live music and mix with the locals. There are also many food and drink stalls selling delicious Maui and Hawaii specialties.
What's best is that attending the town parties is one of the many free things to do on Maui. Except for food and drink purchases, you can enjoy the fun of these local parties at no cost.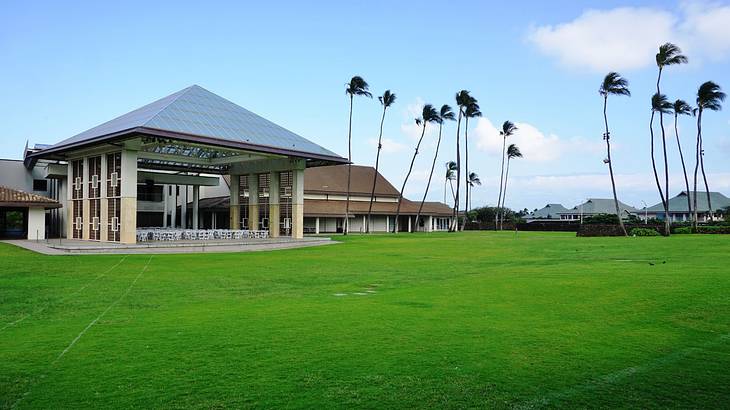 Watch performing arts shows at Maui Arts and Cultural Center
Maui Arts and Cultural Center is one of the many interesting places to go in Maui at night. The center, also known as MACC, is a non-profit that hosts various performing arts shows, even in the evening.
You'll be able to see a selection of shows as well as view art exhibits. Festivals and concerts are also held at the center regularly, so be sure to check the performance schedule during your visit.
Grab drinks at The Dirty Monkey
Found in West Maui, The Dirty Monkey is one of the most popular bars on the island. The bar was voted the best whiskey bar in Maui and also serves a range of craft beers and specialty cocktails.
Being a sports bar, you can catch a game here, and there are a few fun arcade games to play. There's even live music and dancing in the evenings.
Along with incredible drinks, you can get bar snacks, and a happy hour runs every day from 3 PM to 6 PM. The Dirty Monkey is the ultimate late-night hangout, and visiting is one of the top things to do at night in Maui!
Try cliff jumping at Black Rock Beach
Black Rock Beach is home to one of the more unusual things to do in Maui. The small beach at the end of Kaanapali Beach features tall black rocks that tourists and locals enjoy diving from into the waters below.
This activity is most popular in the evenings when residents light torches to illuminate the area. If you're daring (and a strong swimmer), head here after dark to take the plunge yourself. Alternatively, you can just watch from the shore.
Bar hop in Paia Town
Found on Maui's North Shore, Paia Town is an incredible nightlife spot. You'll find an array of excellent bars, restaurants, and clubs to drink, eat, and dance at. Instead of choosing just one of these locations, hit a few with a Paia Town bar crawl!
Milagros Food Company is a must-visit. The Mexican-style bar features tex-mex cuisine and delicious drinks, like margaritas and tiki cocktails. This location was also voted as having the best happy hour on Maui.
Another cool spot to visit is Aumakua Kava Lounge. The bar specializes in fruity tropical cocktails using Kava, a Pacific Islands beverage. You'll also be able to enjoy live music with your drinks every night.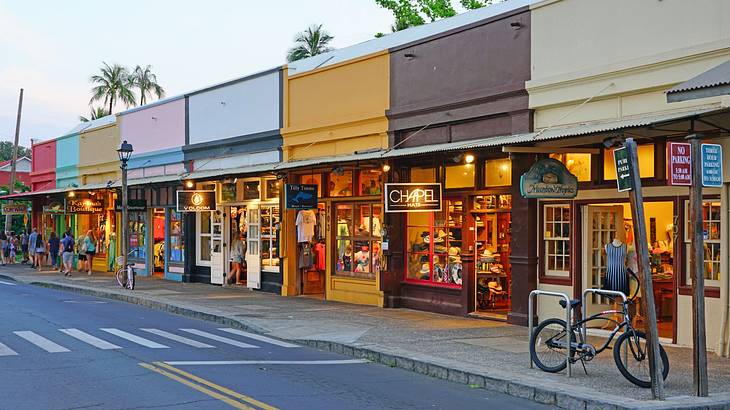 Appreciate art at Friday Night Art Night
If you're looking for a relaxed and cultural Friday night activity in Maui, head over to Lahaina. Located on Front Street, you can wander around 20 phenomenal art galleries viewing many styles of artwork.
Works to view include paintings, sculptures, glass pieces, and Koa woodwork. Due to the popularity of this Friday night activity, many galleries host events complete with refreshments, promotions, and other added extras.
Paint something amazing at Island Art Party
If you're crafty, then attending Island Art Party, located on the South Shore, is a must! This fun event is hosted each week and allows you to paint a stunning Hawaiian-inspired picture.
As an adult-only event, alcoholic drinks are also provided, and you're sure to meet some new friends, both locals and tourists. What's really exciting is that you can take your finished masterpiece home with you, allowing you to have a unique and personalized souvenir of your Maui vacation.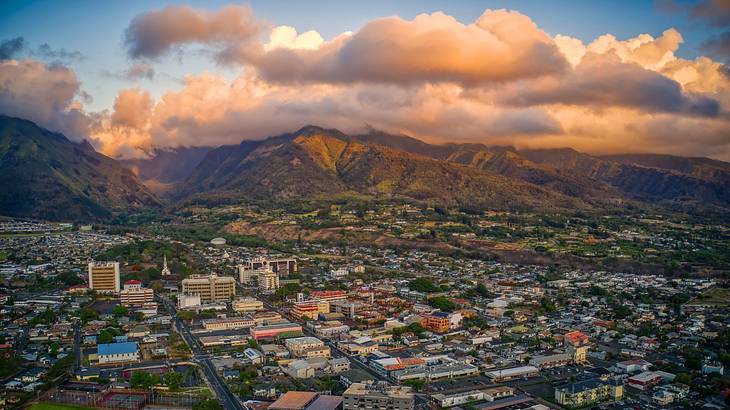 Fly above Maui on a sunset helicopter tour
Taking a sunset helicopter tour is one of the most romantic things to do at night in Maui. Once on the helicopter, you'll be lifted above Maui for a flight that takes you over major landmarks. These include Molokini Crater, Nakalele Blowhole, and Lahaina Front Street.
As you fly, your pilot will give commentary on what you are seeing, all while you enjoy a decadent glass of champagne and watch the sunset. This activity is definitely one of the best things to do on Maui for couples!
Experience Hawaiian culture at the Old Lahaina Luau
You'll have a difficult time finding a more Hawaiian Maui nightlife activity than attending a Luau. The island features many resorts and other companies hosting Luaus. A tourist favorite is the Old Lahaina Luau.
The Luau is hosted right beside the ocean, offering incredible views. Once the show begins, you'll be able to appreciate the stunning dancing and performing. A multi-course Hawaiian meal is provided, too, along with fruity cocktails and other beverages.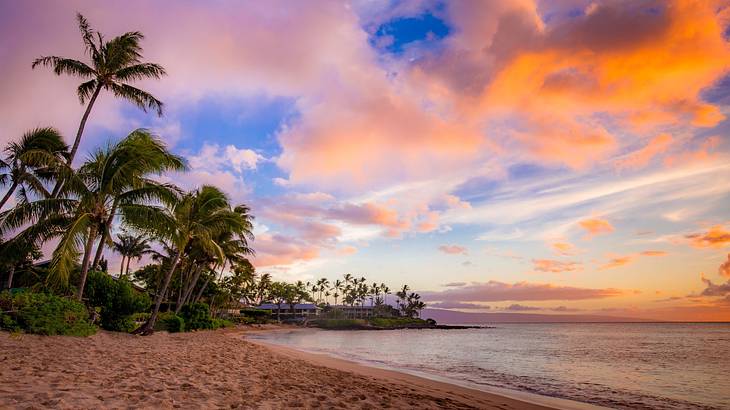 Dine on the beach
A simple but incredibly scenic and relaxing night activity to add to your Maui itinerary is heading to the beach for a late-night picnic. While you can choose any beach, the beaches of South Maui, like Keawakapu Beach and Makena Beach, are some of the best on the island.
Once you've chosen the beach you want to visit, pack a picnic and drinks and head there just before sunset. Sitting on the sand and watching the sunset over the ocean is magical! You can then enjoy your meal under the stars.
Tackle an escape room
Trying to get out of an escape room is one of the most fun Maui things to do at night. Maui Escape Rooms offers a range of escape scenarios and are open until late. Themes include Prison Break, Pirate Ship, and Ka Puka Bunker.
You and your team will have an hour to attempt to escape from your chosen room. Even if you don't make it out of the room in time, working as a team to find clues is a fun and exciting evening activity. Escape rooms are also an ideal nighttime activity for rainy evenings.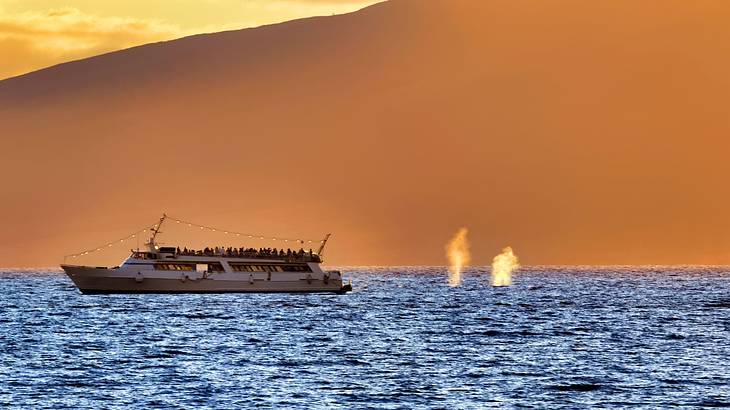 Luxuriate on a sunset cruise
One of the most memorable things to do at night is to go on a Maui sunset dinner cruise. You can find a host of operators offering these cruises, with most sailing within Lahaina Harbor.
Most operators offer drinks, dinner, and live entertainment. Options include cruises with an open bar, a Mahi-Mahi dinner, specialty cocktails or champagne, and more.
Of course, you can enjoy all that as you watch the stunning sunset and spot some Maui landmarks. As you return to shore, you can also appreciate the stars sparkling in the night sky.
In Summary
Maui is one of the best travel destinations in the world, boasting an array of things to do in the day and after dark. There are also things to do at night in Maui for all types of people. From arts and cultural events to outdoor activities, and fun bars and restaurants to try, you won't be disappointed with the nightlife on this Hawaiian island.
Give us feedback about this article
More visual stories related to this article:
Want to keep exploring?
Subscribe for discounts on tickets and hotels and our latest guides.
Thank you for subscribing
We will be in touch soon with discounts on tickets and hotels and our latest guides.
Want to keep exploring?
Subscribe for discounts on tickets and hotels and our latest guides.
Thank you for subscribing
We will be in touch soon with discounts on tickets and hotels and our latest guides.