20 Best Waterfalls in Maui, Hawaii, You Have to See
Destguides may receive commissions from purchases made through affiliate links in this article.
Maui is a beautiful island in Hawaii, United States. This tropical destination is known for its many outdoor attractions, like beaches, rainforests, and hiking trails. The Valley Isle also has numerous waterfalls.
If you're visiting soon and want to know where to locate the best waterfalls in Maui, Hawaii, this list will help you discover the most stunning ones in the area. This guide includes many Maui waterfalls you can swim in, plus those that look amazing in photographs.
In addition, a map of waterfalls in Maui is included below to make finding each location and planning a Maui waterfalls tour easy!
Note: Waterfalls in Maui can have Leptospirosis bacteria in the water, so don't swim under water or with open wounds when visiting. You can also check the current safety levels of the water at some of the falls before heading to one.
20 Waterfalls of Maui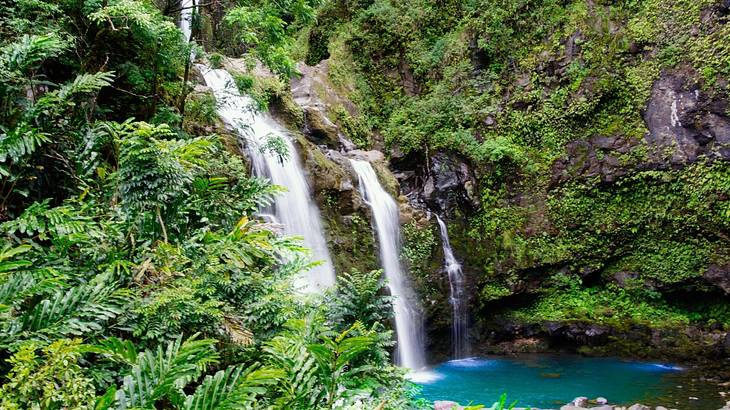 Upper Waikani Falls
Upper Waikani Falls is located on the Hana Highway and is one of the most beautiful collections of waterfalls in Hawaii. Also known as the Three Bears Waterfalls, the Upper Waikani Falls comprises three waterfalls, each of which features a swimming hole.
The waterfalls are relatively easy to get to, requiring a short hike through lush jungle. Once at the falls, you can swim, take photos, and admire their beauty!
Alelele Falls
A lesser-known but still beautiful waterfall is Alelele Falls. The waterfall is located on the edge of Haleakala National Park but is slightly more hidden than more popular falls, like the Pools of Oheo. Once you find the trail, however, it's easy to follow and very scenic.
Due to the ease of access to these falls, visiting Alelele Falls has to be on your to-do list is visiting Maui with kids. At the falls, you can swim, take in the views, and explore more of the surrounding forest.
Pools of Oheo
A waterfall that has to be a stop on your Maui itinerary is the Pools of Oheo. Also referred to as the Seven Sacred Pools, or ʻOheʻo Gulch, the Pools of Oheo are located on the edge of the Hawaiian landmark of Haleakala National Park.
As you hike through the tropical bamboo forest, you'll discover seven waterfalls in total that comprise the Pools of Oheo. At each waterfall, you can swim and relax on the surrounding rocks. Some people even cliff jump here.
Hanawi Falls
Hanawi Falls sits just after mile marker 24 on the Hana Highway. This waterfall is one of the most convenient to get to in Maui as you don't have to walk far to it but instead can access it right from the roadside.
If you only have a bit of time to view the falls, you can easily see them from the highway and can stop to take some pictures before continuing with your journey. Alternatively, you can also go down to the pools below Hanawi Falls to swim or paddle.
Waimoku Falls
Another of the amazing waterfalls of Maui is Waimoku Falls. To get to the falls, you must follow a path that takes you into bamboo forest and lush jungle.
If you want to follow the whole trail around the falls, known as the Pipiwai Trail, it covers 6.1 kilometers and will take approximately two hours to complete. Along this route, you'll also discover Makahiku Falls.
While you can plan an excursion to the falls yourself, going on a Maui waterfall and jungle tour is a fun way to see Waimoku Falls, plus other nearby natural landmarks.
Haipua'ena Falls
Haipua'ena Falls is a relatively easily accessible waterfall and pool located around mile marker 11 on the Hana Highway. This natural landmark is located quite close to the roadside, and you simply have to climb down a few rocks to reach it.
Do be careful as the rocks can be slippery when going down and coming back up. Once at the bottom, you can admire the waterfall, swim, and relax on the rocks.
Makahiku Falls
Found close to Waimoku Falls and also on the Pipiwai Trail is Makahiku Falls. The best way to see this waterfall is from the Makahiku Falls overlook.
Once at the viewpoint, you can admire the almost 200-foot waterfall that's surrounded by lush green jungle. You can then continue down the route to the equally beautiful Waimoku Falls.
Makamakaole Falls
The Makamakaole Falls sit on the Makamakaole Stream. To reach the falls, you must follow a short hiking route that takes you across parts of the stream.
While the hike is scenic, you will have to go through some dense jungle areas and across slippery rocks and the path to follow is quite well hidden.
Once you discover the waterfalls, however, you'll be amazed by their beauty and the secluded area of jungle that they sit in. Makamakaole is also another of the waterfalls in Maui that you can swim in.
Twin Falls
Another of the best waterfalls on Maui, Hawaii, that sits just off of the Hana Highway is Twin Falls. The waterfall is found within Wailele Farm and you must follow a short jungle trail to reach it. At the falls, you can swim and explore some more of the surrounding jungle.
You'll discover a farm stand at Wailele Farm too where you can get refreshments like fresh sugarcane juice, cold brew coffee, and coconut milk ice cream. Hiking to Twin Falls is also one of the best free things to do in Maui! Do note that if you want to park at the farm, there will be a small fee to do so.
Punalau Falls
Located along the Road to Hana is another breathtaking waterfall, Punalau Falls. The falls are about a quarter-mile east of mile marker 13. When in the area, be vigilant when looking for the sign to the trail as it is quite well hidden.
The path itself is relatively easy to follow but can become slippery, especially in the areas where you must cross rocks. Once you've made your way across the jungle, you'll come across the tropical falls which reach 135 feet in height.
Due to these falls being quite well hidden, there shouldn't be too many other visitors there and you may even have them all to yourself! Punalau Falls is also one of the best waterfalls in Maui to swim in. However, keep check of the swimming conditions as flash flooding can occur.
Pua'a Ka'a Falls
Pua'a Ka'a Falls sits within Pua'a Ka'a State Wayside Park on the east side of the island at mile marker 22 on the Hana Highway. While this waterfall isn't the tallest to see in Maui, it does flow into a large pool surrounded by greenery-covered cliffs and tropical plants. It's definitely one of the best waterfalls to swim under in Maui!
As with many waterfalls on the island, you must hike through some forest to reach it. The hike is relatively easy and you may even spot some Hawaiian wildlife on the way.
Nemo Falls
Another amazing yet lesser-known Maui waterfall is Nemo Falls. Sitting on the North Shore in the Ko'olau Forest Reserve, Nemo Falls is the perfect place to escape to for a tranquil swim while exploring the rest of the park.
As with most waterfalls, you'll have to follow a jungle trail to get to this natural attraction. When you get near the waterfall, you'll also have to climb down some rocks. They aren't too steep but can get slippery.
Upon arrival, you'll get to admire the stunning multi-tiered waterfall. You can also swim in the calm pools below it, surrounded by lush greenery.
Wailua Falls
While the Wailua Falls located on Kauai may be more well-known, there's also a Wailua Falls on Maui that's worth checking out. The 80-foot waterfall is found on the Hana Highway and features a relaxing plunge pool.
You don't need to hike far from the road or parking lot to reach the falls, making it a great place to stop for a quick swim.
Kopiliula Falls
Reaching Kopiliula Falls is a little challenging compared to getting to some of the other waterfalls in Maui. However, it's well worth it if you're willing to tackle the hike and slight climb.
Getting to this hidden waterfall requires hiking in the forest, across streams, and even through a smaller waterfall. Despite a few obstacles, the route is rated as being of moderate difficulty. At Kopiliula Falls, you can take photos of the water flowing within greenery-covered cliffs and swim in the vast pool beneath it.
Due to being found on a stream, flash flooding could occur so stay vigilant when swimming and exploring around the waterfall. Leptospirosis bacteria could be in the water too, so don't swim if you have open wounds.
Makapipi Falls
One of the best Maui waterfalls along the Hana Highway is Makapipi Falls. Despite being one of the most beautiful falls in the area, it's slightly off the beaten path, making it less crowded than some waterfalls in the area.
Found near mile marker 25 across the Makapipi stream, Makapipi Falls is surrounded by secluded jungle and flow into a tranquil pool below. As it is a little challenging to get to the bottom of the waterfall, it's best to view it from above on the roadside.
This scenic waterfall is especially a must-visit spot for couples visiting Maui! It makes for the perfect place to take some romantic pictures together with the falls in the background.
Nahiku Falls
Nahiku Falls is found around mile marker 25 on a jungle road lined with rubber trees and tropical plants. Once at the waterfall, you can snap some photos and swim in the pool below, there's a fun rope swing too!
Do note, that the pool may be dried up, especially if visiting outside of the wet season. Along with seeing Nahiku Falls, when in the area you can also enjoy stunning ocean views at Nahiku Landing.
Waioka Pond
Waioka Pond is technically a natural pool, not a waterfall, however, the pool's water flows into the ocean, making it somewhat of an ocean waterfall! In addition, this natural water feature is well worth visiting and will be appealing to travelers searching for waterfalls.
Also known as Venus Pool, the natural landmark is found on the Maui Coast close to Wailua Falls. At the rocky pool, you can swim and hang out in the water while admiring the ocean vistas. It's the ideal place to relax and get back to nature.
Waikamoi Falls
Also known as Puohokamoa Falls, Waikamoi Falls is another breathtaking waterfall along the Hana Highway. You can discover the falls just off the road at mile marker 10.
This waterfall also has a large pool beneath it, which is ideal for swimming and cooling off under the Hawaiian sun. If you want the natural pool to yourself, heading to the Waikamoi Falls around sunrise or sunset is one of the fun and unusual things to do in Maui.
Hanehoi Falls
Hanehoi Falls is somewhat of a special waterfall as there are few places to get a good view of it from. However, if you plan to stay at the Hale Akua Garden Farm Eco Retreat, you'll get an amazing vantage point over the falls.
The retreat is a great place to stay if you're interested in eco-tourism and sustainable travel. On top of being able to wake up to views of Hanehoi Falls, you can enjoy ocean vistas and wellness classes like yoga and meditation sessions.
Honokohau Falls
As the island's tallest waterfall, making a trip to Honokohau Falls in Maui landmark location of the West Maui Mountains is a must. The water here falls from 1,100 feet and there's a scenic pool at the bottom. This waterfall was also featured in Jurassic Park!
If you're willing to splurge a little, a memorable way to view Honokohau Falls is from the sky by taking a Maui helicopter tour. During the flight, you'll fly over the waterfalls as well as the Iao Valley and Molokai Harbor.
In Summary
Maui has one of the most beautiful outdoor landscapes in the world and is home to many tropical waterfalls. By consulting this list of the 20 best waterfalls in Maui, HI, you'll have a good idea of where to go to find stunning waterfalls and tranquil natural pools while visiting the Valley Isle.
Give us feedback about this article
Learn more about Maui:
More articles about Hawaii:
Read more articles about the United States:
More articles about waterfalls:
More visual stories related to this article:
---
---
Want to keep exploring?
Subscribe for discounts on tickets and hotels and our latest guides.
Thank you for subscribing
We will be in touch soon with discounts on tickets and hotels and our latest guides.
Want to keep exploring?
Subscribe for discounts on tickets and hotels and our latest guides.
Thank you for subscribing
We will be in touch soon with discounts on tickets and hotels and our latest guides.
Related Articles