20 Best Free Things to Do on Maui, Hawaii
Destguides may receive commissions from purchases made through affiliate links in this article.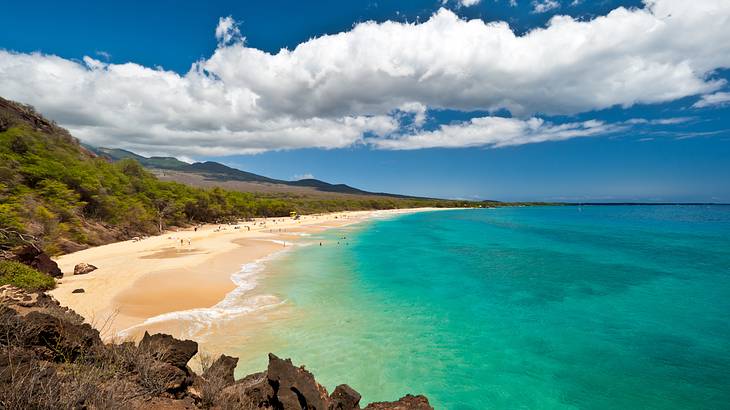 Maui is a Hawaiian island in the United States that's highly popular with tourists. The stunning scenery and vast range of activities to try make it a top getaway destination.
Luckily for those on a budget, there are several free things to do on your Maui vacation. Knowing what these activities are is one of the many Maui travel tips that will enhance your visit. These activities include watching hula shows, exploring amazing beaches and parks, and attending fun town parties.
If planning a trip to the island, then be sure to check out these 20 best free things to do on Maui, Hawaii. Not only will you save money, but you'll also make incredible memories!
20 Best Free Things to Do in Maui, Hawaii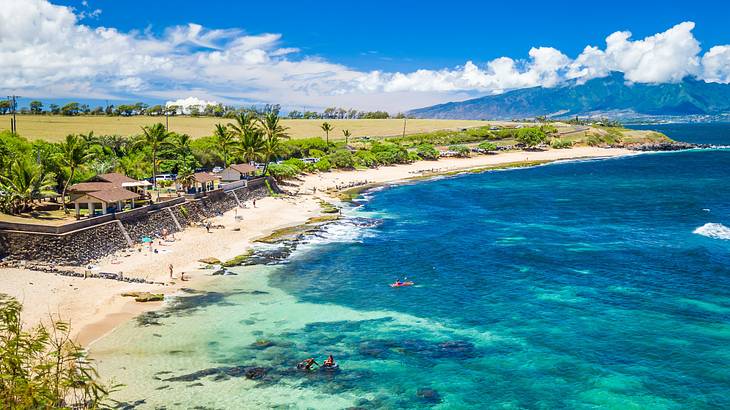 Go surfing at Ho'okipa Beach Park
Ho'okipa Beach Park is a large state park featuring beautiful white sand beaches. It's also an incredible surfing location. If you have gear, surfing here comes at no cost. If not, you can rent gear and get lessons for a fee.
Along with surfing, you can relax on the sand or enjoy a picnic at one of the park's picnic areas. If you stay into the evening, you might spot some turtles too!
Watch hula shows at Lahaina Cannery Mall
Lahaina Cannery Mall is a shopping mall with an array of shops and restaurants. Along with doing some window shopping, the mall hosts various free events and activities.
A popular complimentary event is the mall's hula shows. These hour-long shows are open to everyone at no cost and allow you to enjoy this performance that's traditional to Hawaii. Lahaina Cannery Mall additionally hosts free art shows with pieces from local artists.
Learn to play the ukulele
Another cool thing you can do for no cost at Lahaina Cannery Mall is learning to play the ukulele. Learning to play this classic Hawaiian instrument is super fun and is sure to impress your friends back home.
You can take ukulele lessons each week at the mall (usually on Tuesday at 5.45 pm, but be sure to check beforehand.) You'll learn all the basics and how to play some traditional songs.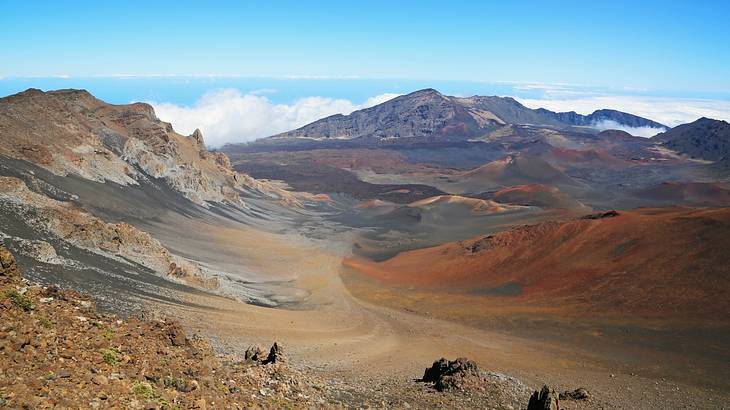 Follow hiking trails at Haleakala National Park
A day trip to Haleakala National Park in South Maui is one of the fun things to do for free in Maui. The park is home to a dormant volcano, one of only two volcanoes on Maui. Haleakala National Park has multiple hiking trails, all offering incredible views - you may even discover some important archaeological sites during your hike.
Another popular activity is watching the sunrise and sunset. This is especially true for couples visiting Maui and looking for romantic things to do while here! Do note that you must reserve in advance to watch the sunset or sunrise.
Listen to Hawaiian music at the Baldwin Home Museum
While there is an admission fee for the Baldwin Home Museum, they host a Hawaiian music concert once a month that is complimentary to all.
The concert is held on the lawn under the stars and features traditional songs and instruments, such as ukuleles. Attending the concert is one of the best free things to do on Maui, so be sure to add it to your Maui itinerary.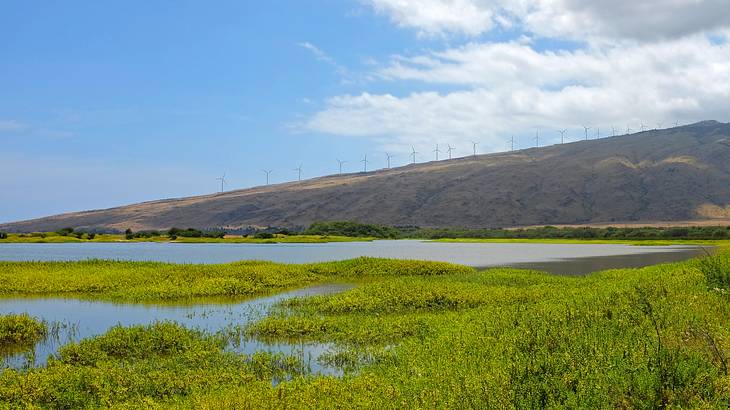 Birdwatch at Kealia Pond National Wildlife Refuge
Visiting the Kealia Pond National Wildlife Refuge in West Maui is one of various Maui activities for nature lovers. What's even better is that access to the refuge costs nothing.
At the wildlife refuge, you'll be able to see a vast array of migratory and local birds. These include the endangered Hawaiian stilt and Hawaiian coot. Turtles, hoary bats, and a variety of insects are also likely to be spotted.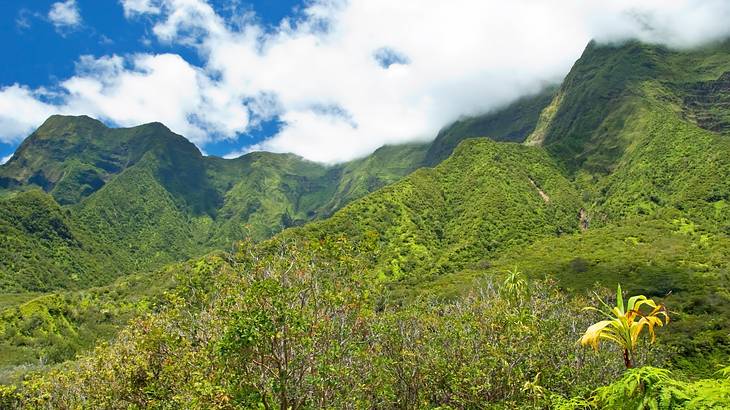 Explore the Iao Valley State Park
Located near Wailuku, Iao Valley State Monument is another incredible park in Maui that's free to visit. The park features tall mountains and lush green forests.
Of course, you'll find a range of hiking trails to try here, allowing you to enjoy the park's beauty. The most popular is the Iao Needle Trail which offers breathtaking views of the 1,200-tall Iao Needle (or Kuka'emoku.)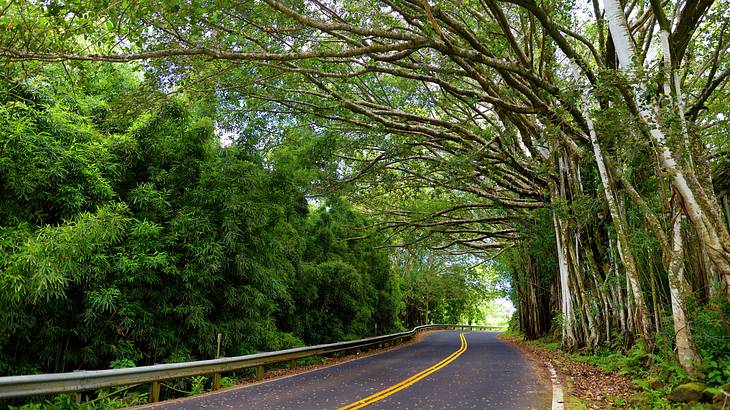 Travel the Hana Highway
The Hana Highway, or Road to Hana, connects Hana, east Maui, with Kahului. If you already have a car, driving this route costs nothing (minus gas costs.)
On the journey, you'll view stunning tropical rainforests, impressive waterfalls, and quaint Hawaiian villages. When you reach Hana, you'll find another small village to explore that harks back to Hawaii before mass tourism.
Hike the Lahaina Historic Trail
Hiking the Lahaina Historic Trail allows you to see 62 historic sites in Lahaina. Best of all, it's a free activity and will only take about an hour. As the former capital of the Kingdom of Hawaii, Lahaina has a rich history with many landmarks remaining today.
On the trail, you'll see a selection of these sites, from the Baldwin Home and Hale Pa'ahao to the Wo Hing Temple. You can walk the trail yourself or take a guided tour.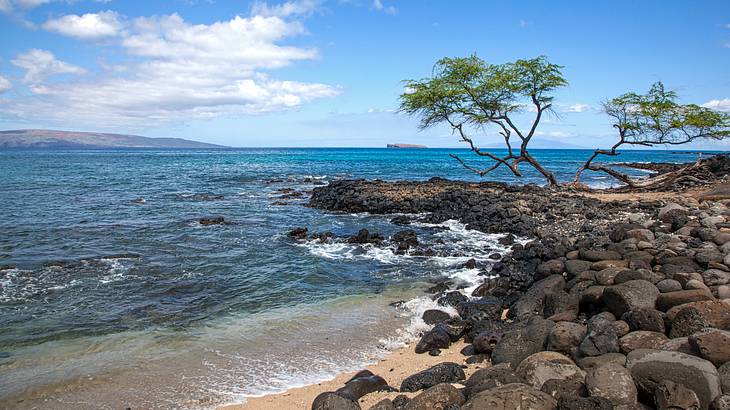 Snorkel at Ahihi-Kinau Natural Area Reserve
A unique thing to do in Maui is snorkeling at the Ahihi-Kinau Natural Area Reserve. This reserve is a conservation area home to a variety of marine life.
Despite being a protected area, you can swim and snorkel (although fishing is not allowed.) When snorkeling, you'll likely see a range of colorful fish and even turtles. Snorkeling here is one of an array of exciting things to do for free in Maui for those who love nature.
Do some shoreside whale watching
Whale watching is one of the unique free activities on Maui. While visitors often opt to take paid whale-watching trips, this isn't necessary if you're happy to spot the creatures from the shore.
The whale season is from December to May, so visit during that period if you want to see some whales. Watching from Lahaina Harbor is recommended to almost guarantee a sighting. La Perouse Bay and Ho'okipa Beach are also great spots.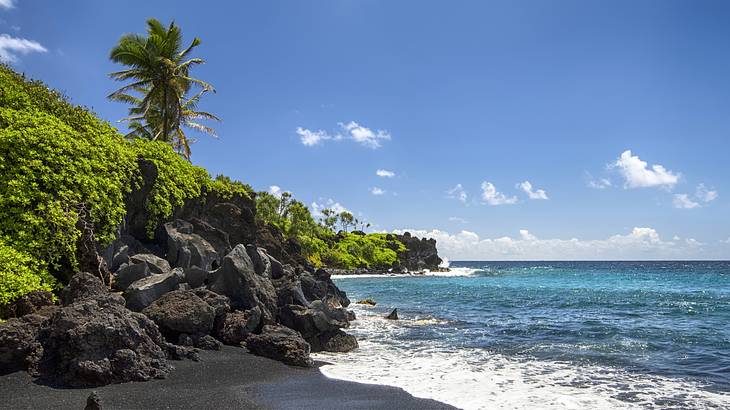 Be amazed by the Black Sand Beach
The Black Sand Beach is a well-known Maui landmark found in Hana. The beach is unique as volcanic debris caused the sands here to be black.
Luckily, access to this incredible black beach in Maui costs nothing! Once at the beach, you can admire the sands and surrounding geology. You can also relax on the sand and swim in the turquoise waters when they are calm. Before leaving, don't forget to snap some pictures of this unique coastal area.
Enjoy a Polynesian dance show
The Shops at Wailea hosts a free one-hour Polynesian dance show each week. The performance is currently on Tuesdays and Thursdays at 5.30 PM.
This dance show includes hula and a range of other Polynesian dancing styles. Watching the show is an ideal way to relax after a long day and immerse yourself in Hawaiian culture.
Try some Hawaiian crafts
In addition to the fun Polynesian dance show, The Shops at Wailea hold free weekly craft sessions. Crafts on offer include coconut frond weaving and traditional Lei making. Not only will you learn an exciting new skill, but you'll also have a cute handmade souvenir to take home. If interested, check the mall's calendar for event times.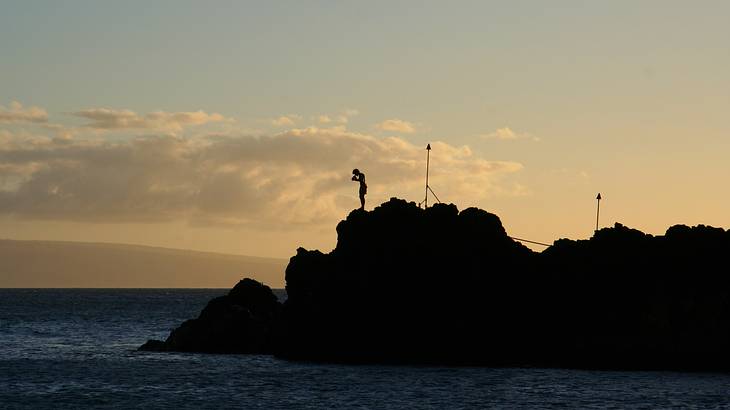 Dare to cliff jump at Black Rock
Black Rock is located at Black Rock Beach, found at the end of Kaanapali Beach. This is a popular location for cliff jumping.
If you want a thrill, then head to the 30-foot-tall rock and take the plunge yourself! Sometimes, cliff divers even light torches on the rock at night. Of course, remember to stay safe; be wary of the water conditions and only jump if you're also a good swimmer.
Let loose on Friday night at a town party
Every Friday night, there is a free town party in one of five areas of Maui. Attending these parties is definitely one of the top free things to do in Maui on Friday night!
The parties move between Wailuku, Lahaina, Makawao, Kihei, and Lanai. If attending, you'll get to enjoy live music and Hawaiian cultural activities. For a fee, you can also purchase food and drinks and shop from local vendors.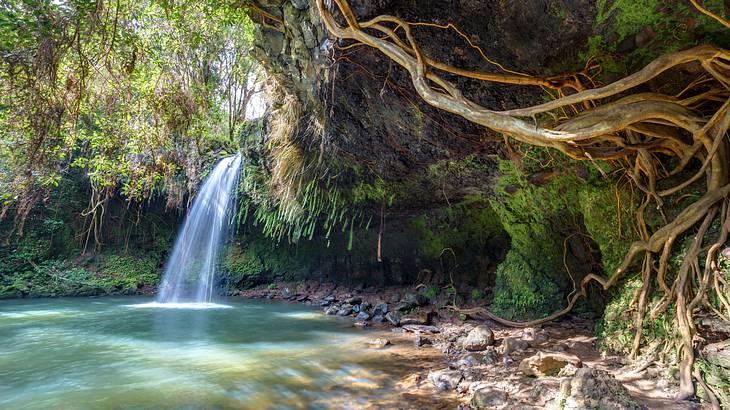 Hike to the Twin Falls Maui Waterfall
The Twin Falls Maui Waterfall is a beautiful waterfall located on the Hana Highway. To access them, you must hike a short jungle trail that is relatively easy for all activity levels.
Once at the falls, you can swim in the surrounding pools and take pictures of the scenic setting. Having enjoyed the Twin Falls, you can hike through some more of the jungle and discover some smaller, less crowded waterfalls.
Wander along the Wailea Beach Path
Along the shores of Wailea Beach, you'll find a 3.5-mile-long paved path. This scenic walk takes you along the oceanfront and past many of Wailea's stunning resorts.
Breathing in the sea air and admiring the views of crystal blue ocean, white sand, and lush greenery is sure to make anyone chill out! If possible, walk the path during the day and at sunset to enjoy a range of views.
Explore a Maui farmers market
Another of many free activities on Maui that will get you feeling like a local is wandering around a farmers' market. There is a range of markets across Maui, and entrance to all is free.
While you do have to pay for products you want to purchase, exploring the stalls, chatting with locals, and taking pictures is a fun activity and costs nothing. Food and beverage stalls often offer free samples to try too.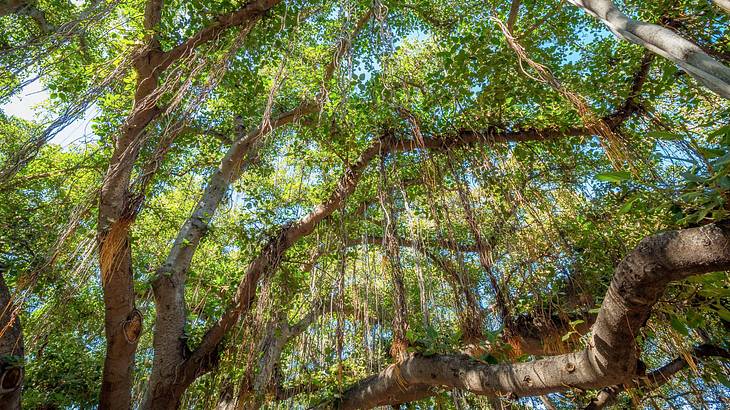 Visit the iconic Banyan Tree
The Banyan Tree in Maui is located in Lahaina and is somewhat of a Hawaiian landmark that's well worth checking out. The tree was imported from India and planted in Lahaina in 1873.
It happens to be one of the largest banyan trees in the United States, standing at 60 feet tall. It's also the oldest tree on Maui. There are additionally many free events and art exhibits held around it, such as Art in the Park.
In Conclusion
Maui features a vast array of unique activities. Best of all, many of these activities are free to enjoy! No matter what your budget is for your vacation, trying any of these 20 fun free things to do in Maui, HI, will offer you an incredible experience!
---
---
Want to keep exploring?
Subscribe for discounts on tickets and hotels and our latest guides.
Thank you for subscribing
We will be in touch soon with discounts on tickets and hotels and our latest guides.
Want to keep exploring?
Subscribe for discounts on tickets and hotels and our latest guides.
Thank you for subscribing
We will be in touch soon with discounts on tickets and hotels and our latest guides.
Related Articles