20 Best Things to Do in Maui With Kids
Destguides may receive commissions from purchases made through affiliate links in this article.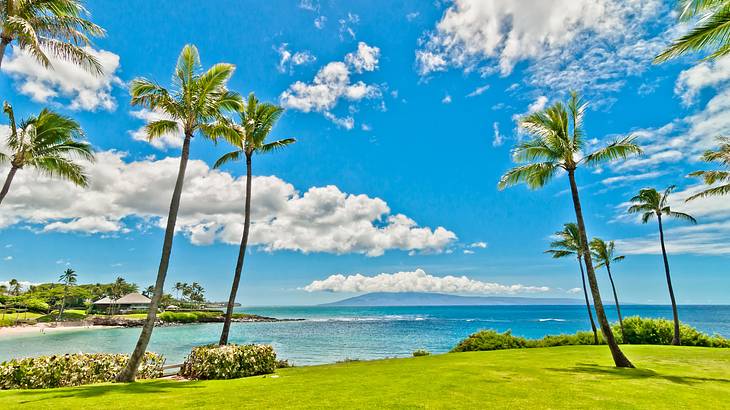 Maui is an incredible vacation destination. The island features stunning scenery, sandy beaches, and a host of indoor and outdoor activities. Maui is also extremely kid-friendly.
If you're planning a family trip, be sure to check out this list of the 20 best things to do in Maui with kids. These activities will allow your family to learn about Hawaiian culture, try some once-in-a-lifetime experiences, and make long-lasting memories.
20 Fun Things to Do on Maui With Kids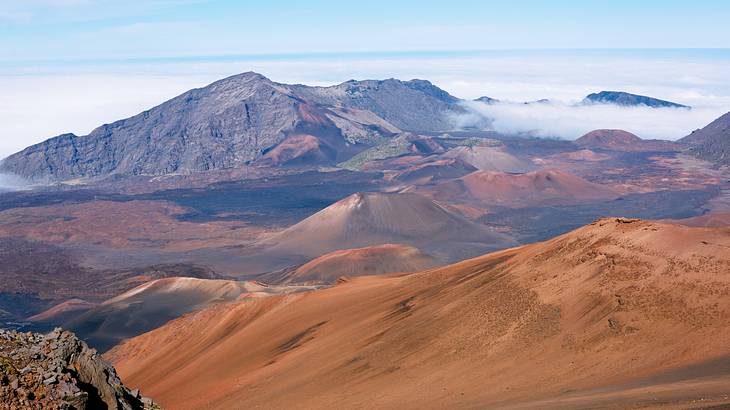 Visit Haleakala National Park
Haleakala National Park is one of the most popular attractions on Maui. The park features a dormant volcano, beautiful scenery, and lots of trails. It's an ideal place to get outdoors and hike or bike with your kids.
Haleakala National Park also features a range of archeological and sacred sites, sure to spark your children's curiosity. This location is additionally known as being one of the best places in Maui to watch the sunrise and the sunset.
Discover marine life at the Maui Ocean Center
The Maui Ocean Center is an aquarium and marine life center on the island. Filled with tropical fish and other sea creatures, it's an ideal kid-friendly attraction.
When visiting the Maui Ocean Center, you and your kids can enjoy a range of exhibits. These displays include the Living Reef display and the Open Ocean display, featuring sharks and rays.
Other animals to see include octopi and sea turtles. You'll also discover many sea creatures native to Hawaii, allowing your kids to learn more about the creatures that inhabit the state.
Swim under a waterfall at Seven Sacred Pools
Seven Sacred Pools, or the Pools at Ohe'o, is found right on the edge of Haleakala National Park in the Hana Forest Reserve. It comprises seven pools that are fed by waterfalls and is surrounded by lush green forests.
Taking your family here to swim and enjoy the views is one of the memorable family activities in Maui, Hawaii, to try. Combining a visit to Seven Sacred Pools with a trip to the main part of Haleakala National Park also makes for a fun and kid-friendly day out.
Enjoy an iconic luau with Old Lahaina Luau
Luaus are traditional Hawaiian performances, and attending one is an ideal way for your kids to learn more about Hawaiian culture. The shows are also highly entertaining for kids and adults alike.
One of the best luaus on Maui is offered by Old Lahaina Luau. At the event, you'll get to watch dancers perform and try some delicious Hawaiian cuisine. The kids will also be offered flower leis, and you can enjoy the stunning ocean views.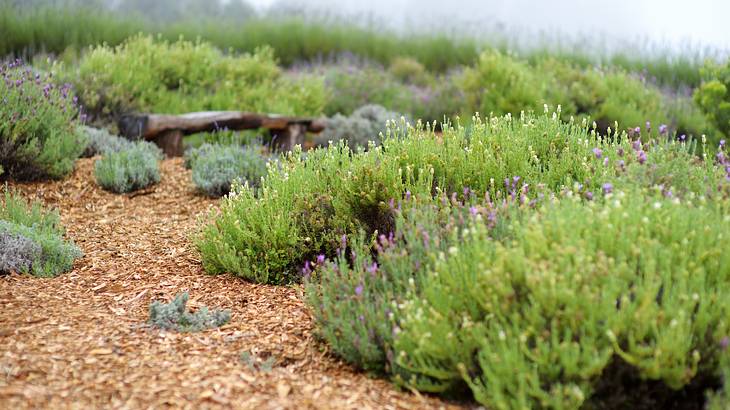 Explore pretty purple fields at Kula Lavender Farm
A trip to Kula Lavender Farm is a fun day out for all the family. This unique farm features fields of lavender plants, with around 45 different varieties to see. Your kids will love running around the pretty and fragrant farm, and you'll enjoy the relaxing atmosphere.
After looking around, you can all enjoy tea and lavender scones at the cafe. If your kids love the sweet treats, you can purchase a Lavender scone mix at the gift shop to recreate the experience at home.
Feed goats at the Surfing Goat Dairy
All kids love petting zoos, so this attraction is sure to be a hit. Surfing Goat Dairy is a small goat farm near Haleakala Crater that allows guests to interact with the goats. Visiting the diary is one of the most fun kid-friendly things to do in Maui.
On arrival, kids can pet the goats and feed them. Having hung out with the goats and taken lots of cute pictures, everyone can try some of the farm's fresh goat cheese.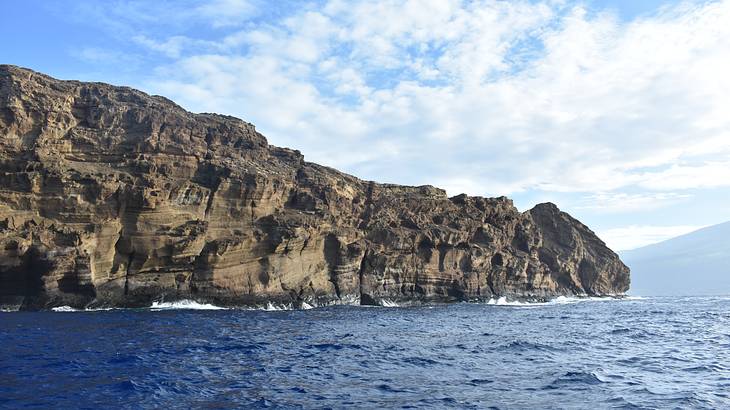 Swim with tropical fish on a Molokini Snorkel tour
If your kids love being in the water, heading out to Molokini Crater to snorkel is a must. You can find a host of operators offering Molokini snorkel tours to choose from.
Once out at the crater, you can spot an array of marine life due to the high visibility of the waters here. Animals you're likely to see include tropical fish, sea turtles, and even sharks. Snorkeling in Maui is an excellent way for kids interested in sea creatures to see them up close.
Turn into a mermaid with Hawaii Mermaid Adventures
Your kids are sure to jump at the chance to be mermaids for the day! Hawaii Mermaid Adventures offers experiences that allow your kids to put on a mermaid tail and take mermaid swimming lessons.
Once in the water (and wearing a beautiful bright mermaid tail), the kids will be able to swim around and pose. Pictures are also included, and you can pay extra for additional photographs or to buy a tail.
This fun and unusual thing to do in Maui is also one of the best things for kids to do in Maui and is well worth the price!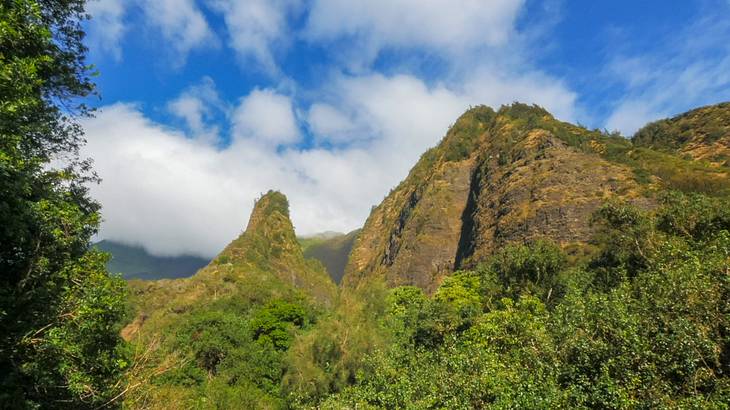 Hike in Iao Valley State Park
Iao Valley State Park is a Maui landmark that has scenic and kid-friendly hiking trails. The park also features the Iao Needle, a mountain that reaches 1,200 feet above the valley.
Along the hiking trails, you can take in the stunning views and discover waterfalls and pools, some of which you can swim in. Packing a picnic and spending the day in the park is an ideal idea for a family day out.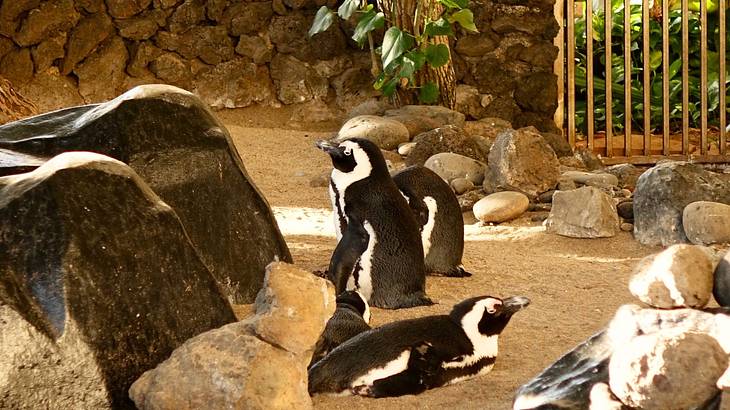 See penguins at the Hyatt Regency
One of the activities for kids in Maui that many people don't know about is visiting the penguin habitat located in the Hyatt Regency Maui Resort and Spa lobby.
The penguin's living there are African Black-Footed penguins, and along with viewing them, your kids may be able to feed them. Penguins aren't the only animals you'll spot at this resort. The Hyatt also houses swans, parrots, cranes, and more!
Hit the waves with a surfing lesson
Surfing is one of the most popular activities in Hawaii, and taking a surfing lesson is one of the best things to do in Maui with kids. You can find a range of classes for all levels.
If your kids are new to surfing, an experienced coach can get them up to speed with the basics. Those with some experience can perfect their skills and learn new techniques. Once your kids have hit the waves, surfing will likely become a new favorite hobby!
Go whale watching
Going on a whale-watching cruise is an exciting activity that all the family will enjoy. Luckily, Maui is one of the best places in the world to see whales, so sightings are highly likely.
The cruise sets off from Lahaina Harbor and will take you to areas known to be frequented by humpback whales. Along with viewing from the main deck, the boat features an underwater camera so you can watch the creatures frolic below the ocean. Seeing large whales up close is something your kids are sure to be talking about for a long time!
When planning your trip, the best time to visit Maui to go whale-watching is from mid-January through March. However, sightings are likely most times between November and May.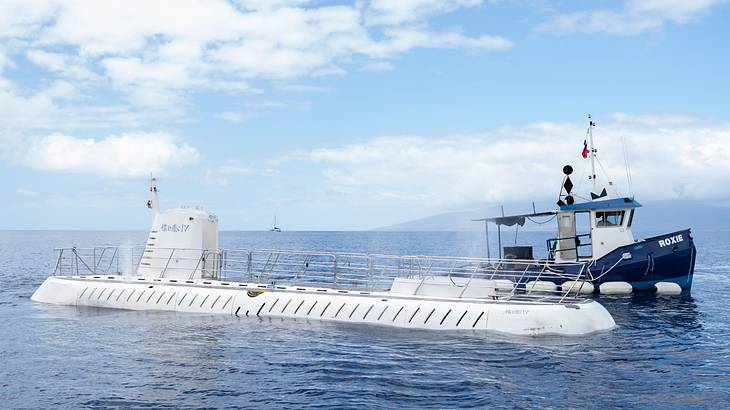 Dive beneath the ocean surface on a submarine
There are many water-based activities in Maui, but going on a submarine is one of the most exciting, especially for kids. The Maui Atlantis Submarine Adventure is a family-friendly experience that takes you below the ocean surface on a real submarine.
Once submerged, you can take in the breathtaking views of colorful coral reefs, tropical fish, and other sea creatures. You may even see whales! Do note that children must be at least 36 inches tall to be allowed on board.
Horse ride in the West Maui Mountains
Exploring the West Maui Mountains on horseback is exciting for participants of all ages. If your kids love horses, then this activity is an absolute must!
The two-hour tour will lead you through the mountains and past various waterfalls before you ride along the scenic coastline. Horseback riding with a guide is suitable for all abilities, from experienced riders to beginners, and is a relaxing way to see the stunning West Maui Mountains. Kids must be seven years old or over to participate in this tour.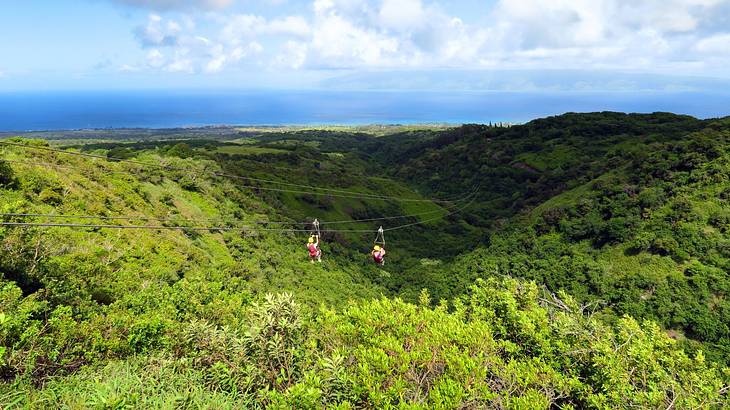 Zipline through the Maui jungle
If your children are thrill-seekers, then ziplining through the jungle is one of the fun activities to do in Maui with kids they won't want to miss out on. There are multiple Maui zipline tours to try.
All zipline tours will take you into the Maui jungle, where you can fly through the trees on a range of ziplines. Not only will this activity get everyone's adrenaline pumping, but you'll also get to enjoy stunning jungle views from a unique perspective. Children must be at least five years old to participate.
See Maui in a different way on an ATV Adventure
Another fun thing to do on Maui for kids that like adventure activities is going on an ATV tour. You can choose from tours on the East side of Maui at Kaupo Range or the West side in Lahaina.
Your guide will take you around a range of tracks where you can take in the fantastic scenery. Your kids are sure to also enjoy the adrenaline-filled ride!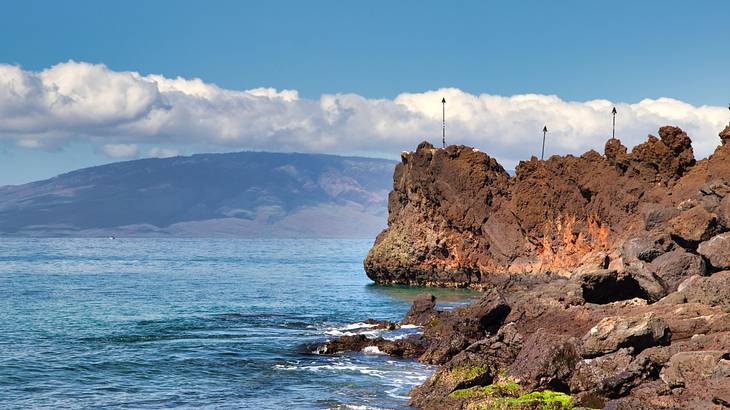 Watch the cliff jumpers at Black Rock
Located at the end of Kaanapali Beach is Black Rock Beach. This beach is known for its tall black rocks and being a renowned cliff jumping location.
If your kids are older, they may want to join the tourists and locals diving into the water from the rocks. If not, they will still enjoy watching others take the plunge. Some evenings, locals also light torches on the rocks making for a dramatic and exciting scene.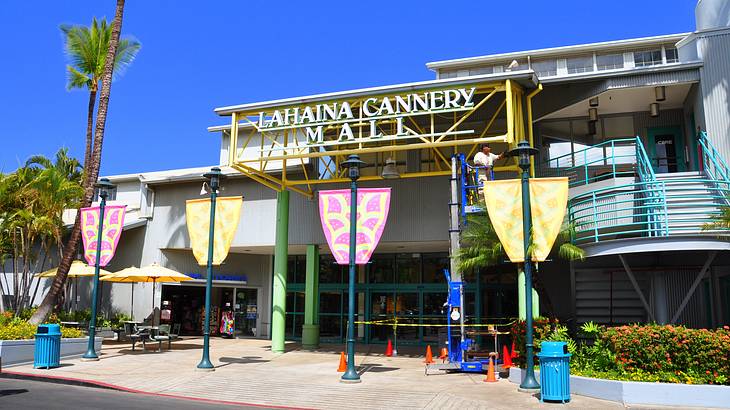 Learn how to play the ukulele
Learning to play a traditional Hawaiian ukulele is an activity that your kids will love! Best of all, learning to play the ukulele is a free activity in Maui, with lessons offered at no cost at Lahaina Cannery Mall.
These lessons are offered weekly in the evenings (check the mall's calendar for exact dates), and your kids will learn basic techniques and how to play some popular songs. After the lesson, check out the free hula shows, also offered at the mall.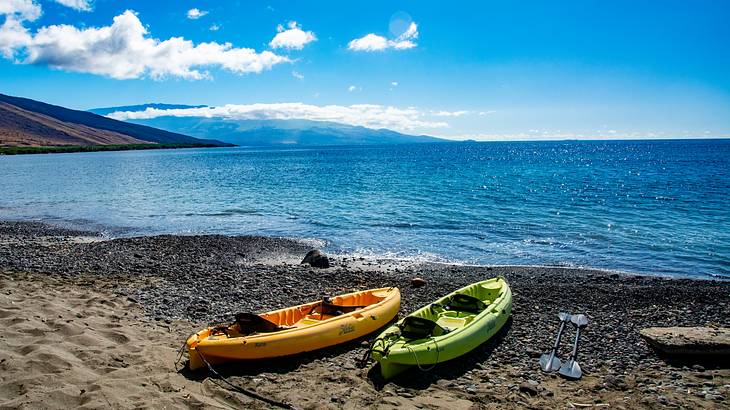 Kayak with sea turtles
There are so many water-based activities to try in Maui, and kayaking with sea turtles is one of the most unique. With a South Maui kayak tour, you and your kids can get up close with green sea turtles in their natural habitat.
Your guide will lead you to known turtle habitats, where you can view them from your kayak or get out and snorkel with the animals. If you snorkel, you'll also see tropical fish and may even spot rays and sharks. Dolphin and whale sightings are likely too.
Hang out on Kaanapali Beach
Maui has some of the most beautiful beaches in the world. Kaanapali Beach is one of the island's most popular and is a perfect place for a relaxed family day out.
At the beach, your kids can play in the sand and swim in the ocean. You may also spot surfers and marine animals. Prepare in advance by packing a beach picnic, or you can wander around the beach to find a cafe or restaurant when the kids get hungry.
You definitely won't regret adding a trip to Kaanapali Beach to your Maui itinerary as there are many things to do at this beach!
In Conclusion
Trying any of these activities to do in Maui with kids is sure to make your Hawaiian family vacation fun and memorable. No matter what type of activities your children enjoy, they're sure to have an amazing time in Maui!
---
---
Want to keep exploring?
Subscribe for discounts on tickets and hotels and our latest guides.
Thank you for subscribing
We will be in touch soon with discounts on tickets and hotels and our latest guides.
Want to keep exploring?
Subscribe for discounts on tickets and hotels and our latest guides.
Thank you for subscribing
We will be in touch soon with discounts on tickets and hotels and our latest guides.
Related Articles