The Perfect 3 Day Oahu Itinerary for a First Time Visitor
Destguides may receive commissions from purchases made through affiliate links in this article.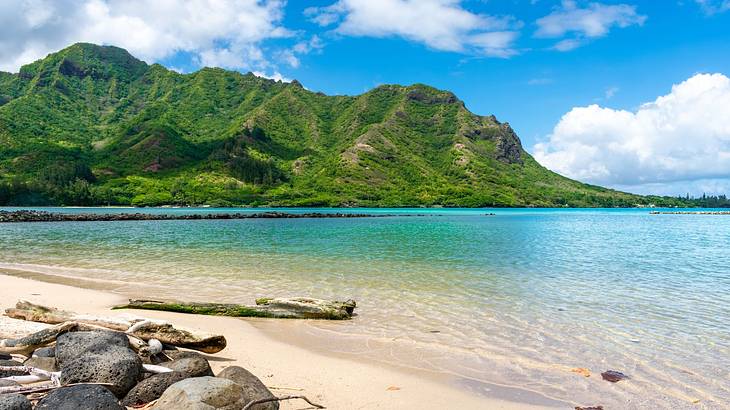 Oahu is one of the spectacular Hawaiian Islands that is a must-visit when on vacation in Hawaii. This is where you'll find popular destinations, such as Honolulu, and there are many attractions to enjoy.
If you're a first-time visitor to the destination, this 3 day Oahu itinerary will let you know what you must see. From beautiful beaches to adventurous hikes and historical landmarks, this itinerary ensures you don't miss any top spots!
3 Days in Oahu Itinerary
Oahu's Major Landmarks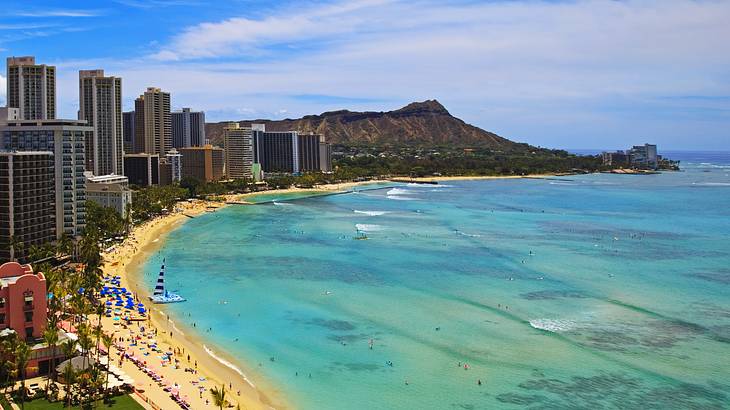 Your first day in Oahu will see you visiting some of the island's most well-known landmarks. The first half of the day will be spent at landmarks of historical importance. These sites include the Pearl Harbor Memorial and the National Memorial Cemetery of the Pacific.
In the afternoon, you'll tackle the hike to Diamond Head Crater, where you can enjoy stunning views of the surrounding area. After that, you can relax with a laid-back trip to Waikiki Beach.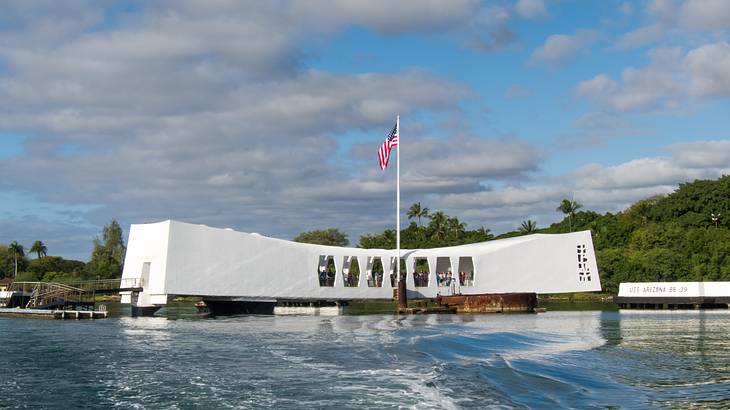 Pearl Harbor and the USS Arizona Memorial
Pearl Harbor in Honolulu is one of the most famous sites in the United States, with the USS Arizona Memorial at Pearl Harbor paying homage to those killed in the WWII attack.
You can find a range of Pearl Harbor tours to choose from that will offer you an in-depth look into this National Historic Landmark. The Battleship Missouri Memorial, the Pearl Harbor Aviation Museum, and the USS Bowfin Submarine Museum are also located at the Pearl Harbor site.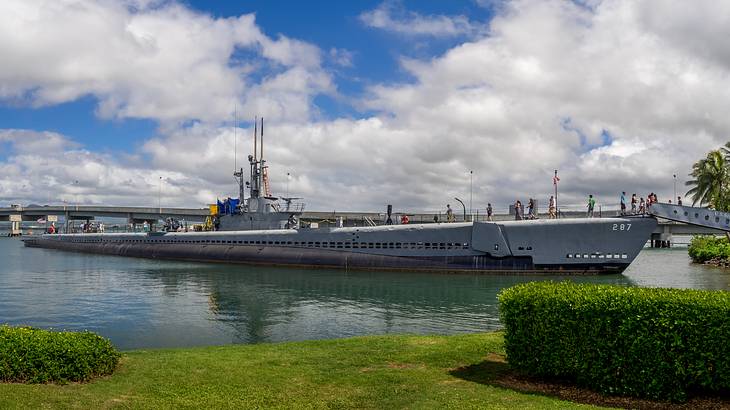 USS Bowfin Submarine Museum and Park
The USS Bowfin Submarine Museum is part of the Pearl Harbor site in Honolulu. This museum is housed on a submarine, and when visiting, you can explore the vessel and learn more about its role in the military.
Exhibits cover the history of the USS Bowfin and feature a range of artifacts, from battle flags to bells. Looking around this submarine museum offers a fascinating insight into what it's like to be on a real underwater vessel.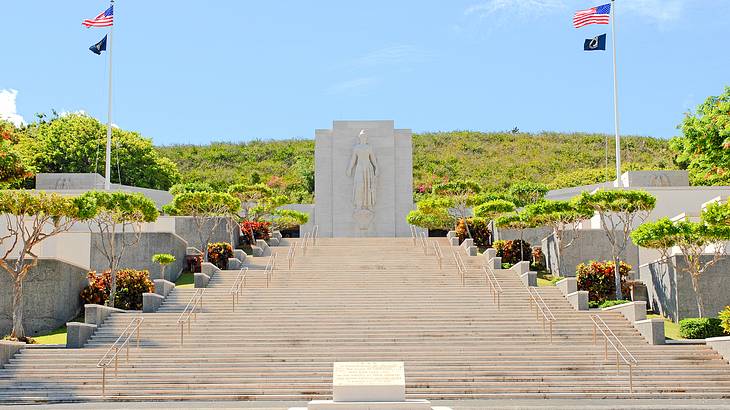 National Memorial Cemetery of the Pacific
The National Memorial Cemetery of the Pacific is another historic site that you must add to your Oahu vacation itinerary. This memorial cemetery is a tribute to those lost and still missing from WWII, the Vietnam War, and the Korean War. It's also the final resting place of 25,000 soldiers who died in those wars.
Another memorial at the National Memorial Cemetery of the Pacific is dedicated to Ellison Onizuka, a Hawaiian astronaut who perished on the Challenger. Despite being a somber site, this Honolulu landmark is a must-visit.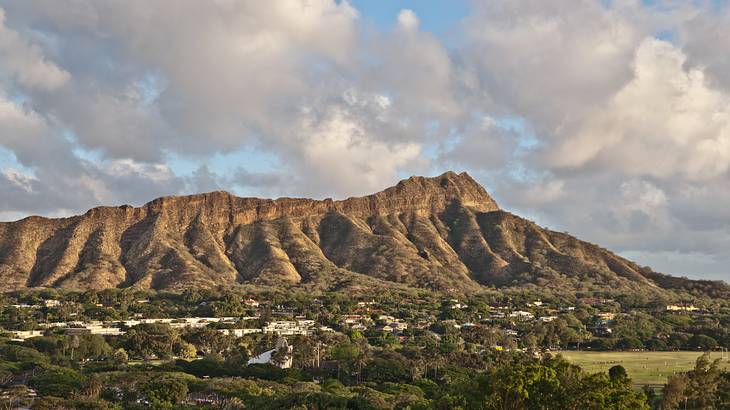 Diamond Head Crater
The Diamond Head Crater is part of the Diamond Head State Monument, an iconic geological feature in Oahu. Hiking to this volcanic crater is one of the best cheap things to do in Oahu, and is a must-do if you're looking for an adventurous activity.
The hiking trails offer incredible views, and you'll get to enjoy stunning panoramic views of Oahu once at the top of the crater. If you want a more intensive workout, you can do a combination of hiking and biking to Diamond Head Crater.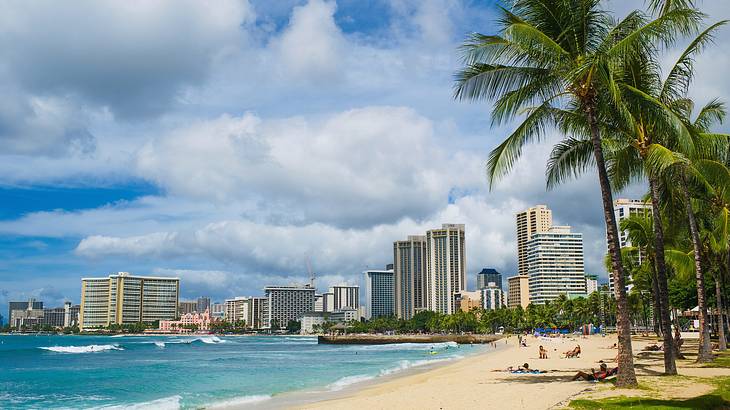 Waikiki Beach
Waikiki Beach is one of Oahu's most incredible beaches, and relaxing here is a must for all first-time visitors to the island. If visiting with your partner, hanging out at Waikiki Beach is an ideal Oahu couples activity too.
You can find many other activities to try on Waikiki Beach along with chilling on the white sand and sunbathing. These activities include surfing, sunset cruises, and going on glass-bottom boats. If you feel like visiting another beach, the pretty Ala Moana Beach is just a 10-minute drive away.
Exploring the Windward Coast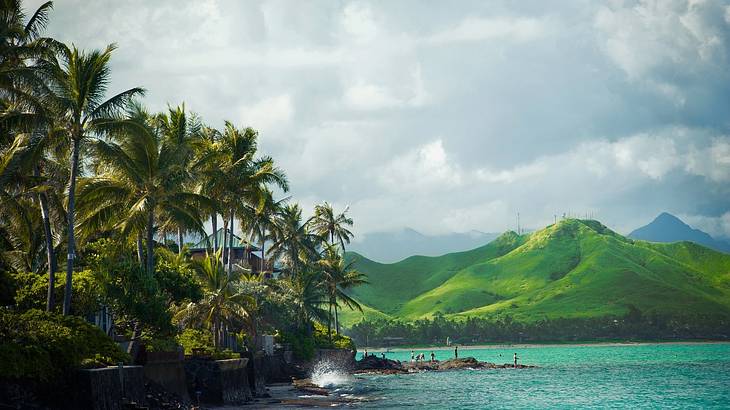 Day two of your three-day itinerary for Oahu will start at the beautiful Ho'omaluhia Botanical Garden. You'll then go birdwatching at the Kawainui Marsh Wildlife Sanctuary.
Next, you can hang out at the scenic Kailua Beach before giving the Lanikai Pillbox hike a go. Having completed the hike and taken in the fantastic views, end your day relaxing or snorkeling at Lanikai Beach.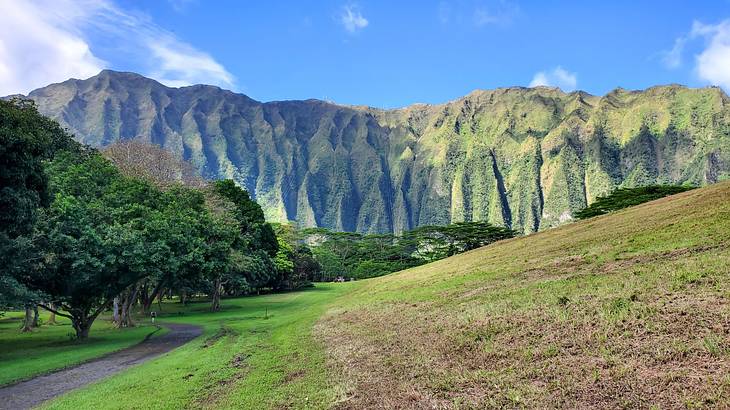 Ho'omaluhia Botanical Garden
If you're looking for a relaxing and tropical outdoor area to explore, you'll love Ho'omaluhia Botanical Garden. The 400-acre garden houses a multitude of beautiful plants, flowers, and trees. You can also walk around lakes and are guaranteed to spot an array of wildlife.
Botanical collections on display feature flora from Hawaii, the Philippines, Sri Lanka, and many other places. If you're interested in birds, pick up a bird-spotting guide to use as you wander through the gardens.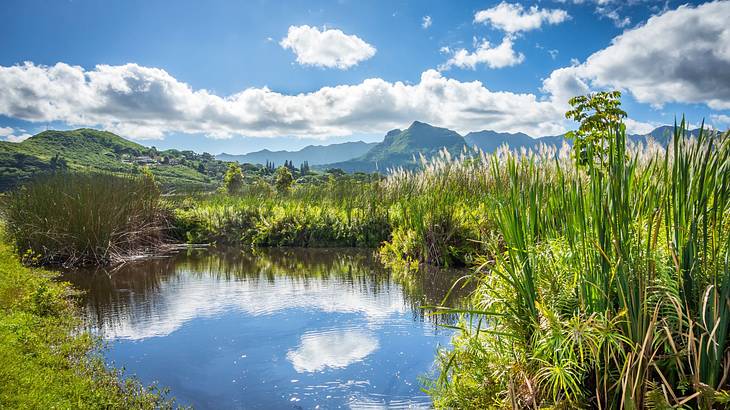 Kawainui Marsh Wildlife Sanctuary
Kawainui Marsh Wildlife Sanctuary is a wetland habitat designed to protect endangered waterbirds. The wildlife sanctuary is an ideal place to visit if you want to bird-watch and explore a stunning natural area.
You can also discover many walking trails here to follow. As you walk around the sanctuary, you can spot many bird species and can take in the green marsh landscape.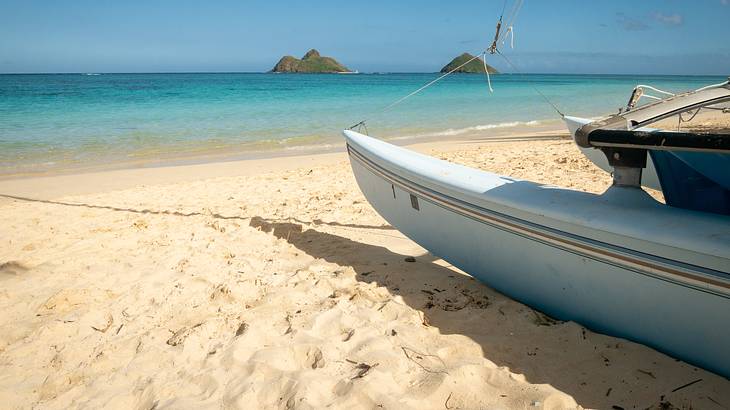 Kailua Beach
Kailua Beach is another stunning Oahu beach located on the windward coast. This scenic beach has white sand shores and calm waters, perfect for swimming.
Kayaking at Kailua Beach is also a very popular activity, and you can find multiple companies renting equipment. Hitting the water on a kayak is the ideal way to explore the area around Kailua Beach and spot some wildlife. Other activities to try here include windsurfing, kitesurfing, and paddleboarding.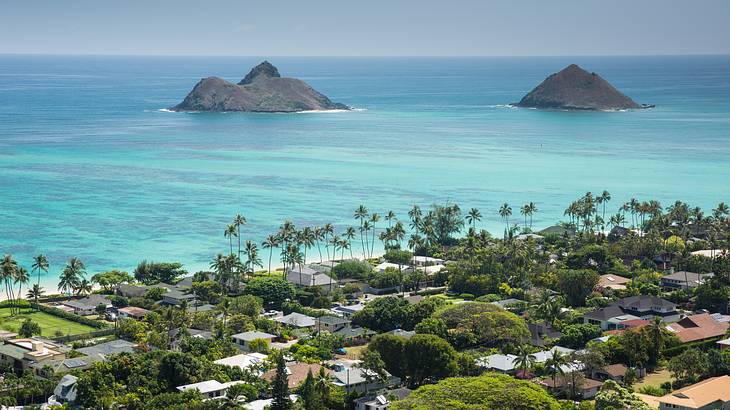 Lanikai Pillbox Hike
The Lanikai Pillbox hike, also known as the Kaiwa Ridge hike, is a scenic hike that offers spectacular views of Lanikai Beach and the surrounding area. The hike is easy to moderate, so it will be manageable for most activity levels.
Once you reach the highest point on the hike, you'll discover two military bunkers overlooking the beach below. Having taken in the breathtaking views, you can head back down to check out the beach itself. If you're interested in watching the sunrise or sunset from this location, move this hike to the start or end of your day.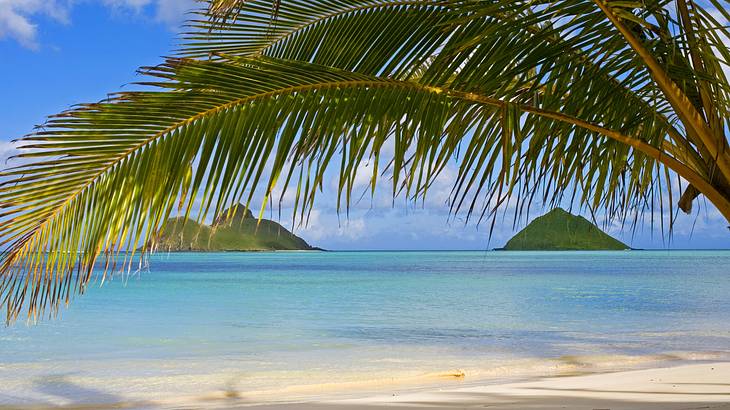 Lanikai Beach
Lanikai Beach is a picturesque beach located on the Oahu windward coast. This beach features stunning white sand and sparkling crystal blue water.
Along with hanging out on the beach, you can swim, snorkel, and kayak here. Spending a few relaxing hours at Lanikai Beach is an ideal addition to your Oahu 3 day itinerary.
Oahu's Best Outdoor Destinations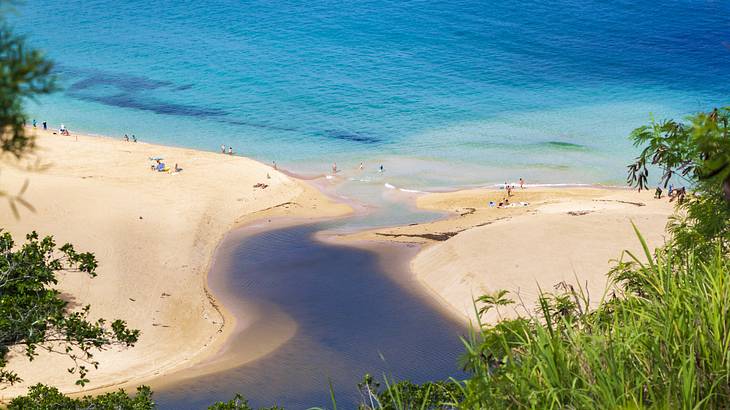 On the last day of your 3 days on Oahu itinerary, you'll visit Oahu's prettiest outdoor attractions. The day will start at the gorgeous Hanauma Bay Nature Preserve, where you can snorkel and spot exotic fish and green sea turtles. Next, head to Kualoa Regional Park before going to the Waimea Valley in search of stunning waterfalls.
In the afternoon, you can enjoy water activities at Waimea Bay Beach Park. The day will end at the Polynesian Cultural Center, where you can shop and experience a traditional luau.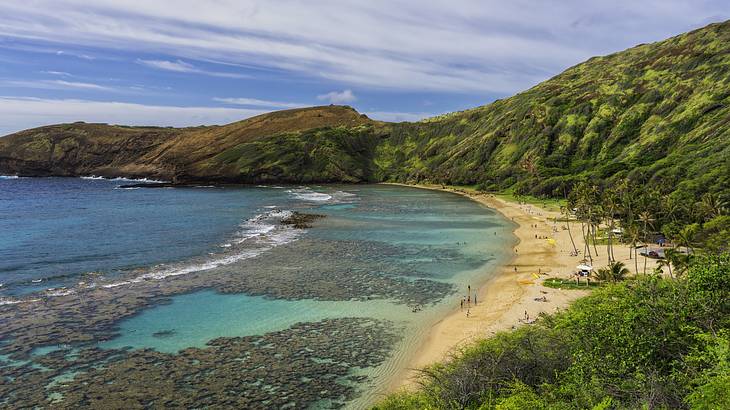 Hanauma Bay Nature Preserve
Hanauma Bay Nature Preserve is an Oahu landmark known for its clear waters, sandy beach, and an array of marine life. The area is actually a protected conservation area, but a limited number of tourists can visit each day.
Due to the high visibility waters and many sea creatures living here, Hanauma Bay makes for a perfect snorkeling location. When in the water, you'll see an array of colorful tropical fish and may also spot green sea turtles, rays, and sharks.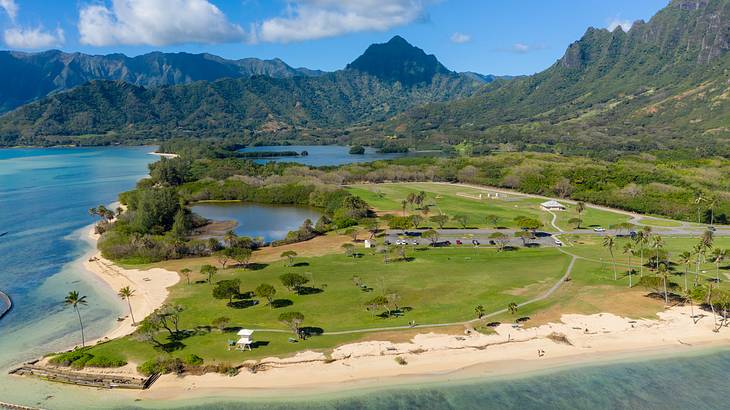 Kualoa Regional Park
Another incredible park in Oahu is Kualoa Regional Park. This scenic park features beaches and places to picnic and barbecue. You can also get to Mokoli'i Island directly from here. Other popular activities at Kualoa Regional Park include kayaking, swimming, and sunbathing on the beach.
Kualoa Regional Park is additionally one of the best places in Oahu to watch the sunset. Heading back to the park just before dark to see this beautiful sight is a highly recommended addition to your Oahu vacation itinerary.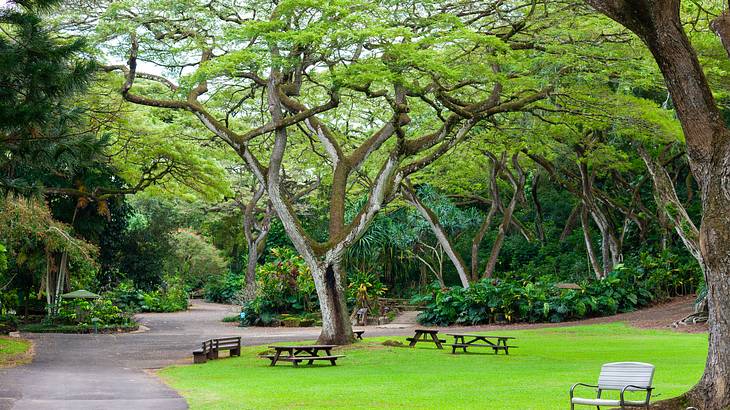 Waimea Valley
The Waimea Valley is another fantastic location on Oahu's North Shore. The area boasts an array of outdoor attractions like waterfalls and hiking trails.
Hiking to the stunning Waimea Falls is one of the most popular things to do when in the area. Following the trail through the lush jungle to the breaking waterfall is relaxing and memorable. When in the Waimea Valley, you can also go to multiple beaches, including Waimea Bay Beach Park, to snorkel, dive, and surf.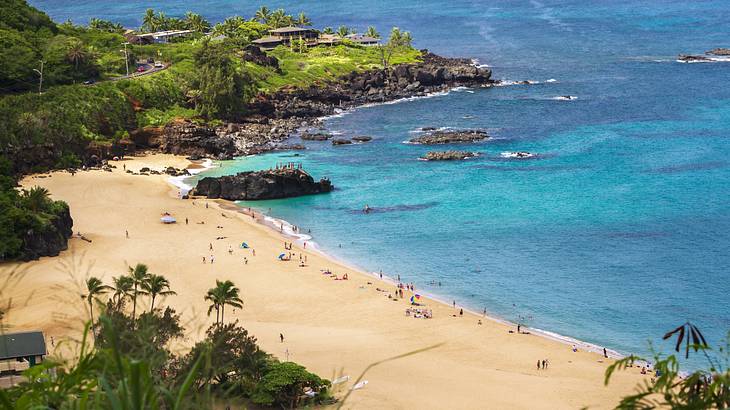 Waimea Bay Beach Park
Waimea Bay Beach Park is another of the stunning coastal areas in Oahu. This beach features white sand and high waves, making it an ideal surfing location. Other fun water activities to try here include bodyboarding, snorkeling, and swimming.
If you don't feel like getting in the water, you can relax on the beach and watch surfers from there. Waimea Bay Beach Park is also the perfect place to see dolphins, turtles, and an array of other wildlife.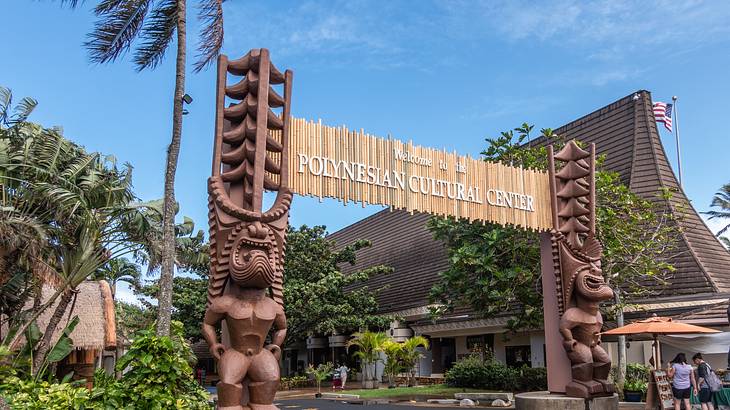 Polynesian Cultural Center
The Polynesian Cultural Center is a fun tourist hotspot focused on Hawaiian culture and activities. The complex features six villages with a range of attractions to see.
Activities to try include canoeing on the on-site lake, shopping for unique souvenirs, and attending an evening luau with Polynesian dancing and Hawaiian dishes. Visiting the Polynesian Cultural Center is a memorable must-do activity in Oahu.
In Conclusion
Oahu is an incredible destination, and you'll discover an array of attractions for first-time visitors. Whether you like cultural activities, spending time at the beach or hiking through beautiful scenery, you'll have an amazing time in Oahu!
Give us feedback about this article
Learn more about Oahu:
More articles about Hawaii:
Read more articles about the United States:
---
---
Want to keep exploring?
Subscribe for discounts on tickets and hotels and our latest guides.
Thank you for subscribing
We will be in touch soon with discounts on tickets and hotels and our latest guides.
Want to keep exploring?
Subscribe for discounts on tickets and hotels and our latest guides.
Thank you for subscribing
We will be in touch soon with discounts on tickets and hotels and our latest guides.
Related Articles