Top 7 Things to Do in Oahu
Destguides may receive commissions from purchases made through affiliate links in this article.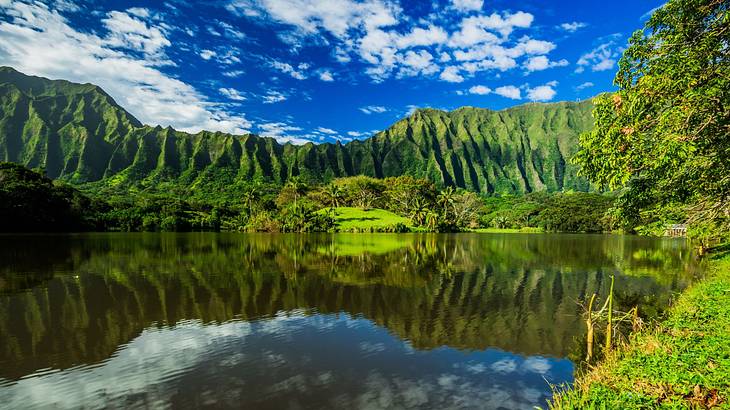 Have you been dreaming about a trip to Hawaii but aren't sure which island to visit? The island of Oahu has a variety of activities! Whether you are looking to enjoy city life, mountains, or beaches, Oahu has something for everyone!
Some people are nervous about the long flight to Oahu, but there are many ways of managing your anxiety when traveling. Think it's also too expensive to fly to Oahu? Check out these tips on how to score deals on flights.
After visiting these top Oahu locations, you will leave with a better understanding of Hawaiian culture and some great memories!
7 Activities to Do in Oahu
Oahu Things to Do Video
Check out our highlights video of Oahu things to do.
Oahu Things to Do Map
A map of Oahu. Use the map to explore all the things to do.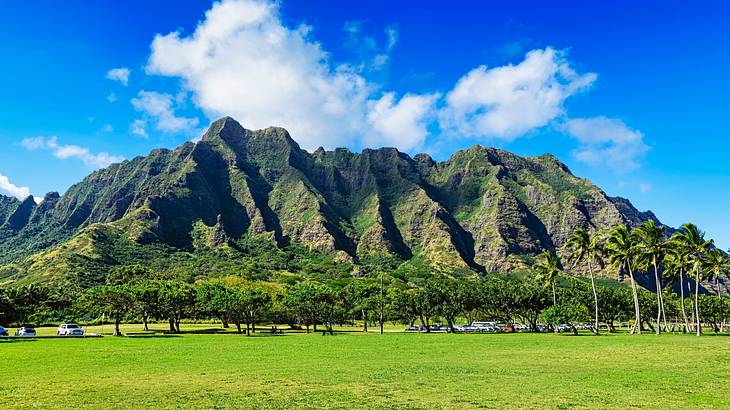 Kualoa Ranch
Kualoa Ranch is one of our favorite places to visit in Oahu! It serves as both a private nature preserve and an active ranch. Kualoa Ranch was established in 1850 by Dr. Gerritt P. Judd, who was an advisor to King Kamehameha III. His descendants still own the ranch today.
While much of Oahu is becoming overcrowded, the goal of Kualoa Ranch is to preserve the island's natural beauty. The majestic green mountains give way to a large, open valley. Many movies have been filmed at Kualoa Ranch, such as the Jurassic Park and Jurassic World movies, Kong: Skull Island, 50 First Dates, and the new Jumanji movies, just to name a few.
You can take various tours at Kualoa Ranch, making it a fun place for families, couples, or solo travelers. Whether you want to relax on a private beach, kayak, zipline, bike, go horseback riding, see movie sites, travel through the jungle in a jeep, or drive an ATV around the ranch, they've got it!
Some tours are popular and book out in advance. So if there's a tour you really want to do here, I would recommend booking it online ahead of time.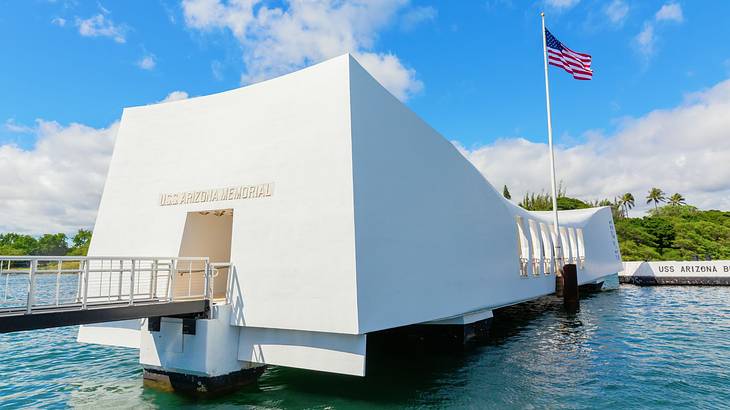 Pearl Harbor National Memorial
Pearl Harbor's USS Arizona Memorial is a must-see sight for anyone traveling to Oahu. The memorial commemorates the heroism and sacrifice of our troops during the attack on Pearl Harbor in 1941, which subsequently led to the US joining World War II.
The most popular feature here is the USS Arizona Memorial. The tickets to the USS Arizona Memorial are free. Tickets include a presentation on the Pearl Harbor attack and a ferry ride out to the memorial itself. The memorial is situated above the wreck of the USS Arizona.
The memorial itself is humbling, to say the least. You can lean over the edge and see the wreck just below the water, which is also still a grave for the 900 service members whose bodies could not be recovered after the attack.
The most important thing to note for those looking to visit this site is that they do not allow any bags of any sort at the site. They have a baggage check you can utilize for a fee.
However, security is very firm on the "no bags" rule and will stop anyone carrying even a camera bag. Once inside, they have a gift shop and a small snack shop. However, no food (other than water) is allowed at the memorial itself.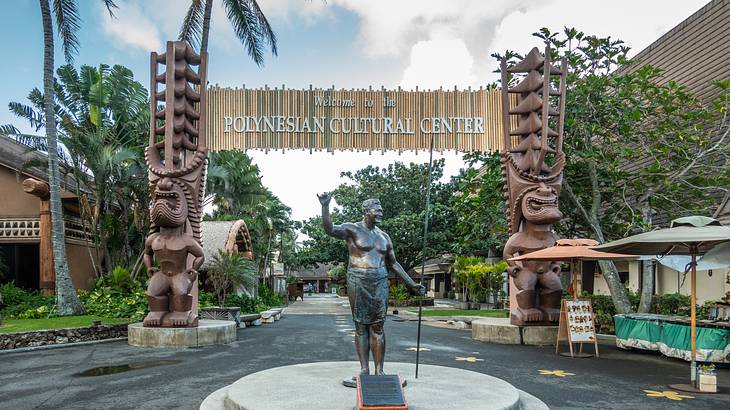 Polynesian Cultural Center
The Polynesian Cultural Center celebrates the rich history and traditions of the Polynesian people. This site features everything from informational sessions by knowledgeable guides to rides on a canoe down their river. Aside from many displays, huts, and instructional sessions, the best feature of this site is the Breath of Life show.
Hands down, this is a must-see show! The Ha: Breath of Life show takes place in their outdoor amphitheater. It sports a lot of historical, theatrical, and fire demonstrations that will awe people of all ages. Though this show is a bit expensive, we believe it is well worth seeing. It would make a fun date night for any couple visiting the island.
Aside from the Oahu landmarks and attractions inside the center itself, there is a small shopping plaza outside the center that is free to the public. There is a nice restaurant, gift shops, and some great spots to take pictures in front of.
Overall, the Polynesian Cultural Center is a fantastic place to learn about Hawaiian culture, eat some tasty food, and catch a memorable show.
Dole Plantation
If you've ever walked through a grocery store in the United States, there's no doubt that you have seen Dole products lining the fruit aisle. Ever wonder where those delicious fruits, specifically pineapples, are grown? Towards the North Shore of Oahu, along Kamehameha Highway, you will find the Dole Plantation.
The primary crop of this plantation is pineapples; however, you will find a variety of other produce here as well. Pineapples have been raised in Hawaii since the early 1800s. In 1901, James Drummond Dole, "the pineapple king," planted his first pineapple crop in Hawaii. His business took off and became the brand name Dole that we all know today.
The Dole Plantation has a tropical, laid-back vibe. It is very welcoming and family-friendly. There are many different activities that you can do at the plantation. Walkthrough their colorful garden or try your way through their pineapple maze.
If you only have time to do one thing, I would recommend taking a ride on the Pineapple Express. This is a 20-minute train ride tour through the plantation. Besides pineapple fields, you will also see bananas, avocados, cacao, and other crops. Make sure to stop by the grille and grab a Dole Whip before you leave. You won't regret it!
North Shore
If you want to get away from the hustle and bustle of the Honolulu area, head up to the North Shore. If you drive north along the island's east side, on the Kamehameha highway, there are several different shops and places to eat at. There is one spot in particular that has a variety of food trucks, including the popular Geovanni's Shrimp Truck.
Right past the food truck area is a restaurant called Seven Brothers. Do not leave Oahu without eating here. Their burgers and fries are some of the best we've ever had! Looking for a cold treat? Grab yourself some shaved ice from the place next to Seven Brothers.
The North Shore has the famous Banzai Pipeline, where world surfing competitions are held. If you plan your trip right, you might be able to catch one of the surfing competitions.
Want to get into the water? Head over to Turtle Bay Resort for some snorkeling. The bay there is calm and perfect for beginner snorkelers. All beaches in Hawaii are public, so you don't have to be staying at Turtle Bay Resort to go snorkeling there.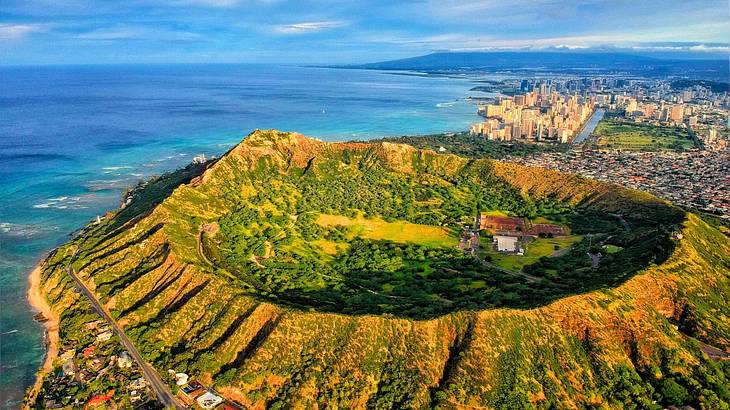 Diamond Head
Diamond Head is one of the more well-known attractions in Oahu and a famous landmark in Hawaii. It is part of a crater that was formed many years ago by a volcano. In the 1900s, it was used by the military to help with the defense on the coastline.
In 1962, Diamond Head became a state monument. The switchback trail and stairs leading up to the top is not as easy as it looks. However, it can be done by people of all ages if you give yourself enough time. At the top, you will be met with gorgeous ocean and city views.
The parking at Diamond Head is limited. Get there early if you want a good parking spot. If you cannot park in the lot inside the crater, you may have to park at the bottom of the hill outside the crater. This adds on about an additional 15 minutes to your visit.
Hiking on Oahu
There are several great hikes to do in Oahu! If you are a person that likes to get outdoors and wants a little challenge, make sure to do at least one hike while on the island. Although there are many hikes to choose from, below are two of the hikes we would recommend.
If you are looking for beautiful views of the sunrise, this is the hike for you! However, you will want to start early if you plan on being at the top for the sunrise. Located in Kailua, this hike has two old military bunkers at the top that look over Lanikai Beach.
While this is considered an intermediate hike due to some parts being difficult to climb, it is one of the shorter hikes in Oahu, taking only about 30 minutes to get to the top.
The trailhead starts in a residential area, so parking can be challenging to find. We would recommend parking at Kailua Beach, which is about a 15-20 minute walk from the trailhead.
Are you looking for a little more of a hiking challenge? Wiliwilinui Ridge Trail has some of the best views on the island! It overlooks the mountains, ocean, and city. Depending on how many breaks you take, this hike will take about 3-4 hours round trip. It starts like a reasonably average hike but becomes challenging once you reach the stairs. Some points are quite steep.
If you attempt this trail, make sure to take a lot of water and snacks. We would recommend starting by 8 am as it can get hot in the afternoon.
In Summary
Although there are many activities to do in Oahu, the ones listed above will leave you with great memories and a real sense of Hawaii. Whether you are looking for adventure or relaxation, Oahu has something for everyone. Are you wanting to explore more of Hawaii? Then Maui is also a fantastic option!
Give us feedback about this article
More visual stories related to this article:
Want to keep exploring?
Subscribe for discounts on tickets and hotels and our latest guides.
Thank you for subscribing
We will be in touch soon with discounts on tickets and hotels and our latest guides.
Want to keep exploring?
Subscribe for discounts on tickets and hotels and our latest guides.
Thank you for subscribing
We will be in touch soon with discounts on tickets and hotels and our latest guides.