Do You Know These 20 Fun Facts About Oahu, Hawaii?
Destguides may receive commissions from purchases made through affiliate links in this article.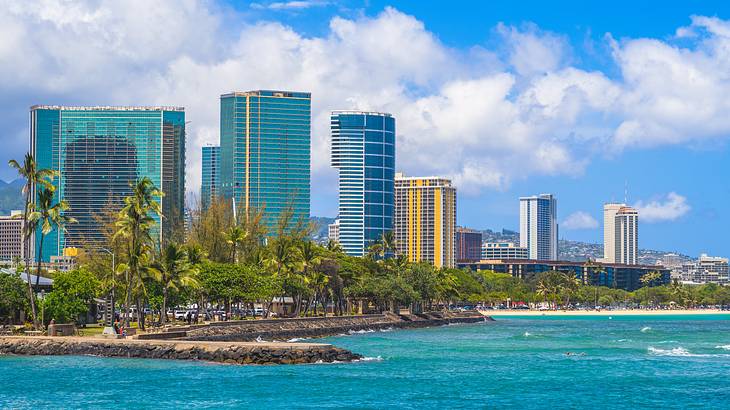 Oahu is one of the most popular destinations in Hawaii. This stunning island appeals to a range of travelers, including families, couples, and backpackers. Oahu attracts these tourists with stunning beaches, an array of landmarks, and a rich history.
If you love this Hawaiian island or are visiting soon, you'll probably be interested to know these fun facts about Oahu, Hawaii. No matter how many times you've visited, there are sure to be a few you won't know!
20 Fun Oahu Facts
Oahu Facts Video
Check out our highlights video of Oahu facts.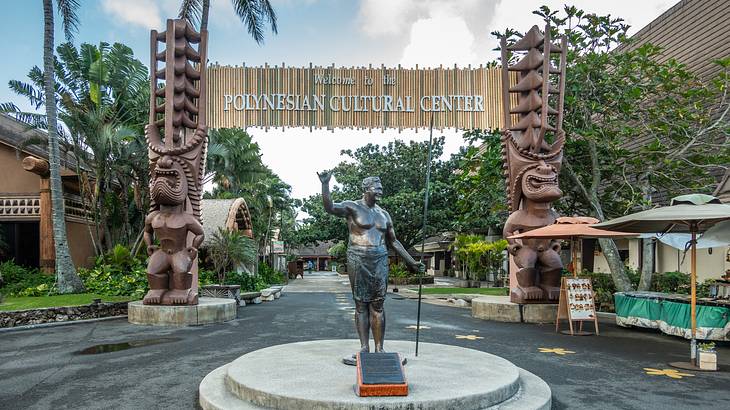 The Polynesian Cultural Center is owned by the Mormon Church
The Polynesian Cultural Center is one of the most well-known attractions on Oahu. But not many people know that it's owned by The Church of Jesus Christ of Latter-day Saints, or the Mormon Church.
Mormon missionaries had been arriving in Hawaii since the mid-1800s. Over one hundred years later, in 1962, the Mormon Church built the Polynesian Cultural Center. The center was built to teach visitors about Polynesian culture and provide employment for rural residents, especially students.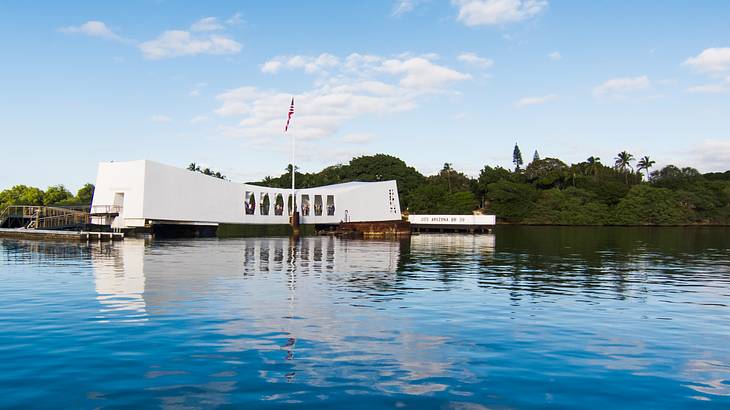 The WWII Pearl Harbor attack happened on Oahu
The tragic Pearl Harbor attack on the United States during World War II occurred in Oahu. On December 7, 1941, Japanese forces launched a surprise attack on the US army base in Honolulu, Oahu.
Sadly, over 2,400 US soldiers were killed. The final resting place of many of these soldiers is at Pearl Harbor. Today, you can visit Pearl Harbor and the USS Arizona Memorial to pay respects and learn more about this devastating attack.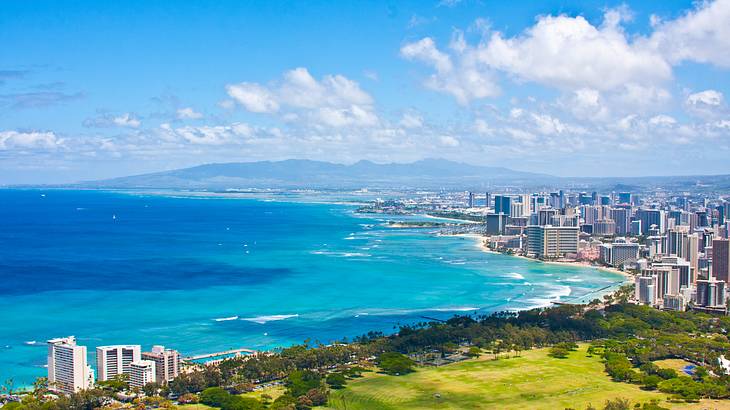 The Gathering Place is Oahu's nickname
One of the many fascinating things to know about Oahu is that it's nicknamed "The Gathering Place." Today, the island draws many tourists and has a large population.
However, that's not why the island got the name "The Gathering Place." It's speculated that the name Oahu was mistakenly translated as "to gather" and hence the nickname being created.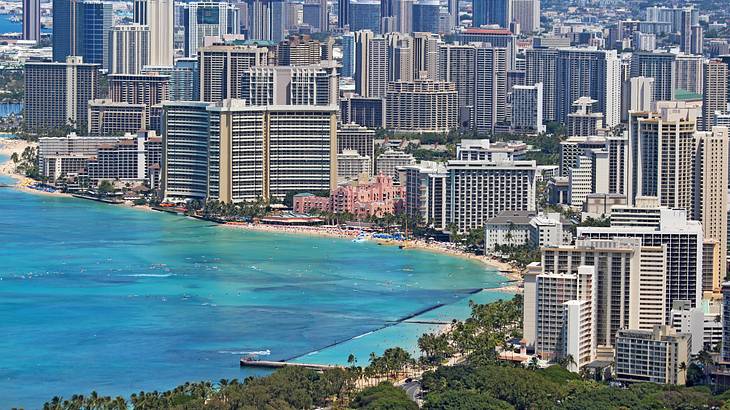 Waikiki Beach saw ten million visitors in 2019
In 2019, before the pandemic hit and affected travel, the Waikiki Beach area of Oahu received ten million visitors. The stunning Waikiki Beach is one of Oahu's and Hawaii's top tourism spots.
The beaches here feature sandy shores, clear waters, and ideal surfing conditions. Waikiki Beach is additionally one of the best spots on Oahu to watch the sunset.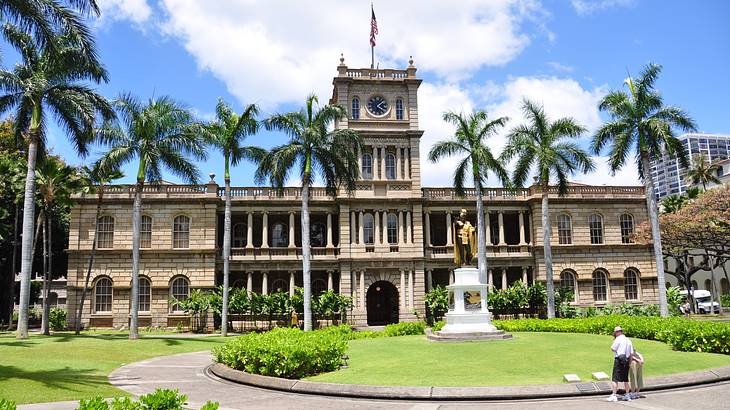 Iolani Palace is the only royal palace in the US
Iolani Palace is one of the major landmarks in Oahu. It's also notable as being the only royal palace in the US. The palace was constructed as a residence for the Hawaiian Royal family in the 19th-century. While the monarchy was overthrown in 1893, the palace remains as a reminder of this royal heritage.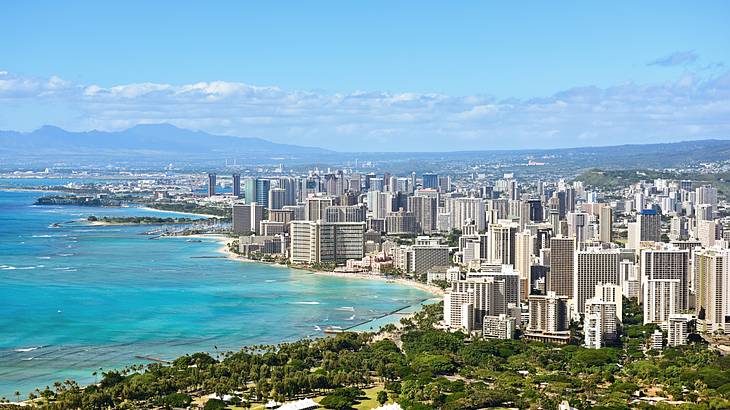 Oahu's Honolulu is the state capital of Hawaii
The city of Honolulu, located on Oahu, is the Hawaiian state capital. One of the interesting facts about Oahu, Hawaii, is that the city of Honolulu wasn't always the capital.
Before Hawaii gained statehood, capital cities included Lahaina, Maui, and Kailua-Kona. Honolulu has been the capital since 1845 and hence the only capital during Hawaii's statehood.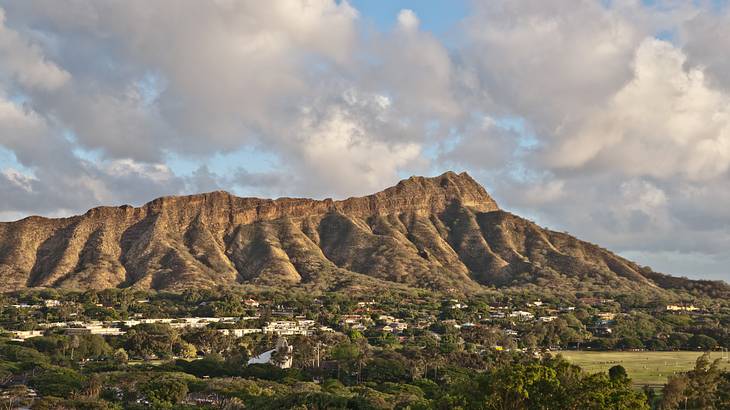 Diamond Head Mountain is over 300,00 years old
Diamond Head is a volcanic mountain that sits proudly on the Oahu skyline. And it has done so for a long time! The mountain is over 300,00 years old, with some estimates saying it could be up to 500,000 years old.
The mountain was formed as the result of multiple volcanic eruptions. Visiting this geological site is a must when in the area, and hiking Diamond Head State Monument is one of the fun free things to do in Oahu.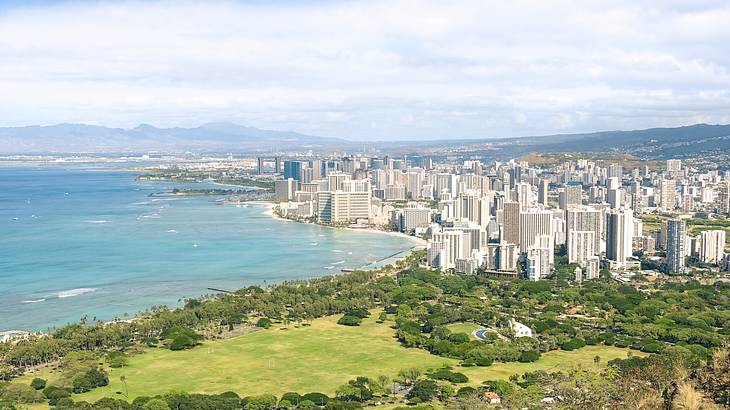 The Oahu city of Honolulu is the one of the US' most expensive cities
Oahu is not only the largest Hawaiian island based on population, but it's also home to one of the US' most expensive cities. A fun fact about Honolulu is that it ranks as the third most expensive in the US, after New York City and San Francisco.
If living in Honolulu, your utility bills will be 102% higher than the national average, and groceries cost 70% more than the national average. Unfortunately, wages are not significantly higher than the national average and are not in line with the high cost of living on the island.
If intending to move to Oahu, especially Honolulu, be aware that it won't be cheap!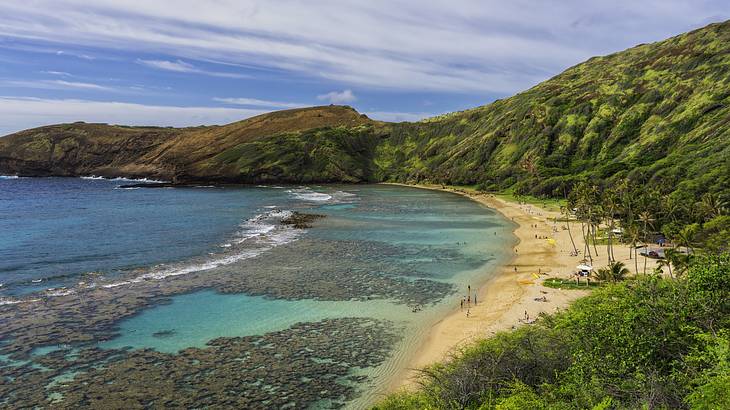 Over 400 fish species inhabit Hanauma Bay
Hanauma Bay is a beautiful nature preserve in Oahu. The area is known for its array of marine life. Hanauma Bay is home to about 400 species of fish. These species include a range of tropical fish, like parrotfish, and fish species native to Hawaii.
Other marine animals at Hanauma Bay include green sea turtles and rays. As a result of the abundance of sea life, Hanauma Bay is an incredible diving and snorkeling spot.
Unfortunately, this is one of the Oahu Island facts that's likely to change. This is because the reefs and marine inhabitants of Hanauma Bay are being affected by global warming and coral bleaching.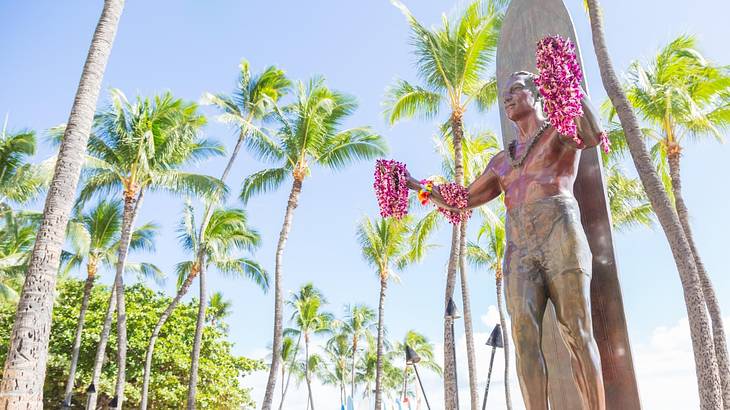 The "Father of Modern Surfing" was from Oahu
Duke Paoa Kahanamoku is an iconic surfer that's credited with popularizing the sport of surfing. He's often called the "Father of Modern Surfing."
Kahanamoku was also born in Oahu and lived there for most of his life. He competed in a range of international surfing competitions and was also an Olympic swimmer. The renowned surfer is remembered in Oahu with a nine-foot-tall statue located by the beach on Kalakaua Avenue in Honolulu.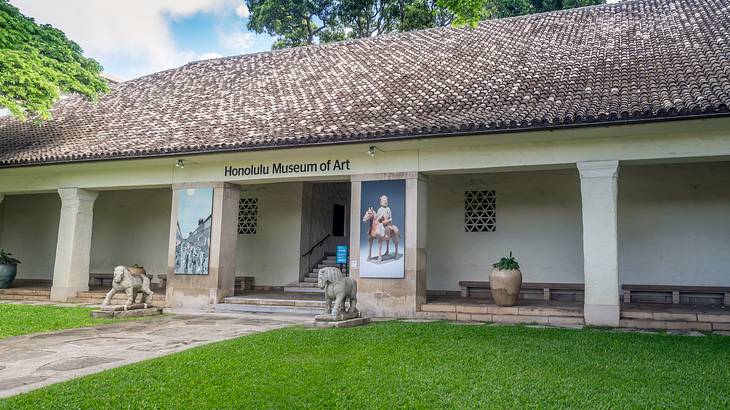 A Honolulu Museum has the largest art collection in Hawaii
Oahu's Honolulu Museum of Art features the largest art collection in Hawaii. It's also home to one of the biggest collections of Asian and Western Art in the United States.
The museum features over 60,000 pieces in its permanent collection, and various temporary exhibits are added throughout the year. Adding a trip to the Honolulu Museum of Art to your Oahu itinerary is an absolute must to be able to admire the collection.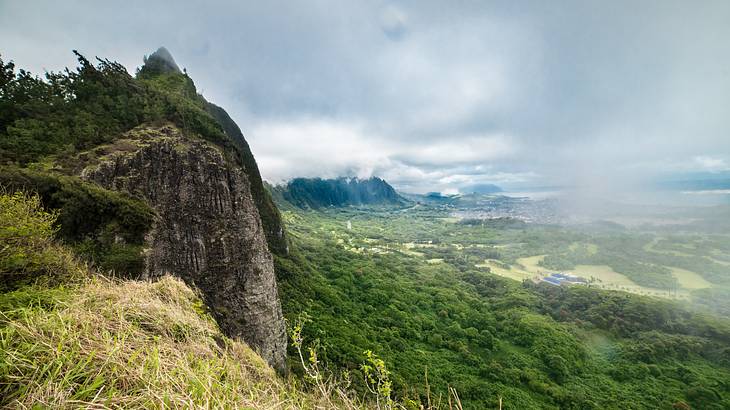 Oahu saw one of the longest rainfalls ever recorded
Another of the interesting facts about Oahu, Hawaii, is that it rained continuously on Oahu for 331 days. Between 1939 and 1940, it rained every day on Maunawili Ranch, totaling 331 days of precipitation.
Oahu has also seen two other periods of intense rainfall. The most recent of these periods was between 1993 and 1994. During this time, it rained for 247 days straight on Pali Golf Course.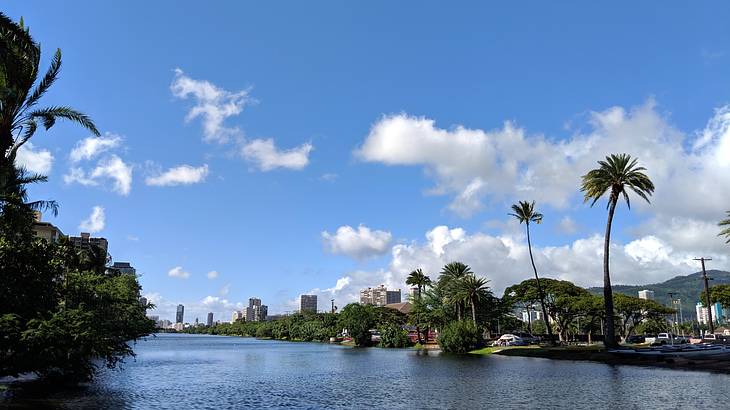 Waikiki used to be a swamp
Today, Waikiki is a popular and beautiful tourist destination. However, it was previously covered in swampy wetlands. During the early 1900s, Waikiki featured many wetland areas that were home to disease-carrying mosquitoes.
To fix the issues created by the disease-filled swamps, the Ala Wai Canal was created as a drainage system.
Former President Barack Obama was born on Oahu
The 44th President of the United States, Barack Obama, was born in Honolulu, Oahu, on August 4, 1961. This makes him the only president born outside of the Contiguous United States, and he was born just two years after Hawaii gained statehood.
Obama moved with his family to Seattle a few months after he was born. He lived for just a few years in Hawaii later on in his childhood.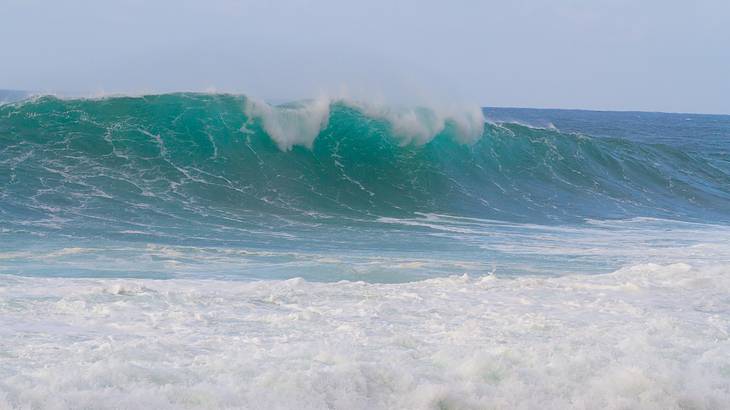 One of the world's best surf spots is on Oahu
Oahu is known for being a world-class surfing location. The beaches on the North Shore are particularly popular for those looking to catch some waves. One of the fun Oahu Island facts related to surfing is that one of the best surf locations in the world is on the island.
Pipeline, a surf reef on Ehukai Beach, is consistently named one of the best, if not the best, wave to ride in the world. If you love to surf, then visiting Ehukai Beach to ride the Pipeline is one of the top things to do in Oahu.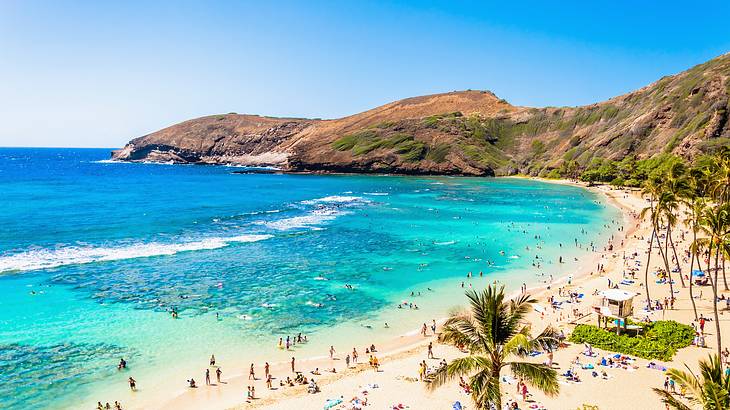 Oahu is the most populated Hawaiian Island
Of all the Hawaiian Islands, Oahu has the largest population. The island has a population of 870,000 people. Reasons for this include the island's size and its proximity to a major airport and seaport. Oahu also houses the largest financial and business center in the state and is the educational heart of Hawaii.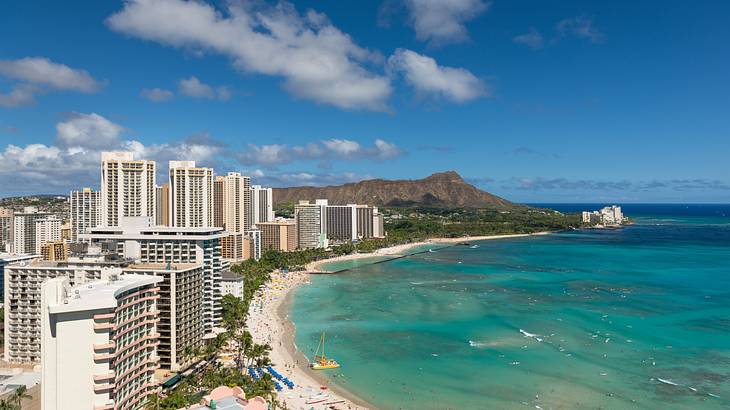 Hawaii Five-O was filmed on Oahu
The TV show Hawaii Five-O was filmed primarily on Oahu. The show is also set in Hawaii and follows Detective Captain Steve McGarrett as he solves crimes. The show is currently the longest-running police drama in the United States. Honolulu was one of the primary filming locations in Oahu.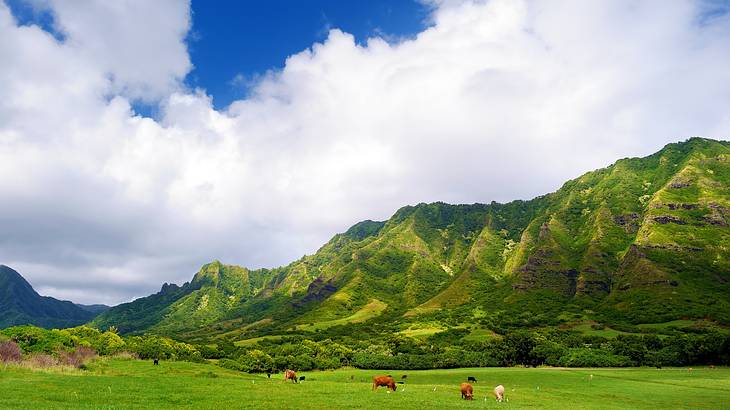 Kualoa Ranch is a popular TV and movie filming location
One more of the interesting facts about Oahu, Hawaii, relating to filming to know is that the island's Kualoa Ranch is a top filming spot. The area has been used as a shooting location for an array of TV shows and films.
Movies shot here include Along Came Polly and Jurassic World. TV shows including Lost and the Amazing Race were also shot at Kualoa Ranch. Even music videos, like Nicki Minaj's Spaceships, were filmed at this location.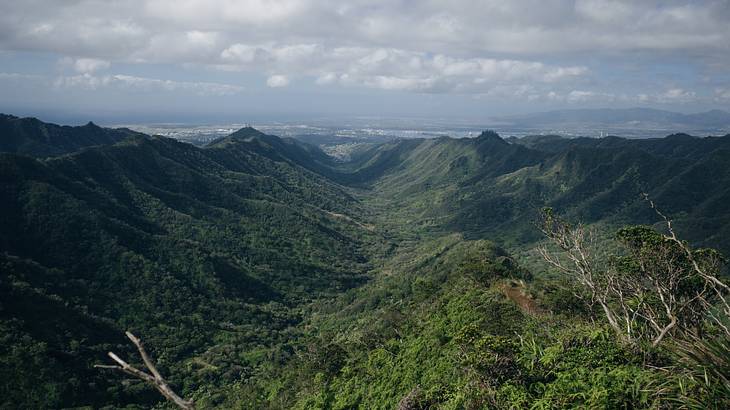 Oahu has just two volcanoes
While Oahu is a volcanic island, there are only two volcanoes on the island, and both are extinct. These volcanoes are Koolau and Waianae. Famous landmarks like Diamond Head and Hanauma Bay have been formed as a result of Koolau's volcanic activity.
Due to being classed as extinct, these volcanoes will not erupt again. Waianae's last eruption was 2.5 million years ago, and Koolau's last eruption was between 32,000 and 10,000 BP.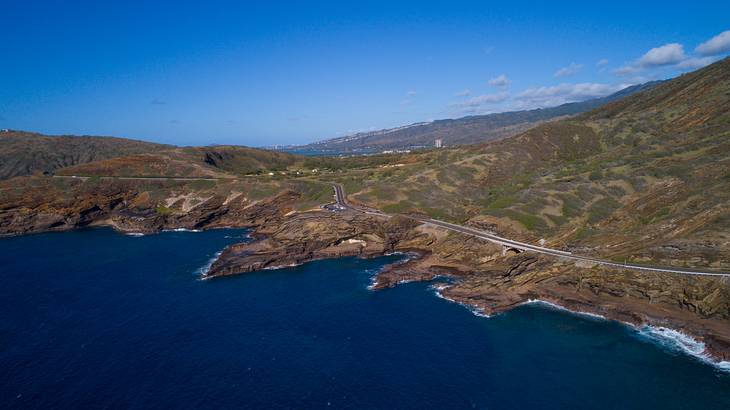 Oahu is the third-largest Hawaiian Island
Despite having the largest population, Oahu ranks third in actual size. Oahu covers almost 600 square miles.
The Big Island ranks largest, covering 4,028 square miles. Maui is second-largest at just under 730 square miles. Of the eight major islands, Oahu has the fourth-lowest elevation at 4,003 feet high.
In Summary
Adding a trip to Oahu to your travel bucket list is a must. Along with being a beautiful destination with many things to do, the island has a rich history, meaning there are many facts to learn about Oahu.
These fun Oahu, Hawaii facts should have taught you some new things about this amazing location and made you excited to visit as soon as possible!
---
---
Want to keep exploring?
Subscribe for discounts on tickets and hotels and our latest guides.
Thank you for subscribing
We will be in touch soon with discounts on tickets and hotels and our latest guides.
Want to keep exploring?
Subscribe for discounts on tickets and hotels and our latest guides.
Thank you for subscribing
We will be in touch soon with discounts on tickets and hotels and our latest guides.
Related Articles