36 Fun Date Ideas in Baton Rouge
Destguides may receive commissions from purchases made through affiliate links in this article.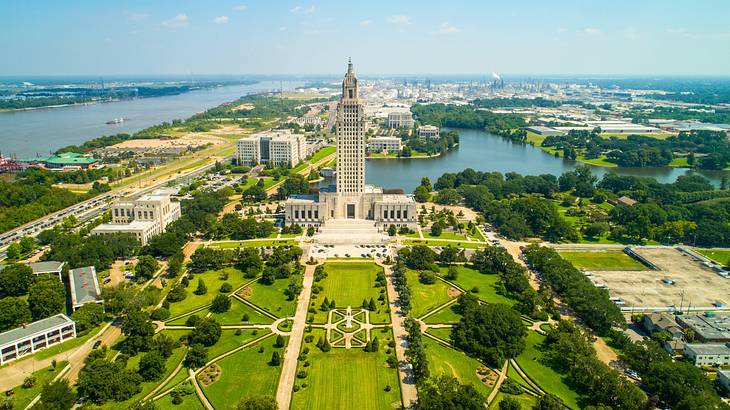 Baton Rouge, the capital city of Louisiana, has many fun activities for couples. Whether you live in the city or are on a trip, this list of 36 fun date ideas in Baton Rouge can help you and your partner plan a unique daytime or evening date.
During the day, things to do include going to the Red Stick Farmers Market, kayaking on the Mississippi River, and hiking at Bluebonnet Swamp Nature Center. If you're planning a date night, activities range from having drinks at trendy bars to experiencing a ghost tour! Read on to discover all the things to do on a date in and around Baton Rouge.
36 Fun Things to Do in Baton Rouge for Couples
Fun Things for Couples to Do in Baton Rouge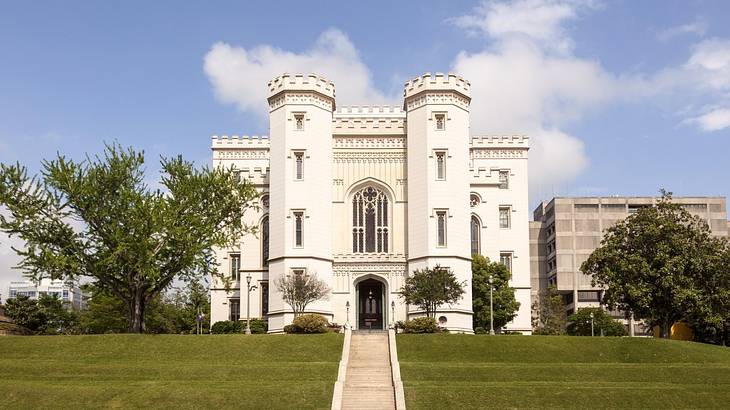 Look around the Old State Capitol
Baton Rouge is the capital of Louisiana and, therefore, home to the Louisiana State Capitol Building. Interestingly, the city still has an old capitol building, which was used between 1847 and the 1930s. Today, the Old State Capitol is a museum and is listed on the National Register of Historic Places.
While at the landmark with your date, you can learn more about politics in the state, especially between the mid-19th and early 20th centuries. You can also take guided tours and admire the stunning Gothic Revival architecture.
Wander through the LSU AgCenter Botanic Gardens
The LSU AgCenter Botanic Gardens are located in the Greater Baton Rouge area, about 20 minutes from downtown. The attraction is owned by Louisiana State University and features walking paths through beautiful gardens, including a romantic rose garden. You can also explore a forested area and wander past tranquil ponds and water features.
Rock climb at UpTown Climbing
Couples that like adventure activities can enjoy rock climbing rain or shine at UpTown Climbing. At the indoor rock climbing gym, you can climb a range of walls, with something for every ability level.
You and your partner can also take private or group climbing lessons to improve your skills, and other classes like yoga and fitness classes are on offer.
Plan a double date at 13th Gate Escape
Going to 13th Gate Escape is ideal for a double date. You can choose from different themed rooms like a secret agent escapes game or a prison break mission.
As the venue is open until late, playing an escape game works for a daytime date or date night in Baton Rouge. Do note that games require a minimum of four players.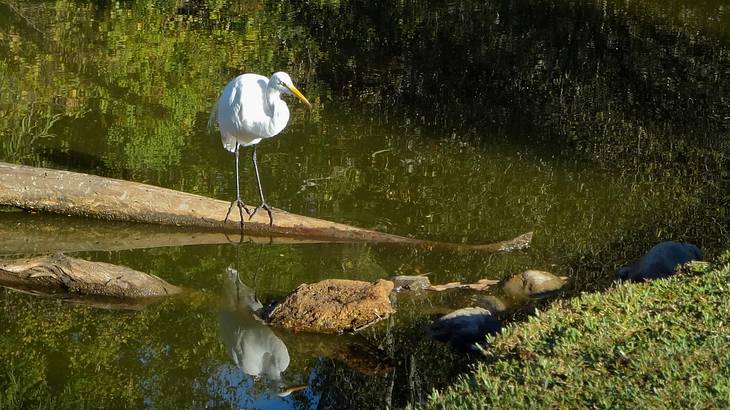 Hike through Bluebonnet Swamp Nature Center
Bluebonnet Swamp Nature Center is a Louisiana landmark that's a must-visit spot for couples that love nature and the outdoors.
Covering 103 acres, the nature conservation park has trails that you can follow through beech-magnolia and hardwood forests, wetlands, and swamps. While hiking, you may spot wildlife as well, like various bird species, armadillos, raccoons, and otters.
Hang out at Highland Road Community Park
On a nice day, going to Highland Road Community Park is an excellent daytime date idea. The almost 145-acre park has walking trails and areas to sit and talk or have a picnic. You can also play sports here, with facilities including tennis courts, an outdoor fitness station, and a disc golf course.
Shop at the Red Stick Farmers Market
Wandering around the Red Stick Farmers Market is one of the most fun things to do in Baton Rouge with your date on the weekend.
The Saturday market features a many vendors. Products on offer range from fresh fruit and vegetables to flowers and organic beauty products. Even if you don't purchase anything, seeing what's on offer is a great way to spend the morning.
See what's going on at Perkins Rowe
If you don't want to settle on one date activity, heading to Perkins Rowe is recommended. While visiting the entertainment complex, you can check out shops before stopping for drinks and a meal at one of many bars and eateries. There's also a cinema, and you'll often find events hosted here, like food truck evenings with local food vendors and live music.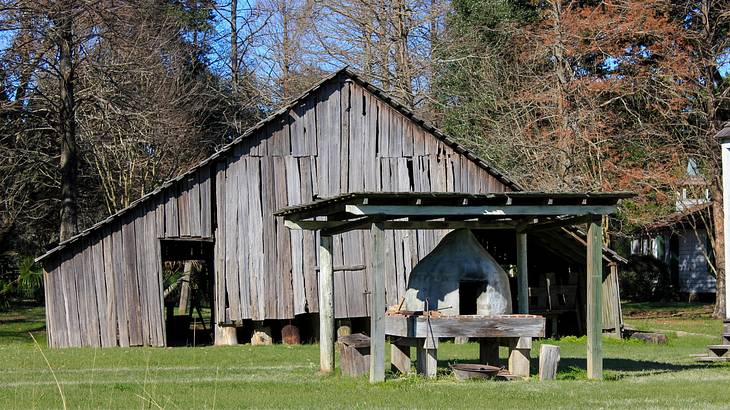 Travel back in time at the LSU Rural Life Museum
The LSU Rural Life Museum is another interesting attraction managed by Louisiana State University. At the open-air museum, you can see various living history exhibits that will teach you about life in Louisiana in the 19th century. You'll also get to see a large collection of artifacts and explore 32 historic buildings.
View exhibits at the Louisiana Art and Science Museum
The Louisiana Art and Science Museum is one of the best Baton Rouge attractions for couples that like art and culture. At the museum, you can see a vast collection of art spread across various exhibits. There are also science displays that cover topics like wildlife and ecosystems and space and the galaxies, with a planetarium also on-site.
Visit the Capitol Park Museum
Another of many fascinating Baton Rouge attractions to visit together is the Capitol Park Museum. The museum is a part of the Louisiana State Museum and has exhibits on the state's history from the 1600s through to the present. Topics covered include important events and the state's cultural background.
Chat over coffee at Light House Coffee
If you're looking for cute and laid-back Baton Rouge things to do for couples, take your partner to Light House Coffee. The contemporary coffee shop serves classic coffee beverages, plus teas, hot chocolate, and matcha lattes.
You can also get more unique beverages like a Fruity Pebbles cereal latte or a lemon lavender cold brew. If you visit in the evening, small plate dishes and desserts, including a dessert flight, are on offer.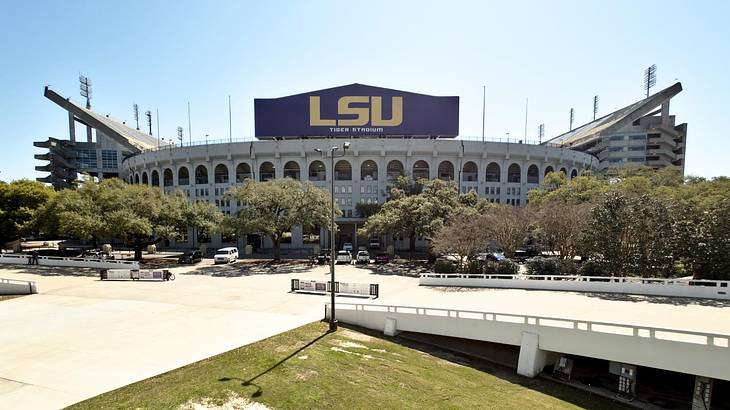 Catch an LSU Tigers game at LSU Tiger Stadium
Couples that like sports can watch a Louisiana State University Tigers college football game at LSU Tiger Stadium. The team plays from September through November, and even if you don't follow college football, you'll both have a good time attending a game and enjoying the atmosphere. The university also has other college sports teams to watch, including basketball, baseball, and soccer teams.
Have fun at Blue Bayou Water Park
Blue Bayou Water Park Isn't just for kids! It's also a fun place to spend the day with your date when the weather is nice. The park has various water slides, plus pools and poolside cabanas. You could also visit Dixie Landin', a theme park next to the Blue Bayou Water Park.
Go to the Mall of Louisiana
The Mall of Louisiana is a popular shopping mall about 15 minutes outside downtown. It has a variety of shops for you and your date to check out, whether you're just window shopping or want to splurge a little. Between visiting the stores, you can stop to get snacks, and there's also a movie theater on-site.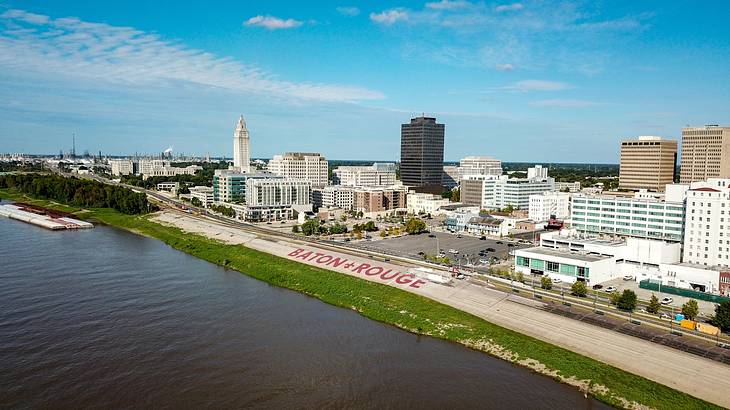 Paddleboard or kayak on the Mississippi River
The Mississippi River is a North American landmark that runs through Baton Rouge. If you and your date like watersports, getting out on the river is a must.
You can bring your own equipment or rent kayaks or paddleboards from The Backpacker. Once on the water, you can enjoy the views and the fresh air as you make your way down the waterway.
Make candles at The Bougie Bar
Couples that like crafts can plan a fun date at The Bougie Bar, where you can make your own candles. You and your partner will be able to choose your favorite colors and scents to make a unique candle. You can also bring wine or non-alcoholic beverages to enjoy as you make your candles.
Snap photos with Baton Rouge's murals
You can find many amazing street art murals in Baton Rouge that are a cool backdrop for photos together. Some of the most popular murals around the city center include the Baton Rouge postcard murals on Highland Road and Third Street and the crawfish mural on Florida Street.
Romantic Things to Do in Baton Rouge, LA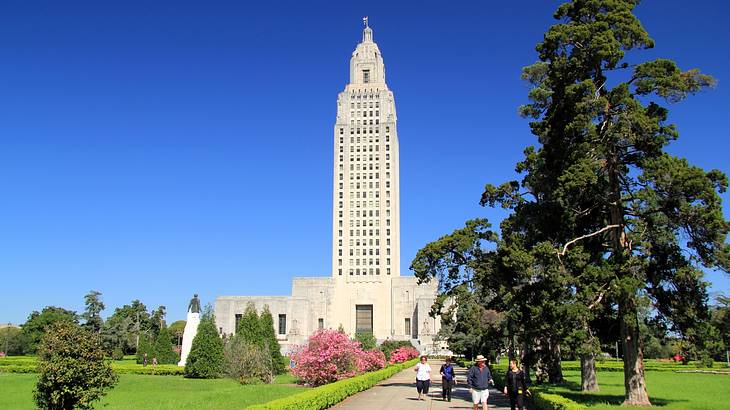 Share a romantic picnic
There are many parks in Baton Rouge where you can enjoy a romantic picnic with your loved one. To make the alfresco meal even more special, plan your picnic just before sunset to enjoy under a pretty pink and orange sky.
You could also take stylish blankets and dishware, plus lanterns and other accessories to make your picnic setup perfect for a date. Some of the parks to consider for your picnic include State Capitol Park and Milford Wampold Memorial Park.
Get drinks and beignets at The Vintage Baton Rouge
The Vintage Baton Rouge is a cute and stylish place to get drinks and snacks with your loved one. Treats on the menu include beignets, with a beignet flight available, plus cookies with bourbon-spiked milk, and brunch and lunch dishes like avocado toast or pressed sandwiches with truffle fries.
The drink menu has delicious beverages to accompany your food, such as craft cocktails, wine, sparkling wine, and champagne.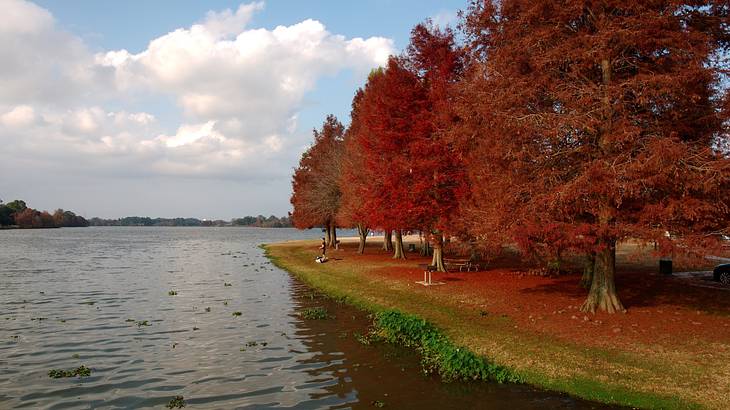 Take a romantic walk around University Lake
University Lake is one of many romantic places in Baton Rouge to go for a scenic walk with your loved one. The lake is located about a ten-minute drive from Downtown Baton Rouge and has a path all the way around it. As you walk, you can take in the views, and this spot is beautiful in all seasons, especially in the fall when the trees turn pretty red and orange.
Unwind with spa treatments at Woodhouse Spa
If you and your partner have had a long week, relaxing with spa treatments is the perfect date activity. Woodhouse Spa offers a variety of treatments, including facials, massages, and body treatments like scrubs and body wraps. You can also book packages that include multiple treatments.
Go for a walk at sunset along the river
Another of the romantic date ideas in Baton Rouge is going for a sunset walk along the Mississippi River downtown. You can get easy access to the pathway along the river from a few places downtown.
While the walk is scenic any time of day, it's especially romantic at sunset. After enjoying the views, you and your partner can visit one of downtown's many bars or restaurants.
Cook dishes together at the Red Stick Spice Company
Instead of going out to dinner, why not learn to cook dishes together at a cooking class? At Red Stick Spice Company, you can choose from various classes depending on which types of dishes and cuisines you both like.
Just a few courses on offer include a Spanish tapas class and a gnocchi-making session. Some baking and dessert courses are also offered.
Sip wine at Bin 77
Chatting over a glass or two of wine at Bin 77 is a relaxed and romantic date idea. You can enjoy your wine in the contemporary bar or sit on the charming outdoor patio. Your server can also help you choose a wine from the extensive wine list.
Beer, cocktails, and spirits are also available. To accompany your drinks, you can order charcuterie boards and sharing plates or opt for a larger main meal.
Fun Date Night Ideas in Baton Rouge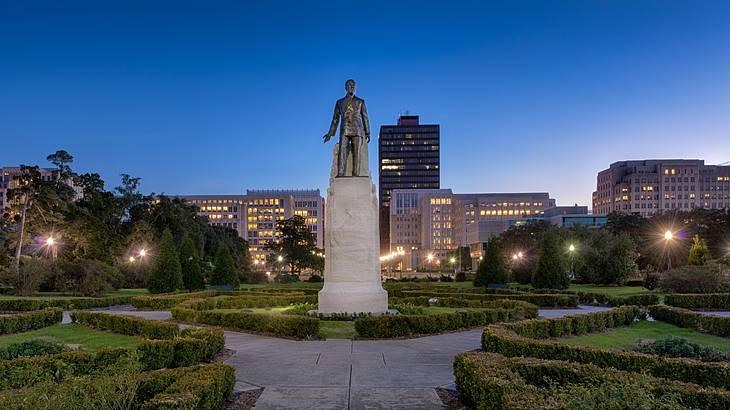 Dare to go on a Baton Rouge ghost tour
If you're looking for unique date ideas, going on a ghost tour is a must! A Red Stick Adventure ghost tour will take you and your partner to a range of haunted spots in the city, where you can learn about ghost sightings, paranormal activity, and eerie events. You can even use paranormal investigation equipment at some of the haunted sites.
Dine at Tallulah Crafted Food and Wine Bar
There are many excellent date night restaurants in Baton Rouge to choose from. If you can't decide which to take your date to, Tallulah Crafted Food and Wine Bar is a great option.
The eatery has a patio to dine on when the weather is nice and serves a variety of contemporary American dishes. With your meal, you can treat yourself and your partner to craft cocktails or choose a bottle of wine from an extensive wine list.
Spend the evening at River Room
River Room is a cool place to spend the evening enjoying good drinks with your date. The menu includes a range of unique craft cocktails, including those made with sweet potato vodka! Beer, wine, or mixed drinks, plus an extensive list of spirits, are available as well. When the weather is nice, you can also sit outside.
Enjoy cocktails at Hayride Social
Another fun bar to check out together is Hayride Social. This prohibition-style speakeasy bar has a vast menu with many 1920s-inspired cocktails. You can sip your drinks while chatting in a stylish Victorian parlor space, and if you arrive between 4 PM and 7 PM, you can benefit from great happy hour offers.
Watch a performance at the Shaw Center for the Arts
Going to a show at the Manship Theatre at the Shaw Center for the Arts is one of the best things to do in Baton Rouge at night for couples that love the arts.
You can choose from various types of performances, including plays, concerts, and musicals. The arts venue also houses the LSU Museum of Art and has some restaurants to dine at before or after the show.
Fun Things to Do Near Baton Rouge, Louisiana, for Couples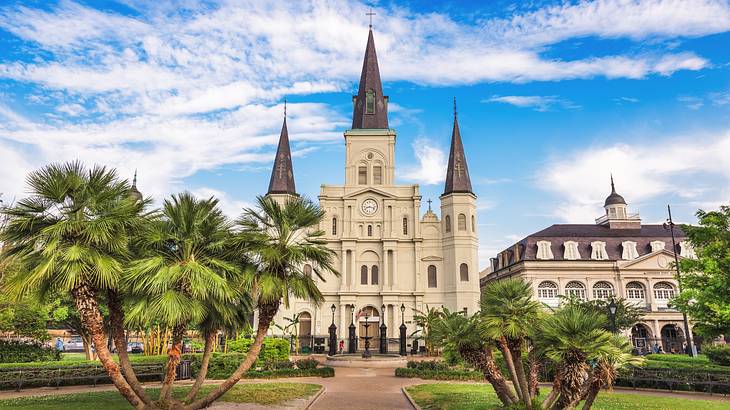 Plan a trip to New Orleans
While there are many romantic things to do in Baton Rouge for couples, going on a weekend getaway is a fun idea as well. One of the best destinations near Baton Rouge for a couples getaway is New Orleans, which can be reached in about an hour and a half when driving.
Once you arrive, you'll find an array of fun things for couples to do in New Orleans, from walking through the beautiful Garden District to having drinks at the stylish Carousel Bar and Lounge at Hotel Monteleone.
You could also book a New Orleans tour, like a romantic dinner cruise or a spooky ghost tour! You could even plan a trip at Mardi Gras to enjoy the famous celebration together.
Drive to Lafayette
Lafayette is another Louisiana city that's a great place to visit for a daytime date trip. You can reach Lafayette in under an hour when driving.
In the city, you can visit unique attractions, like the fascinating Lafayette Science Museum and the Acadiana Park Nature Station. You'll also find many independent shops and lots of top bars and restaurants, including many specializing in Cajun and Creole cuisine.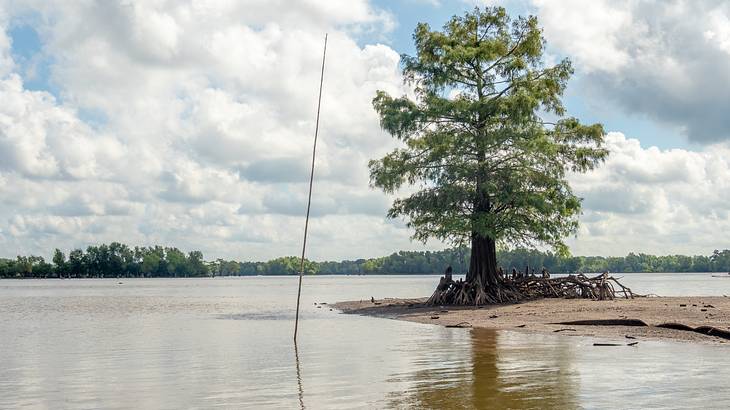 Spot wildlife at Atchafalaya National Wildlife Refuge
Atchafalaya National Wildlife Refuge is a fun place to spend the day exploring if your date likes outdoor adventures and wildlife. Located just under an hour from Baton Rouge, the 15,000-acre refuge has trails that take you through various landscapes and habitats. Animals you may see range from white-tailed deer to alligators.
Learn new things at the Port Hudson State Historic Site
The Port Hudson State Historic Site is an important area relating to American History and the Civil War. This National Historic Landmark is a must-visit for couples that love history and is conveniently located only 30 minutes from Baton Rouge.
At the historic site, you can learn more about the Civil War battles that occurred on the grounds and how they shaped the war's final outcome of Union victory.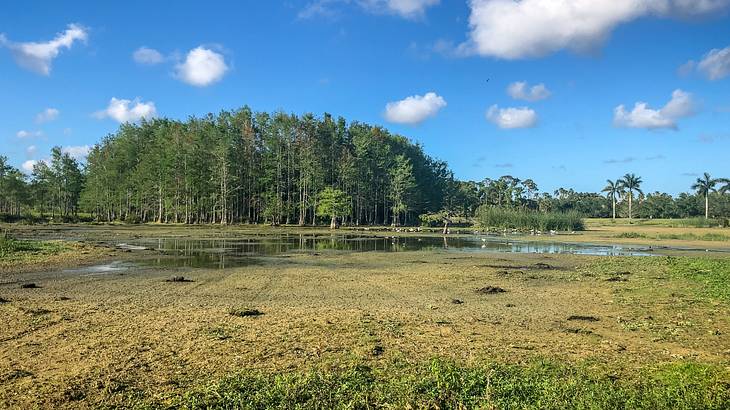 Go to Cypress Island Nature Preserve
Lake Martin & Cypress Island Nature Preserve is another great outdoor attraction to visit. The 9,500-acre site features hardwood forests, swamps, and trails throughout most of the grounds. While wandering around with your date, you will also see wildlife like snowy egrets or little blue herons.
Paint pottery at BrushFire Studio
Couples that like crafts will want to plan a date at BrushFire Studio. Located about 20 minutes from central Baton Rouge in Denham Springs, the venue allows you to paint a piece of pottery with your own unique designs.
Canvases are also available to paint, and you can visit the pottery studio for an afternoon or early evening get-together with your partner.
In Conclusion
Whether you're looking for fun Baton Rouge date night ideas or things to do during the day with your other half, this list should have given you an array of ideas. No matter what you do together in the Louisiana state capital, you're sure to have fun and make memories!
Give us feedback about this article
Learn more about Baton Rouge:
More articles about Louisiana:
Read more articles about the United States:
More articles about date ideas:
---
---
Want to keep exploring?
Subscribe for discounts on tickets and hotels and our latest guides.
Thank you for subscribing
We will be in touch soon with discounts on tickets and hotels and our latest guides.
Want to keep exploring?
Subscribe for discounts on tickets and hotels and our latest guides.
Thank you for subscribing
We will be in touch soon with discounts on tickets and hotels and our latest guides.
Related Articles