20 Fun Things to Do in New Orleans at Night
Destguides may receive commissions from purchases made through affiliate links in this article.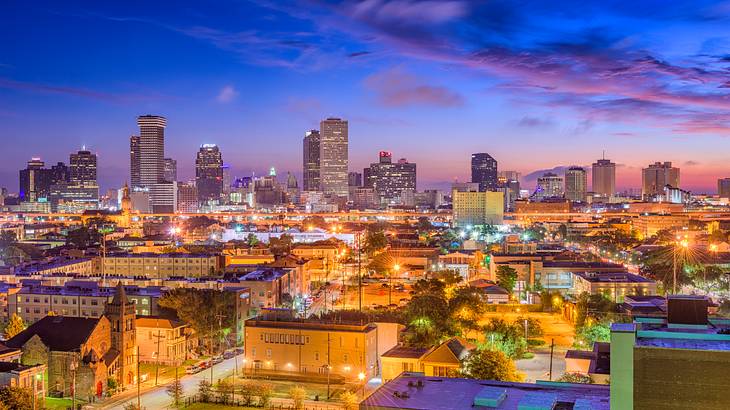 New Orleans is an exciting and unique city located in the state of Louisiana. The city boasts many historical Louisiana landmarks, friendly locals, and a unique atmosphere. You can also find an array of fun things to do in New Orleans at night, making it the ideal destination for those that like to explore the places they visit by day and night.
Activities to try in NOLA at night range from drinking at trendy bars to trying dance classes and dining aboard old-fashioned steamboats. There really is something for everyone to enjoy after dark in New Orleans!
20 Fun Things to Do at Night in New Orleans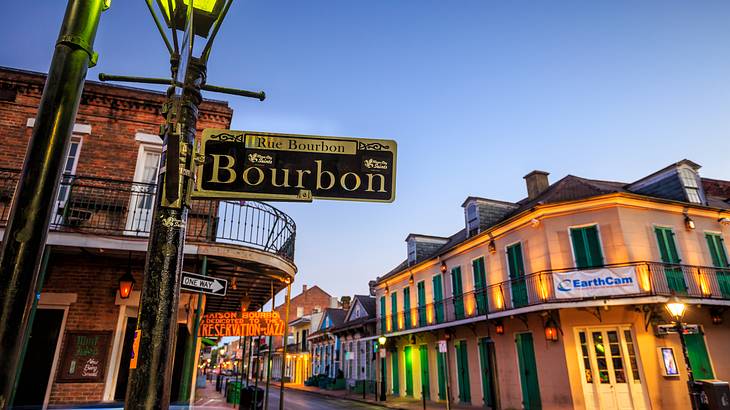 Bar hop on a NOLA pub crawl
A list of night activities in New Orleans wouldn't be complete without visiting a range of bars on a pub crawl. Luckily, you can choose from an array of New Orleans pub crawls covering various themes.
Pub crawls to choose from include haunted and live music bar crawls. Whichever operator you decide to go with, you'll get to drink and party at some of the city's best spots, including at bars on Bourbon Street and Frenchmen Street.
Admire the views from Hot Tin rooftop bar
Located in the Garden District on Saint Charles Avenue, Hot Tin rooftop bar at the Pontchartrain Hotel is one of the best places to go in New Orleans at night. The bar is named after the Tennessee Williams play, Cat on a Hot Tin Roof and is designed in a 1940s style.
Along with enjoying breathtaking views of New Orleans from the bar, you can order various delicious cocktails. Sophisticated drinks to order include an espresso martini, old-fashioned, or French 75. Drinking at Hot Tin offers a luxurious and laid-back atmosphere that you're sure to love.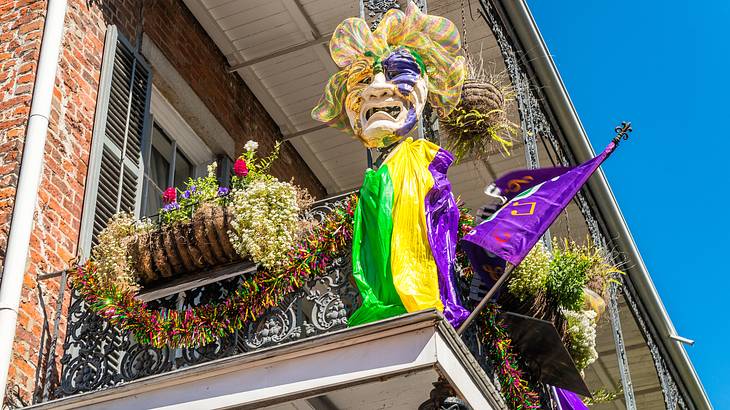 Experience Mardi Gras
Mardi Gras in New Orleans is world-renowned. This exciting annual event takes place in the city during the week before Lent, a religious holiday that begins in February or March.
If visiting during Mardi Gras, you'll discover a range of nighttime festivities to enjoy. From parades and music performances to trying yummy snacks, like Kings Cake, experiencing NOLA during Mardi Gras is a bucket list activity!
Attempt to beat an escape game
Another fun nighttime activity to try is attempting to break out of an escape room. The Escape Game is one of New Orleans' most popular escape room operators, and they have a location downtown.
During the 60-minute game, you and your friends will solve a range of puzzles to hopefully break free from the room. You can also choose a range of themed rooms to try, from a special ops-themed room to a prison break scenario.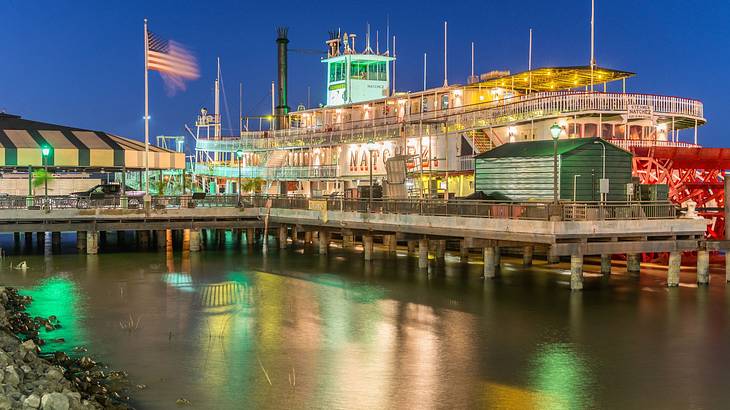 Dine aboard a Steamboat Natchez cruise
Enjoying a meal aboard an old-fashioned Steamboat Natchez on the Mississippi River is a memorable activity. The Steamboat Natchez dinner cruise lasts two hours, and during this time, you can eat, take in the views, and listen to a live band.
Delicious buffet dining options range from seafood pasta and salads to meat dishes, veggie options, and tasty desserts. Watching the sunset over the water and seeing the New Orleans skyline illuminated as you wine and dine is an enjoyable experience for all! Taking the cruise is also an excellent activity for families visiting New Orleans with kids.
Take a night helicopter tour
One of the best night activities in New Orleans is taking a helicopter ride over the city. This nighttime helicopter tour takes you high above the city and over some major landmarks.
Once in the air, you can appreciate the beautiful illuminated city below and spot Louisiana landmarks, such as the Mercedes-Benz Superdome and the French Quarter. Although the flight lasts just 15 minutes, this activity is well worth it and will leave you with lifelong memories!
Enjoy jazz at the iconic Preservation Hall
Preservation Hall is another excellent live jazz spot in NOLA. Located in the French Quarter, the club has been hosting jazz performances since the 1950s.
You can dance and watch shows until just after 8 PM, you're also guaranteed to know some of the songs performed if you want to sing along! If you are interested in visiting some other amazing music venues, going on a New Orleans music heritage tour, that also stops at Preservation Hall, is recommended.
Dance aboard a paddlewheeler jazz cruise
Another of the unique night activities in New Orleans that will get you out on the water is taking a paddle-wheeler jazz cruise. This two-hour trip offers scenic views of New Orleans and the Mississippi River.
You'll also get to eat a delicious creole dinner featuring Cajun seafood pasta, jambalaya, and white chocolate bread pudding, among many other dishes. Once you've eaten, grab some tasty drinks and dance to music performed by a live jazz band.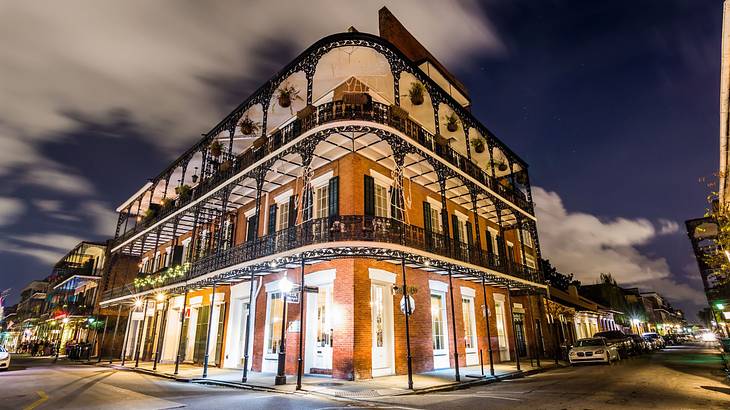 Get spooked on one of NOLA's ghost tours
New Orleans is well-known for having a paranormal past and for being a highly haunted city. From voodoo queens to serial killers and pirates, New Orleans has its fair share of ghostly residents.
The best way to see New Orleans' most haunted places is on a nighttime ghost tour. Places you may visit include St. Louis Cemetery No.1, the New Orleans Pharmacy Museum, and the LaLaurie Mansion. Daring to go on a ghost tour is one of the most fun things to do in New Orleans at night!
Experience a cocktail tour
If you love fancy cocktails, then this is the nighttime activity for you! On a New Orleans cocktail tour, you'll be taken to four of the city's hottest drinking spots. These establishments include the Bourbon Orleans Hotel bar and a former ice house.
Along with trying famous NOLA cocktails, like a Sazerac, you'll learn some unique drinking-related history facts, such as why Absinthe was banned in the US. This tour is a unique activity for those who enjoy sophisticated beverages.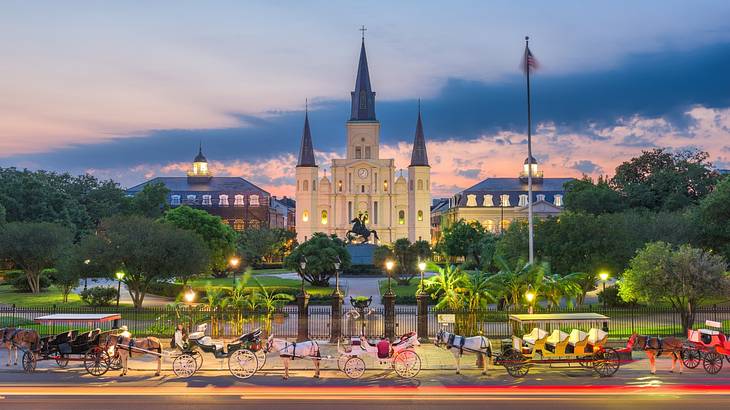 Go on a haunted horse and carriage ride
A fun alternative to a ghost tour is going on a haunted horse and carriage ride through New Orleans. On this unique one-hour tour, you'll ride past an array of spooky spots and hear ghost stories relating to each site.
Attractions you'll see include Jackson Square, the St. Louis Cathedral, and various spots in the French Quarter. You'll hear tales about the ghosts of those who died of yellow fever, vampire sightings, and various other paranormal activities around the city.
Learn about NOLA history on a history drinking tour
New Orleans is a city with an incredibly rich history. Learning about some of this history is a must when in the city and a fun way to do so is with some drinks on the Drunken NOLA History Tour!
On the tour, you'll spend a night in New Orleans hopping back and forth from landmarks to famous bars. Your guide will offer history on everywhere you see and bars to visit include Pirate's Alley Cafe and Tujague's.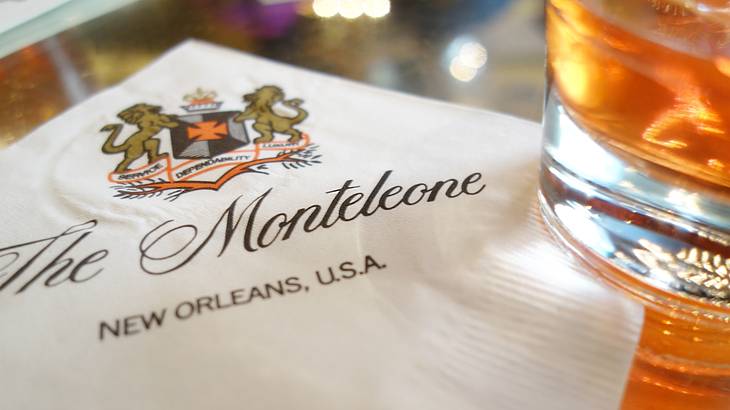 Sip New Orleans cocktails at Carousel Bar & Lounge
If you want to try classic New Orleans cocktails, then heading to the Carousel Bar & Lounge at the Hotel Monteleone is the activity for you! The sophisticated bar serves NOLA drinks like a Sazerac and a Vieux Carre.
This spot also includes a notable feature; the bar at the center of the lounge rotates and is designed like a carousel, hence the name. Sipping some drinks at Carousel Bar & Lounge is highly recommended and is an ideal activity for couples in New Orleans.
Listen to jazz at the Spotted Cat Music Club
New Orleans is a jazz hotspot within the United States. If you want to hear some live jazz, head to the Spotted Cat Music Club on Frenchmen Street.
This iconic NOLA bar features live acts that you can listen to as you enjoy a cold local beer. The bar is quite small, so show up early if you plan to spend the evening at the Spotted Cat Music Club.
Take dance lessons
If you're looking to learn some new skills, taking dance lessons in the evening in New Orleans is for you. Ballroom Dance New Orleans offers an array of dances to try. These range from Latin dances, like the Tango, to ballroom classics, such as the Foxtrot and Waltz.
You'll be taught by an experienced instructor who can work with all ability levels, from beginner to expert. No matter what your level and which dance you choose to try, taking a dance class is a super fun way to spend your evening!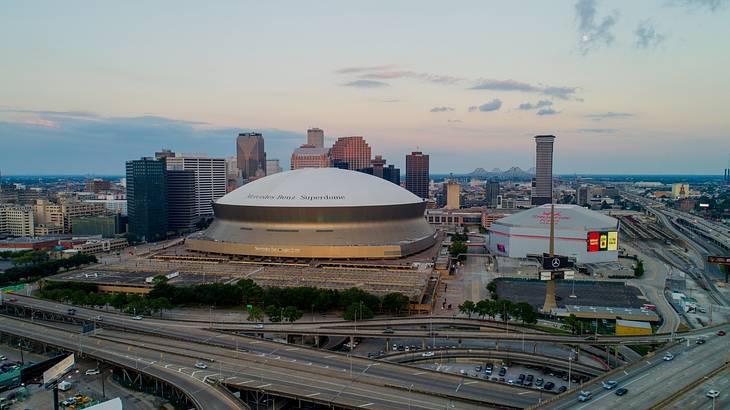 Watch NOLA's sports teams in action
New Orleans has two major sports teams, the New Orleans Saints NFL team and the New Orleans Pelicans NBA team. If in the city during each league's respective seasons, catching a game is a must.
Watching a Pelicans game is your best bet when looking for a nighttime event, as NBA games are more often in the evenings. If you like watching college sports, New Orleans also has an NCAA football and basketball team.
Go on a sightseeing horse and carriage ride
While a haunted horse and carriage ride is fun, going on a nighttime sightseeing carriage ride is a great idea too. On the ride through the French Quarter, you'll see various landmarks, including St. Louis Cathedral and the French Market.
Your driver will also offer history on everything you drive by and cover topics from food to jazz. With the later rides starting at 5 PM and 6 PM, this activity is the ideal start to a night in New Orleans.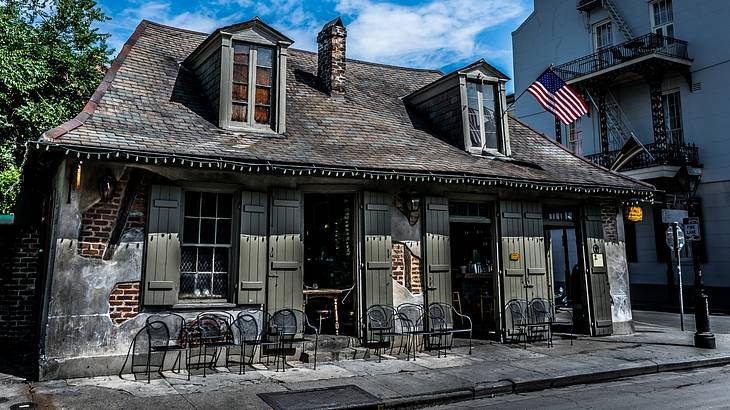 Drink like a pirate at Lafitte's Blacksmith Shop Bar
New Orleans has many unique bars, and if you're looking for an interesting place to grab a drink, you must go to Lafitte's Blacksmith Shop Bar. Located on Bourbon Street, this bar is the oldest in the city and was opened in the 1700s.
Lafitte's Bar is also said to be haunted by the ghost of pirate Jean Lafitte who drank at the establishment before his death. If you want to discover more spooky drinking spots, why not try a haunted bar crawl?
Create delicious dishes at a cooking class
Why go to a restaurant for dinner when you could cook a professional-style meal yourself? With a cooking class, you'll be taught various recipes to create your own delicious meal.
You cook dinner at a New Orleans cooking class on Monday and Friday nights and will produce a range of Southern dishes. These meals include gumbo, shrimp and grits, and bananas foster crepes. If you have a great time, you can return any other day of the week for a brunch cooking class.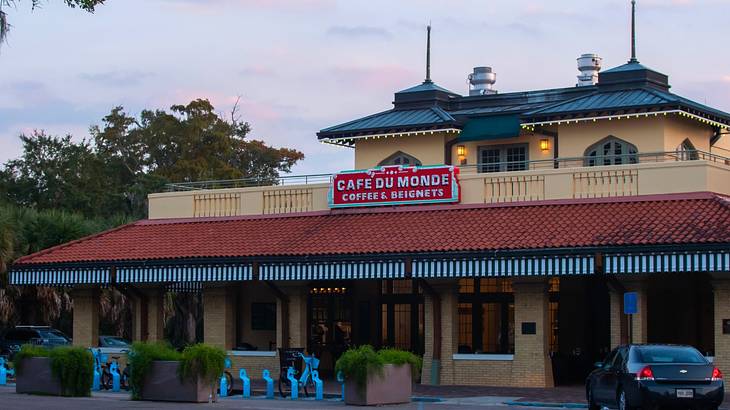 Eat sweet treats at Cafe du Monde
Cafe Du Monde is an iconic New Orleans eatery with a few locations throughout the city. The most famous location is at the French Market on Decatur Street. Best of all, this spot is open until 10 PM, so you can enjoy the spot after dark.
The cafe is known for its beignets, which are an absolute must-try dessert! You can also get fresh coffee, and a variety of cute merchandise is available to buy. Spending a relaxed evening with coffee and pastries at this quaint cafe is the perfect idea for a laid-back night.
In Conclusion
New Orleans features a wide variety of nighttime activities to try. These include various tours, hands-on activities, like cooking classes, and memorable experiences, such as helicopter rides. No matter how long you spend in the city or what you choose to do at night, you're sure to have a memorable time in New Orleans!
Give us feedback about this article
More visual stories related to this article:
---
---
Want to keep exploring?
Subscribe for discounts on tickets and hotels and our latest guides.
Thank you for subscribing
We will be in touch soon with discounts on tickets and hotels and our latest guides.
Want to keep exploring?
Subscribe for discounts on tickets and hotels and our latest guides.
Thank you for subscribing
We will be in touch soon with discounts on tickets and hotels and our latest guides.
Related Articles